[tu_countdown id=8243 design=16][/tu_countdown]
What if you could have a stunning Halloween costume without the expense of buying it from the store?
Well, here's the thing…
You CAN have an awesome Halloween costume this year (no matter what look you're going for) with these Best DIY Halloween Costumes For Women that I've found for you today.
DIY Halloween Costumes For Women Are Perfect For You

(Even If You're Super Busy & Not Very Crafty)
Whether you want to dress up for trick or treating or give everyone at the party a fright, a DIY Halloween costume will give you the ability to get the exact look you want this Halloween… no matter what spooky look you're going for!
And don't panic if you don't have too many crafty skills… all you need is just a small amount of time & effort, and you will be able to create a super spooky or fun look that no one else will have!
And the best part of all?
By making your own DIY Halloween costume, you'll be able to save money & feel super proud of your costume too!
How To Decide Which DIY Costume is Right For You

(When The Possibilities Are Endless)
I've hunted high and low (and everywhere in between) to find you the BEST DIY Halloween costumes for women!
Here you've got all the inspiration for your project in one place and without the headache!
So whether you want to dress up as a spooky witch, a gruesome Mummy or even a cutesy scarecrow (but aren't sure how to do it) then read on…
These awesome Halloween DIY's will help you decide which Halloween costume is right for you!
So let's get to it…
P.S. This really is the best collection of DIY Halloween costumes for women so be sure to click here or on the image below to quickly & easily save them to your Pinterest so you never lose them & can easily come back time & time again 🙂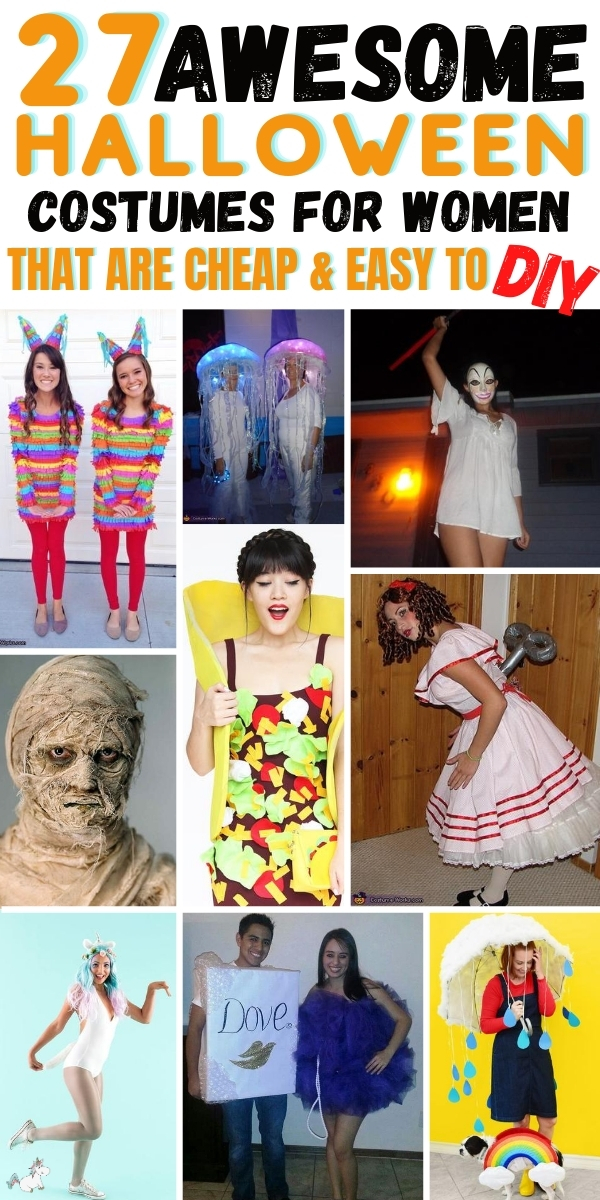 This post may contain affiliate links. See my full disclosure here for more info.
27 DIY Halloween Costumes For Women

(That Are Cheap & Easy To Do)
#1

Purge Girl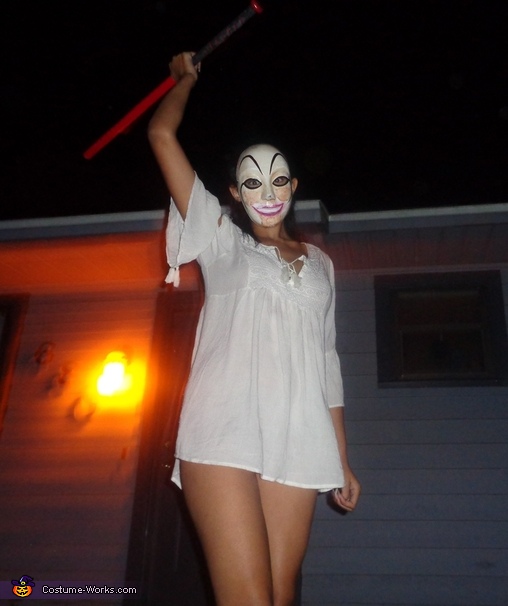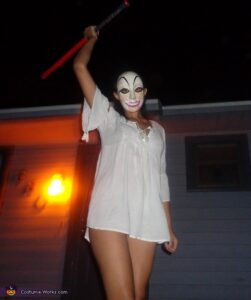 This Purge Girl Halloween costume is the perfect last-minute idea that requires minimum effort but guarantees to send shivers down everyone's spine!… Simply throw on a simple dress, grab your own Purge mask from Amazon, and select your faux weapon of choice… Done!
Get the Look…
#2

Popcorn Halloween Costume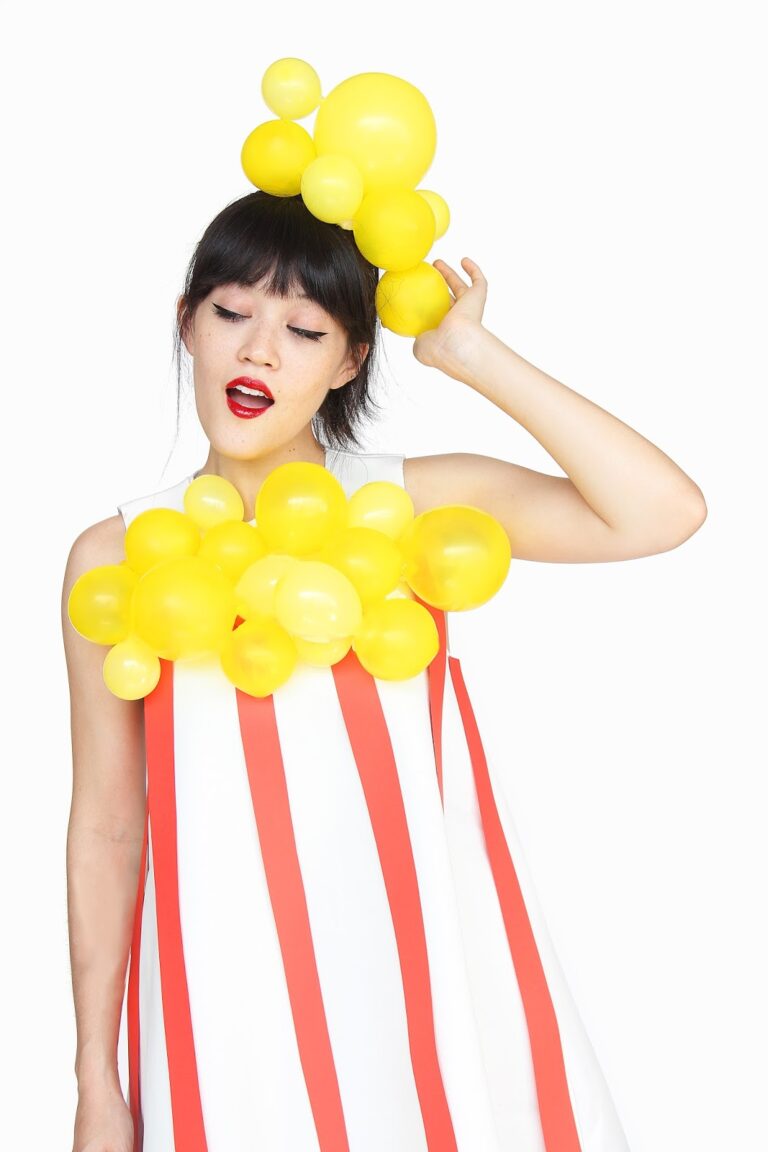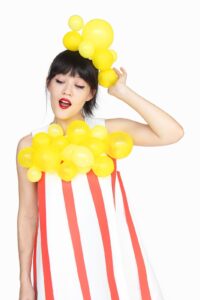 How cute & fun is this Popcorn Halloween costume? You won't believe how simple and easy it is to make too!
Get the Look…
#3

DIY Ghost Busters Costume Tutorial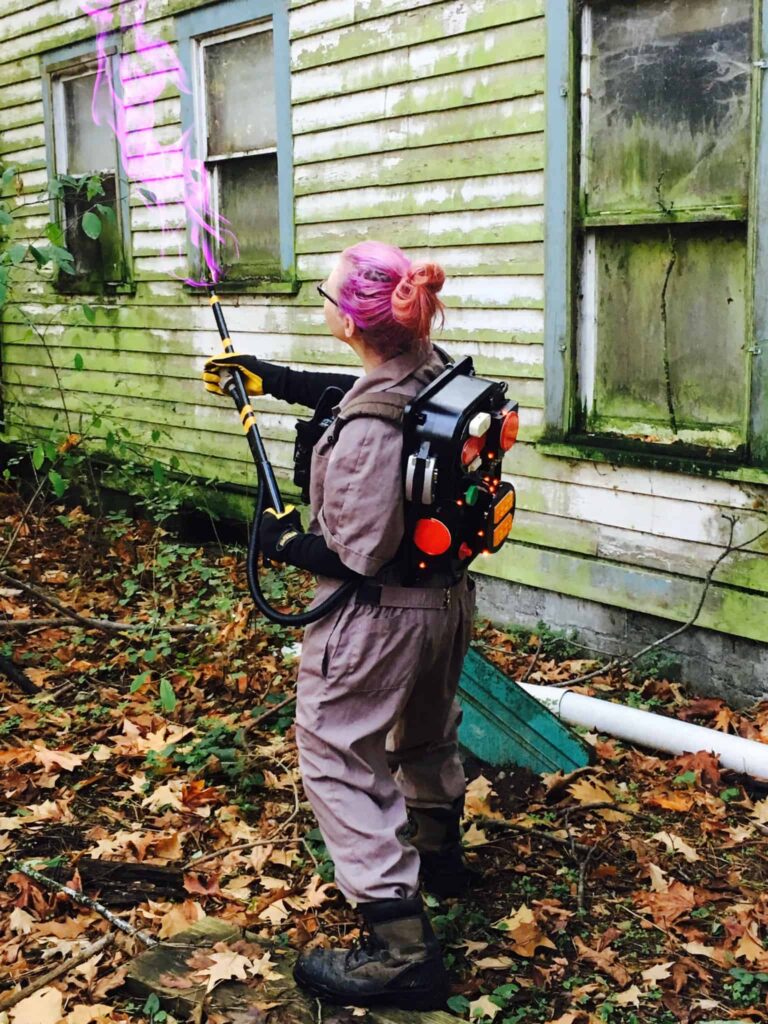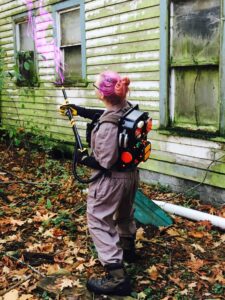 There definitely won't be something strange in the neighborhood when you step out in this Ghostbusters ensemble!
#4

Rain-cloud Umbrella Costume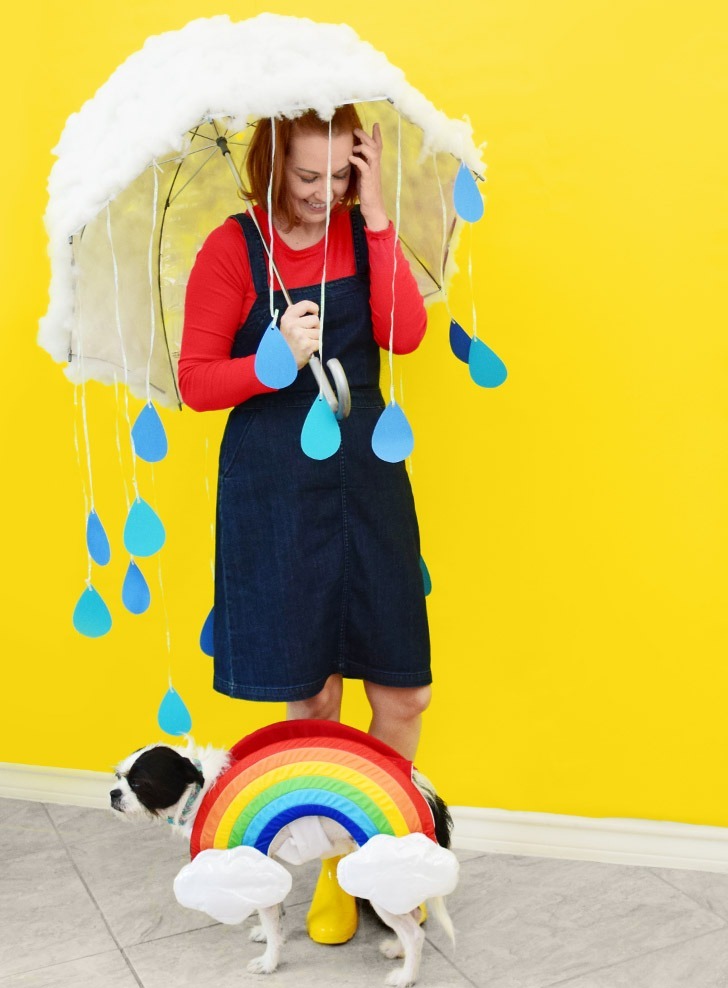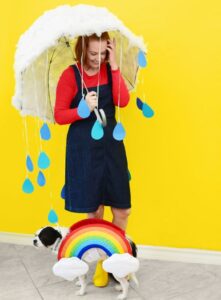 This Creative raincloud umbrella will be great by itself but even more awesome if you have a pooch to dress up too!
Get the Look…
#5

Felt Taco Costume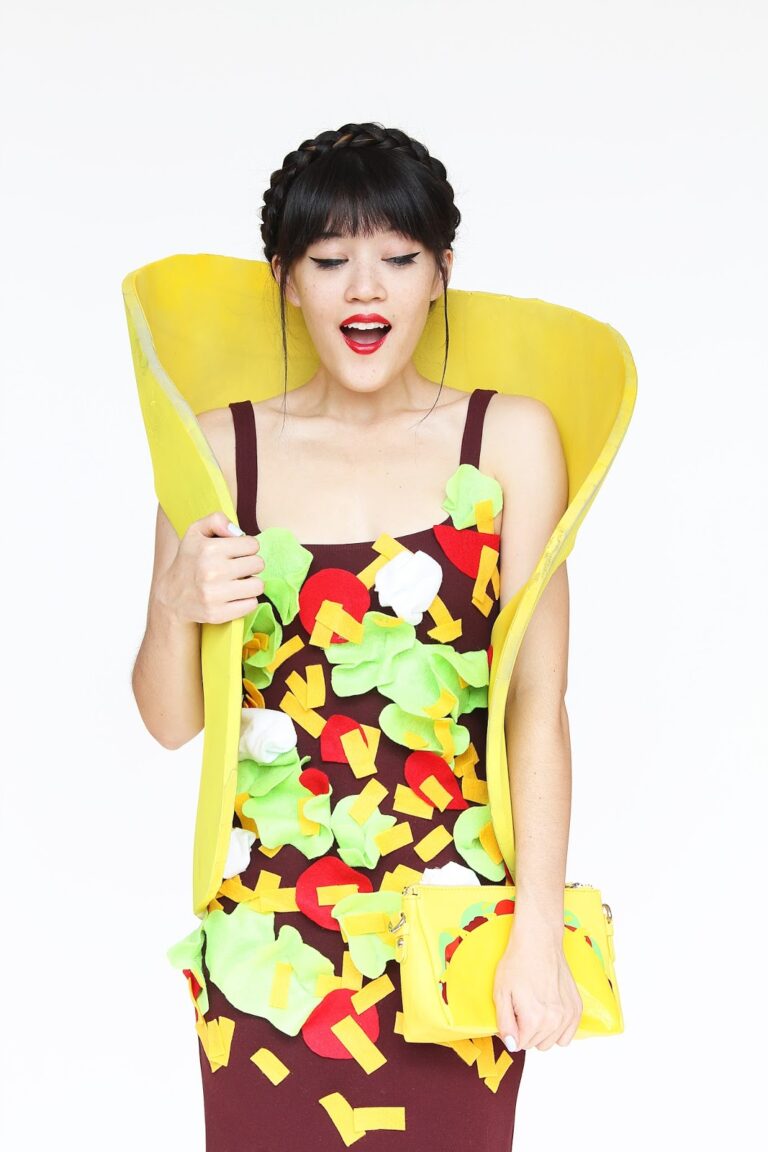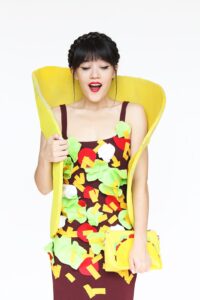 We all know Tacos are fab for eating but did you know they're also great for wearing too?
#6

Little Red Riding Hood Costume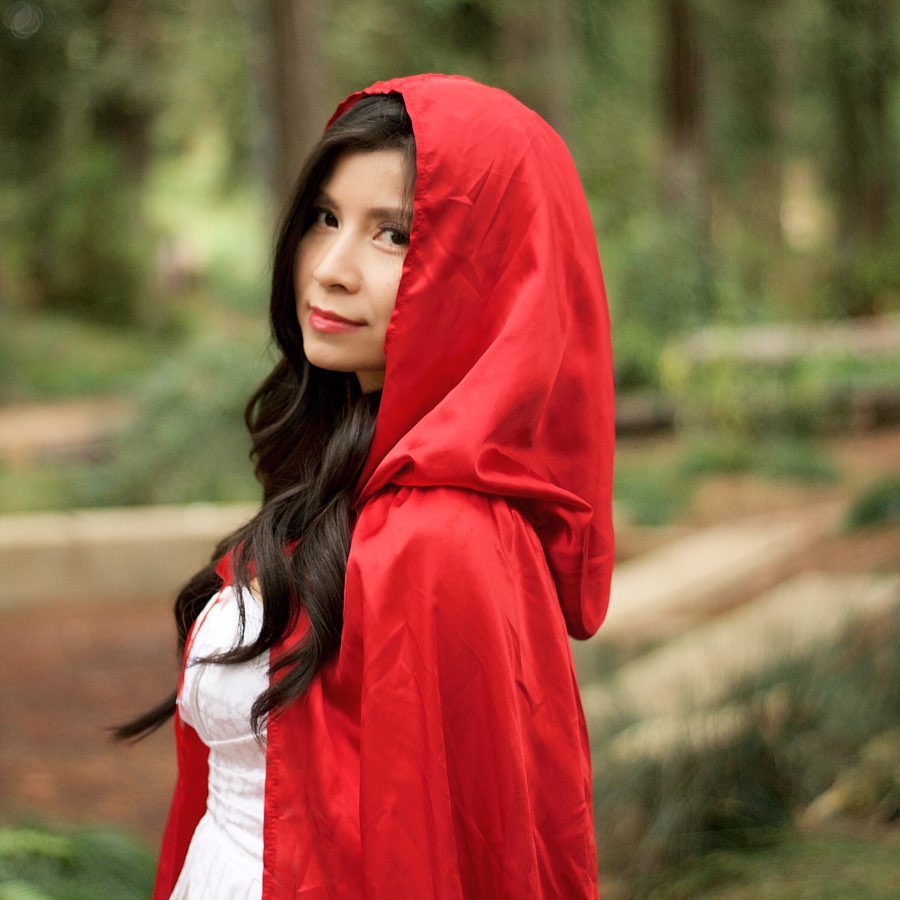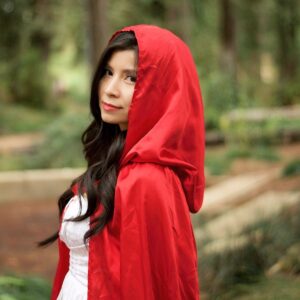 There're a lot of easy Halloween costumes to choose from on this list, but this one has to be my fave! Simply throw on a red cape & grab a basket and BOOM… you're Little Red Riding Hood!
Expert Tip: Facepaints are great for making any costume on list super scary! Get yours here
Get the Look…
#7

DIY Cheshire Cat Costume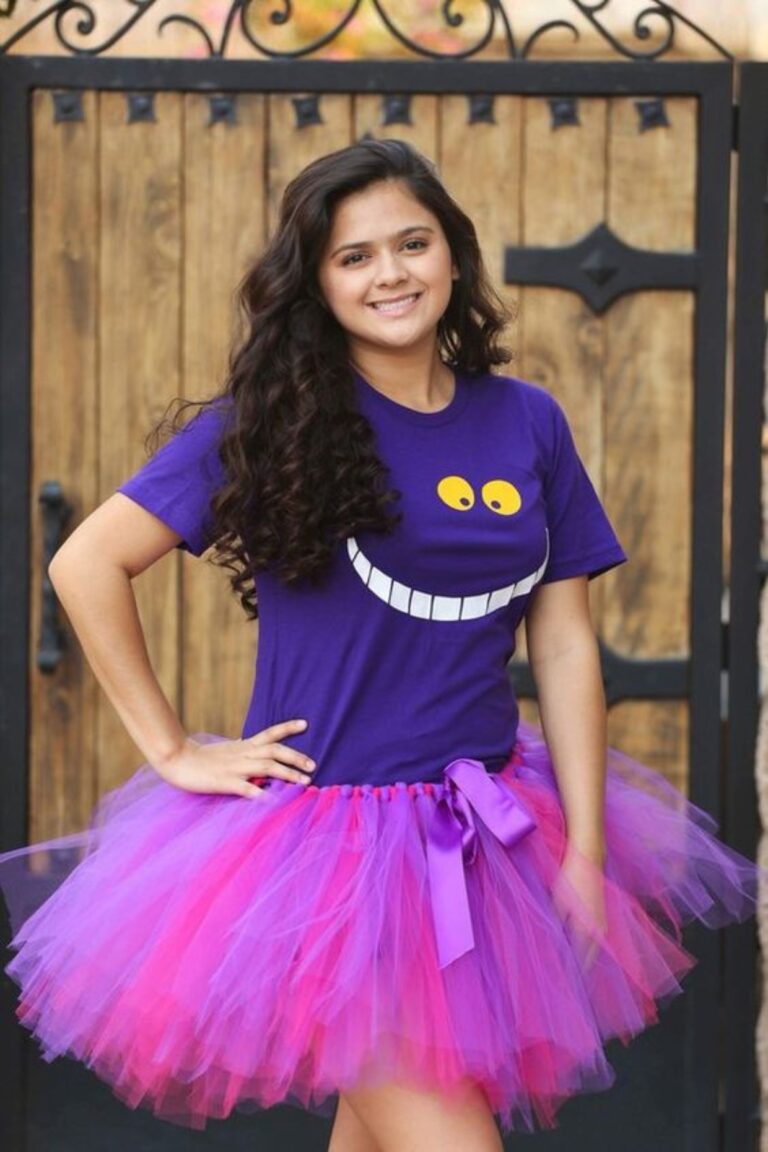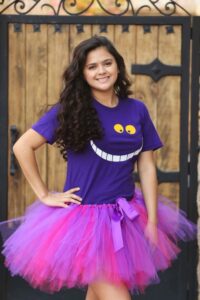 A bright purple T-shirt & a pink tutu skirt are all you need for this creative Cheshire Cat Halloween costume! You could even add some stripy socks for an extra fun addition!
Get the Look…
#8

Barbara From Beetlejuice Halloween Costume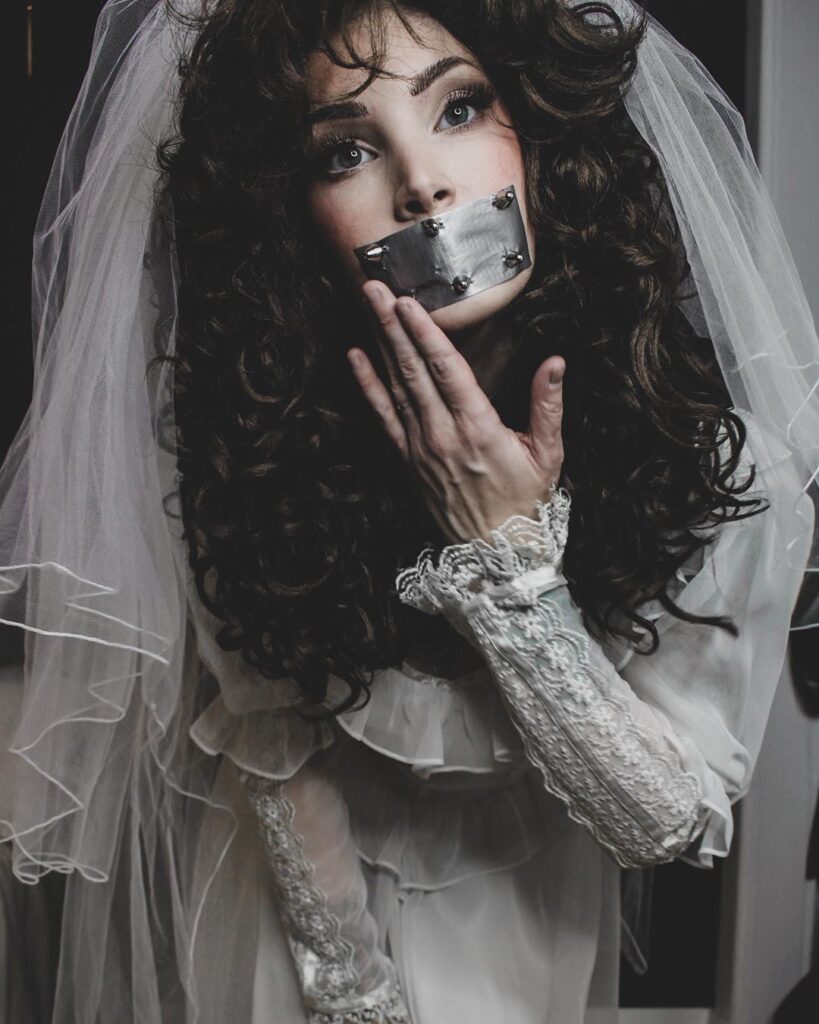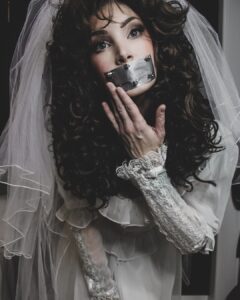 Beetlejuice…. yes? Beetlejuice…. yesss? Beeeeeee…. Nevermind! If you're a Beetlejuice fan then why not dress as Barbara Maitland?… Oh and don't forget to take some extra tape along with you because that's gonna have to come off for snacking on Halloween treats and candy!
Get the Look…
#9 DIY Unicorn Costume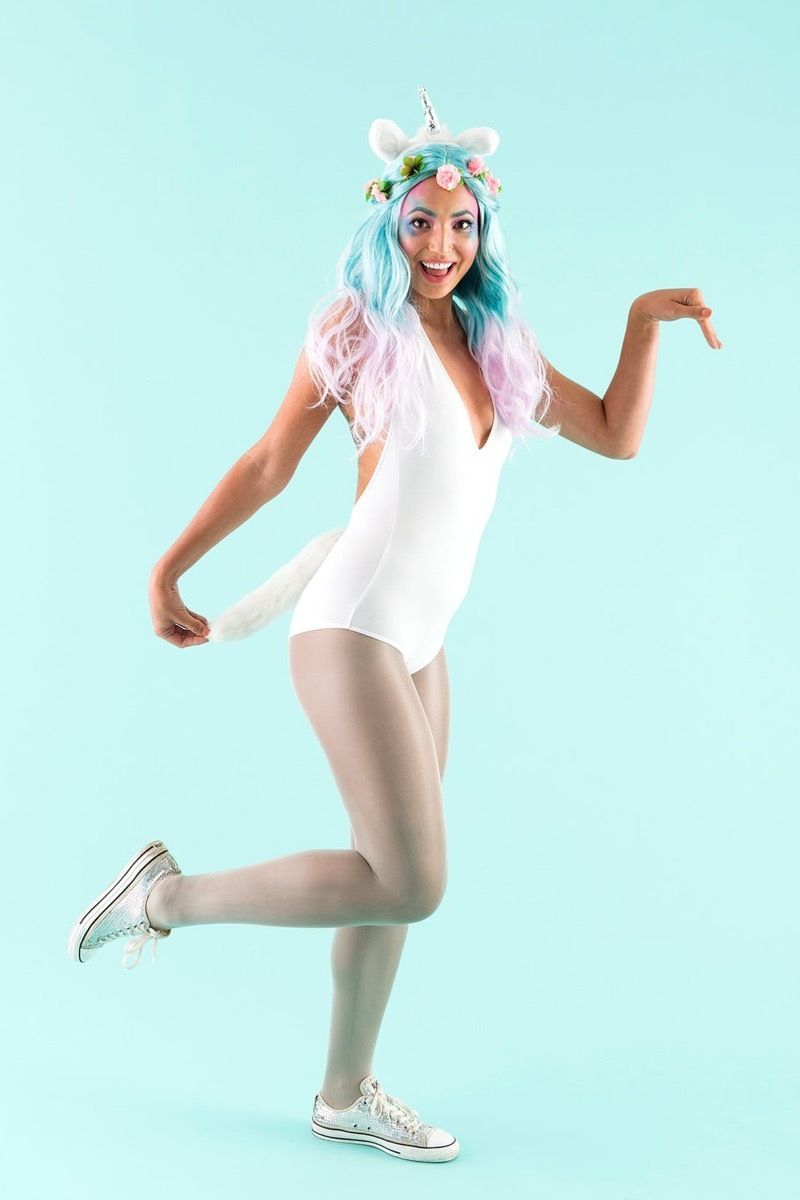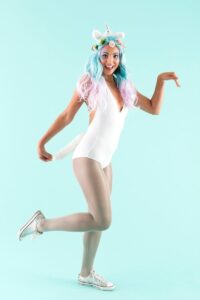 You never need an excuse to dress up as a Unicorn in my opinion… but if you did then Halloween would be a perfect time!
Get the Look…
#10 Agnes From Despicable Me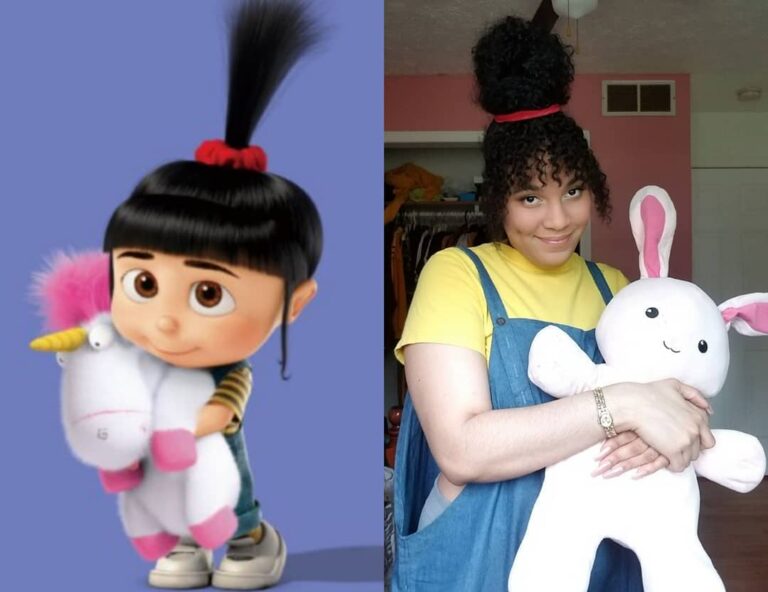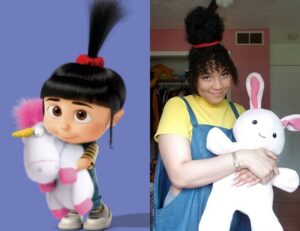 A simple yellow t-shirt, some denim overalls, and a cute fluffy unicorn are all you need to pull off Agnes from Despicable Me!
Get the Look…
#11

Pinãta Costume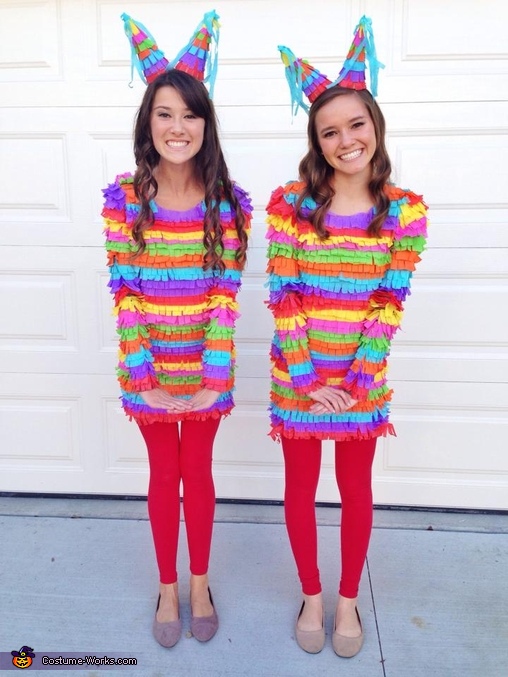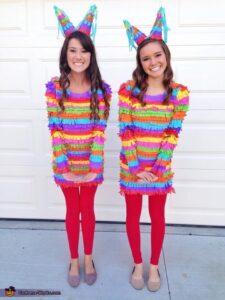 Whether you're dressing up with your girlfriend or going it alone… a Pinãta costume is the perfect excuse to fill up on candy this Halloween… just leave all sticks at home!
#12

DIY Fruity Costumes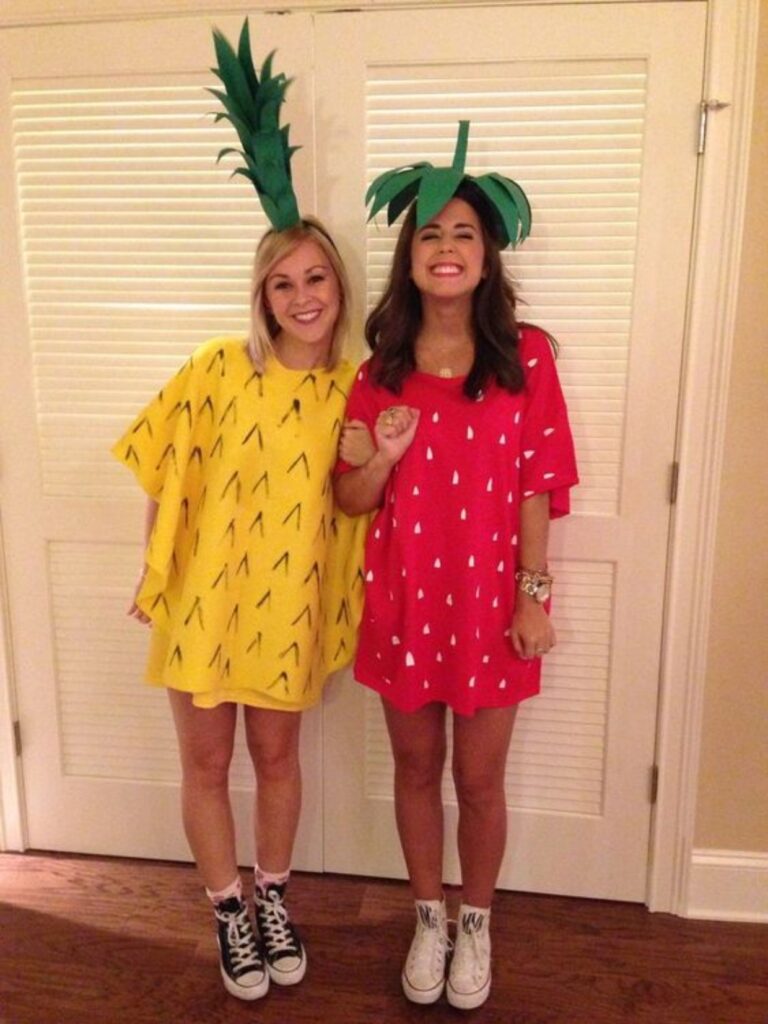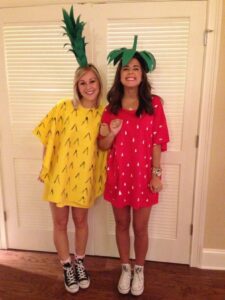 A simple yellow or red t-shirt, some green cardstock attached to a headband, and a trusty Sharpie are all the supplies you need to make these fun & fruity costumes!
Get the Look…
#13

Wind Up Doll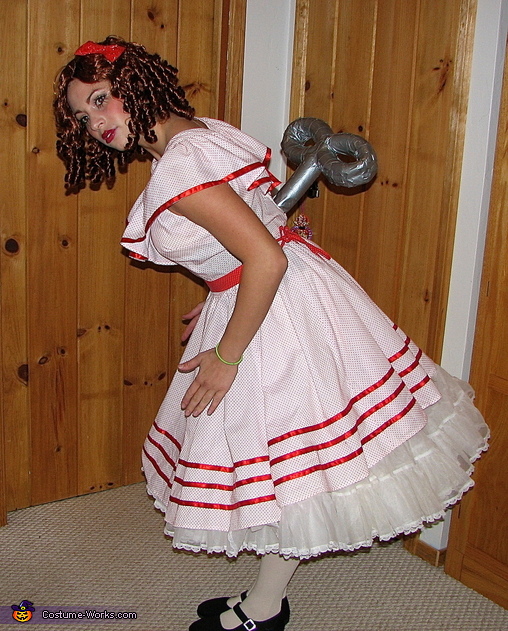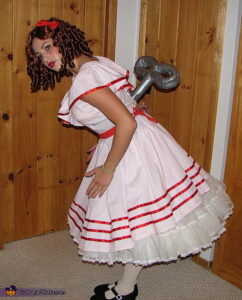 How clever is this wind-up doll costume? You can make a key out of silver modeling balloons or you can get creative with these inflatables and some silver spray paint instead.
Get the Look…
#14

Last-Minute Halloween Scarecrow Costume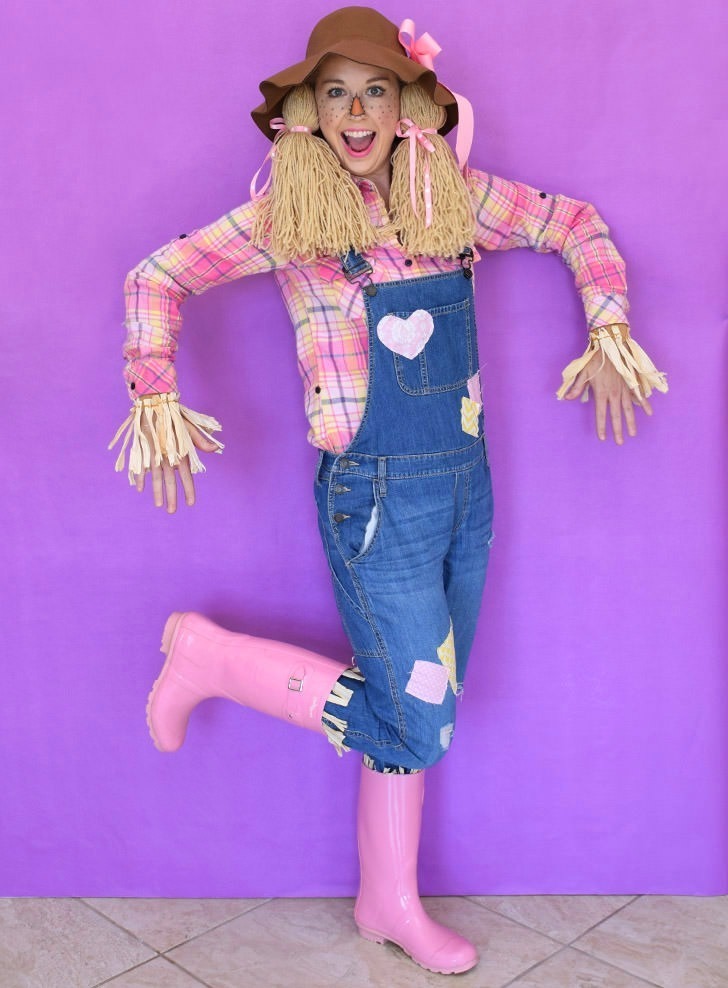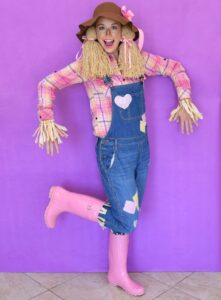 A scarecrow is a really great budget Halloween costume that you can throw together with items you already have! You can find some great scarecrow make up ideas right here!
Get the Look…
#15

Starbucks Unicorn Frappuccino Costume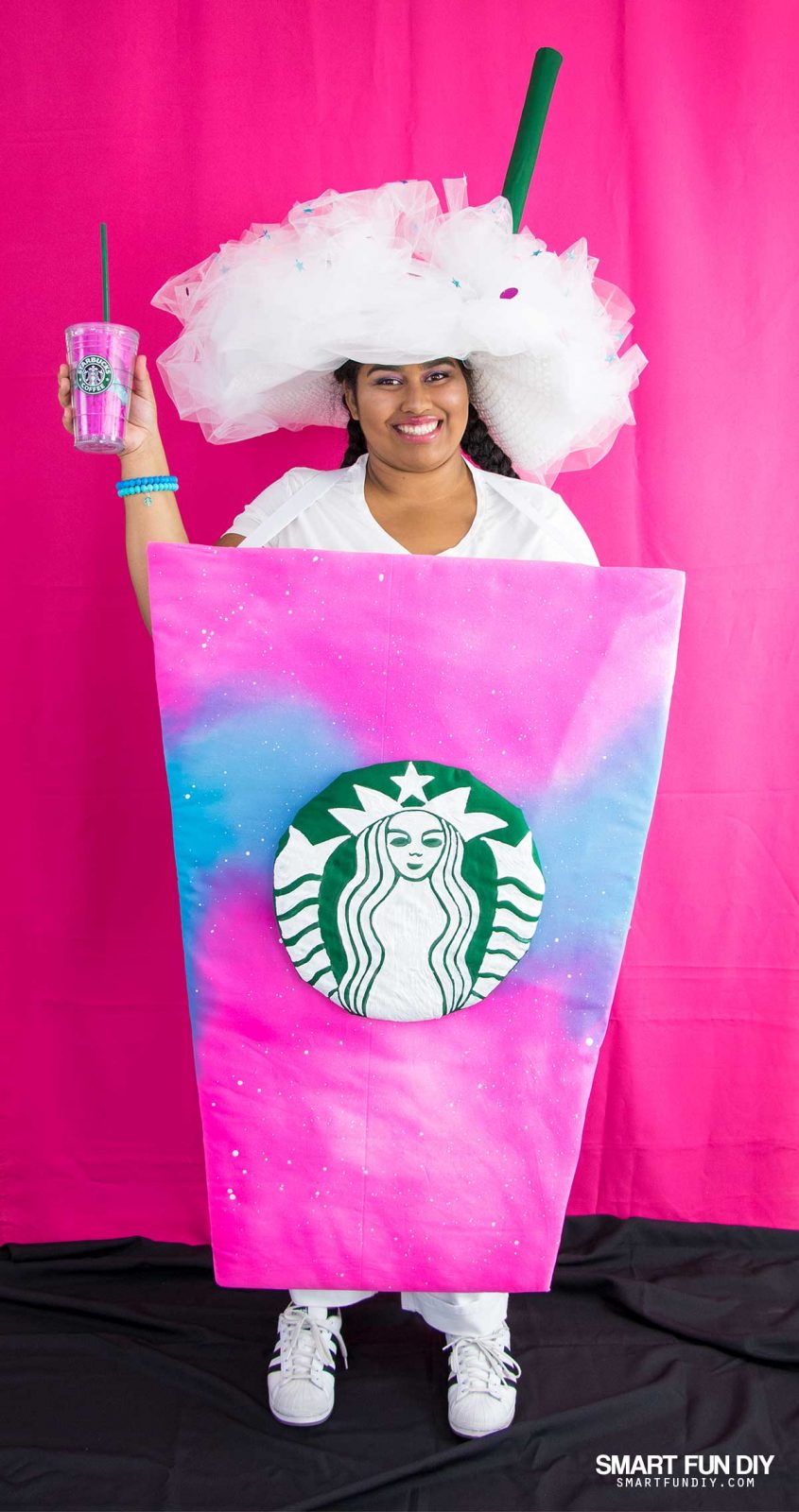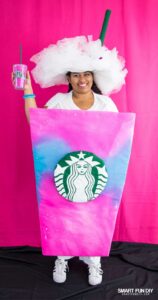 Are you still longing for Starbucks to bring back their Unicorn Frappuccino? Well, why not dress up as one while you wait with this hilarious Starbucks Halloween costume?
#16

Easy Medusa Hair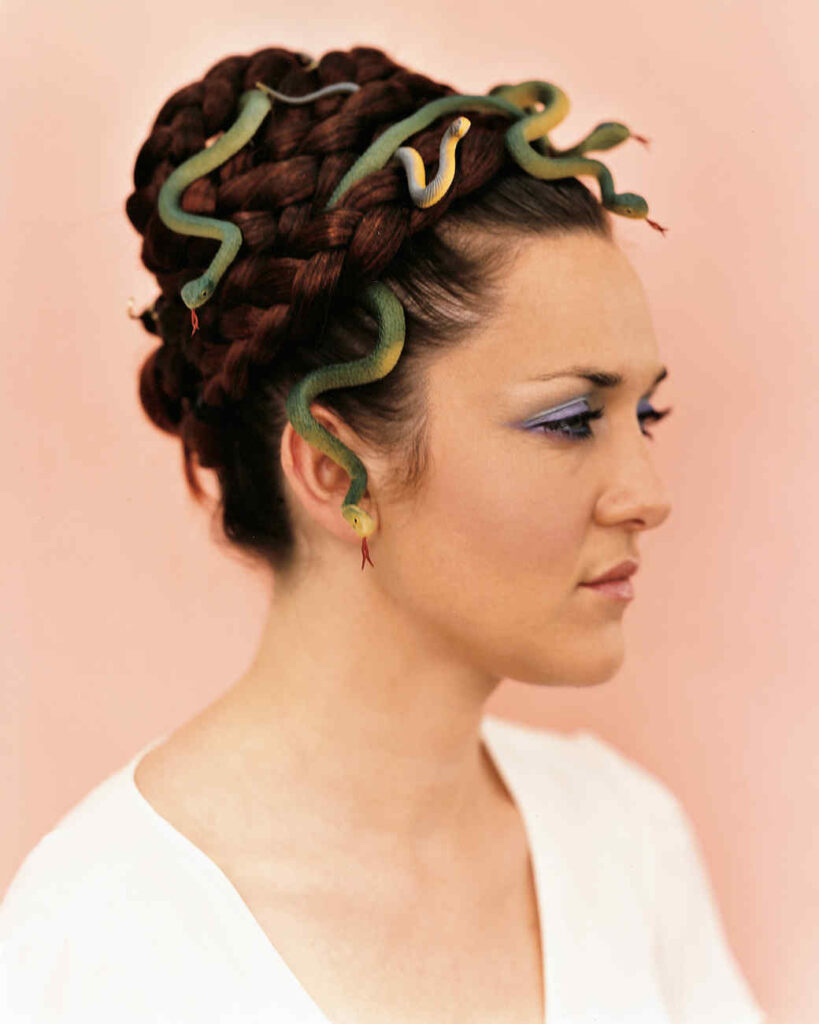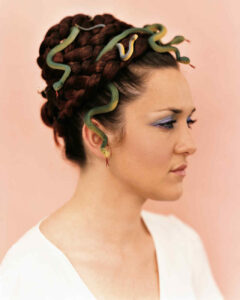 Looking for just a Halloween hairstyle rather than a full ensemble? This Medusa hairstyle is easy to put together and super freaky too! Just don't go turning everyone to stone!
Get the Look…
#17 Easy Fake News Costume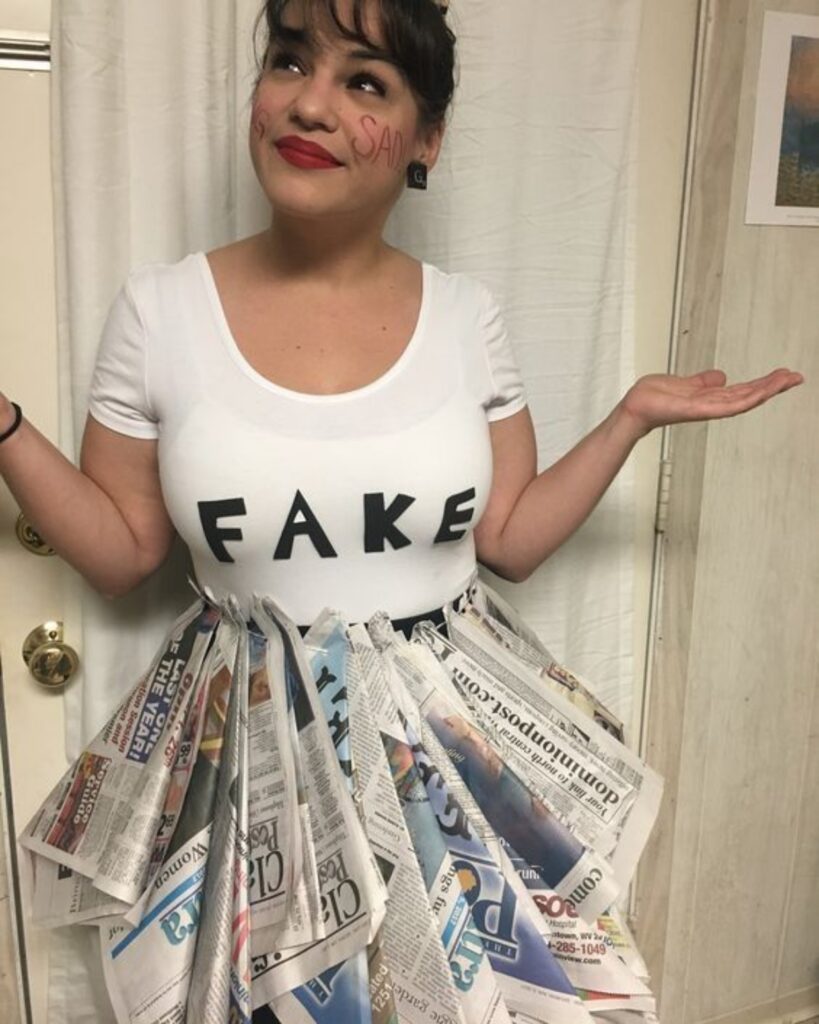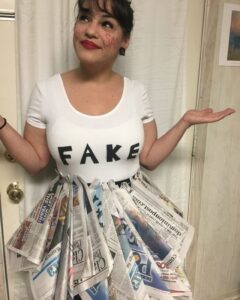 How creative is this Fake news costume? You'll be sure to put a smile on all your friend's faces with this one… and it will literally cost you nothing to make too! Win!!
#18 Snow White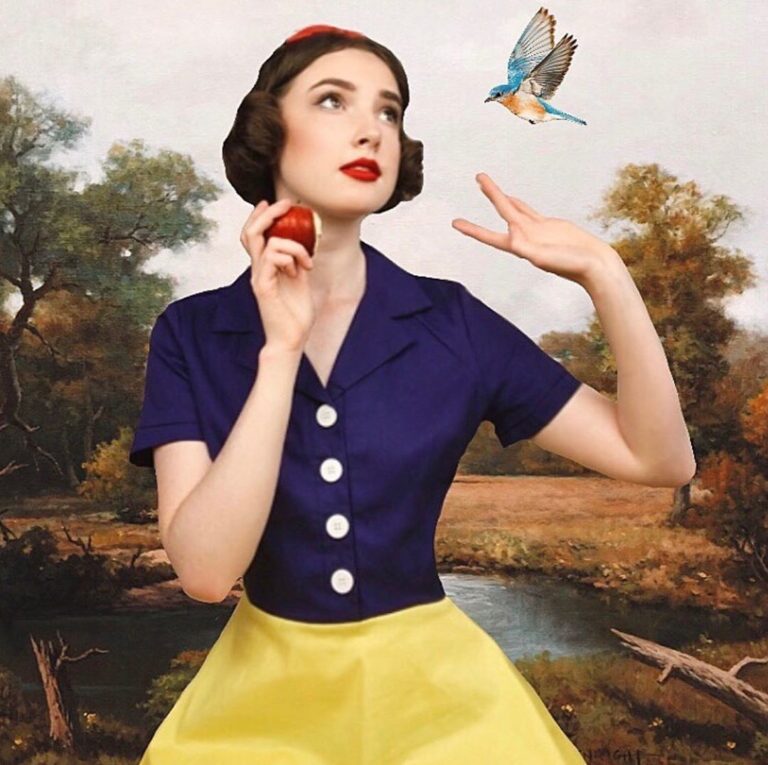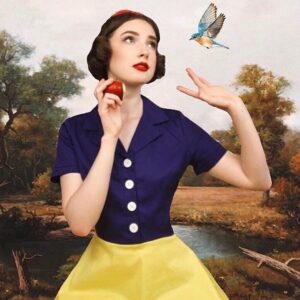 I love a fairy tale costume on Halloween… All you need for this Snow White look is a red hairband and a simple yellow skirt paired with a blue shirt or t-shirt… oh, and don't forget the red apple! Not only does it serves as a great prop… it makes for a handy snack too!
Get the Look…
#19 Wicked Witch of the West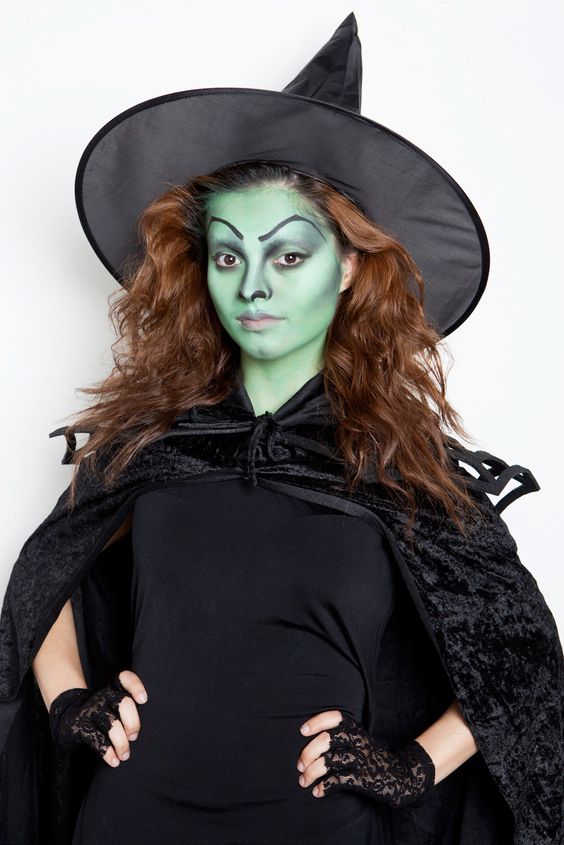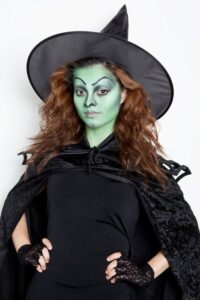 What could be better than a traditional Wicked Witch of the West costume on Halloween? Just wear some black clothes you already own & team with a black cape, witches hat, and some green face paint… you could also use a broomstick to take your witches costume to new heights (and it's pretty nifty for getting home on too!)
Get the Look…
#20

DIY It's Raining Men Costume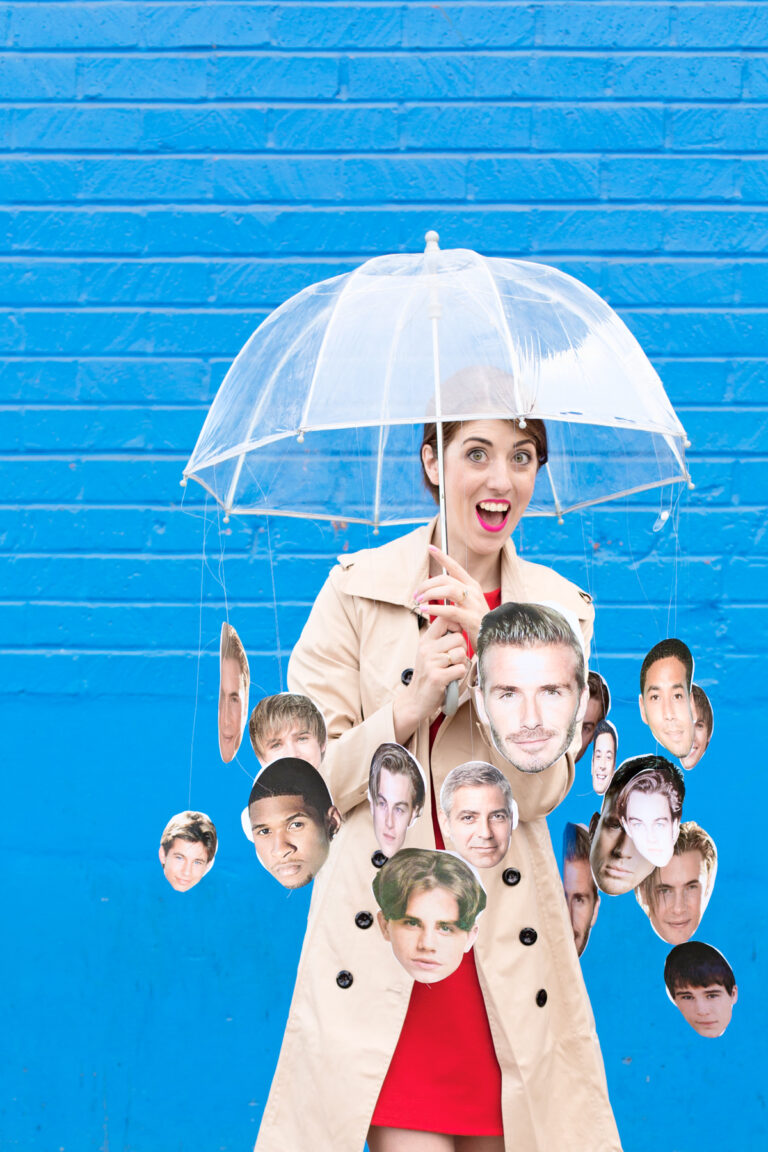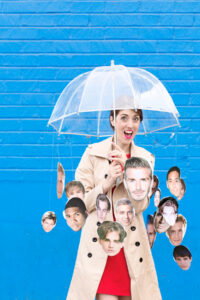 Men raining from the sky is the stuff of nightmares… However, this raining men costume is hilarious & creative! Simply print off the faces of a bunch of different men & hang them on your umbrella… easy, right?!
#21

It's Raining Cats & Dogs Halloween Costume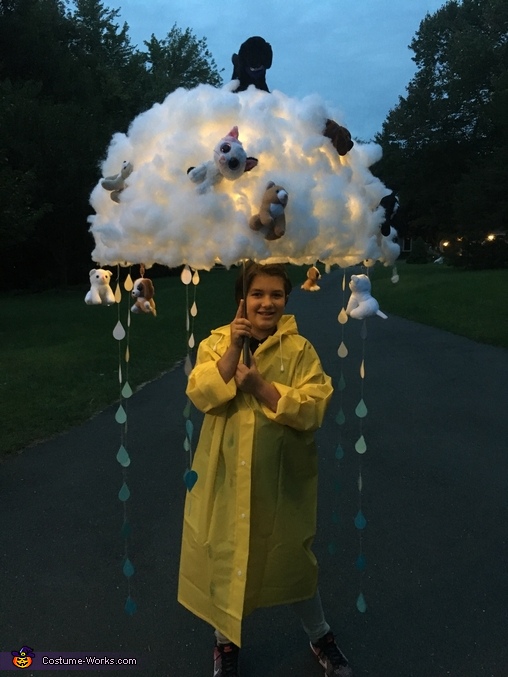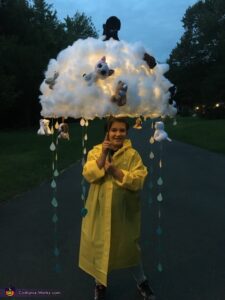 Now cats & dogs raining from the sky is pure cuteness! Don't you just love how the adorable cats & doggies are nestled in the fluffy cloud umbrella? ….awww
Get the Look…
#22 Sia Costume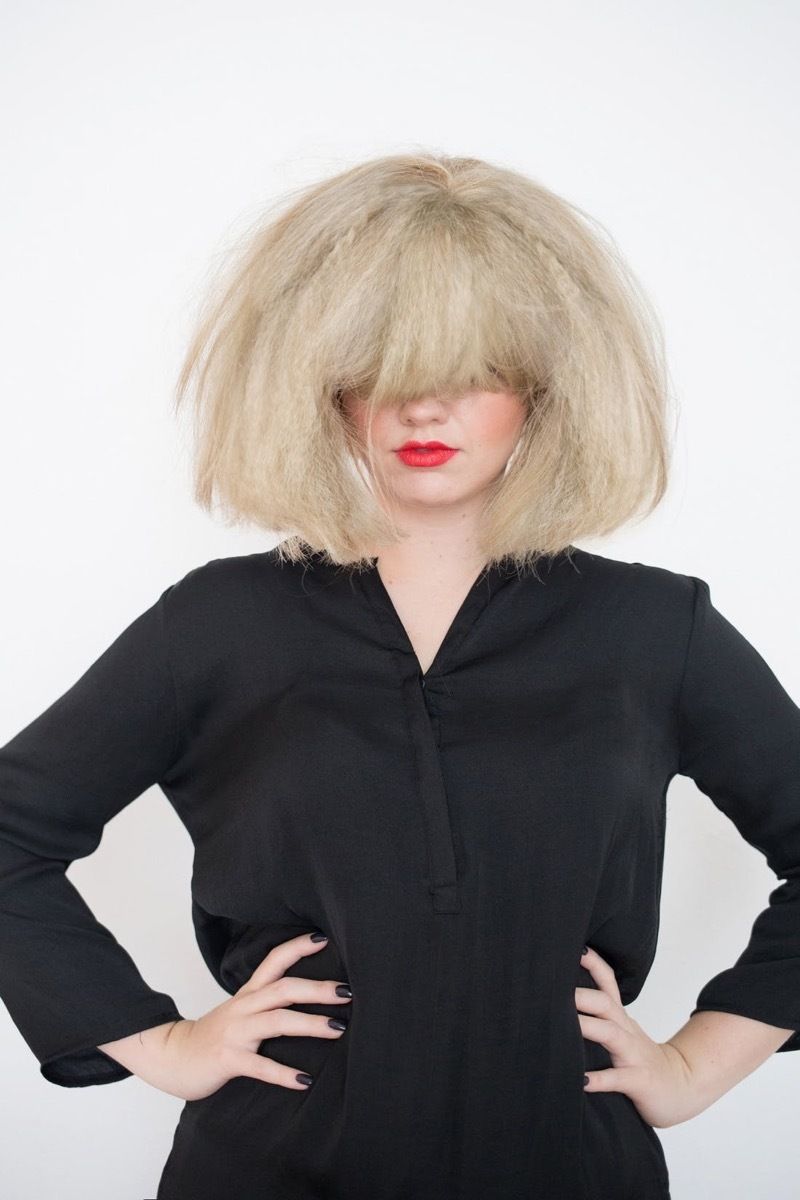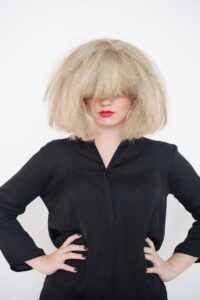 Sia is a great costume to try this Halloween! Especially when all you need is some red lippy and a blonde wig… even better if you already have a blonde bob of course!
#23 Hilarious Soap & Sponge Costume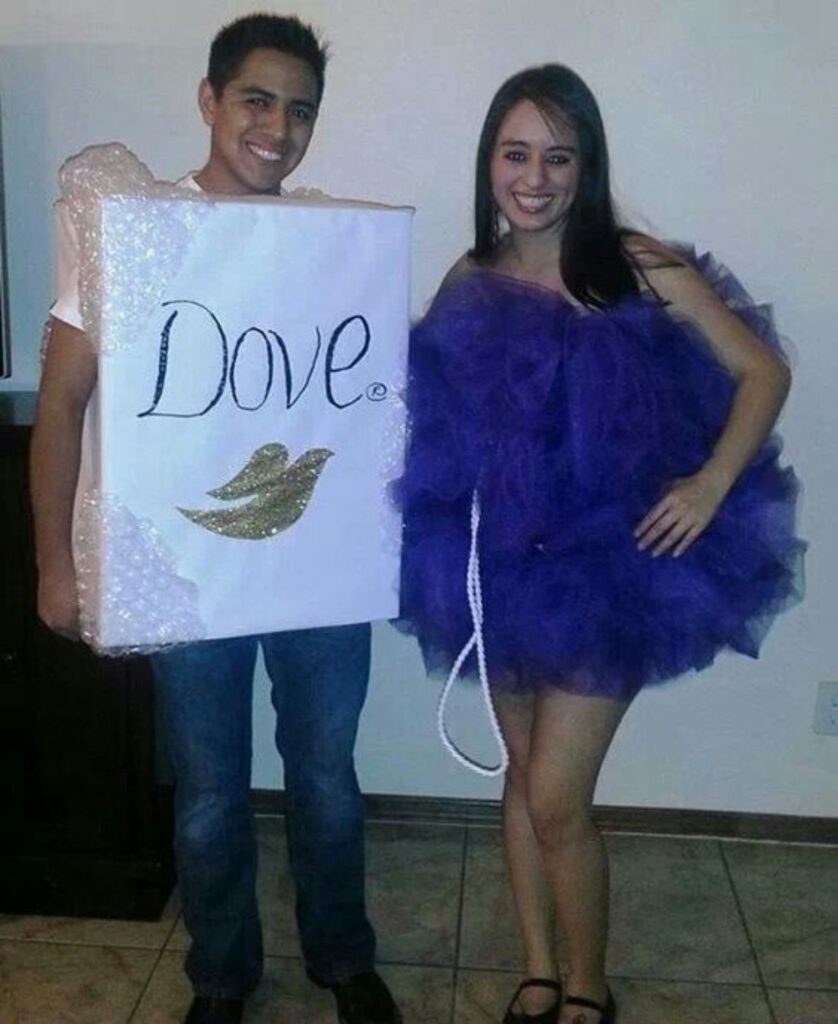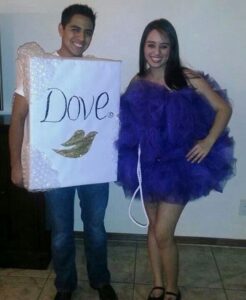 Even though the image is technically a couple's costume, you could dress up as either the soap or the sponge and still have a hit costume! For the soap bar, you'll need a cardboard box, some paint and mini clear ballons for the soapy corners… For the giant sponge, you'll need to get some tulle fabric, glue, and white rope… easy!
Get the Look…
#24 Golden Mummy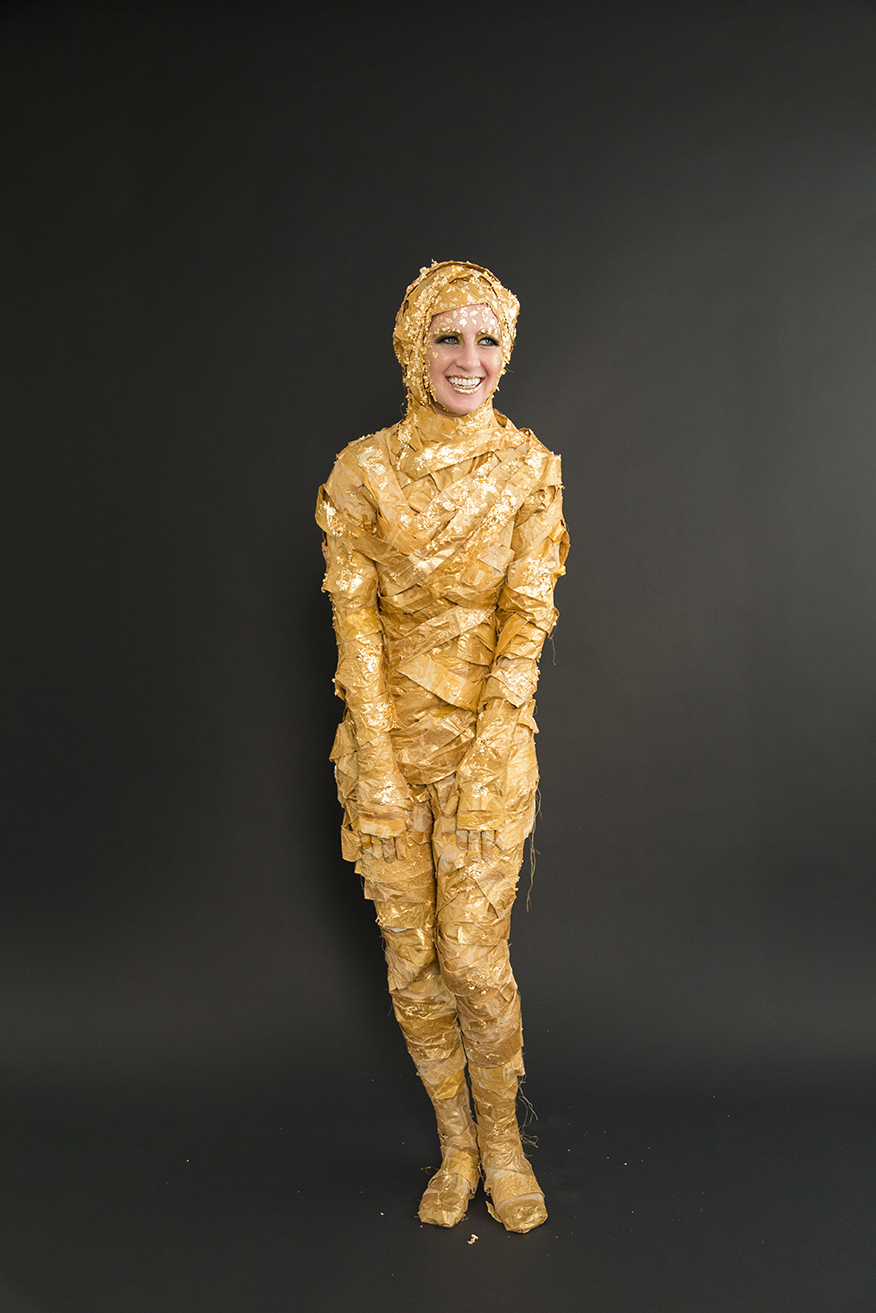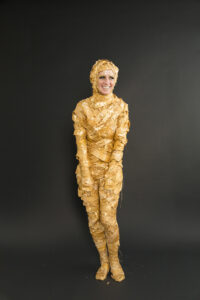 Any opportunity to dress up in gold sparkles and we're there, right?
#25 Scary Halloween Mummy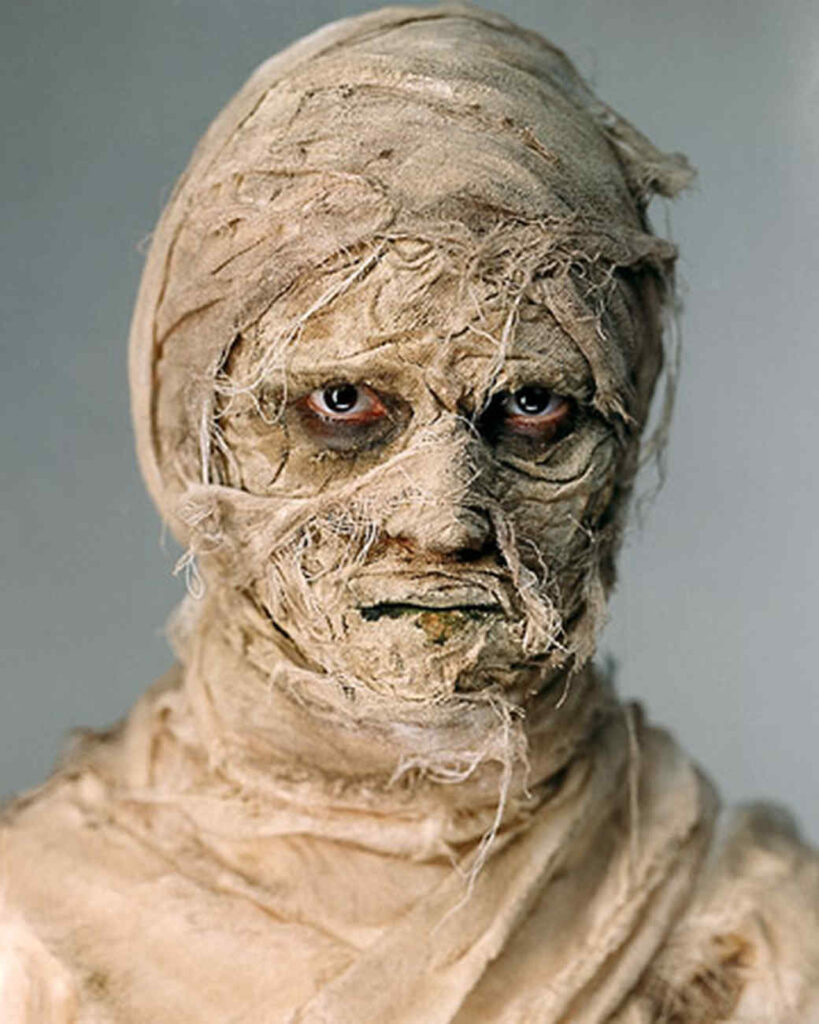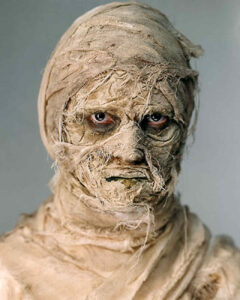 But of course, if you want to give your gold sparkles a night off then this scary Mummy costume is going to be giving everyone the creeps!
#26 Cruella De Vil Halloween Costume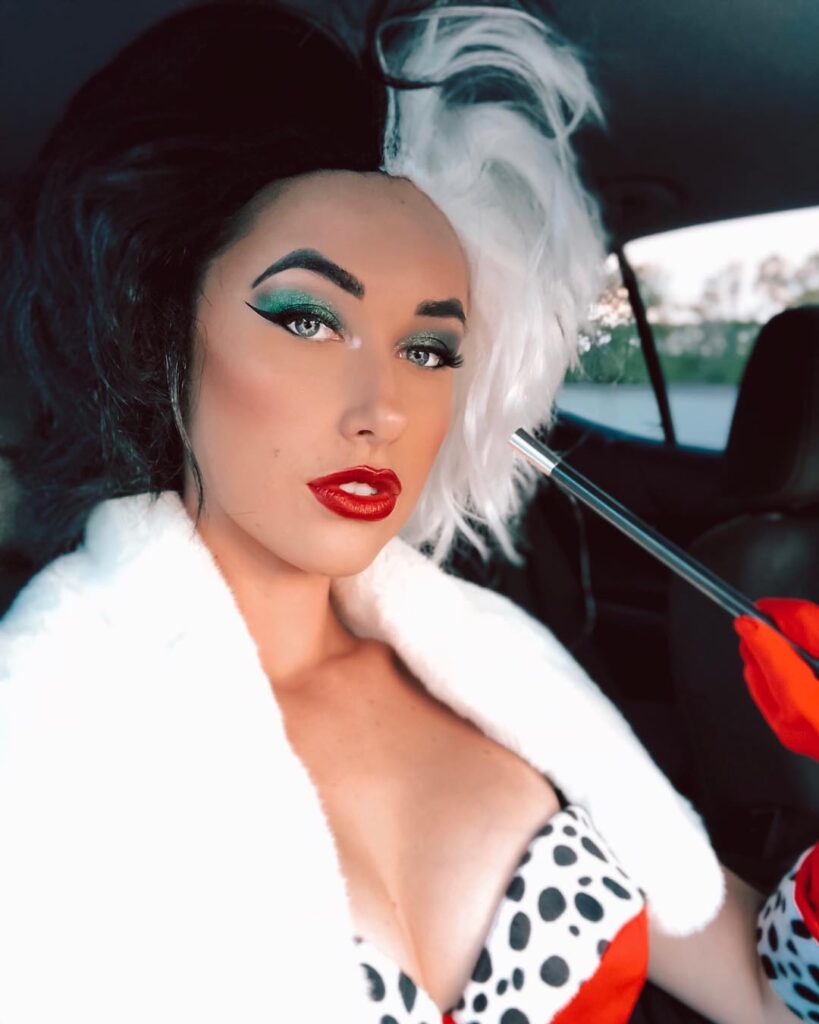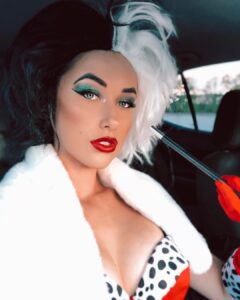 Dalmations are the thing of cuteness… but not when they're on Cruella De Vils coat… To dress up as this iconic Disney villain, you'll need anything white with black spots, a black & white wig, and some red touches like gloves, boots, or even a scarf to finish the look!
Get the Look…
#27 Light Up Jellyfish Costume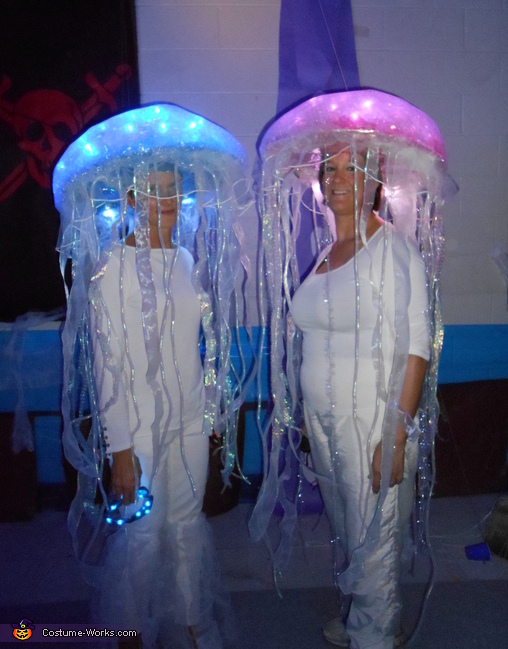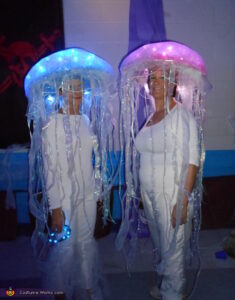 This Light up Jellyfish costume has everything you need to WOW this Halloween! The colored lights make this costume look fantastic and it's great for teaming up with one or even a whole group of your friends!
Before You Go...
These incredible DIY Halloween costumes for women just go to prove that you don't need to spend a fortune to get a fantastic look for your Halloween celebrations! Whether you want to go as a scary Mummy, a traditional witch, or even a funny tub of popcorn… you really can have the costume you love with minimal effort & stress!
[tu_countdown id=8243 design=16][/tu_countdown]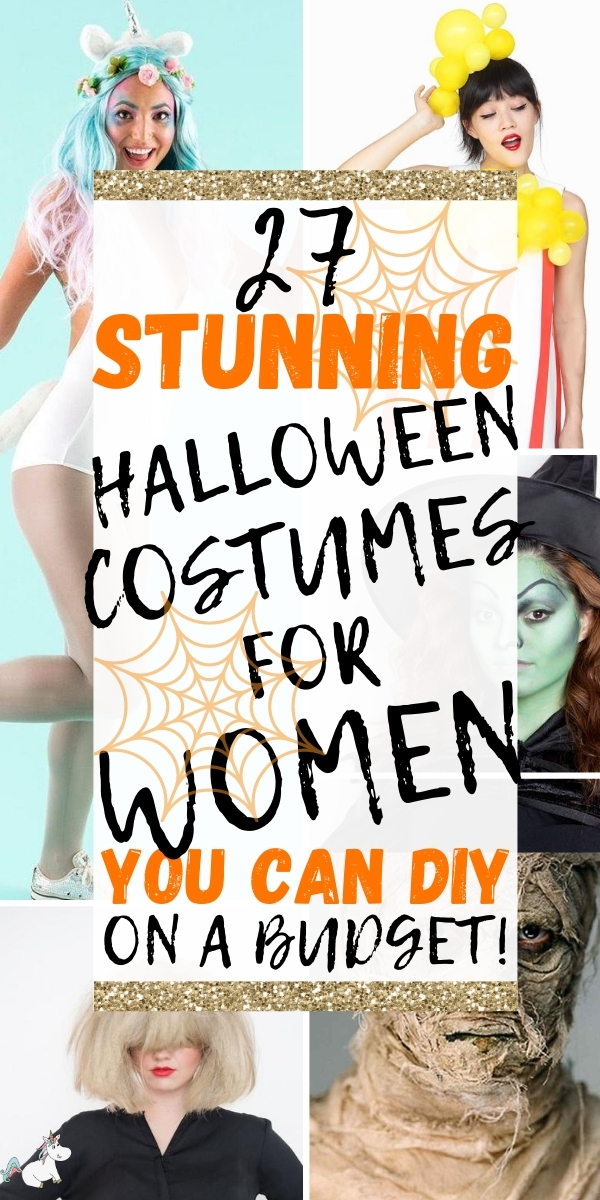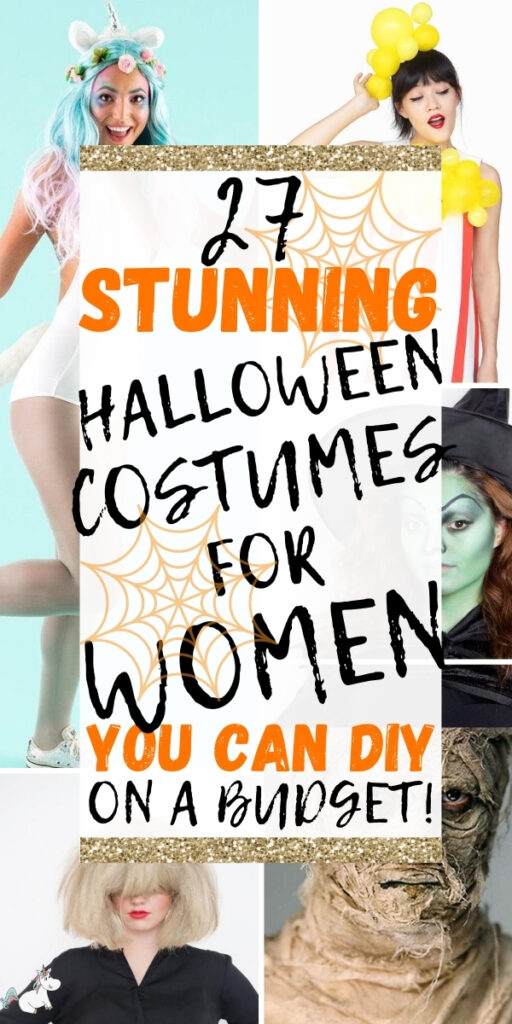 Happy Spooking!