Halloween slime is one the best craft ideas to make for Halloween! After all… making slime is easy & cheap to make and effortlessly gory too!
Watch the full tutorial here to get started…
This post may contain affiliate links. See my full disclosure here for more info.
Halloween has got to be one of the best holidays!
My kids love carving pumpkins & getting dressed up in spooky costumes… they've already decorated their bedrooms with Halloween decorations & I don't need to tell you that trick or treating for candy is high on their to-do list this year!
Every year we like to have a Halloween party but it can get expensive very quickly!
So to save money, I like to get creative with my own DIY spooky decorations, Halloween party favors & spooky party food.
This year we've made these seriously cute Halloween witch slime jars & we just couldn't resist making a little black cat one too…. because let's face it, is a witch really a witch if she doesn't have a black cat? (ok, ok, and it's cute!)
Haven't got time to read this now? Click here to Pin it for later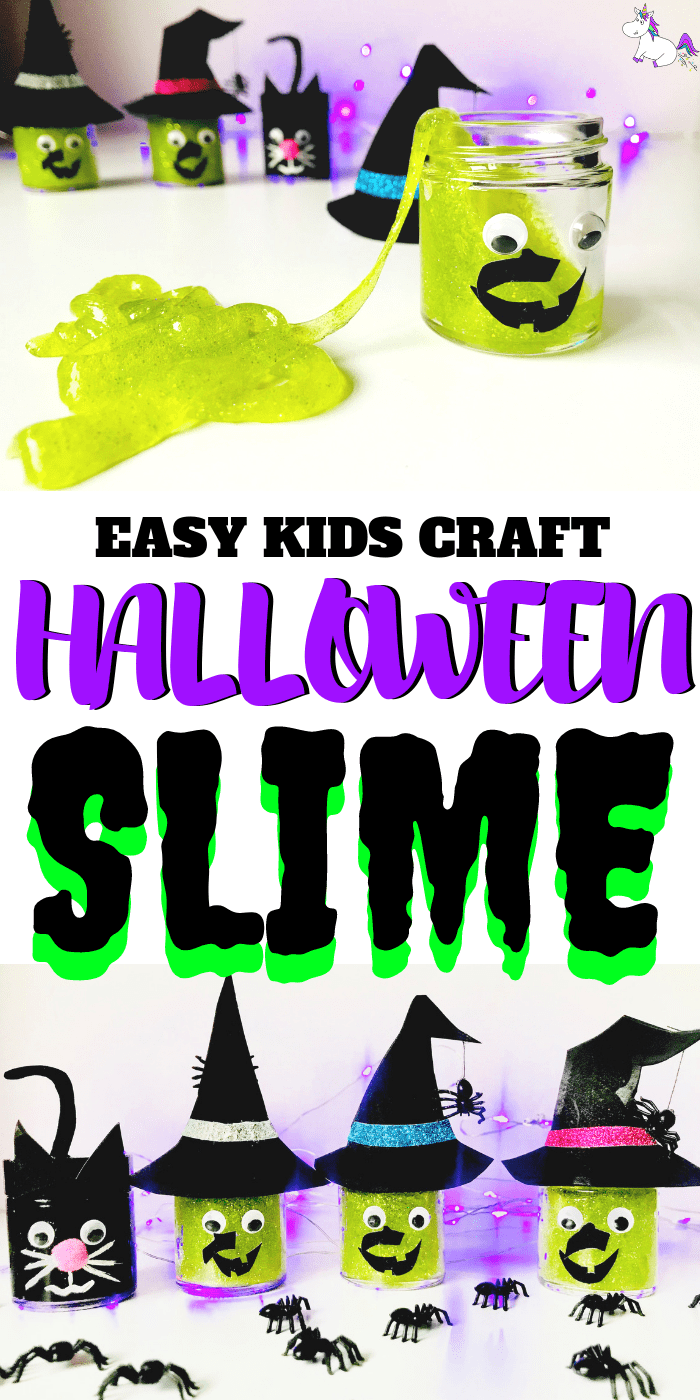 These Halloween slime jars were so easy to make & use an easy slime recipe too… the witch slime jars were made using a mason jar, black card for her hat & facial features, a strip of sparkly card to 'bling up' their witches hats, googly eyes & a creepy plastic spider hung from a small piece of cotton! The cat Halloween slime is also stored in a mason jar & uses black card for his tail & ears. & a pink pom-pom to make a seriously cute nose… his whiskers were drawn on with Tipex using a cocktail stick (which let me tell you, is easier said than done)
Before we begin the tutorial on how to make these cute Halloween Slime Jars, let me introduce you to the coven…
Halloween Slime Jars
Witchy one… we'll call her Witchy-Lou *all crazy name credits to go to my 4-year-old son here!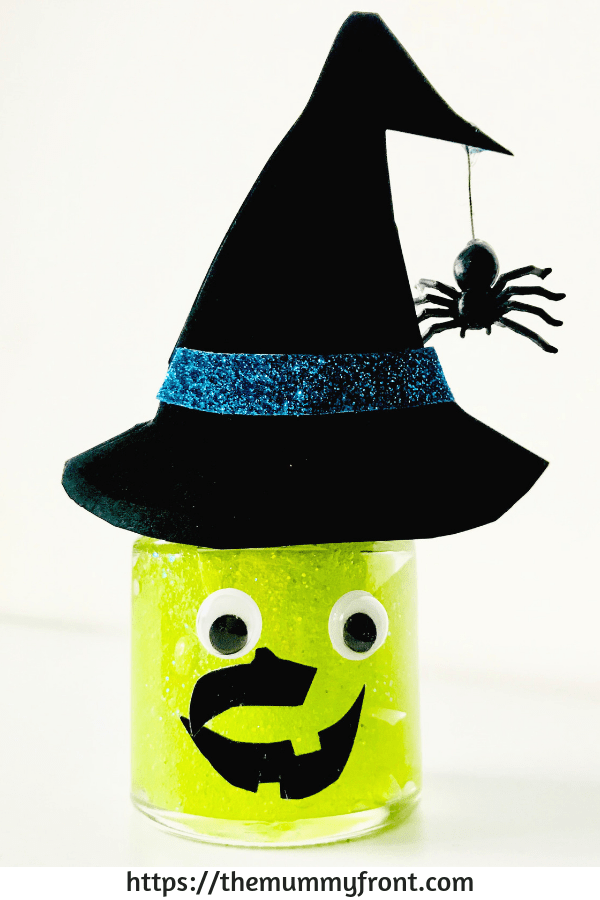 Witchy two.. affectionately named Howdy-Witch… (your guess is as good as mine)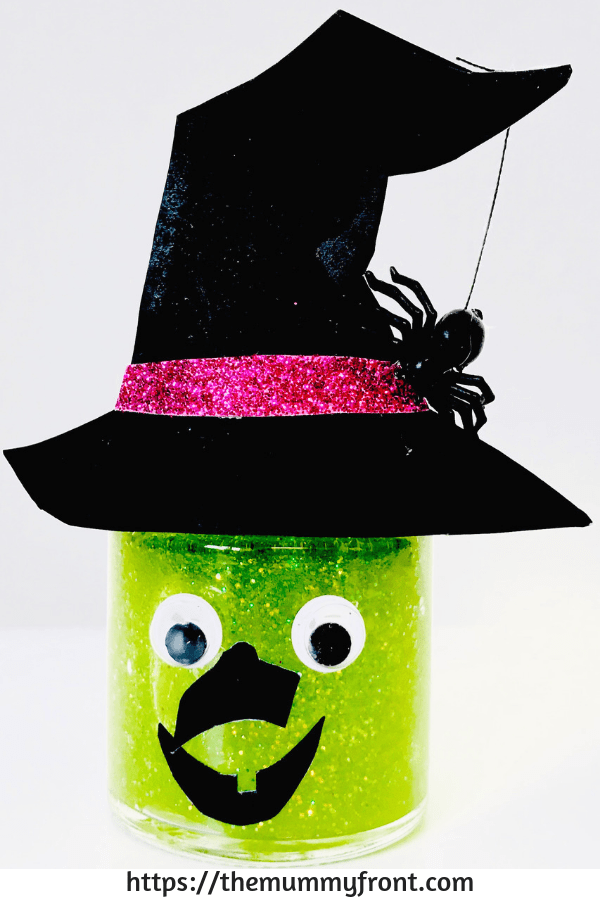 Witchy three… AKA Naughty-Witch… yeah I was a bit disappointed with that name too, to be honest…. hopefully the cat will have something a little more creative & quirky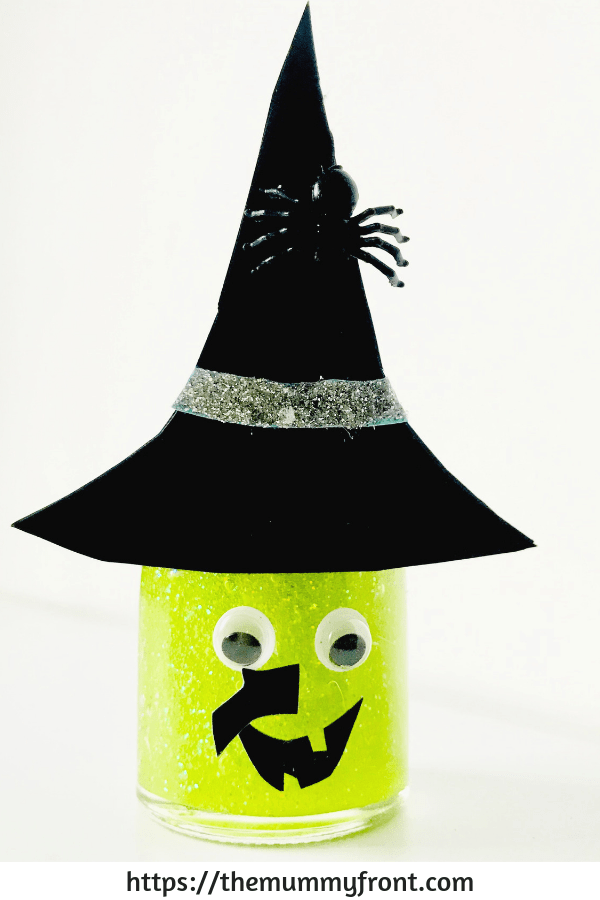 This is Little Black Cat… inventively named Black Cat!…. hmmm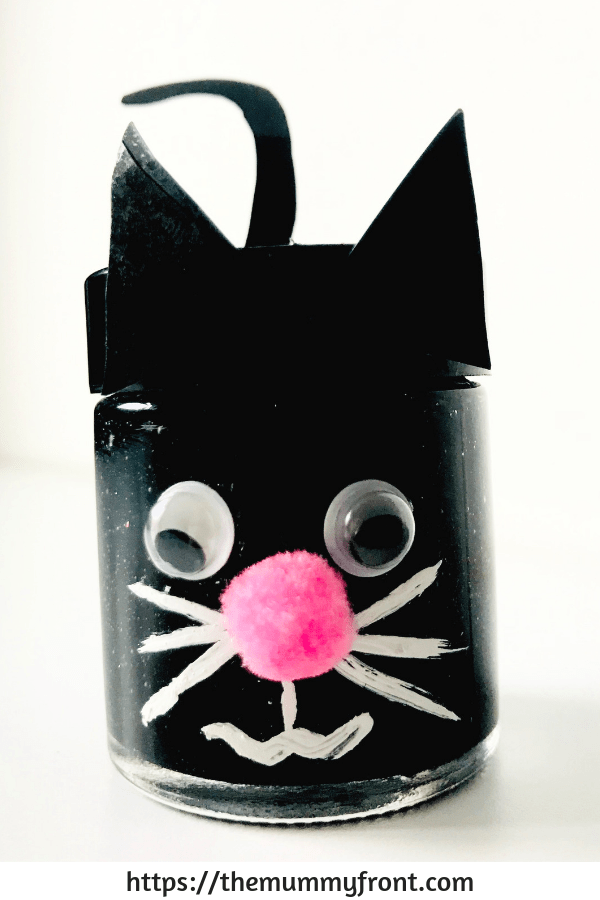 These Halloween slime jars are such a hit with the kids…. you could either give them as party favors, get the kids involved in making them or if you have a classroom full of kids, this Halloween slime activity would go down a spooky treat & the kiddies could even learn about
the science of making slime too!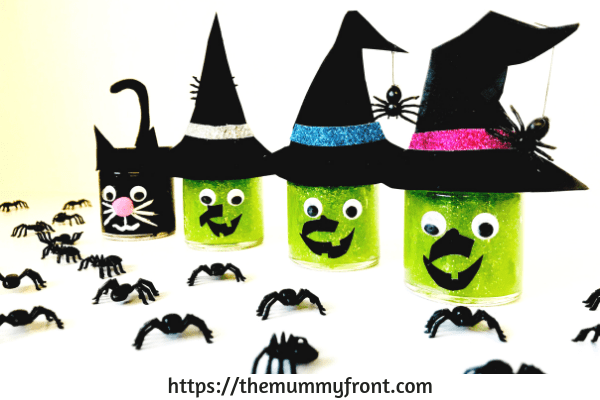 We used green slime & black slime to create our Halloween slime jars, but you could use any color you like… here's a pic of our made up slime…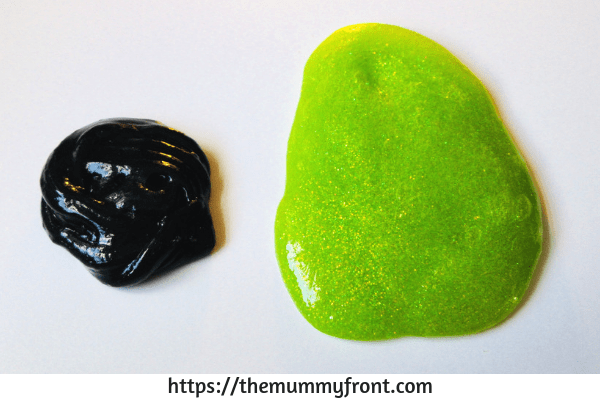 And two 'not so Insta' Insta swirls…
[col-md-6]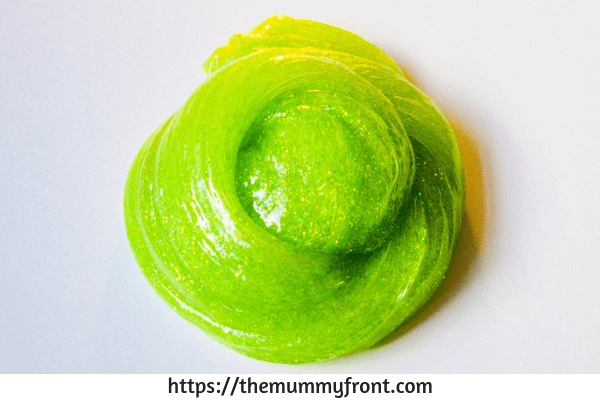 [/col-md-6][col-md-6]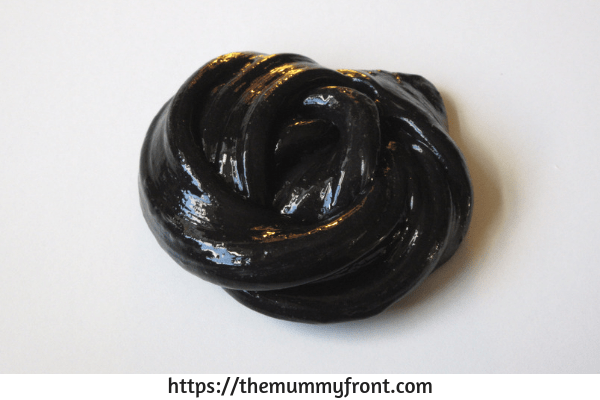 [/col-md-6]
The green slime is the perfect color for a witch but you could use any colors you like! We also made a purple slime to see how the witches would look in a different color… it turned out fantastic!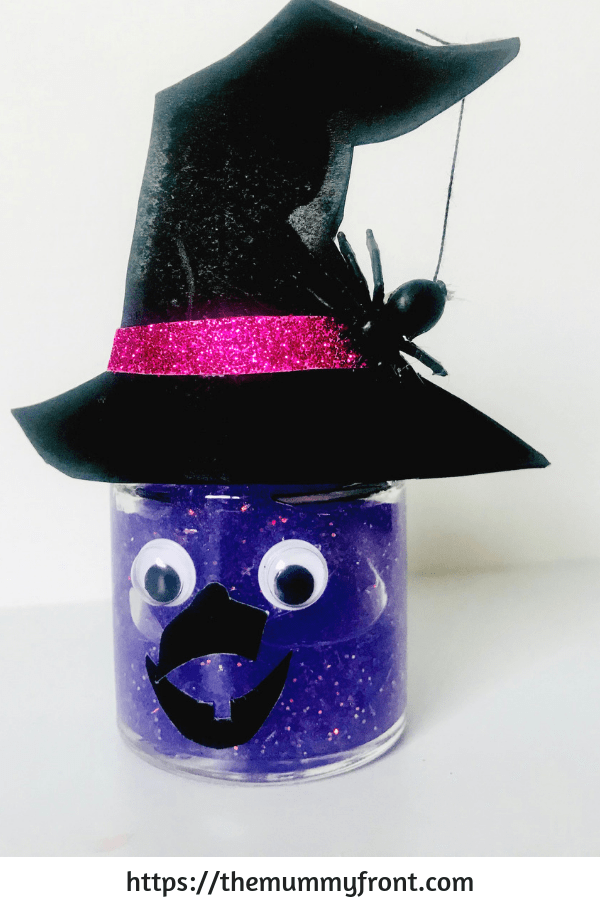 So now let's get onto the tutorial…
Watch the full tutorial here….
Supplies For Halloween Slime Jars
To make this really simple I've listed the exact ingredients & steps needed to make 3 little pots of green slime & 1 little pot of black slime separately.
For 3 Halloween Slime Witch Jars You Will Need…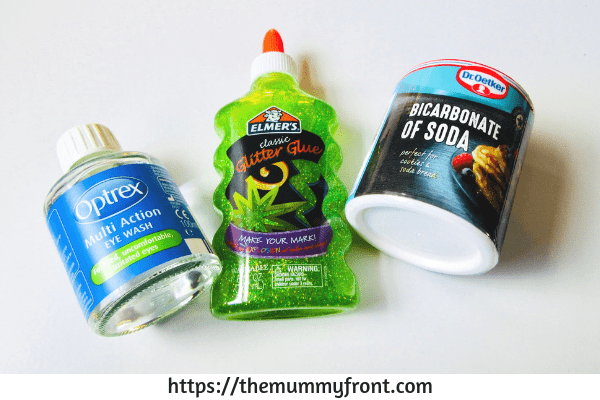 90ml of Elmers Glue – we used this green… *If you have white glue just add a splodge of green food coloring.
3/4 Tsp Baking Soda/Bicarbonate of soda
1 TBSP (or less) of Contact lens solution. * We used Optrex because we know it works… whichever brand you use simply make sure there is BORIC ACID listed in the ingredients & you will make perfect slime!
For 1 Halloween Black Cat Slime Jar You Will Need…
30ml white PVA glue… we used a brand from our local supermarket but you could use Elmers for foolproof results.
1/4 Tsp Baking Soda/bicarbonate of Soda
1 Tsp (or less) of Contact Lens Solution
Pro Tip for Classrooms! Use the amounts given for the 1 Halloween Black Cat Slime Jar & multiply the ingredients by the number of children you have so everyone can make their own little slime jar…. with the supervision of adults of course!

For a Class of 30 Kiddies you will need

900ml/32oz of PVA Glue *you could buy a gallon size to save on costs

40g Baking Soda/Bicarbonate of Soda

150ml Contact Lens Solution
Supplies For Decorating Your Halloween Slime Jars
Glass Jars *the jars we used were these 1oz jars
One A4 Sheet Black Card ** You can print off a handy template at the end of this post for all the features I used!
Some Scraps of Sparkly Card or Glue & Glitter will work
3 inches of Black Cotton cut into 3
1 Pink Pom-pom
Tipex or White Paint
Glue stick or Hot Glue Gun *I definitely recommend using a glue gun to secure the witches hats & cat ears & pom-pom nose to the Jars… A glue stick will work well for the rest of this Halloween craft.
How To Make Halloween Slime
Step 1. Pour your glue into a bowl *Mix in your food coloring if using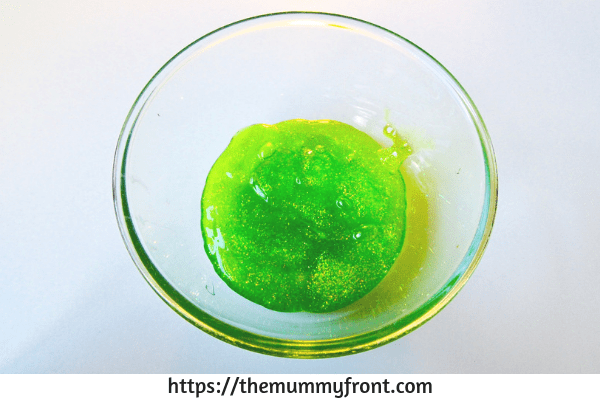 Step 2. Mix in the baking soda/bicarbonate of soda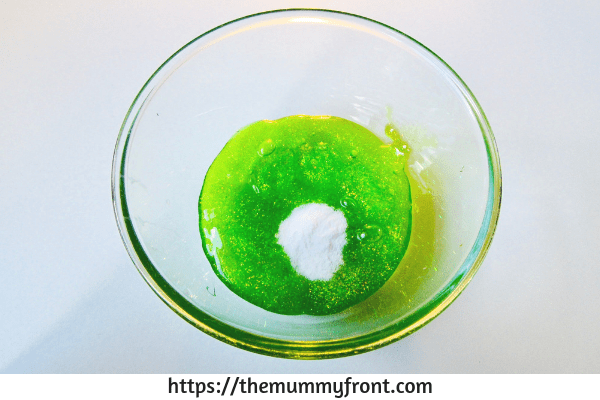 Step 3. Pour in the contact lens solution *Do this in small amounts and keep adding until your slime forms. Your slime will become less sticky the more you stretch & play with it so don't add too much of the contact lens solution too soon.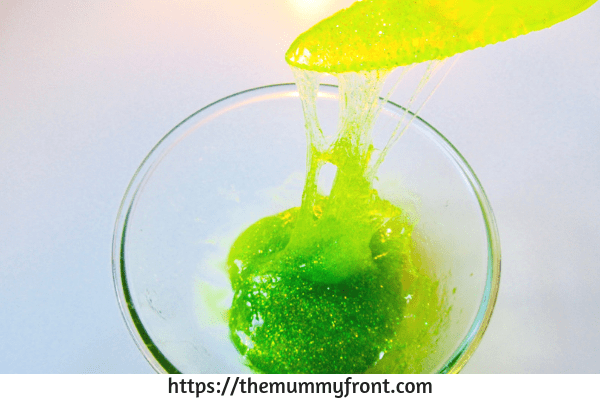 How To Decorate The Halloween Jars
Step 1. Print off the handy template for the hats, noses, mouths, cat ears & cat tail… or draw your own onto the black card & cut out.
Step 2. Cut out a strip of sparkly card & stick onto the hat using glue
Step 3. Hot glue the witches hat to the lid of the jar/cat ears to the lid of the cat jar
Step 4. Glue on the googly eyes, noses & mouths… don't forget the cats tail!
Step 5. Glue or tape a piece of cotton to the top of the witches hat & glue or tape the spider to the other end
Step 6. Paint on the cats face
Step 7. Secure pom-pom nose with hot glue gun.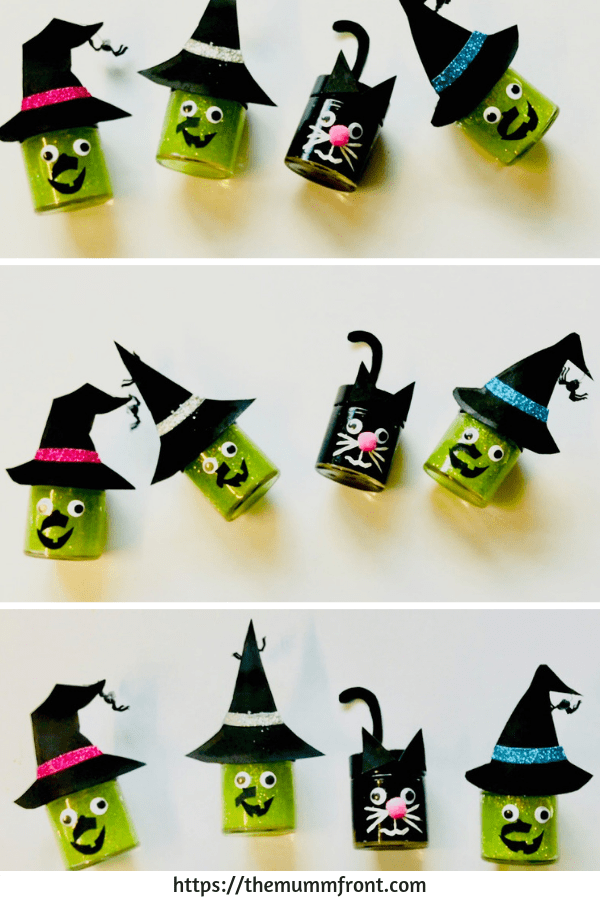 Whoop Whoop… Now it's time to play with your slime! The glass jars make the perfect slime storage solution too!
For more slime fun you could check out our Rainbow Slime here!
Storing Slime
Slime should always be stored in an airtight container to prevent it from drying out.
However, if you find your slime is drying out after a few days you can always refresh it with some hand moisturizer.
Avoiding Slime Failures
The best way to avoid slime failure is by sticking as closely as you can to the slime recipe!
However… no matter how careful you are slime can still go wrong!
Usually, it's due to a bad batch/brand of glue… this is why I recommend you use this popular brand of glue for slime making as you can trust that the slime will be perfect every time!
If you have a slime that is breaking, hard or tearable… even old slime that has dried up… you can follow my easy instructions here on how to fix it.
Other Ways To Make Slime
We love to make slime in our house, so much so we have got our truly tried and tested easy slime recipes that we go to every time for perfect results…
The recipe above made the perfect slime using clear glue but if you want to make a super stretchy slime then you simply cannot beat our other slime recipe here.
Making Halloween slime is super fun but you can have just as much fun making Christmas slime or Valentines Slime… there really isn't ever a bad time to make slime actually 🙂
What I love most about making slime is that it never gets boring as you can make different slime every time!
Here are some ideas to make slime making fun…
Add shaving foam to make a Fluffy Slime
Fishbowl slime can be made using large glass beads
Add small pieces of Sponge to your slime for a different texture
Add glitter & sequins in all the colors you can think of
Experiment with different colors using paint or food coloring
You can even add iron-oxide powder for a magnetic slime!
Mix in some glow powder for a slime that glows in the dark!
Adding in some hand moisturizer or hair gel will make a stretchy slime!
Making Slime Safely
Adults should supervise at all times
Making slime is super fun but it involves the use of chemicals… ensure only adults handle the chemicals
Read all the product information labels & follow the safety precautions accordingly
This slime recipe is NOT EDIBLE
Wash hands after handling slime
Grab Your Free Halloween Slime Templates
These templates are the same ones we used to create these spooky Halloween slime jars… for the easiest Halloween craft ever, simply print, cut out & use 🙂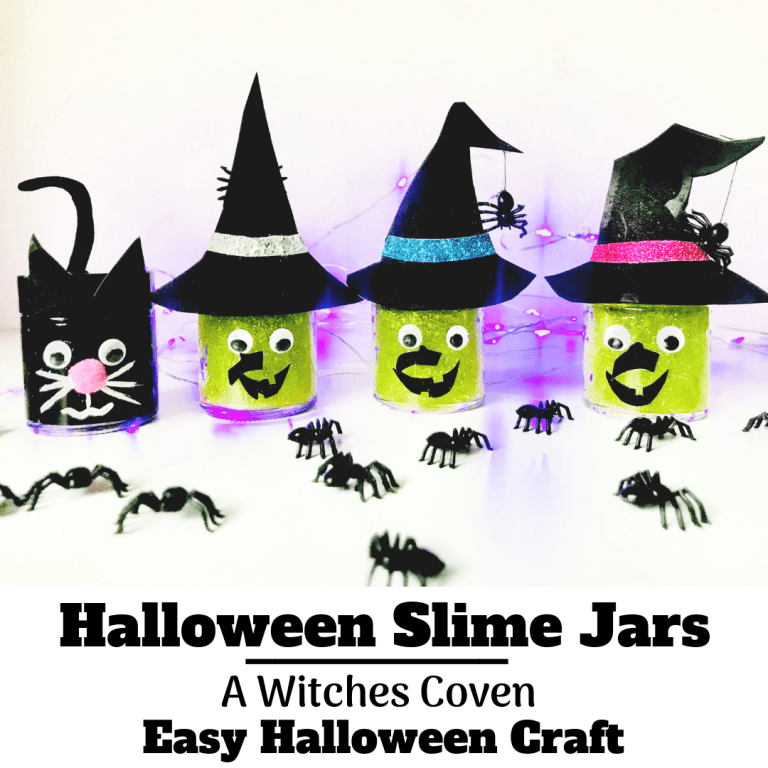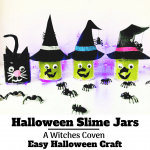 Halloween Slime - Easy 3 Ingredient Slime Recipe
Halloween slime made easy!
If your kids love Halloween crafts then they will love these cute Halloween slime jars. This recipe tells you everything you need to know about how to make slime!
This easy slime recipe will make 3 x 30ml/1oz witch Halloween Slime Jars.
Keyword:
cheap slime, easy slime recipe, easy slime recipe for kids, halloween crafts, halloween slime, halloween slime jars, how to make slime, slime for kids, slime videos, spooky slime
Servings
:
3
30ml slime batches
Ingredients
90/3

ml/oz

Green glue

We used Elmers

3/4

Tsp

Bicarbonate of soda/baking soda

1

Tbsp

Contact lens solution

We used Optrex
Instructions
Pour glue into a bowl *add coloring if using

Mix in the bicarbonate of soda/baking soda... give it a good stir

Mix in up to one Tbsp of contact lens solution, adding gradually until the slime forms. *play with the slime, stretching & pulling to help it come together without adding too much contact lens solution
Recipe Video
Before You Go...
I really hope you have enjoyed these ultra cute Halloween slime witches…
They go to prove that Halloween crafts are so much fun & cheap & easy too!
If you give this slime tutorial a go be sure to come back & either email me the results or comment on the Pinterest pin… I would LOVE to see them!
Happy Halloween!
If you loved this post & want to come back to it later, Click Here to save it to Pinterest