Ikea bathroom hacks are perfect for you if you're redecorating your bathroom and don't want to spend a fortune…
The amazing Ikea bathroom hacks we've found for you below will make your dream bathroom a reality without breaking the bank.
Imagine having the perfect bathroom with all the storage space you could ever need – and in a style that will impress everyone who sees it.
We're going to show you some easy DIY hacks that will give your bathroom a whole new look – and you won't believe how simple they are!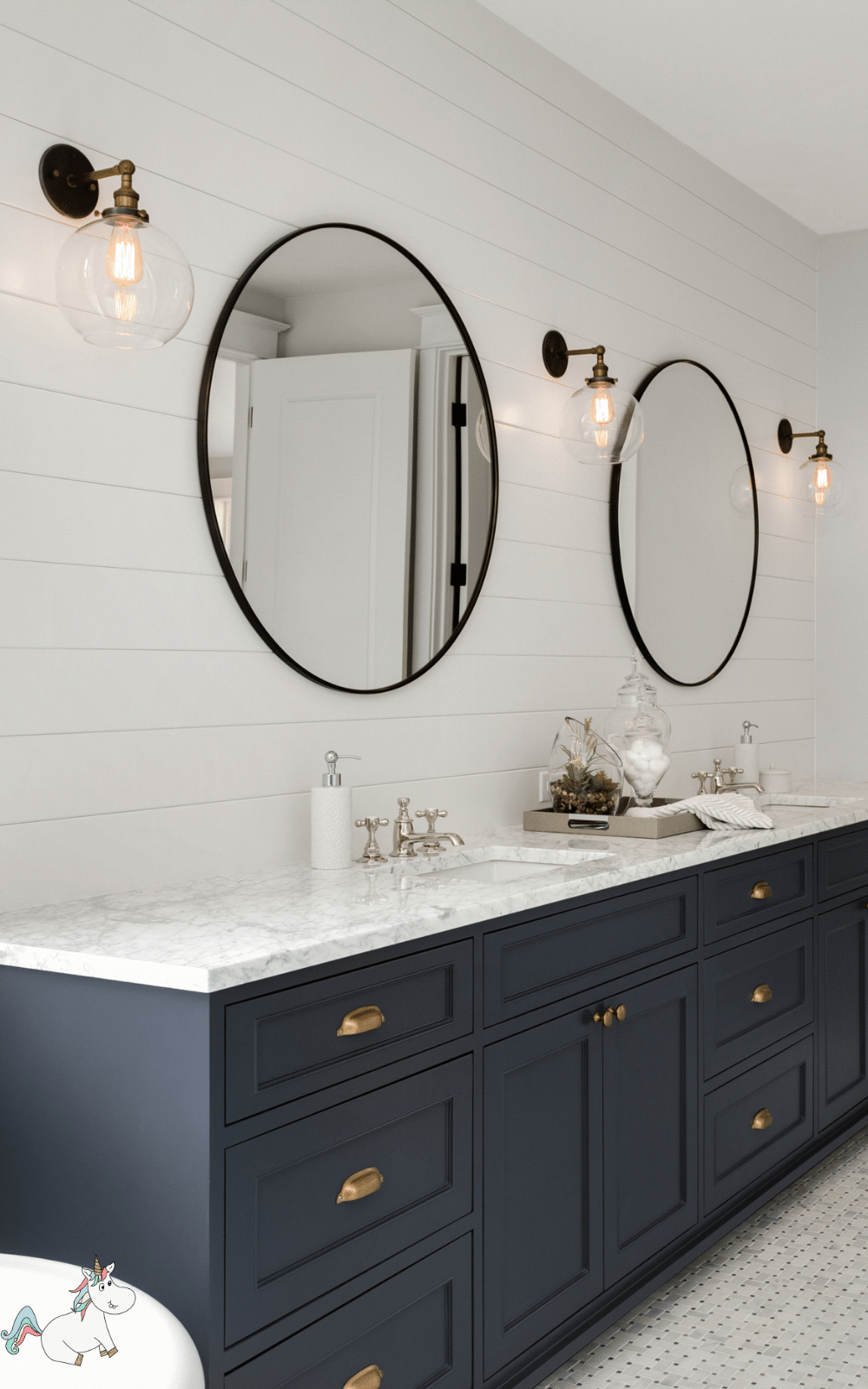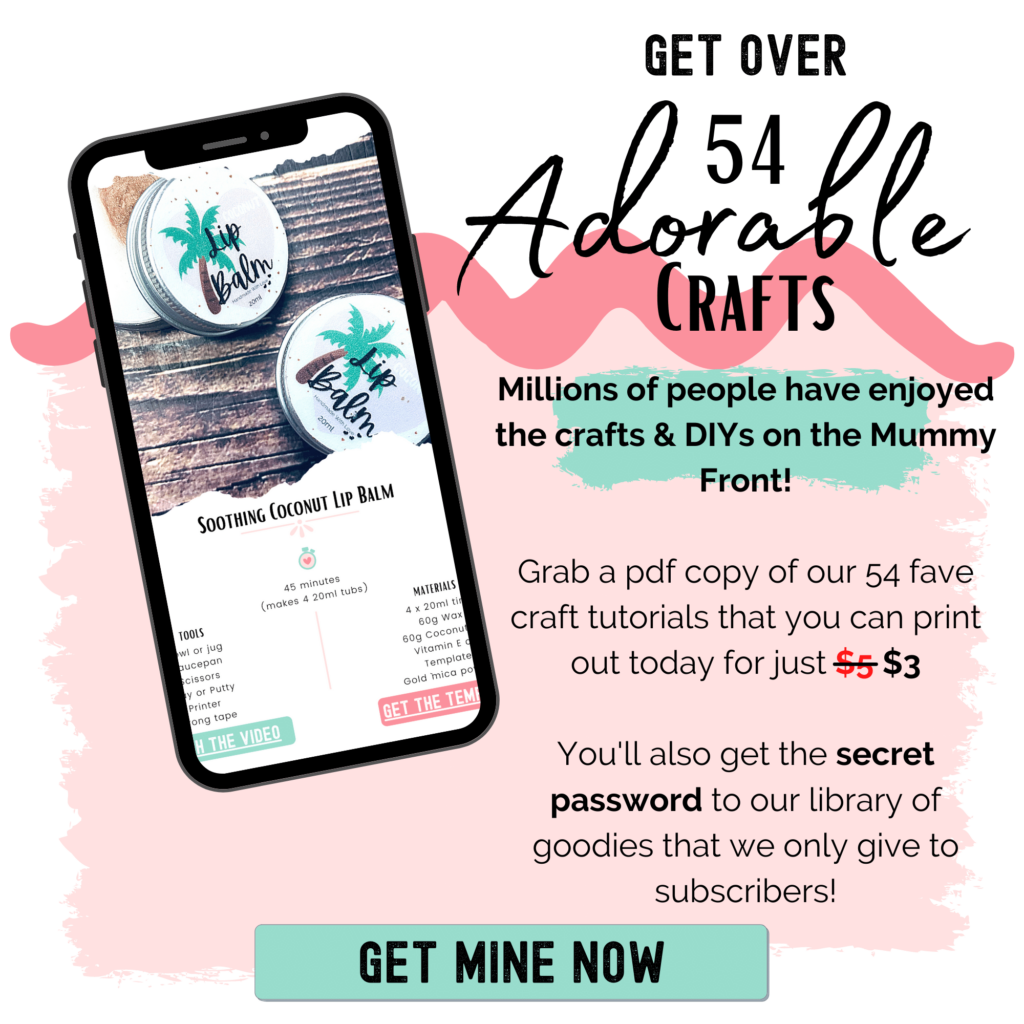 A Quality Bathroom

(on a budget)
Ikea has long been a favorite among homeowners looking for affordable and practical furniture that they can use in their homes.
And if you're on the quest to find stylish bathroom storage solutions that are the perfect fit for your space, yep, even small spaces… then IKEA is an excellent resource!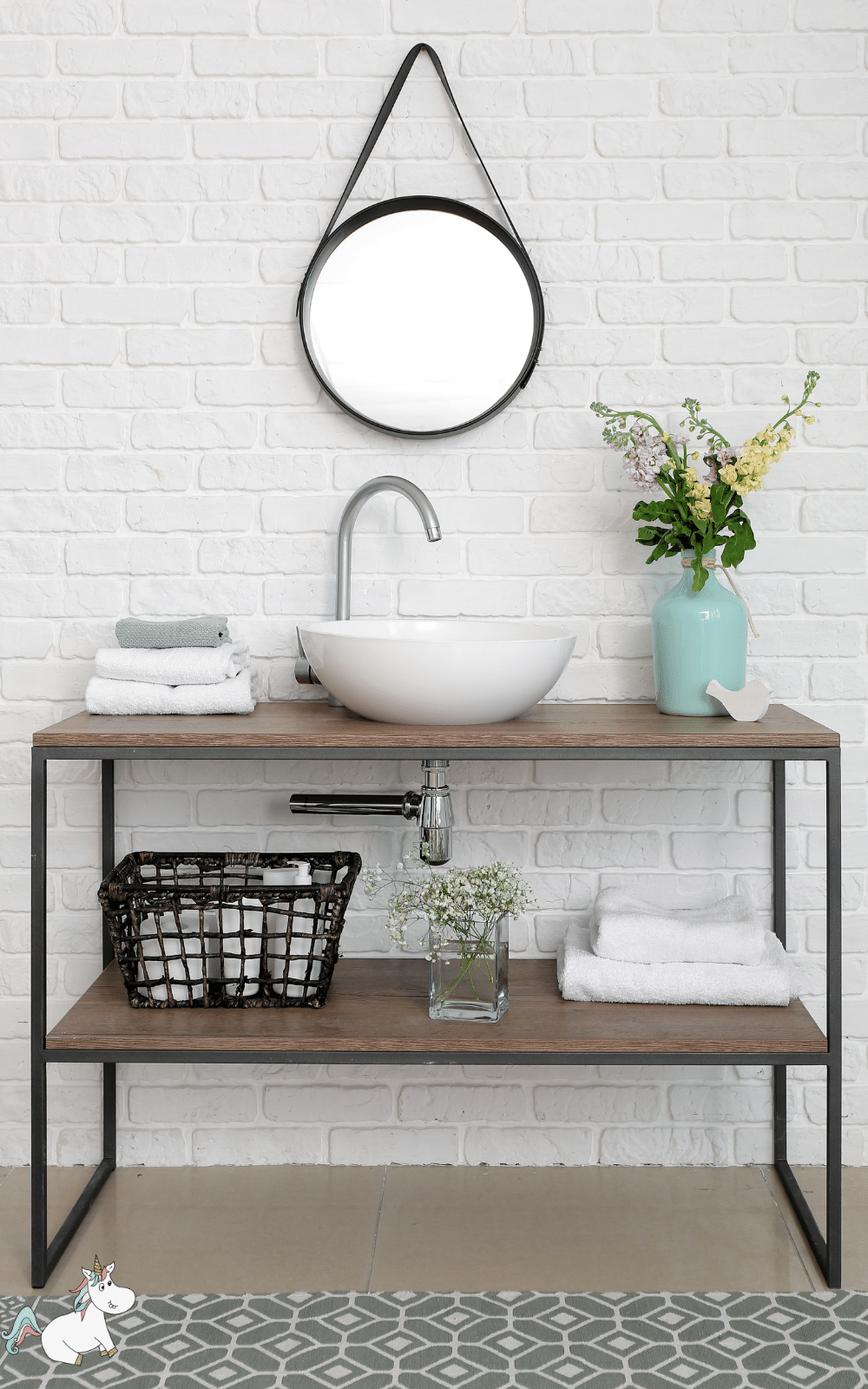 Cheap prices? Yes!
Quality? Always!
There's really no limit to what you can create with an open mind, a dash of creative flair, and a piece of gorgeous IKEA furniture!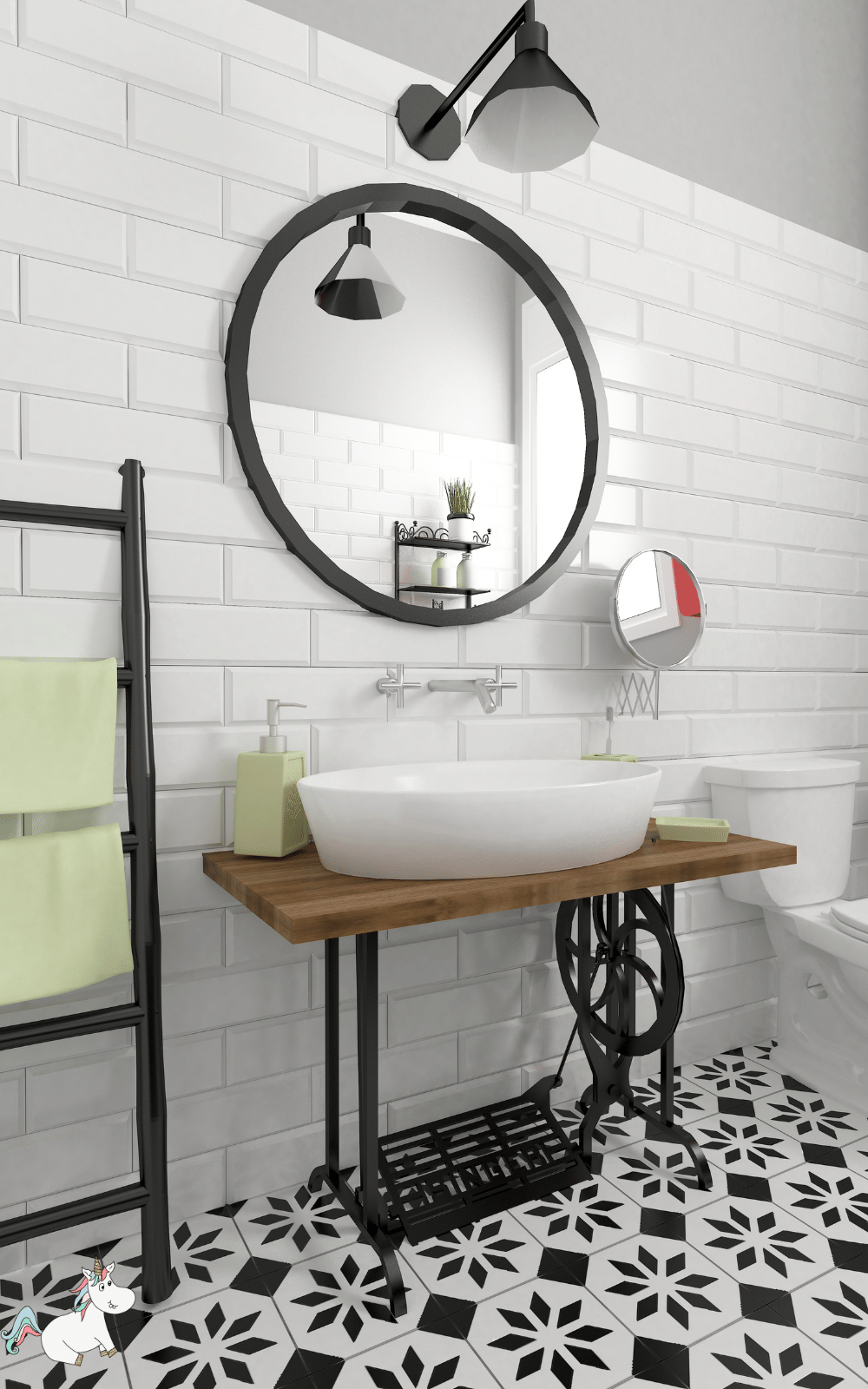 Recommended For You:
Can You Use Ikea Kallax In Bathroom Designs?
Yes! The Kallax can be used in a bathroom design as a storage solution.
It is important to consider the moisture and humidity levels in a bathroom when choosing furniture and storage solutions.
The Kallax is made of moisture-resistant materials, so it is a good choice for a bathroom storage solution.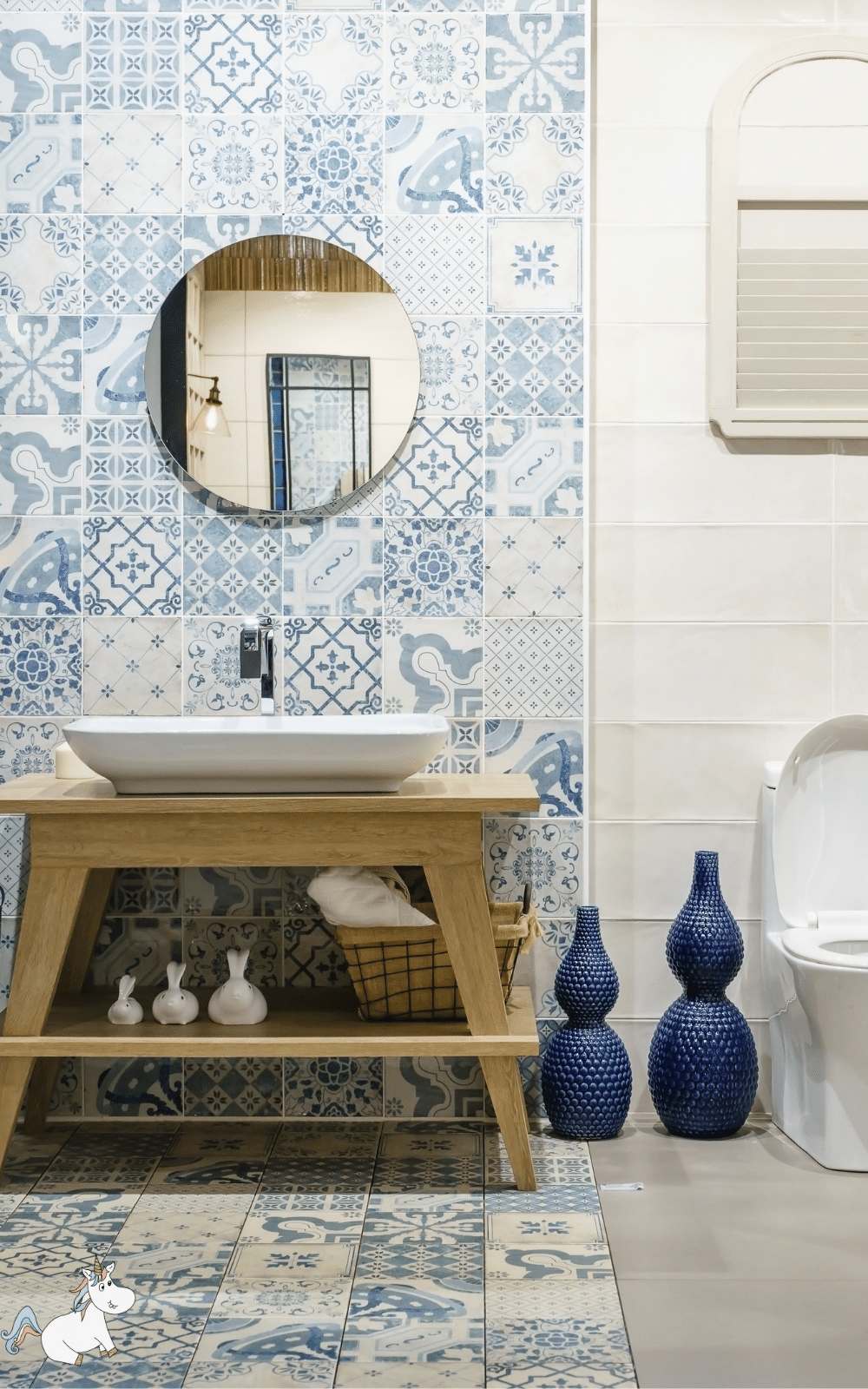 Can I Paint An Ikea Bathroom Cabinet?
Yes, you can paint an Ikea bathroom cabinet. However, you will need to prepare the surface of the cabinet before painting.
You can do this by lightly sanding the surface and then wiping it clean with a damp cloth.
Once the surface is prepared, you can then apply primer to the cabinet and allow it to dry, and then paint with your color of choice!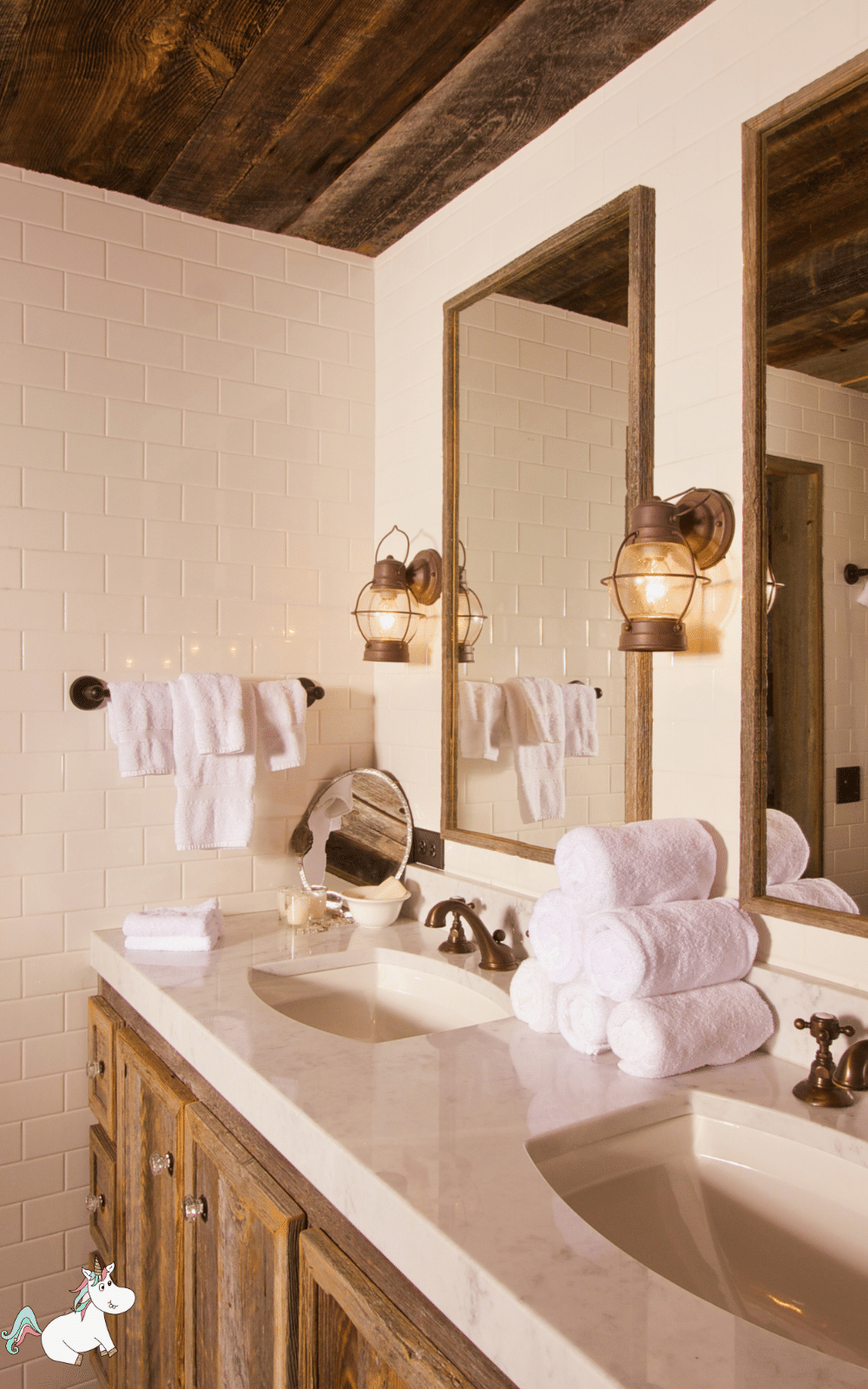 How Do You Hack A Bathroom Vanity?
There is no one-size-fits-all answer to this question, as the best way to hack a bathroom vanity depends on the specific make and model of the vanity.
However, some tips to get you started include removing the doors and drawers and replacing them with shelves, or using hooks instead of cabinet hardware to hang your towels.
Here is a great video tutorial on how to hack a bathroom vanity…
How Do You Make A Floating Vanity?
A floating vanity is a great way to make a small bathroom feel larger.
You will need to purchase a vanity that is designed to be mounted to the wall.
We love this video tutorial on how to make an Ikea floating vanity…
Can You Use Sektion In The Bathroom?
The Sektion rail from IKEA is traditionally used in kitchens for hanging Sektion cabinets. However, it's an effective way to hang bathroom cabinets too!
Can I Put IKEA Kitchen Cabinets In A Bathroom?
One of the best things about IKEA items is that many of them are interchangeable between rooms. IKEA kitchen cabinets are perfect for use in both bathrooms and kitchens.
So, are you ready to start planning your dream bathroom makeover?
Let's do this…
P.S. Be sure to click here or on the image below to save these Ikea Bathroom hacks to your favorite DIY board on Pinterest so you can come back time & time again! 🙂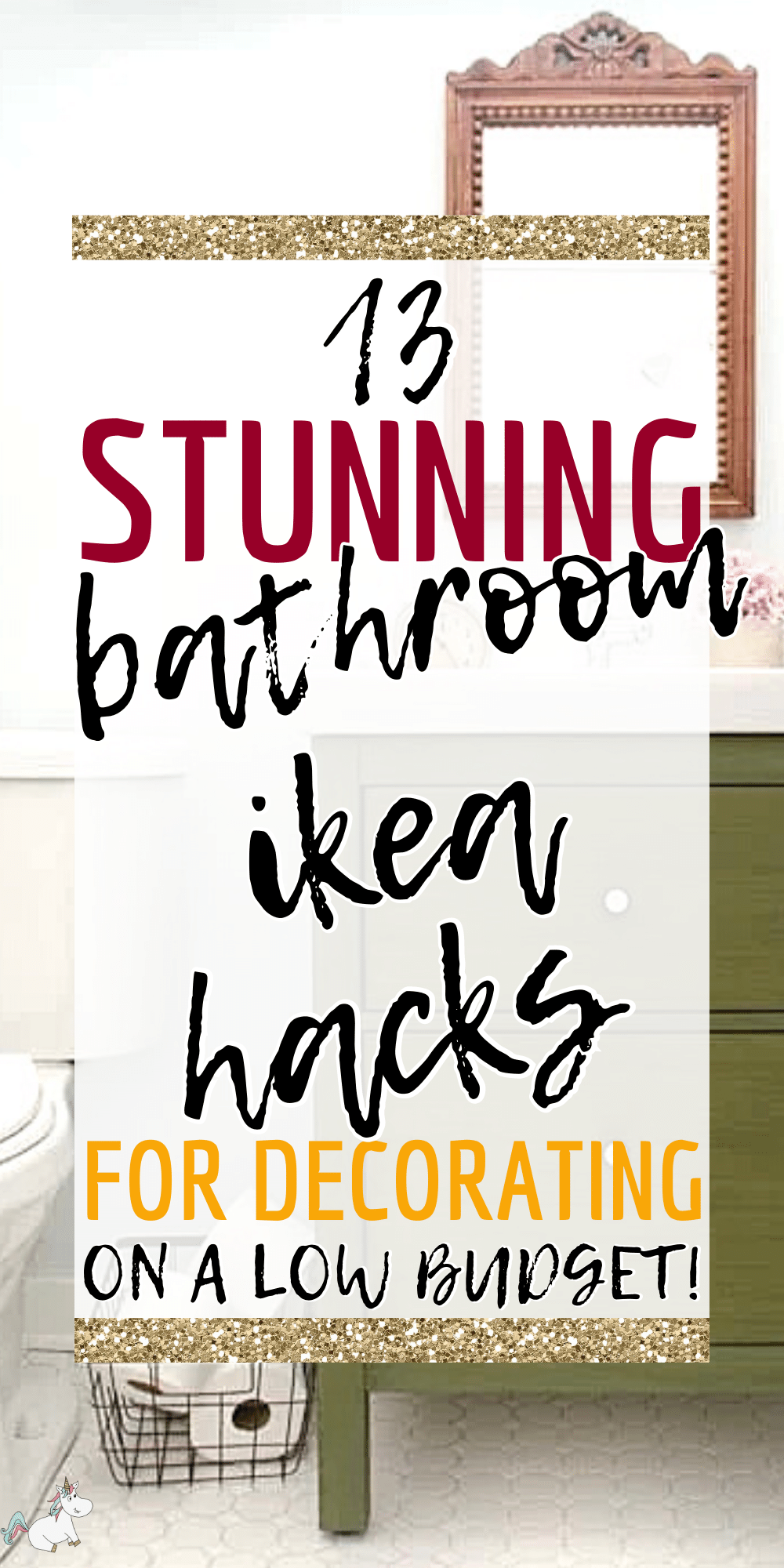 This post may contain affiliate links. See my full disclosure here for more info.
13 IKEA Bathroom Hacks: Your Dream Bathroom

(On a Budget)
1.

Easy DIY Makeup Storage
Using an affordable IKEA wall storage system is a great way to keep all your makeup, everyday items & beauty supplies organized!
Whether you choose plastic containers, or even a sturdy storage basket, using the bathroom wall to hang storage units is a great idea that will keep countertops stylish and clutter-free!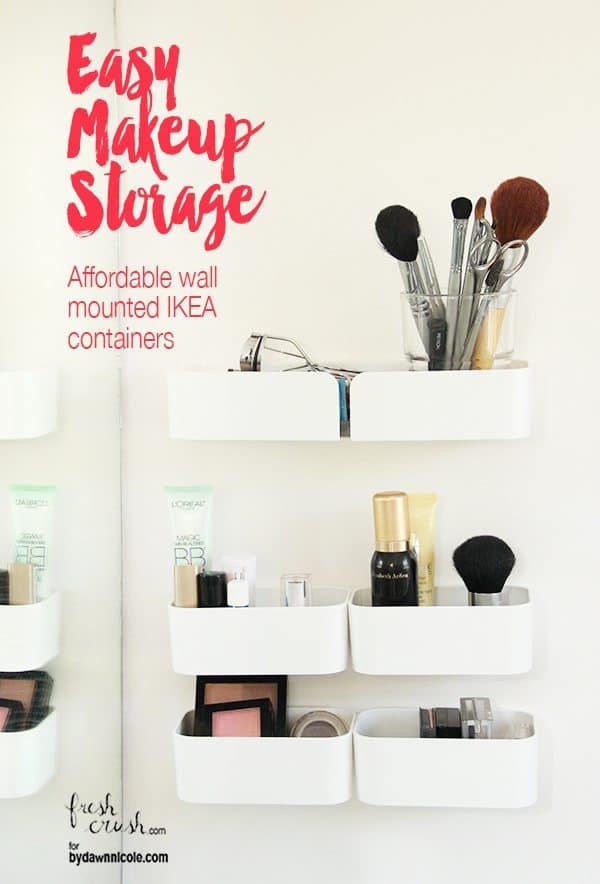 2.

IKEA Bathroom Vanity Hack
IKEA bathroom hacks are the best way to make your bathroom feel like it's new again in an affordable way!
This clever hack creates a stylish design that's perfect for any couple that wants their own small section of the bathroom!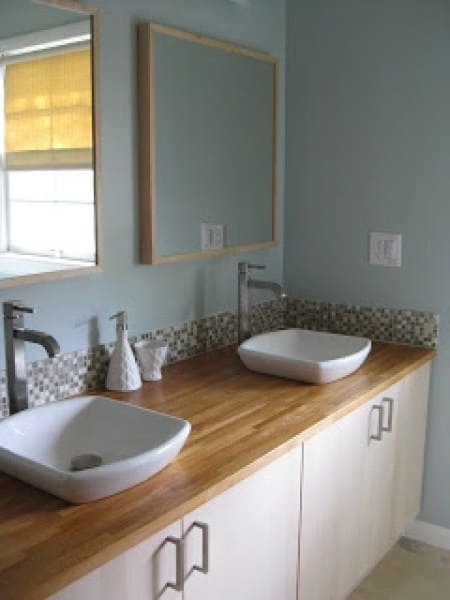 3.

IKEA Bekväm Stool Update
The IKEA Bekväm stool is used in so many IKEA hacks & it's not hard to see why.
After all, the Bekvam stool is high quality, sturdy & a great way to display hand towels and other small items, and is the perfect way to create a stunning focal point in your own bathroom!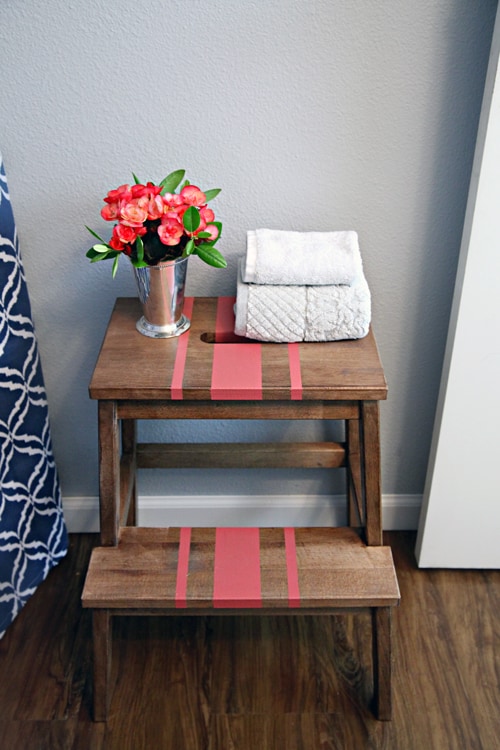 4.

Ladder Bathroom Towel & Storage Rack
When you have a small bathroom, making use of the vertical space available is one of the most clever ways to create extra storage.
This IKEA ladder becomes a functional towel holder with a modern look that's both practical and stunning!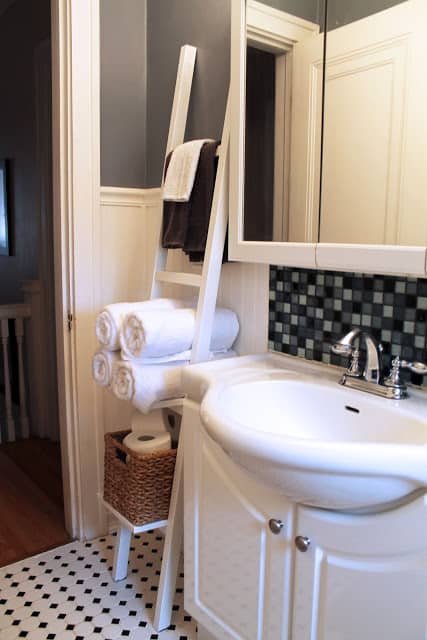 5.

Bathroom Vanity Update
Give sink cabinets or any bathroom furniture a fresh look by transforming them with a simple lick of paint!
Simply choose a paint color that matches your bathroom scheme and you've got yourself one of the most simple hacks that anyone can do!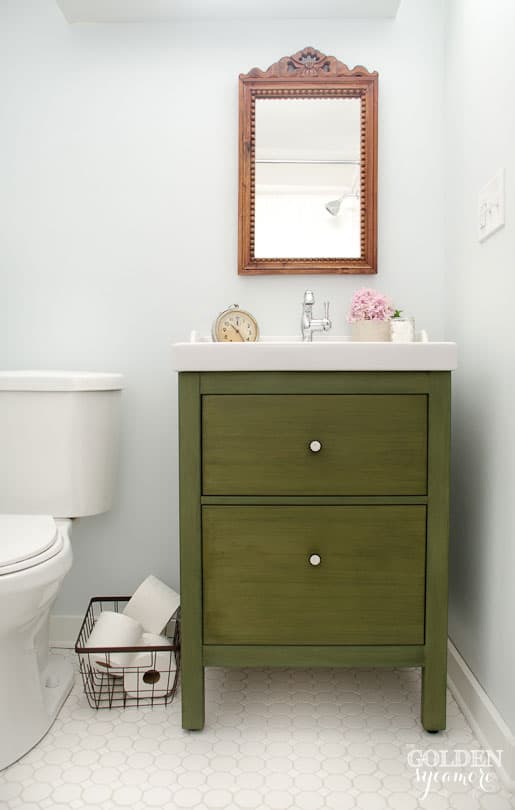 6.

IKEA Raskog Hack: DIY Rolling Vanity
The IKEA Raskog cart is one of the most popular Ikea products that you need in your own home!
From cocktail carts, minibars, and extra kitchen storage, the Raskog utility cart is a dream come true for IKEA hackers because it's perfect for so many kinds of hacks!
We love how this cart has been transformed into one of the most perfect bathroom storage solutions!
Great for storing your blow dryer, makeup, and other beauty essentials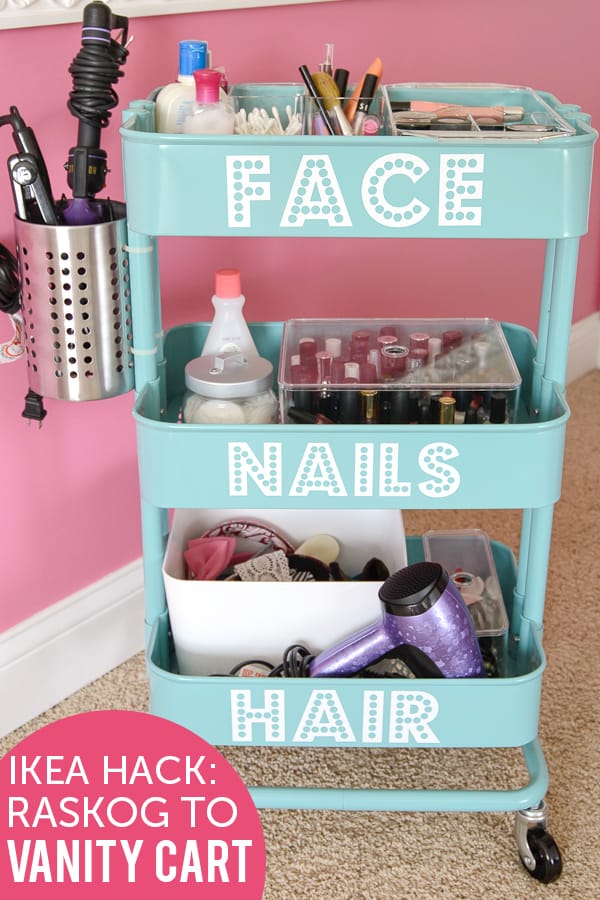 7.

Fintorp Bucket Storage & Speaker Hack
If you're lacking shelf space in your bathroom and you love unique bathroom ideas that don't cost much money then you will adore these hanging buckets!
Hang these IKEA Fintorp caddies with rope for a great hack that will give you enough space to display plants, hold a speaker and keep other useful bathroom items to hand when floor space is limited.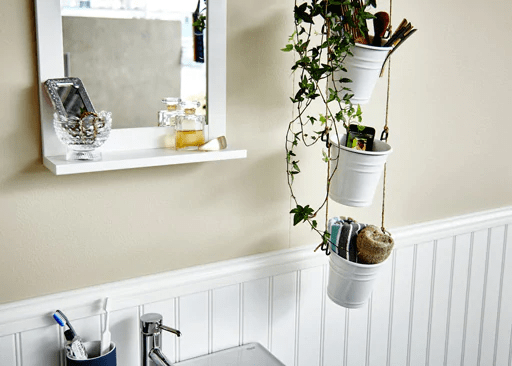 8.

Spa Bath Mat
Transform any dull washroom with this gorgeous spa-style bath mat that was created using IKEA outdoor decking tiles… Genius!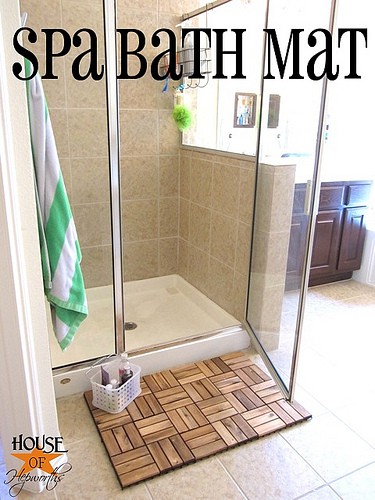 9.

Bathroom Toy Storage Hack
Ikea bathroom storage hacks don't come much better than this clever toy storage idea using simple Ikea pieces…
Check out the tutorial to find out how this child-friendly hack can be converted into a more adult-appropriate luxury storage solution that will be perfect for a guest bathroom too!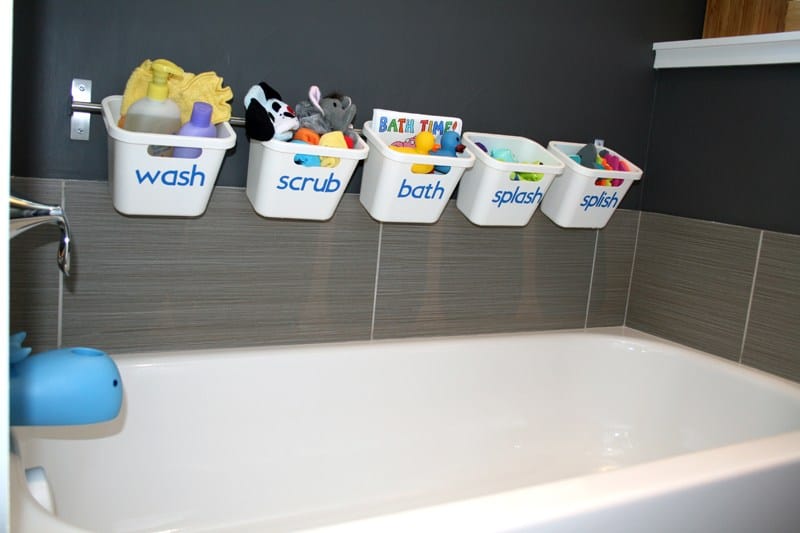 10.

Spice Rack Bathroom Shelves
IKEA spice racks have many uses besides simply organizing your spice jars… this hack uses an Ikea Bekvam spice rack as a stylish space-saving bathroom storage system that will hold all your bathroom essentials!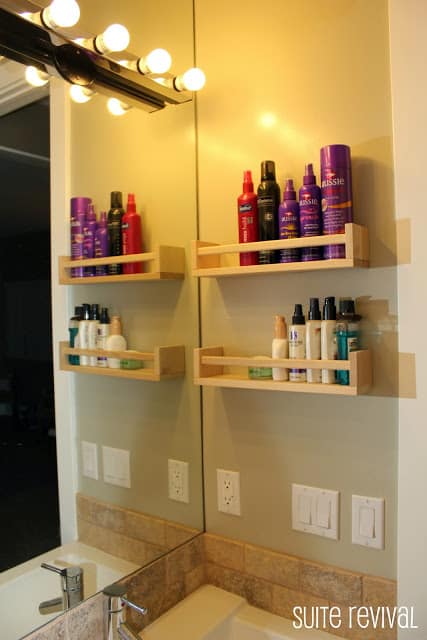 11.

Fabulous Bathroom Vanity
If you want to give your new bathroom a stylish and modern makeover, why not opt for something like this stunning Ikea bathroom design idea?
The area below the bathroom sink becomes a handy spot for wicker baskets filled with bathroom essentials or even as the perfect hand towel storage.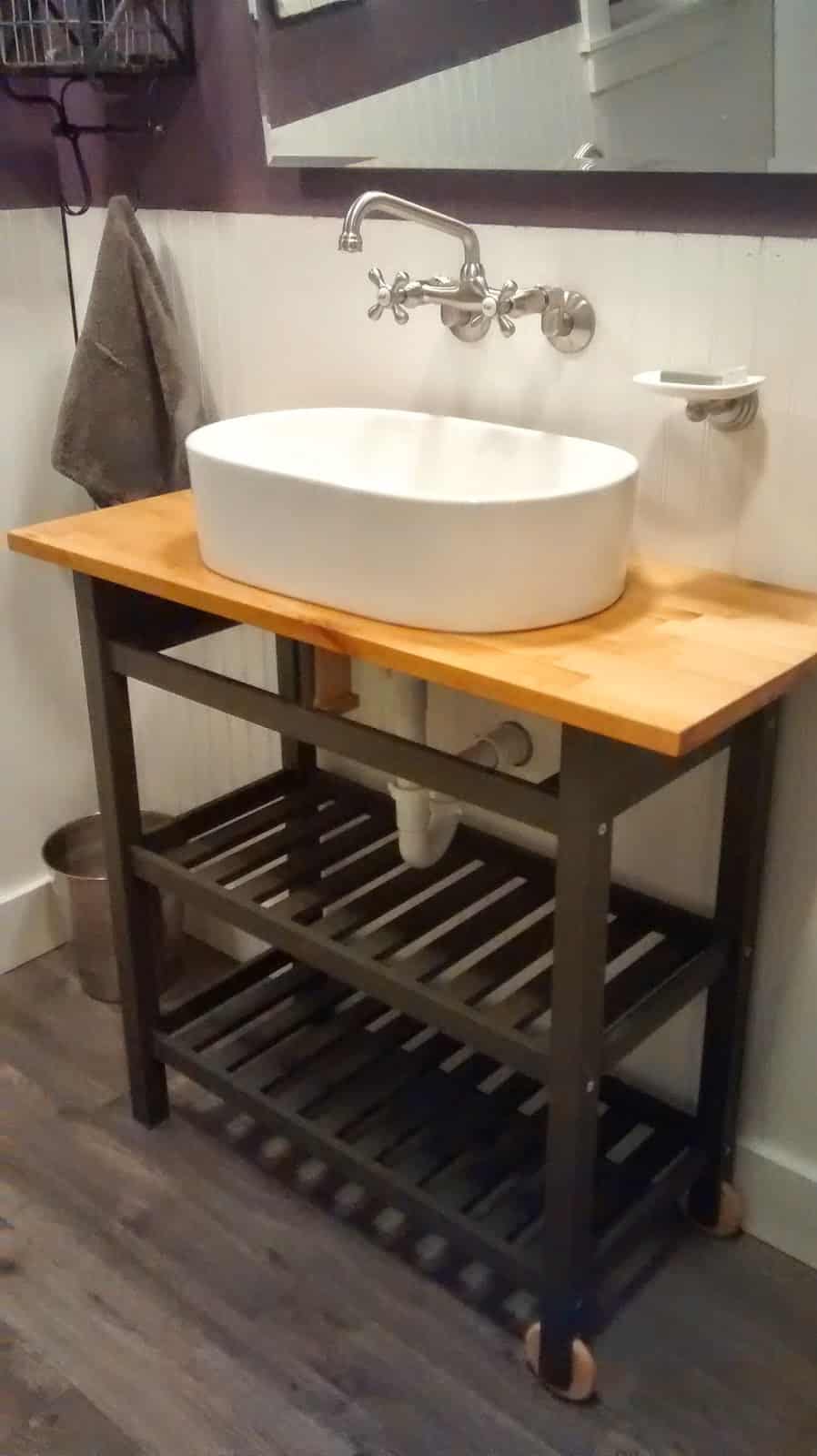 12.

Bathroom Counter Tops Hack
This is one of the best Ikea bathroom hacks we've ever seen! The countertops beside the basin are actually IKEA bamboo chopping boards!
This shelf idea is one of those clever Ikea hacks that's perfect for creating space to display decorative items in a cramped bathroom.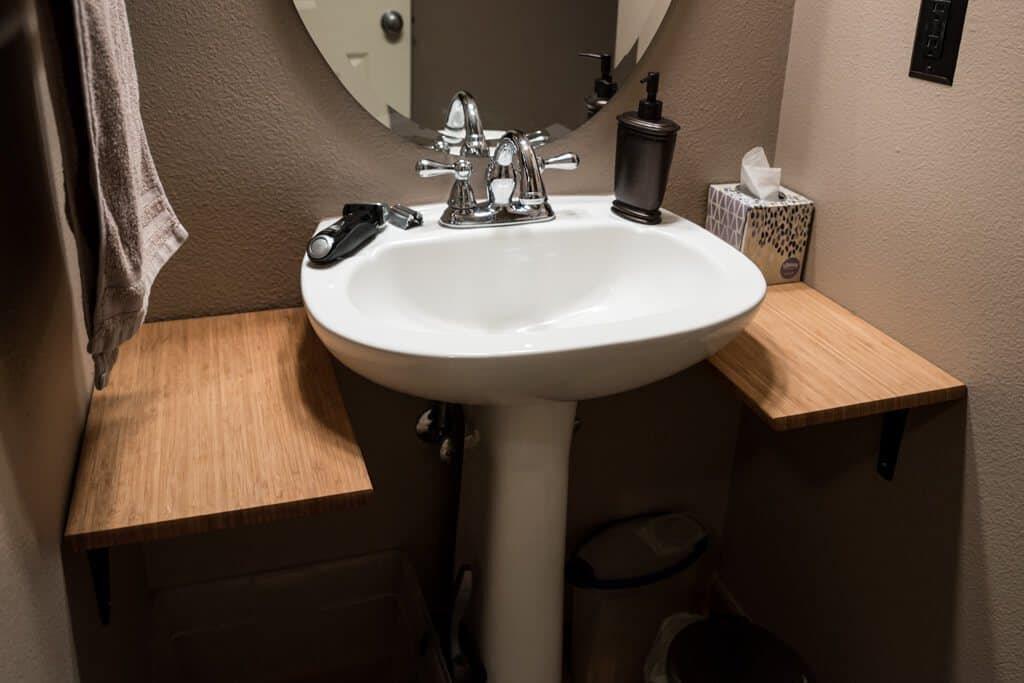 13.

IKEA Hack Bathroom Vanity with Bekvam Kitchen Cart
If perfect showroom bathrooms are what you're going for then you'll love this Bekväm kitchen cart hack!
The wicker basket below is the ideal spot to store toilet rolls or fresh towels!
And the best thing?
The talented blogger who created this beautiful vanity provides you with an awesome, detailed tutorial that will show you how to turn a kitchen cabinet into a bathroom vanity easily from start to finish!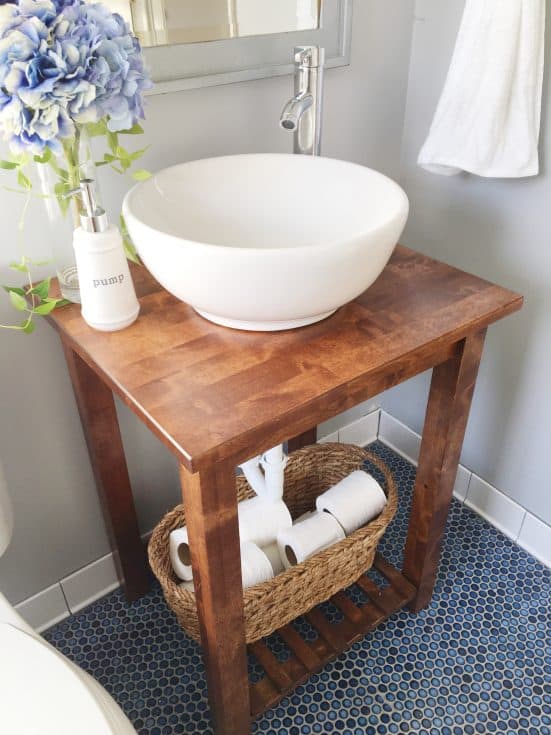 Before You Go...
Transforming your bathroom on a budget is easy with these amazing Ikea bathroom hacks!
The simple tips and tricks above will give your bathroom a whole new look, without you spending a fortune.
Looking for more genius IKEA hacks? check them out here!
Loved this post? Be sure to click here to pin it for later!