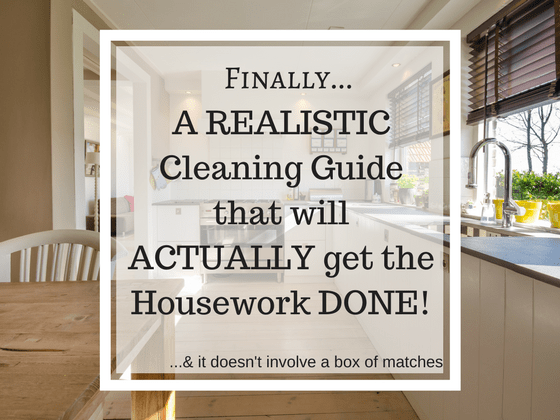 Cleaning, housework, chores, burdens or jobs, no matter what you call them in your home and regardless of what expletive you precede them with….you're bound to hate them!
The trouble is, you can ignore them as long as you like but…*whispers* they're not going to go away! *shouting* EVER! *cries*
Using the simple 3 steps in this post, will get you up and running with a cleaning schedule that actually works!
Haven't got time to read this now? Click here to pin it for later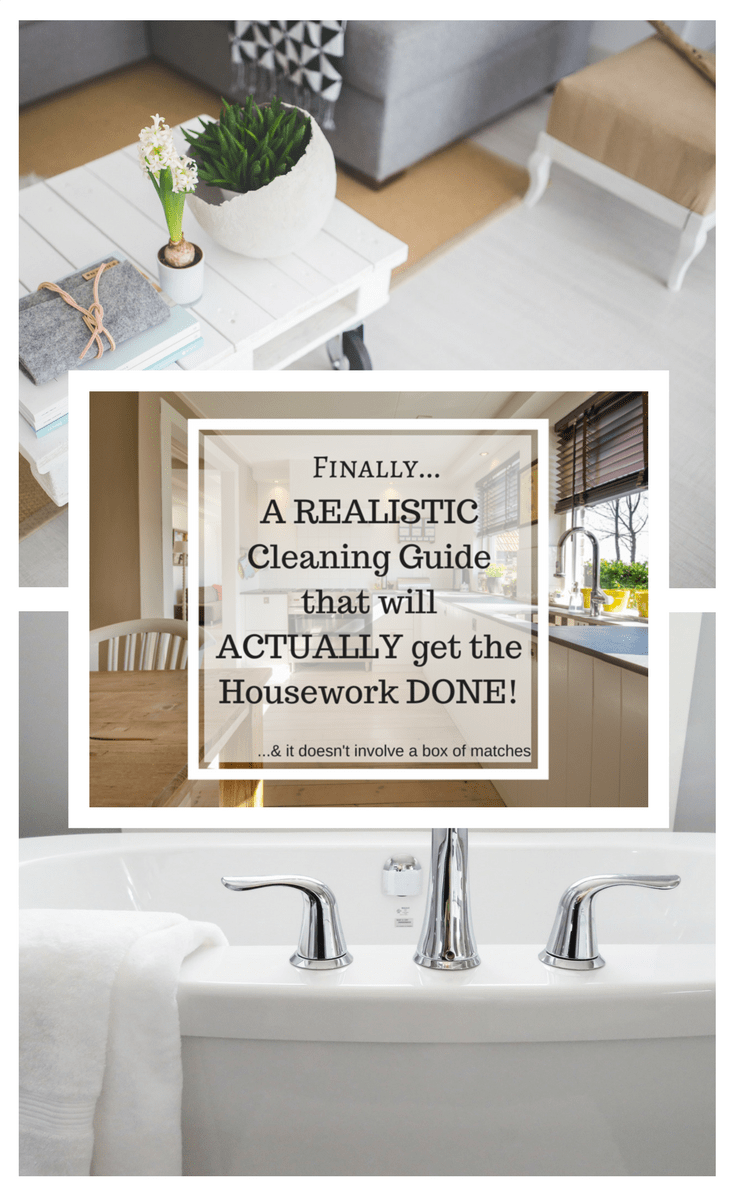 This post may contain affiliate links. See my full disclosure here for more info.
Following this schedule will free up loads of time. It's not about having a show home or running yourself into the ground with endless jobs. It's about getting those jobs done in a realistic way so you can enjoy your free time.
Cleaning Schedule Step 1
List every chore you want to get done and mark each one either daily, weekly, monthly or yearly.
Do this on a rough sheet of paper as you wont need to keep this.
If you are struggling to create a thorough list try running your current day through your mind to jog your memory.
For example, what do you do when you first get out of bed? what would you like to keep doing when you first get up and is there anything that you want to incorporate into your schedule? Write that down.
Now go through the list and mark down the frequency of those jobs (daily, weekly, monthly, never etc)
Tip: If you have included 'vacuuming' on your list and you want to do this job twice weekly, mark it 'WW'.
Related Reading
Cleaning Schedule Step 2
With your list of tasks done, it's time to make a rough schedule. Draw up eight boxes, one for each day of the week and one for the yearly/other tasks and throw the jobs on your list around like they're puzzle pieces and see where they fit best.
Is vacuuming more suited to a Monday or a Tuesday in your home?
Is the food shopping best ordered on a Thursday for Friday delivery so you have full cupboards for the weekend? or on a Saturday for Sunday delivery so you don't eat all the biscuits before the week even starts?
Think about the things you already do within a normal week and fit your list of jobs around those fixtures.
Make your schedule your own and it will work for you. If you are struggling to work out where jobs are best placed, these ideas are perfect for each day of the week:
Mopping Mondays: Monday's are great for hoovering and washing the floors after the heavy traffic from the kids, partner or visitors of the weekend
Toilet Tuesdays: Getting the bathroom wiped over on a Tuesday is a great idea considering 'Tuesday' and 'Toilet' both begin with 'T' (who said it had to be a good reason?)
Washing Wednesdays: Ok, for the same logical reason above Wednesday is a great day to get all the washing washed, dried and put away. Its also a good day as doing a midweek wash means that the kids can have a fresh uniform for the rest of the week and you can freshen up the

bedding…who doesn't love a fresh bed? If washing the pillow and bed protectors is a monthly task, add that in here for the first Wednesday of every month seeing as you are washing the bed sheets anyway.
Foody Thursday: F and TH sound the same so that's a good enough reason alone to order the food shopping today, but if that reason alone doesn't convince you then consider that ordering the food shopping and cleaning the kitchen cupboard, microwave, fridge etc is a great idea for Thursday because you can have a food haul done and delivered for Friday ready for the hungry mouths over the weekend.
Fruitful Friday: If you ordered the food shopping yesterday then Friday will be the day to get this all put away. Another good task for Friday would be to give the House a hoover ready for the increased traffic over the weekend and have a general tidy up.
Set it Up Saturday: Get any final washing done that has accumulated since Wednesday. Including P.E Kits and uniforms. Sort out school bags and uniform ready for Monday Morning. The kids are home and you don't want to spend your weekend doing chores, so keep Saturdays Simple.
Sack it off Sunday: Do nothing today! After a busy week, you deserve a rest. Just spend the day eating or something!
Don't forget to scribble in those monthly and yearly jobs once you have your weekly ones in heir place.
A great way to factor these in is to assign a monthly job to each day of the week and then aim to do that monthly task on the first Monday, Tuesday, Wednesday or whatever day that month.
Cleaning Schedule Step 3
Now you have finished your rough copy it's time to write it up nice and neat.
The perfect opportunity to make a pretty page in your bullet journal
and let your procrastination creativity run wild.
Or if you aren't very creative, you can draw up a simple grid for each of the seven days, plus an extra one for those yearly tasks
Once you have your schedule in hand admire it and place it somewhere handy where you can check it often.
In the beginning, you will find you're checking your schedule frequently. Eventually, you will find these chores become a habit. This means you won't need to constantly check what you have pencilled in for that day.
Points to Remember
Remember this schedule is REALISTIC!
And being the realistic means you know that LIFE HAPPENS.
Following a schedule to the letter would be wonderful but sometimes we just might not want to or we might not be able to, and that's fine.
Do not feel that the schedule isn't good enough because it doesn't consume your life! That's exactly what makes it special. You can download your cleaning schedule guide for free which includes my personal schedule to see how few jobs I do to get by…and I assure you we are all functioning, healthy and happy.
To make this even easier for you, I've put together the ultimate 10-page guide that includes everything you need to easily carry out the three steps above. Get your copy now by filling in your details below.
[mailmunch-form id="647226″]
Do the task/s you have assigned for the day and no more…spend the rest of your day relaxing or doing your thing GUILT FREE!
Once you have completed the first week of your schedule, the second-week jobs will be easier and the third will be even easier and so on.
Let me know in the comments below how you get on with your easy cleaning schedule.