Ready to throw the best garden party ever? We've got you covered with all the best garden party ideas.
From decorations to food, to fun games and seating ideas, we have everything you need to make your party a success.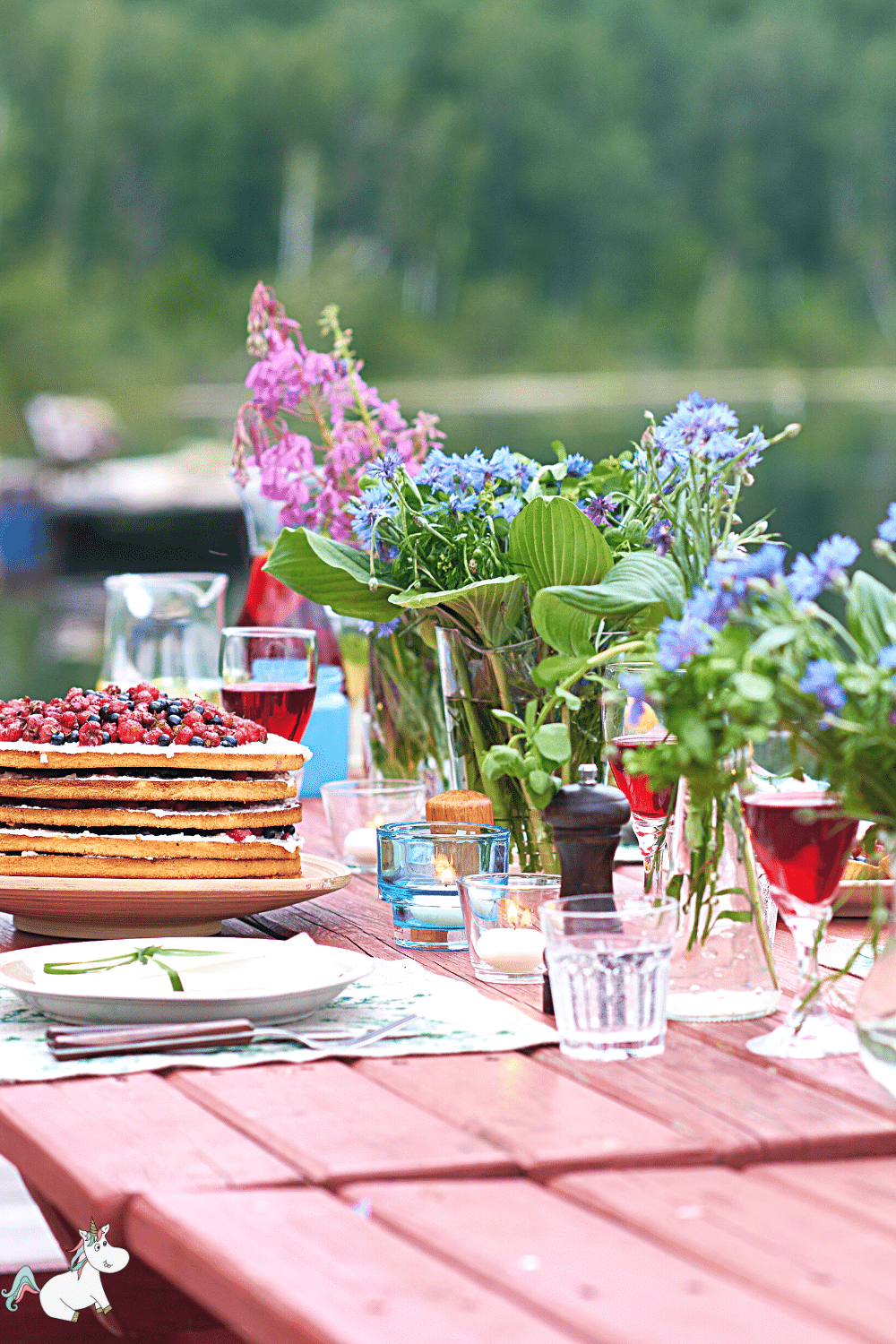 Not only will your guests be blown away by how much effort you put into making your garden party special… but from start to finish, your guests will love every minute of your perfect backyard get-together!
So let's start planning!
What Do You Do At A Garden Party?
There are many ways to enjoy the perfect garden party.
From meeting some friends old and new, and mingling with others while sipping on a refreshing drink and enjoying delicious food…
Or from taking a leisurely stroll through the garden and admiring the different plants and flowers and playing fun garden party games…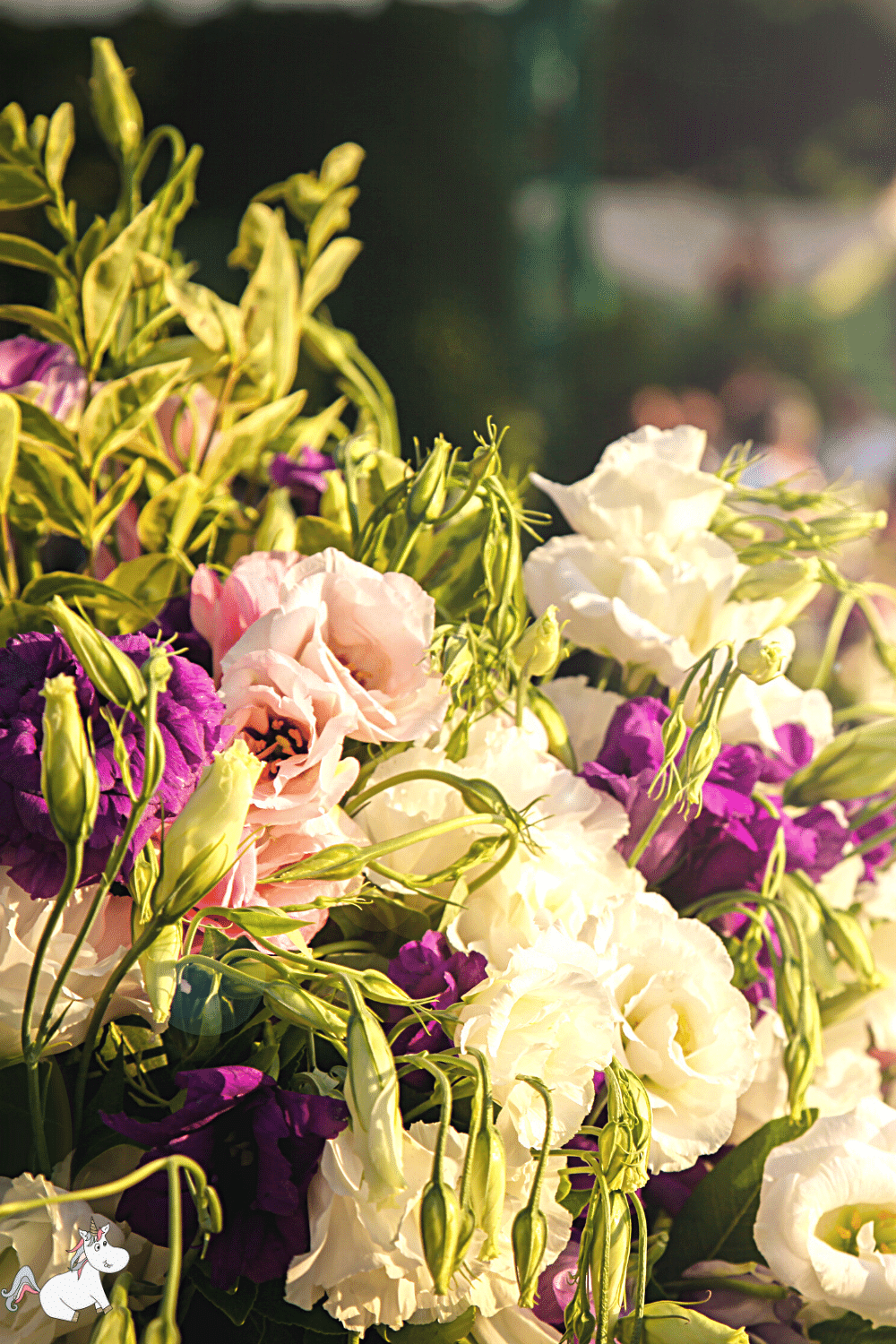 There's something for everyone at garden parties!
How Do You Throw An Amazing Garden Party?
Hosting an amazing outdoor garden party that everyone will enjoy is all in the planning…
And just like any party, the most important thing to ensure is that your party guests have fun & create memories in a relaxed environment.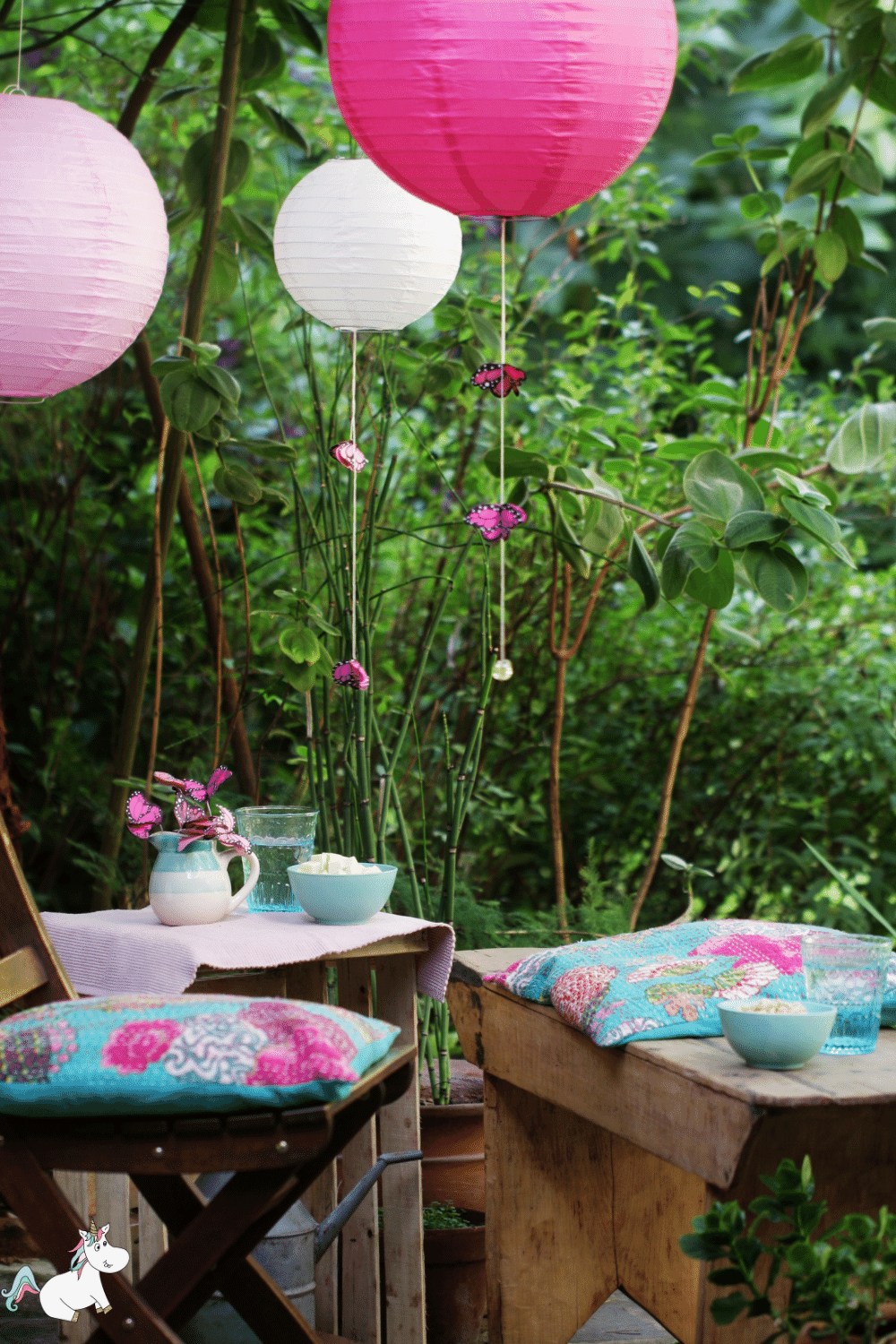 The garden party ideas we have for you below will ensure you have all your guest's needs covered…
From seating, lighting, and games to food, extra comforts, and decor, you'll find everything you need for planning your next party in this post.
When Is The Best Time For A Garden Party
The first step is to decide what time and date are the best for your party and who you're going to invite.
If you're not sure when the best time is, think about what you want to achieve with the party.
For an opportunity to socialize with friends, a weekend evening may be best.
Or, if you're planning an event that the whole family can enjoy, a weekend afternoon will work better.
Once you have time in mind, check the calendar to see if there are any potential conflicts, and then send out your party invitations!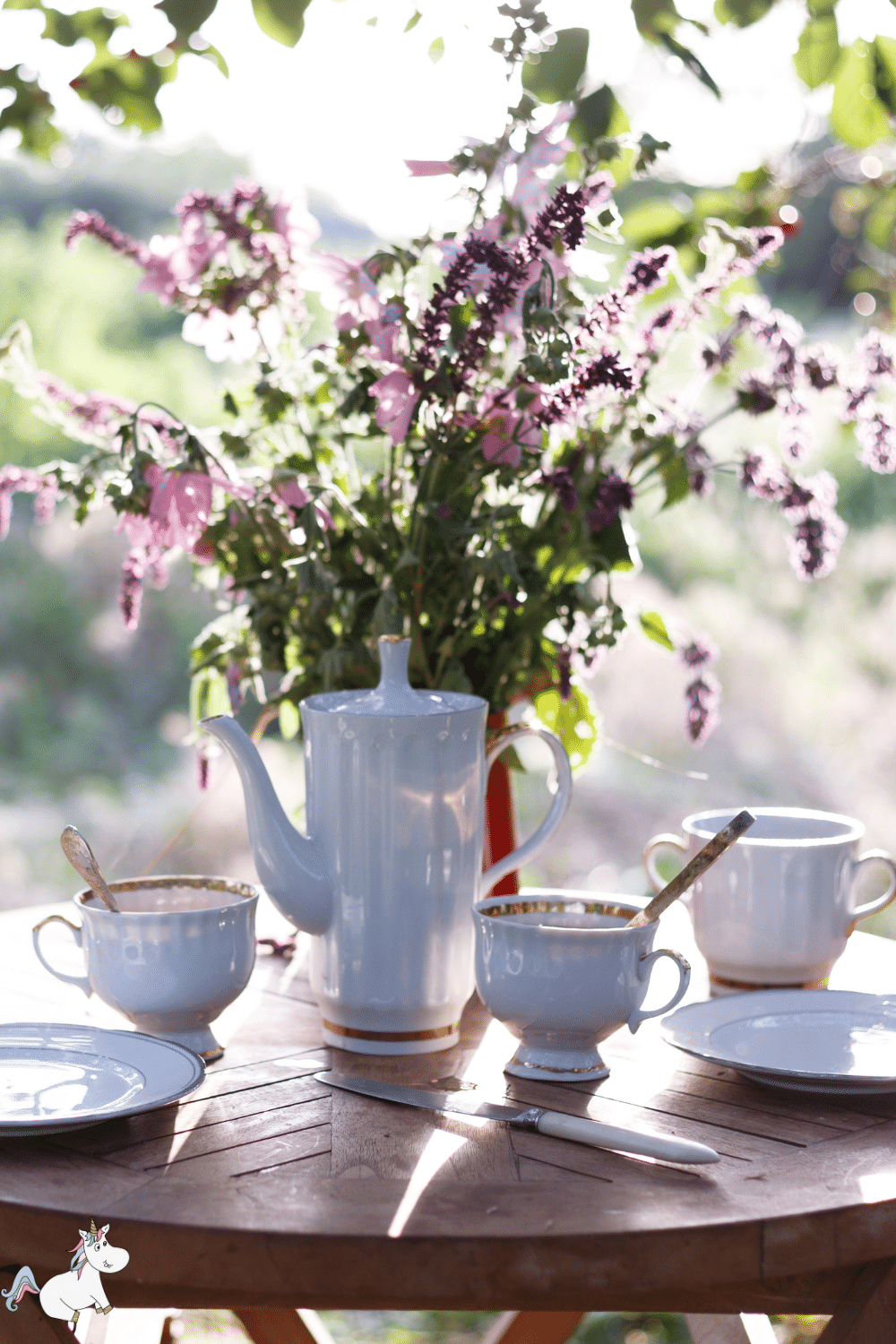 How Do You Plan A Garden Party?
Once you've decided who your party is for and when it will take place, the next step to planning your garden party is to make a long list of everything you'll need to make your party a success.
You'll want to include these items on your party planning list…
Seating
Entertainment and Activities
Shelter
Food and Drinks
Decor
Invitations
Garden party theme
If you need to rent or borrow any items, do so well in advance to avoid any last-minute stress.
How Do You Set Up A Garden Party?
Setting up a great garden party is so much fun, but it can become overwhelming if you don't prepare in advance!
So to ensure your party goes as seamlessly as possible, make sure you have everything ready the day before so you can relax with your guests on the day.
A great tip is to set up everything you can that will survive the night and get everything else you need for the day ready so it's just a case of quickly putting things out in the morning before your guests arrive.
P.S. Be sure to save these incredible garden party ideas by clicking here or on the image below to quickly & easily save them to your Pinterest!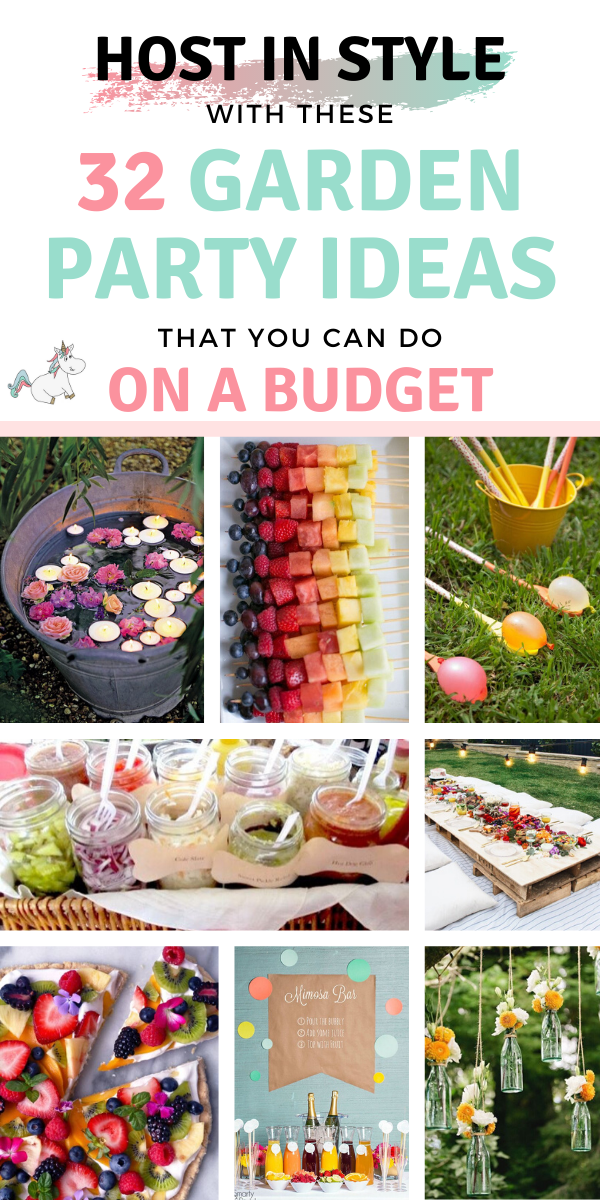 This post may contain affiliate links. See my full disclosure here for more info.
32 Amazing Garden Party Ideas

(You've Got To See)
Floral Decoration Ideas For Garden Parties
Floral decorations are the perfect finishing touch to any summer garden party. They provide a splash of color and can be used to create a focal point on the table or around the garden.
Floral decorations also bring a sense of fun and festivity to any event, making them ideal for celebrations and gatherings of all kinds.
Whether you're hosting a barbecue, an afternoon tea, or a formal dinner party, floral decorations are a simple way to add style and sophistication to your event.
Fresh Handpicked Flower Display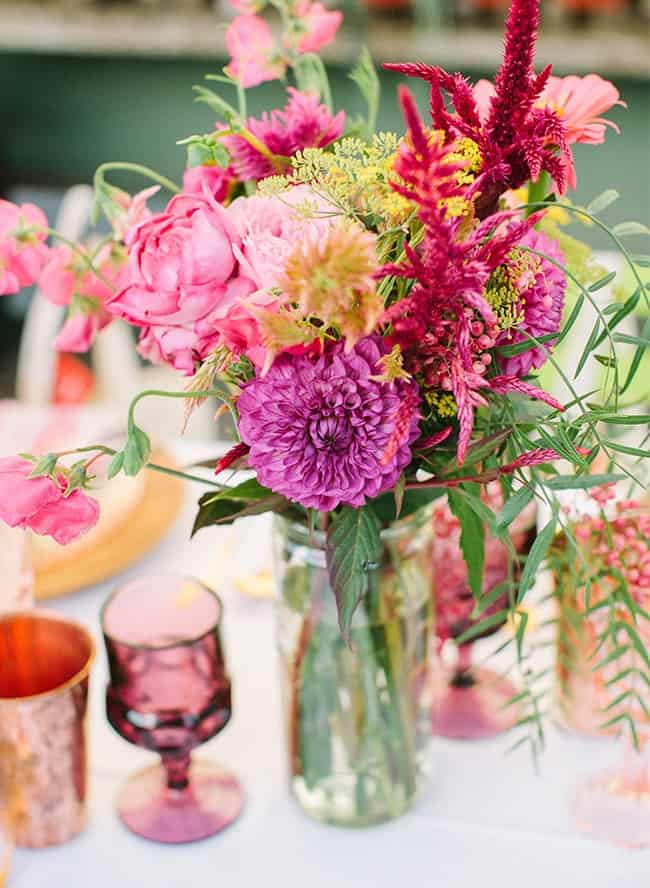 Handpicked flowers displayed in pretty jars are an easy way to create a summery feel at your garden party…
If you don't have any blooms to pick, why not give your local florist a visit? They'll be able to help you create an effortlessly beautiful focal point for your outdoor table!
Sunflower Table Decorations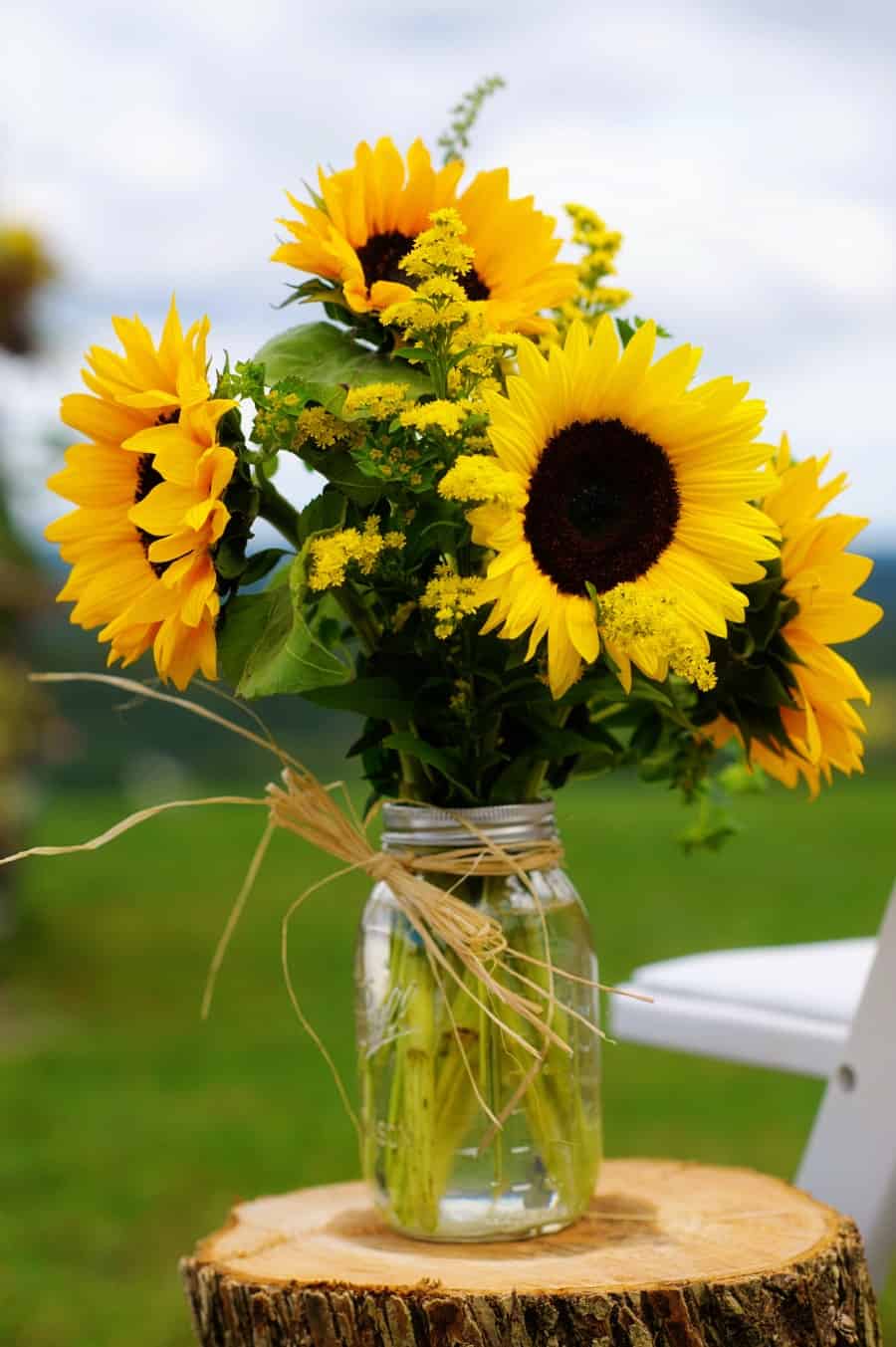 There's something about sunflowers that just feels summery.
Maybe it's their sunny yellow petals or their big, bright sunkissed faces. Whatever the reason, sunflowers in mason jars will add a beautiful rustic charm to your picnic table.
Floral Tree Decorations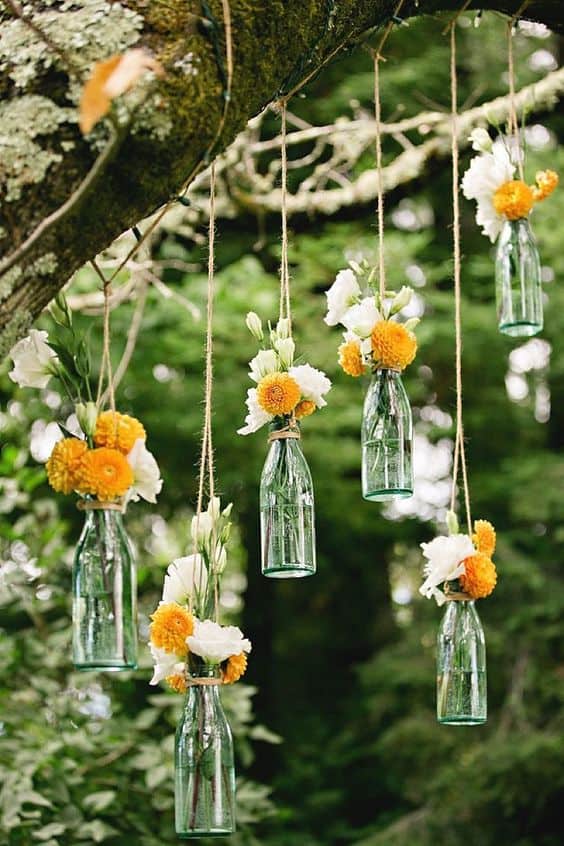 For an outdoor party that's both whimsical and elegant, try hanging pretty jars with flowers at different heights from trees.
This simple decoration will add a touch of charm to your event. Simply find some pretty jars and fill them with fresh flowers in colors that complement your party theme. Once you've hung the jars, step back and admire your handiwork… your guests are sure to be impressed!
Colorful Garden Party Decor
Summer parties are all about fun in the sun! Whether you're hosting a barbecue, pool party, or just a get-together with friends, adding some colorful garden party decor is a great way to add a touch of personality to your event.
From brightly-colored tablecloths and napkins to hanging lanterns and solar lights, there are endless ways to add a bit of summertime flair.
Here are some colorful ideas to try at your party…
DIY Dream Catcher Party Favors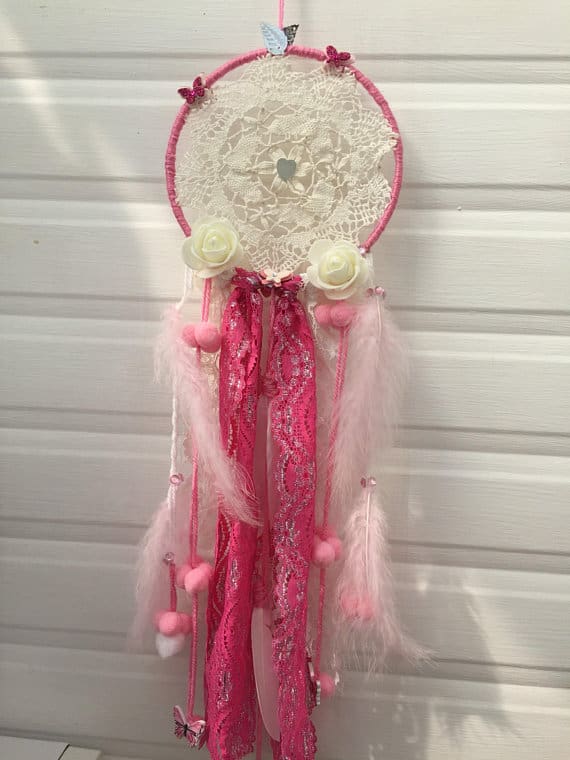 Dream catchers are a beautiful way to add some Bohemian flair to your garden party and they also make great party favors for your guests.
You can find dream catchers in all sorts of sizes and shapes, but why not make your own? It's easy to do and you can customize them to match your party theme.
Add flowers to your dreamcatchers to make them even more summery!
Colorful Paper Pom Poms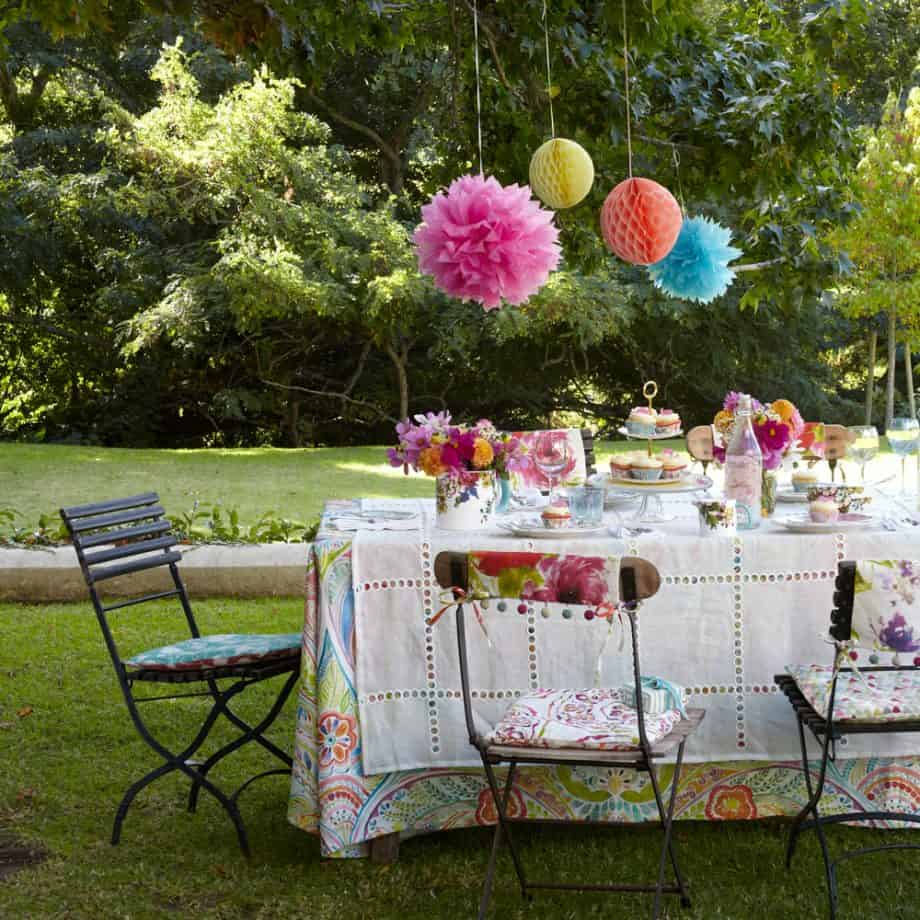 These hanging decorations are the perfect garden party decorations… We just love the festive colors that will effortlessly lift the mood of your party!
Floral Tea Light Bucket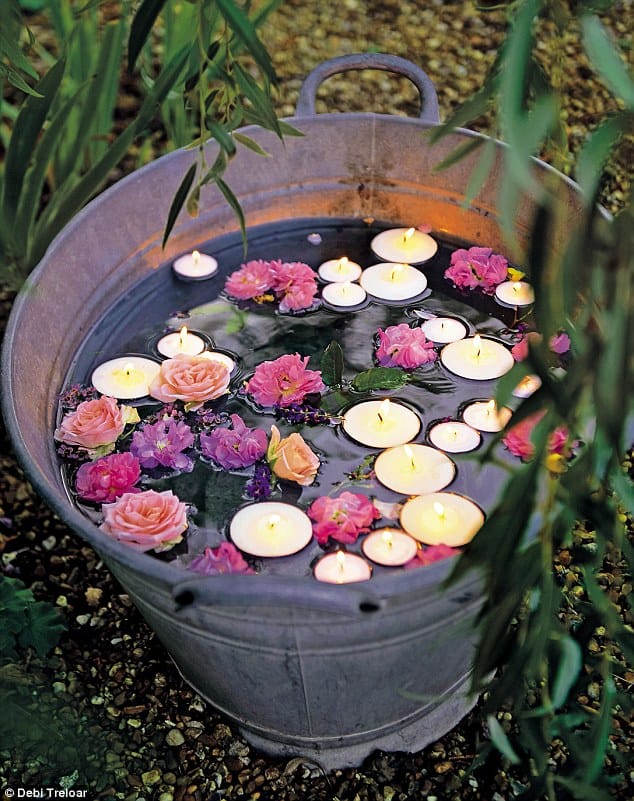 How pretty is this bucket filled with water & flowers and floating tea lights? It's the perfect way to create soft & cozy lighting for your garden party…
Cozy Blankets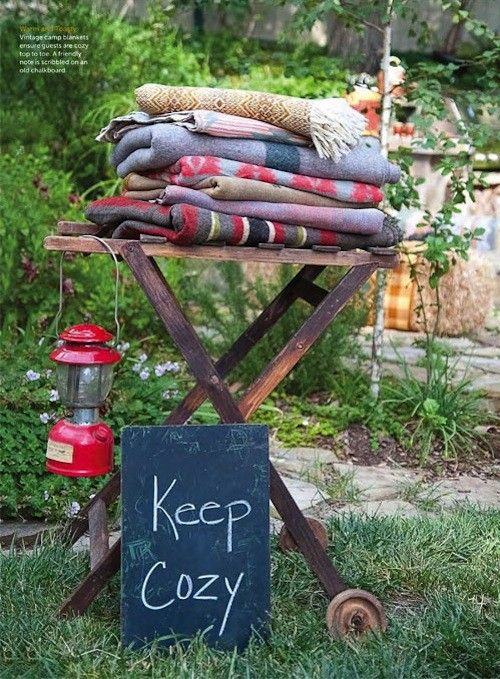 Providing blankets for your guests is the perfect way to ensure everyone stays cozy long into the evening and is a great way of adding pops of color to your party decor!
Garden Party Table & Seating Ideas
Whether you have a large garden or a small one, we've got some great options to help your outdoor dining ideas come to life and to make the most of your space to enjoy outdoor dining.
Boho Party Seating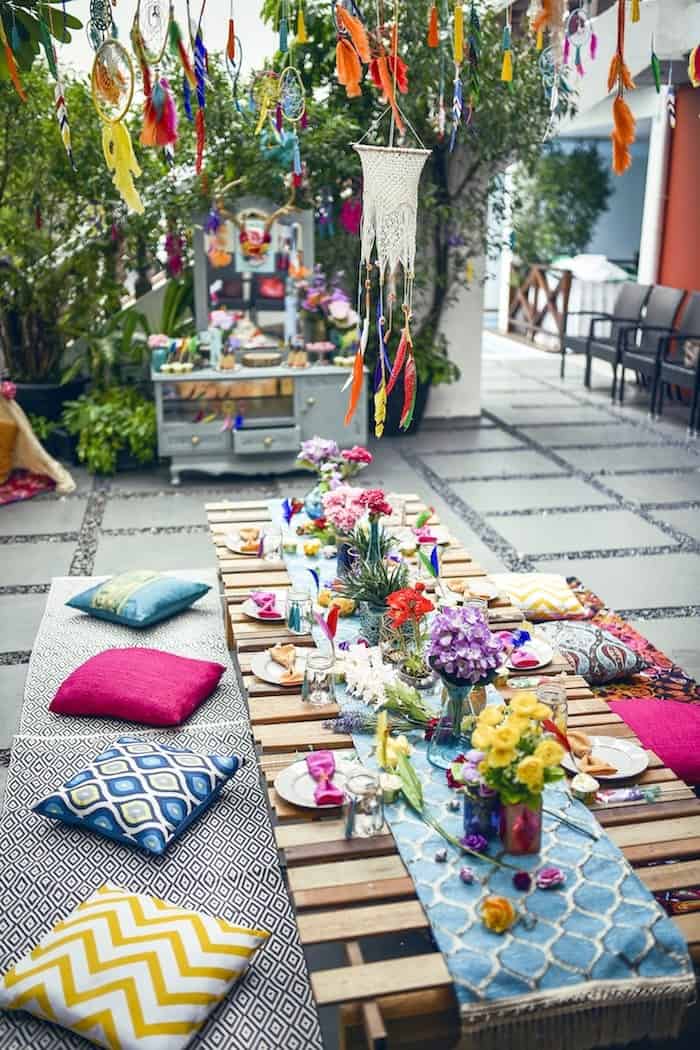 If you're looking for a fun seating idea then why not lay out some comfy cushions for your guests to enjoy.
You can get cushions in some beautiful colorful designs and they're truly the easiest option to bring a fun color scheme to your garden in a budget-friendly way!
Not only will your guests appreciate the extra comfort, but you'll also love how simple it is to achieve such a pretty look without breaking the bank.
Pallet Picnic Tables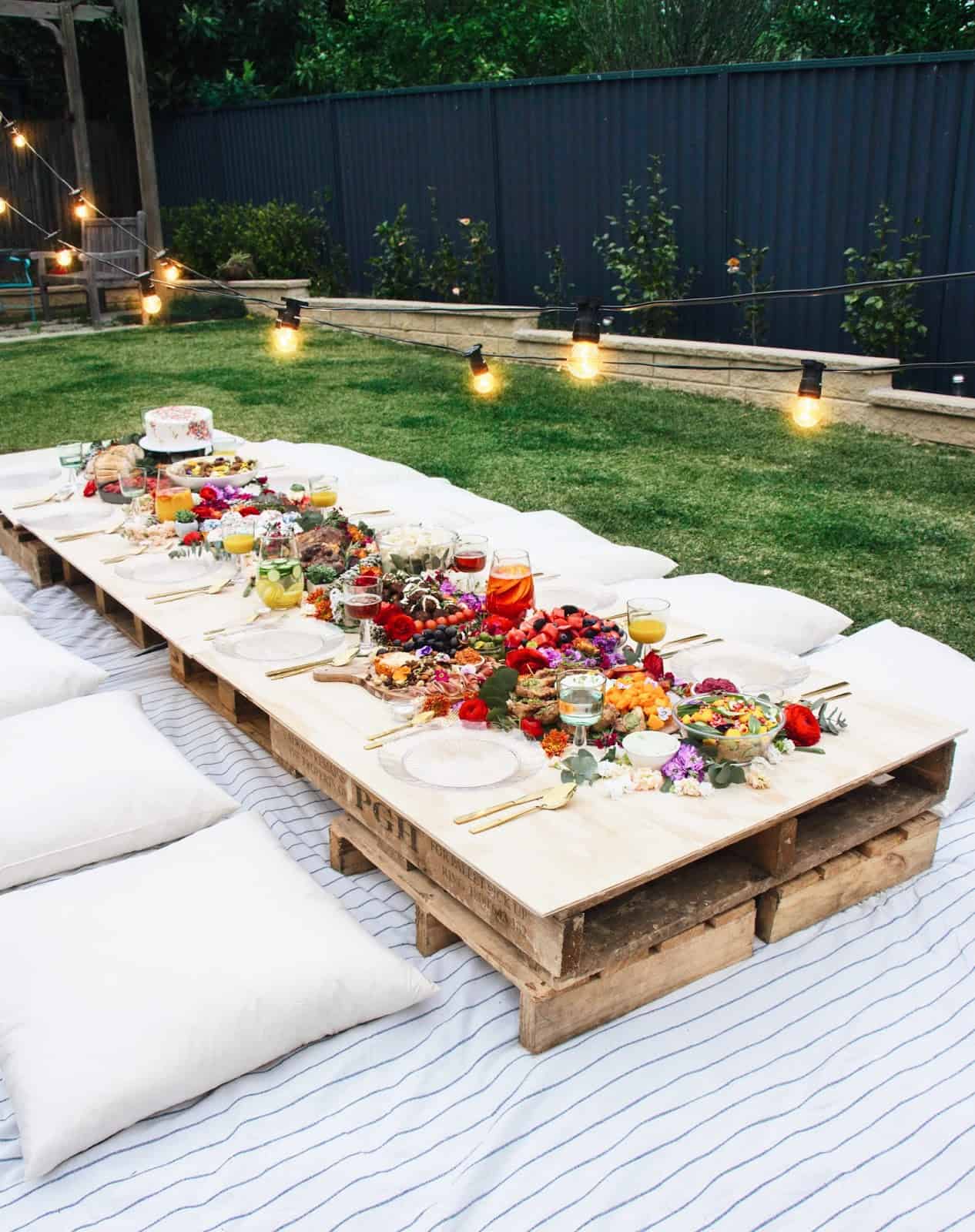 If you're hosting an outdoor event, an elegant table doesn't have to be expensive. Just look at this fantastic pallet dinner table surrounded by plenty of cushions!
It's budget-friendly, elegant, and perfect for outdoor entertaining.
This setup is perfect for a summertime barbecue or an outdoor party. Just add some colorful plates and napkins, along with some delicious food and drinks, and you're all set!
Your guests are sure to love it.
Comfy Floor Cushions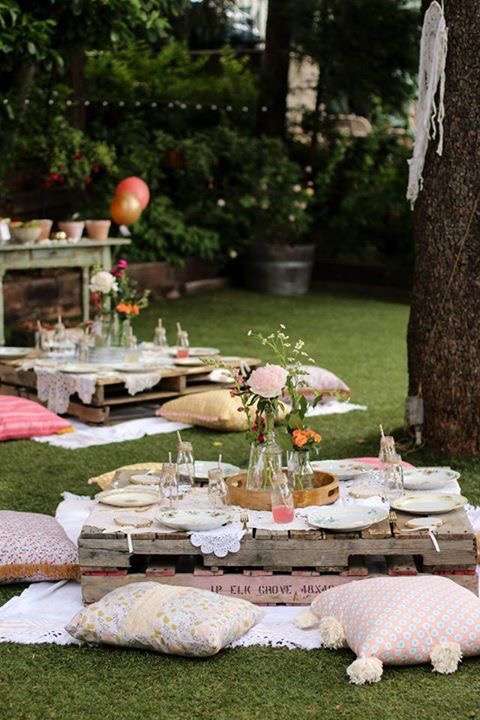 If you're planning a special event and garden furniture is not in your budget, floor cushions are a great solution!
Whether you're hosting a garden party or an outdoor movie night, floor cushions are a fun and affordable way to create comfortable seating for your guests.
Simply arrange the cushions on the floor in a group or around a pallet table, and your guests will have plenty of places to sit.
Floor cushions are also a great way to add color and pattern to your event space.
Simply choose cushions in bright colors or bold prints to really make a statement!
Garden Party Drinks
Garden parties are the perfect summertime celebration! The warm weather and beautiful blooms provide the perfect backdrop for an afternoon of fun.
When planning your menu, be sure to include a selection of refreshing drinks that will help your guests cool down in the summer heat.
Ice-cold lemonade is always a hit, or you could try a fruity punch made with seasonal berries. For something a little different, try serving drinks in mason jars or pretty glass bottles.
Garnish with fresh herbs or fruit slices for a festive touch. But Whatever drinks you choose, be sure to have plenty on hand to quench your guests' thirsts!
Here are some garden party drink ideas we think you and your guests will love…
Sweet & Refreshing Rose Lemonade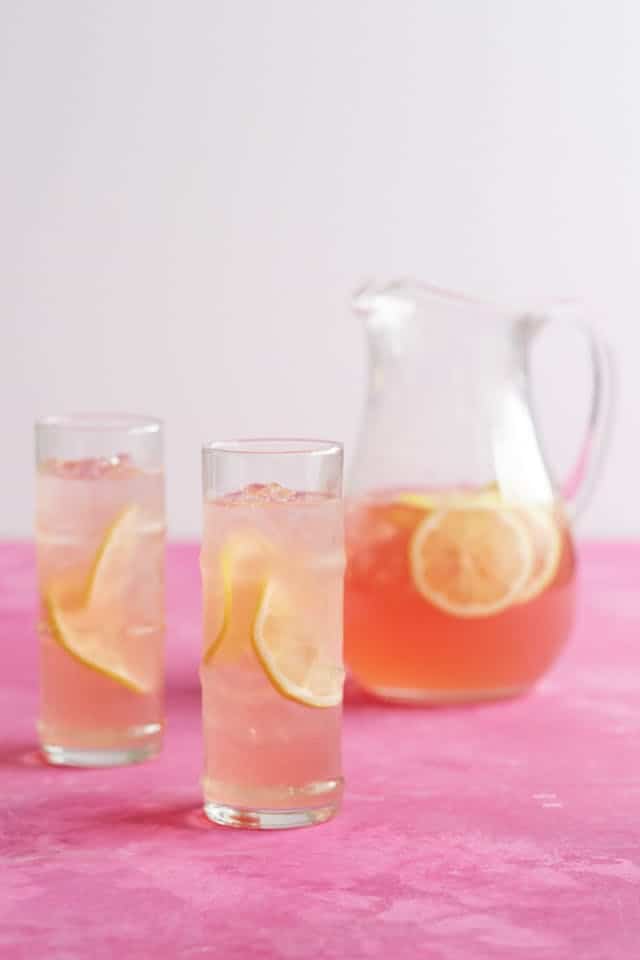 This sweet and refreshing Rosé lemonade is made with only 4 ingredients and is just perfect for cooling down on warm days!
Special Watermelon Lemonade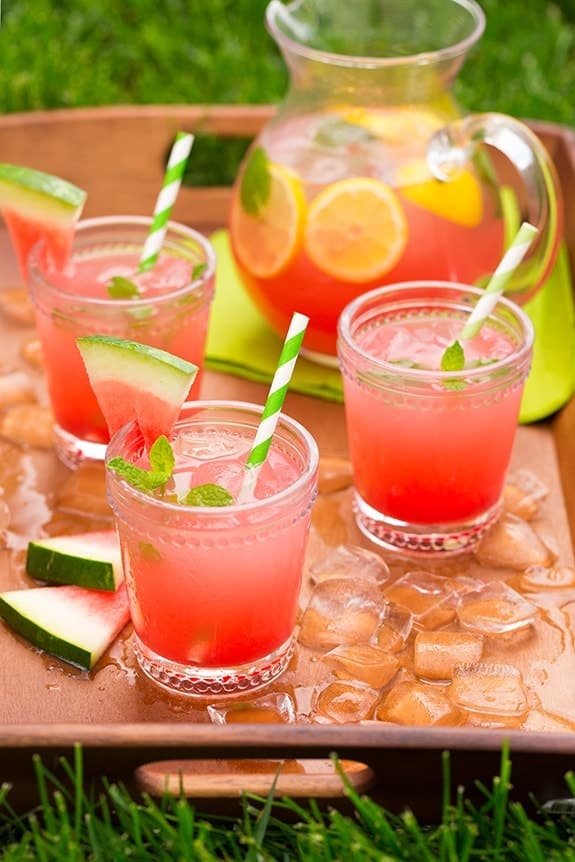 Adults and kids of all ages will enjoy this special watermelon lemonade recipe!
Strawberry & Mint Spritzer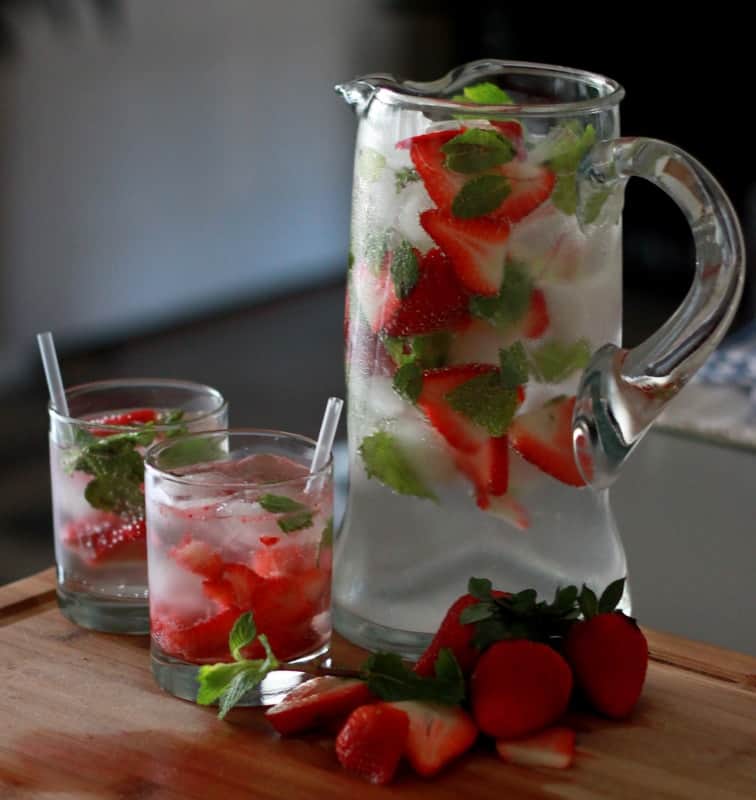 This Strawberry & Mint spritzer can be made either with or without alcohol and is the perfect refreshment for your backyard party!
Wheelbarrow Drinks Cooler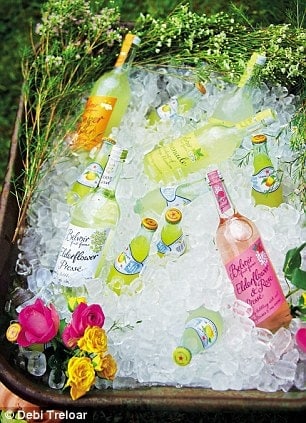 A wheelbarrow filled with ice is a genius way to offer cool & refreshing drinks to your guests during the warmer weather!
DIY Mimosa Bar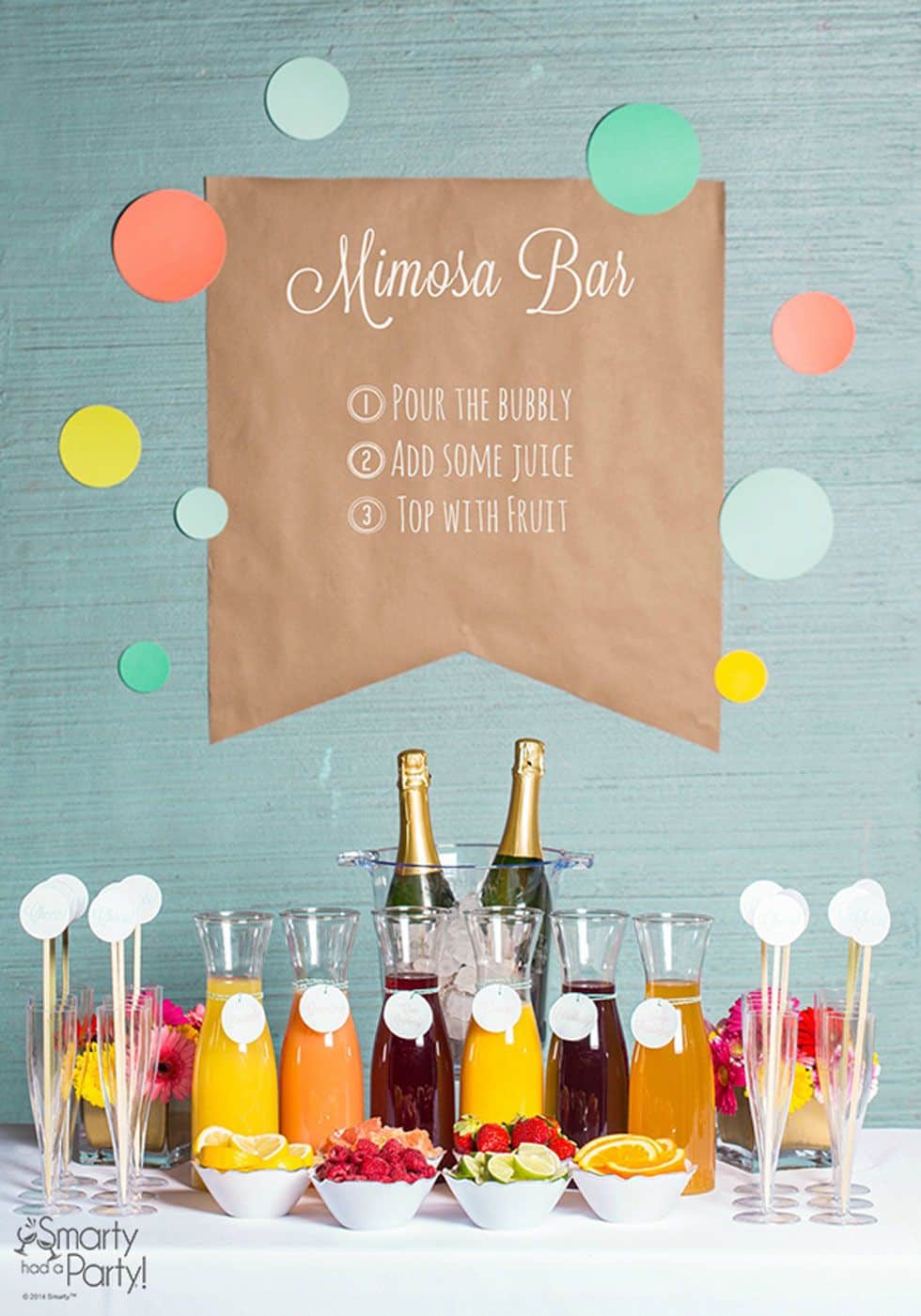 Your guests will love helping themselves to a refreshing drink at this mimosa bar!
Good Food For Garden Parties
Garden parties are a special occasion where family and friends can get together to enjoy each other's company and the food you serve should be just as special.
From BBQs to evening dining ideas, here are some amazing food ideas that will make your mouth water…
The Classic BBQ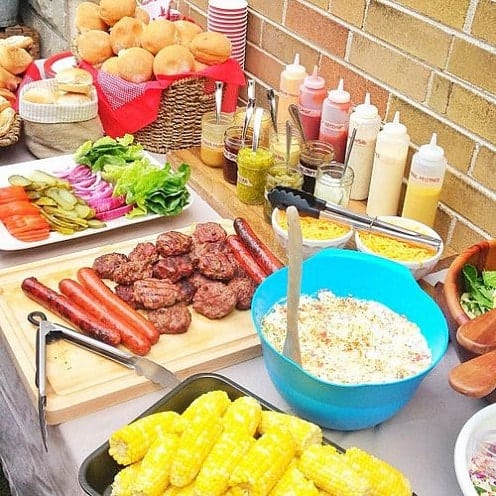 Nothing says summer like a BBQ. The smell of burgers and hot dogs grilling will have everyone drooling. Simply load up a small table with burgers, hot dogs, and trimmings, and let your guests dig in!
Condiment Basket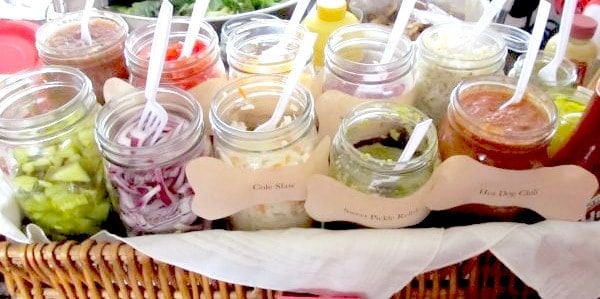 Make sure to have plenty of condiments on hand like ketchup, mustard, and mayonnaise.
We love this condiment basket, not only is it easy to make, but it has a garden party feel too!
Simply get yourself some mason jars from your local dollar store and fill them up with all the condiments your guests might need!
Burger Tray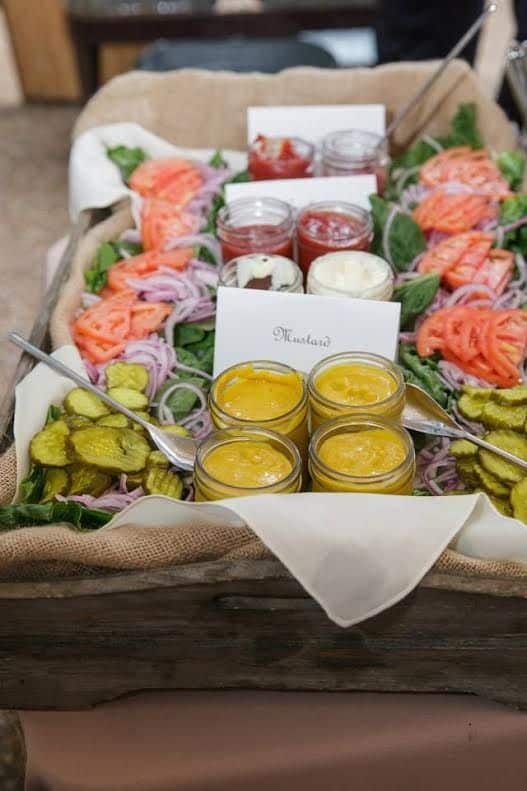 This Burger tray is another great idea that will allow guests to load up their own sliders.
Crowd-Pleasing Finger Food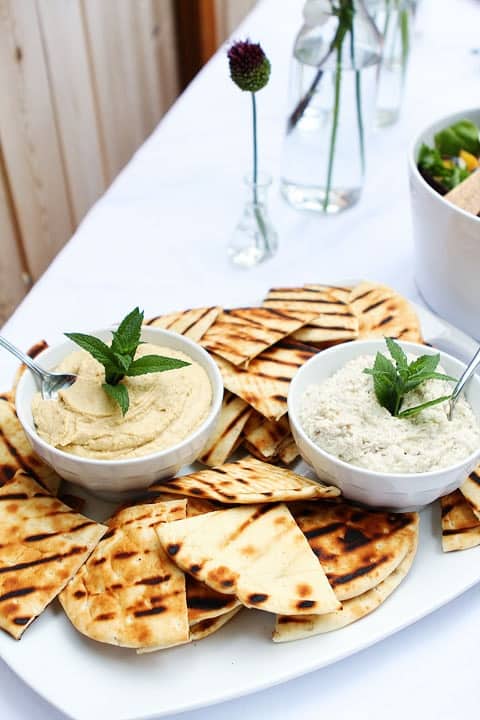 Finger foods are the perfect option for garden parties because they're easy to prepare and always go down well with guests.
One finger food that is sure to be a hit at your next garden party is bread and dips. This simple dish can be easily prepared in advance, leaving you more time to enjoy the party.
Simply cut some bread into finger-sized pieces and offer a selection of dips, such as hummus or tzatziki. Your guests will love being able to graze on this delicious finger food throughout the party.
Refreshing Rainbow Salsa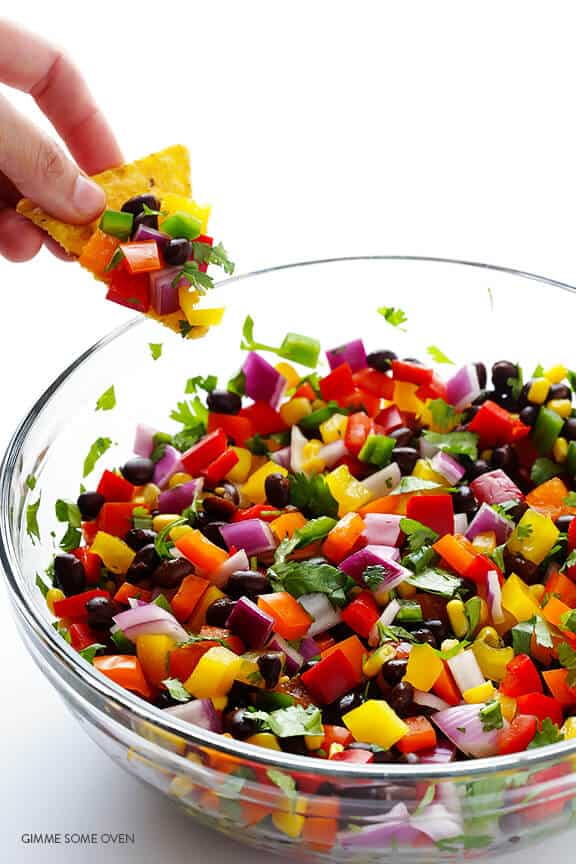 This rainbow salsa is the perfect addition to any summer garden party food table.
The fresh salsa is made with tomatoes, bell peppers, onions, and cilantro, and it's perfect for dipping or topping your favorite dishes.
The best part about this salsa is that it's so easy to make, and you can customize it to your liking. So whether you like it spicy or mild, this salsa will be a refreshing addition to your party.
Pizza Buffet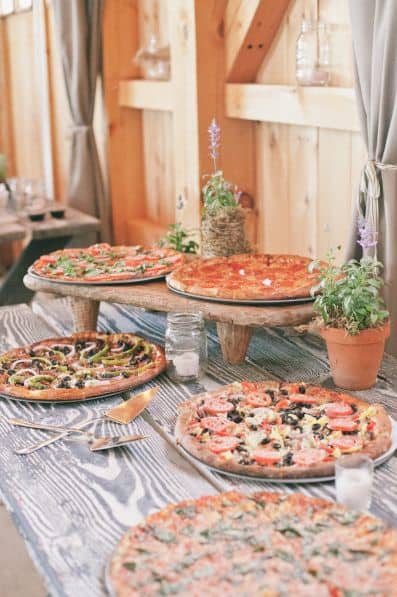 Pizza is another great option for garden parties. You can either order it from a local pizzeria or make your own in a wood-fired oven.
If you're feeling really ambitious, you can even try making your own dough from scratch.
But, whatever you do, make sure there's plenty of food to go around so that everyone leaves the party satisfied.
Fresh Fruit Pizza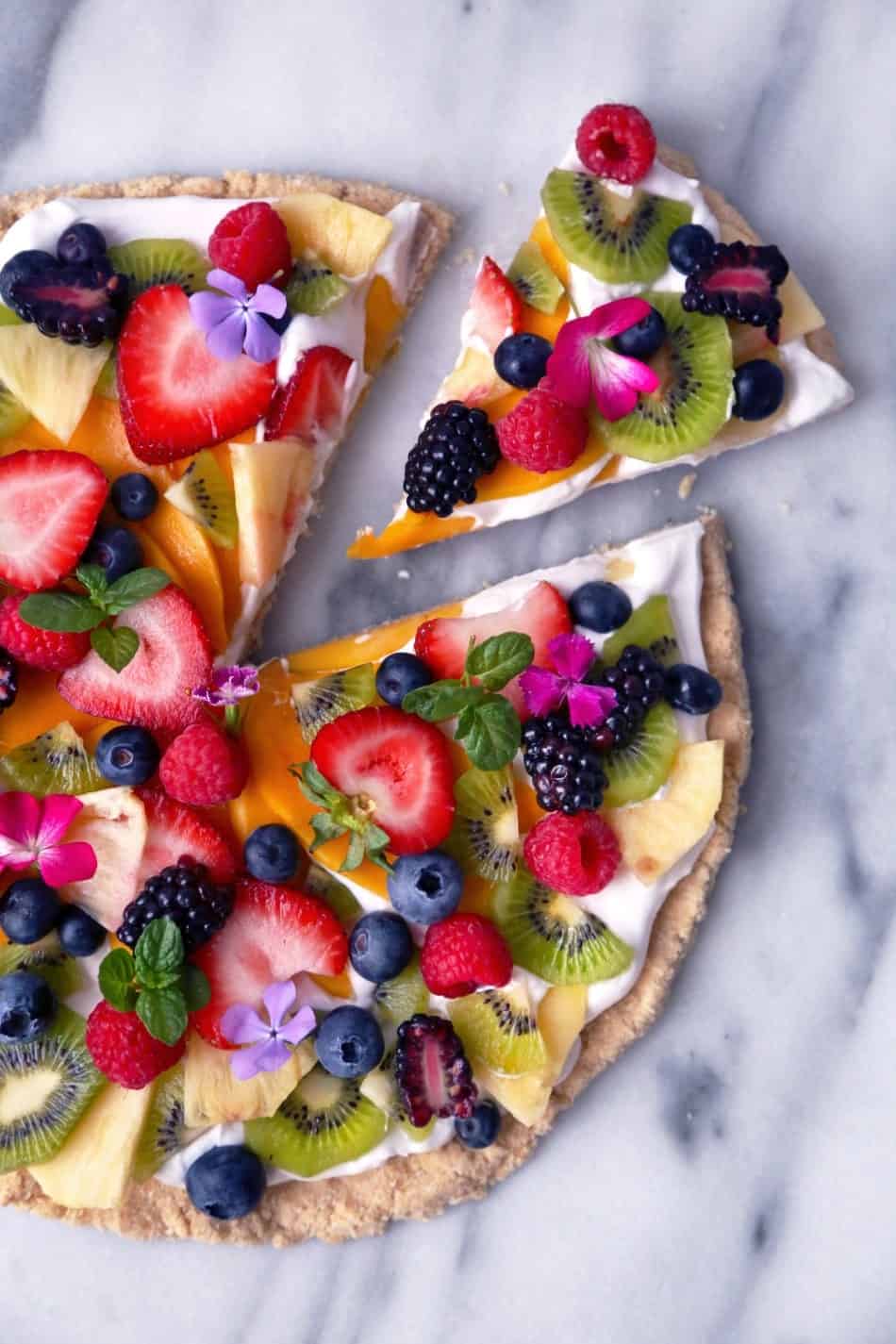 Fresh fruit desserts like this tropical pizza are a good idea for backyard summer parties and will look amazing on your dining table…
Fruity, Chocolate Dipped Cones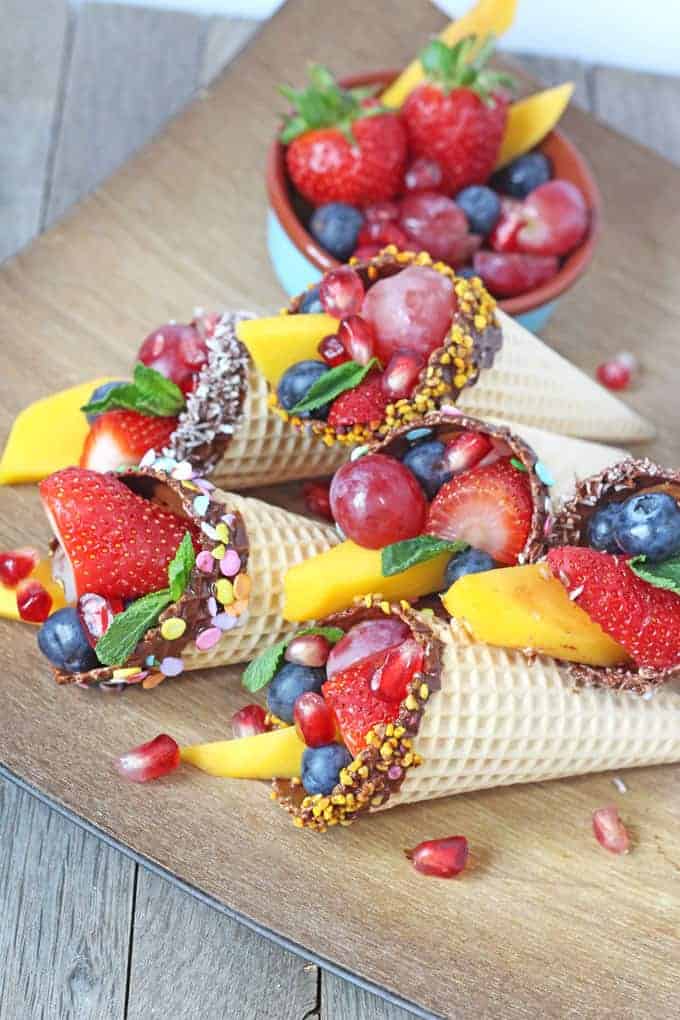 Chocolate-dipped fruit cones are a fun and easy treat that is perfect for any occasion.
Kids and adults alike will love the combination of fresh fruit and rich chocolate. To make them, simply dip your favorite fruits in melted chocolate and let them harden.
Then, enjoy as is or top with nuts, sprinkles, or other toppings of your choice.
These cones are also a great way to show off your creativity. So have fun with it and experiment with different flavor combinations.
You can't go wrong with this delicious treat!
DIY Cutlery Holders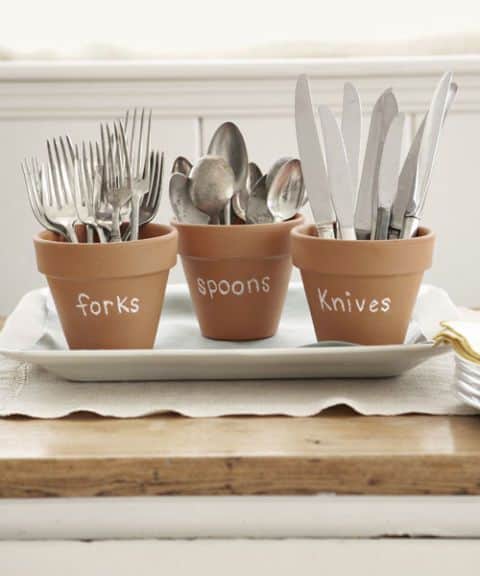 Want to skip table settings? These simple plant pot cutlery holders will be a great addition to any dining table!
Garden Party Games
No garden party is complete without some garden games that get people laughing and having fun… Here are some fun activities that are easy to create and that we think your guests will love!
Tic Tac Toe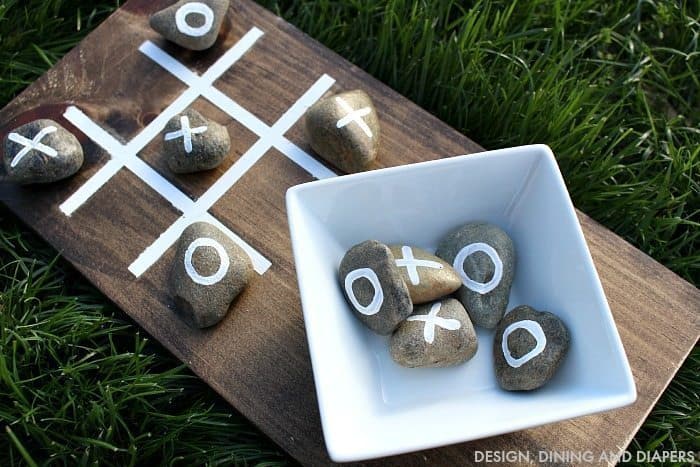 Tic Tac Toe is a simple garden party game that everyone knows how to play (it's super cheap & easy to make too)…
DIY Sack Race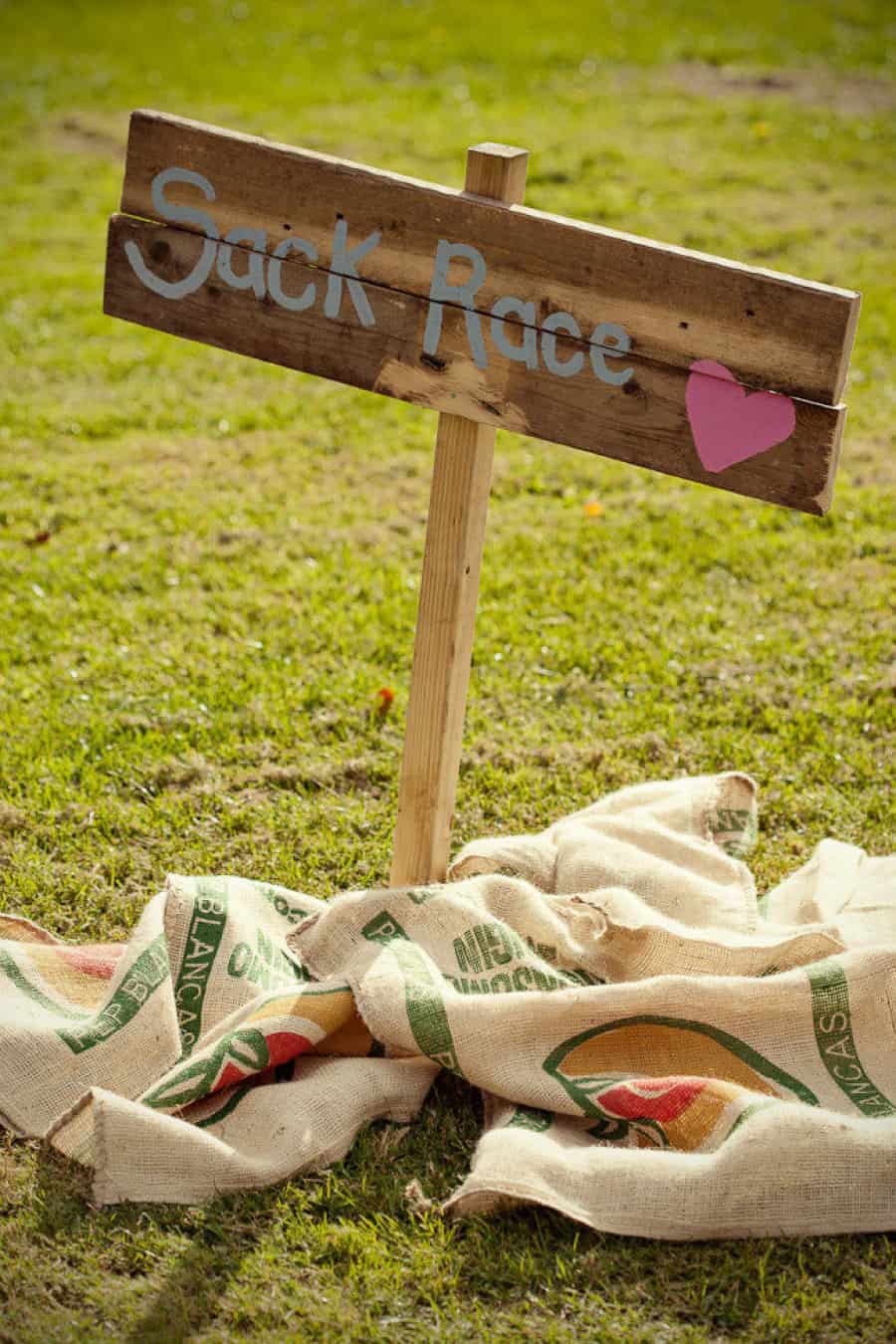 A sack race is an easy party game to make that will get your guests laughing, energized, and making great memories!
Water Balloon & Spoon Race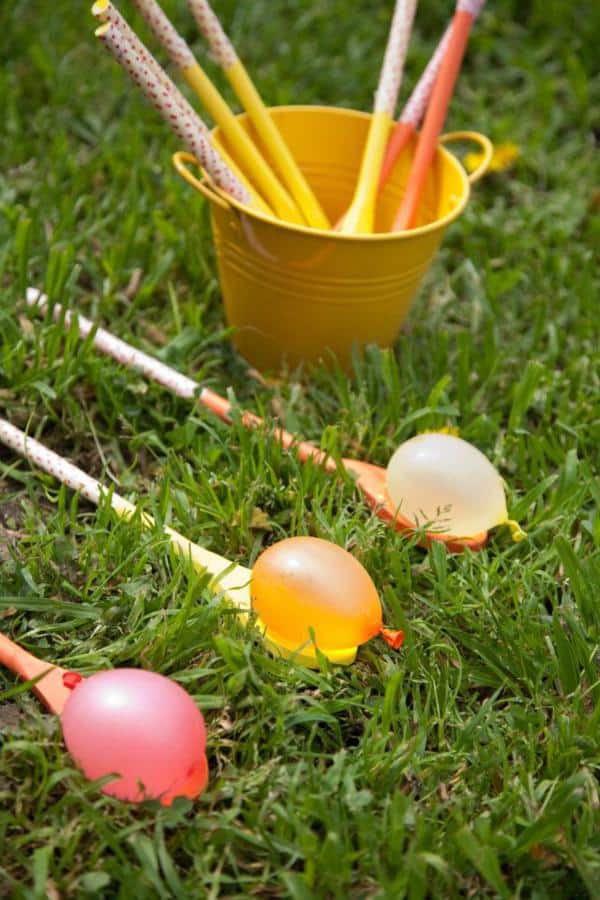 Family members and friends will have loads of fun with this fun twist on the traditional egg & spoon race…
DIY Outdoor Cinema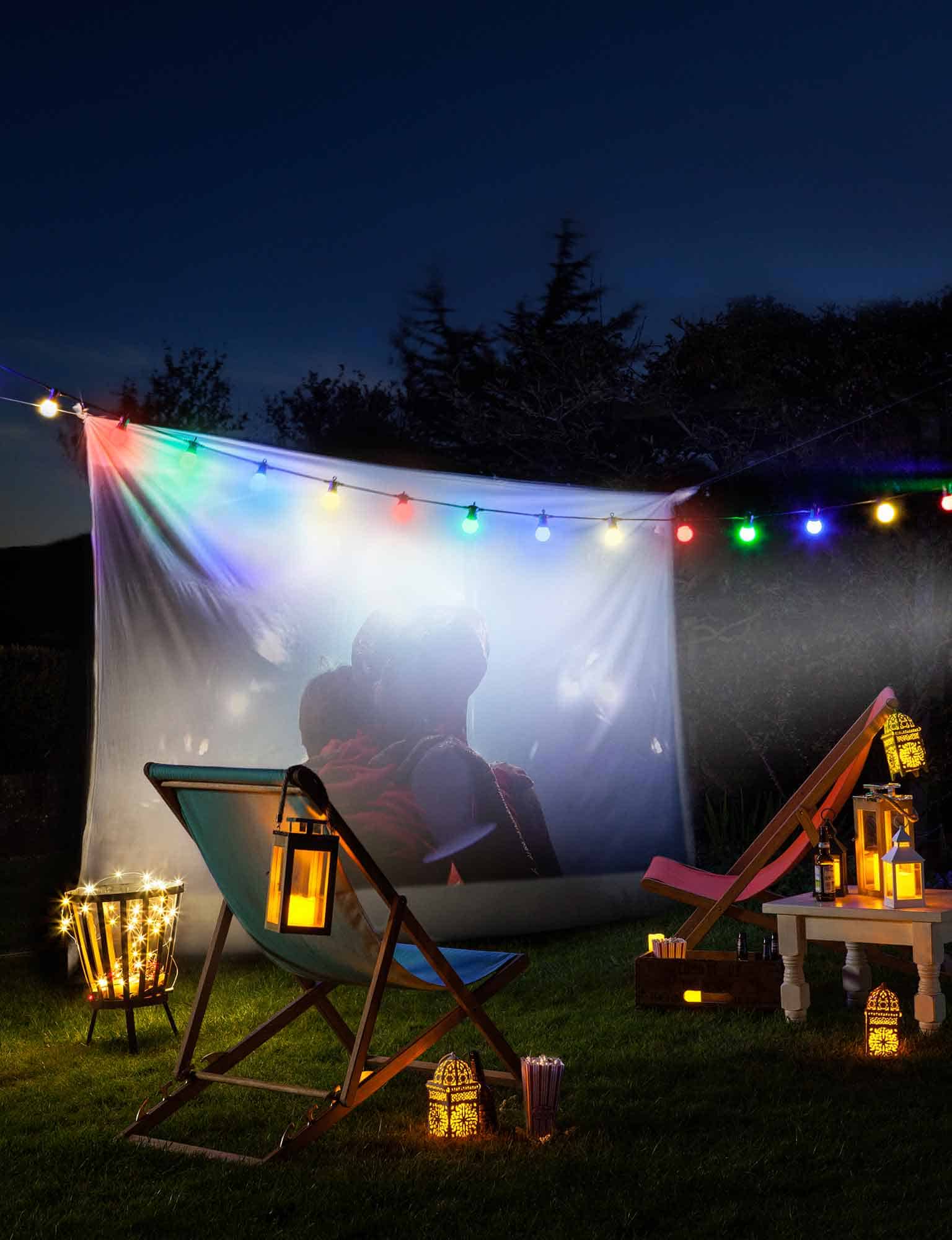 Create a lovely atmosphere as evening falls with an outdoor movie theater… Decorate with fairy lights, floor cushions, or foldable chairs, and relax long into the night.
DIY Garden Lighting Ideas
Stunning String Lights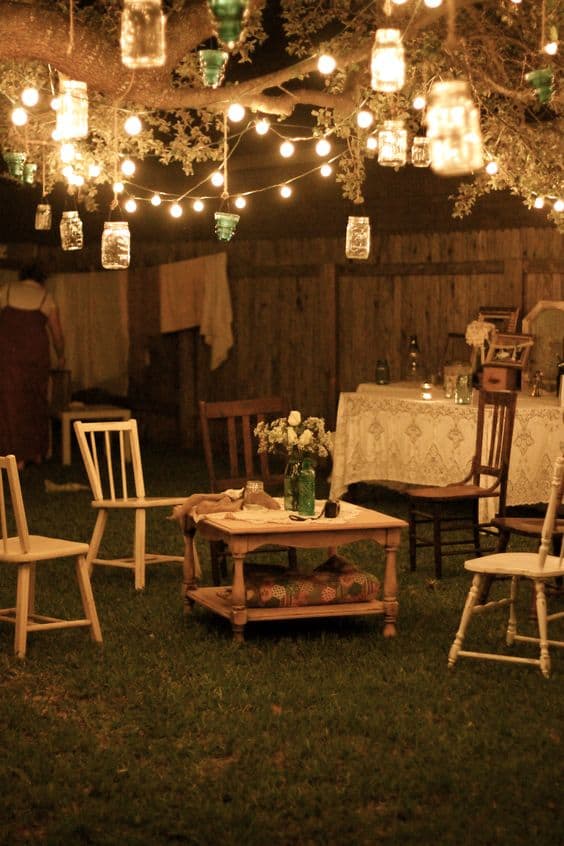 Hanging string lights from trees is a great way to create a magical atmosphere that will leave your guests speechless…
Mason Jars Candle Holders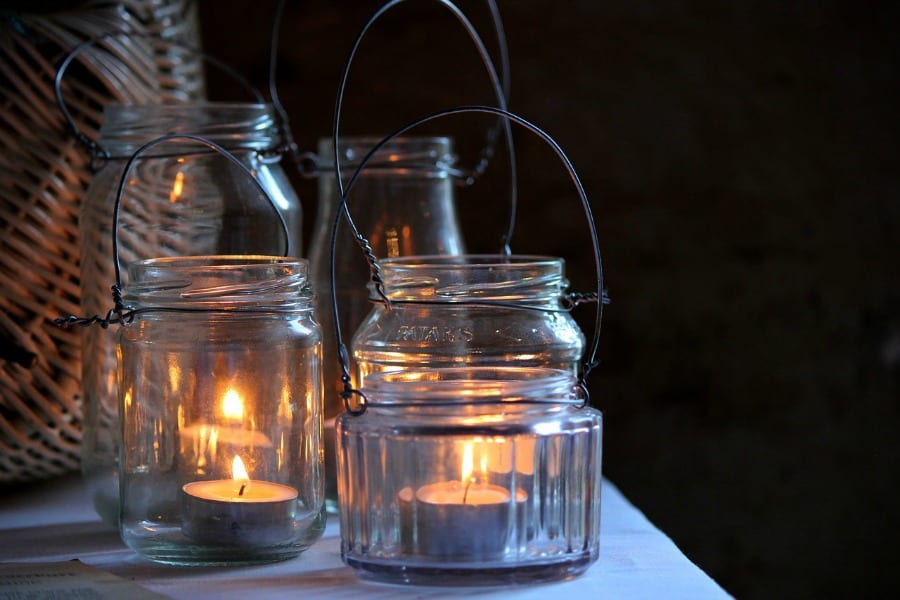 Take your outdoor space to the next level with these stunning Mason Jars lights… You can even use citronella candles in these pretty jars to keep the bugs at bay!
Magical Hanging Jars
These Hanging jar lights are one of the most simple garden party decoration ideas that will give your party an effortlessly elegant feel!
Colorful Candle Holders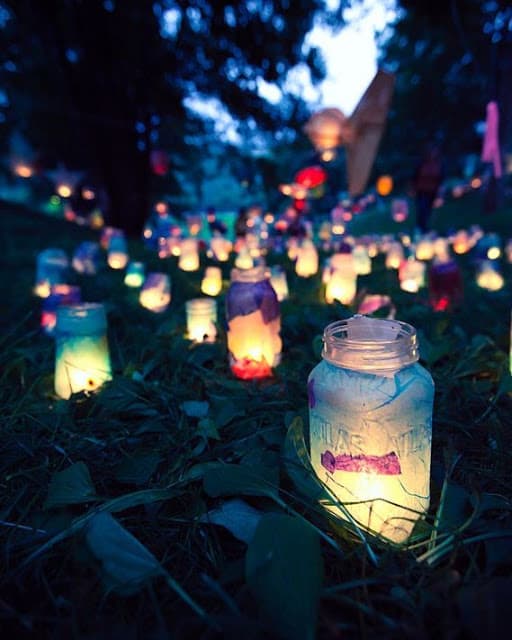 These pretty and colorful jars will Get everyone in a great party mood!
Before You Go...
I hope you enjoyed these garden party ideas and have found all the inspiration you need for your own summer soiree!