Are you wondering how to make rainbow slime?
How about a vibrant and pretty rainbow slime… that doesn't ever fade?
Well, you've come to the right place!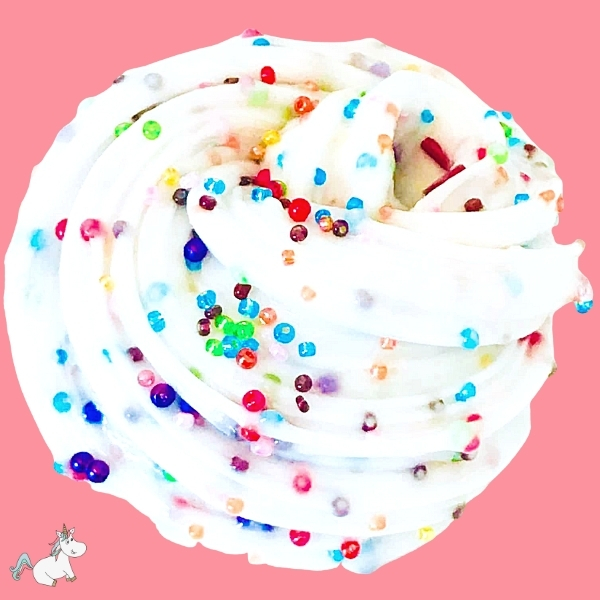 Making Vibrant Rainbow Slime That Lasts
As you may know, many rainbow slime recipes involve making lots of small batches, adding food coloring to each batch, and then combining them.
It's great fun, however, there's one issue…
That slime only lasts 5 minutes before all the colors merge together. As a result, you end up with a dull grey slime… sigh!
But there's no need to worry because we've found the perfect solution for this…
Using pretty beads in all the colors of the rainbow makes the perfect rainbow slime!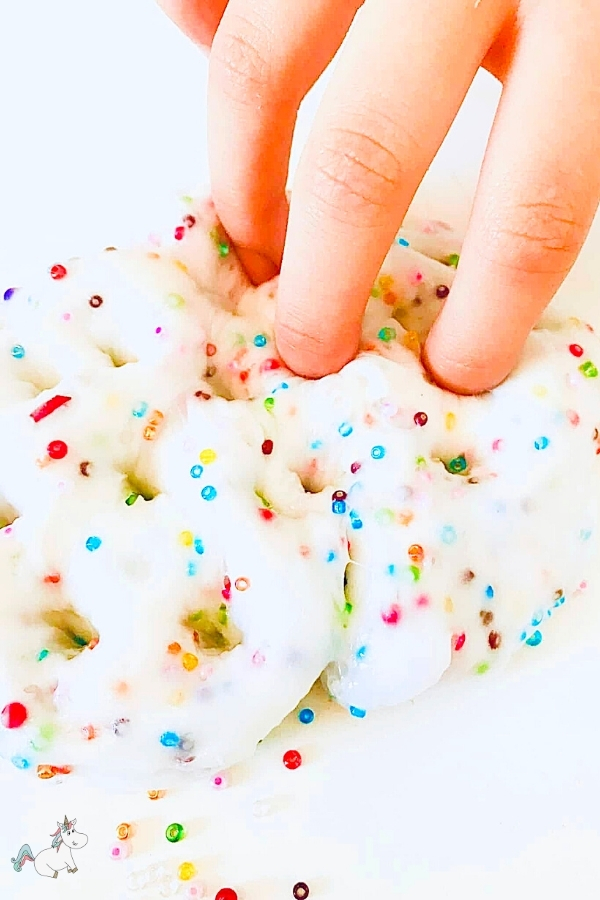 This post may contain affiliate links. See my full disclosure here for more info.
Not to mention… the beads make this slime a great sensory activity for kids too!
Rainbow Slime Ingredients
One of the best things about this slime recipe is that it only uses 5 simple ingredients…
250ml PVA Glue
2 tbsp Hand Moisturizer
1/2 tsp Baking Powder (Bicarbonate of Soda)
Contact Lens Solution (We Used Optrex)
Small Glass Rainbow Beads
---
Watch our latest slime video…
---
What Can Be Added To Slime
You can keep slime making fun and interesting for kids by adding different things each time you make it…
Why not try…
Adding shaving foam for a fluffy slime
Add large glass beads for fishbowl slime
Cut up small pieces of sponge to add to your slime
Sprinkle in some glitter & sequins
Experiment with different colors
Add iron-oxide powder for magnetic slime
Mix in some glow powder for a slime that glows in the dark!
How To Store Slime
So you've made the perfect slime and now you need to store it!
How?
Storing slime in an airtight container is the best way to ensure your slime will stay fresh for as long as possible.
This particular slime recipe should last for a few months before you need to freshen it up or make a new batch.
What If Your Slime Goes Wrong
It goes without saying that sticking to the slime recipe is the best way to ensure your slime works…
But sometimes (no matter how hard you try) things don't go to plan… this could be due to out of date glue or an un-identifiable reason.
Common problems when making slime (and how to fix them)
Slime is too sticky: In this case, gradually add more contact lens solution to make it less sticky
Slime is too dry: To fix this issue, gradually add some hand moisturizer to your slime. As a result, your slime will become super moist and stretchy (it will probably smell good too)!
For best results use Elmer's glue (which has been proven to work time and again) and follow the recipe below closely.
Staying Safe When Making Rainbow Slime
If this is your first time making slime, or your children are young, then definitely supervise them because the ingredients aren't edible but the slime does often look good enough to eat!
Ok, so now you know all you need to know about making rainbow slime, let's get to the tutorial…
P.S. Don't forget to click here or on the image below to quickly and easily save this pretty and vibrant rainbow slime recipe to your Pinterest.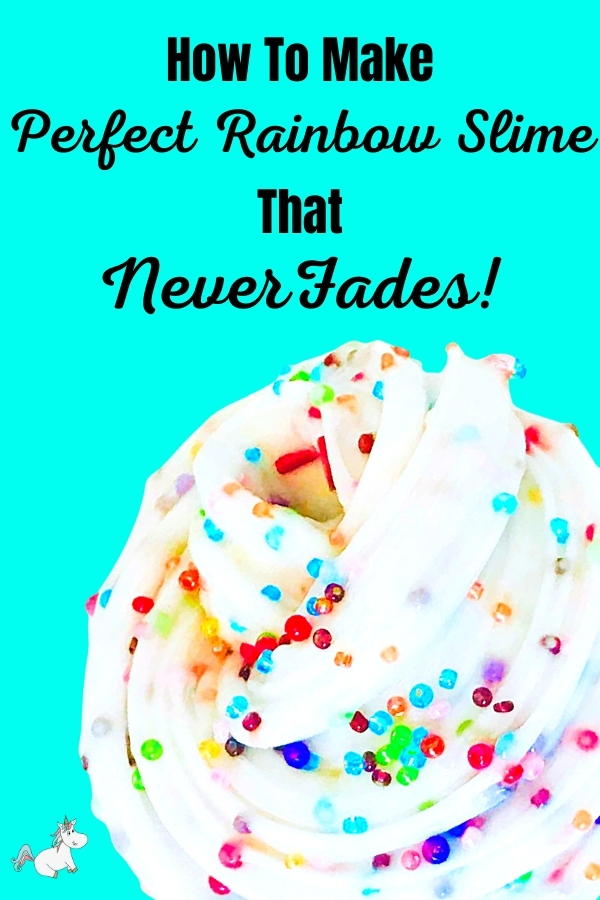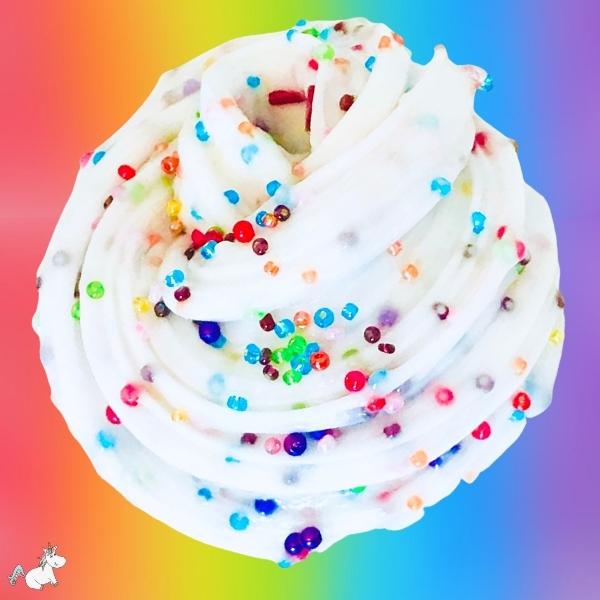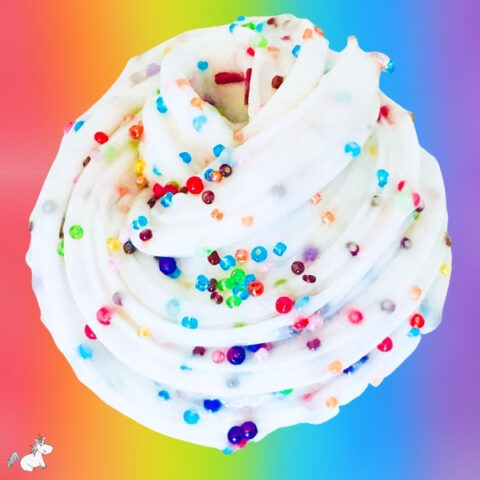 How To Make Rainbow Slime (That Never Fades)
Prep Time: 5 minutes

Active Time: 10 minutes

Total Time: 15 minutes

Difficulty: Easy

How to make Rainbow Slime that NEVER fades! This pretty and vibrant rainbow slime is cheap & easy to make! And the best part? kid's love it!
Materials
250ml PVA Glue
2 tbsp Hand Moisturizer
1/2 tsp Baking Powder (Bicarbonate of Soda)
Contact Lens Solution (We Used Optrex)
Small Glass Rainbow Beads
Instructions
Add the glue, moisturizer and baking soda to a bowl and mix
Pour in as many rainbow beads as you'd like... as you can see, we used loads...
Gradually add the contact lens solution, mixing well between each addition until your slime begins to come together and you can handle it without it sticking to your hands.
Notes
Always supervise children when making slime
Wash your hands after handling slime
Do not eat your slime... it is NOT edible (no matter how good it looks)
Before You Go...
I hope you have as much fun as we did when you make rainbow slime, as you can see this is one of the easiest slime recipes to try & with all the colors of the rainbow, your kids will absolutely adore this vibrant slime for months to come!
Any thoughts or questions? Let me know in the comments section below!