If you want to start working from home or would like a space that's dedicated to studying or kid's homework… then these small home office ideas will be just what you're looking for.
Many homeowners find that space is limited & dedicating a whole room to be used as a small home office just isn't practical… or even possible.
In this case, making clever use of the space in your home can make it possible for you to incorporate a useful home office that works for you & the whole family.
Whether you have a spare corner in the living room, a closet in the bedroom or even a nook under the stairs… the list of small home office ideas below will help you gather tips & ideas on how you can make a home office area work for you…
Although it can take a little bit of creativity… with planning and an open mind, you really can create a functional home office in a small space.
Haven't got time to read this now? Click Here to Pin it for later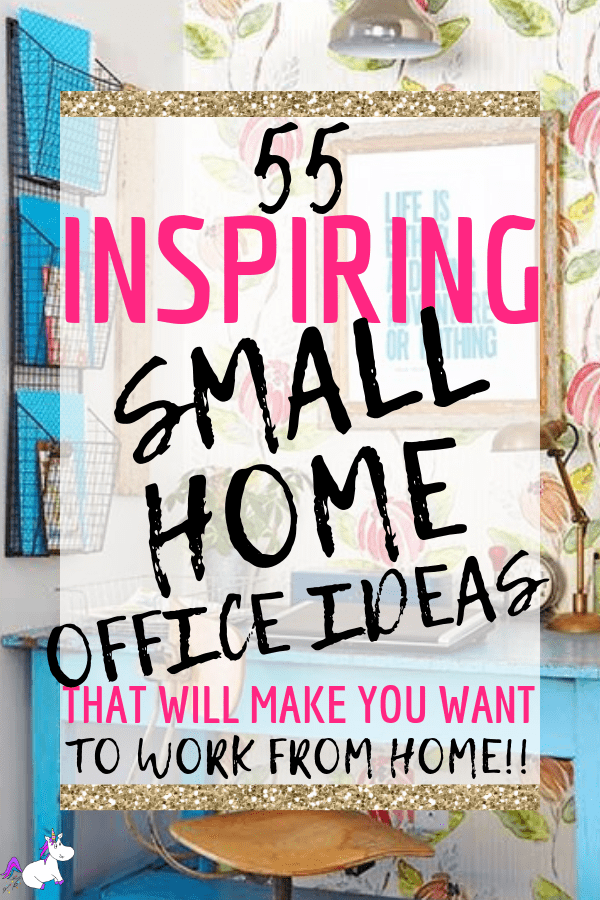 This post may contain affiliate links. See my full disclosure here for more info.
How To Make A Home Office In A Small Space
When creating your small home office it can be a nightmare to consider EVERYTHING you need in your setup!
Especially when you want a home office that is useful & productive….
After all, it can be easy to simply think about 'how it looks' & the decor of your office… rather than how it will actually function.
Your office design should allow you to work productively!
So, before you start thinking about color schemes & home office decor ideas… you need to focus on the following must-have items that will ensure you have an efficient home office setup.
Things You Must Have For An Efficient Home Office
A Clean Organized Space
A Working PC or Laptop
A Printer & Scanner
Pens, Stapler & Stationary
Notebook
Filing Cabinet or Paperwork Files
WiFi/High-Speed Internet Connection
Surge Protection
A Phone
Good Lighting
A Comfortable Chair
A Desk That Is The Correct Height To Work At Comfortably
Desk Light
Cloud Storage Like Google Drive
A Paper Shredder For Confidential Documents
A Safe/Fire Safe
Personal Touches
Clock
Calander
Wastebasket
USB Flashdrive
Pretty Accessories… you've got to want to be there right?
As you can see from the list above, there are many essential things beyond home office interior design ideas that you must incorporate to ensure you have an efficient & productive small workspace.
How To Make The Best Use Of A Small Home Office
Vertical Space – Make use of vertical space with wall mounted paper baskets, pin boards, clipboards & Shelving.
Organized Desk – Free up desk space by using cable lighting like this above your workspace instead of a desk lamp… these lights also have a 'natural light' setting which is perfect if you're trying to decorate a small office with no windows.
Create The Illusion of Space – Use patterns on the wall to give a perception of space.
Inspiration – Hang posters, photos, and even a vision board to give you inspiration whilst creating an interesting backdrop to your workspace.
Practical Office Desk – Install a fold-down desk that you can fold away when not in use.
Garden Office – If you have the budget & space, consider installing a small home office in the garden.
Windows – If possible choose an area with great natural light… a stunning view is a definite plus!
Create Storage – There are tons of stylish DIY storage ideas that you can make use of to store all your stationery & office essentials.
Add Plants – Plants are every home designers secret weapon… they create a calming atmosphere whilst refreshing the air in your office space too!
Small Home Office Ideas
So now we've covered the basics of how to create a functional small home office… let's move on to the best part… small home office inspiration!
No matter where you decide to integrate your home office, these 55 small home office ideas are sure to give you a ton of inspiration on how you can make a great home office in a tiny space… in fact, these home office designs are so stunning, you probably won't ever want to leave them!…
Design has such a huge impact on our quality of life. It affects our mood, the way we live, how we interact with others. I think it's a pretty big deal, to love the space where you spend most of your time.

~ Lauren Nelson, San Francisco Designer
How To Create A Small Home Office | 55 Of The Best Small Home Office Ideas
#1 Stylish Home Office
One of the best things about creating a home office in your home is that you can design it exactly how you want to. When Emily designed this home office she decorated it in a style that was true to her by incorporating natural wood tones, warm leather, whites & a selection of functional yet stylish items like paperwork desk files, vases & flowers to bring the shelves to life.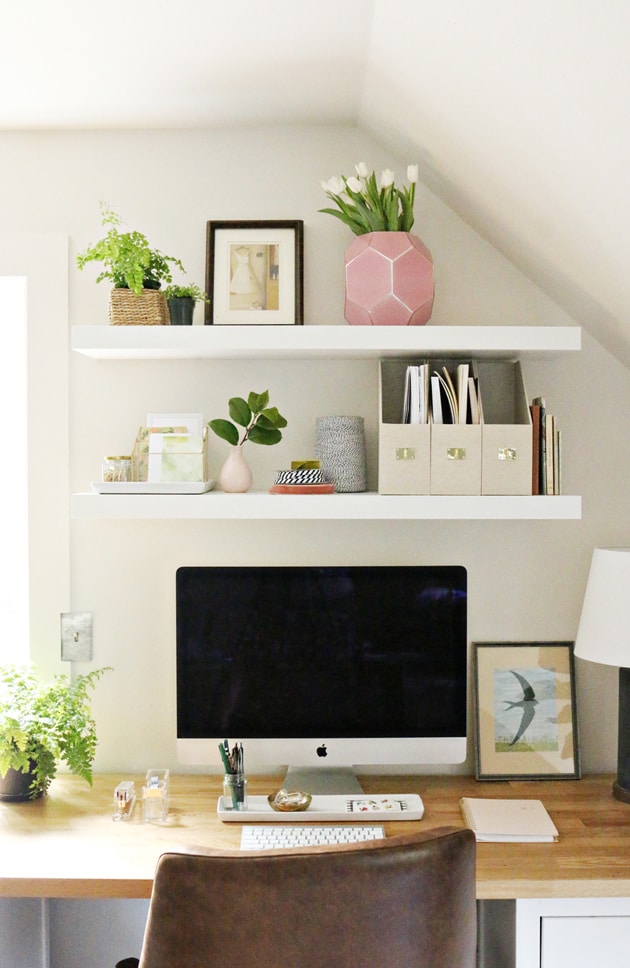 #2 Small Home Office Alcove
This cozy home office makes use of a small alcove & benefits from natural light whilst the shelves create a ton of handy vertical storage space. Using an alcove as a home office allows the desk to be unobtrusive thanks to being set back in the room.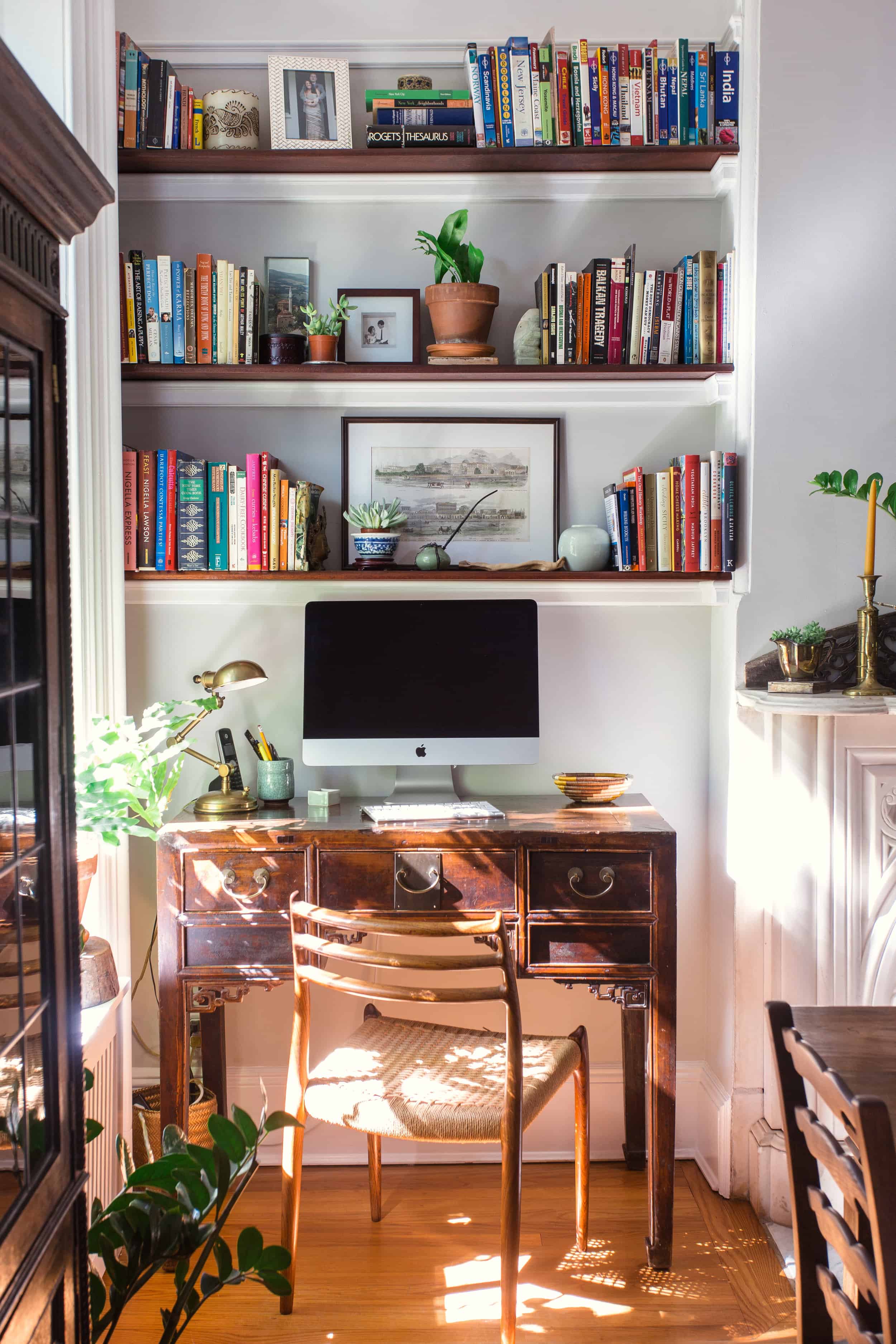 #3 A Cozy Office Nook
You don't have to spend loads of money when creating your small home office. This cozy little office nook was achieved with only a fresh coat of paint & a few accessories. The rug on the floor brings the whole room together & gives it a really cozy feeling.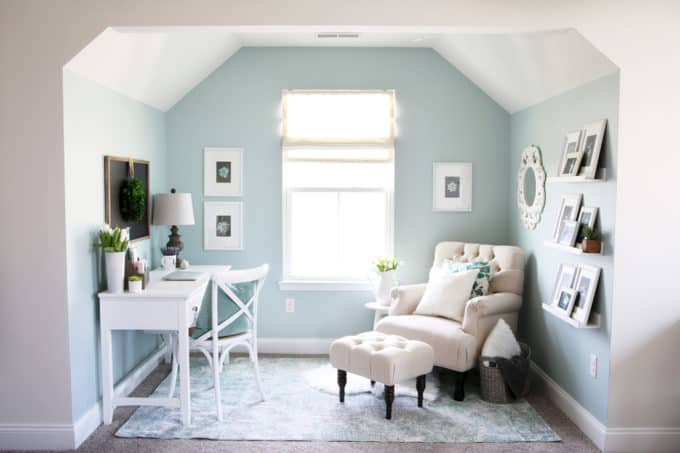 #4 Small Home Office In The Family Room
This small home office idea just goes to show that you can achieve a stylish home office in the family room that doesn't look out of place. The handy seat in the corner of the office will come in really handy if you're working with someone else or if your kids need a space to do homework together. The under unit lighting is an effective solution when decorating a home office without windows… it also frees up valuable desk space.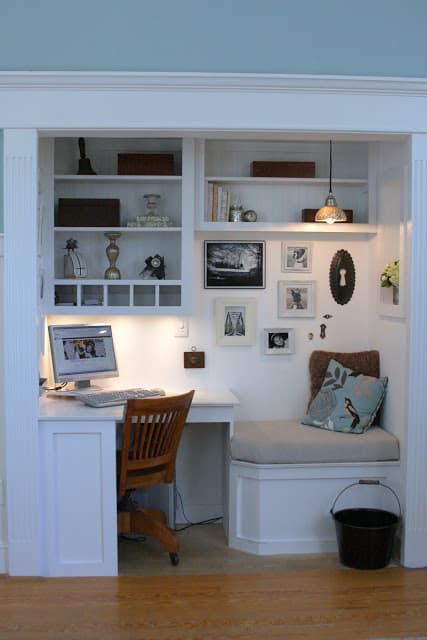 #5 Home Office Gallery Wall
Adding a gallery wall is an inexpensive small home office idea that brings oodles of character and charm to your space. Erica, who created this stunning small office in the guest bedroom advises that you should select works of art that vary in orientation and size, mixing up horizontal and vertical images. Don't be afraid to just go with the flow of what you love for your gallery wall! You can get some fabulous art prints from Etsy.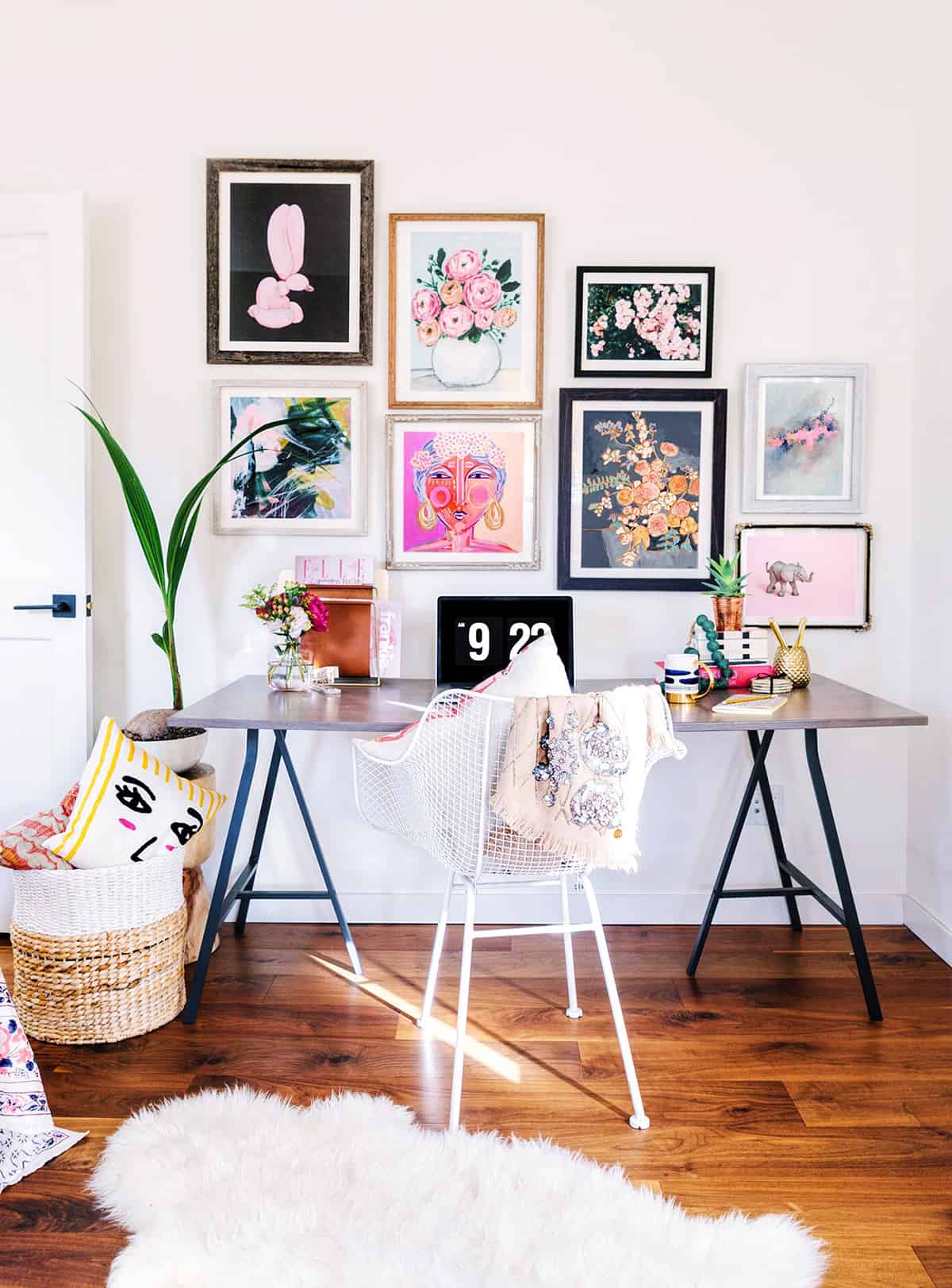 #6 Small Home Office With Filing Cabinet
Having storage is vital for small home office layouts as you could easily end up with an over cluttered space that you won't want to be in. Filing cabinets are a great office storage solution and come in a variety of sizes, meaning you can grab yourself a small one that will fit neatly away in an office corner. Consider using Filing cabinets like these as they can be easily painted… you can even cover them in self-adhesive contact paper for a quick budget-friendly fix.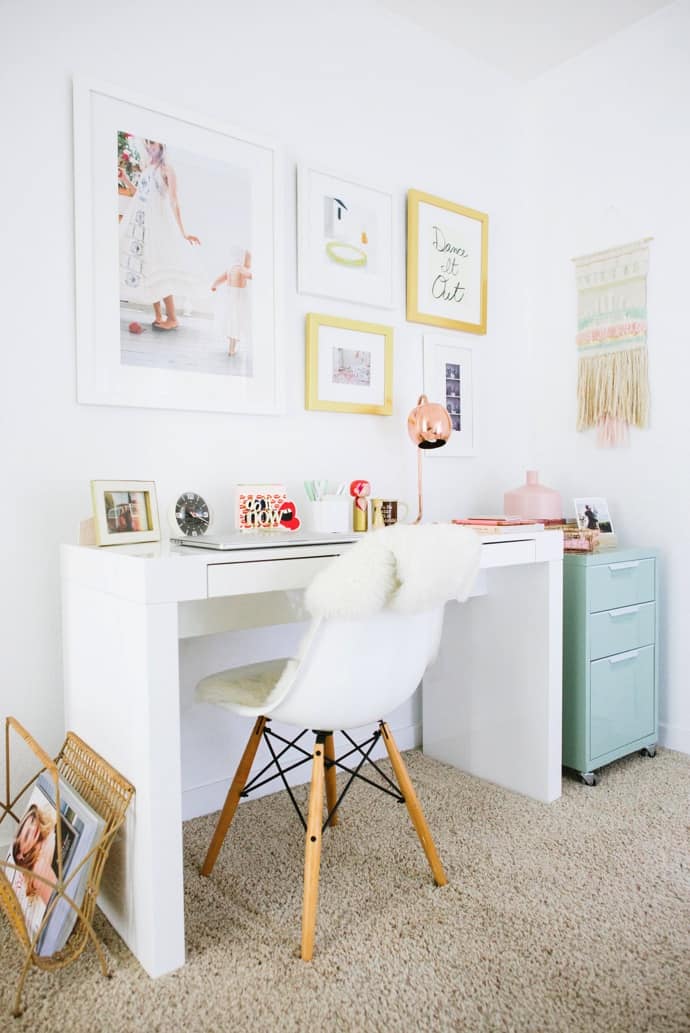 #7 Small Home Office With A Vision Board
When you're looking for pretty home office ideas, you will find that vision boards are suggested A LOT! Not only are they great for giving you that much-needed inspiration & motivation to let your creativity flow… they're also a great office wall decor idea if you want to add an interesting, personal feature. You can use your vision board to pin up your awesome ideas, dreams, and images that inspire you… it will be the first thing you see when you come into your office and set you up for a great day.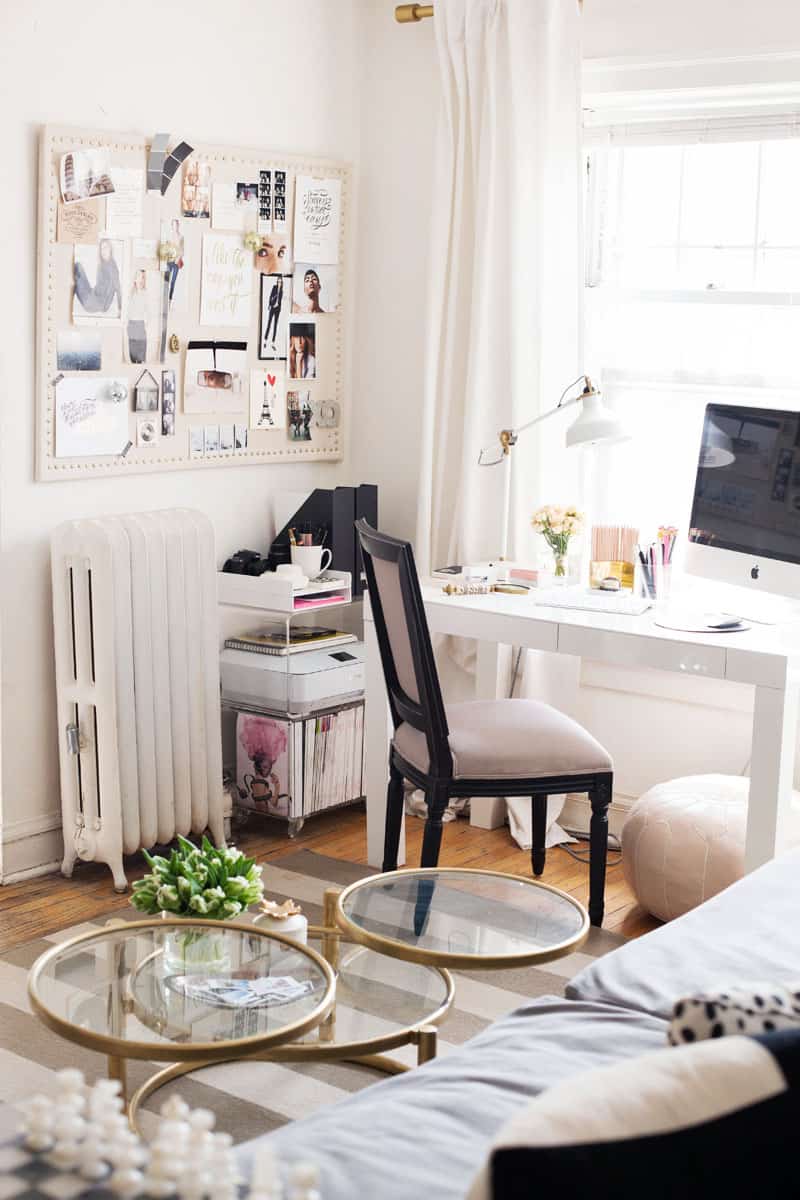 #8 White Office With Handy Desk Storage
If you're struggling to think of great ideas to decorate a home office, one of the most popular color choices is white. White walls will give your small home office a spacious feel and allow you to add splashes of color & change up the design easily with colorful accessories & pillows. Adding a rug to wooden floors can help to warm up your office and is a great way to add color to your small space.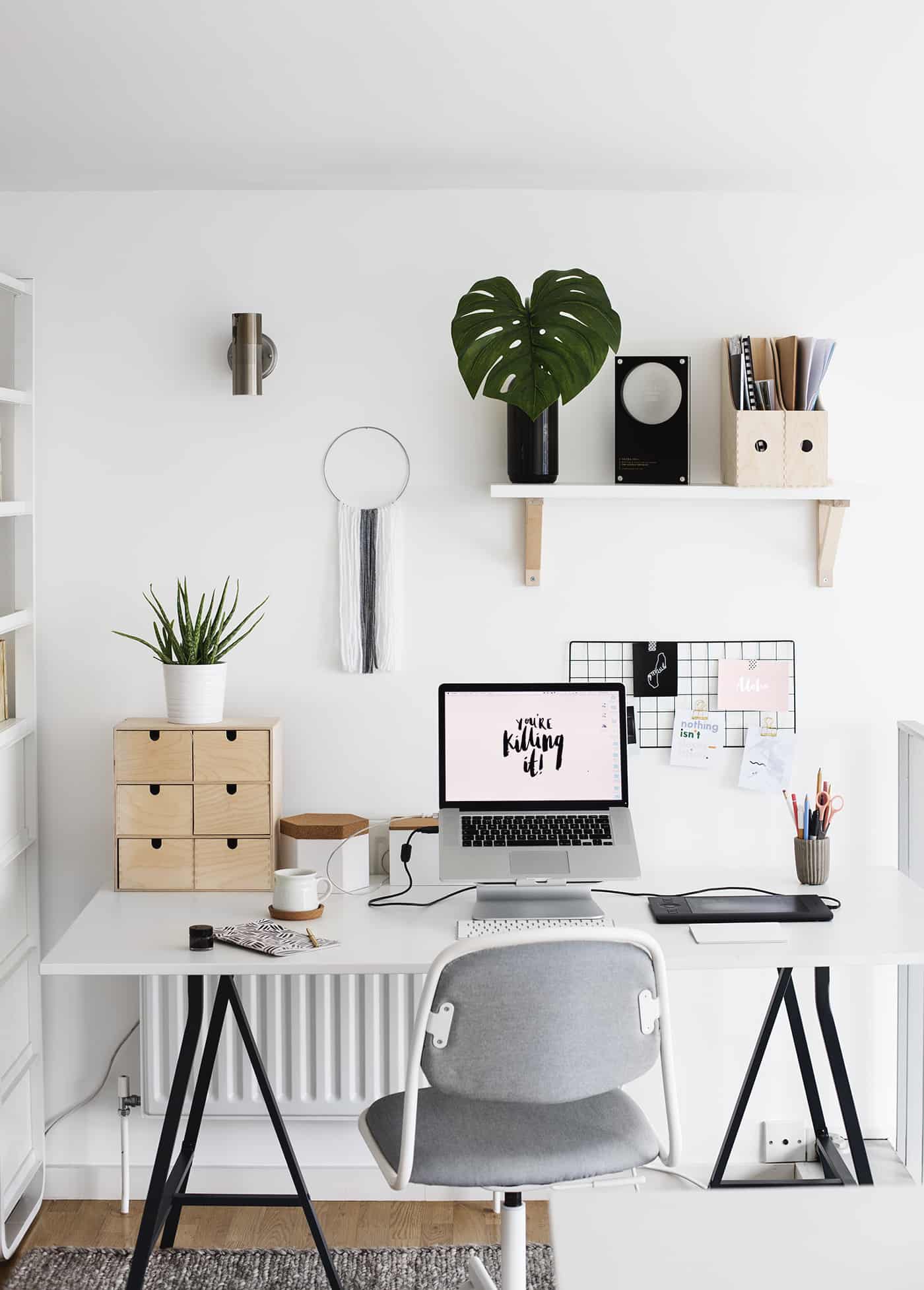 #9 Bedroom Corner Home Office With Corner Shelving
Creating a small home office in your bedroom corner is a great idea if you are low on space… you can also hang corner shelves up to the ceiling to make use of the vertical space in your office.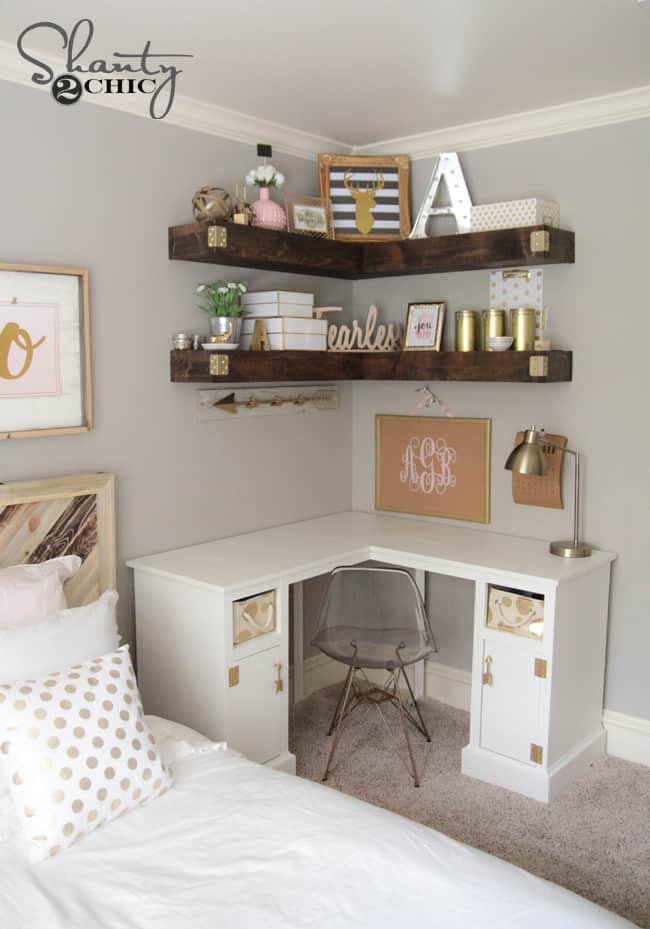 #10 Home Office in The Bedroom
Being low on space doesn't mean you can't be big on style… this small home office desk design makes this office a vibrant, feminine space that fits seamlessly into the bedroom.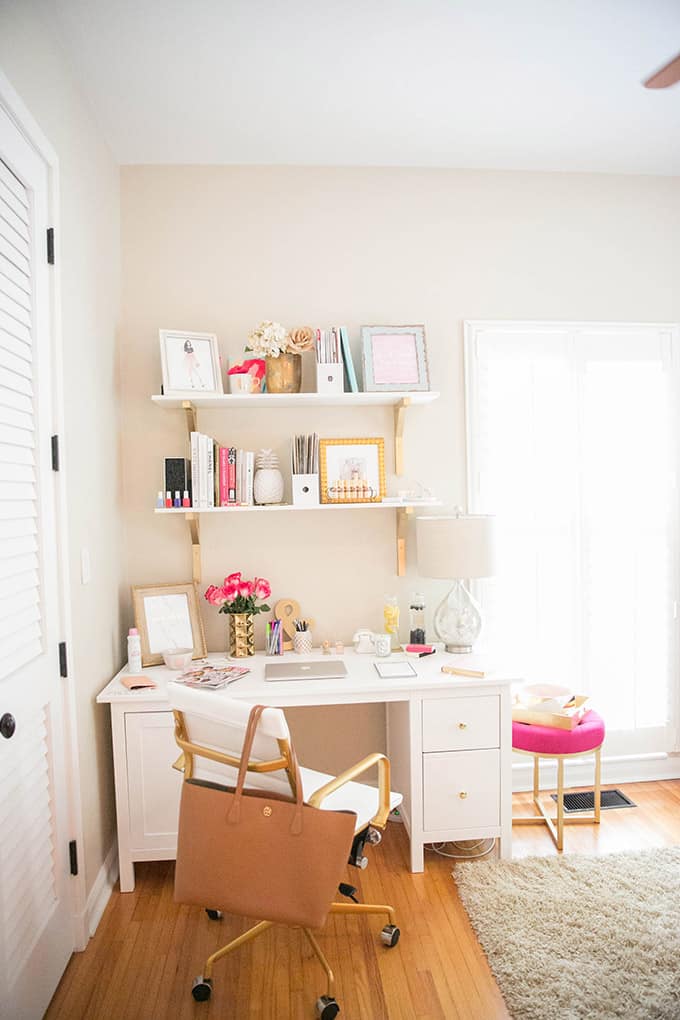 #11 Minimal Office
If you prefer a more minimal approach to your home office design, a simple home office with a few personal touches, just like this rustic office idea… can be all you need to get creative & complete your work from home.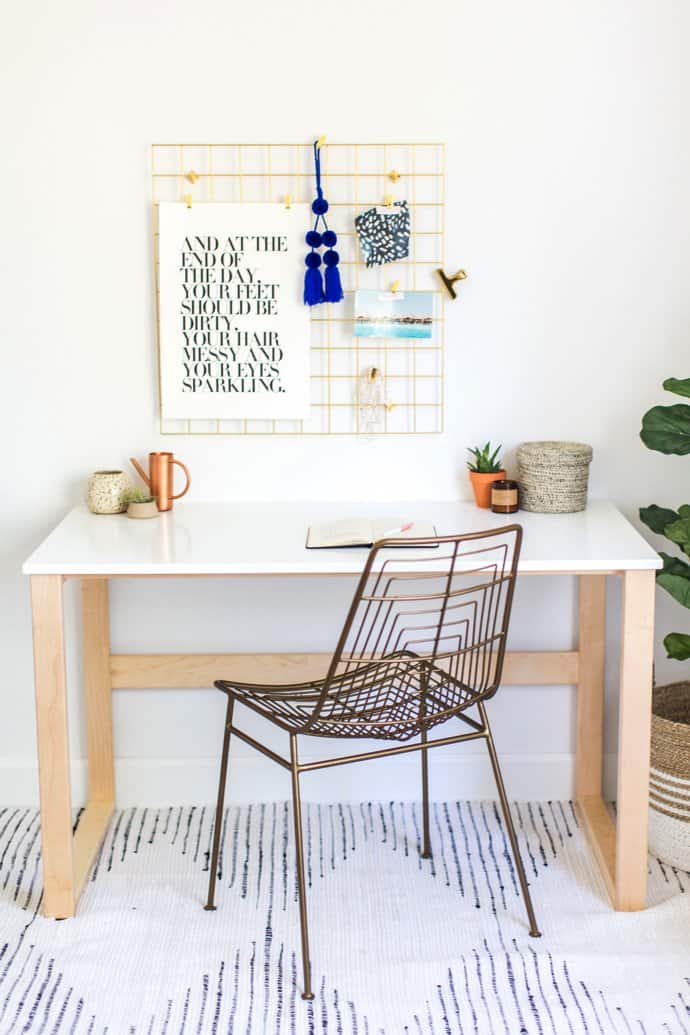 #12 Home Office With Space For Two
If you have enough space, creating a home office design for two is a great way to maximize your productivity… having an office that seats two also means that you can get your work done whilst your kids get their homework done or maybe color beside you.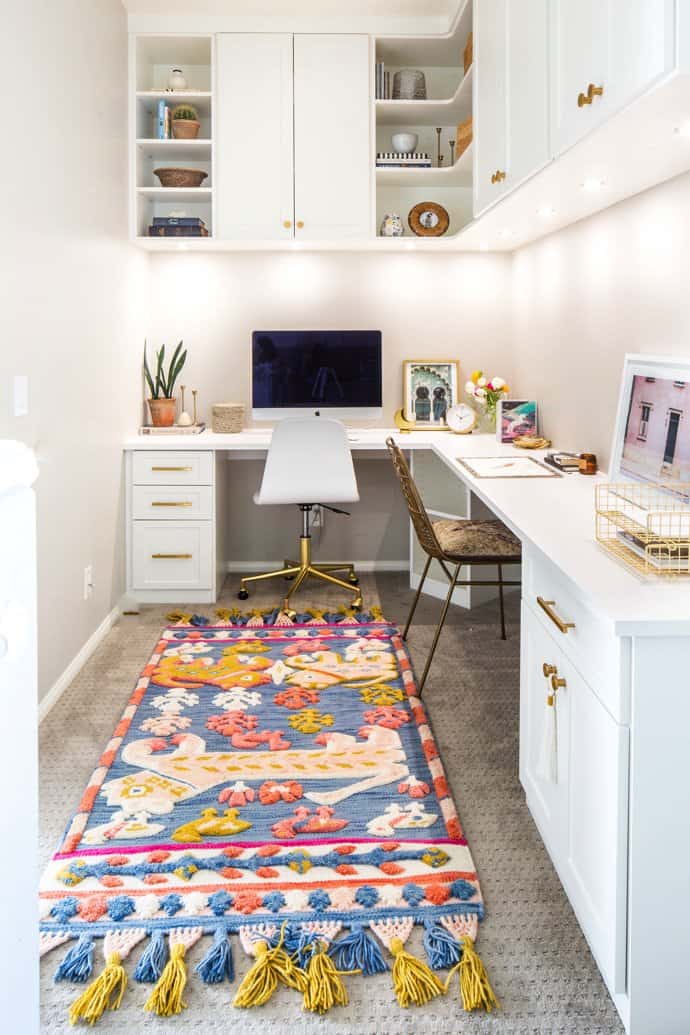 #13 Modern Home Office With A Glass Desk
This modern home office is tucked neatly away at the side of the room and is practically unnoticeable thanks to the glass desk. However, if you have kids at home, a glass desk might not be the most practical option.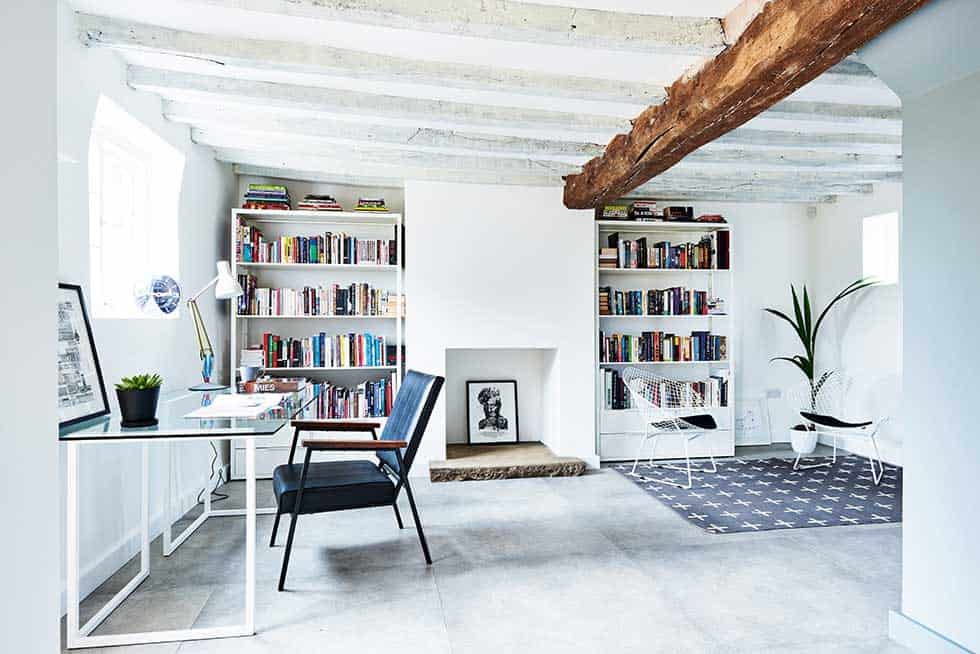 #14 Simple Corner Home Office
A corner in your living room or dining room can make a great space-saving solution for an office desk. Choose a desk that matches your current furniture & style your desk with accessories that match your color scheme to tie the style of the room together.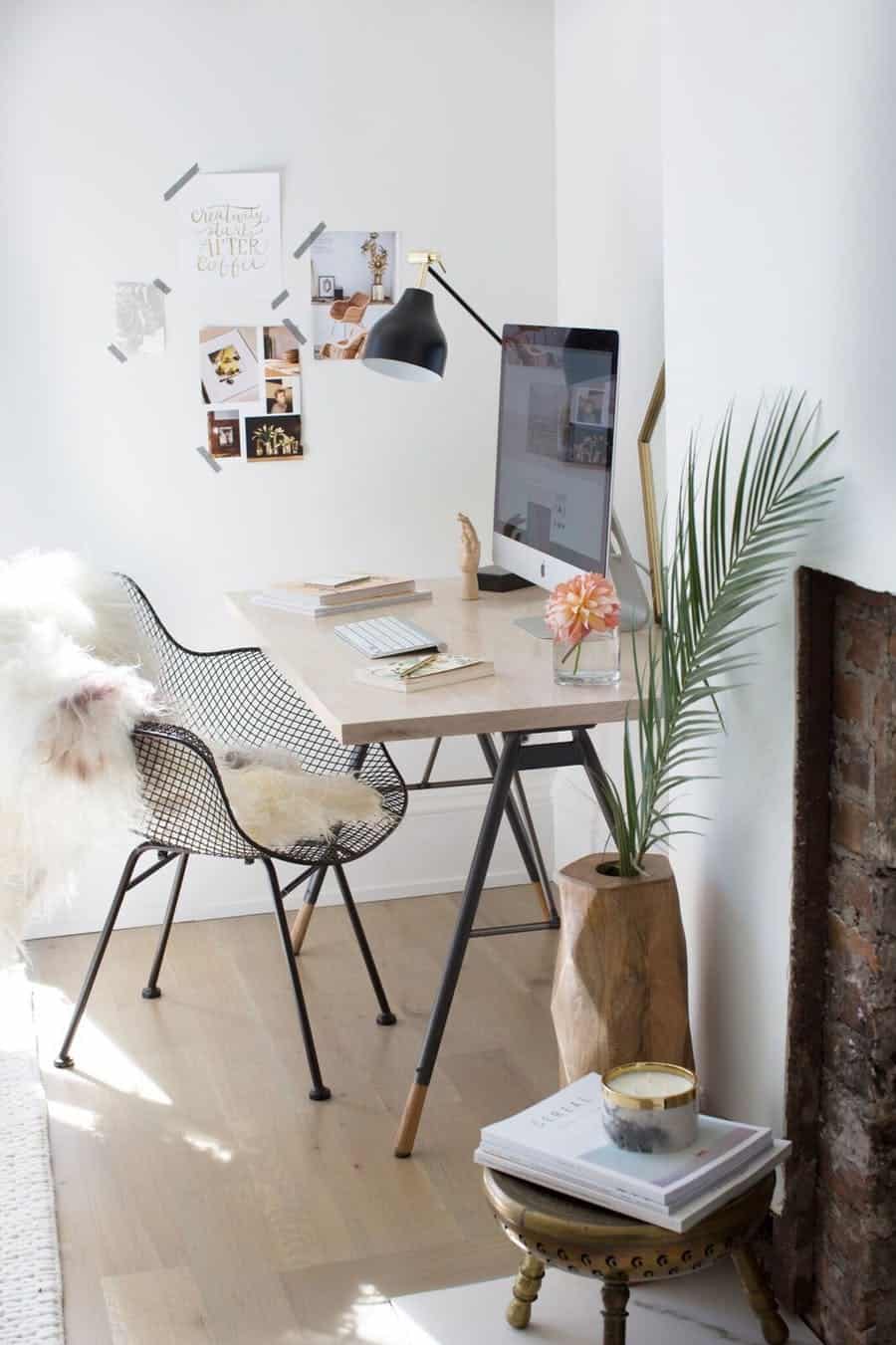 #15 Spare Room Study
This home office uses a simple desk that can be folded away when not in use or when the space in the room is needed for something else. The shelving on the wall is a great solution if you have lots of paperwork & files to keep tidy.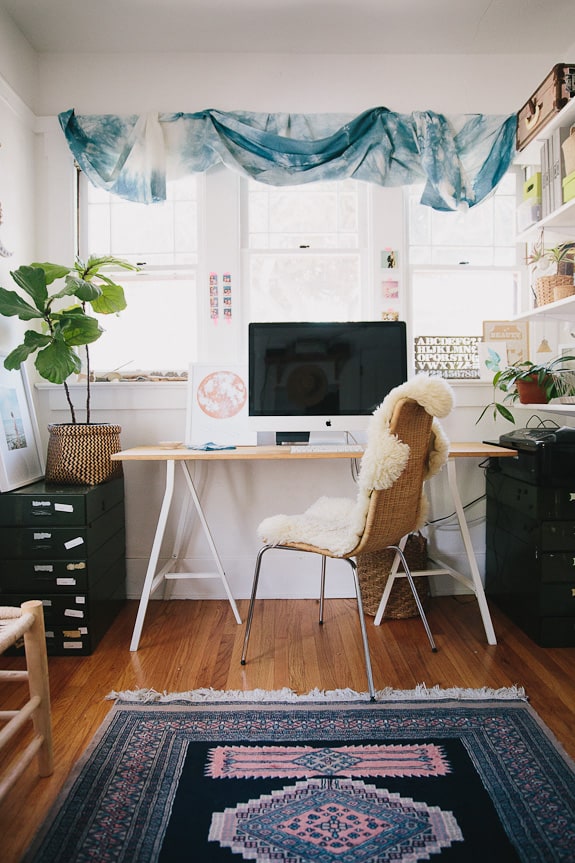 #16 Home Office Layout
When figuring out how to setup a home office in a small space… most people think that the best home office layout is to have desks pushed against the wall but as this office shows… even a small room can have a desk placed in the center. .. As long as you can walk comfortably around the desk… this could be a great idea if you need office space for more than 2 people.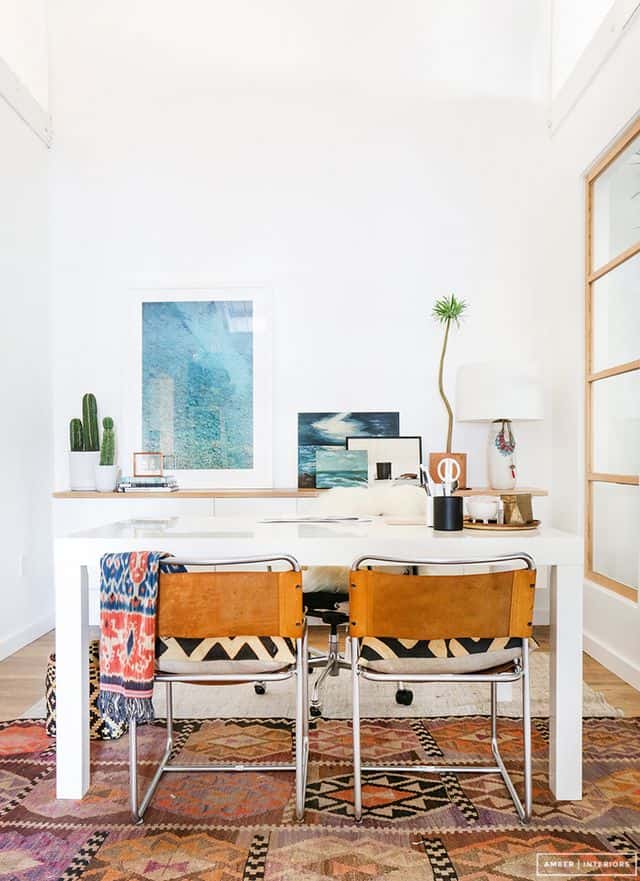 #17 Farmhouse Style Office Decor
This is a simple office setup but the rustic farmhouse style decor gives the office a cozy feel that will allow you to feel calm and relaxed while working on your next big project. Having a desk with a drawer for storage is a space-saving solution when you are trying to incorporate a workspace into a small room.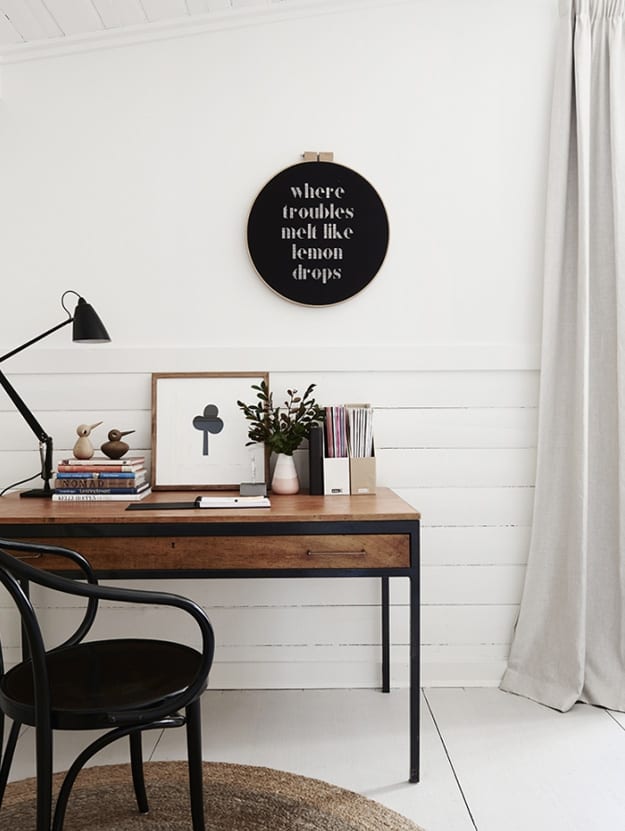 #18 Geometric Office Wallpaper
For a vibrant but calming workspace that isn't too busy or distracting opt for geometric patterned wallpaper & team it with furniture and accessories in tones that complement the color.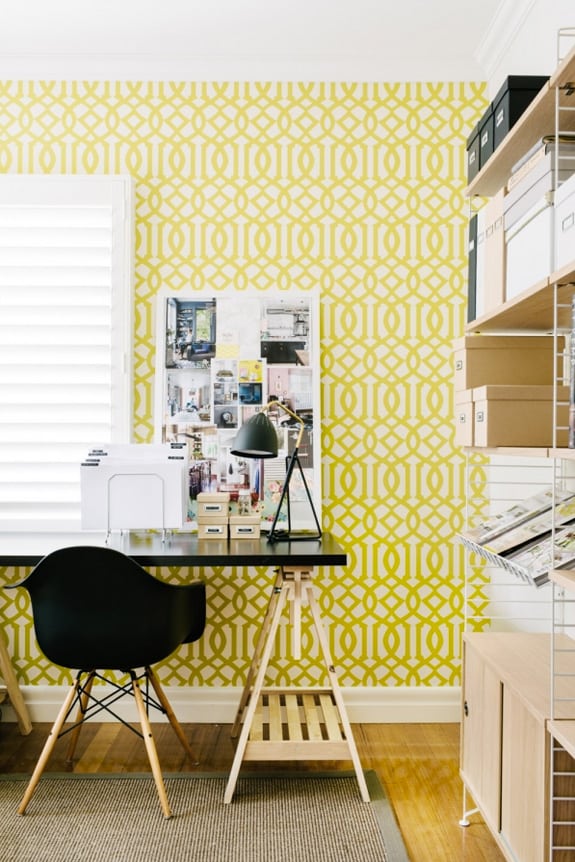 #19 Simple Foldaway Desk
When you are short on space, a desk that you can fold away when not in use will come in handy if you ever need to temporarily use the home office for something else.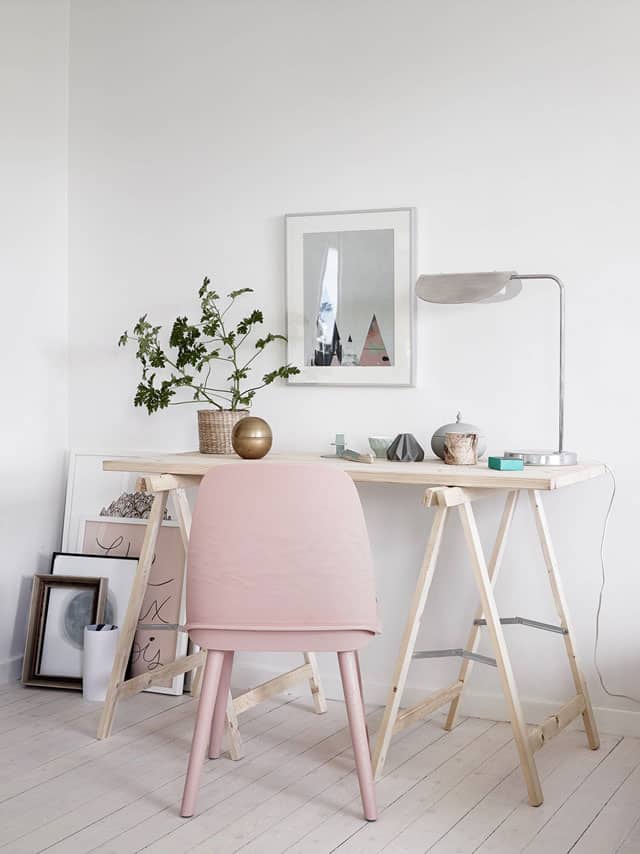 #20 A Corner Office Desk
Choosing a corner desk will allow you to maximize the use of space in a small room, just like this modern home office.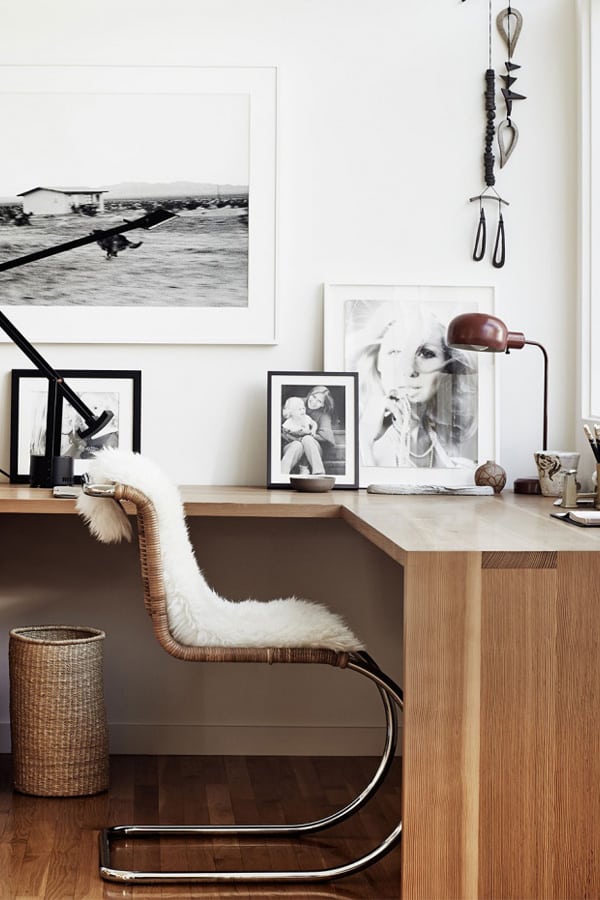 #21 Office In a Closet
A closet can be a great way to bring a home office into your small space. Use shelves above the desk to give you more storage space & unique wire baskets on the wall to neatly store those important papers and inspirational magazines. This office also makes use of storage space in the desk… perfect when you need to make the most of a compact space.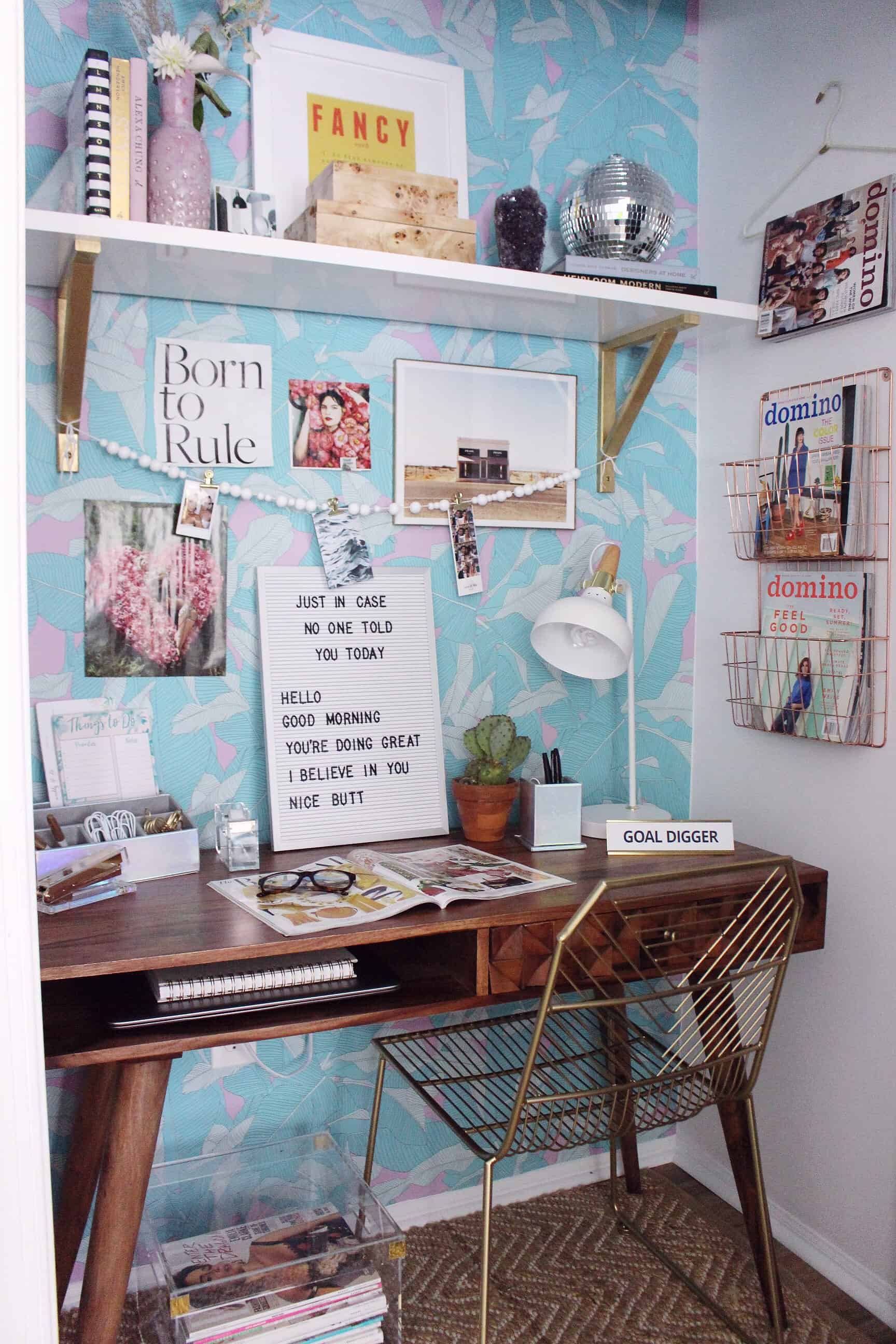 #22 Introduce a Theme
Small home office ideas like this one take on a life of their own when designed with a cool theme. This office has a unique jungle theme where the use of the plants helps to bring the small space to life…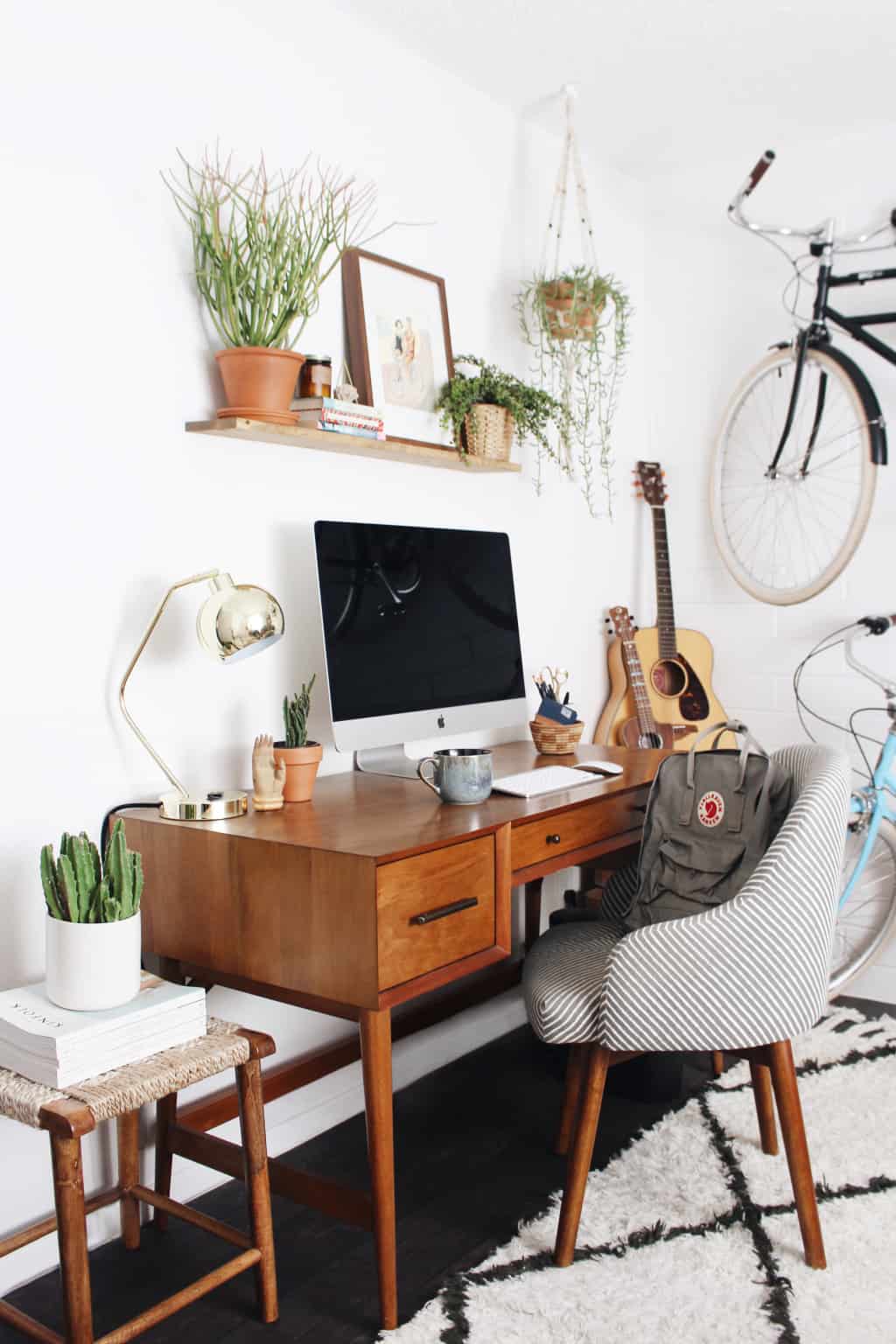 #23 A Multi-Use Office Space
This room was designed to be used as a home office & homework room combination. The children's artwork displayed on the wall gives this room a pop of color and a sentimental feel.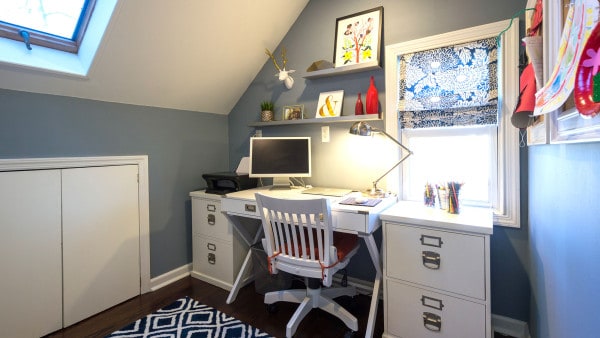 #24 Living Room Office Combination
An office desk is a nice feature within the living room if you have a free corner to spare. Matching the color of the office chair to the blinds of the room helps to make the room feel put together. When space is limited, a good idea is to choose furniture with long narrow legs that give the room a more spacious feel.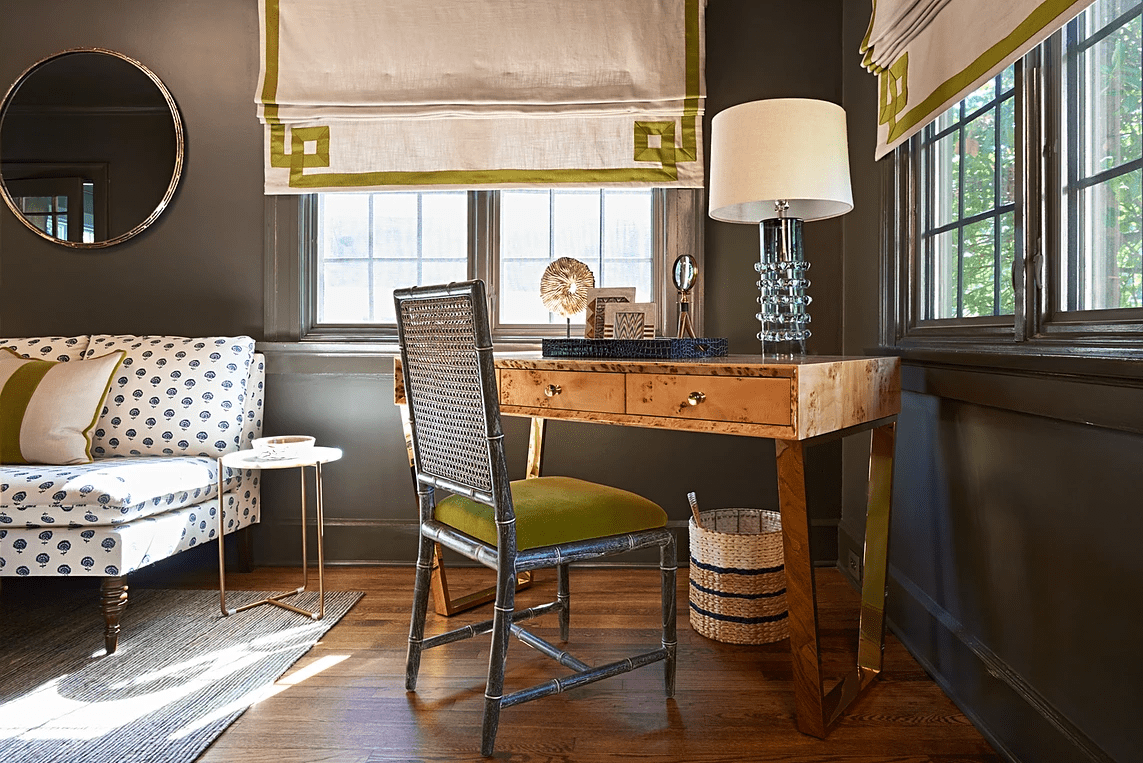 #25 Home Office Shelving
Floating shelves or bookcases are a practical way to maximize your office area and are very easy to install.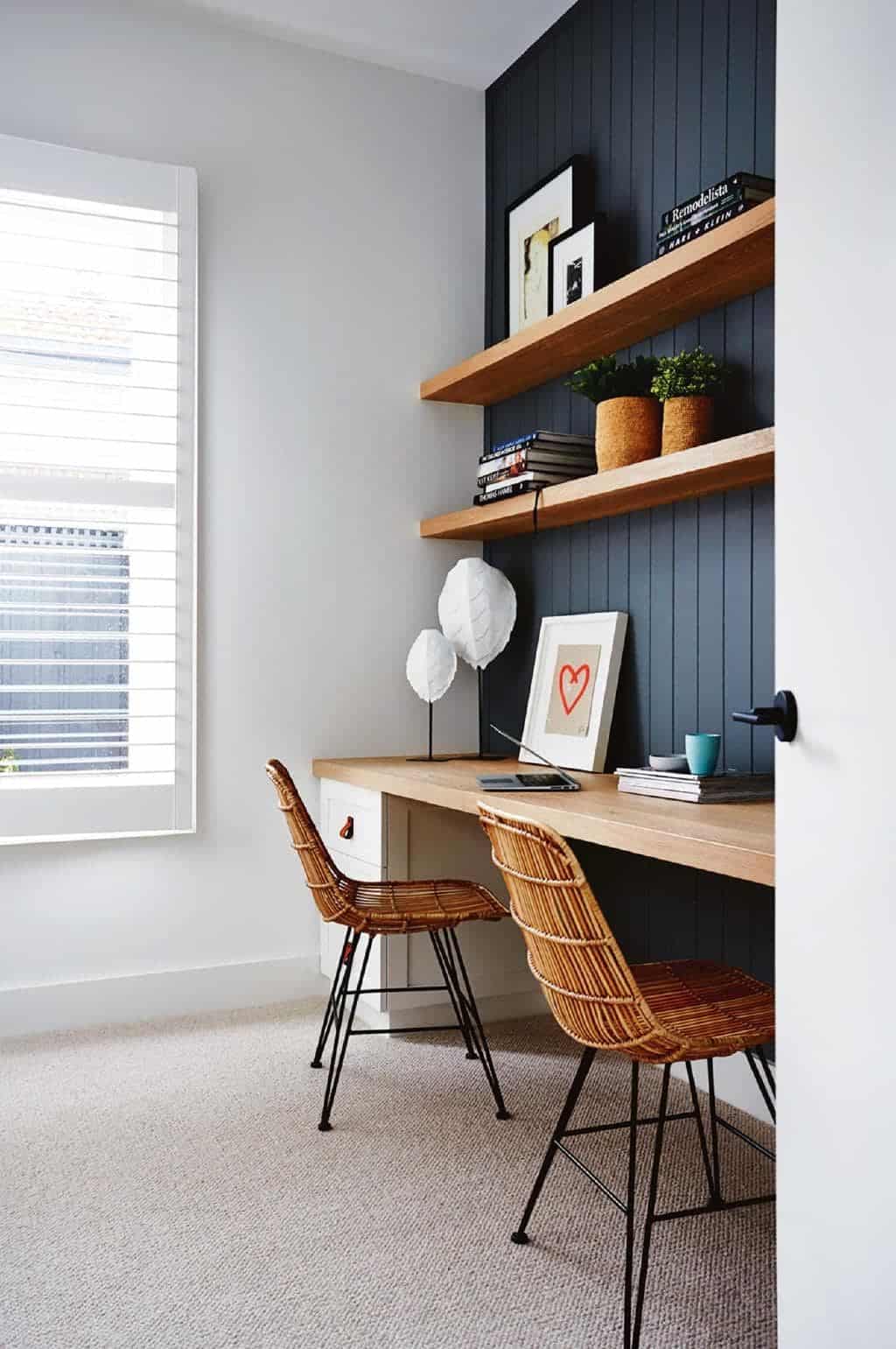 #26 Kitchen Office
An office in the kitchen is a popular trend right now and allows you to keep track of the family & feel part of the hustle and bustle of the home rather than being shut off out the way.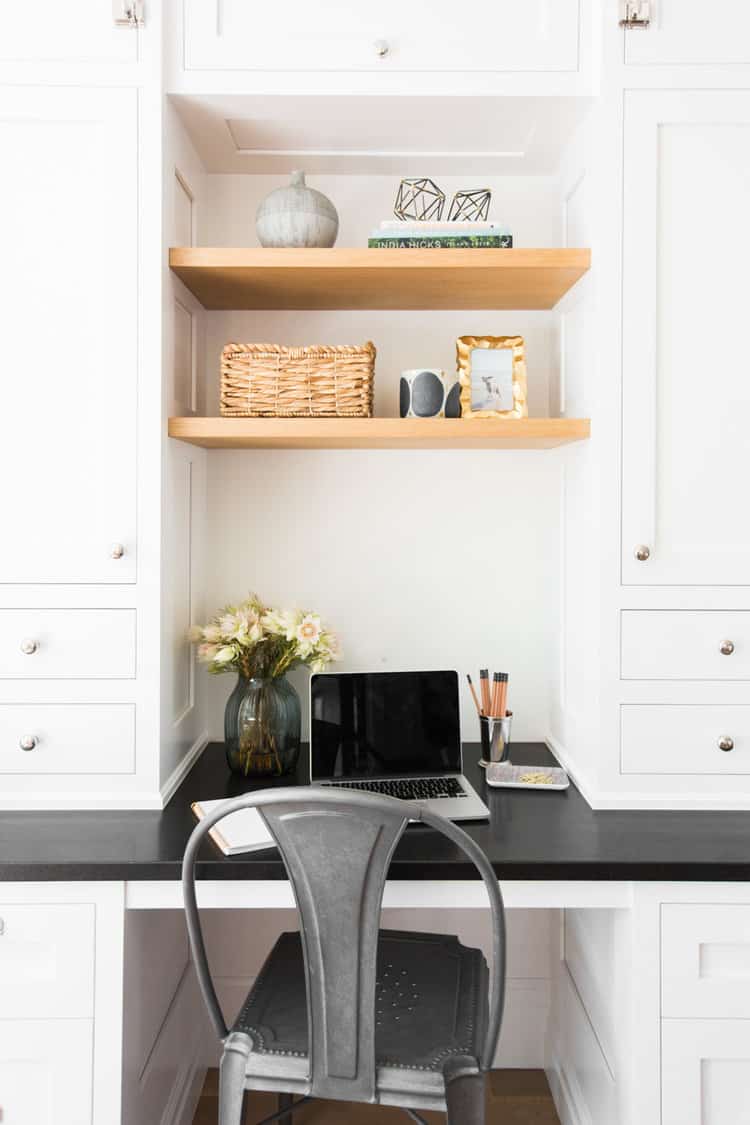 #27 Built-In Bedroom Office
If you don't use your vanity desk in the bedroom, transforming it into a small home office is a great way to re-use the space. You could even incorporate the home office into the vanity desk for a functional dual space.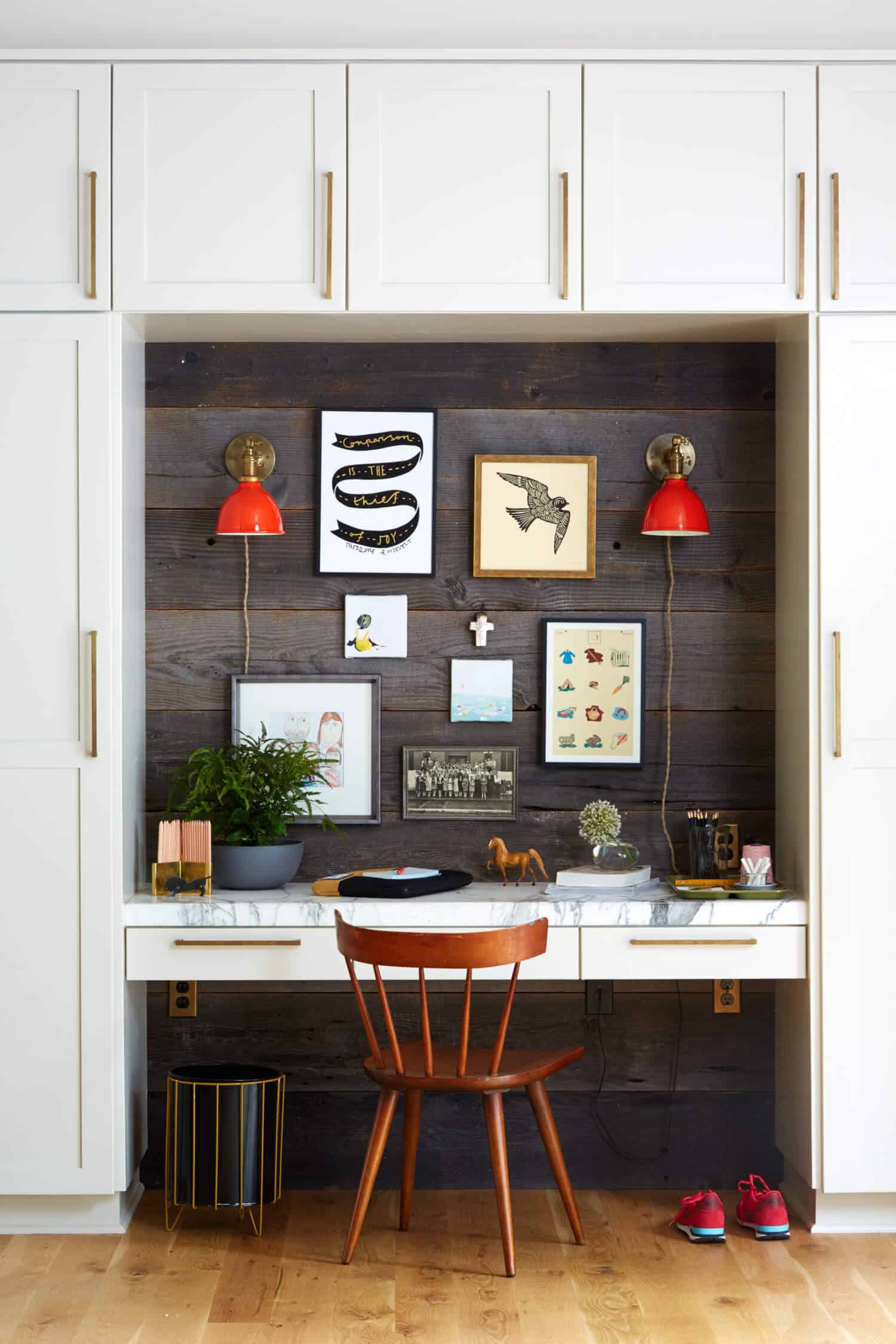 #28 Elegant Home Office With Wall Storage
This elegant home office makes use of plenty of wall storage and a slimline desk to maximize the space.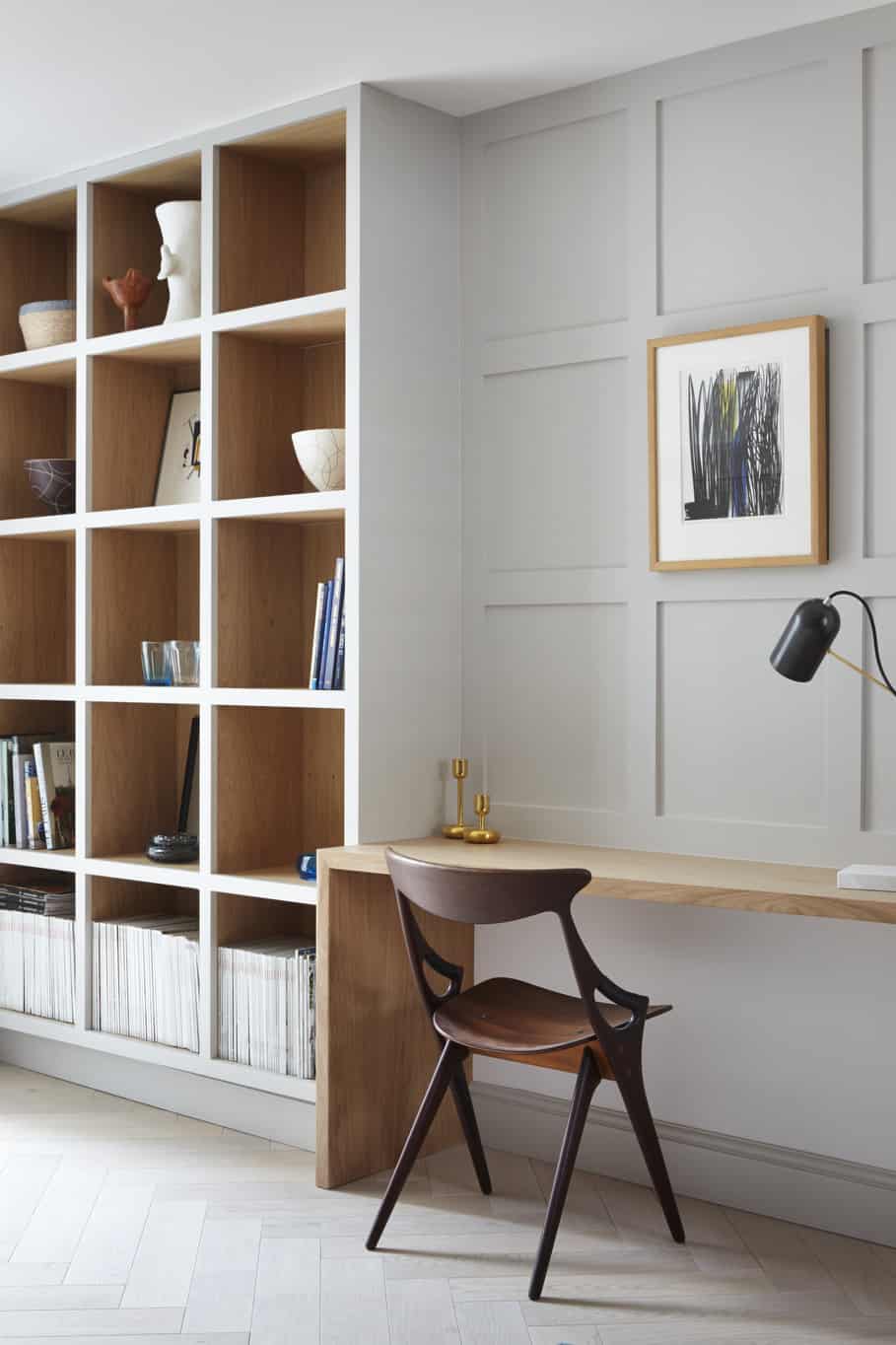 #29 Homework Station
Having an invigorating, vibrant and fun color scheme is a great idea for a home office, especially if the space is intended for children to get their homework done.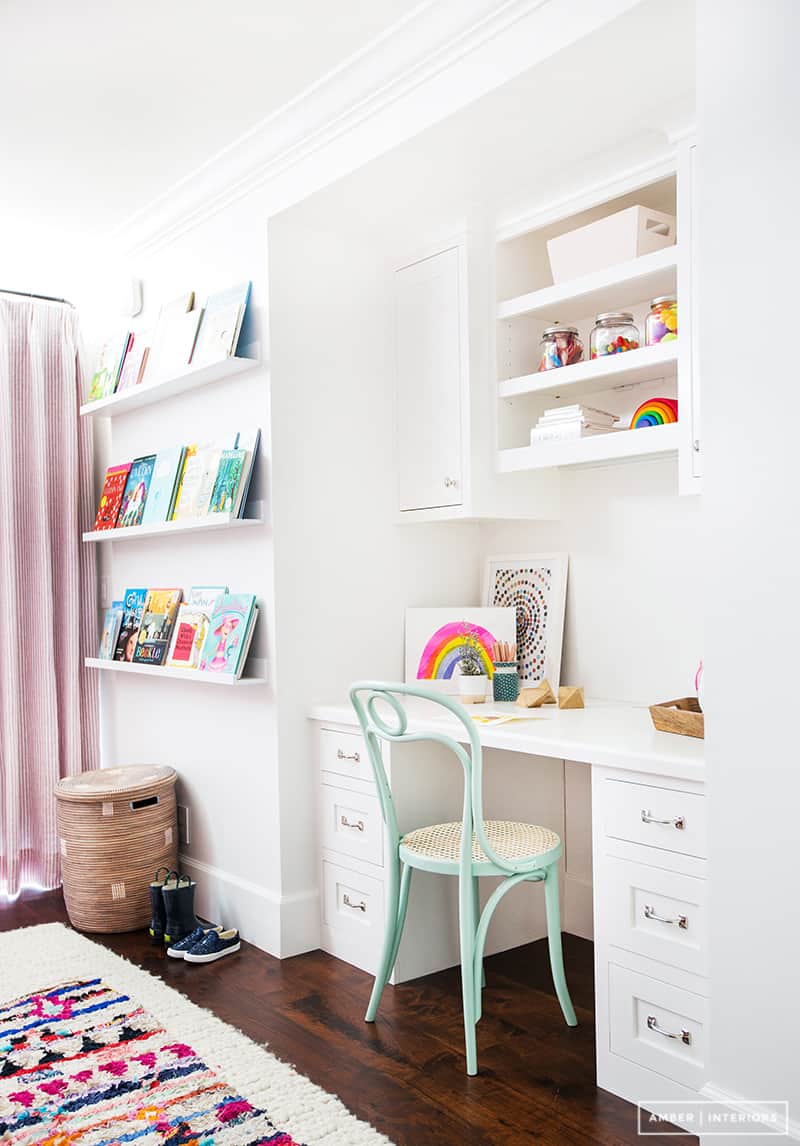 #30 Clever Hideaway Home Office
This secret office is hidden away when not in use by the sliding door. A great solution when you've finished for the day & want to relax and forget about work for a while.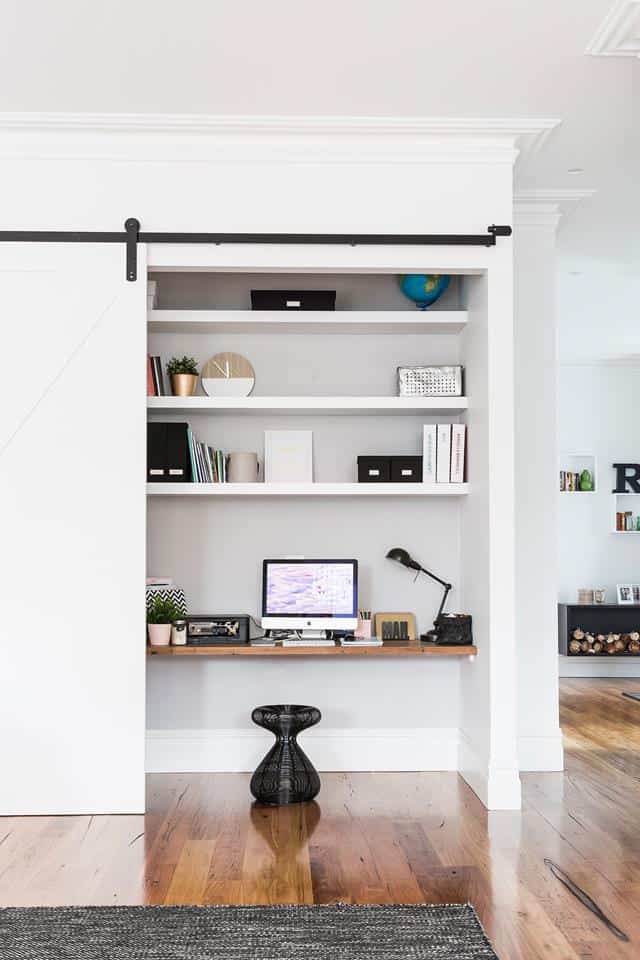 #31 Home Office With Functional Shelving
This home office uses the shelving to store both pretty & functional items alike. The stackable boxes on the shelves are useful for hiding away office stationary.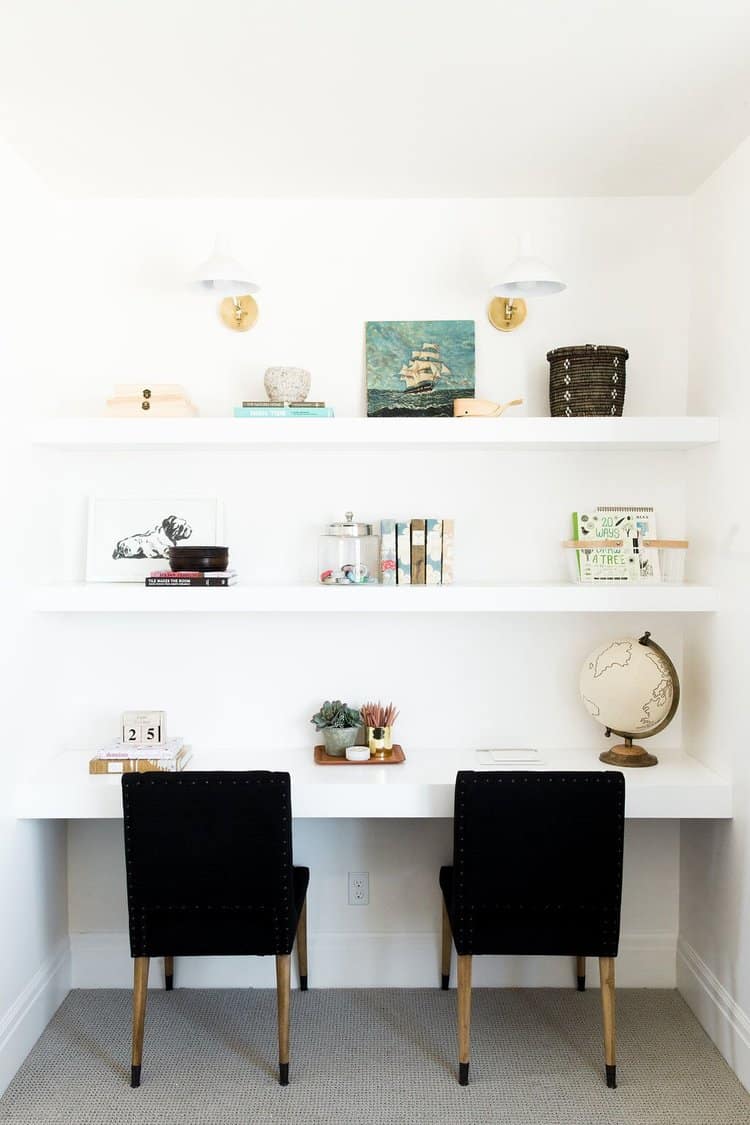 #32 Hallway Workspace
With more and more people choosing to work from home, an office in the hallway is a practical solution when you are limited on space that the whole family can use.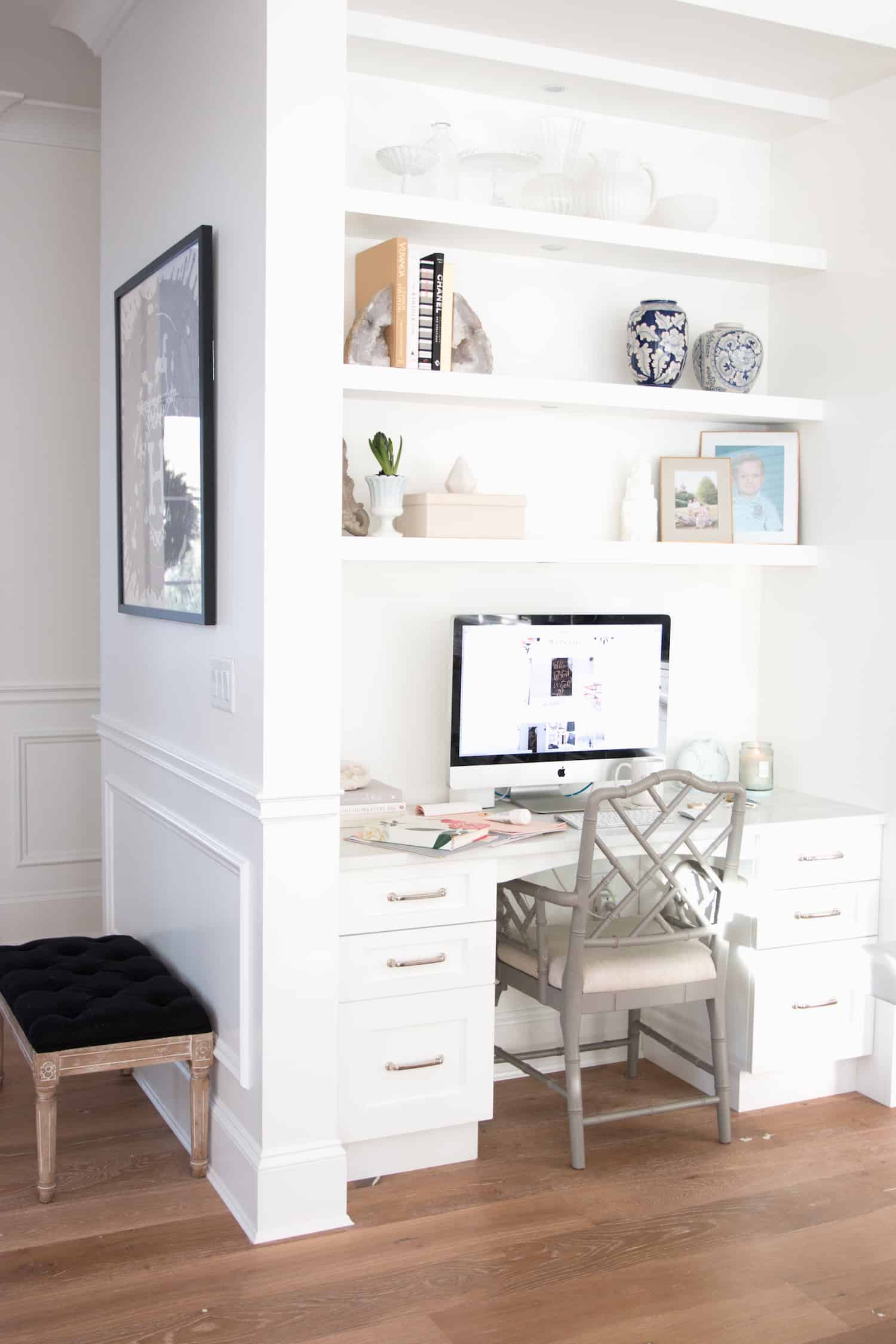 #33 Small Alcove Office With Shelving
Think you don't have enough room for a home office? Think again… A small alcove like this one is the perfect space for a cute little desk. Fixing drawers to the underside of the built-in desk is a great office storage idea when leg space is limited.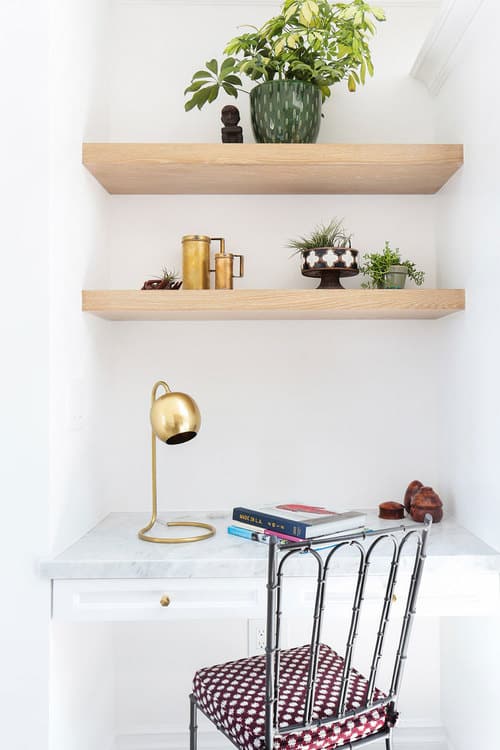 #34 Bright Modern Home Office
If you have a spare wall, installing a desk along with built-in shelving offers a practical home office idea. Using a narrow desk with drawer space underneath will help to make the most of the space left in the room.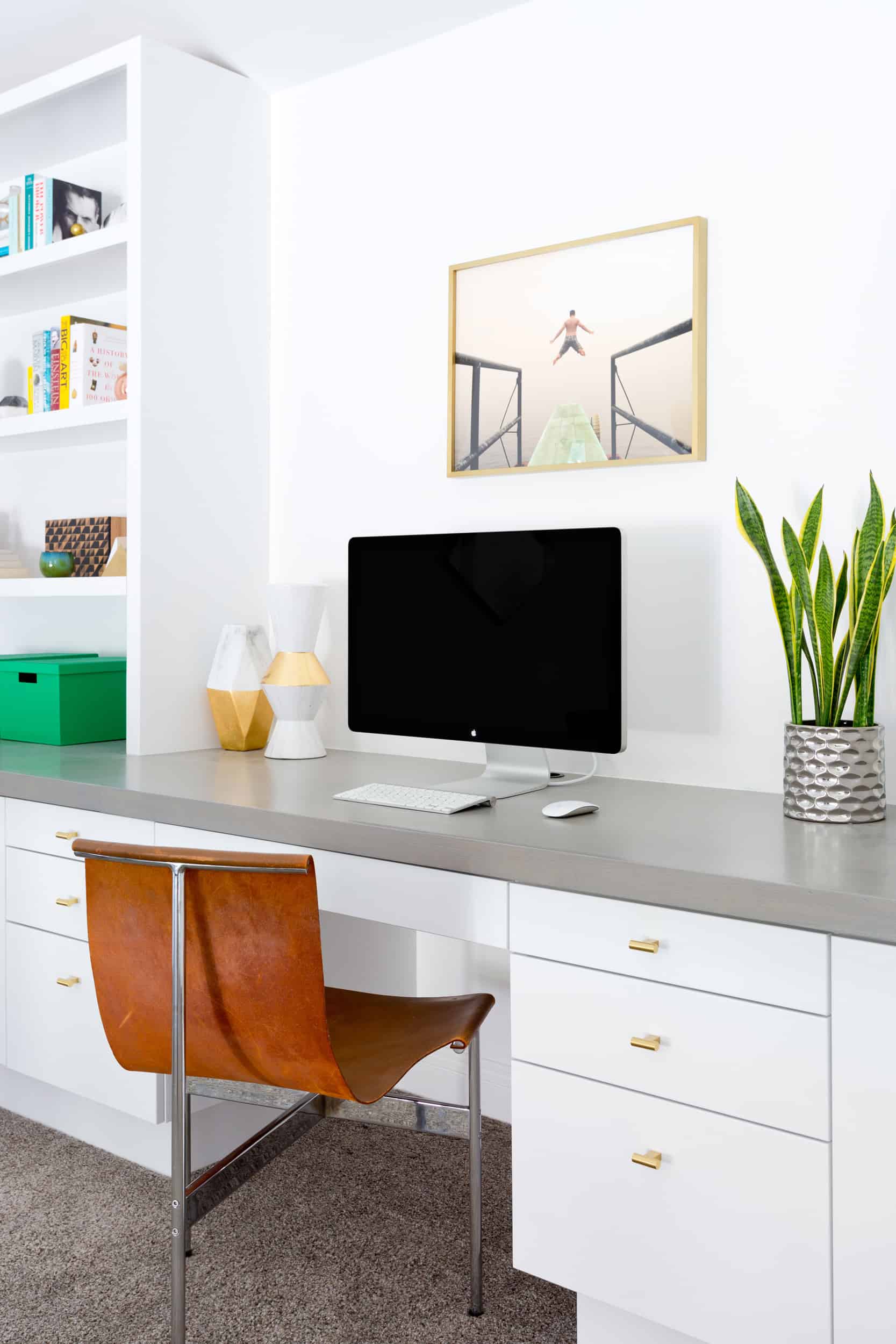 #35 Office Nook Under The Stairs
Transforming the space under your stairs into a cozy office nook is an awesome small home office idea that many people don't think of.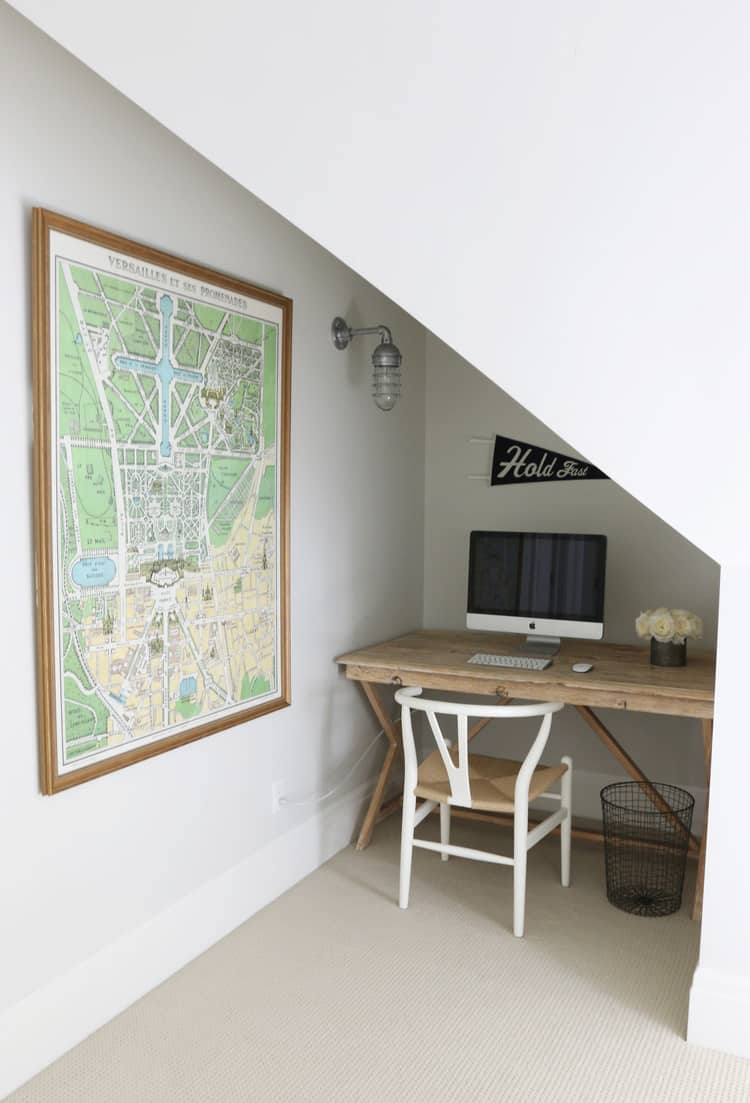 #36 Clever Closet Home Office
Complement a patterned wall like this one with a bold accent color. The baskets on the wall help to keep the desk clutter free and provide valuable storage space for your office supplies & paperwork.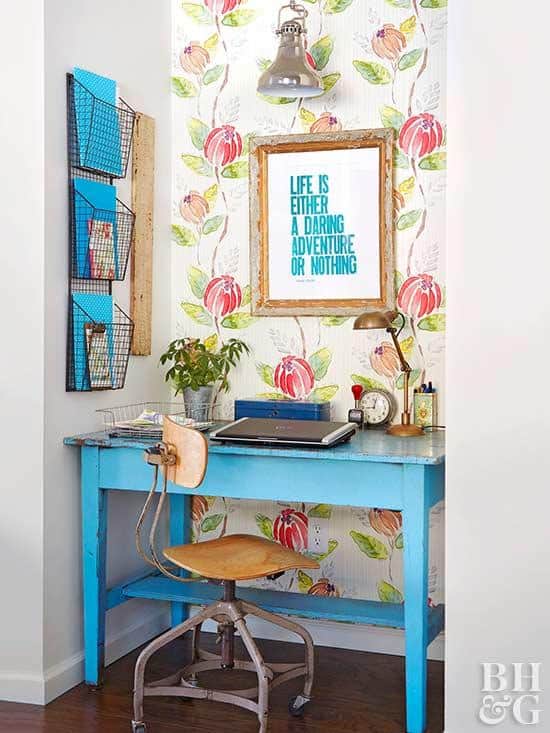 #37 Dual Purpose Office
This bright boho chic room is an example of how a small home office can double up as a vanity desk in the bedroom. This is a great idea for student's who need to get their work done in a space that is both practical and inspirational. You can use pretty storage jars on your desk to store office supplies & stationary whilst giving your desk a styled & put together look.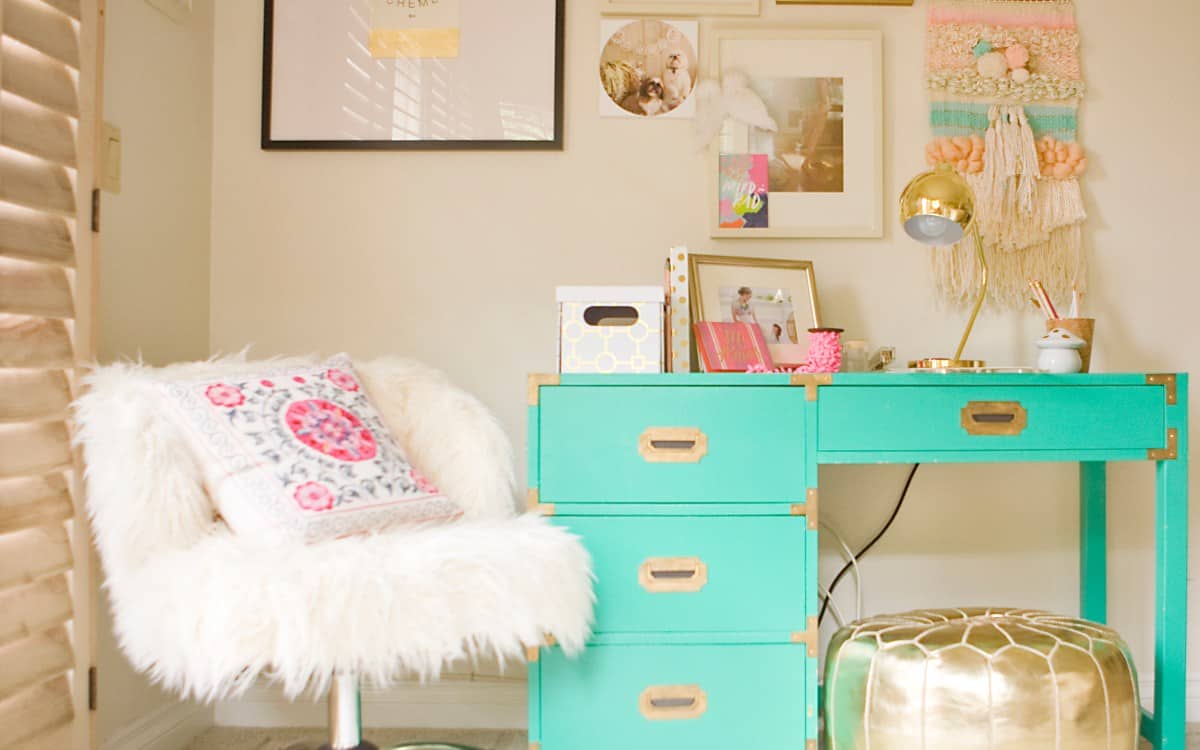 #38 A Country Style Office
When you're thinking about how to create a small home office, comfort should be high on your priority list… Choose a comfy office chair like the one below if you plan to spend lots of time working in your office.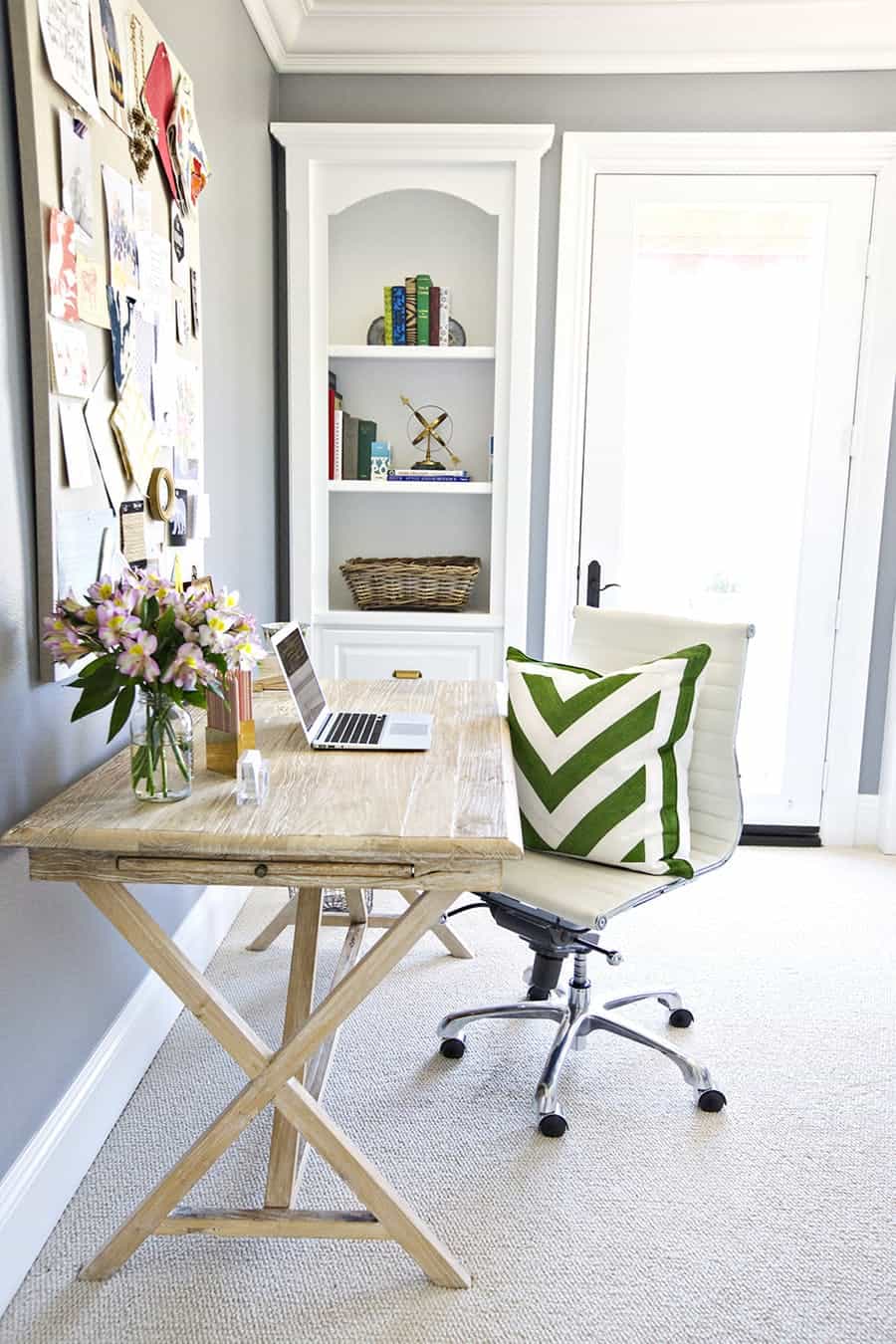 #39 Small Workspace For Two With Chalkboard Wall
If you're feeling creative a chalkboard wall in your office is a great way to keep the environment fun, fresh & motivational… this is especially true if the workspace is going to be used for the kids to do their homework too… A chalkboard wall is a perfect place to write your to-do lists, reminders and those all-important motivational quotes… From experience, I can tell you that painting a chalkboard wall isn't the easiest of tasks, but it's 100% worth the effort… find out how to get it done here.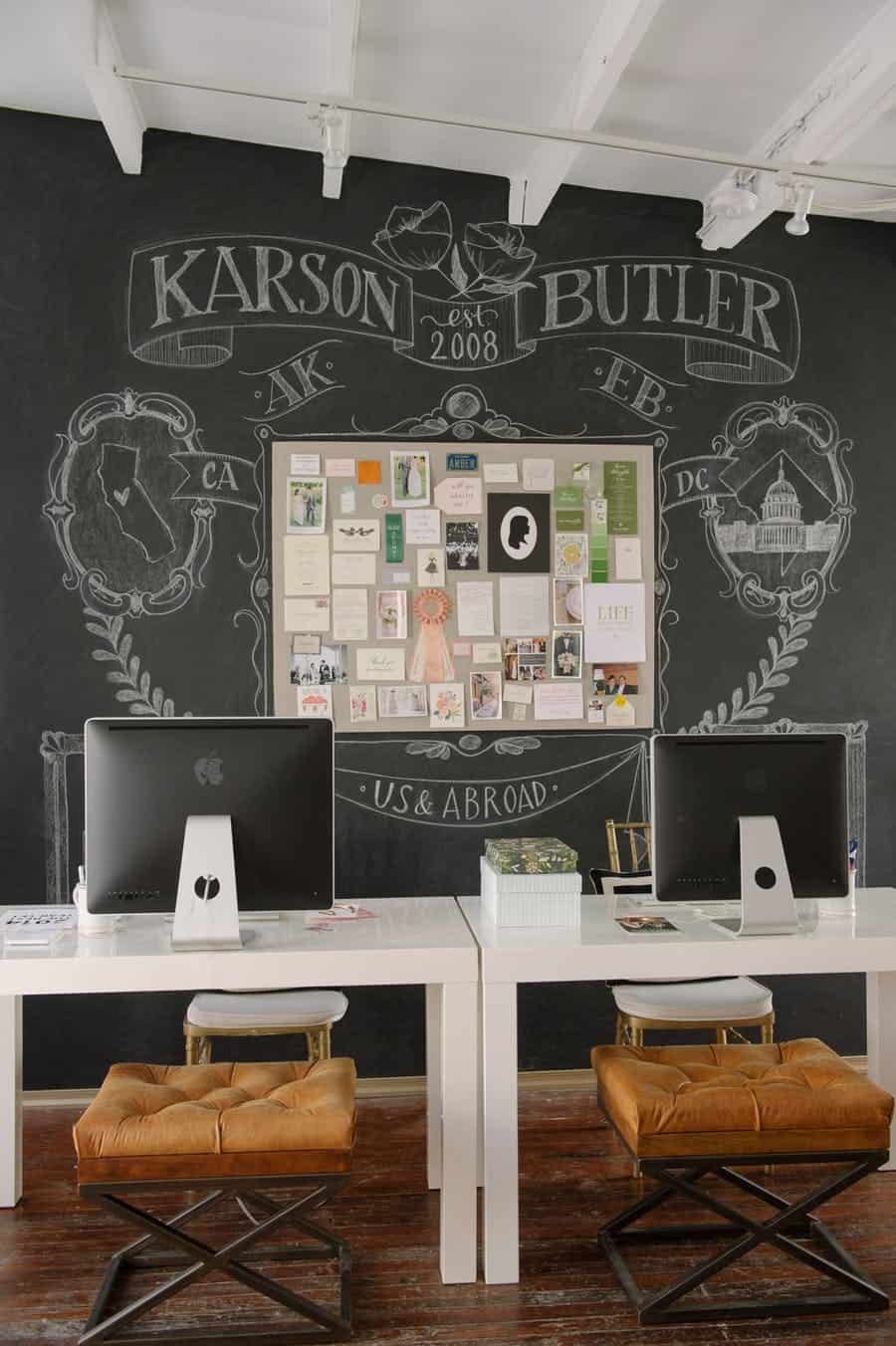 #40 Colourful Home Office
Including bright and colorful accessories in your home office design is a cheap & easy way to give your office a vibrant styled look. Hanging art pieces on the wall will help to draw the eye upwards and give a perception of space to your tiny room.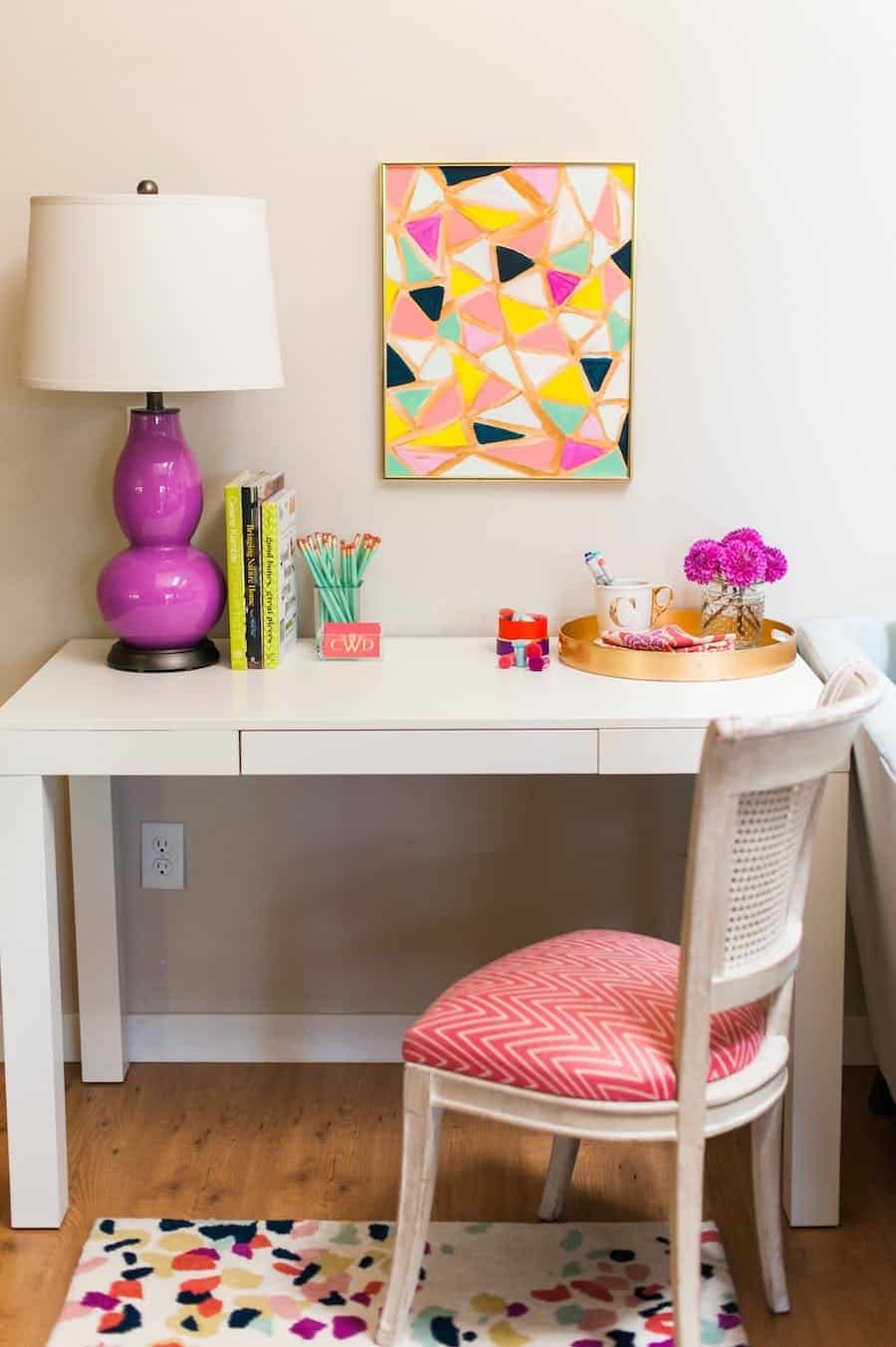 #41 A Bright Cozy Office Space
A home office with a neutral color scheme doesn't have to feel cold and unwelcoming as this gorgeous bedroom office proves… The comfortable office chair, nicely styled family pictures & soft carpet all work together to make this office look super cozy & comfortable!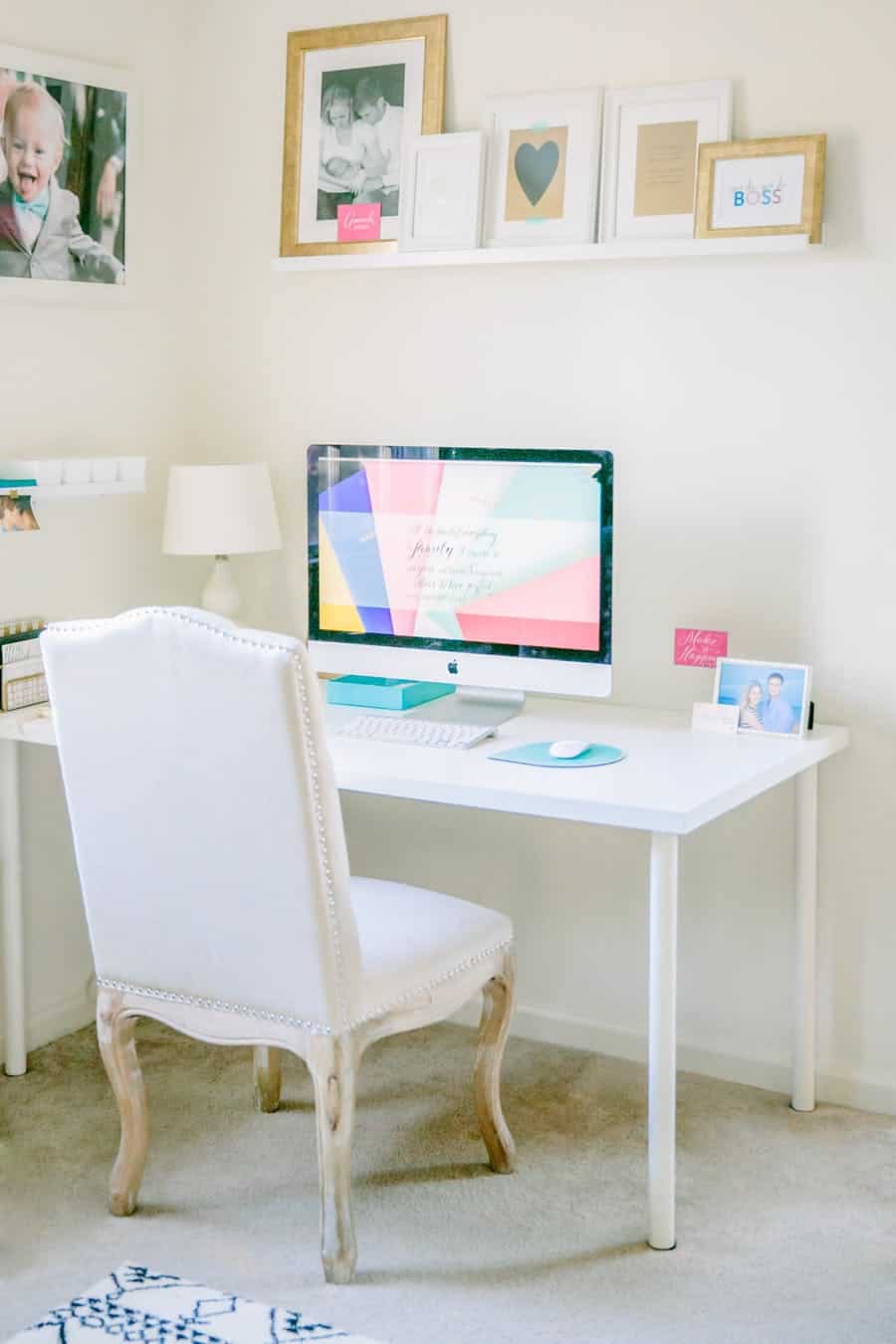 #42 Feminine Office With Under Desk Storage
As you know, there really is no such thing as too much storage… and when designing a home office, you'll want to create storage wherever you can… after all, it helps to keep things nice and organized. The office desk below has a handy little storage section under the glass top that is perfect for keeping notebooks, pens & important pieces of paper close to hand.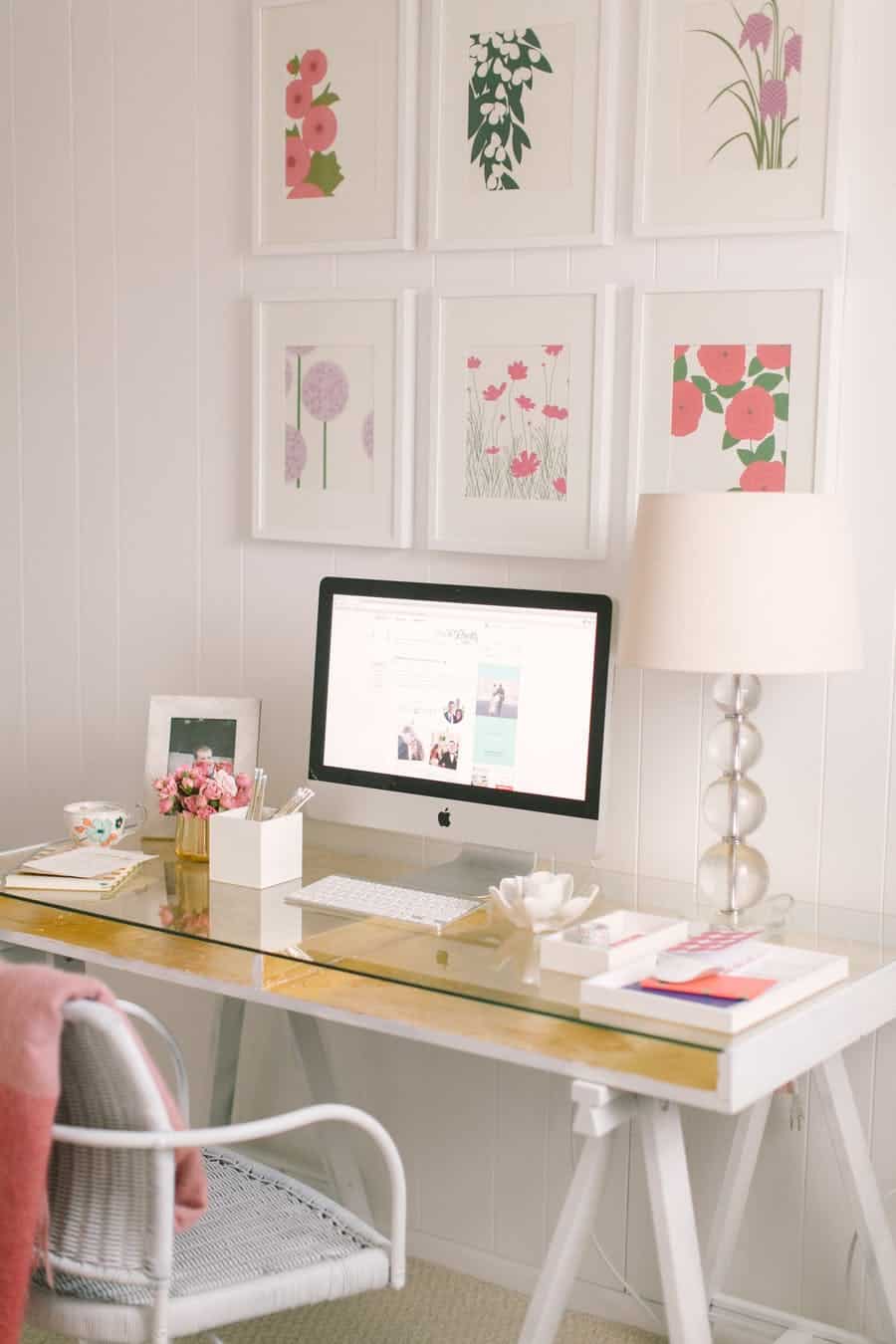 #43 Artsy Home Office
Along with pretty desk styling, a single large canvas print above the desk is one of the simplest ways to include a little bit of your own style in your home office without having to redecorate or possess any special DIY skills.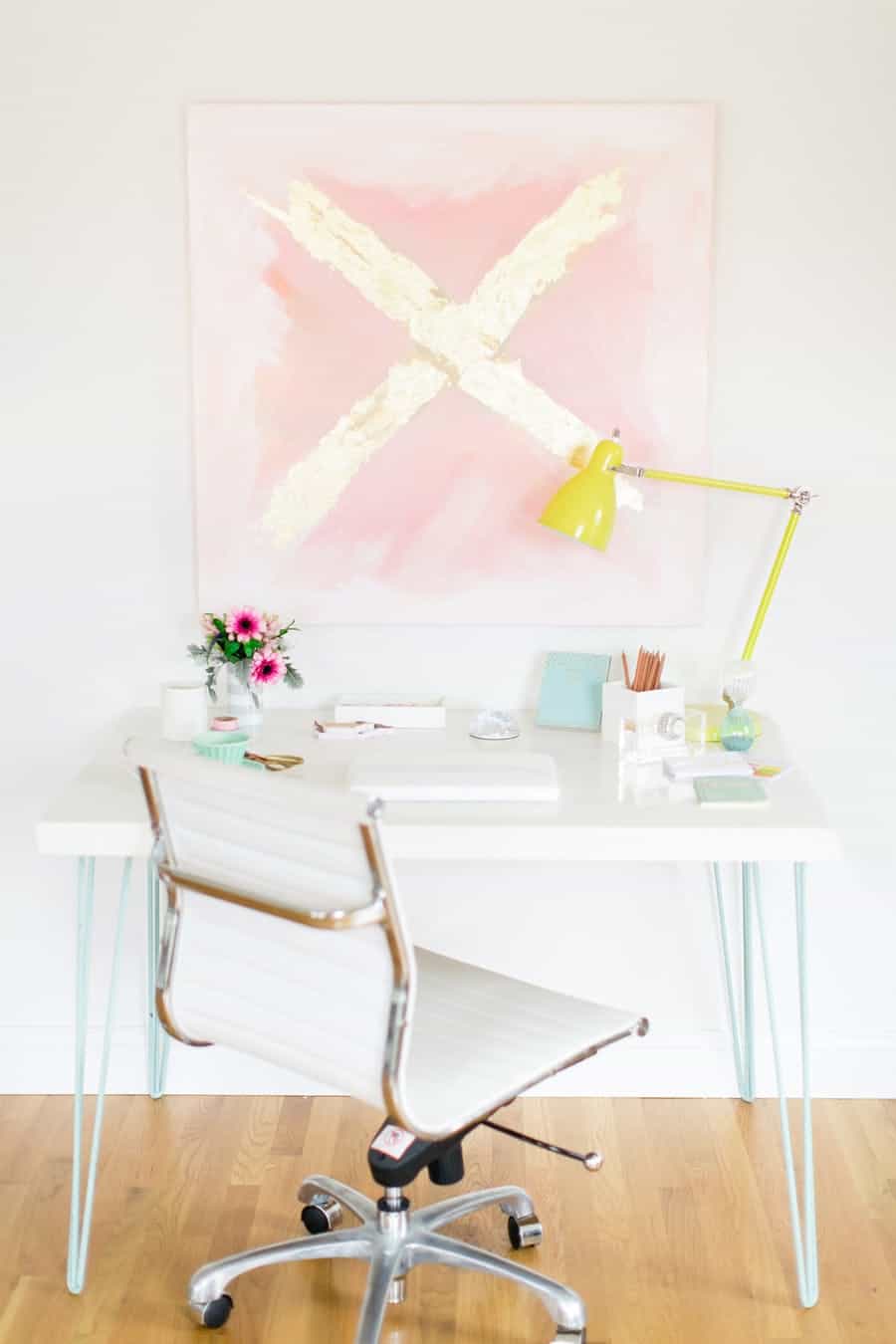 #44 Landing Office With Desk Storage
A landing or hallway can provide the perfect location for a small home office or study area… hanging pictures or focal pieces on the wall above the desk will help to create a self-contained office feel.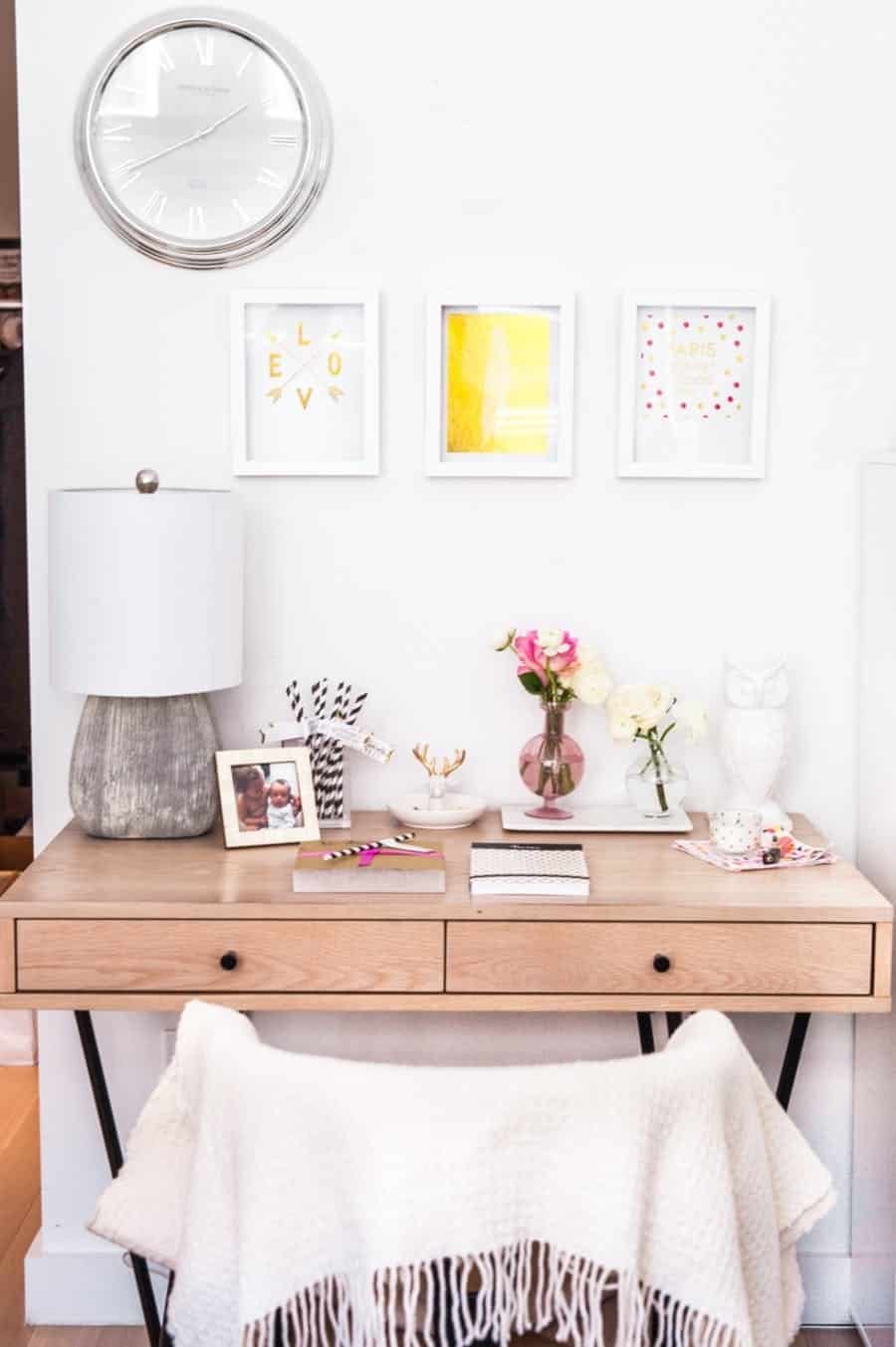 #45 Dining Room Office With Functional Wall
This tiny office in an alcove makes great use of the limited space available by having clipboards hung on the wall… this is a quick, easy & cheap solution & helps to maintain a functional & clear working area.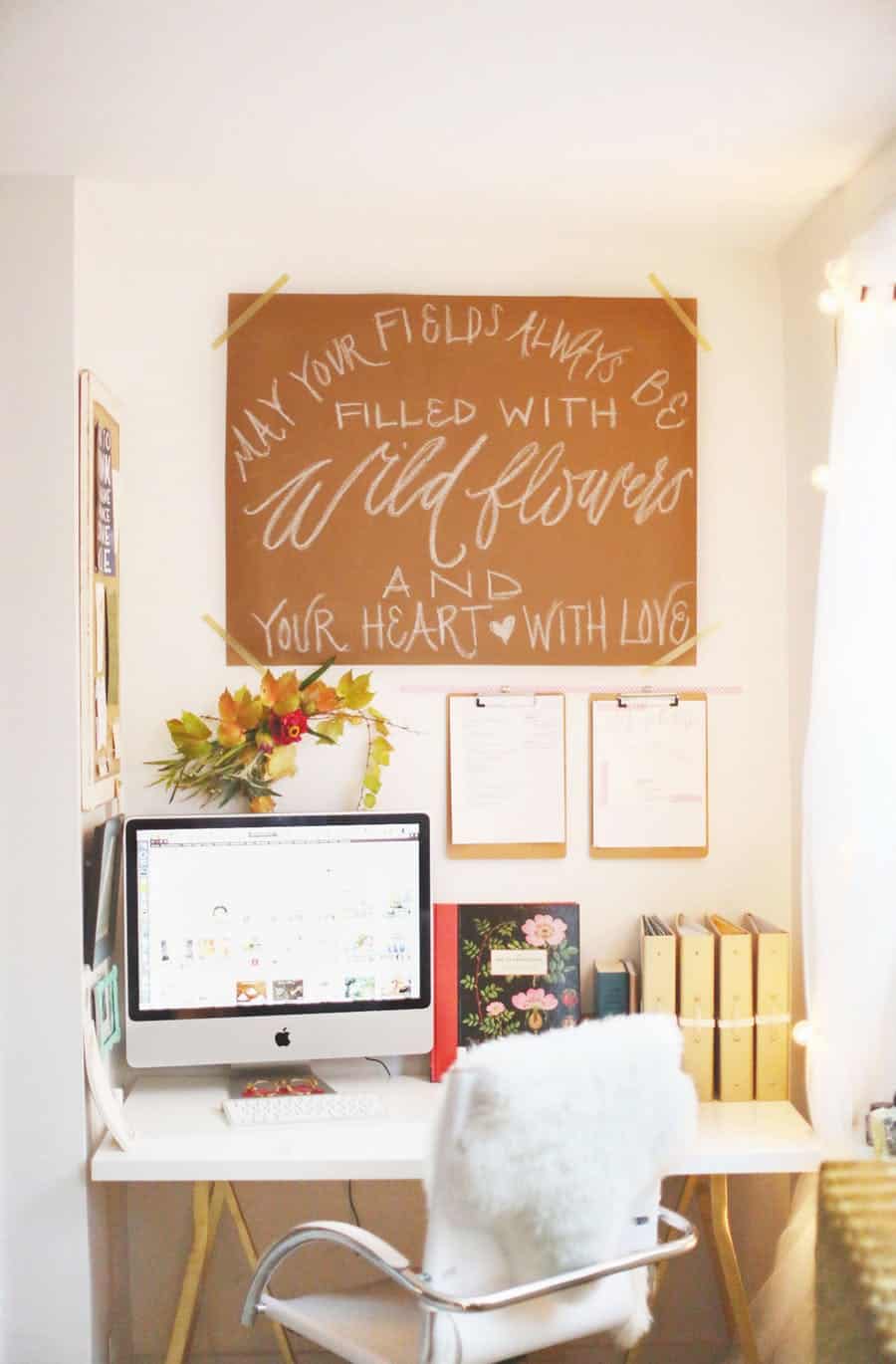 Choosing a white office desk can help your workspace to feel crisp & fresh. The basket in the corner of this office provides a unique & stylish solution for storing items that would otherwise look messy.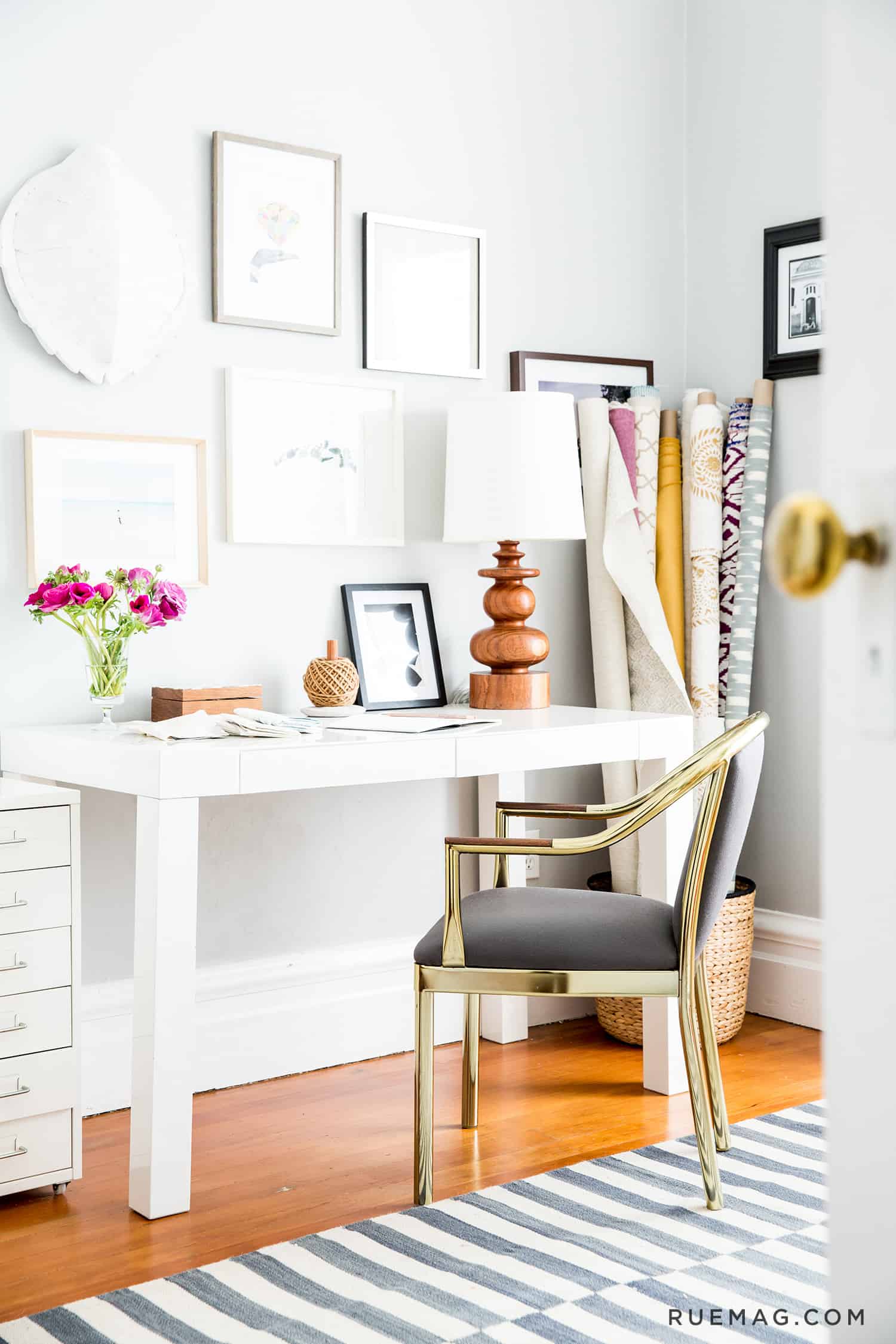 #47 Small Home Office Desk Decor
Styling your office desk adds your own personal touch to your workspace & creates a pretty space where you will be more than happy to spend all your time… Make the most of your desk space by choosing items that are both functional and pretty.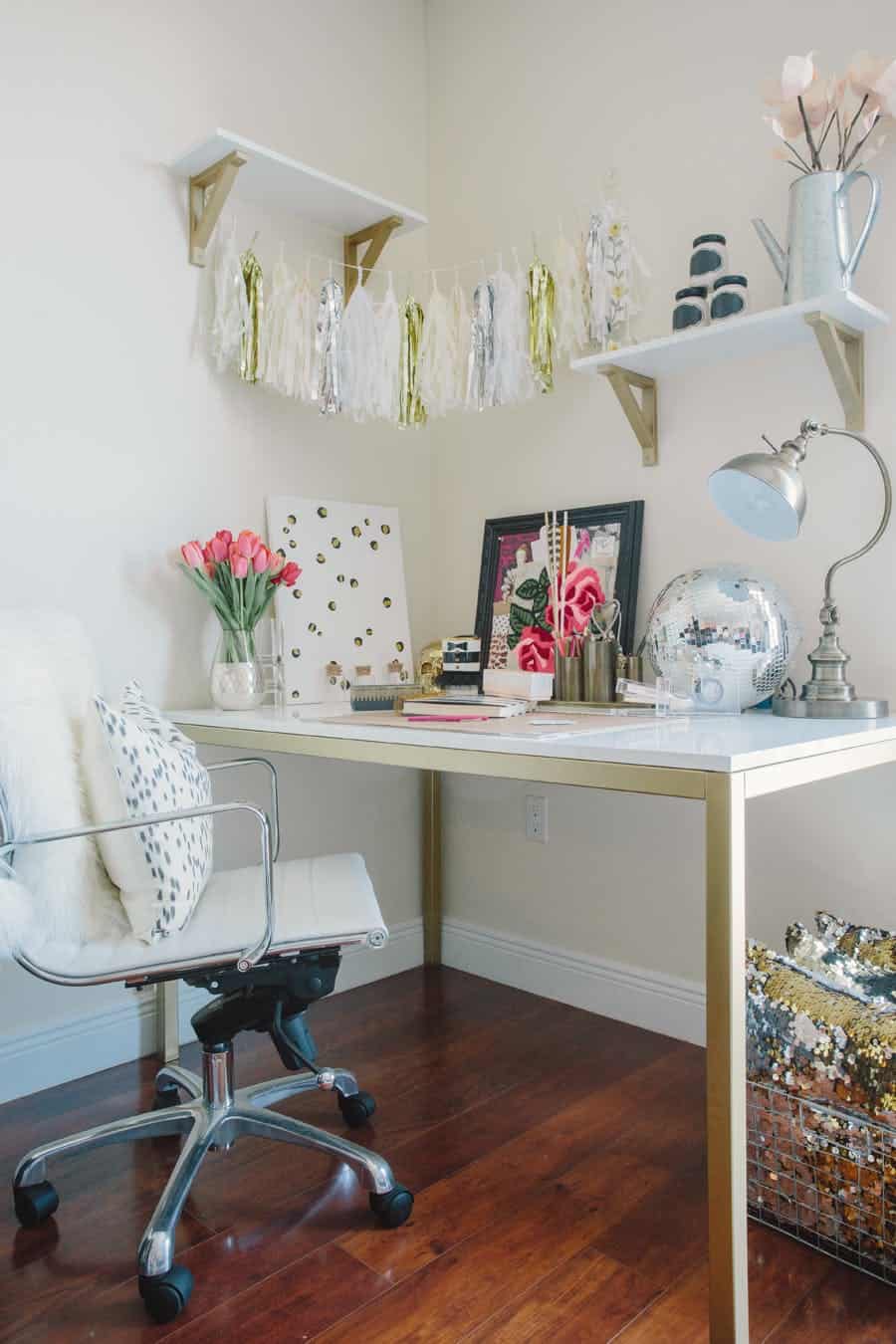 #48 Cosy Rustic Home Office in the Living Room
Rearranging the living room furniture is an easy way to create a small home office area. The stunning office chair in this home office was a seriously dull, boring office chair before Rachel transformed it by upholstering it for her office space… check out the before and after here... (it's pretty awesome)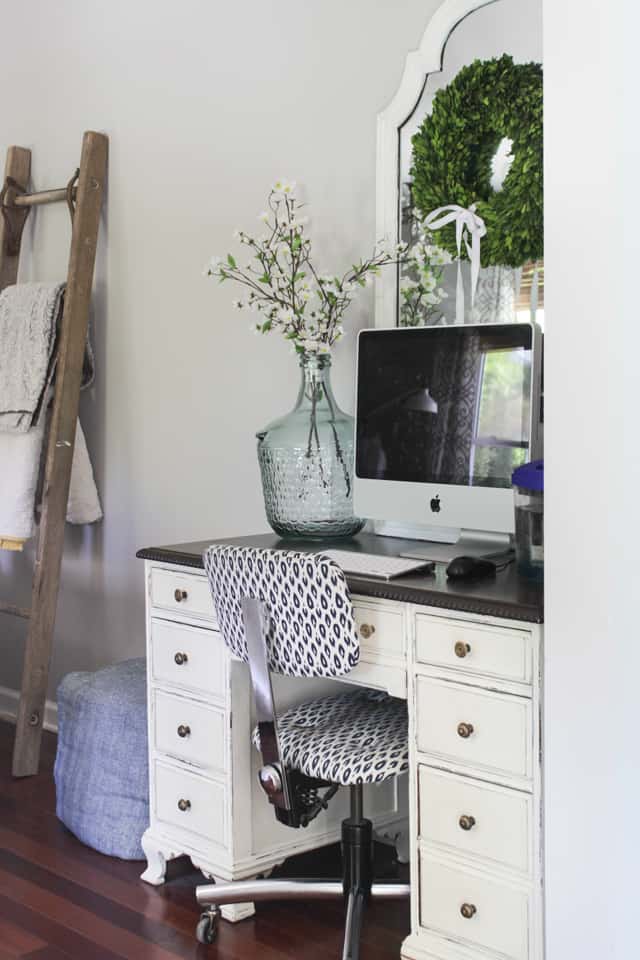 #49 Contemporary Office With Handy Organization Solutions
When Katie created this gorgeous modern, rustic home office she used a mood board to create the perfect office design for her space before she started. The wire baskets on the wall help to keep the desk clutter free & the beautiful rug ties everything together and gives the office a cozy, rustic feel.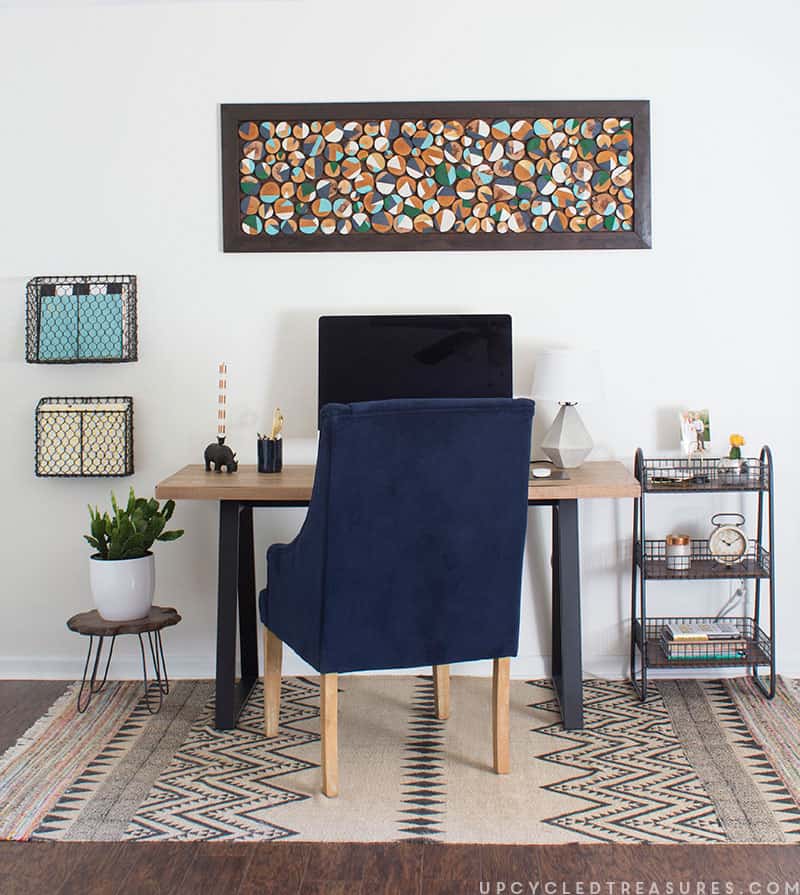 #50 Craft Space With Clever Wall Storage
When you create your small home office you will need to find clever storage solutions for all those stationary & office supplies… The shelving in this office/craft room is a fabulous space-saving idea that will work hard for your tiny office space.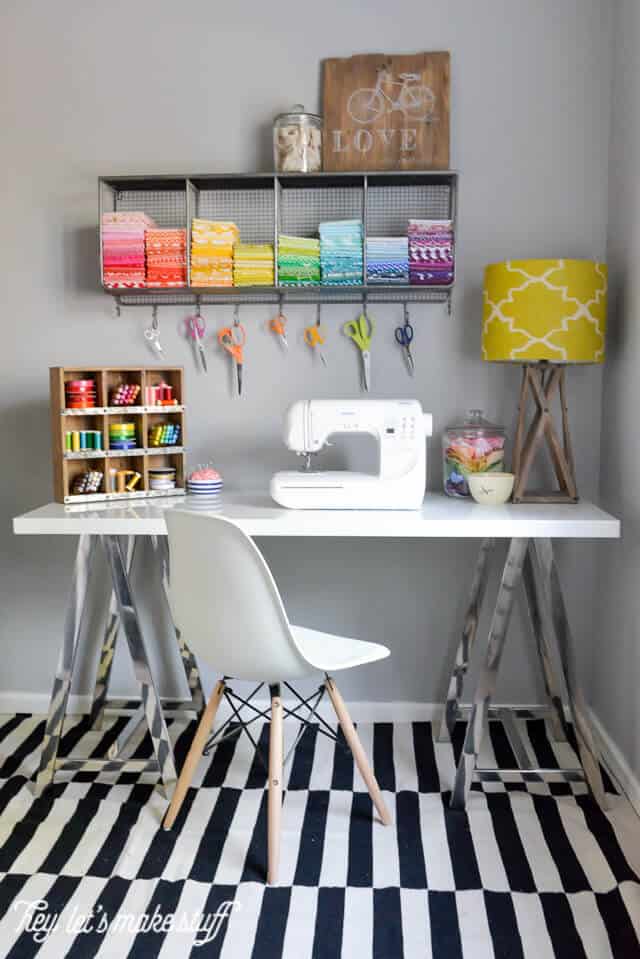 #51 Country Style Office With Glass Desk
A simple glass desk, a unique shelving idea that creates a focal point and a cozy rug that brings everything together… can be all you need to achieve an office space in the bedroom that feels self-contained.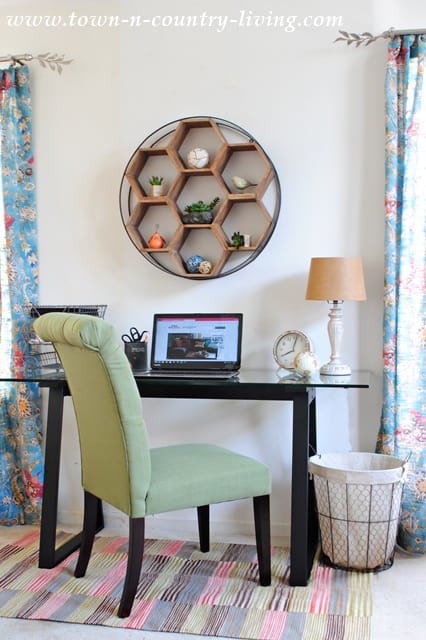 #52 Creative Hub Office
If you have a space in your home that you already use as a craft room or playroom then why not carve out space in the room to use as your home office.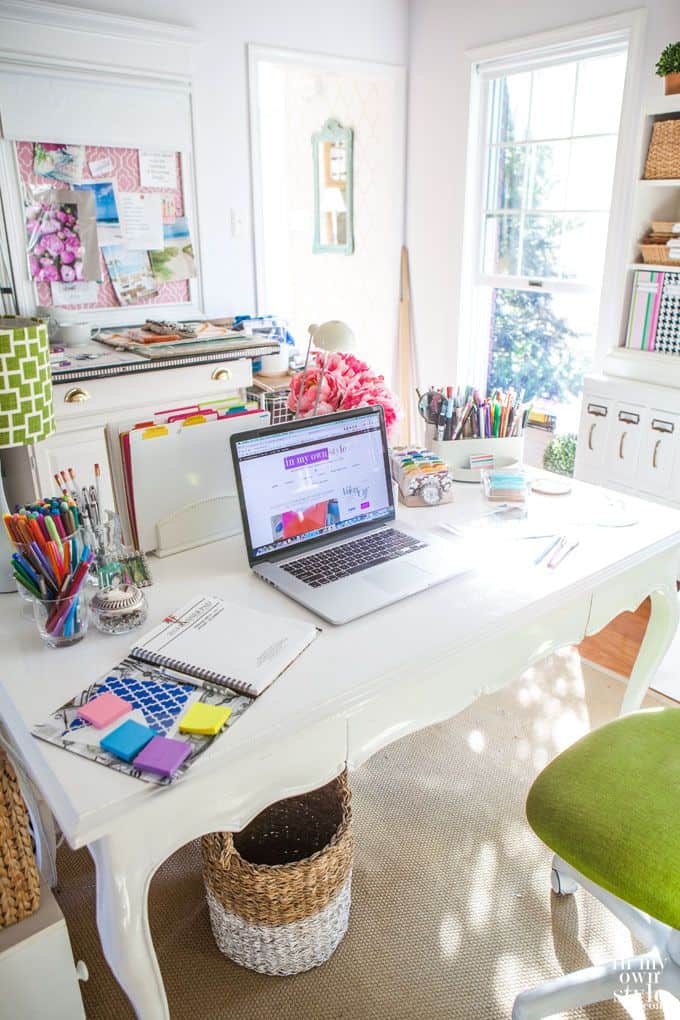 #53 Guest Room Office With Functional Storage Space
Do you have a guest room? Why not use one wall of the guest room as a functional home office? When Jen designed this stunning guest room/office space, she ensured that all the clutter & needless items were removed first… leaving only the most-used office supplies to organize. For a useful office organization idea, Jen says that she 'opted for acrylic organizers to give versatile, timeless storage that will last for many years to come'.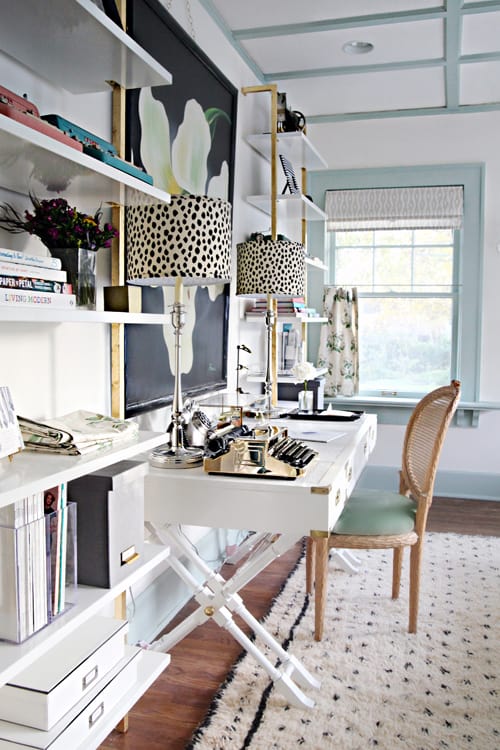 #54 Bohemian Chic Home Office With Practical Storage
This cute bohemian style office provides a great workspace that will let your creative juices flow. The bright & colorful accessories help to give the room a creative, relaxed and homely feel… Amanda has used simple rustic boxes for her office storage which give the room rustic charm & functionality at the same time… This is also a great idea if you want to achieve your home office design on a budget.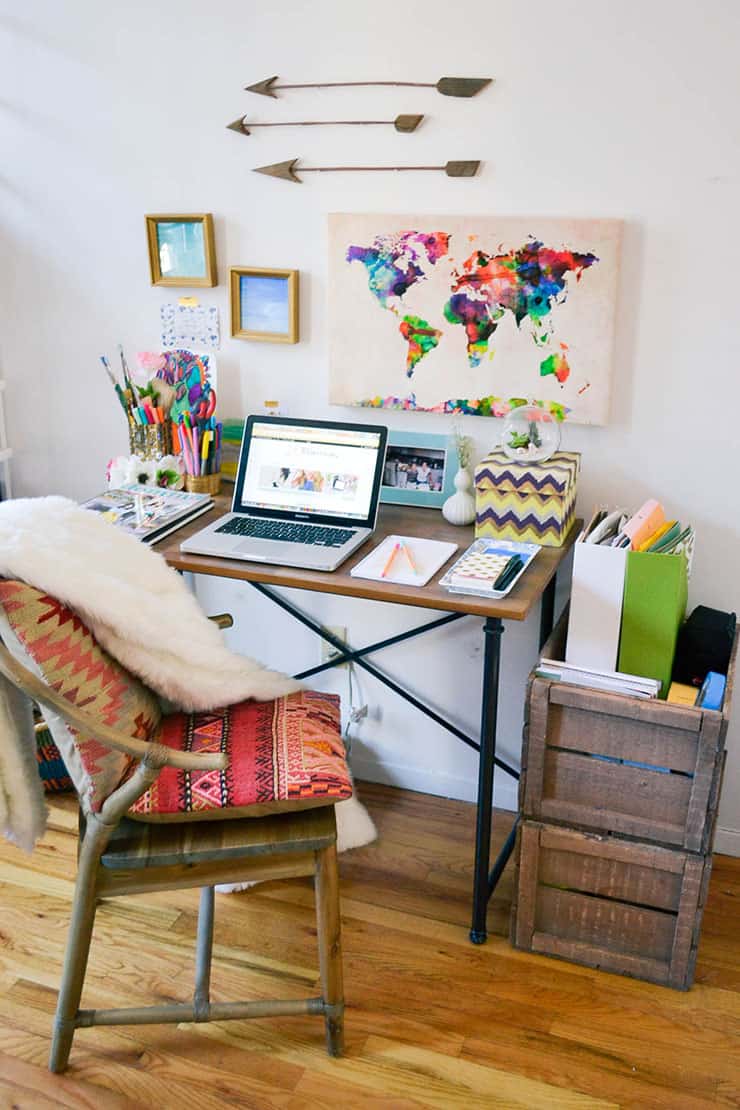 #55 Bohemian Glam Home Office With Patterned Wallpaper
A boldly colored wallpaper will give instant impact to an otherwise neutral scheme. Remember to complement your wallpaper by choosing a bold accent color as Kimberly has done here in her seriously gorgeous boho-glam office. You don't need to spend loads of money to achieve this expensive look… take the desk for example… with only a little bit of paint & some new handles, this desk was easily transformed from boring to glamorous & looks way more expensive than it actually is.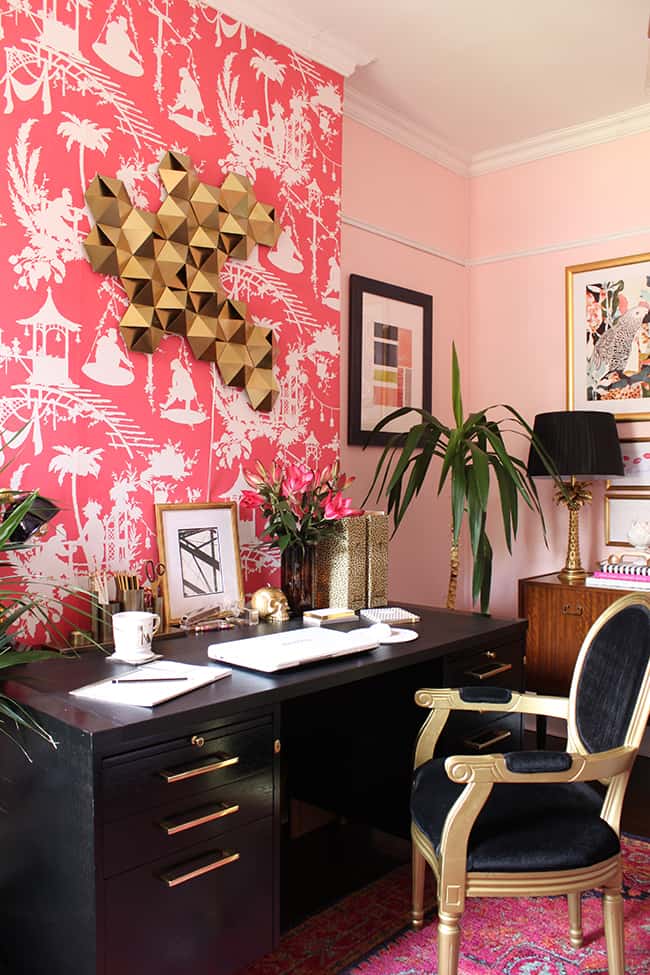 Before You Go...
Wow… that right there is a LOT of small home office inspiration… be still my aching heart!
I hope you've loved these cute office ideas as much as I have & gathered some helpful tips along the way so you can create your own home office.
No matter how much space you have in your own home… with a little bit of creativity & some clever storage solutions, you really can have a small home office that is not only functional… but stunning too!
If you loved this post, Click Here to share it with your friends on Pinterest