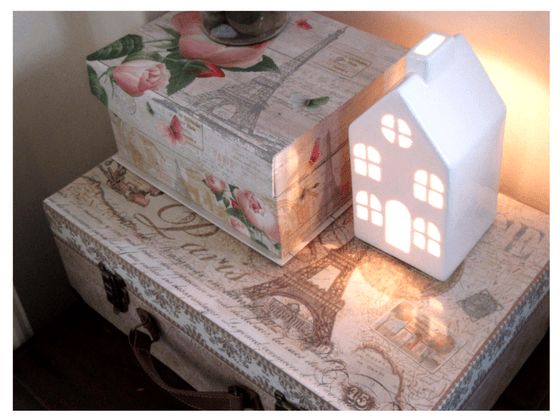 No matter how much you try to organize cables and wires, they will always become a big tangled mess… just like Christmas lights & my hair in the morning!
Even if you do manage to get messy wires into some form of order with a few cable ties, or cable trunking, they will won't add anything to the overall look of your home… in fact, let's just say they're pretty ugly to look at!
Thankfully, there is a way to easily hide messy wires and finally get those cables and routers in your home looking pretty! It's a simple project that takes mere minutes to do and all you're gonna need is a craft knife or even a kitchen knife and a fancy box of your choosing.
Haven't got time to read this now? Click here to pin it for later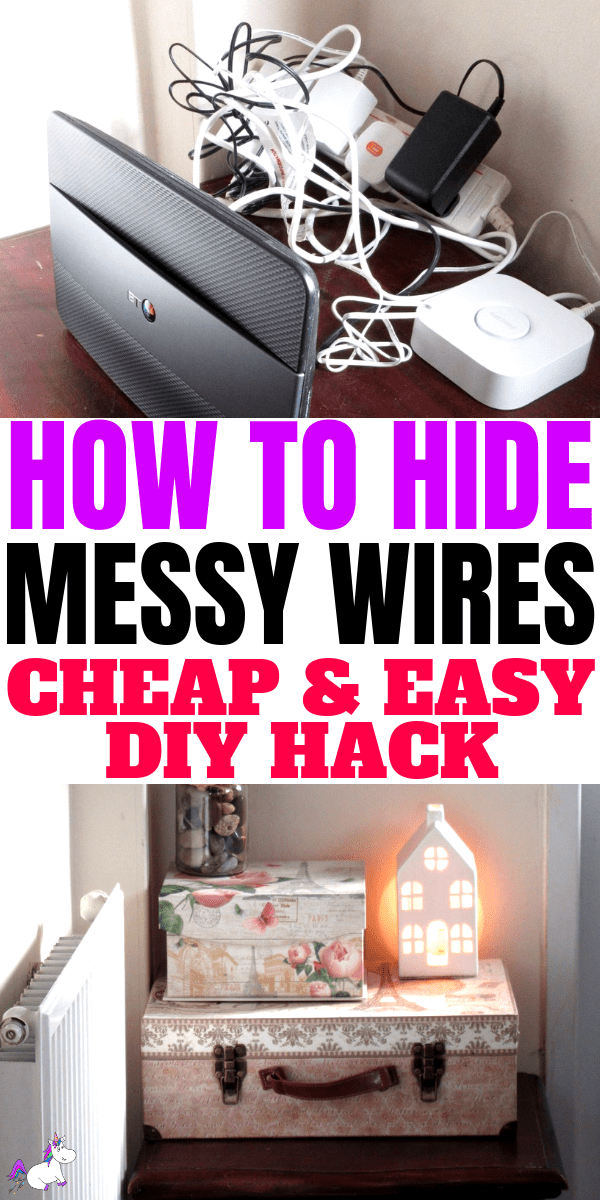 This post may contain affiliate links. See my full disclosure here for more info.
There are so many beautiful boxes out there that actually knowing which one to choose for your home can be confusing, both on the look you're going for and the price.
I've looked around (I don't need an excuse to window shop) and found these gorgeous ones from George at Asda that I think will look beautiful in your home, no matter what style you've gone for.
They're simple, beautiful and will give you a load of extra storage, not only for those unsightly cables!
If you prefer to go out shopping the visit TKMaxx for a fab selection of beautiful boxes.
I must admit the only downside to this little hack is that when you need to access the router for whatever reason… it's slightly annoying that you can't immediately get to it!
But considering it's very rare that we need to access the router anyway, its worth the extra hassle for something that looks so beautiful for the rest of the time.
So this is how the router & wires looked before… I'm not gonna lie… I shoved them in the box like that.. I haven't got time to be stressing about wires.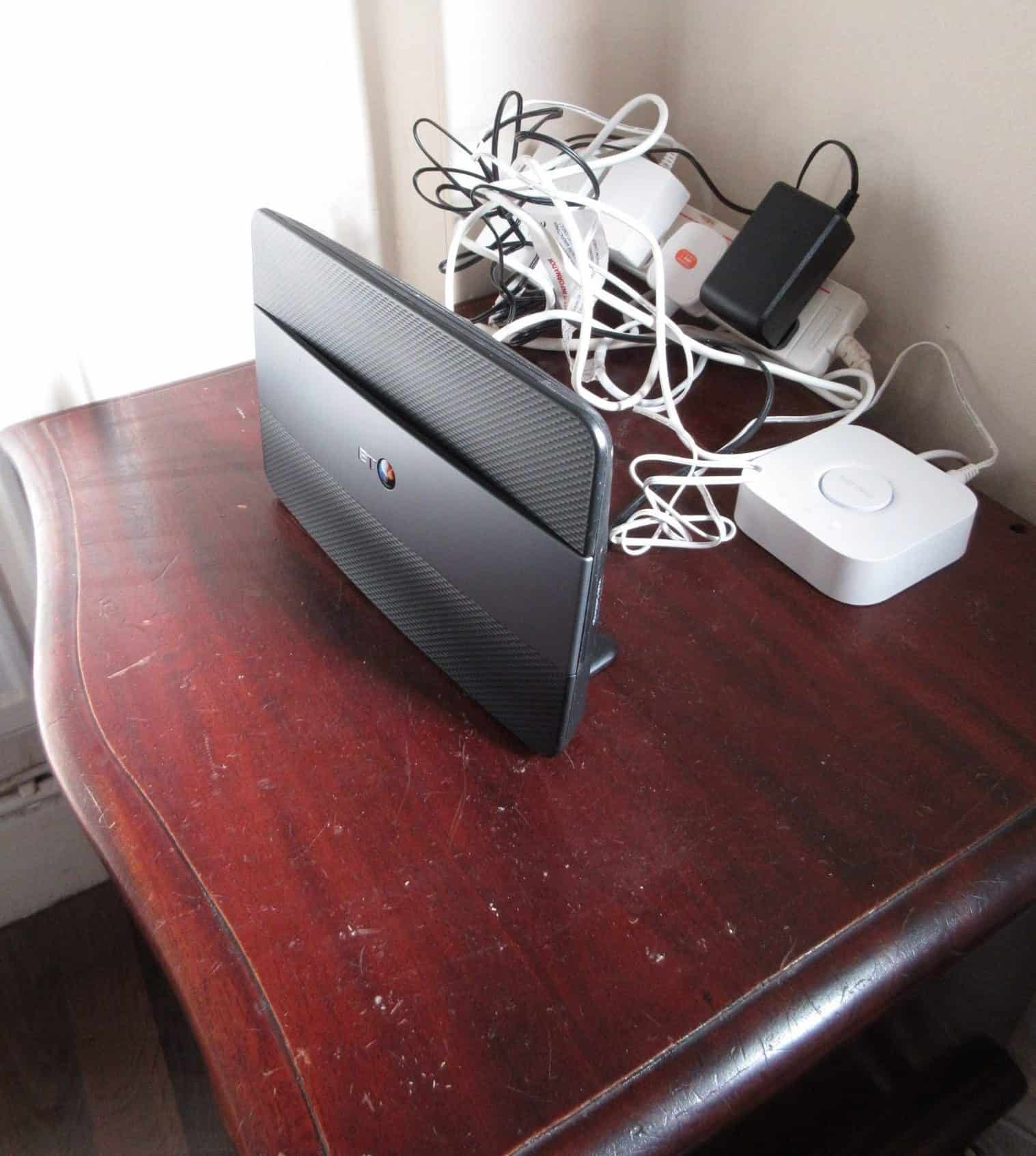 And this is what the area looks like now…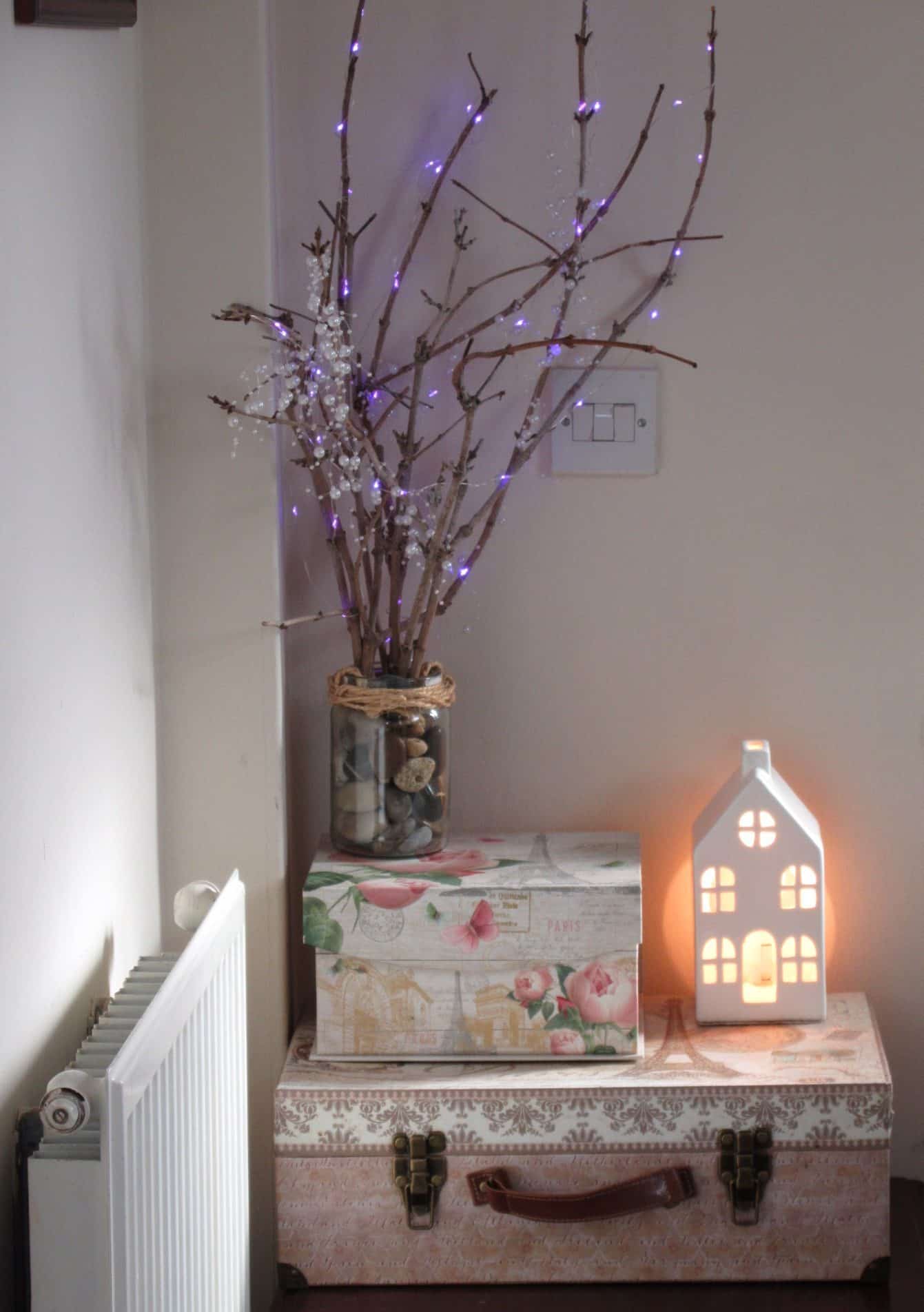 As you can see, it's a lot more cozy and stylish. No one would know the mess that is lurking within the box and it's almost too easy to do!
How To Hide Messy Wires!
Simply grab your cardboard box like these gorgeous ones from ASDA….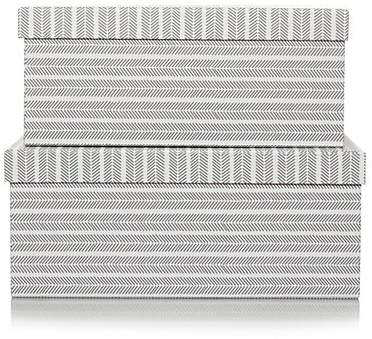 …and cut a hole at the back big enough to fit plugs through using a knife. The cut doesn't have to be neat as no one is ever going to see it.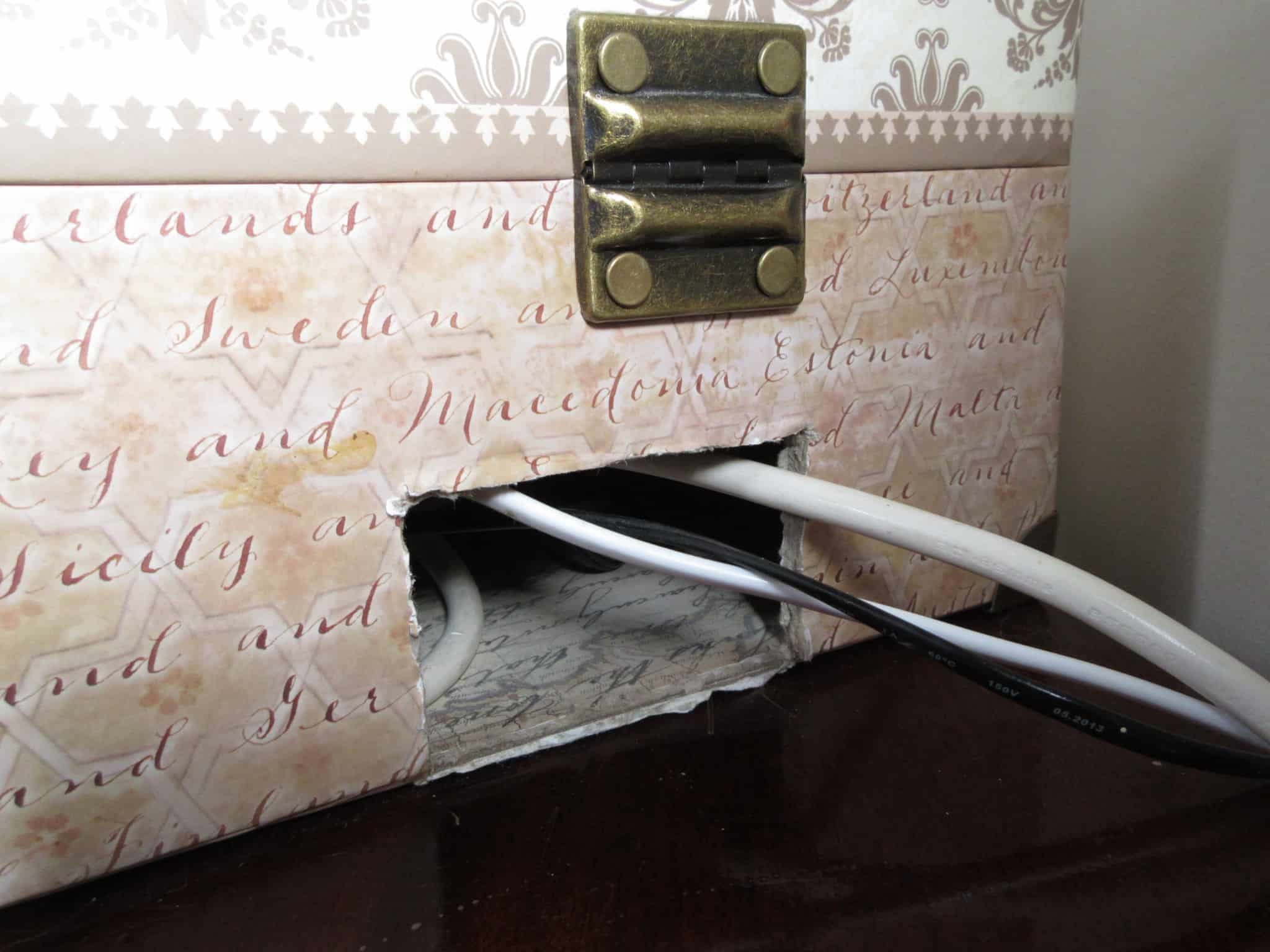 Thread all your cables and wires through the hole and connect them to the router. Lay your router into the box.
I have put a plug extension into my box my router, Phillips Hue hub, and lamp. This means I only have one white cable running along my skirting, making for a neater look.
The hole at the back of the box provides ventilation for the router. Like with all things, be safety conscious and don't overload your extension plugs.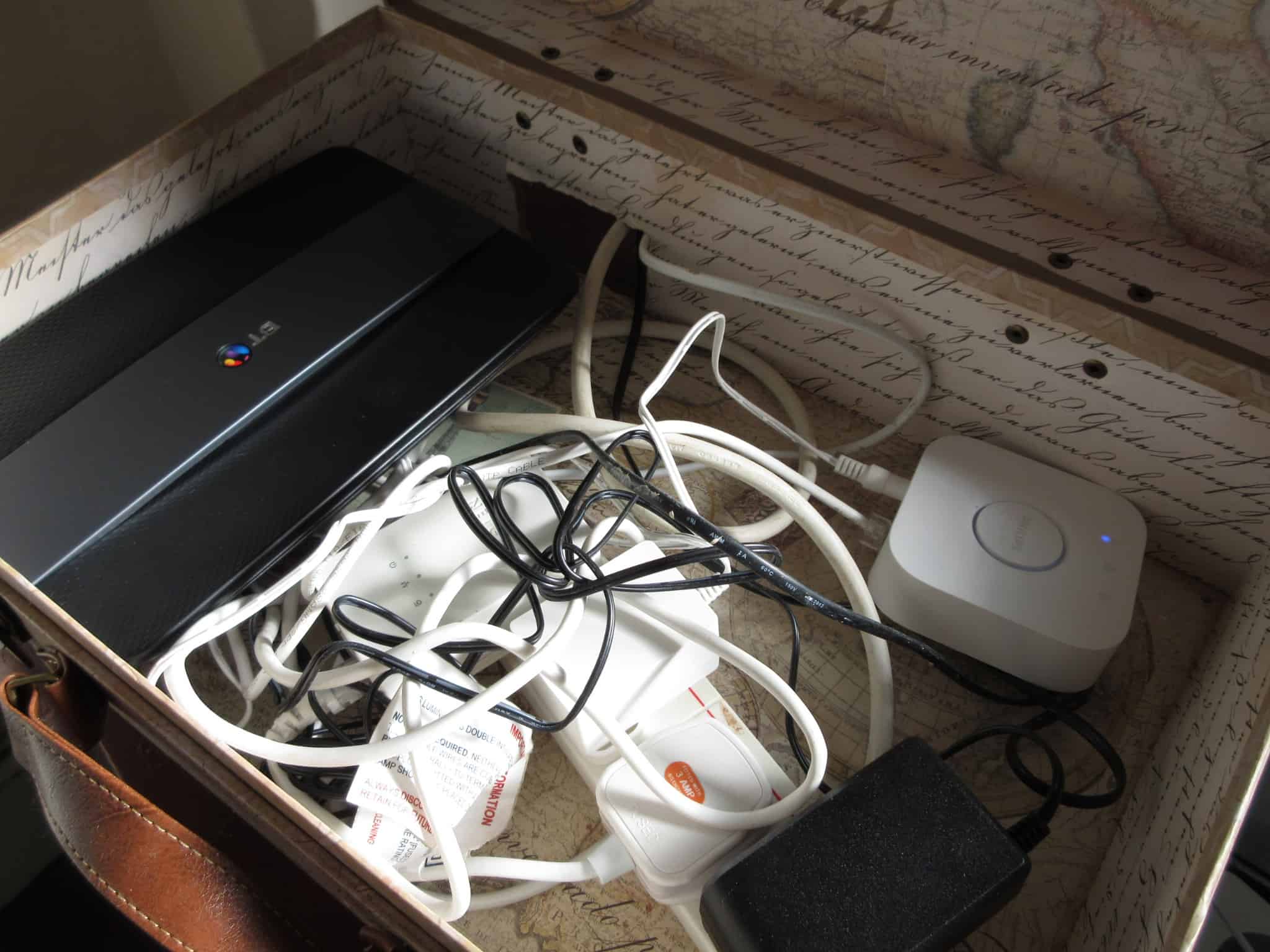 When you close your box, that's it… no more ugly cables! You can now style this area as you like.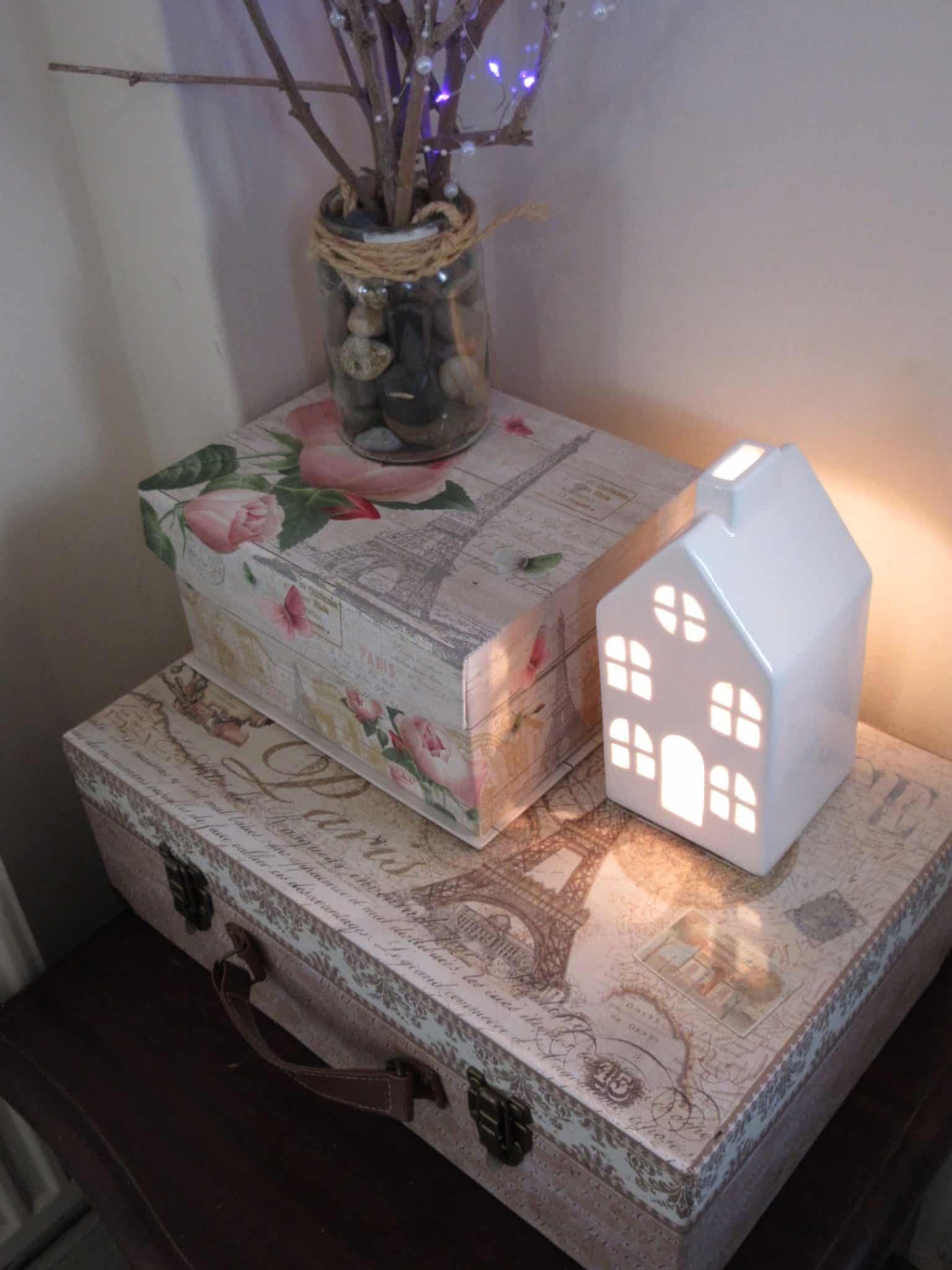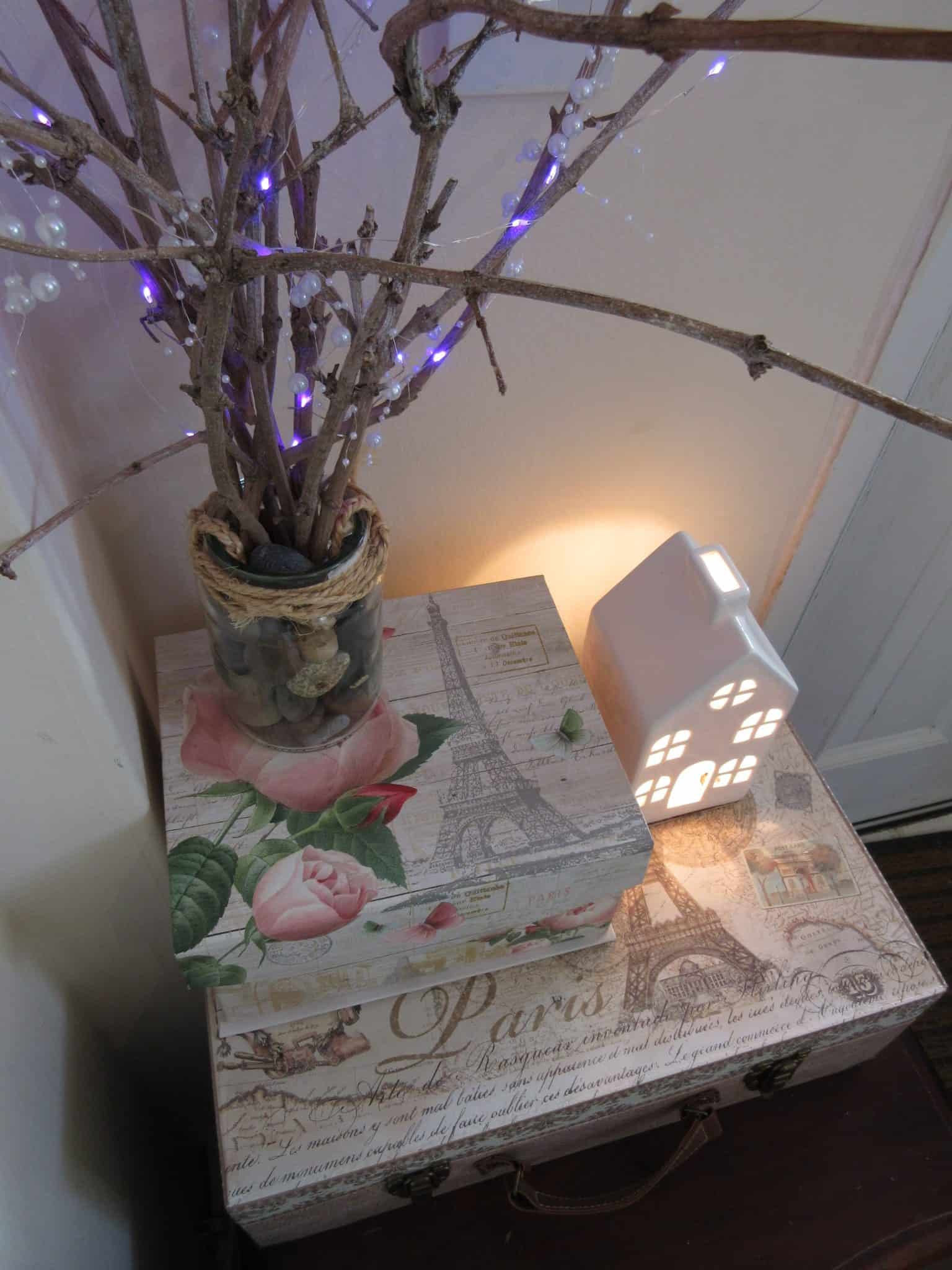 Even though the hallway isn't finished, I now love this little corner of my home. I love my twig tree and the house lamp… SO MUCH! Connecting some pretty purple lights to the tree gives a nice, cozy feeling to the hallway in the evenings… aaahhh.
So there it is, a super easy, cost-effective and totally beautiful result! Let me know if you give this a try in your home.