Beautiful & budget-friendly DIY monogram letters inspired by Anthropologie! Make them for yourself or give them away as gifts… if you can bear to let them go!
Decorating your home with accessories & furniture from Anthropologie is a dream come true… but not easy when you're on a budget!
Often I find myself longing for something from Anthropologie but sometimes I just cannot justify the price tag… no matter how cute their products are!
Creative Home Decor
Getting creative & DIY'ing your own Anthropologie items is a great way to get Anthro style in your home at a fraction of the cost…
It also gives you time to save up for those expensive & beautiful Anthro items that you really want, but that you can't DIY!
Today, I'm sharing with you my first ever Anthropologie knockoff… you see, I saw these luscious Monogram letters at Anthro…
This post may contain affiliate links. See my full disclosure here for more info.
And I wanted some!
But I also noticed two big problems…
One, they're not in stock right now, & two, if you have more than one letter in your name then at $24 dollars each, you're looking at quite a hefty price tag to get them!
Brilliant Anthropologie Knockoff
So, I did the only thing I could do in this situation & decided to hack them!
After all, I'm all about making beautiful home decor affordable for you!
Here are my results…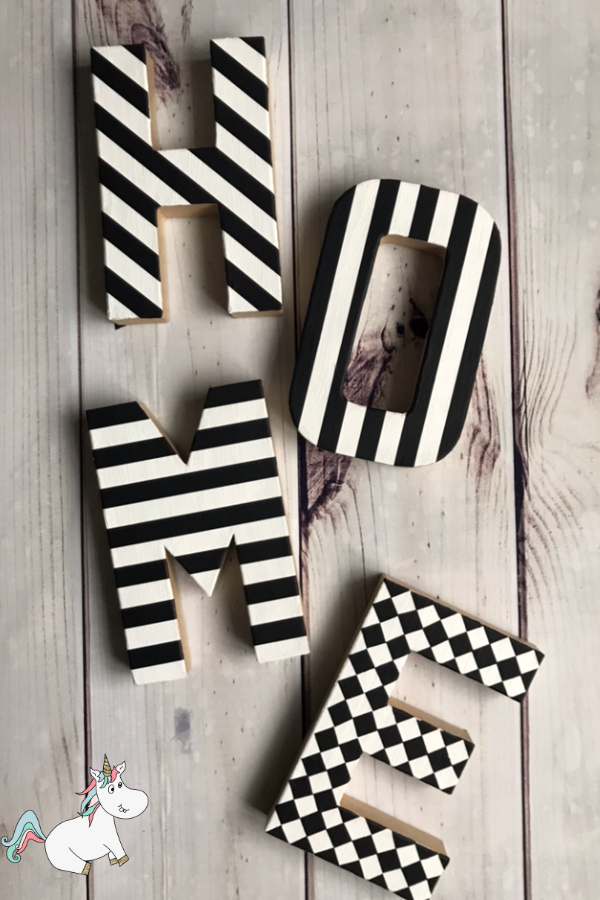 And the price tag for 4 letters? Just $25!
Ok, so they're not made out of wood & they're not real Anthro but hey, they look pretty damn impressive!
The best part is they were so easy to do that I just had to share the project with you too!
So, let's do it… oh & by the way, there's a video tutorial for this project right at the end of the post, don't miss it!
P.S. Don't forget to click here to quickly & easily save this project to your Pinterest so you can come back time & time again 🙂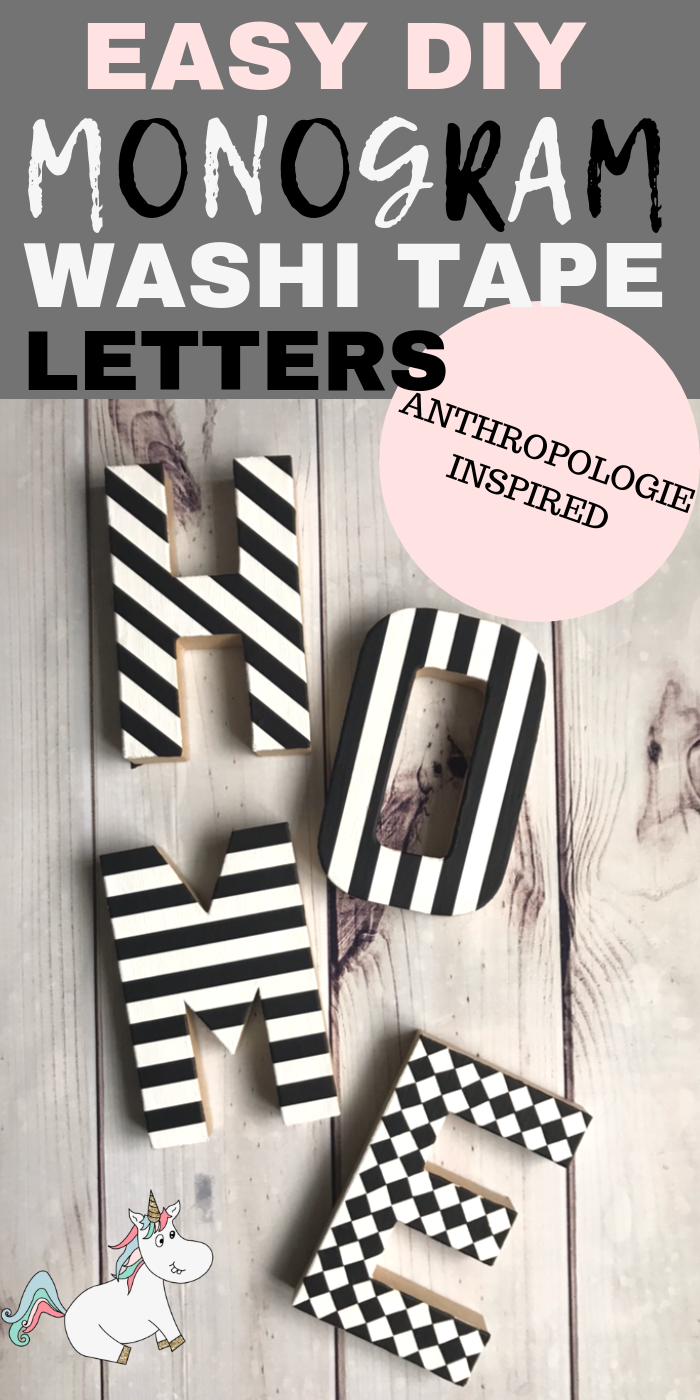 Easy DIY Monogram Washi Tape Letters – Brilliant Anthropologie Knockoff!
DIY Monogram Letters Supplies
8in x 5.5in Brown Cardboard Letters
White Acrylic Paint
Scissors or craft knife
Paintbrush


DIY Monogram Letters Step 1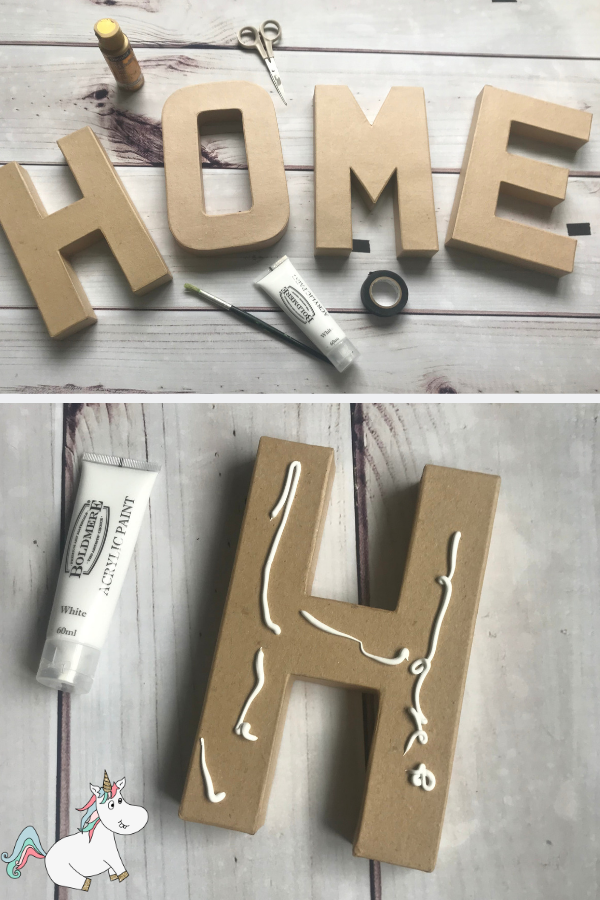 After gathering your supplies together, the first step is to simply paint the first coat of white paint onto all the letters. Allow to dry & then paint on a second coat.
You only want to paint the top face of the letter, leaving the rest of the cardboard bare. This is because the Anthropologie letters are made of wood & only the top faces are painted monogram.
For this step, I used a cheap white acrylic paint that I already had but you could probably paint the top face in other paint mediums too.
I noticed that the paint surface had deep brush lines in & usually this would bother me! However, those lines gave these letters a real painted wood effect which worked really well for the final look of this project!
DIY Monogram Letters Step 2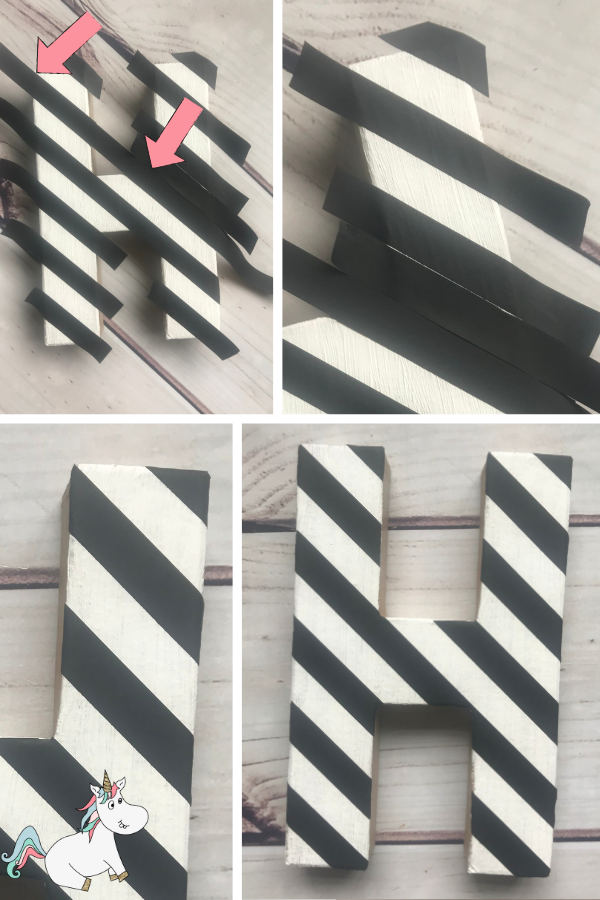 Cut off a length of washi tape that is long enough to cover the H diagonally.
Place your strip of washi tape as indicated by arrows in the image above. Ensure that the right edge of that strip hits the top left corner of the 'H' and the inner corner of the bar… This is your reference point.
Now cut another strip of washi tape approximately the same length to use as a spacing guide… let's call it the spacing strip!
Lay the spacing strip directly along the first strip of washi tape & cut another strip to lay down on the other side of the spacing strip.
Now peel your spacing strip away to reveal a neat white space between two strips of tape.
Carry on in this way until you've covered the 'H' & then use your scissors or crafting knife to trim the edges.
Follow this exact same method for the letter 'M' only this time, begin with a straight line of washi tape running horizontally along the top edge as your reference point.
DIY Monogram Letters Step 3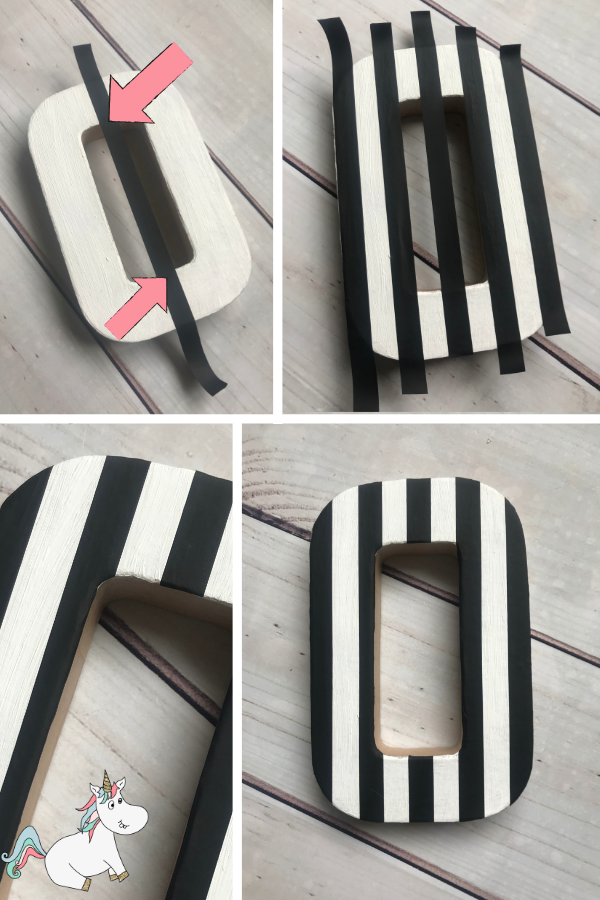 Cut a length of washi tape long enough to reach from the top of the 'O' to the bottom.
Measure & mark out the center point of the 'O' & stick down the washi tape so the middle of the tape matches the middle of the 'O'.
Now, using this first strip of washi tape as your reference point, stick down the rest of the lengths of tape using the spacing strip as a guide.
To finish the 'O' use your scissors to trim the excess tape from around the edges.
DIY Monogram Letters Step 4
The 'E' was by far the most complicated of the letters to do because it required a degree of accurate cutting to get a good chequered look… but all the stresses aside, it was totally worth the effort!
To get started with the 'E' mark a horizontal line through the center of the 3 'things' ha… I don't know what they're called but here, take a look at this helpful pic…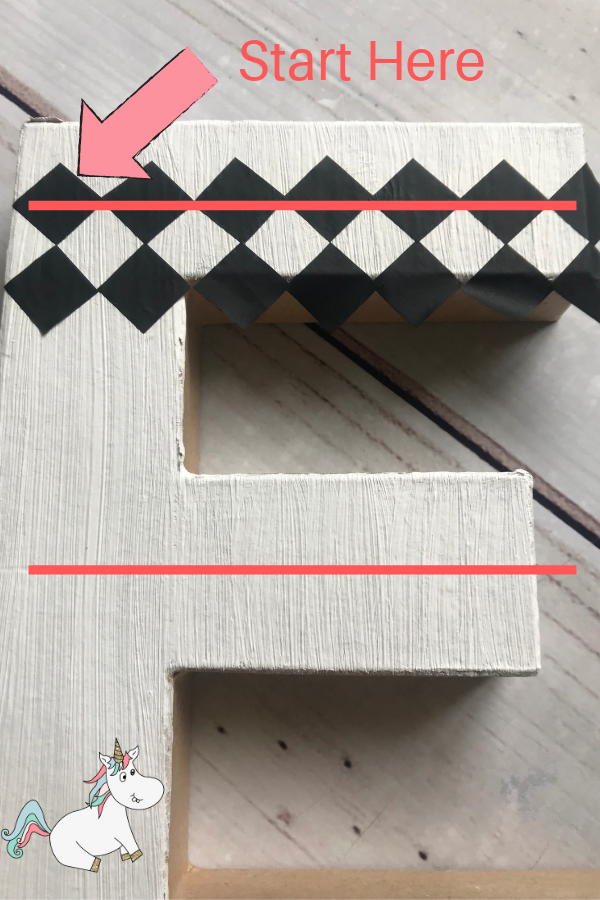 The red lines indicate where you should mark the lines. Eventually, you'll cover these lines with washi tape, but you need them there to ensure your square placements are accurate… I know this because I tried it without a line & it was ridiculously wonky!
DIY Monogram Letters Step 5
Now you need to cut out some squares of washi tape to make the chequered pattern.
To get accurate-ish squares that were all the same size-ish, I extended one long piece of tape on my table, ensuring that the end was straight, & placed other pieces of tape across that line, like this…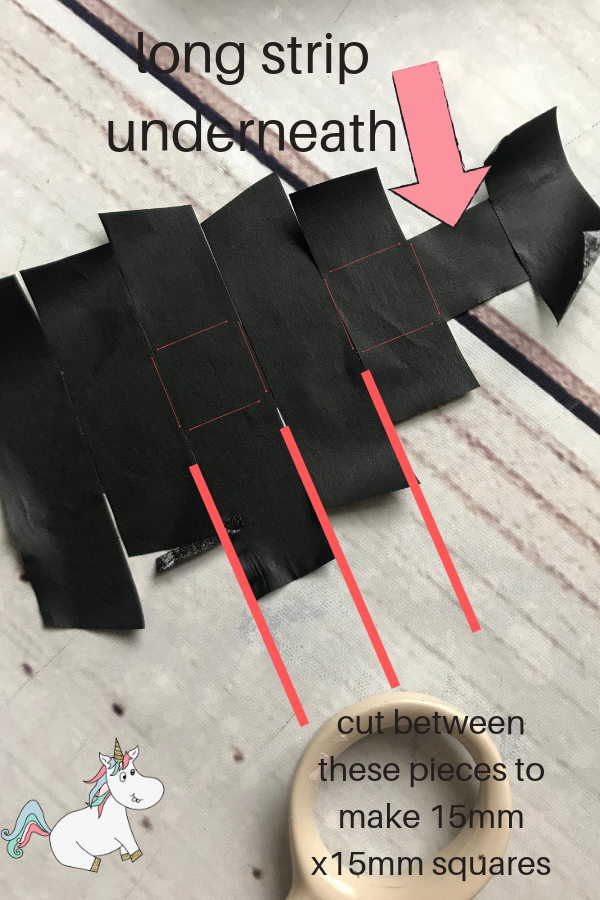 This was the quickest & easiest way I could think of to get 15mm x 15mm squares & although it took a while, it turned out really well.
I cut my squares out one at a time, but you could, in theory, cut them all out in advance.
You will find that there are some squares that you can cut in half & use on the other side too, which is a great time saver! Like this…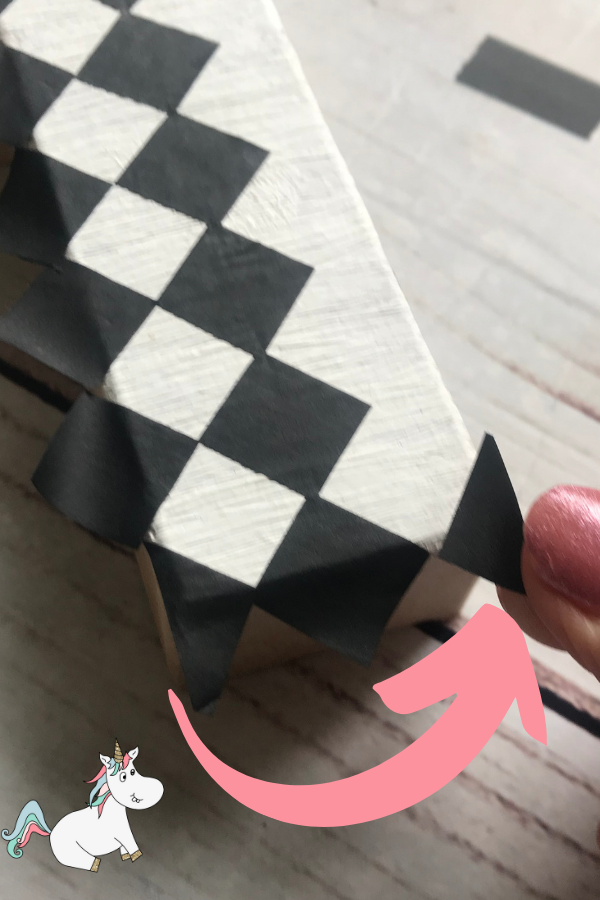 Once you have that first row done, the rest of the 'E' will come together much easier.
Continue cutting & sticking squares until the whole 'E' is covered… Use a ruler to help you stick those babies down in a straight line…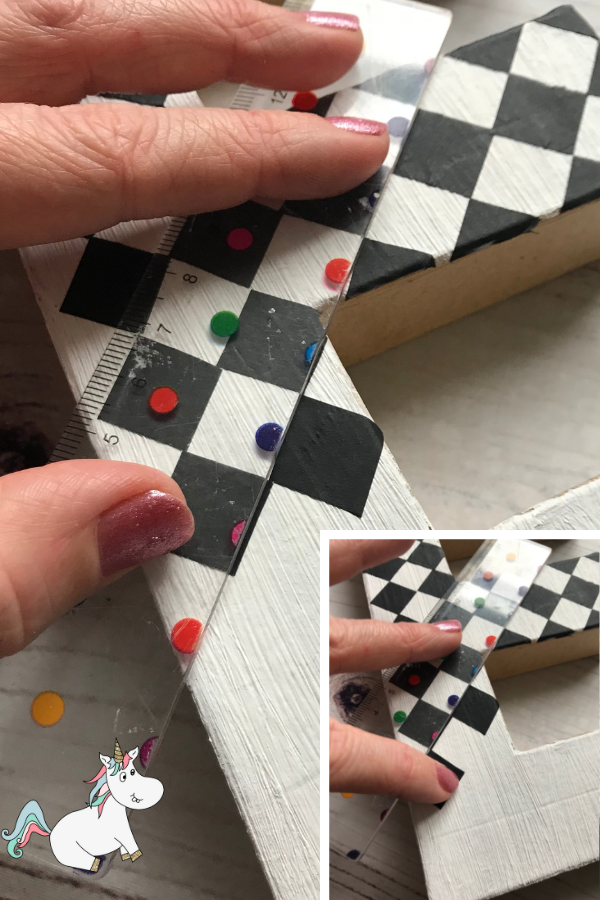 Once you've covered the 'E' you can trim off the excess & that's it!
It's time to hang up your beautiful Anthropologie inspired letters, or display them proudly on a shelf & admire them!
The finished letters…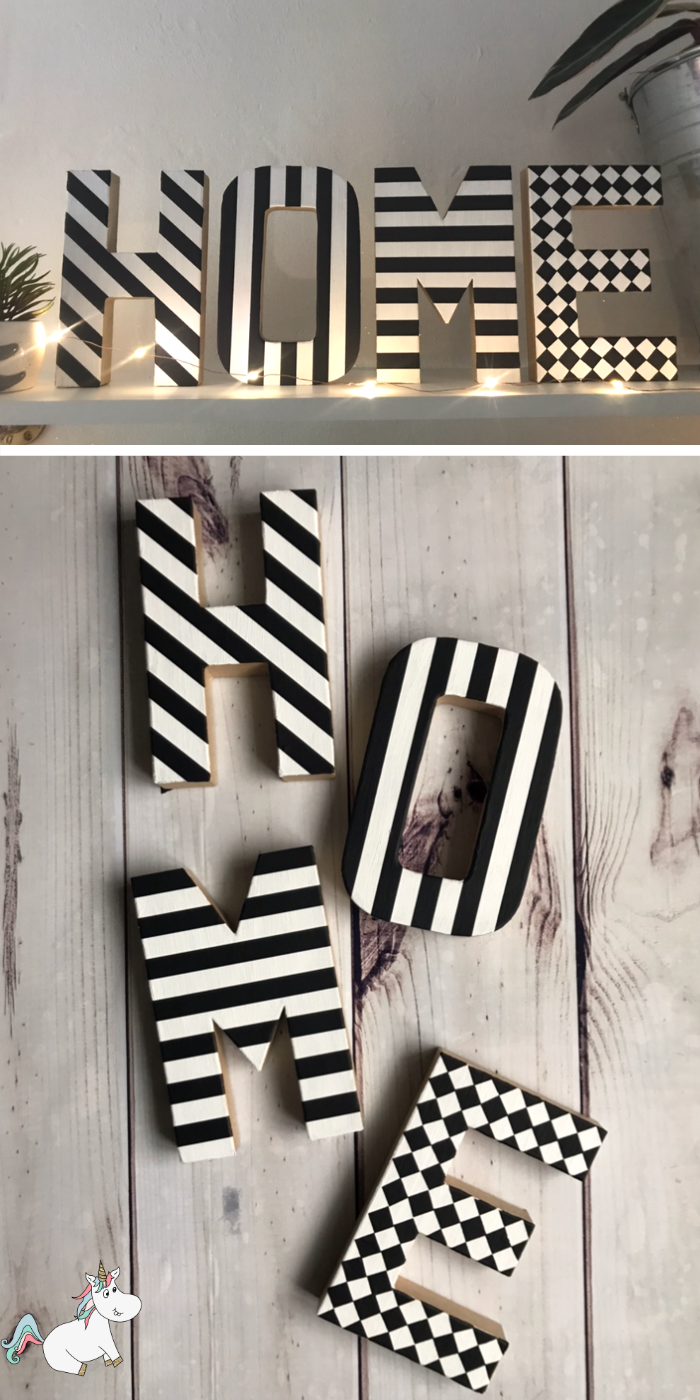 I hope you enjoyed this DIY monogram letters tutorial as much as I have enjoyed making it!
I am absolutely in love with how they came out… It just goes to show that you can have home decor accessories as beautiful as those at Anthropologie on a really small budget… you've just got to get a little creative 😉
Before You Go...
If you loved this post, don't forget to Click here to pin it now