Ikea Kallax hacks are the perfect way to achieve beautiful storage solutions in your home that fit perfectly with your home decor style… and they'll save you a ton of money too!
Kallax Are A Versatile Storage Solution
Finding the perfect storage for your home can be difficult & costly! But thanks to the versatility of the Kallax shelving units, you can EASILY find storage solutions that will organize every room in your home!
Just like most Ikea furniture pieces, the Kallax Shelving system (formerly known as Ikea Expedit) is sturdy, affordable & functional!
Can You Join Ikea Kallax Units Together?
The Kallax units can be joined side by side or even front to side making the perfect corner storage solution…
In fact, the Kallax shelving units are so versatile, you'll find it super easy to put together endless different shapes and sizes depending on what you need!
What Can I Put In Ikea Kallax?
You can store almost anything in an Ikea Kallax unit!
By using drawers, baskets, fabric inserts and even hanging inserts, you'll be able to neatly hide away any items you don't want on display…
They're an absolutely essential piece for every home!
Love Ikea Hacks? You might like these other Ikea Hack posts too…
Budget-Friendly Storage With An Expensive Feel
When I decorate my home I'm always budget-conscious & I'm sure you are too otherwise you wouldn't be reading this!
In fact, there's nothing more satisfying than getting an affordable piece of furniture & transforming it into a stylish piece of furniture that looks original & way more expensive than it actually is!
And this is one of the biggest reasons why I love Ikea furniture so much… especially the Kallax cube shelves!
The truth is, they're quite plain & simple which makes them a great blank canvas for getting creative & drastically changing the look & feel to suit your favorite home decor style… without compromising on quality!
Today, I've found some of the best Ikea Kallax Hacks that are cheap & easy to do… You'll be able to use these creative DIY projects as inspiration for your own home!
So without further ado, Let's get to it…
P.S. Don't lose these Ikea Kallax Hacks by clicking here to quickly & easily save them to your Pinterest.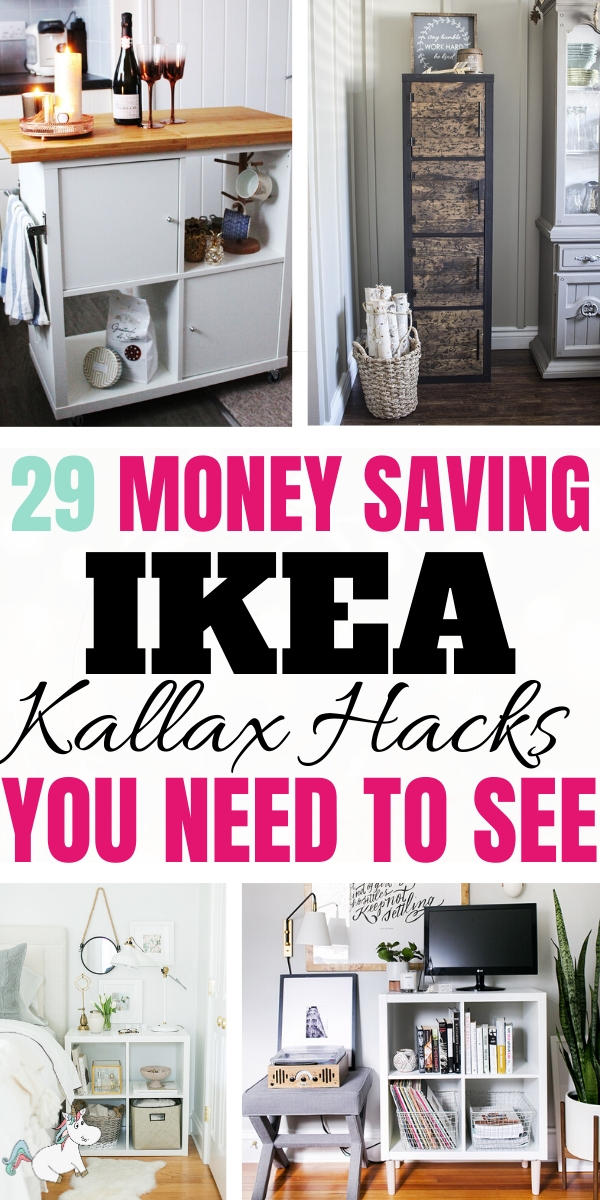 This post may contain affiliate links. See my full disclosure here for more info.
29 Money-Saving Ikea Kallax Hacks
1. DIY Banquette Seat
This Ikea Kallax dining bench is a space-efficient solution that looks stylish & inviting! Just think of all the ways you can use that additional storage space underneath too! If you love this fabric you can get the same right here.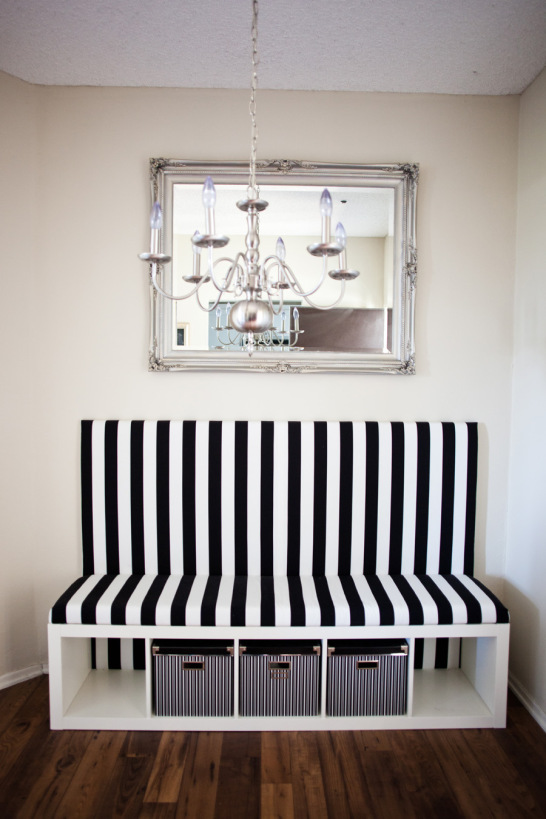 2. Etched Octodrawes For Expedit Shelving Hack
This rustic look can be achieved using many different designs so you can really make it true to your own style!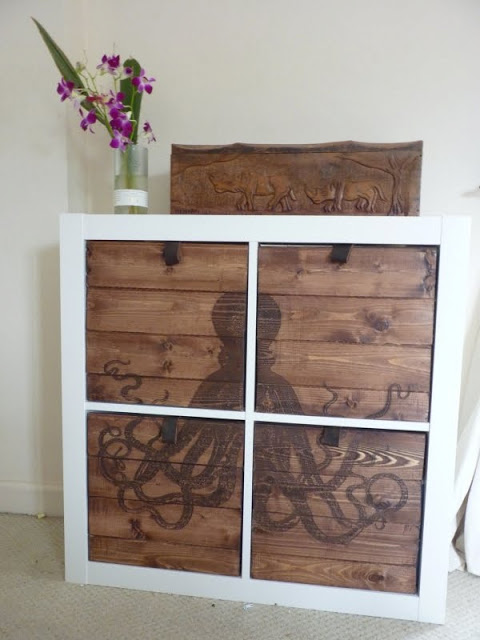 3. DIY Rustic Cube Shelves
No one would believe that this is an Ikea Kallax and it's easy to see why!! This stunning rustic cube shelf hack uses reclaimed wood for the doors & is really easy to do! This is one of my all-time favorite Ikea hacks & would look amazing in any farmhouse-style home. You can get some handles just like the ones used in this hack right here.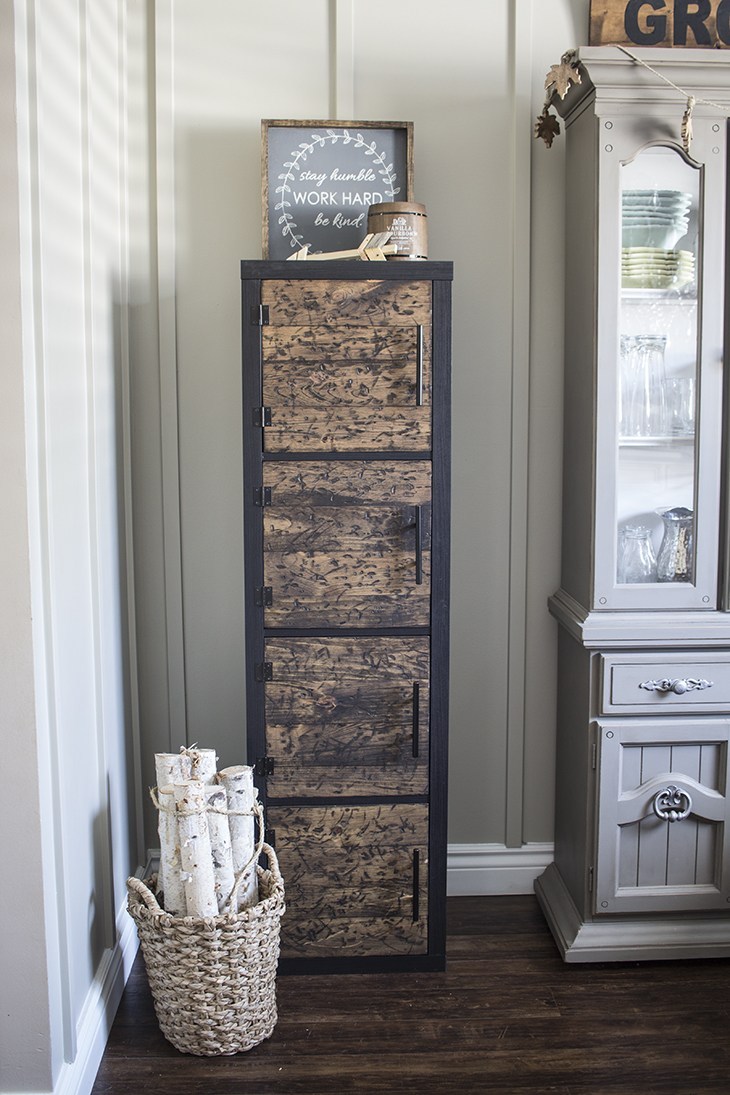 4. Teddy Cubby & Reading Corner
Having a cozy little nook like this one will make your children want to read! The extra storage space will come in extra handy too for all those teddy bears that they just can't seem to get rid of 😉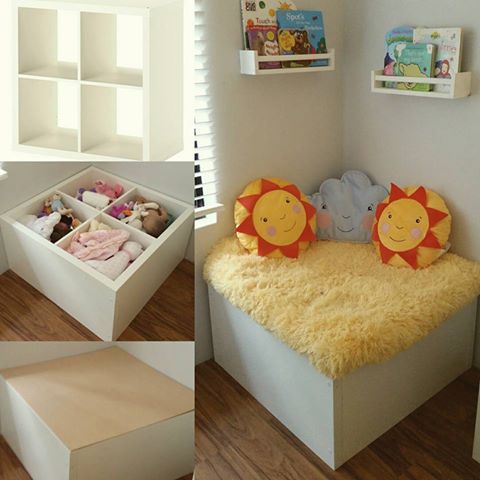 5. IKEA Long Shelving Unit
If you're looking for an Ikea hack that looks way more expensive than it actually is, then look no further than this hack… (ok don't actually stop looking further because there are some more awesome hacks to come) Grab yourself some baskets like the ones in this hack that perfectly fit the Kallax right here.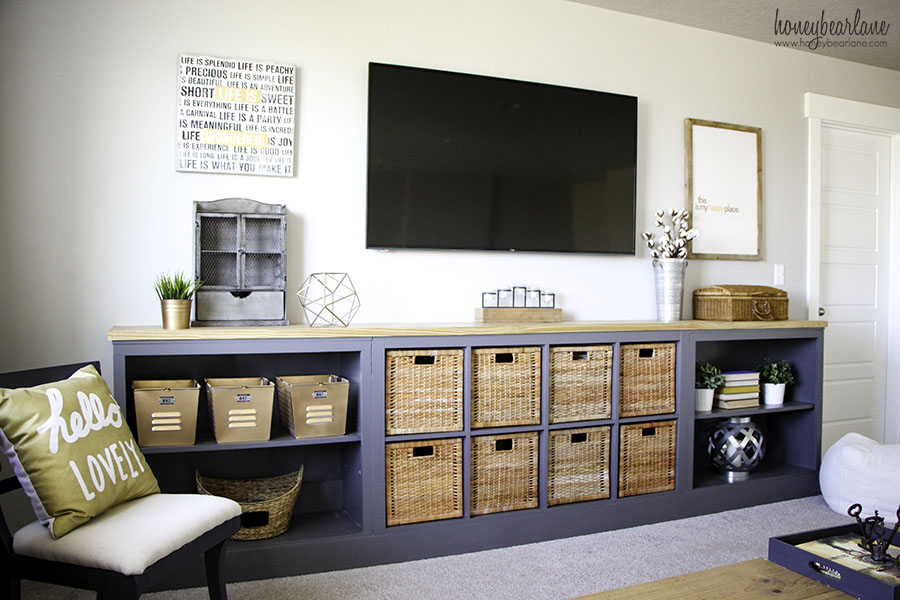 6. Window Bench Kallax Tutorial
Thankfully, (for most of us) no sewing skills are required to make this super cute & comfortable window seat!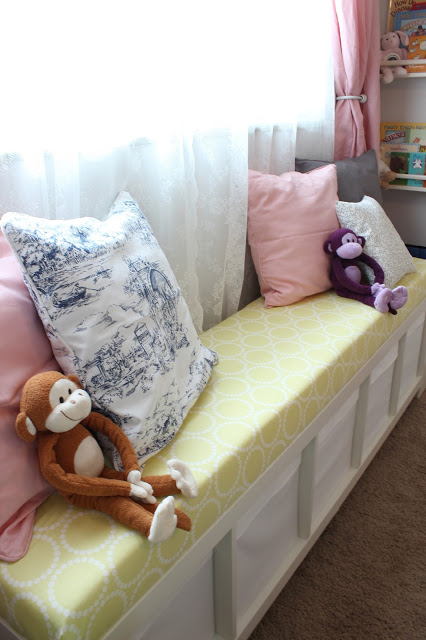 7. Industrial Style Ikea Kallax Hack
Who would have thought you could transform an Ikea Kallax cube unit into a fabulous piece of industrial-style decor? This hack proves that you really can make a standard piece of Ikea furniture into something unique!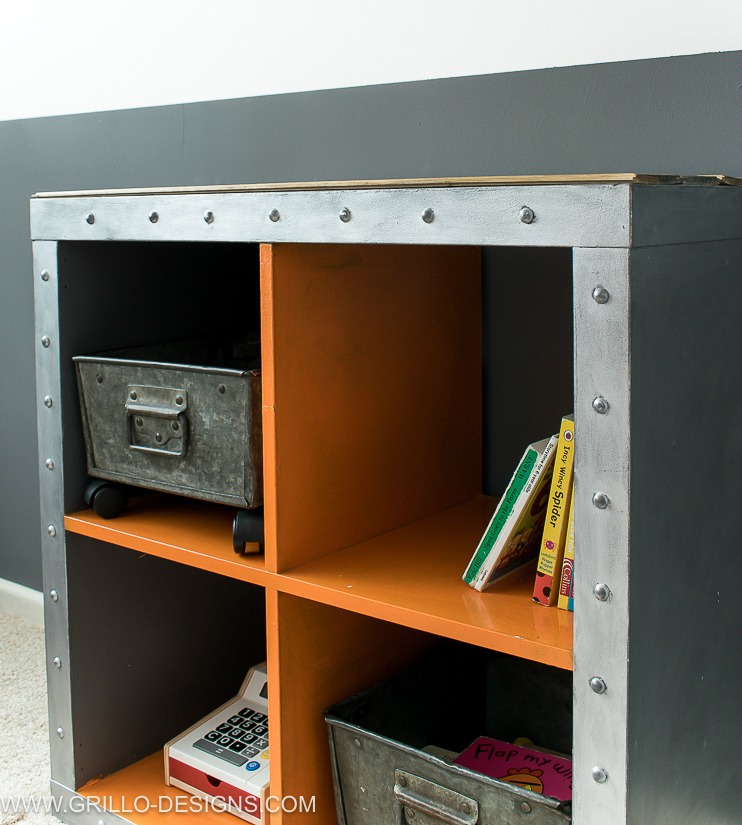 8. 5 Minute Fabric-Lined Expedit Bookshelf
The black fabric gives this Kallax bookcase a whole new fabulous look & only takes 5 minutes to do… Ikea hacks don't get much easier than this!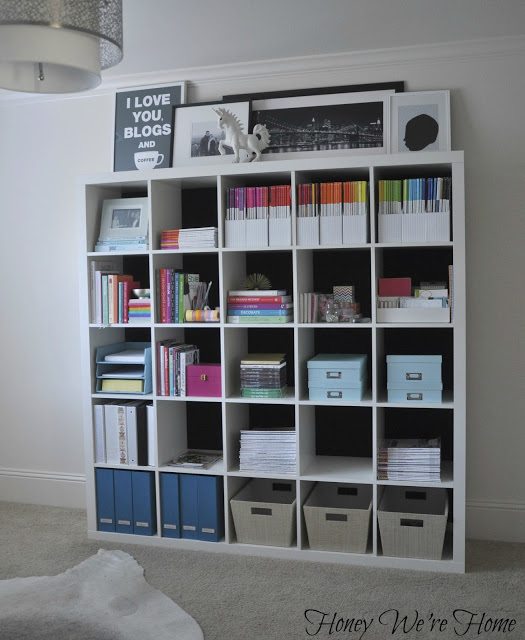 9. Ikea Kallax Night Stand
Most people wouldn't think to use an Ikea Kallax as a nightstand but it really does do the job perfectly! You'll also love that extra space to keep all your bedroom essentials in too!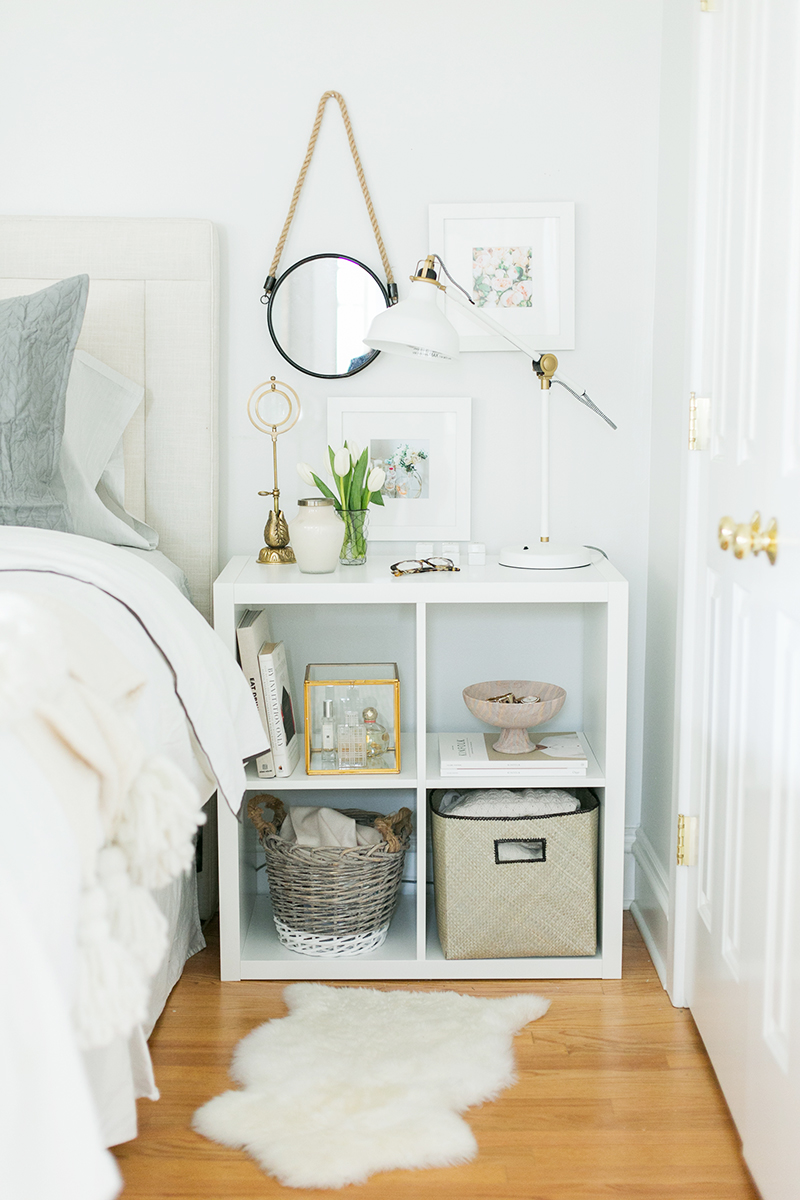 10. Transform Ikea Kallax Top With Paint Sticks
Paint sticks can be found for free in your local hardware store but you can also pick up thin wood strips pretty cheaply that would also work beautifully for this hack too!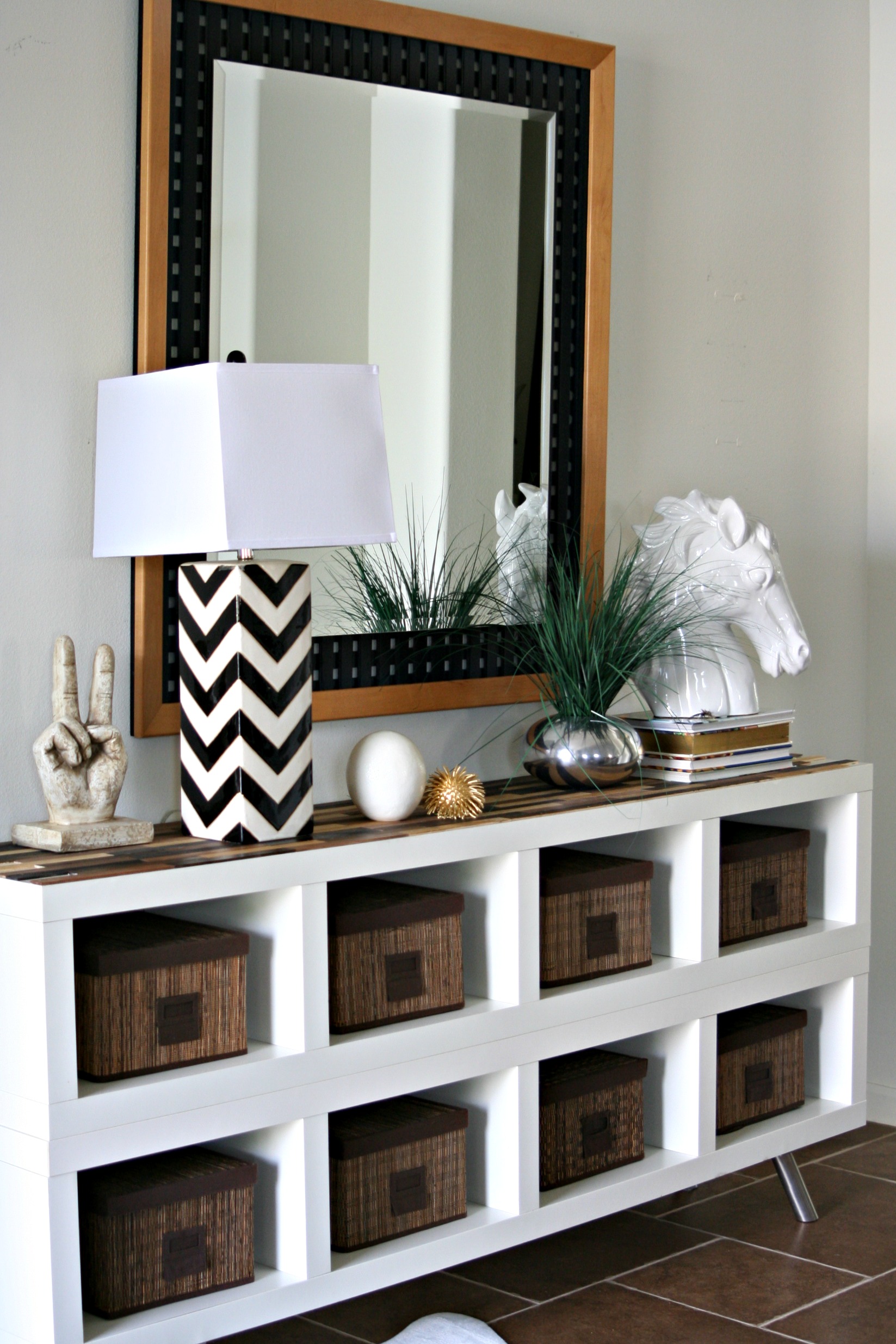 11. DIY Expedit Door Panels
If you didn't want to buy the inserts for your Kallax you could simply purchase some MDF and make your own doors… These Kallax doors have been covered with an enlarged photograph but you could just as easily use contact paper too!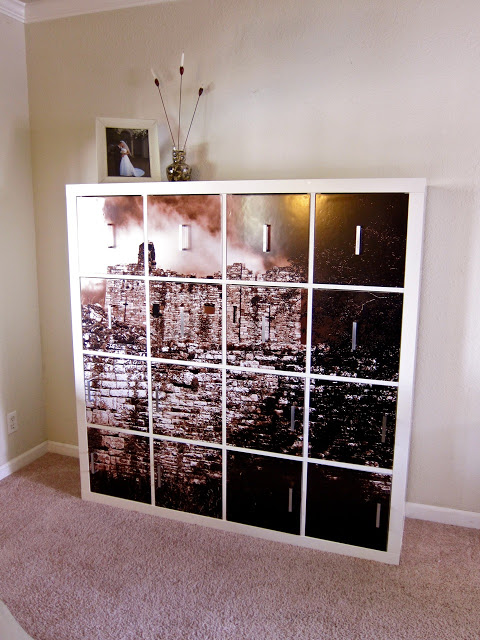 12. Ikea Kallax Wrapped With Wood
Wrapping an Ikea Kallax with wood can literally transform it into a beautiful piece of furniture that looks really expensive. Be sure to stain the wood to match any other wood elements in your room for a seamless fit.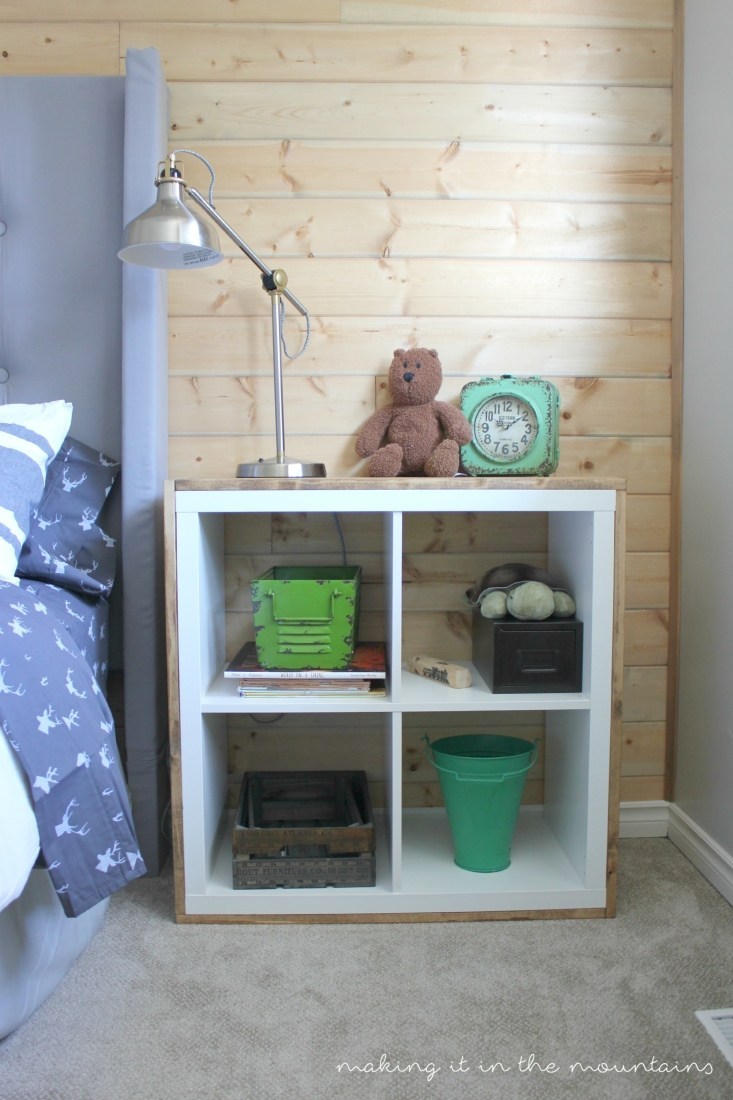 13. Ikea Kallax Flat Filing Cabinet Hack
This hack is incredible! Just imagine how many nik naks you could store away in those little drawers! You can get yourself some stunning label holders just like the ones in this hack right here.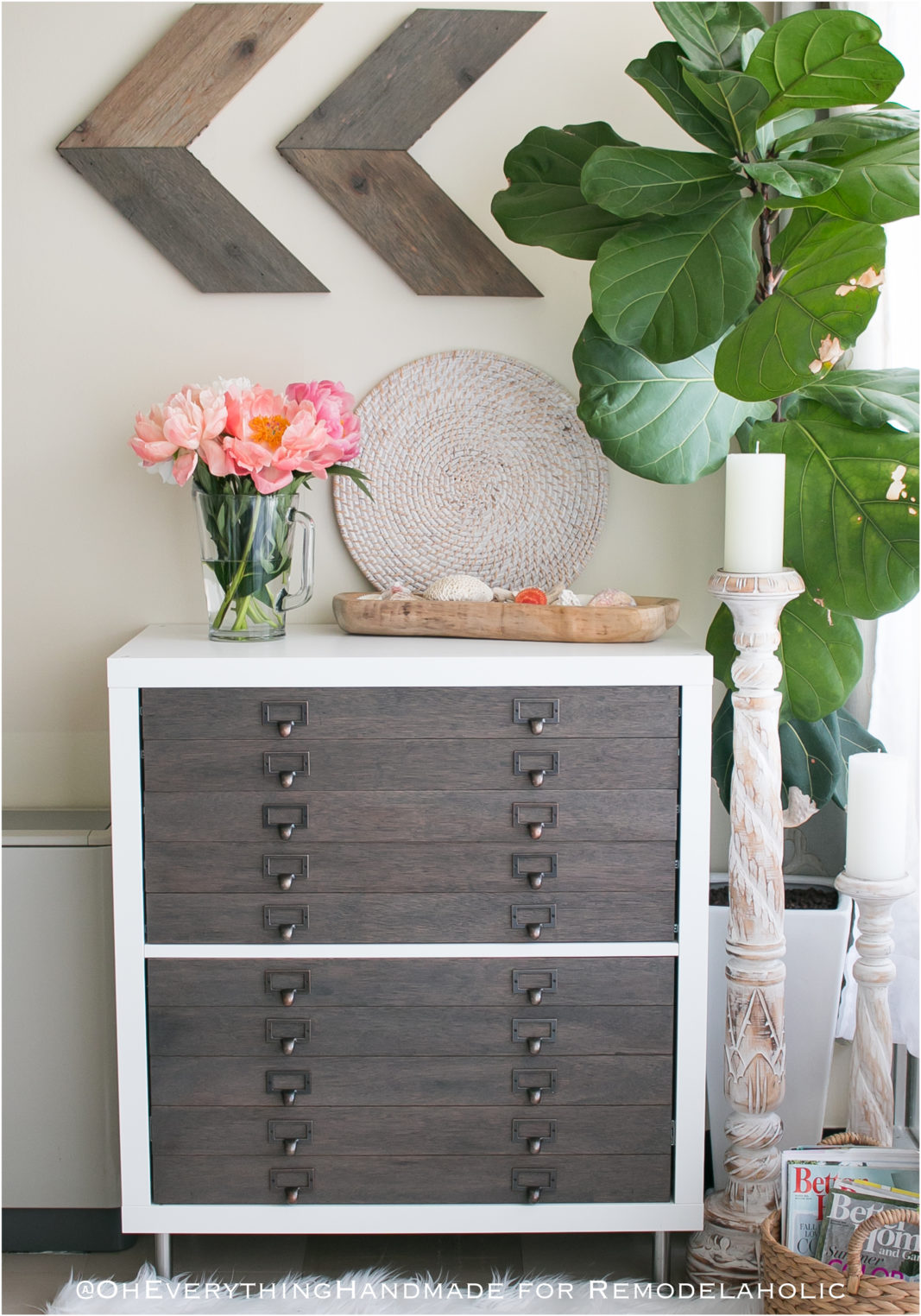 You can also watch the Tutorial for this hack right here…
14. Expedit To TV Stand
This is another creative way to use an Ikea Kallax & effortlessly make it work for your home! You can style it with your favorite treasures or use the cubby holes to store all those gaming consoles & other TV accessories! Find out how I hide my messy wires & routers etc right here.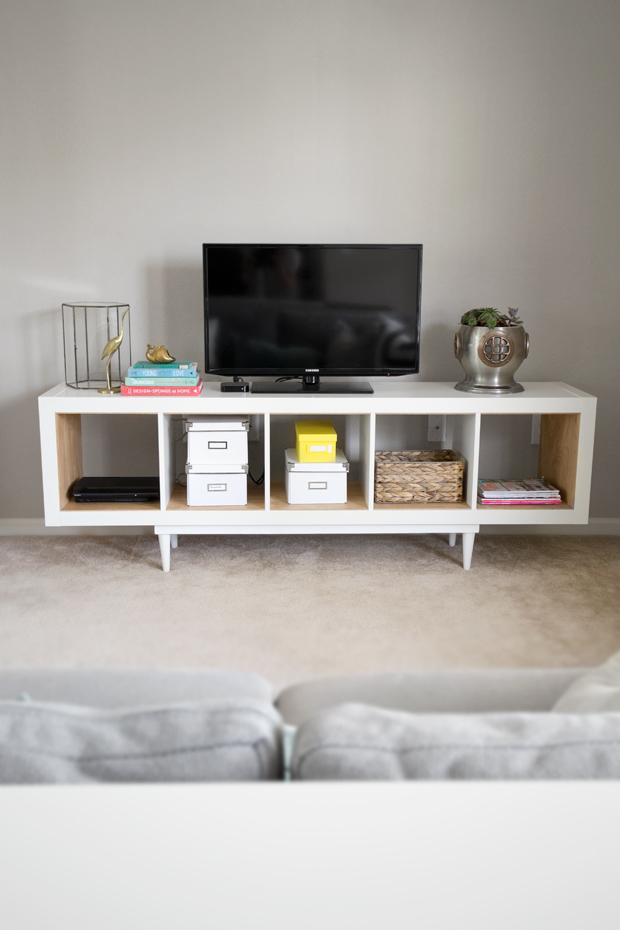 15. Ikea Cubby Hack
Don't you just love this stunning vintage-style cubby? Open shelving like this can really make your rooms feel more spacious & stylish!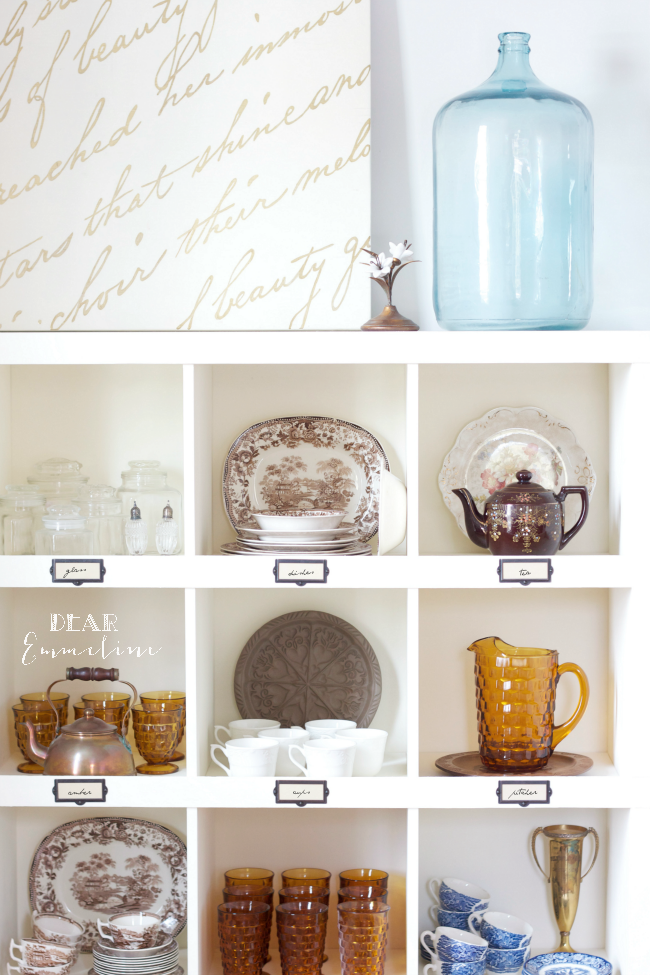 16. Ikea Kallax Media Stand
I am in love with this Ikea hack… Adding furniture legs is a really simple alteration that drastically changes the look & feel of the Kallax unit!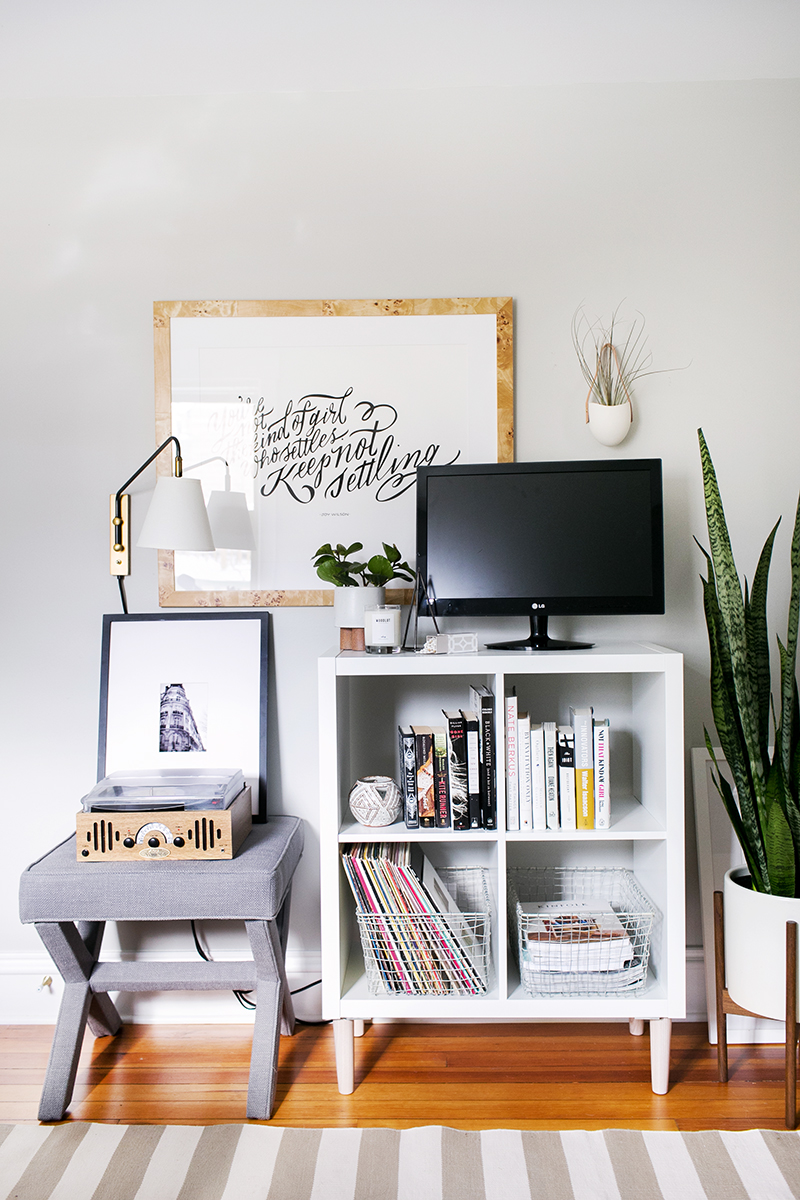 17. Mid-Century Modern Ikea Kallax Hack
And just to prove it some more (I'm like a dog with a bone)… look how these legs give this Kallax a mid-century modern feel! You can get some furniture legs just like these right here.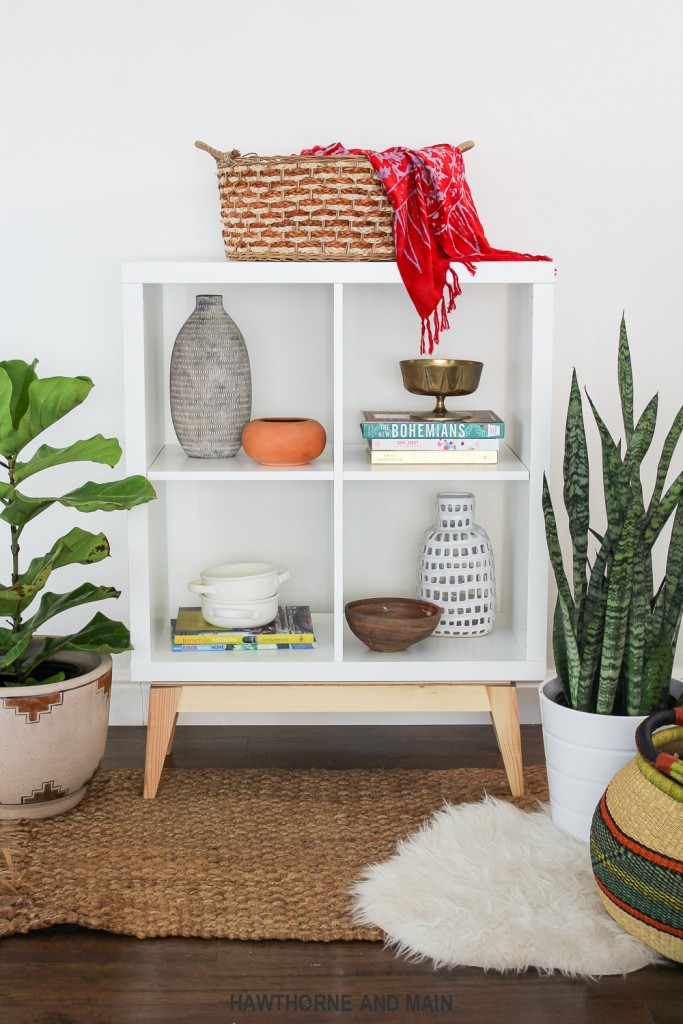 18. Ikea Kallax Garage Storage Shelf
I don't have a garage, but if I did it would be a total mess… It's just one of those rooms where things get thrown in and forgotten about until you need them, right?! Not any more… This hack uses an Ikea pegboard teamed with two Kallax units on either side to create endless storage possibilities! You'll never have to hunt for those tools when you need them again! If you can't make it to Ikea you can get a pegboard right here.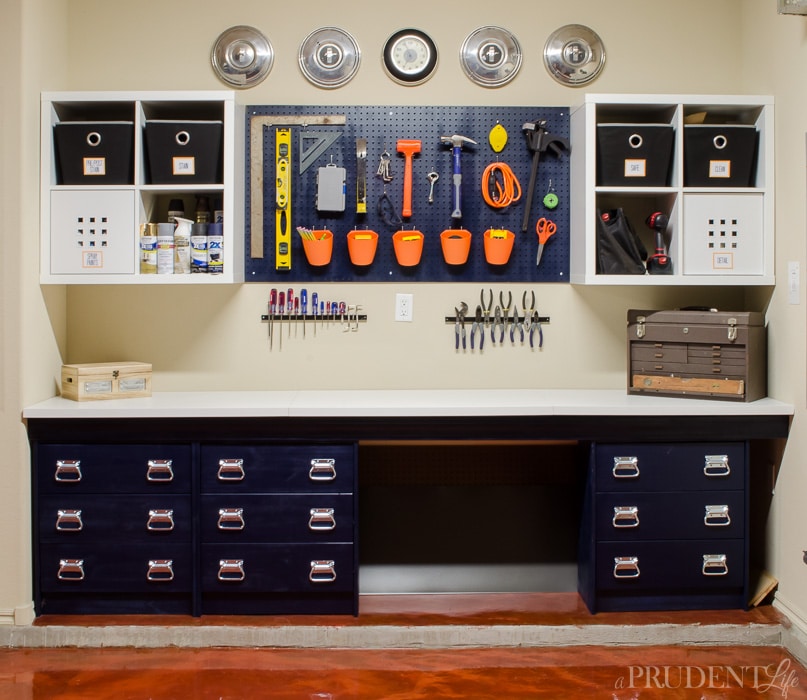 19. Ikea Kallax Cubes Into Lockers
Don't you just love these rustic-style lockers? They would look great in an entryway or utility room to store hats, coats, shoes & school bags etc… Oh, and no one would know they were once a standard Ikea Kallax!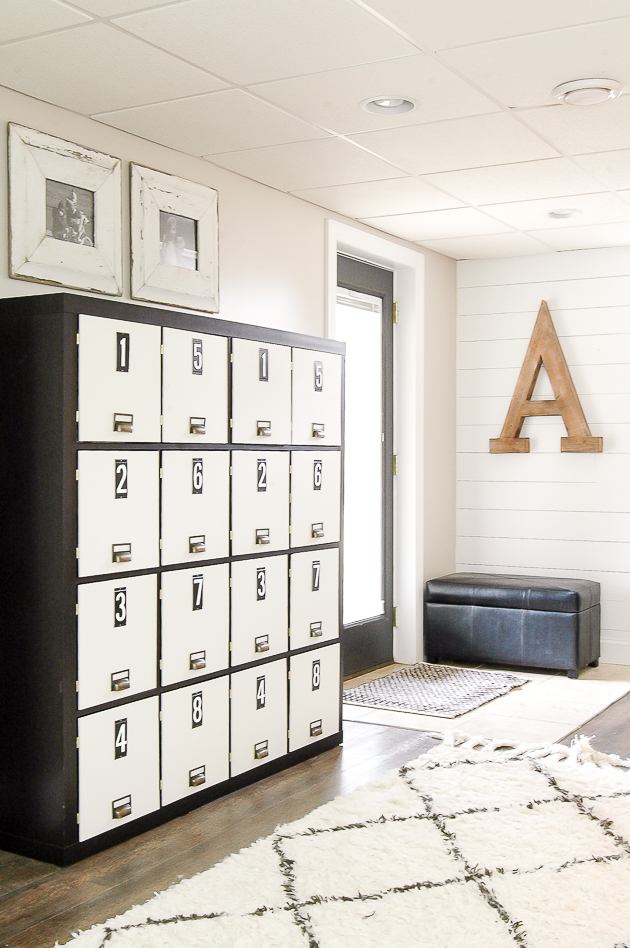 20. Rustic Wood Wrapped Expedit hack
We all know that with babies come masses of equipment & expensive furniture… That's why I love this genius hack that transforms an Expedit into a beautiful, budget-friendly changing table & creates a ton of room to store all your baby essentials too!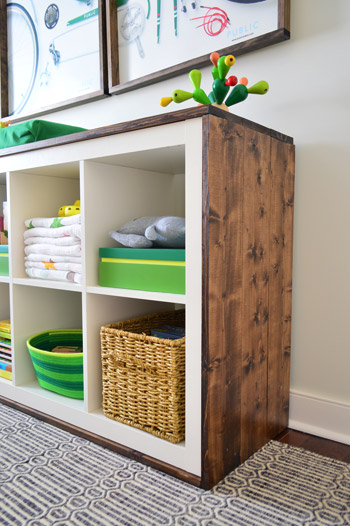 21. Kallax Kitchen Island Hack
I've always loved this hack so I had to include it in this list of Kallax hacks too… Who would have thought you could give your kitchen that extra special & expensive look using an Ikea Kallax as a kitchen island… and on such a small budget too?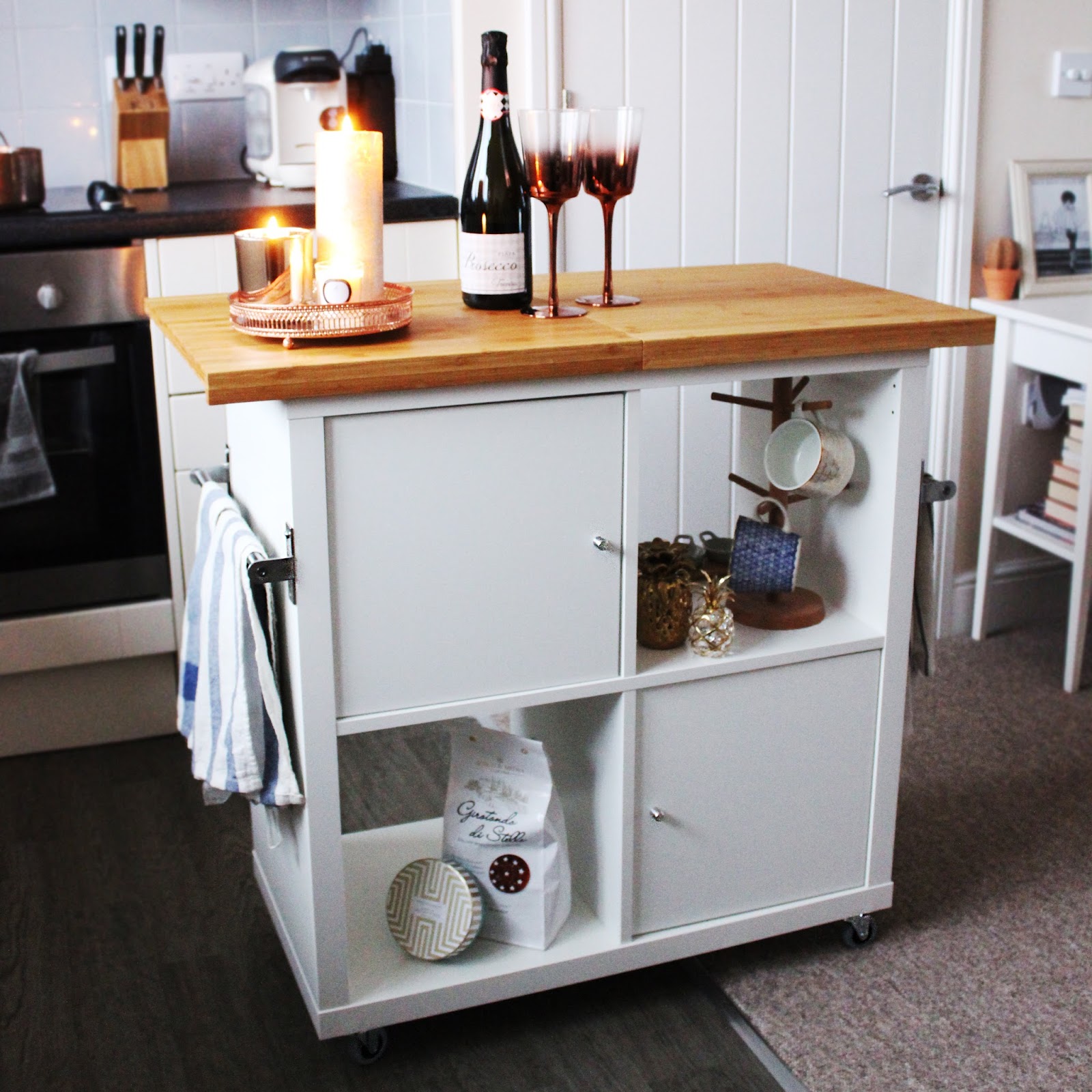 22. Pretty Ikea Kallax Hack
If you're looking for some feminine storage solutions for your bedroom then you'll love the elegant result of this Ikea hack…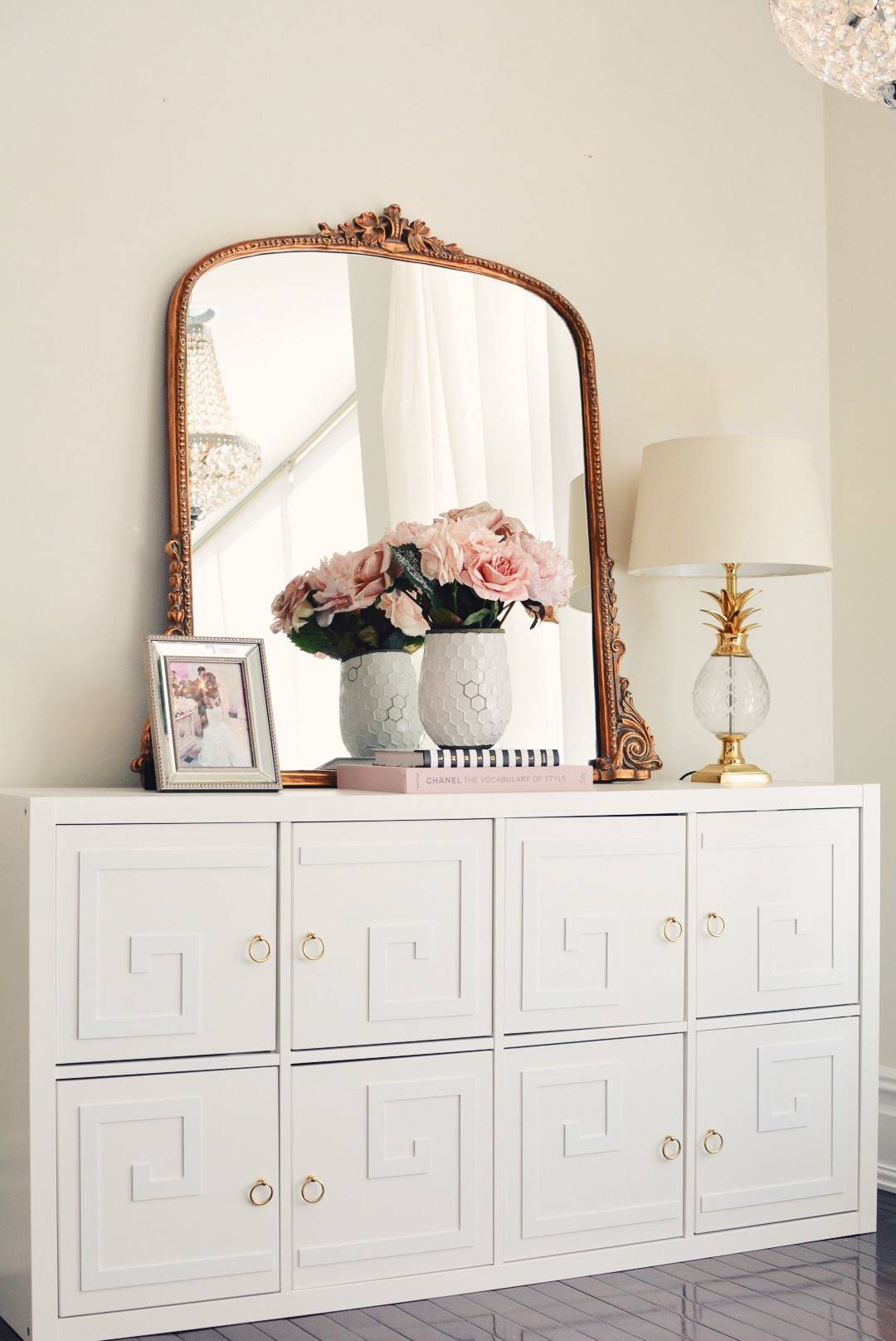 23. Craft Room Work Table
Us crafters know that craft rooms can get unbelievably messy in record time!!! But that will be a thing of the past with this hack that will keep your craft supplies organized & tidy whilst giving you a great surface to work at… Win!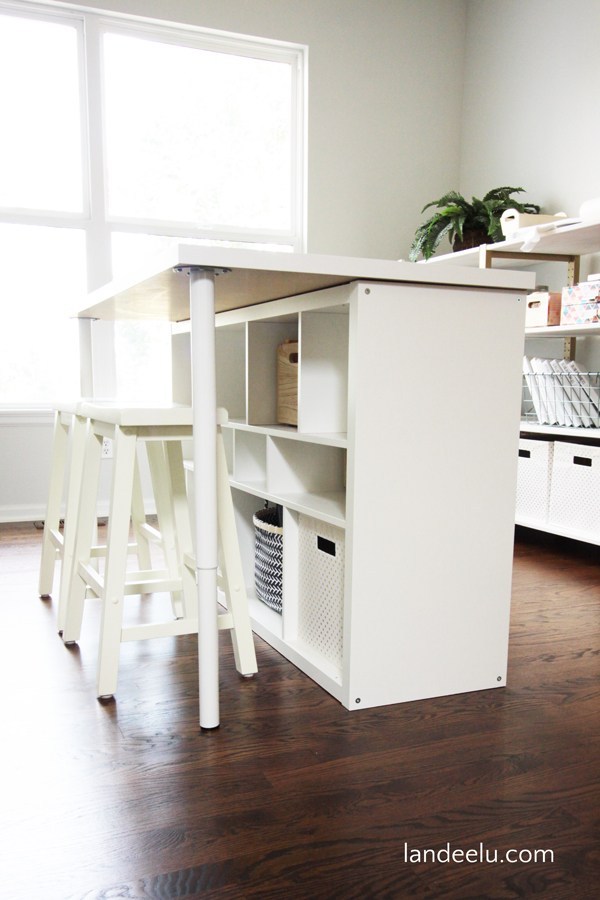 24. DIY Hack Bar Cart
Did someone say bar? Simply screw in some casters & add handles on top of your Kallax to make this stunning bar cart that you can wheel about to wherever you need it… you now have the perfect excuse (not that you really need an excuse) to host a party! Get your hands on some antique style casters from here.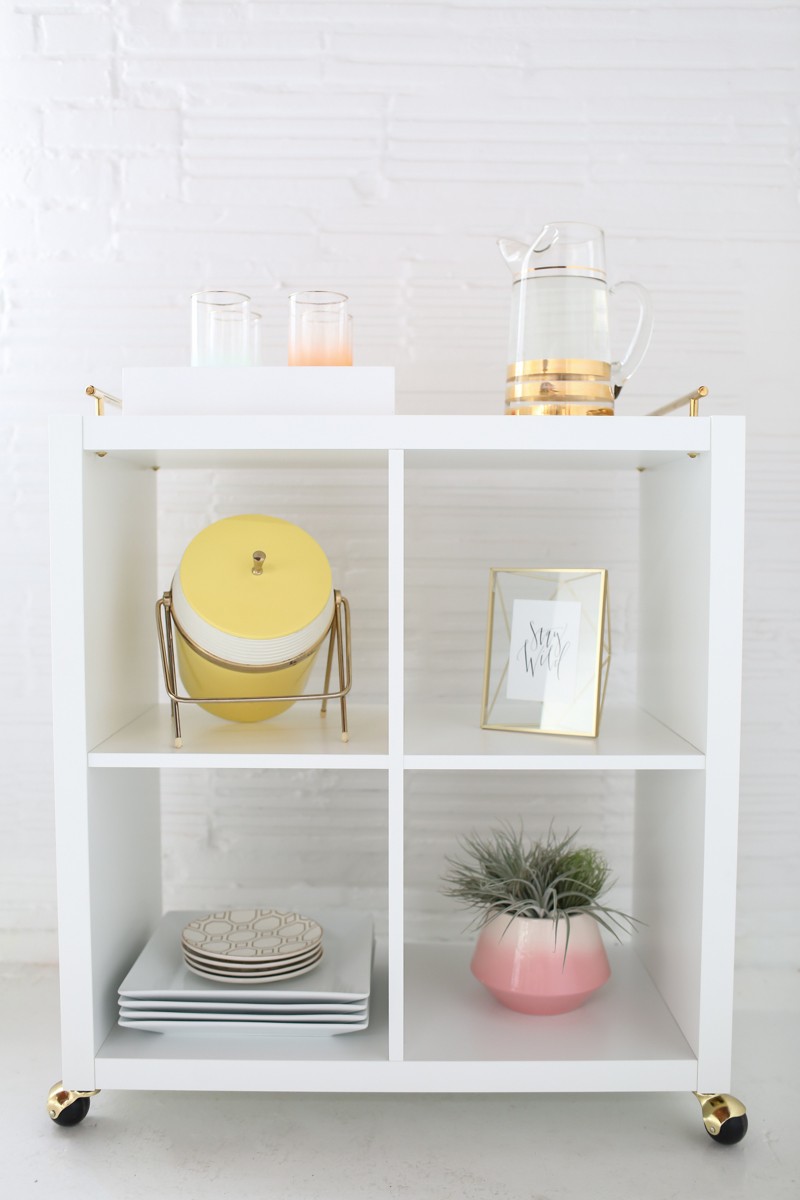 25. Quick & Convertible Toy Storage
The Kallax cubes look great in playrooms & give you all the storage you need to keep toys organized & under control… Although this idea isn't really a hack, it's a great example of how the Kallax system can be put together to create a mixture of open & contained storage.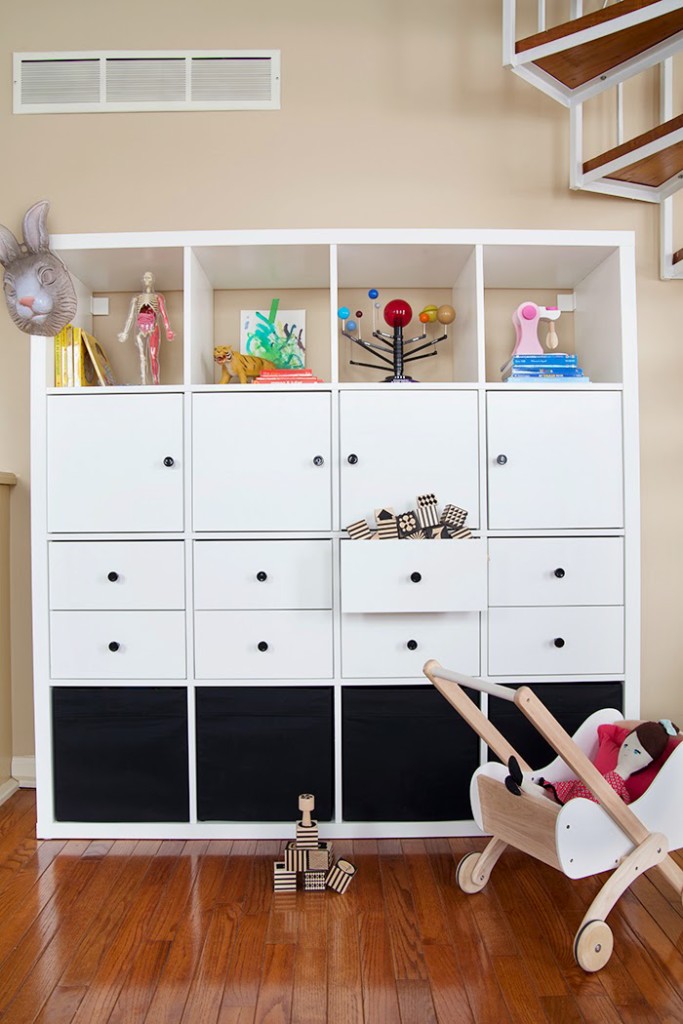 26. Simple Ikea Expedit Shelf Hack
This Expedit shelf looks fantastic and you'll love how easy it is to add legs to your Ikea Kallax create effortless style in your home too!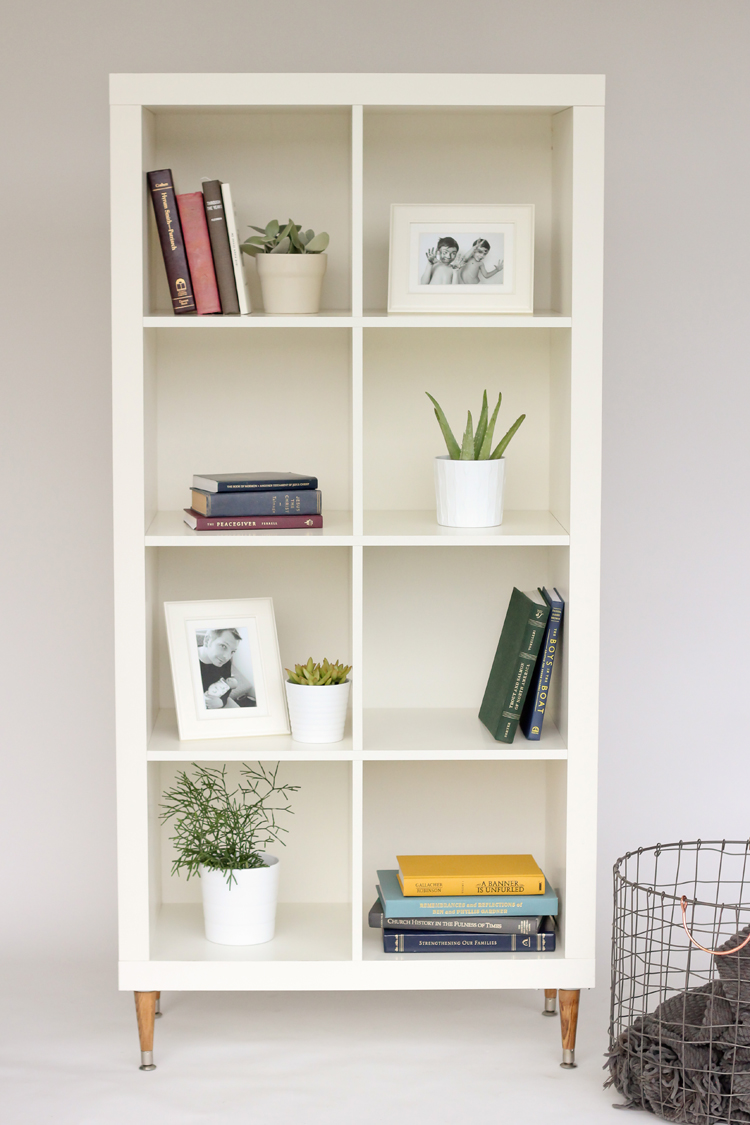 27. Ikea Kallax Bar Hack
This bar looks incredibly inviting & it isn't on wheels so you can use it to display all your pretty glasses & bottles!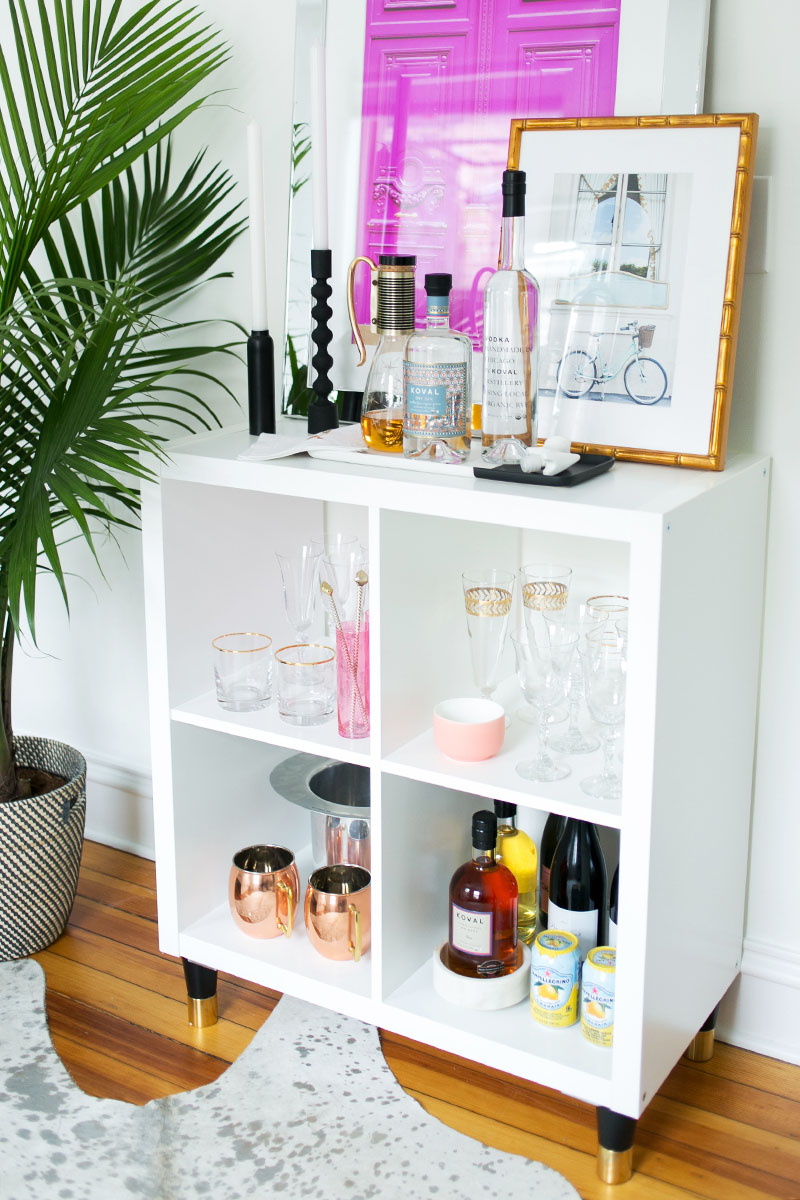 28. Ikea Expedit Standing Desk Hack
If you're looking for a desk where you can both stand & sit then this Ikea desk hack will solve your problem… There are so many different ways to organize & store your supplies with the Ikea Kallax system that everything in your office will have a home of its own!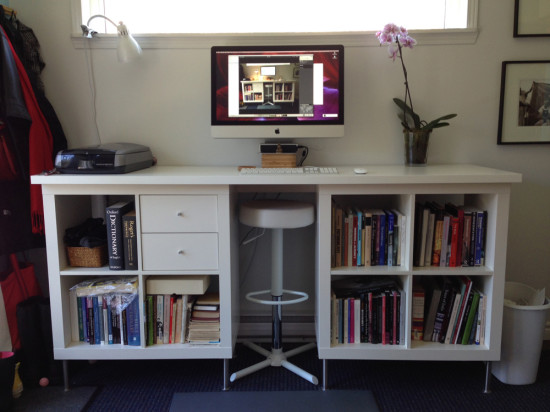 29. Kallax Coffee Bar Hack
And finally… Yes, yes & more yes to this Ikea Kallax coffee bar hack!! You can leave the middle vertical dividers out when you build your Kallax to create a larger shelf where you can keep all your essential coffee & tea-making supplies!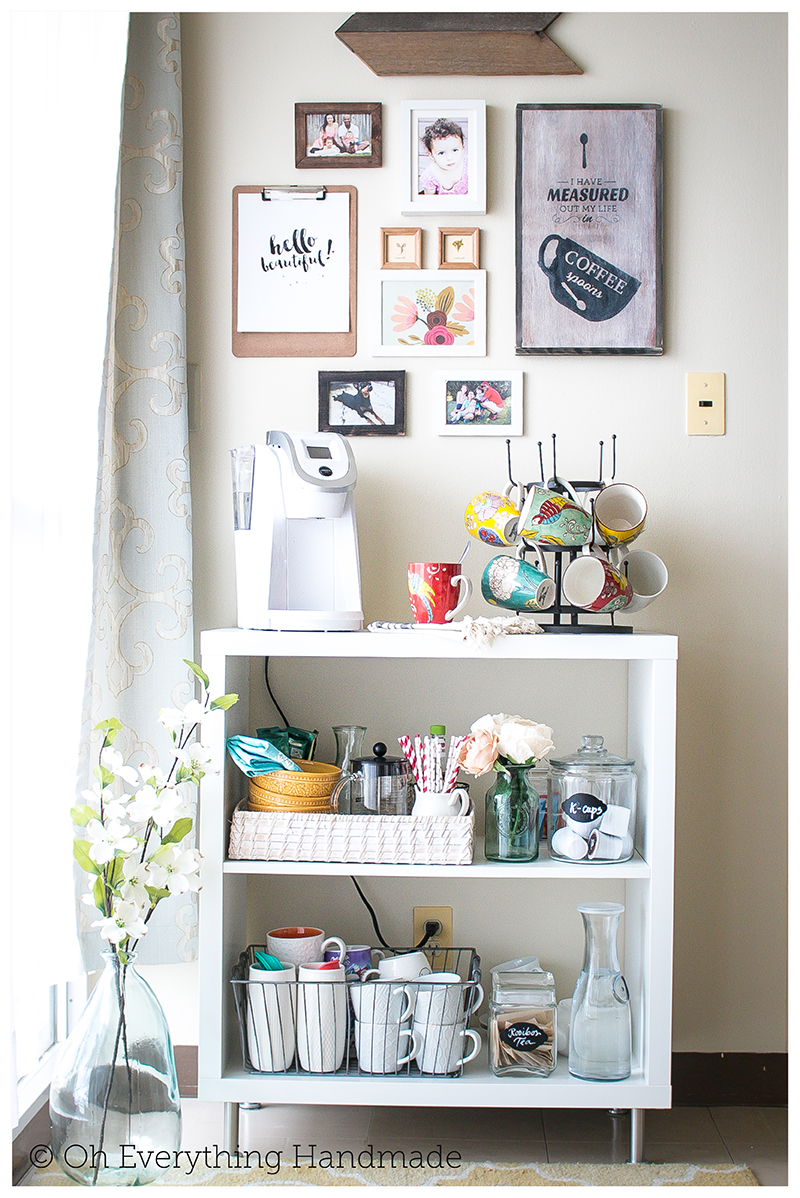 Before You Go...
The more Ikea hacks I find… the more obsessed I become!
These Ikea Kallax hacks are all incredible & hopefully they've given you the inspiration you need to get creative & decorate your home in your own unique style whilst keeping to a small budget!
If you love creative home decor Ideas like these Ikea Kallax hacks then you might like to come over & follow me on Pinterest where I pin all the best Ikea hacks every day! (I told you I'm obsessed).