IKEA kitchen hacks are perfect if you want to do up your kitchen without spending a load of money!
After all, we all know how annoyingly expensive a kitchen redesign can be if you don't know where to shop!
If you've been around here before you will already know that I am OBSESSED with IKEA & IKEA hacks!
I just cannot get enough!
What I love the most about IKEA, aside from the fact all their furniture is super functional, is that despite the low prices, they don't compromise on quality!
Add in a creative IKEA hack… and you'll have furniture that looks way more expensive than it actually is and that lasts almost forever!
If you haven't got time to read this right now, Click here to Pin it for later!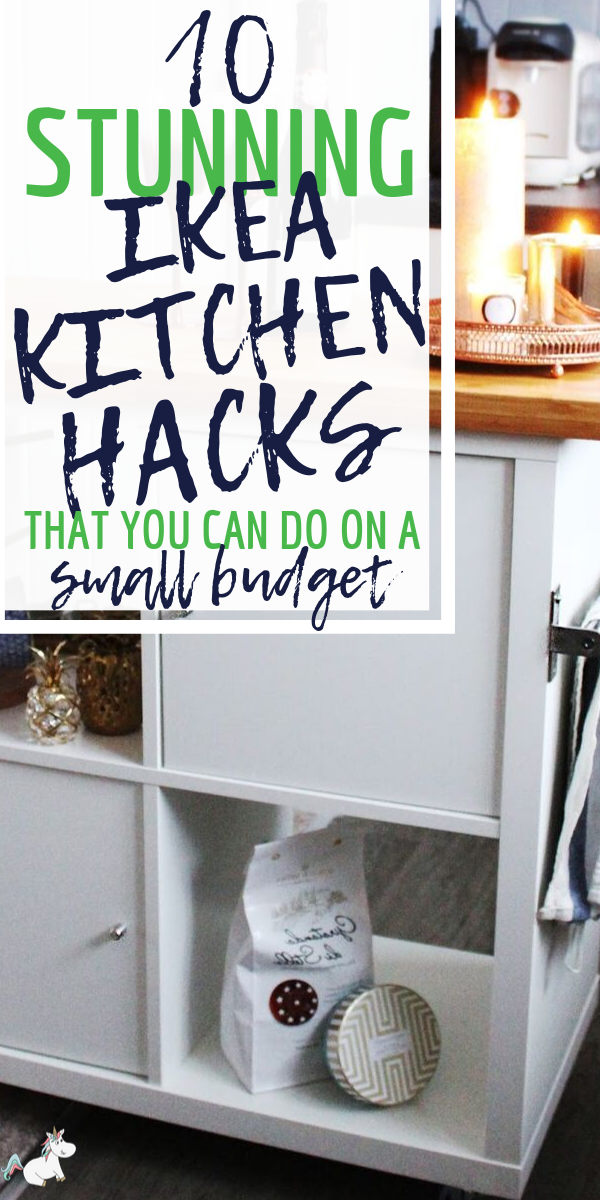 This post may contain affiliate links. See my full disclosure here for more info.
Right now, I'm looking for inspiration for my own kitchen Redo and you can be sure I will paying IKEA a little visit (ok, ok, lots of big visits)! whoop
I love myself a bit of DIY & making my home look amazing on a budget… so I can't wait!!!
For now, I've had a look around online and found some of the best IKEA kitchen hacks!
I thought I would share these awesome ideas with you as they are a great inspiration & will save you a ton of money if you're looking to do up your own kitchen!
Just click under any image you like to visit the full tutorial 🙂
10 Best IKEA Kitchen Hacks
#1 Bright and Fun Ikea Hack for a Kitchen Cart
Who doesn't need a bit of extra storage in their kitchen? I know I do! This DIY IKEA kitchen cart hack would look so pretty in a rustic style kitchen and also provide a perfect additional worktop!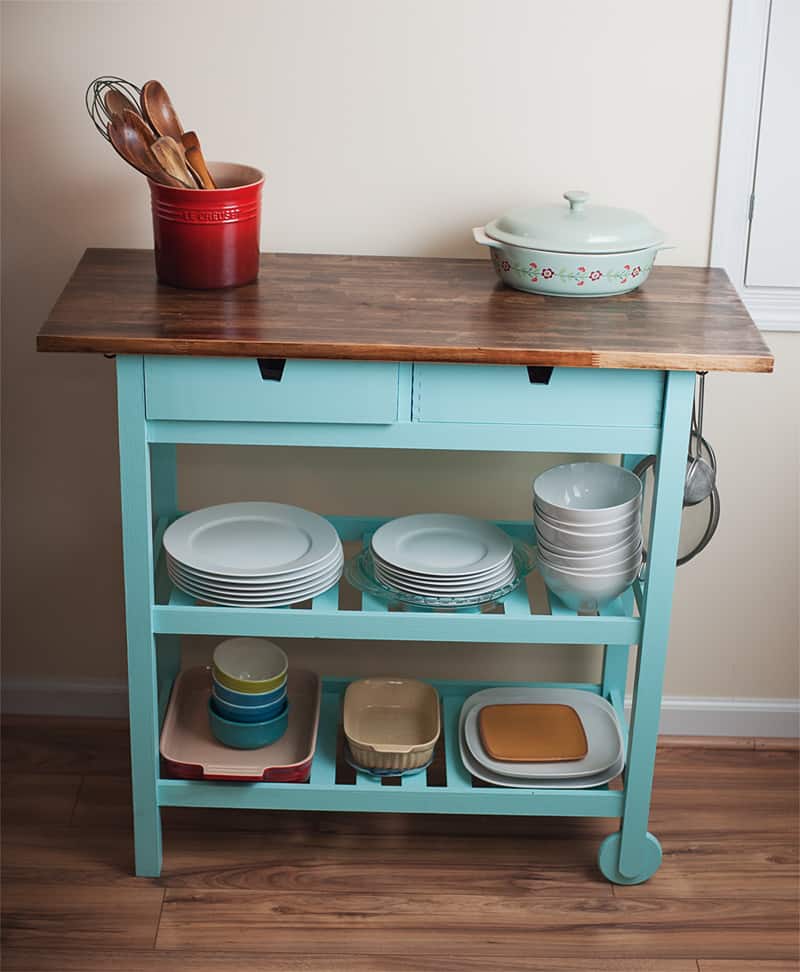 #2 Grundtal Rail IKEA Kitchen Hack
Fixing these rails under your kitchen units will give you the perfect space to store mugs, cups, spoons & anything else you can think of… (anything that makes getting a coffee quicker is a winner in my book). Open storage like this looks great but is also a great way to give your room a more spacious feel!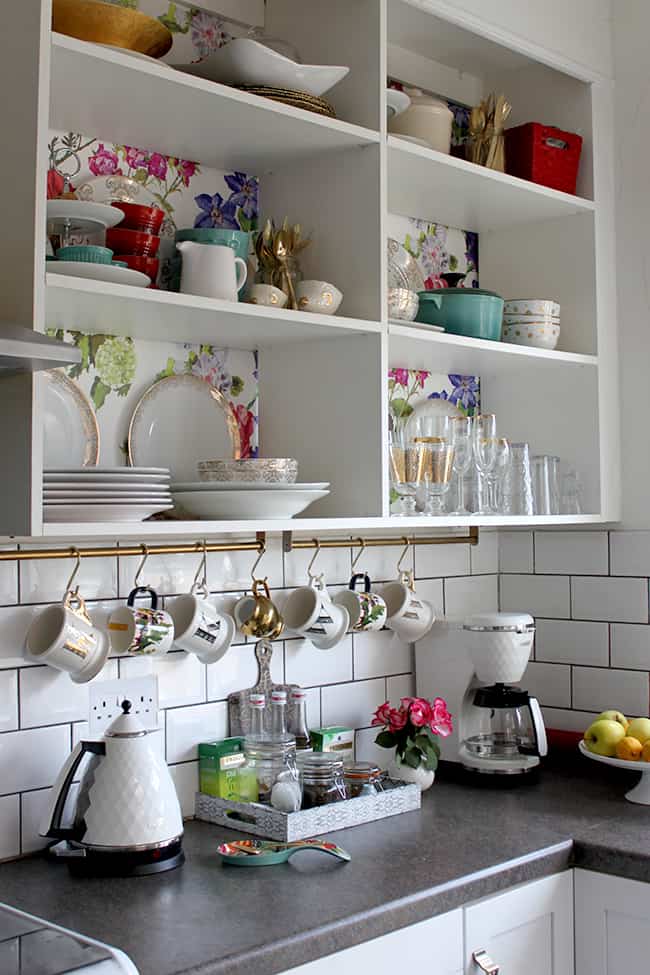 #3 Kitchen Stool Hack
When you have a small space, this little IKEA stool makes a great space-saving seat that you can push neatly under a table… perfect for when you need a extra seating for guests too!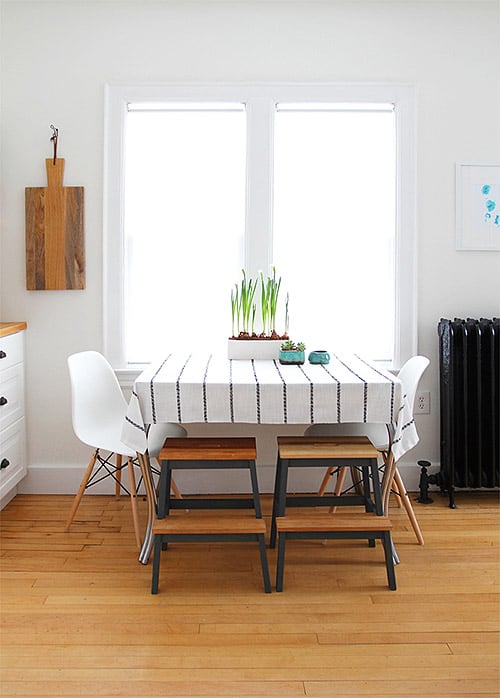 #4 Copper Barn Light IKEA Kitchen Hack
Lighting for the kitchen can be notoriously expensive but with this IKEA hack, you can have stunning lighting in your kitchen without spending a ton of money! Don't you just love how these copper lights compliment the wood floor & brick wall in this room perfectly? Swooon…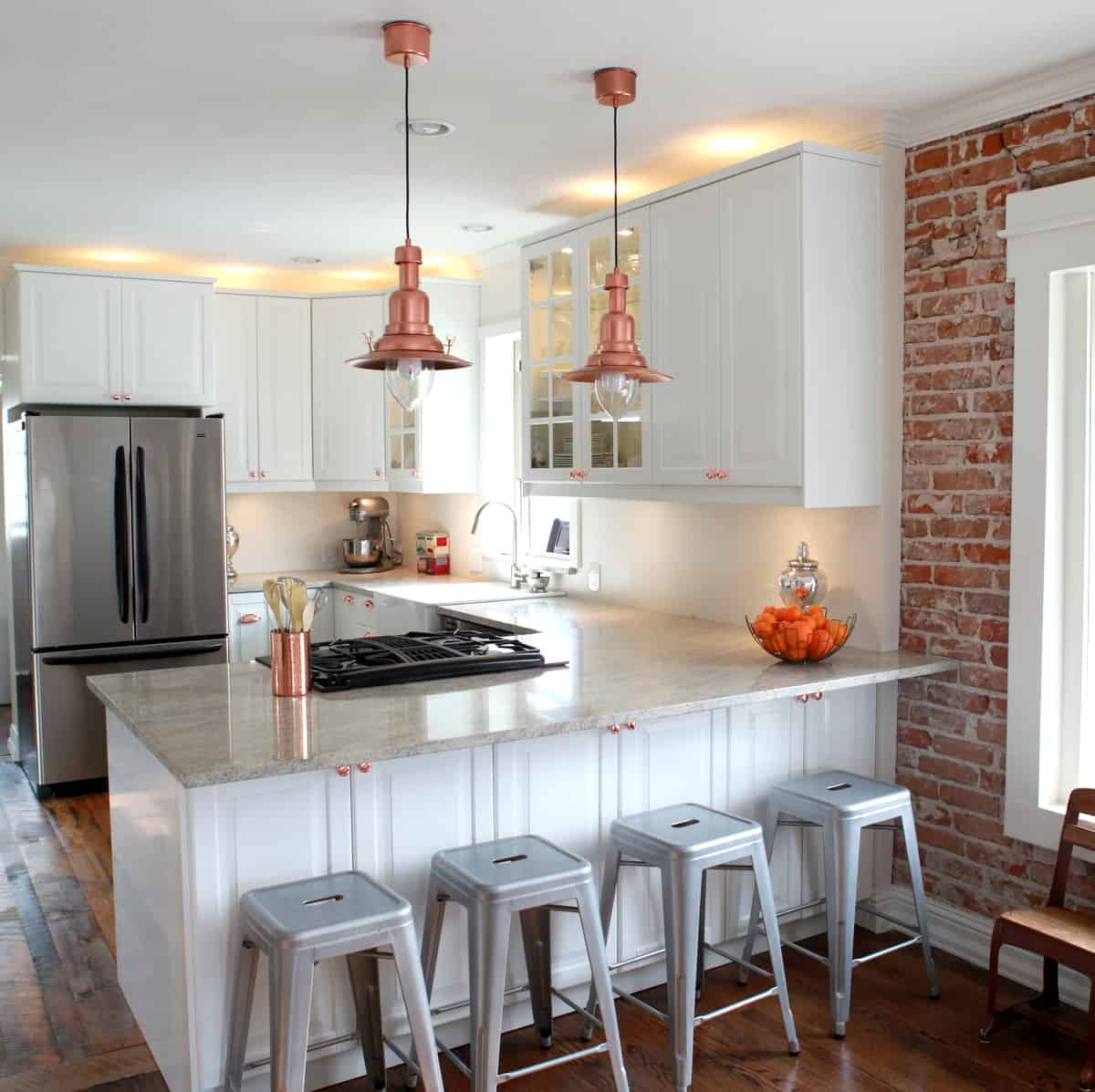 #5 IKEA Kallax Kitchen Island Hack
This Kallax hack is super cheap to achieve and looks absolutely STUNNING! If you have a small kitchen like me, you may have thought several times that it would be impossible to have a kitchen island… but this transportable island opens up a world of possibilities!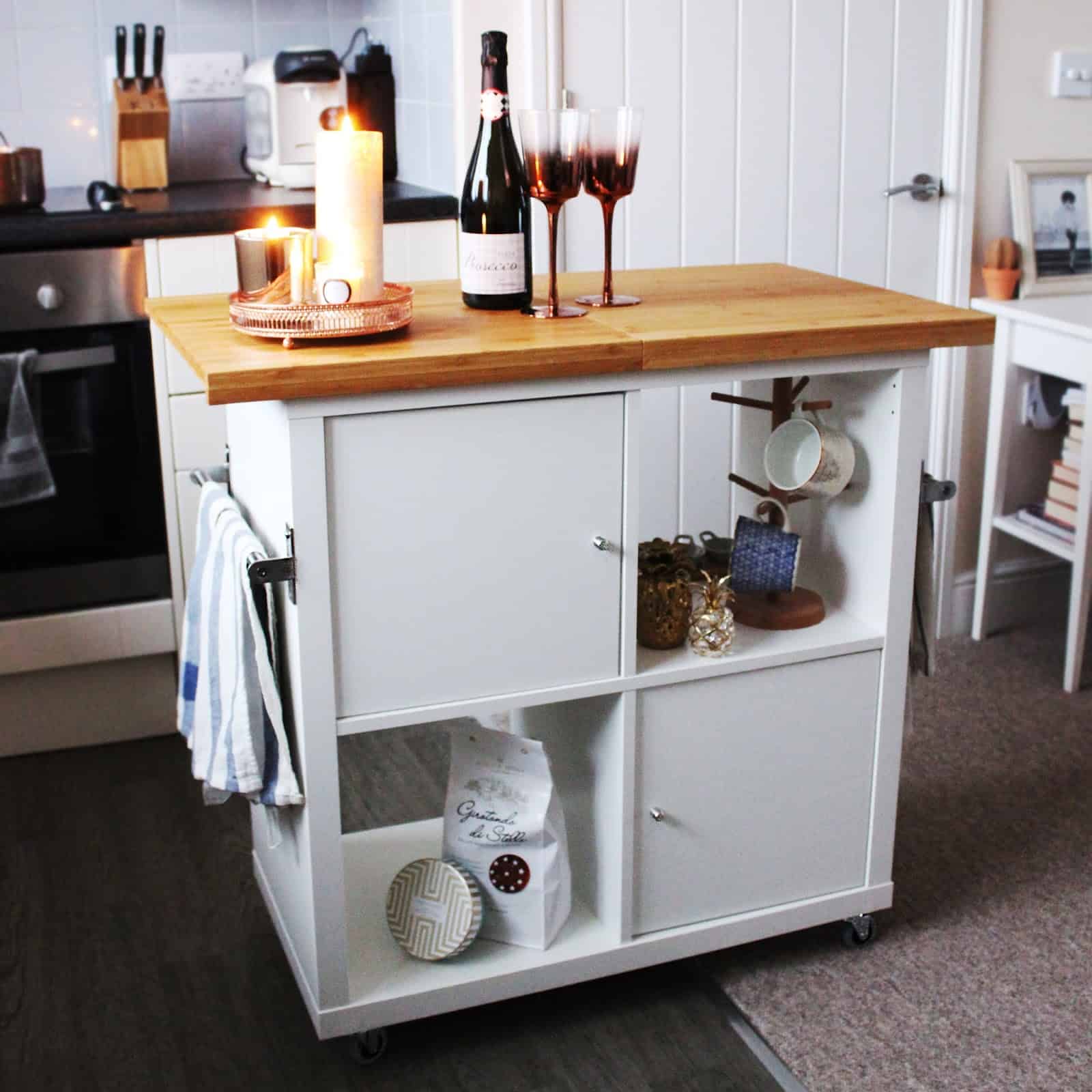 #6 DIY Rustic Chopping Board Hack
This simple IKEA hack takes a standard chopping board and 'pimps' it up into this charmingly rustic board that will look gorgeous displayed in any farmhouse style kitchen! IKEA Kitchen hacks do not get easier than this!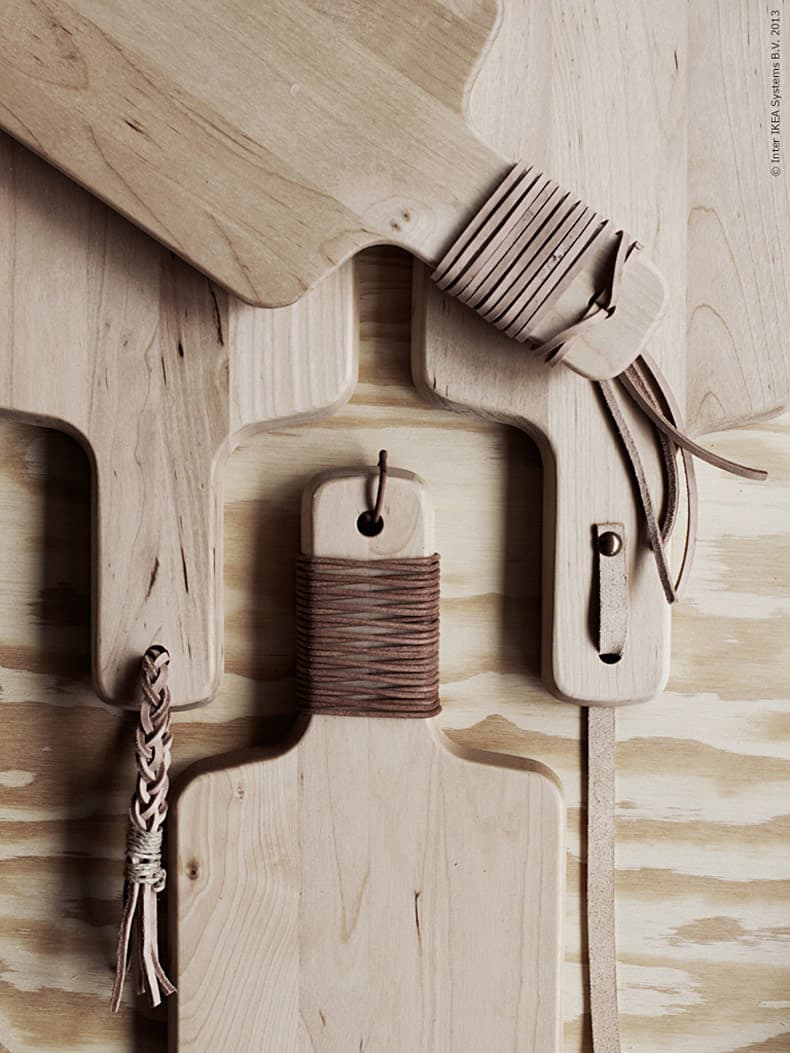 #7 DIY Open Shelving
Use some of these gorgeous, industrial style IKEA brackets to easily create some stunning & practical open shelving in your kitchen.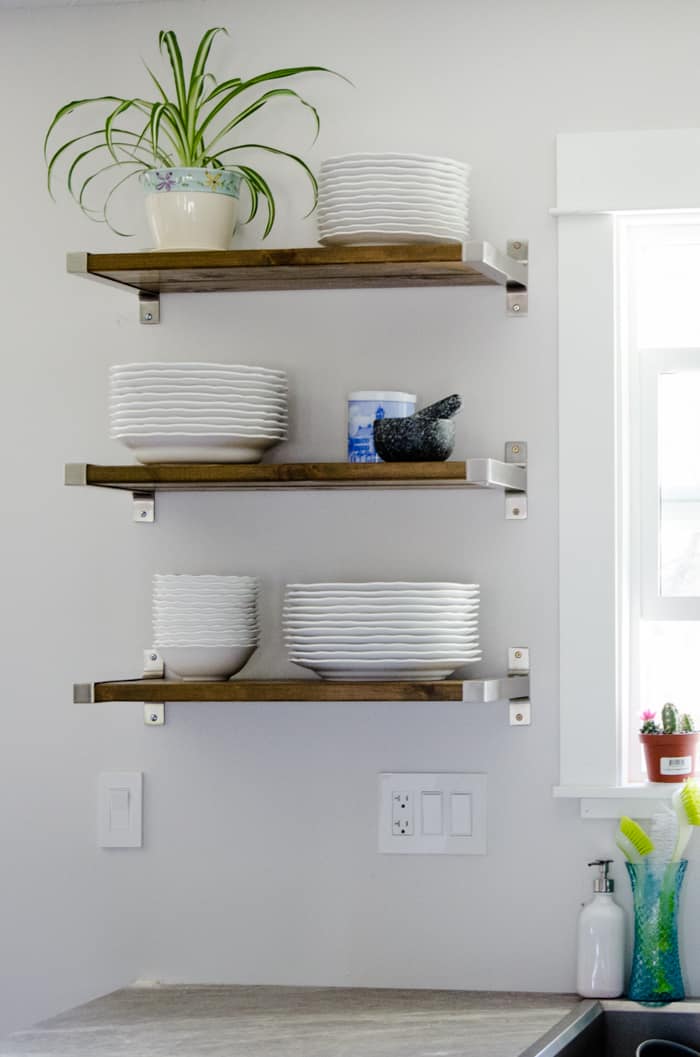 #8 DIY Rustic Wall Mounted Spice Rack
Rummaging through a drawer or cupboard looking for the correct spice bottle is no one's idea of fun! This hack makes an attractive, industrial style solution to keeping those herbs & spices neatly organized & close to hand! If you don't have an IKEA nearby, you can get some racks for this hack here.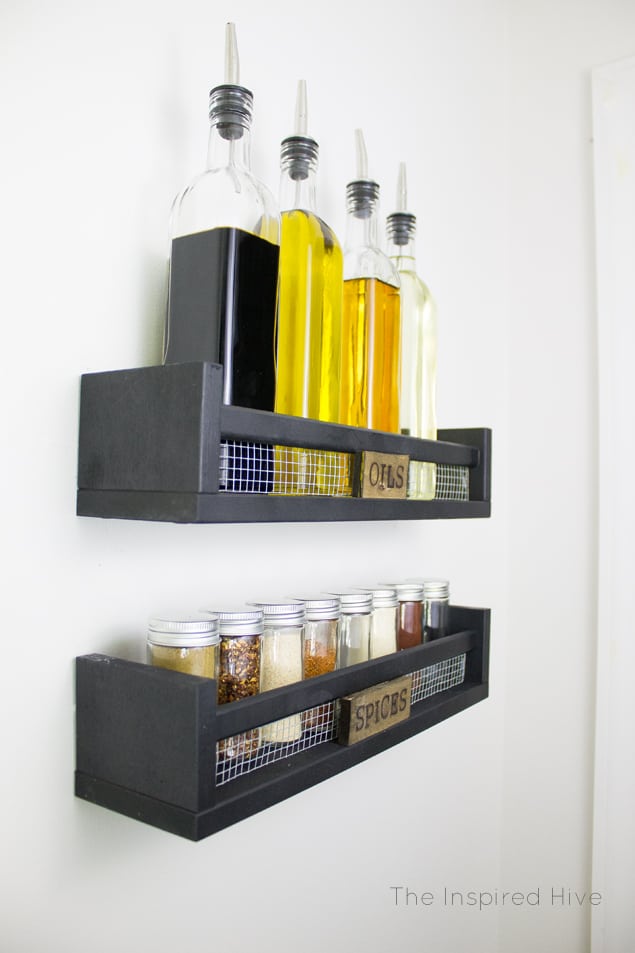 #9 DIY Burned IKEA Cork Trivets: Cheap & Easy IKEA Hack!
These little trivets are so practical and super easy to do! Check out the full tutorial to see how this blogger easily got the design so perfect! You can grab yourself a set of these trivets here.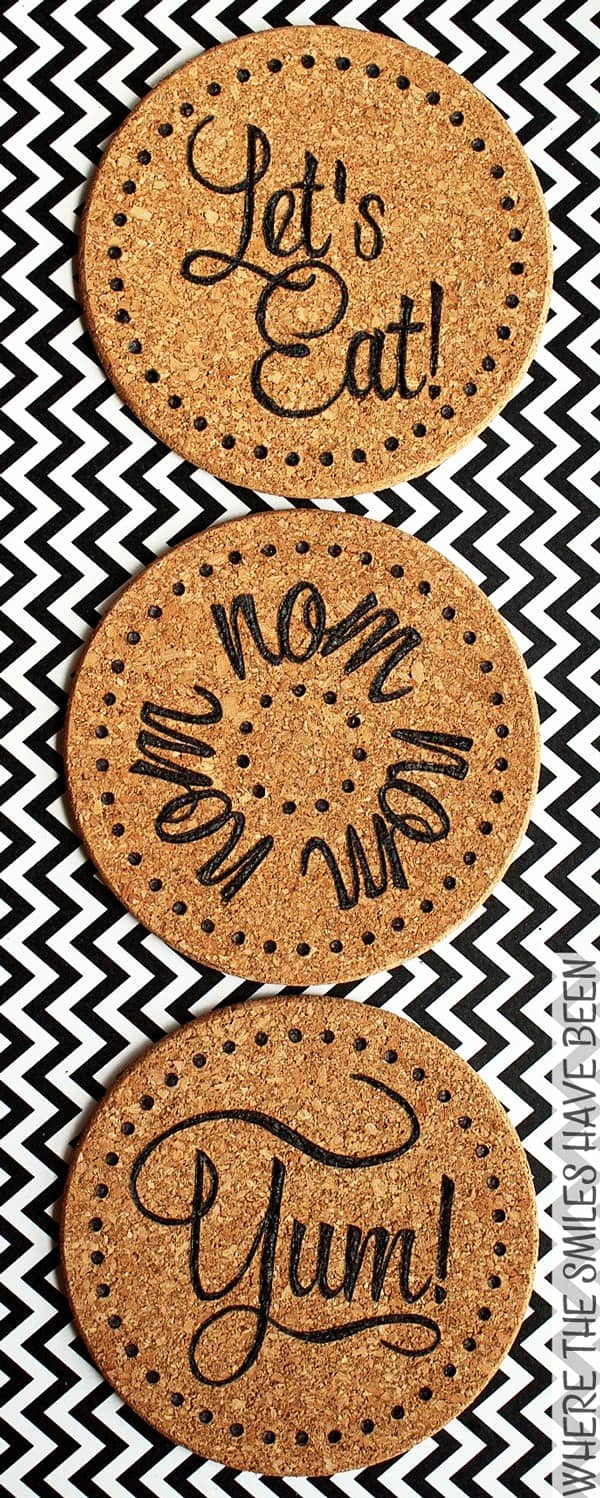 #10 Bookshelves Turned Kitchen Island IKEA Hack
The IKEA Billy Bookcase was used for this GENIUS hack… It was created as a room divider and uses an IKEA butcher block for the top surface!… I need to calm down!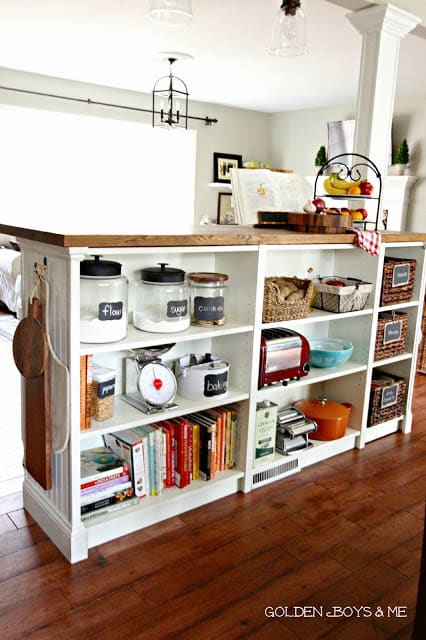 Before You Go...
There ya go guys, another set of fantastic IKEA hacks from more talented bloggers…
I hope these IKEA Kitchen hacks inspire you and give you the confidence to get creative and transform your kitchen on a budget too!
I'm so excited about my own kitchen redo… honestly, my kitchen is in DESPERATE need of a makeover!
Be sure to sign up below to keep track of the redo as it happens & gather some DIY tips for yourself in the process 🙂
Loved this post? Click here to Pin it for later!