If you are looking for the perfect Christmas holly decorations this holiday season, then look no further!
Whether you're looking for a stunning holly wreath for your front door, beautiful hanging decorations for your Christmas tree, or a holiday centerpiece for your table this festive season, we have it covered.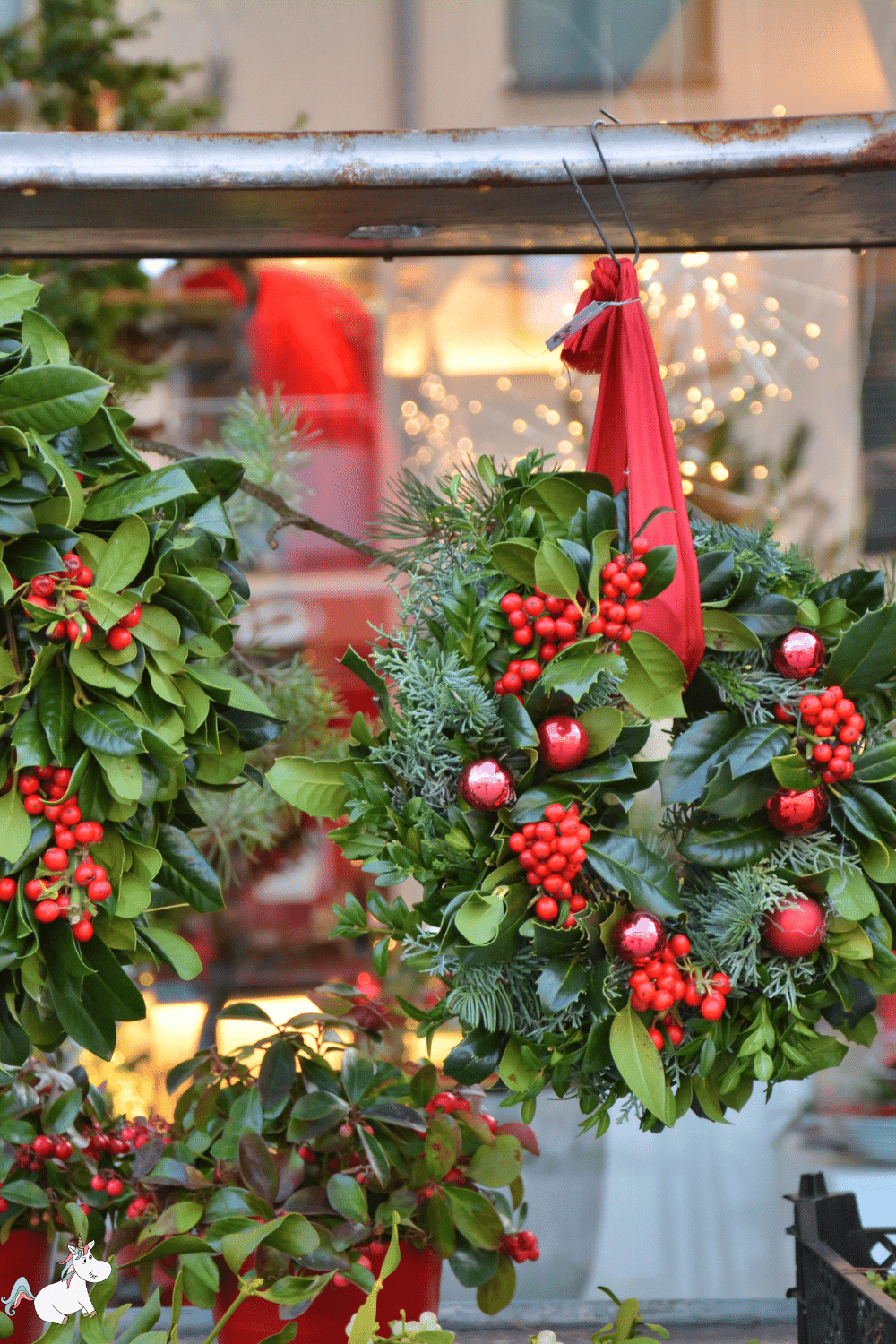 How To Use Holly Decorations In Your Home
Fresh holly can be used in so many different ways to create and add to your festive holiday decorations… although it can be a little prickly!
But don't worry!
We've picked out some amazing faux holly branches, bright red berries, and many more that you can use to effortlessly spread some extra holiday spirit around your home.
So, whether you're crafting your own holly decorations or looking for some that are ready to go… be sure to check out this ultimate list of 12 amazing holly decorations that you will just love!
P.S. Don't forget to Click Here to quickly save these beautiful Christmas holly decorations on Pinterest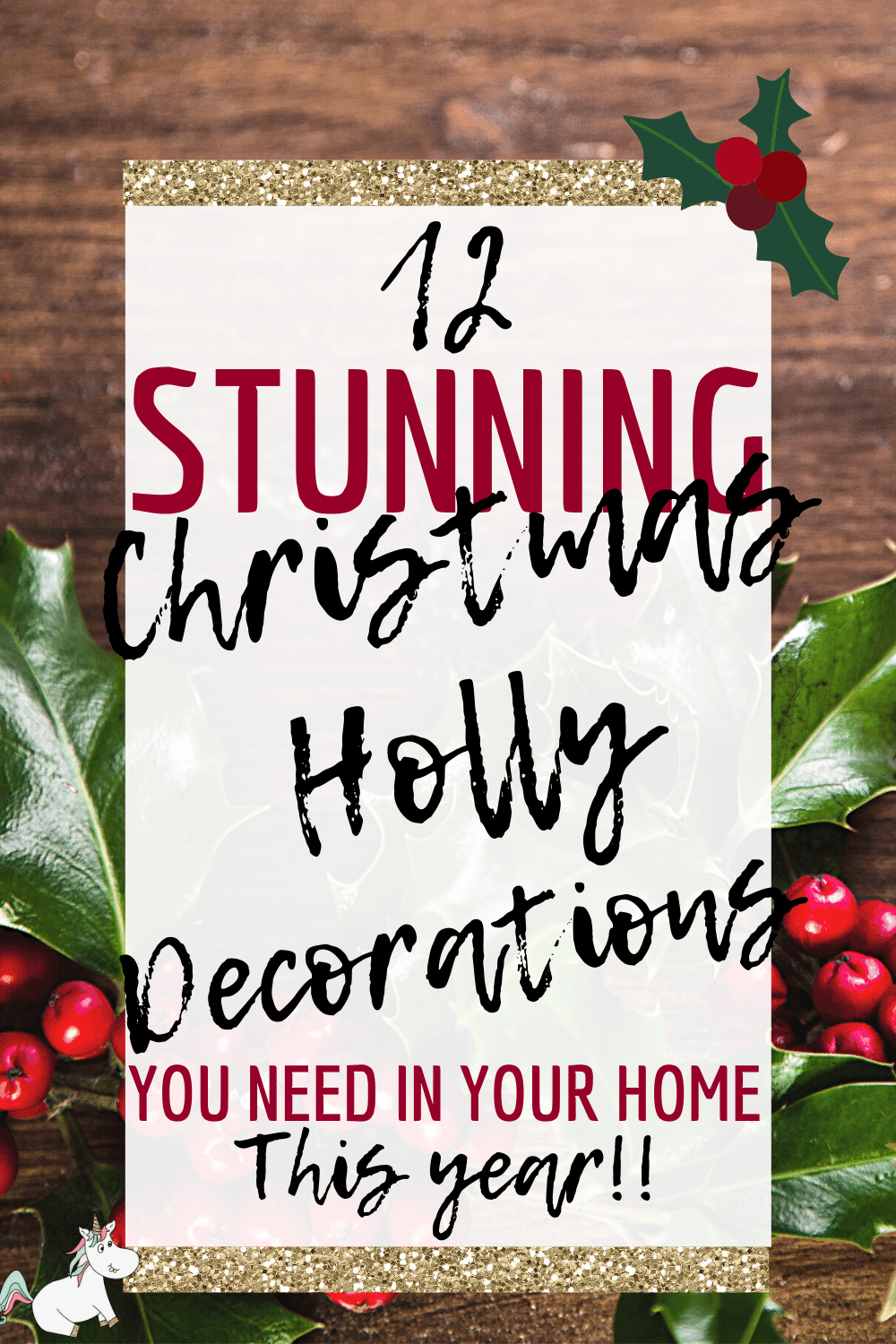 This post may contain affiliate links. See my full disclosure here for more info.
12 Best Christmas Holly Decorations For A Holly Jolly Home
1. Fresh Green Holly
The ultimate traditional holiday decoration, this is cut to order to ensure it is super fresh and ready for you to add to your holiday decor.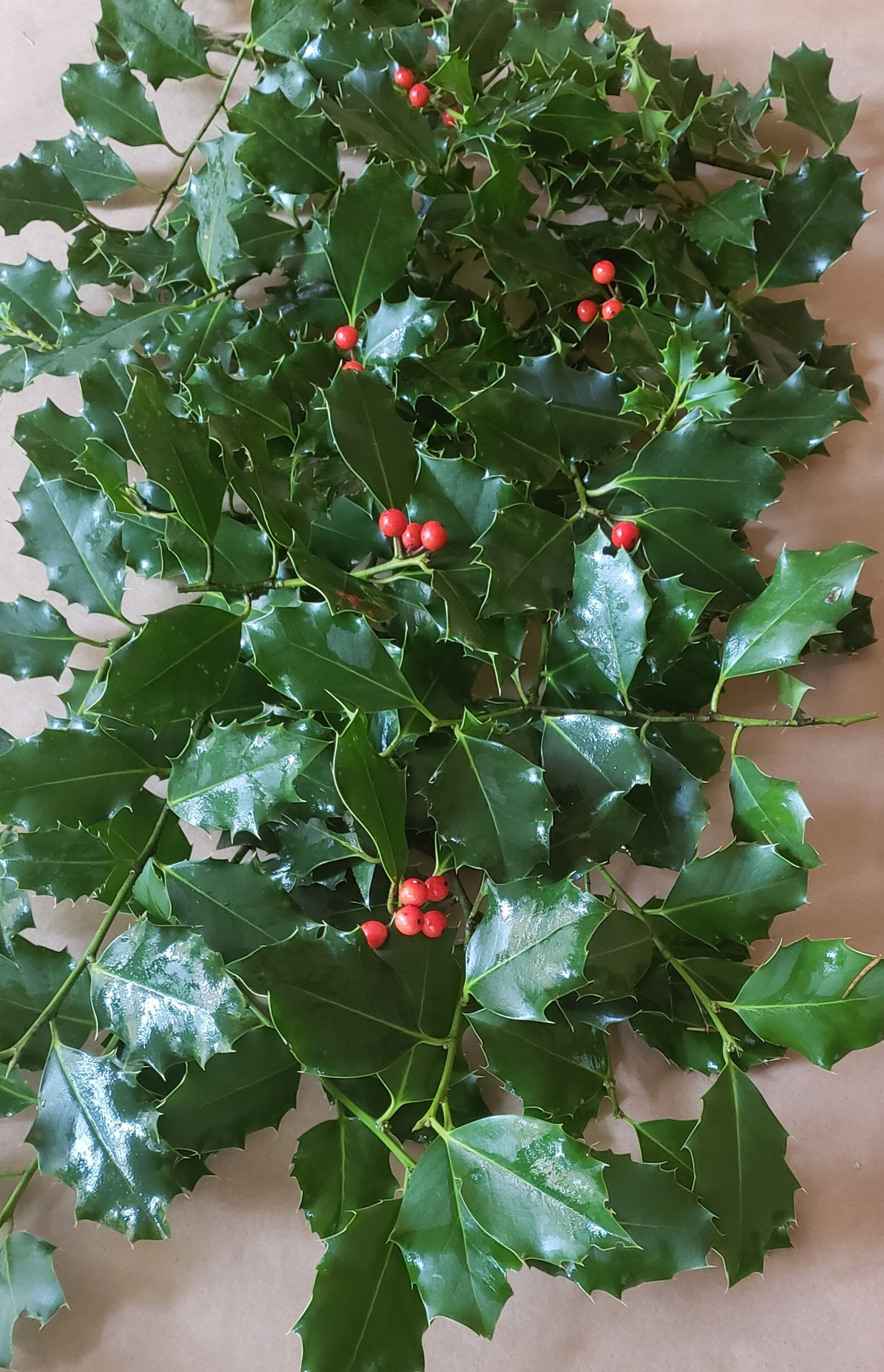 VIEW ON ETSY
2. Artificial Christmas Holly With Berries
This is perfect for creating a holiday centerpiece to wow your guests this holiday season!
Or as a stunning addition to Christmas wreaths or garlands. As a bonus, you can use it year after year too!
VIEW ON AMAZON
3. Red Berry Garland Decoration
This red berry garland will be an awesome addition to any fireplace or mantel.
With its realistic foliage, you can create a cozy, traditional look ready for Santa to visit this Christmas eve!
This would also look great as a table runner or a banister holly decoration for your staircase!
VIEW ON ETSY
4. Artificial Holly Berries and Leaves
This beautifully versatile holly decoration can be used in all manner of different ways, your imagination is the only limit!
These can be made into a festive garland, or used singly to decorate your table, Christmas tree, gifts, or anything you like!
They come with both red berries and gold ones, and also include a string of warm white lights for that extra sparkle this holiday season!
VIEW ON AMAZON
5. Red Holly Berries With Wire Stems
These bright red berries would make the perfect addition to any wreath or garland!
The glossy finish will make them stand out against some deep green foliage and would make a showstopping holiday centerpiece in a vase for your table.
VIEW ON ETSY
6. Felt Holly Garland
You will love this felt garland! Give your holiday decorations a handmade feel this Christmas, it comes pre-made with no DIY required for a hassle-free Christmas!
VIEW ON AMAZON
7. Christmas Holly Sun Catcher Hanging Decoration
Looking for something a little different, but still with the traditional holly look? You will adore this stained glass ornament!
It has shiny silver edges and vibrant colors to catch your eye. It comes with a clear fishing line attached for easy hanging on your tree or your window to catch the light.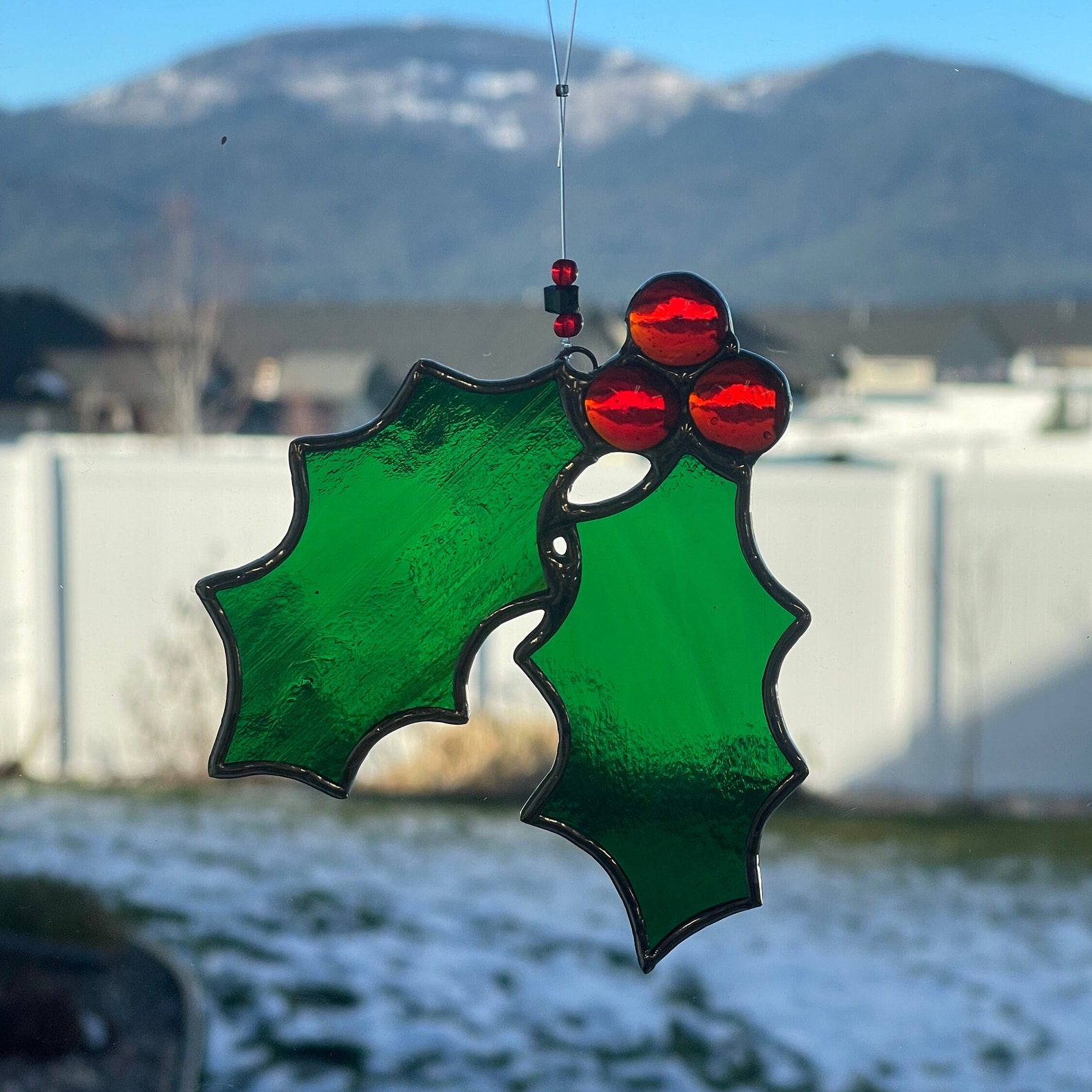 VIEW ON ETSY
8. Holly Leaf Felt Tree Ornament
Super cute! Just look at the adorable smile on this ornament for your Christmas tree!
This is bound to bring some extra festive cheer and holiday spirit to anyone who sees it.
Handmade with felt and a lovely ribbon for hanging, this is one holly decoration you definitely need!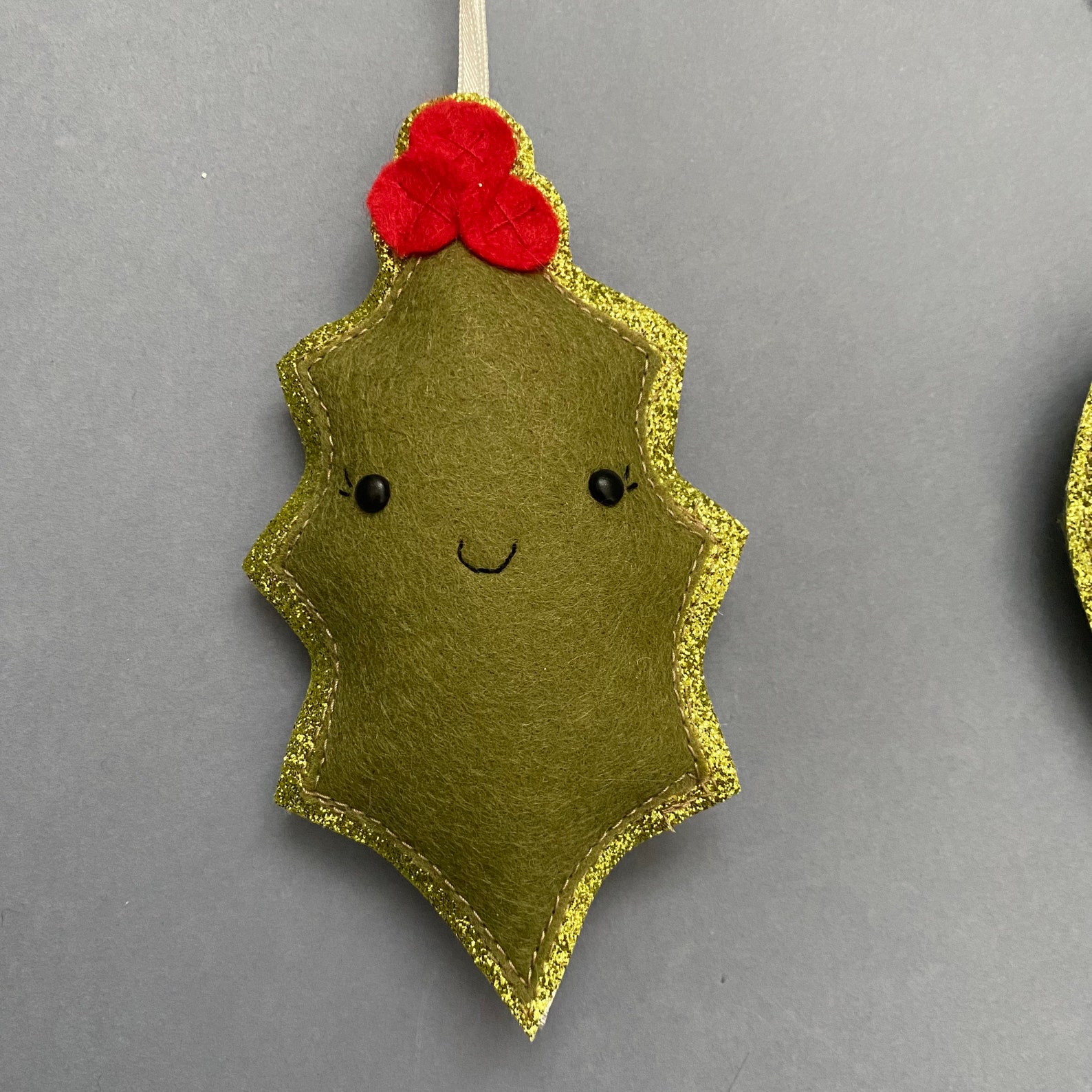 VIEW ON ETSY
9. Holly Leaf Tinsel
This tinsel with added holly leaves and berries will add a touch of luxury to your Christmas tree!
Made of foil for the ultimate sparkle, it has a snow-tipped look that compliments the holly berries beautifully!
Perfect for small trees, big trees, picture frames, or mantels, this tinsel is a must-have for holly-themed decorations this time of year.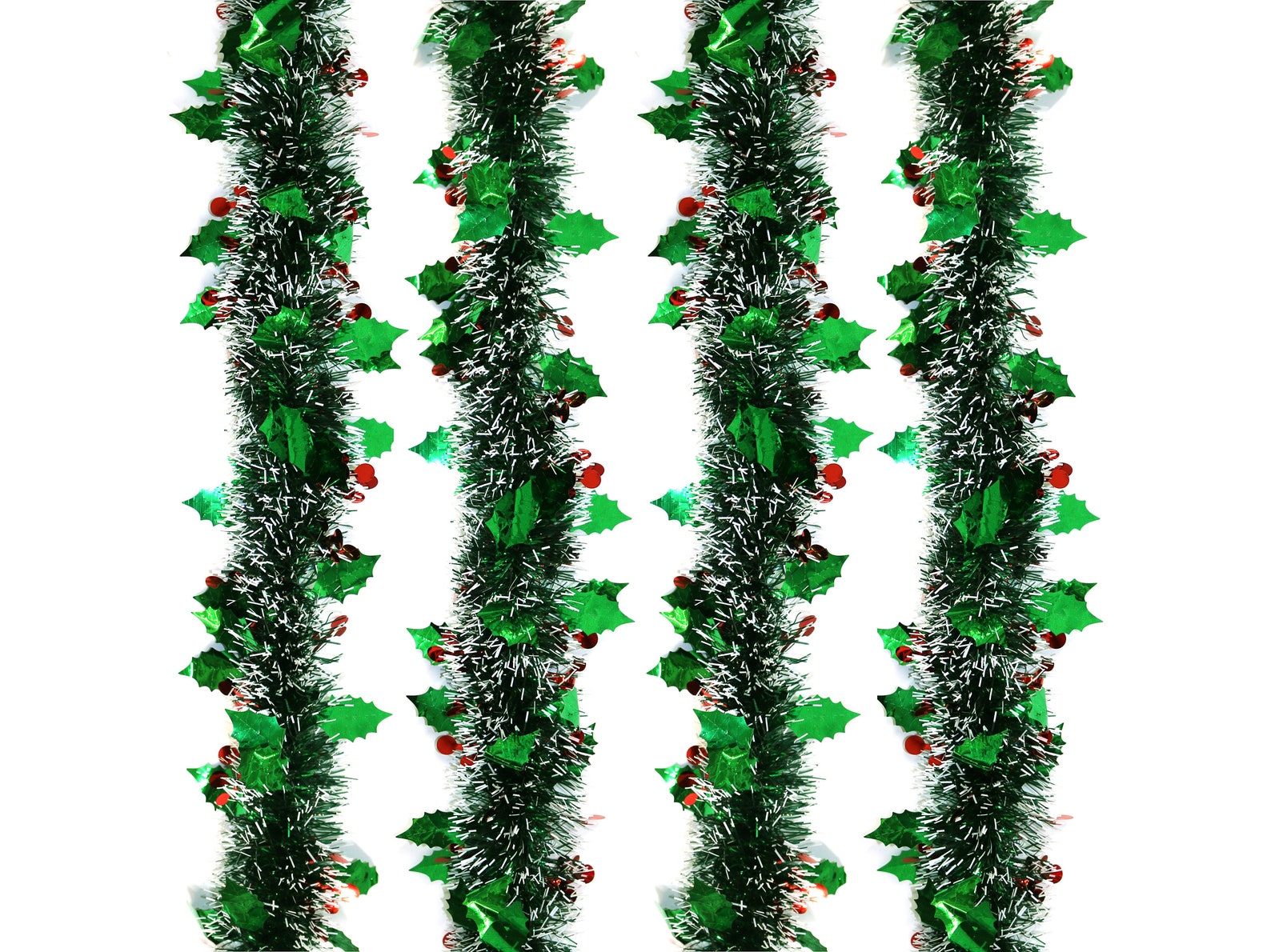 VIEW ON ETSY
10. Christmas Holly Glass Decorations
Are you planning a Christmas party? Have friends or family over this holiday season?
Make everyone's drinks look beautiful, and avoid confusion with these super helpful holly glass decorations.
Simple yet classy, they even have a space for you to write your guests' names on, so everyone knows they have the right drink!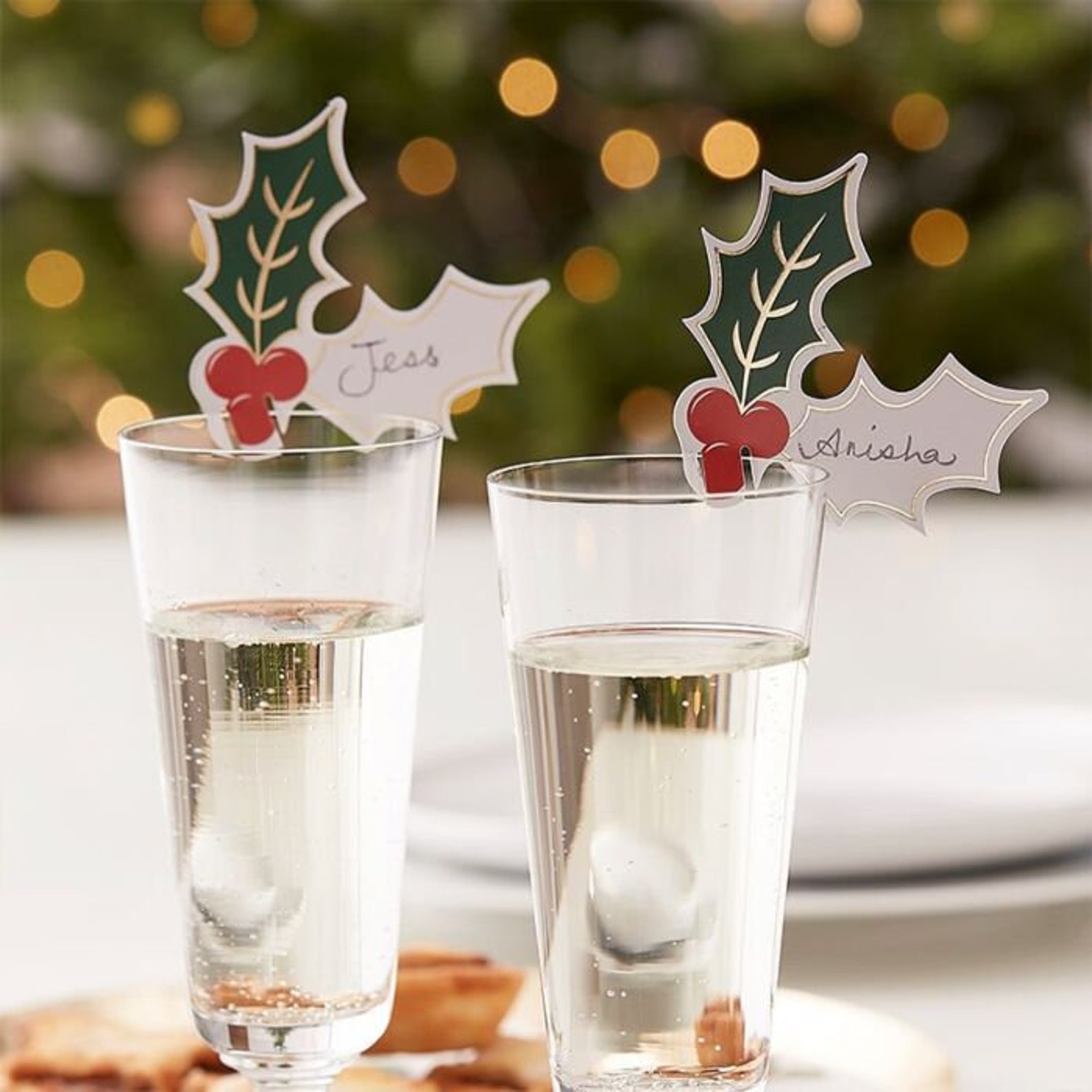 VIEW ON ETSY
11. Crochet Holly Garland
This super cute holly decoration will look beautiful wherever you decide to hang it!
Crochet items are always stylish and fashionable, so you will love this festive garland.
Even better, if you are searching for something that is a specific length, this can also be made to order in your required size!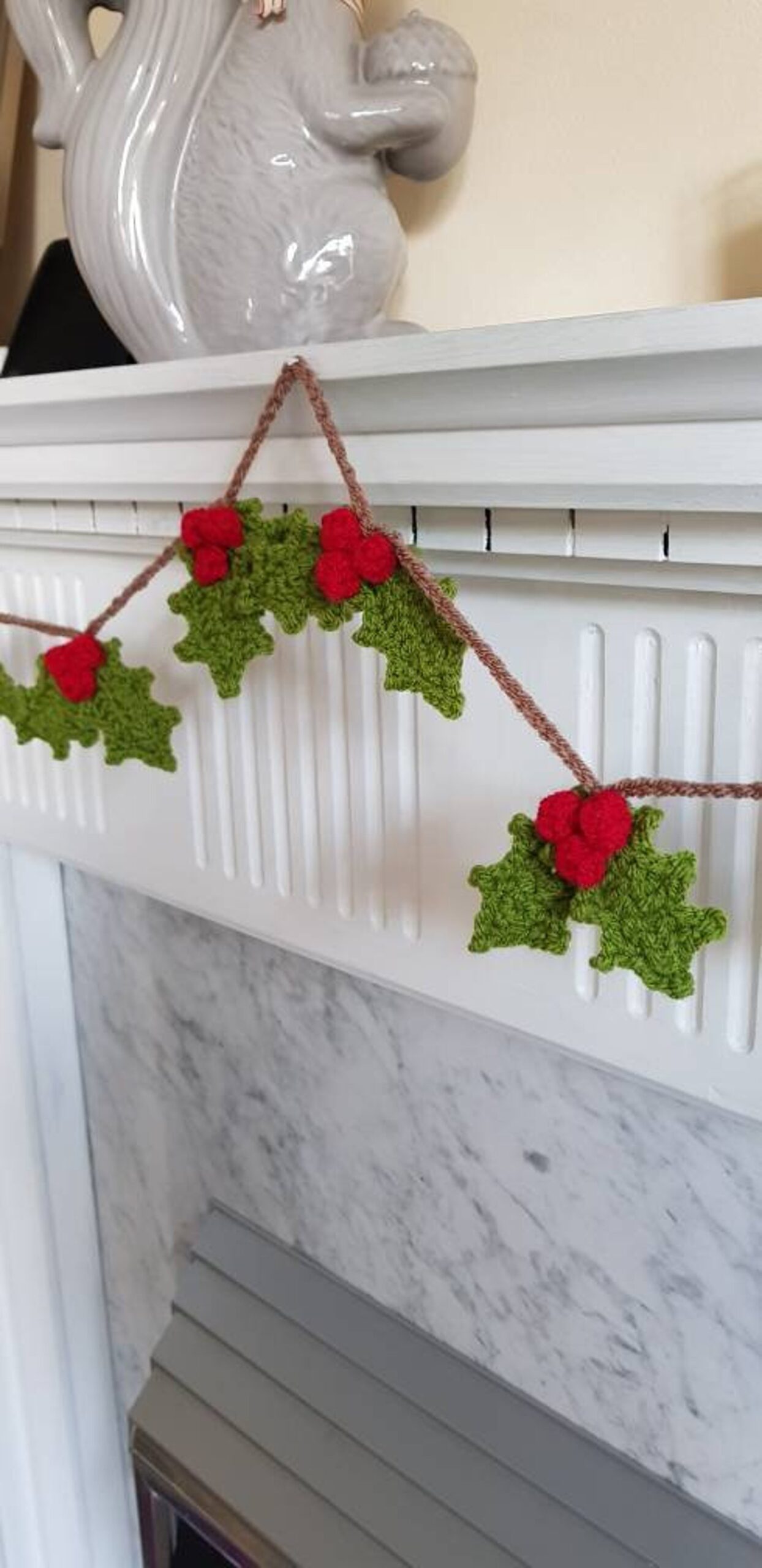 VIEW ON ETSY
12. Christmas Wreath With Holly and Berries
This beautiful luxury wreath will really add a touch of class to your front door.
The leaves and berries look super realistic, and the thick foliage with pine cones are sure to make your home look warm and welcoming this Christmas season!
You can hang it up straight away, or how about adding some red bows for some added color?
However you choose, this really is a beautiful Christmas wreath!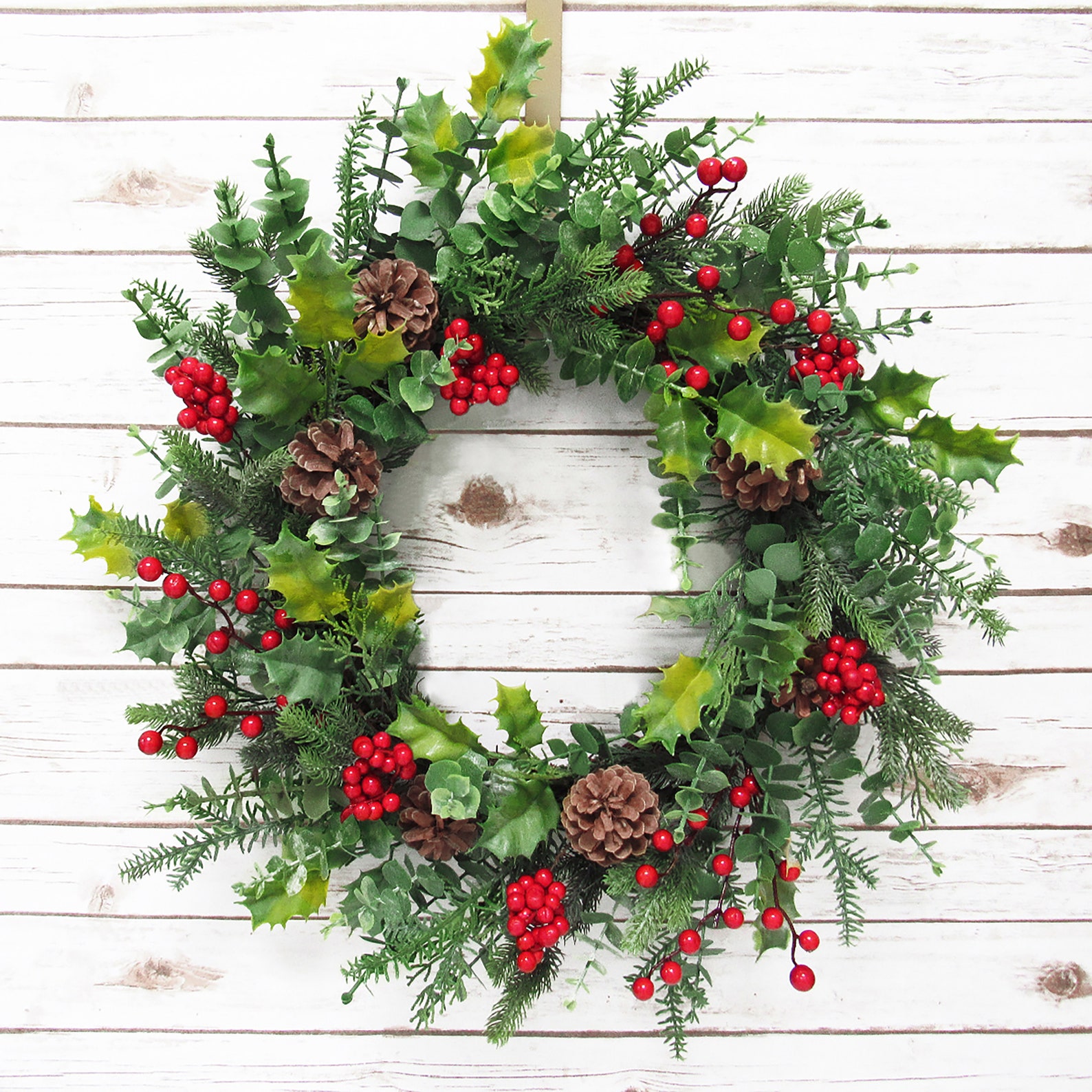 VIEW ON ETSY