Christmas is the perfect time to get crafty AND an even better time to sell your crafts for some extra Christmas cash!
People love buying handmade items at Christmas because they love unique over the shop bought items that everyone else has!
Plus, it's thanks to platforms like Etsy and local events such as school fetes or bazaars (which are held during December) that you can be sure of selling out quickly.
How To Know Which Christmas Ornaments to make and sell for profit
Fortunately, there's no limit to what Christmas crafts are good to make and sell!
You just need to make sure there's a good market for what you want to do.
Here's how…
Firstly, take a look at the shops around town – they don't put things out in their store without doing research first.
So can you take one of those popular shop items and re-design it?
Can you make it even better than it was before?
Secondly, check on Etsy to see which Christmas-related products have been getting rave reviews lately as well before making any decisions yourself.
Homemade Christmas Decorations To Sell
But before you do that, stick around here for now because this post is jam-packed full of easy Christmas ornaments to make and sell…
And not just any random crafts… only crafts that have proven to be extremely popular time and time again!
(Yep, I do my research so you don't have to)
So from mini cinnamon Christmas trees to DIY pasta garlands (that look way better than anything you can buy at the store)
You'll be sure to find the perfect Christmas ornament to make and sell on this list.
---
Recommended for you:
49+ More Easy Crafts To Make & Sell In 2019
122+ Stunning DIY Christmas Ideas You Can Make On a Budget
---
So, if you're looking for a new side hustle this holiday season, look no further because I've got your back!
Here are the 24 easiest Christmas ornaments to make and sell that will have you ringing in the holidays with success (and cash!).
So shall we jump right in?
P.S. Before you get started, be sure to click here to quickly & easily save these awesome handmade Christmas ornaments to your fave Pinterest board…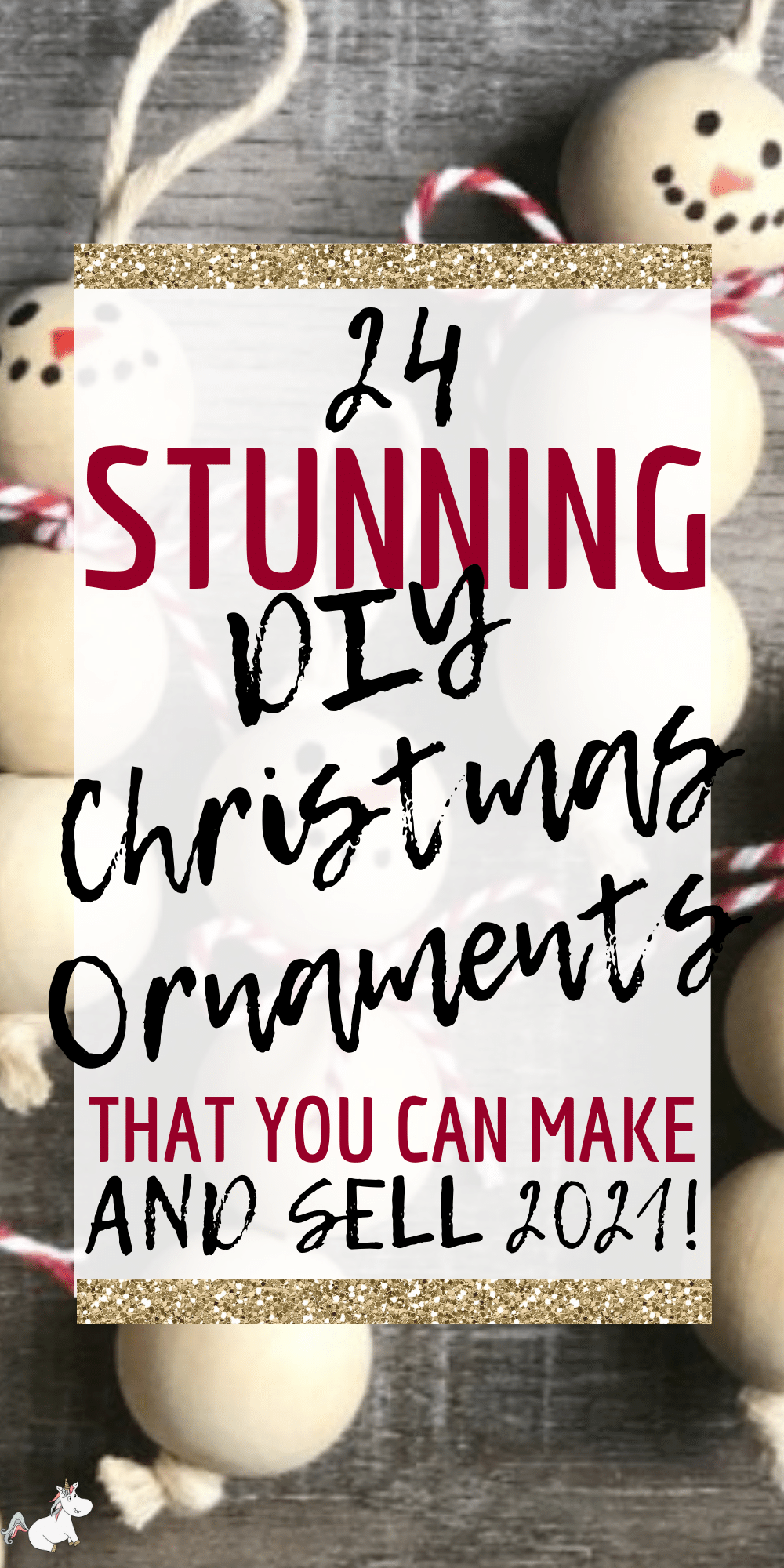 This post may contain affiliate links. See my full disclosure here for more info.
24 Easy Christmas Ornaments

To Make And Sell
#1

Felt Embroidered Christmas Ornaments
How adorable are these felt embroidered Christmas ornaments?
We've found a pattern you can use here on Etsy too!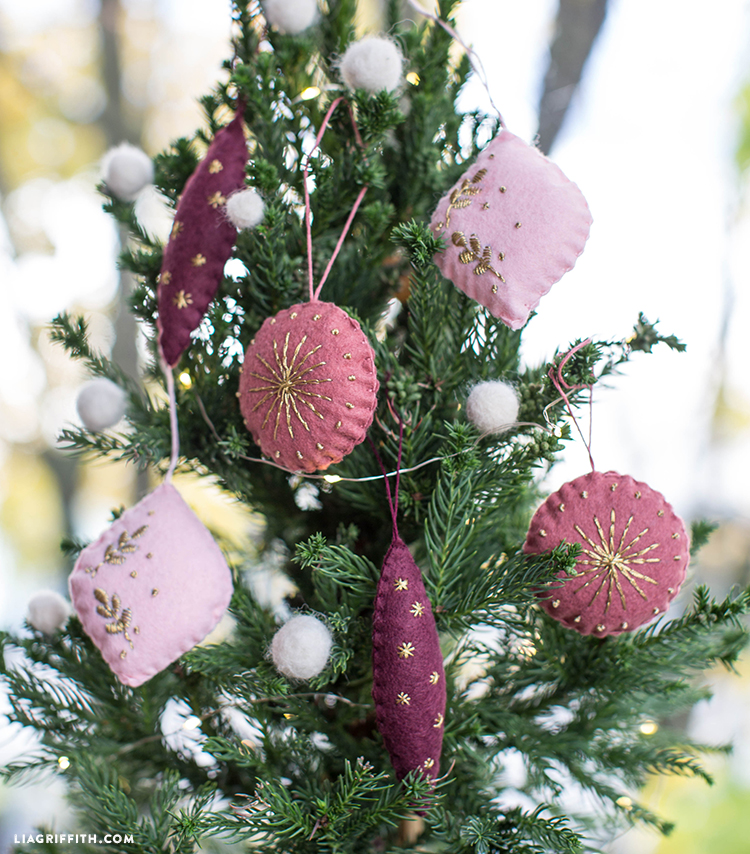 #2

Clay Dog Bone Decorations
People love celebrating their furry friends at Christmas and what better way than to hang a personalized pet decoration on the tree.
You can use air-drying clay, a bone-shaped cutter, and some letter stamps to make these adorable ornaments!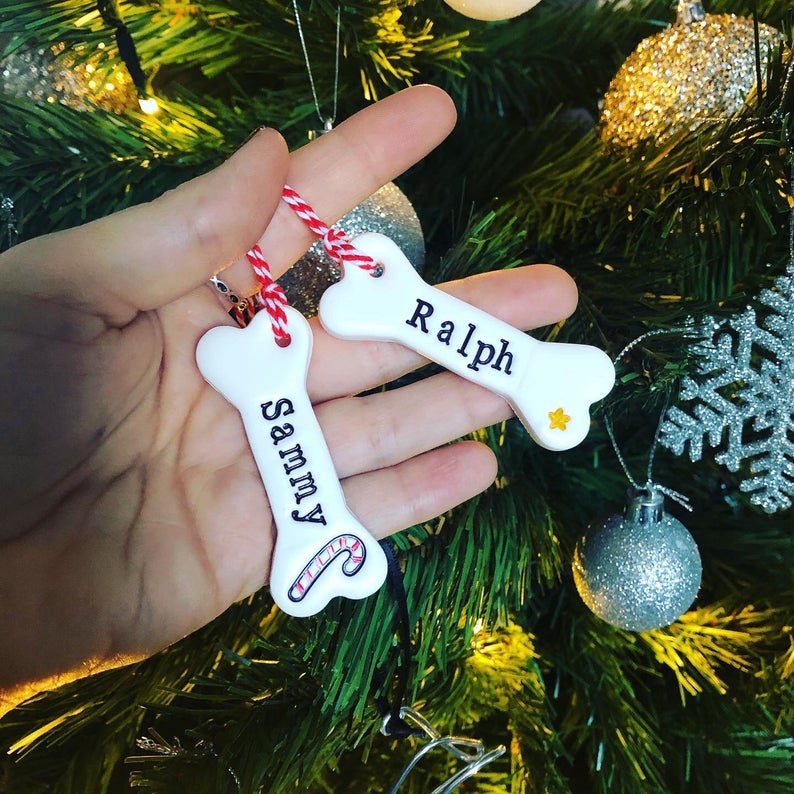 #3

Stunning Christmas Bell Ornaments
These DIY Christmas bells are understatedly beautiful and super easy to make!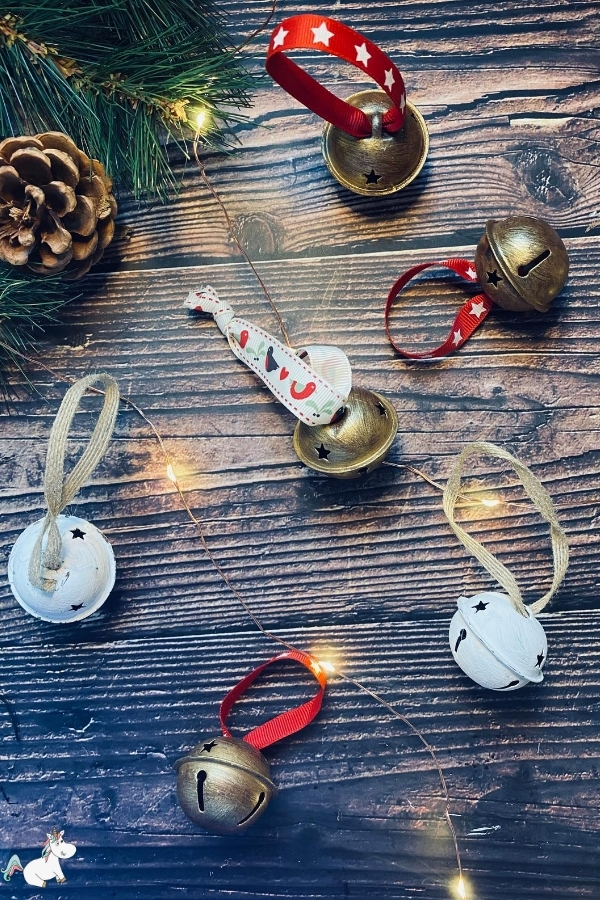 #4

Peanut Christmas Garland
Using items usually found laying around the house at Christmas time… like Peanuts and string similar to this, this cute garland is a joy to create and promises to raise a smile!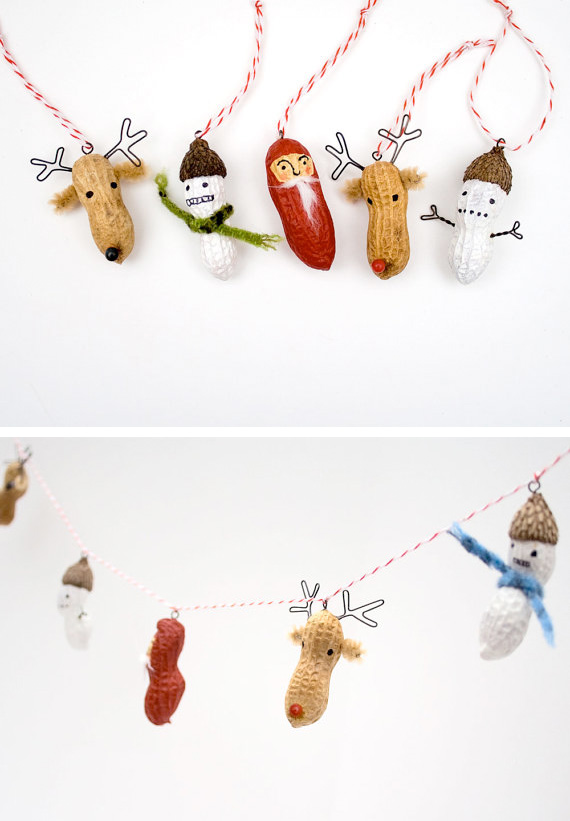 #5

Cinnamon & Apple Sauce Christmas Ornaments
Whether you're making crafts to sell or to give away as special gifts…
Christmas is the perfect time to get into the kitchen and put your own personal touch to your crafts!
This cinnamon and apple garland is made using 3 simple ingredients which ensure this idea is super cheap, but one people will truly love.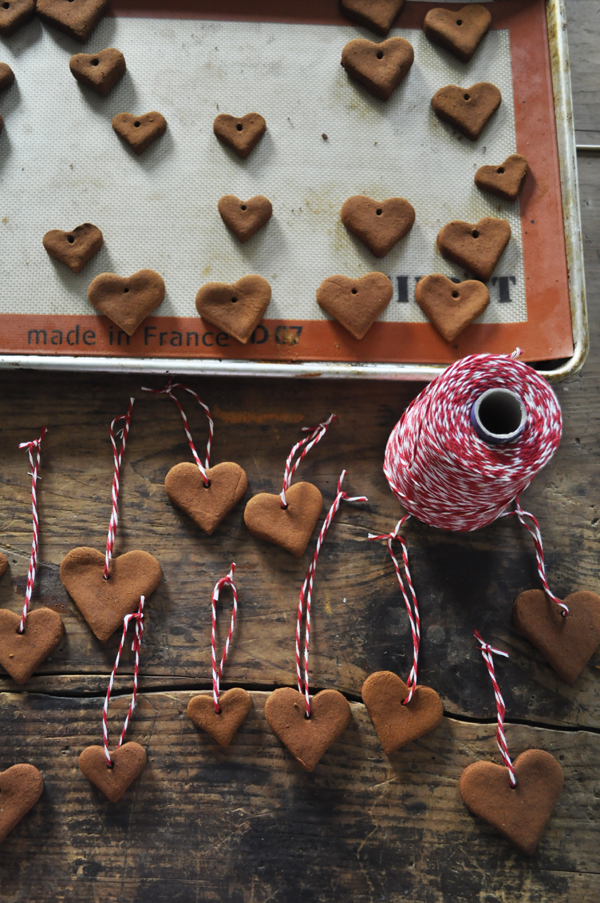 #6

DIY Plastic Spoon Christmas Tree
This plastic spoon tree is a really popular idea that's perfect for a Christmas craft to make and sell… it's so good you'll want to keep it for yourself!
The effect can be achieved with some metallic spray paint and plastic spoons…. easy!!
TIP: You can also create this Christmas ornament in a variety of different sizes and colors too.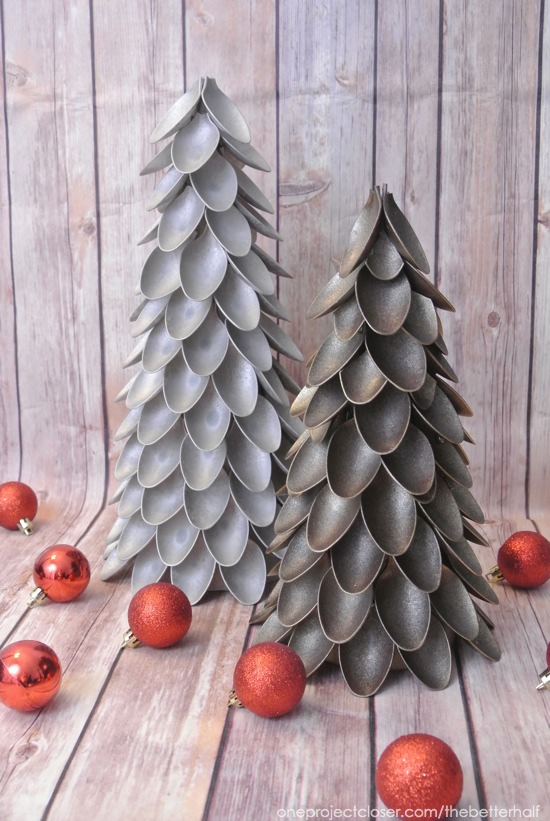 #7

DIY Gold Glitter Pasta Garland
This stunning pasta garland is one of the easiest Christmas ornaments you can make and sell…
The materials are super easy to source and likely sitting in your house already… If you need to get some string for this craft then you can grab the perfect string right here.
TIP: Using different colors of glitter can give a great alternative effect!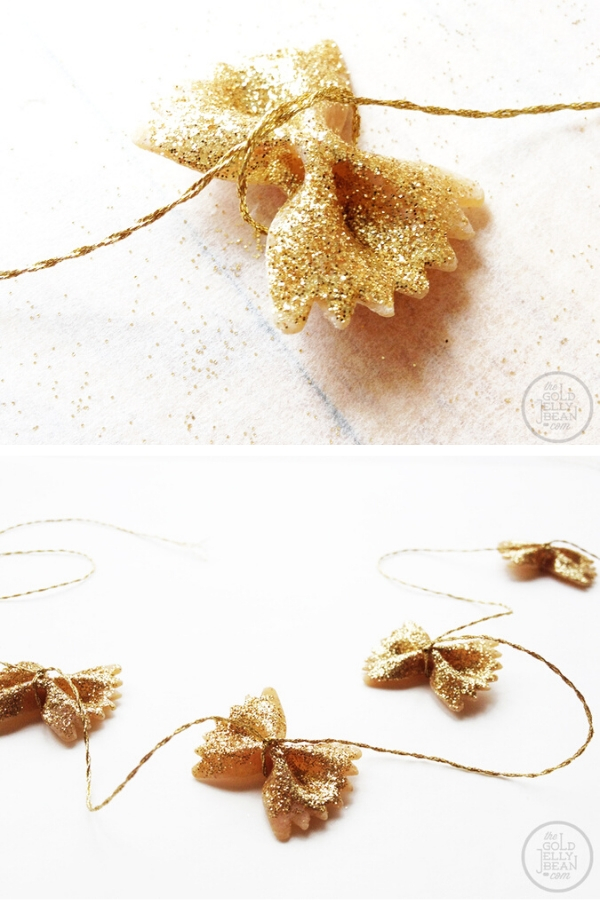 #8

Winter Woodland Sign
Let Santa know that you're ready for the snow with this beautifully rustic wooden sign that you can either make for yourself or (if you bear to let it go) to sell!
Pallet wood and leftover timber offcuts will make a great cheap base for your sign… meaning you can make more profit!
You can also use some dark wood stain to give this a really rich finish!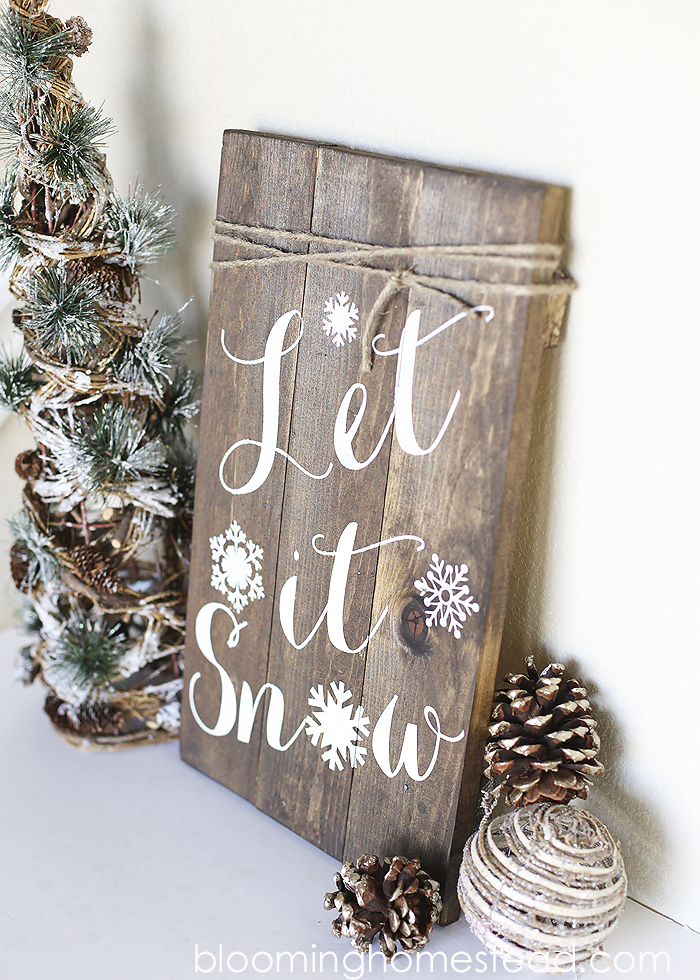 #9

DIY Christmas Twig Tree
This year people are really loving alternative Christmas trees and the popularity of twig trees is on the up!
You can jump on the trend by making your own stunning twig tree to sell.
And of course, add some beautiful festive lighting to take your tree to the next level!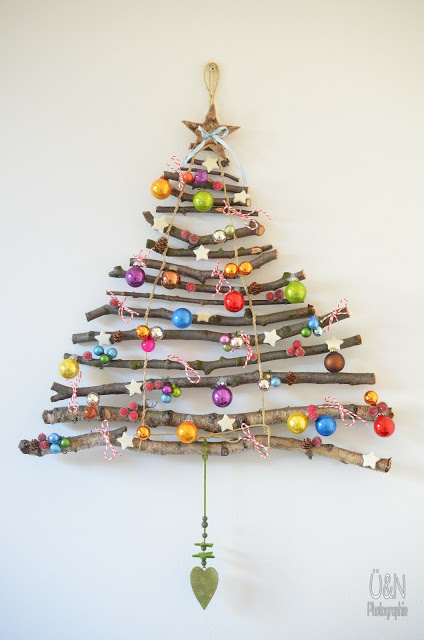 #10

Easy Paper Ice Cream Cone Ornaments
These easy paper ice creams are a real hit with many people and one of those crafts that the whole family can help you with…
In fact, the simple ideas are often the most effective, right?
Grab yourself some colored tissue paper right here.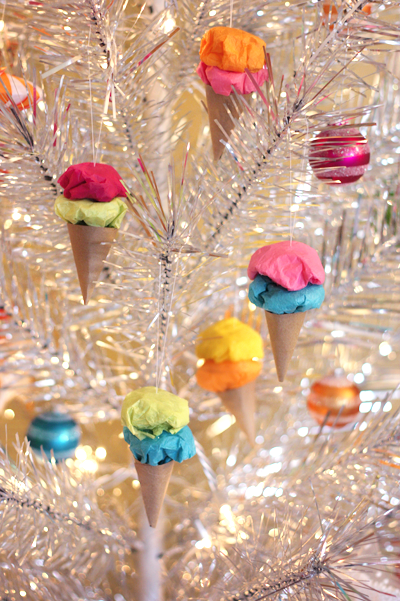 #11

Cinnamon Stick Tree Ornaments
Is it even Christmas if you don't have some beautifully scented cinnamon decorations like these stunning mini trees in your home?
Nope…
These cinnamon trees are so popular which means they're the perfect Christmas ornaments to make and sell this year and you can even give them away as gifts…
Just don't forget to make some for yourself too!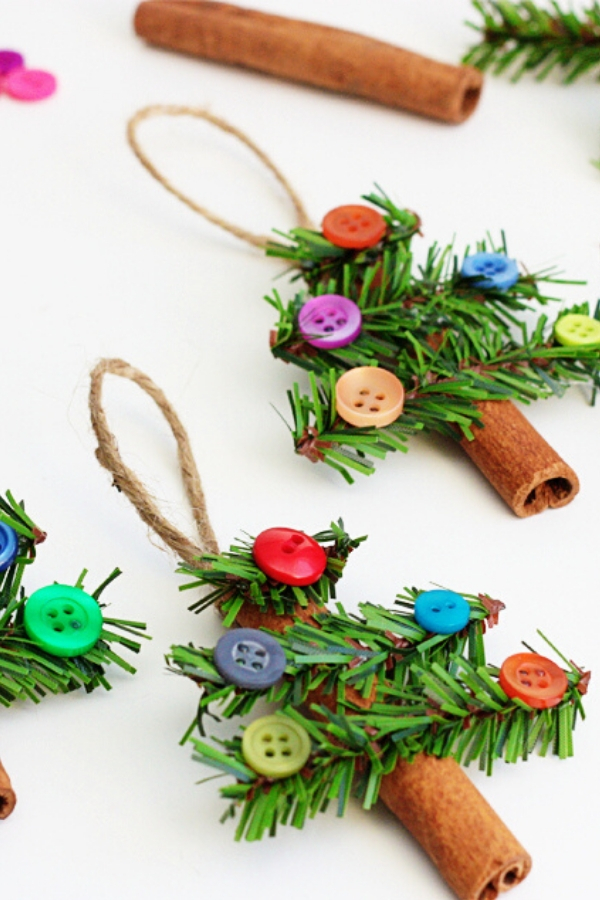 #12

Cinnamon Stick Candle Ornaments
This beautiful cinnamon stick candle ornament can be created using simple materials and is super easy to make too!
Candles are an extremely popular Christmas gift idea which makes this the perfect Christmas craft to make and sell at your local craft fayre or Christmas bazaar!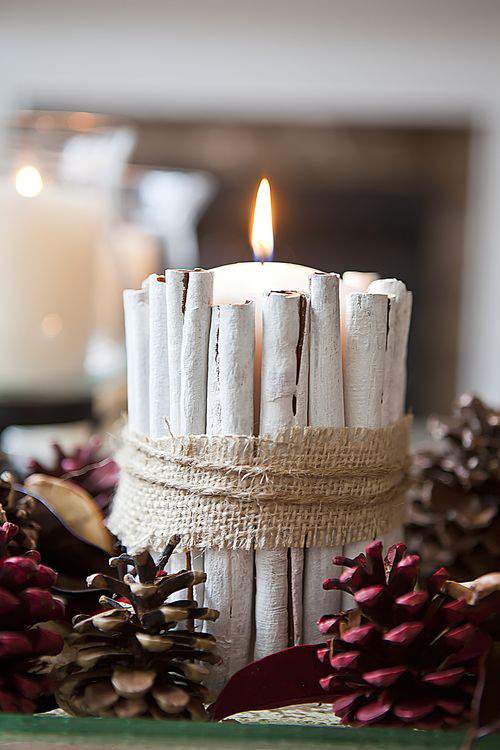 #13

Wine Cork Christmas Tree Ornaments
When I say Christmas…
You say wine…
And what better excuse to get the celebrations started early than these cute cork Christmas trees…
They're cheap and easy to make and people won't be able to resist how adorable they are… now if that's not a good enough reason to crack open the wine, then what is?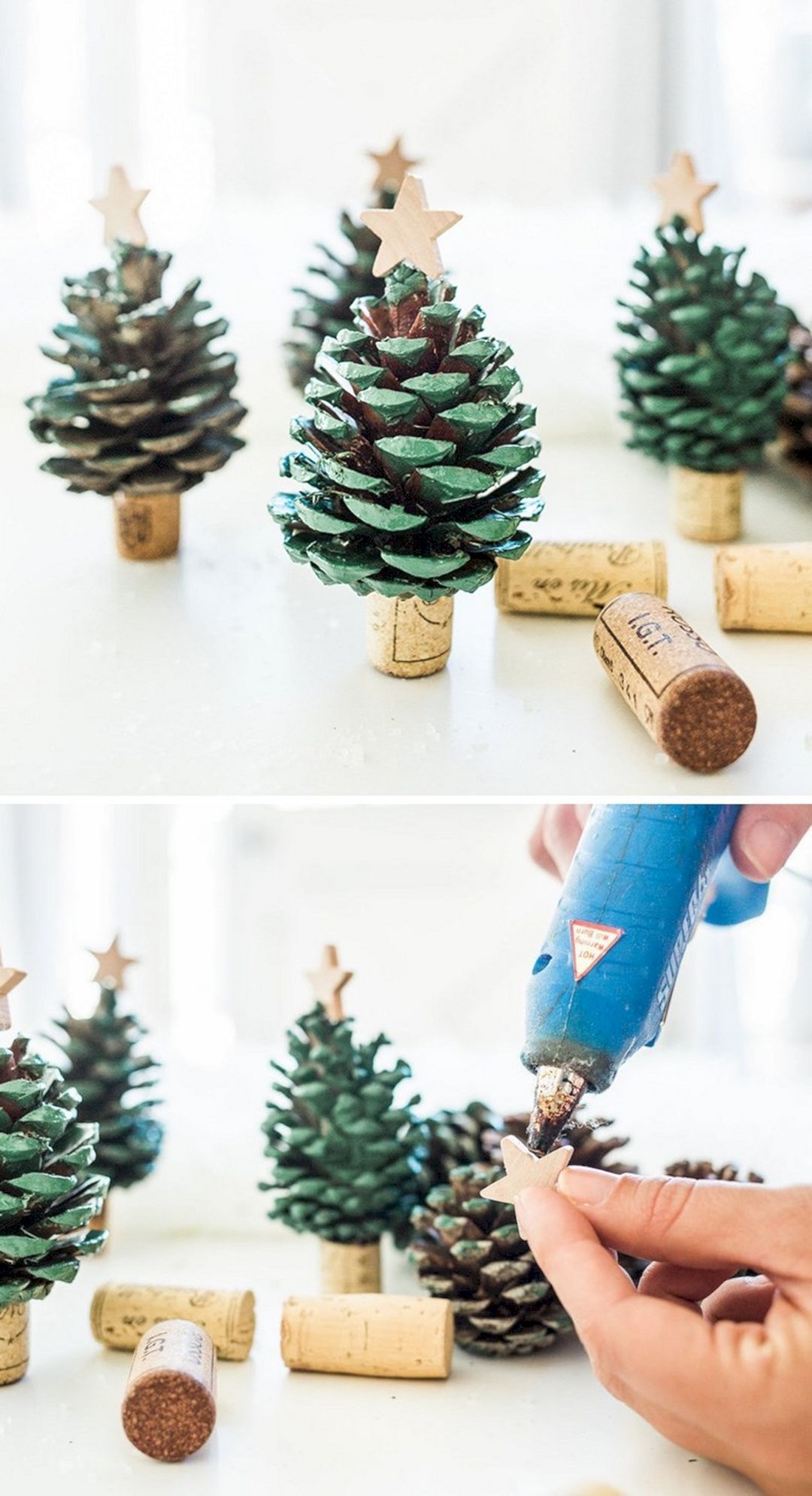 [thrive_leads id='8182′]
#14

Christmas Tree Cones
I couldn't find the source for these Christmas trees but Oh My… they were too stunning and too popular to leave off this list of easy Christmas ornaments to make and sell!
TIP: You can line the paper cone with plastic wrap before you start spreading the glue to ensure easy removal of the paper form.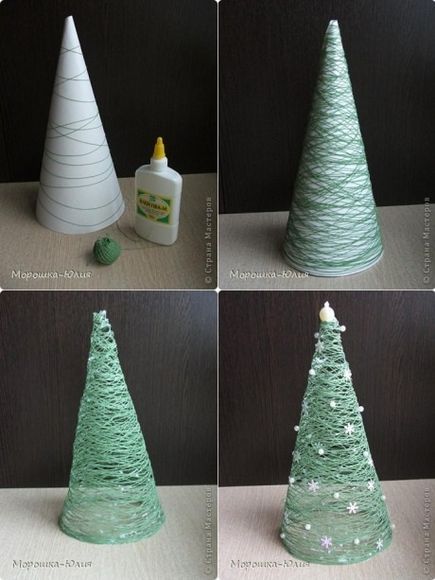 #15

DIY Thumbtack Ornament
This beautiful DIY Christmas ornament will look absolutely stunning under the lights of the Christmas tree!
And is a super easy craft that would be a hit at your local craft fayre, Christmas bazaar or even on Etsy…
TIP: You could even use silver thumbtacks to give people more options when they buy from you.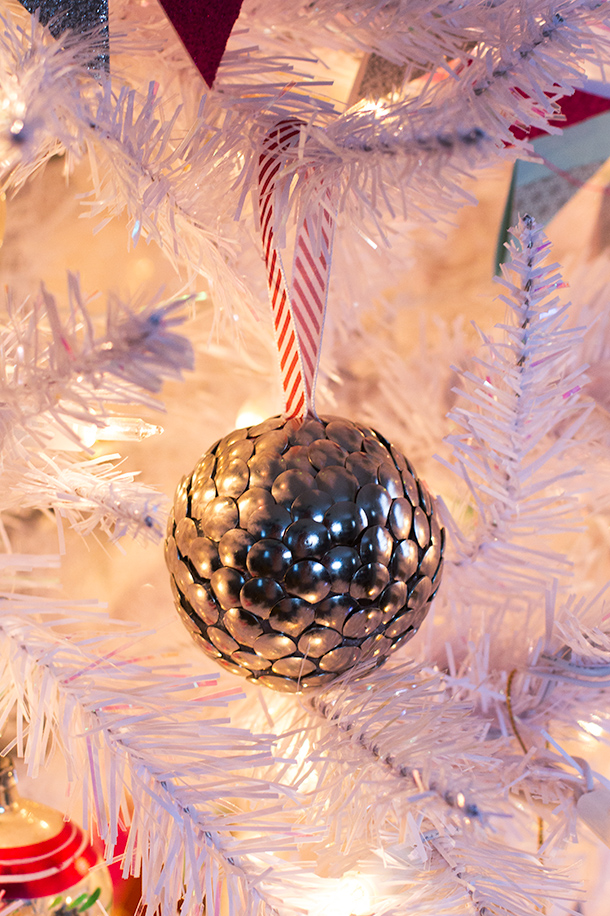 #16

DIY Mason Jar Votives
Who can resist these festive mason jar votives?
I know I cant… and your customers won't be able to either!
You can create them really easily using chalk paint and mason jars.
Linda, who created this Christmas DIY, has also created a downloadable tree stencil for you to use for this craft… check her tutorial here.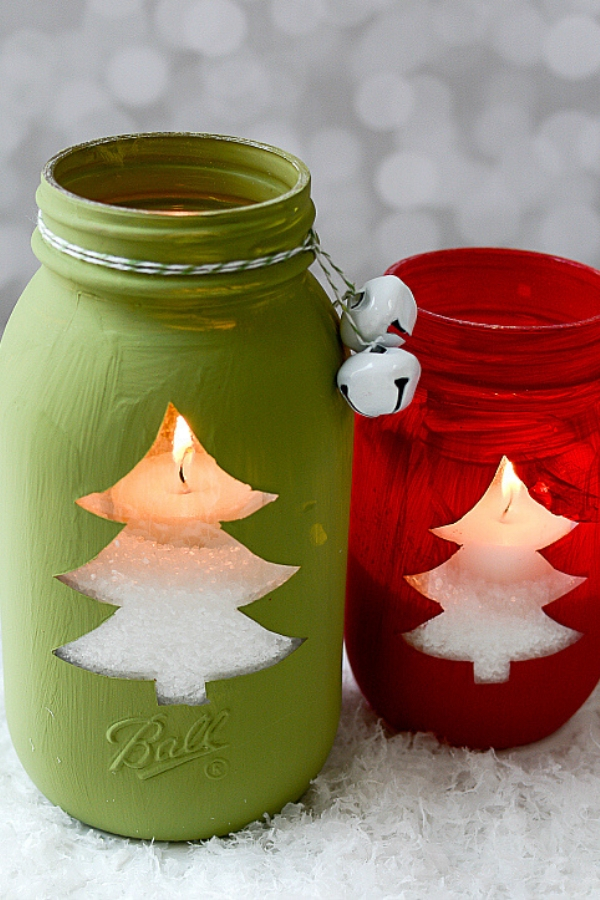 #17

Farmhouse DIY Christmas Ornaments
You won't believe how easy these upcycled farmhouse style ornaments are to make!
And the best part?
This rustic style of Bauble is really popular right now on Etsy!
Which makes this craft a definite must if you're looking for a great Christmas ornament to make and sell.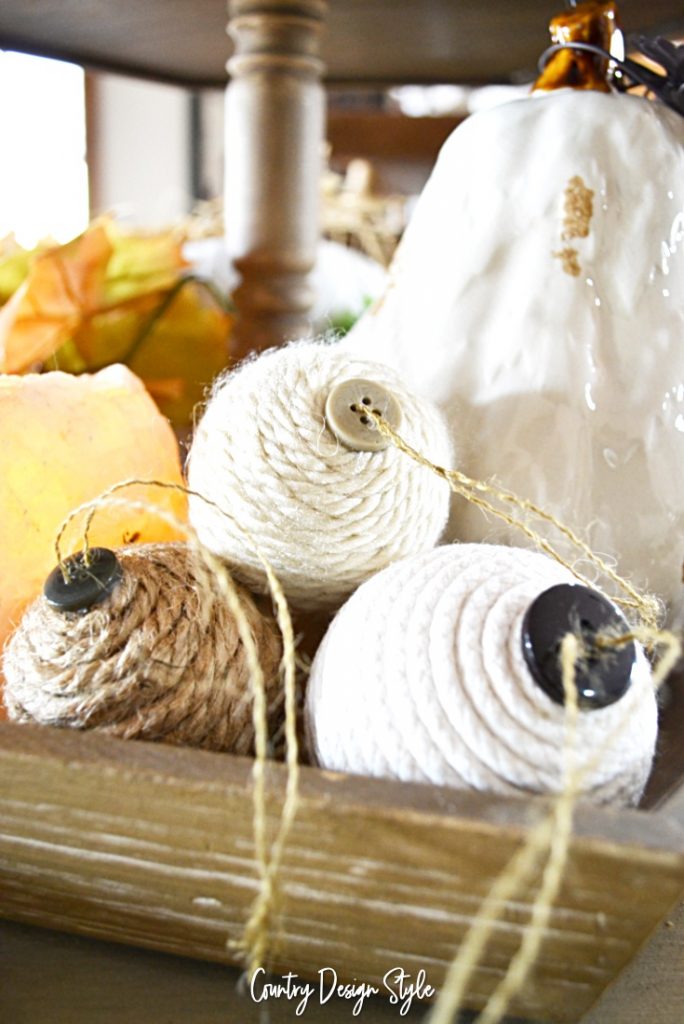 #18

Handprint Snowman Ornaments
You could get really creative with this one and sell them as little kits for people to gift to creative kids…
Simply include mini pots of paint, a plastic bauble, some pretty ribbon, and a paintbrush… and boom!
You've got yourself a fabulous DIY Christmas ornament that people can make themselves.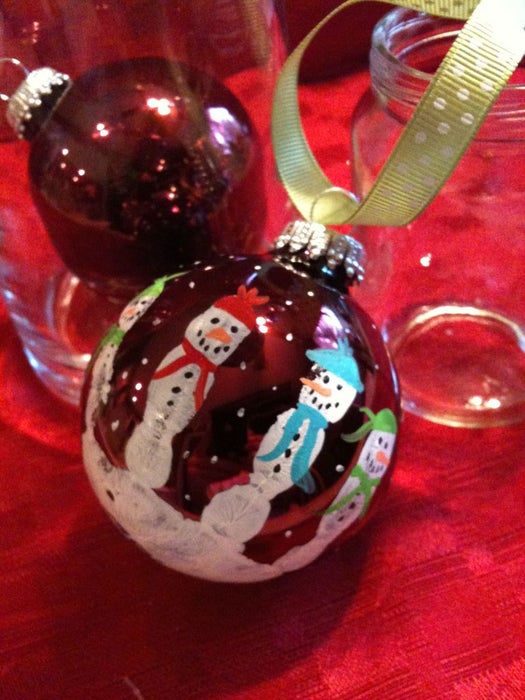 #19

Wood Bead Snowman Ornaments
You'll love how cheap and easy these beaded snowmen are to make…
They're wildly popular and therefore make the perfect Christmas ornament to sell this year!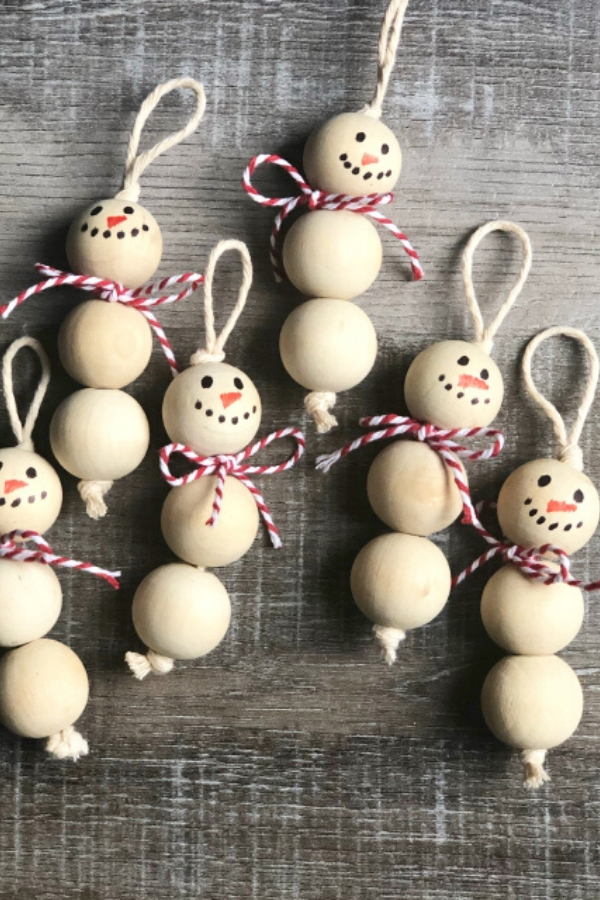 #20

Snowman Hat Ornaments
This is a very simple Christmas craft that both kids and adults will enjoy making.
Like most of the crafts on this list, they can be made in less than 30 minutes…
This means you can make these as little sets to sell without spending hours working on them!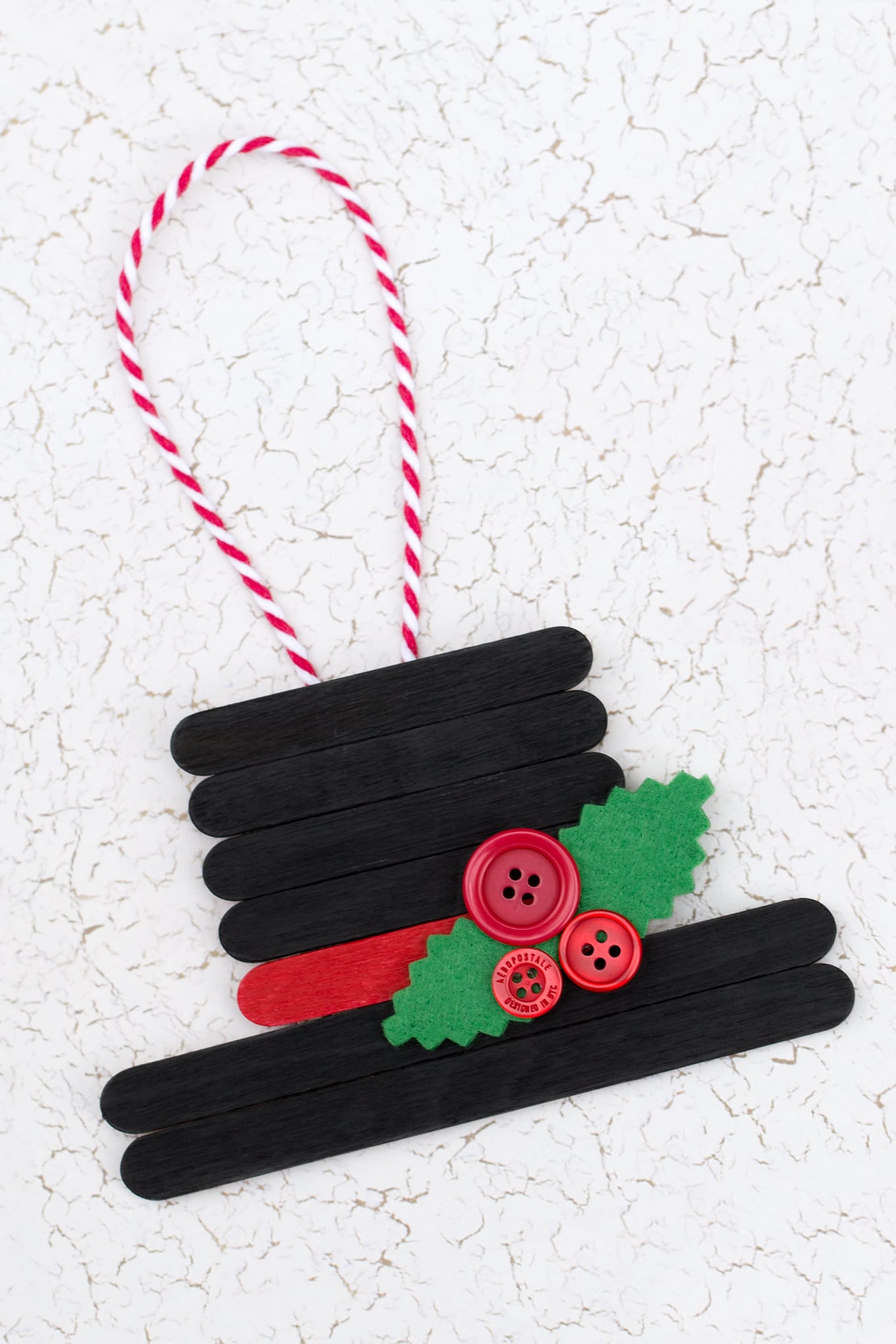 #21

Wooden Rudolf Ornaments
These irresistible Rudolf ornaments will look perfect on any family Christmas tree this year.
And just like the hand-printed baubles above, this is another Christmas craft that you can package up for people to make themselves.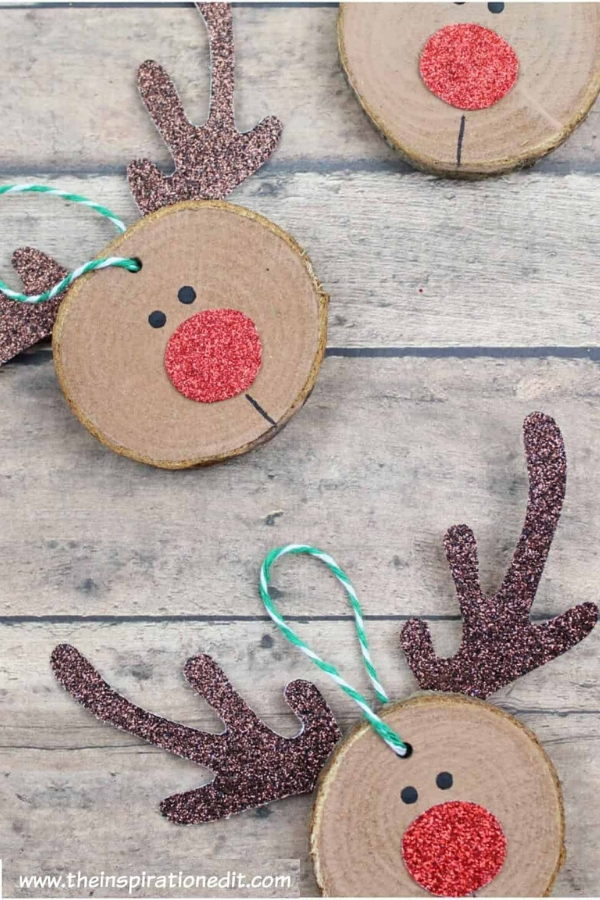 #22

Dried Citrus DIY Christmas Ornaments
As awareness of environmental issues grows, more people are ditching the plastic and opting for more traditional and natural Christmas decorations…
This is why you just can't go wrong with these stunning and traditional dried citrus ornaments!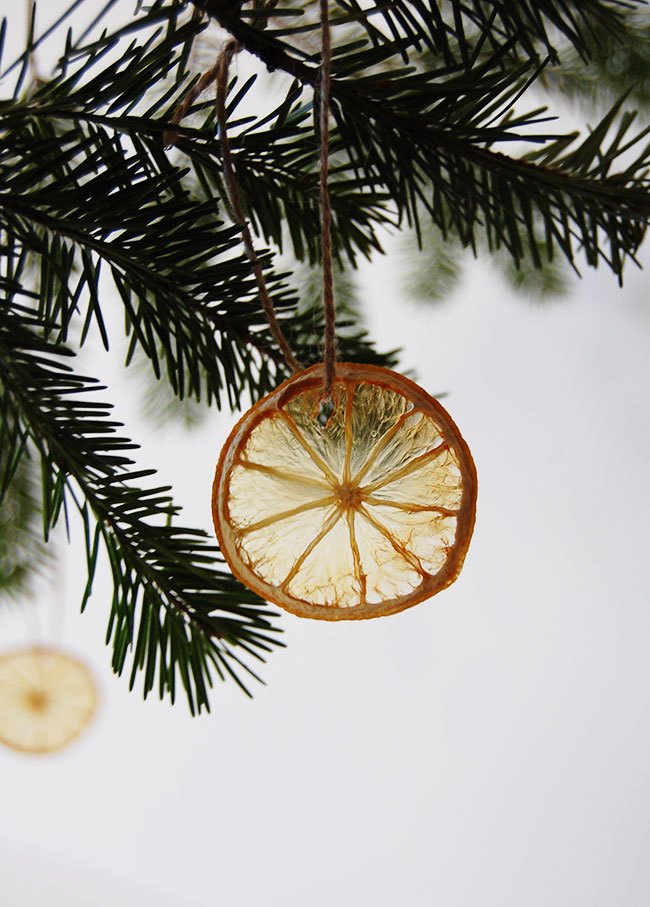 #23

DIY Air-Dry Clay Christmas Ornaments
Ok, ok… so these are actually tags but they can also be used as seriously adorable Christmas tree ornaments too…
They're bound to be a best-seller this year and you'll love how straightforward and cheap they are to make too!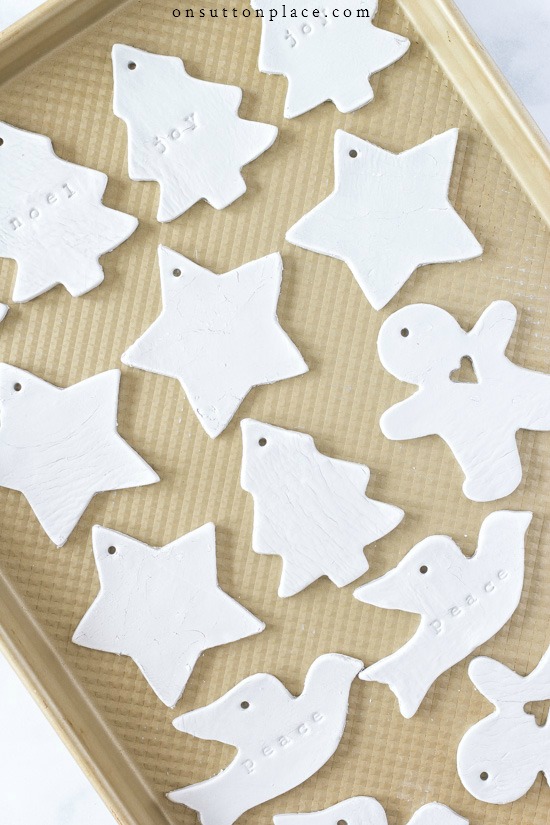 #24

DIY Pinecone Elves
Excuse me while I swoon over these adorably festive pinecone elves!!
They're made using a few cheap supplies which you can get easily find at your local craft store or here on Etsy but look incredibly high end…
They're sure to be a real winner on your stall or in your shop this year.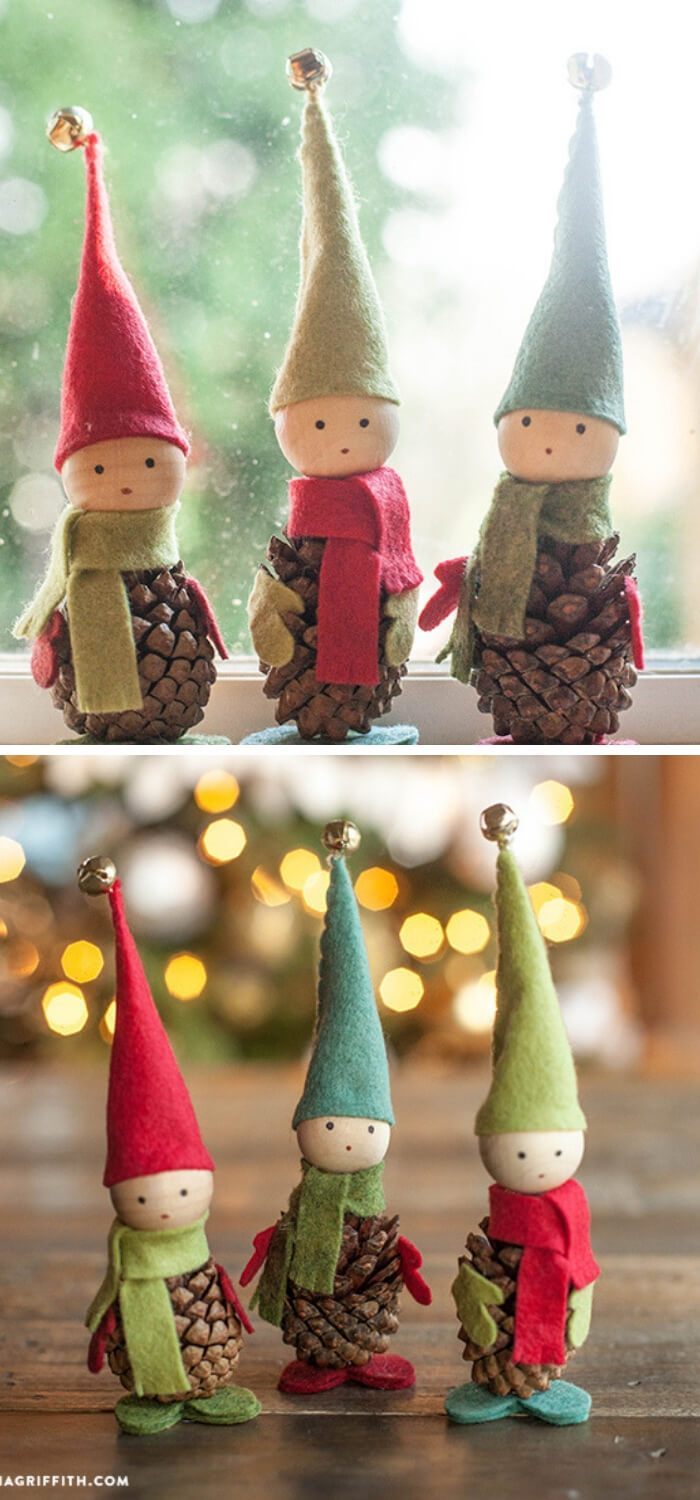 Before You Go...
Have you found some great ideas for easy Christmas ornaments to make and sell for profit?
Making your own Christmas crafts to sell is a great way to earn some extra cash before Christmas!
And of course, the best part about making some handmade Christmas ornaments is that you'll have so much fun doing it!
If you haven't started your online Etsy shop yet, you can click here to get registered… and if you'd like some more tips on selling crafts from home then be sure to check out this post here for more tips.
If you want more content like this then be sure to follow me on Pinterest… that's where I love to share the best home decor, DIY & craft ideas!
Happy Crafting!