Looking for some stunning DIY wedding decor ideas?
Then welcome, you're in the right place!
This post is going to show you the best DIY wedding decor ideas that you'll want to do at your own wedding!
And the best part?
These DIY wedding ideas are all super easy to do so you won't have to stress!
Recommended Reading For You: 101 DIY Wedding Mason Jar Ideas You Can't Miss!
DIY Wedding Decor Ideas On a Budget
There are so many great reasons to make your own wedding decorations…
Firstly, making your own wedding decor will allow you to have the wedding of your dreams on a budget…
…without compromising on the wow factor!
It will also allow you to have a truly personalized wedding that's totally you!
So from ways to decorate the ceremony aisle to creating dreamy backdrops & rustic style table centerpieces…
You're sure to find the perfect decor for your big day with the homemade wedding decoration ideas I've found for you below.
Where To Find Awesome DIY Wedding Decor Supplies
This post may contain affiliate links. See my full disclosure here for more info.
The good news is that many places now sell an abundance of wedding craft supplies.
Many brides just like you are getting savvy about where they spend their wedding budget.
Getting creative & deciding to make your own wedding decor is a great way to limit unnecessary spending on your wedding & have a lot of fun too!
Here are my top 3 recommended wedding craft suppliers:
So now you know why you should DIY your wedding decor & where you can purchase great wedding decor craft supplies, let's take a look at these awesome DIY wedding decor ideas…
P.S. These DIY Wedding decor ideas are so stunning! So, be sure to click here to quickly and easily save them to your Pinterest… that way you can easily come back here whenever you like.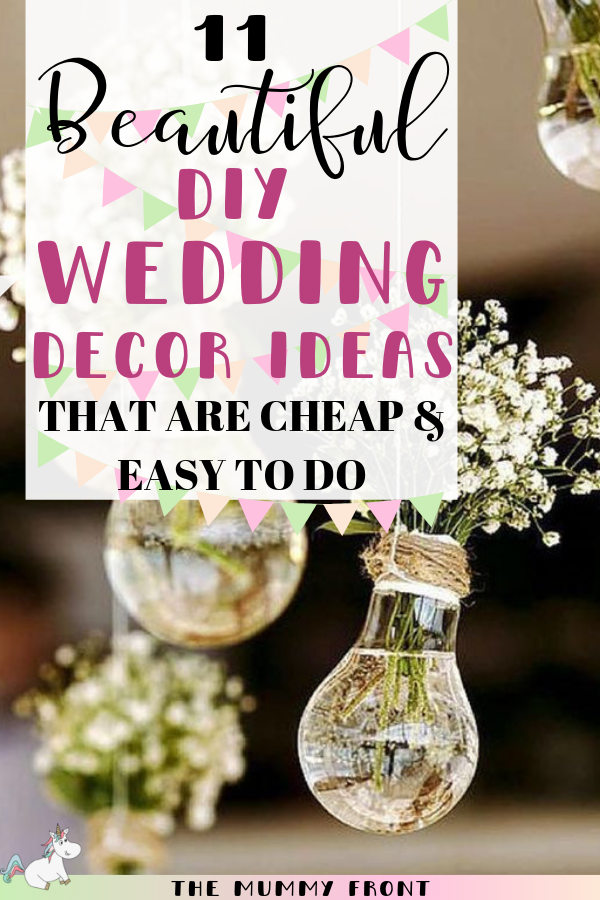 11 Best DIY Wedding Decor Ideas
#1

Stunning Whimsical Hoop Wreath
This beautiful boho-style wreath will be just the thing to add a cute whimsical feel to your wedding. It's actually listed here as a set of three on Etsy but it would also be incredibly easy to DIY for your own wedding with a hoop, some artificial vines & roses…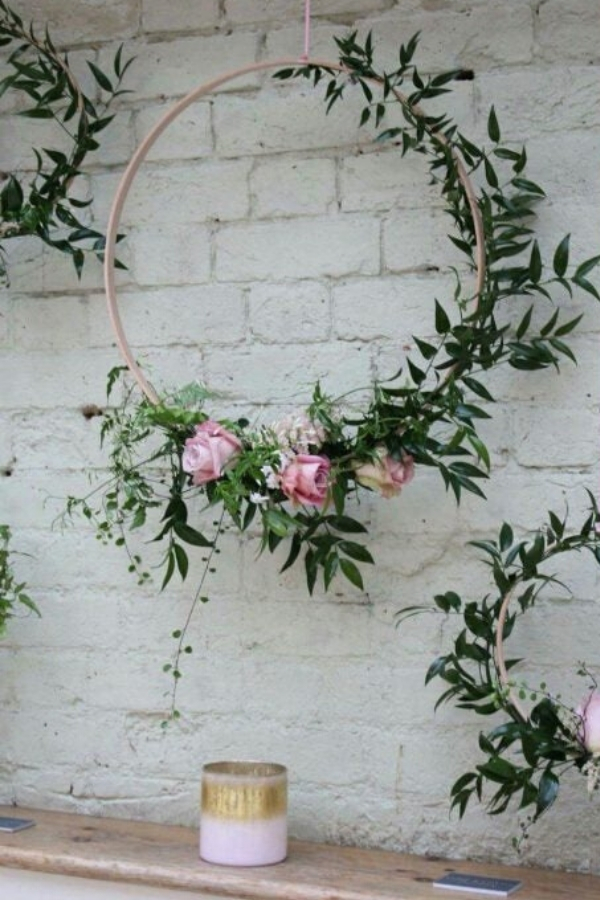 #2

DIY Wedding Sign
Creating your own rustic style wedding signs is a great DIY wedding decor idea that will save you loads of money. This sign was made using a Cricut machine but if you don't have one of those you can still create a wonderful sign just like this using acrylic paints & a steady hand.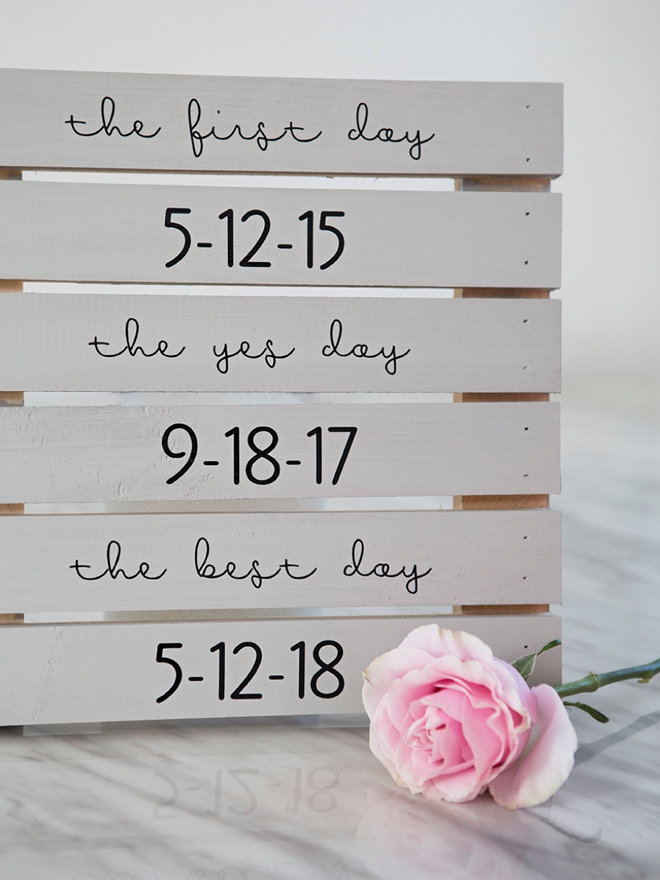 #3

Submerged Baby's Breath
Here is a really stunning DIY decor idea you can easily do for your wedding.
Baby's breath is one of the most popular flowers to have at your wedding because of how unbelievably stunning & whimsical it is. By simply submerging the baby's breath underwater in a clear tall vase & placing a floating tea light on top, you'll create a stunning table centerpiece that will wow your guests!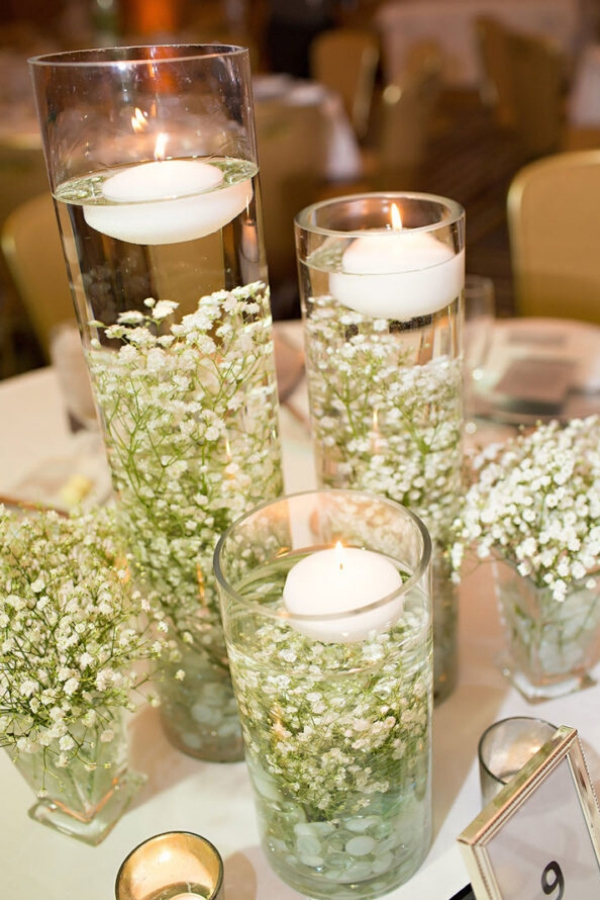 #4

Boho Style Backdrop
Can you even believe how incredibly stunning this boho backdrop is?
This backdrop is definitely one of those wedding decor pieces that will wow all the guests as you say your 'I Do's'…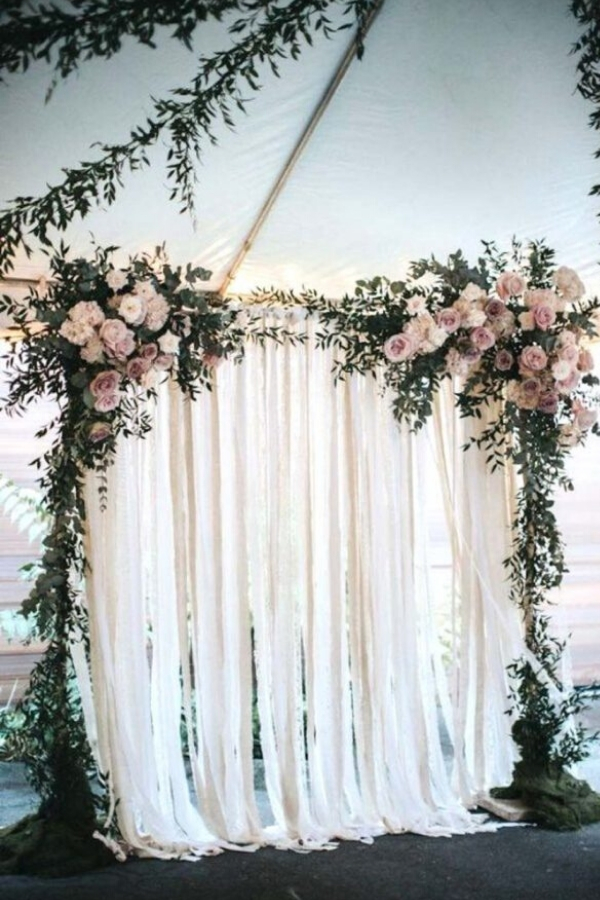 #5 Natural Table Centerpiece
Here is another really simple but absolutely stunning example of DIY wedding decor… A beautiful table centerpiece made using rustic wood slices, artificial eucalyptus leaves & elegant tall vases in varying heights… so dreamy!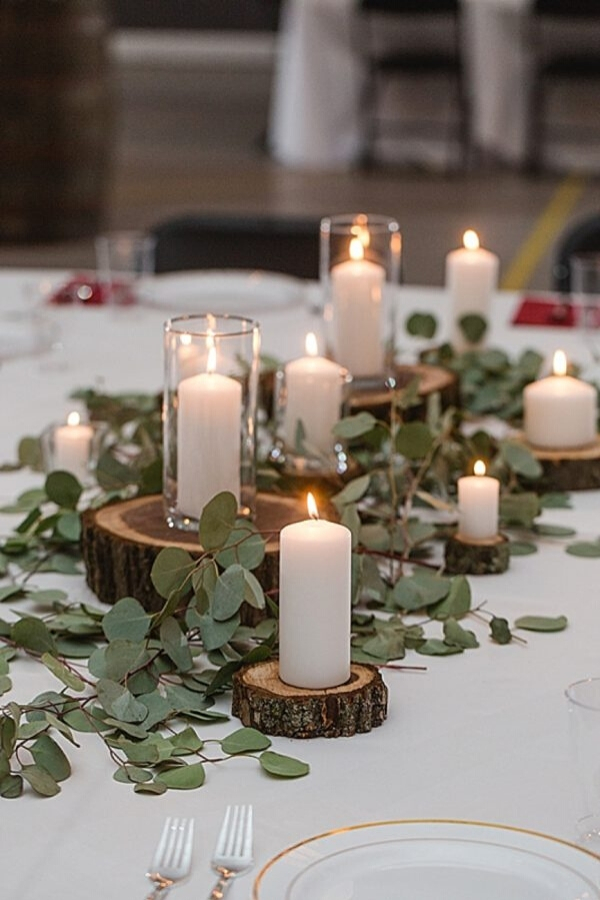 #6

Fishbowl Centerpiece
You could easily customize this fishbowl centerpiece with flowers that tie in perfectly with your wedding theme color.
Consider placing fairy lights inside each bowl too for an extra whimsical & romantic touch!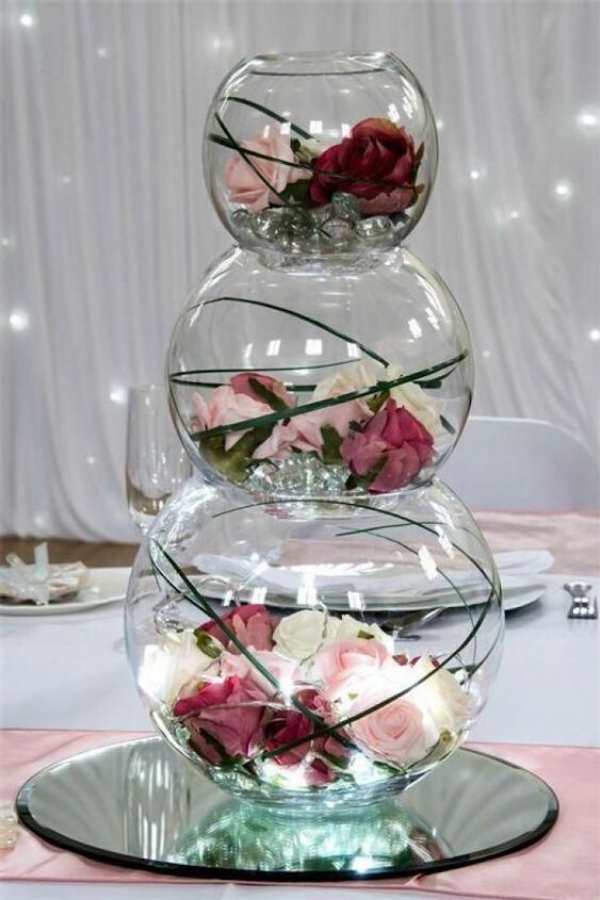 #7

Elegant Leaf Candle
Use either eucalyptus leaves or bay leaves tied elegantly around a candle with white ribbon for a cheap yet stunning wedding table decoration.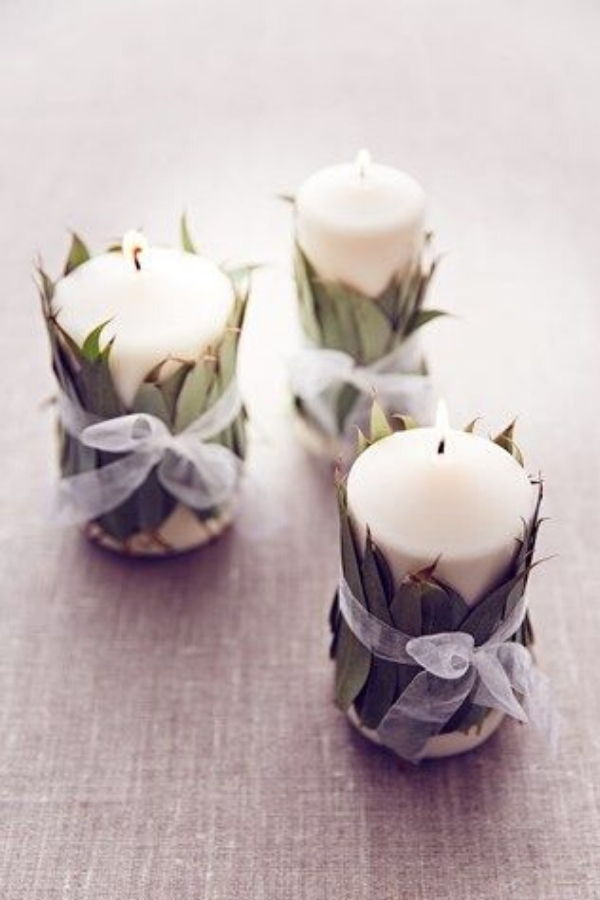 #8

Cute Baby's Breath Vases
Ask all your friends and family to save you their used jam jars as these baby breath vases are simply a must have at any romantic wedding! Simply wrap the jars with some jute rope, and place in some artificial baby's breath!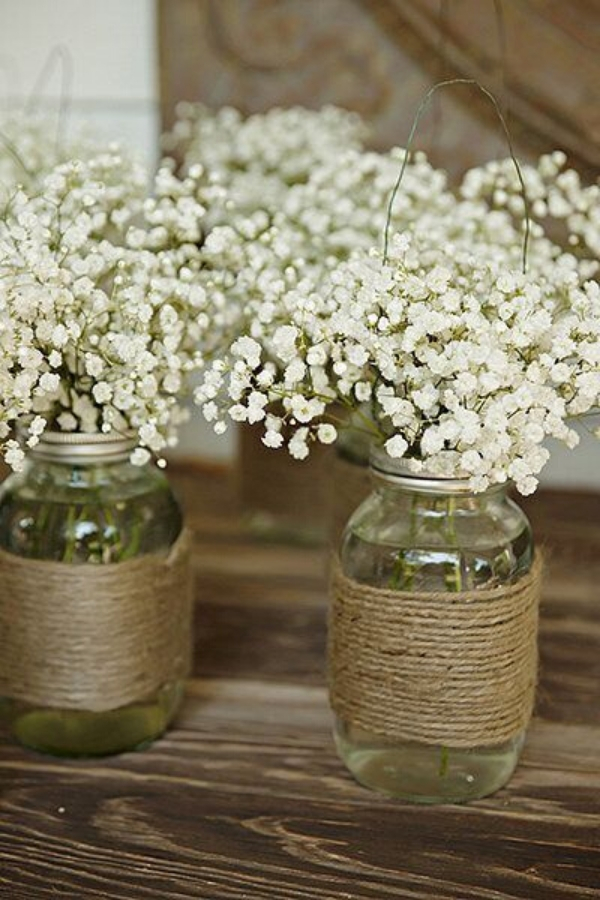 #9

Light Bulb Vases
Here's another DIY wedding decor idea that won't cost you a lot of money to make. Simply ask your friends to donate any old light bulbs or buy some cheap ones here. Break the tops off carefully (wear gloves) and enlarge the gap so you can easily remove the element. Wrap with jute twine, insert some stunning baby's breath!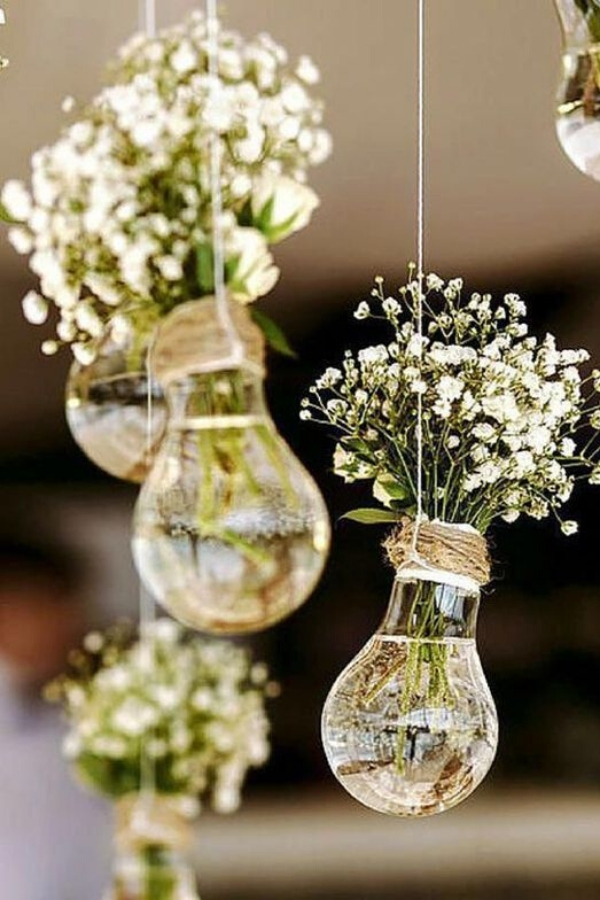 #10

Rustic Vine Backdrop
Don't you just love how pretty & rustic this backdrop is? Not only will it get all the guests talking, but it will also give you the perfect space to take incredible photos that you'll treasure forever!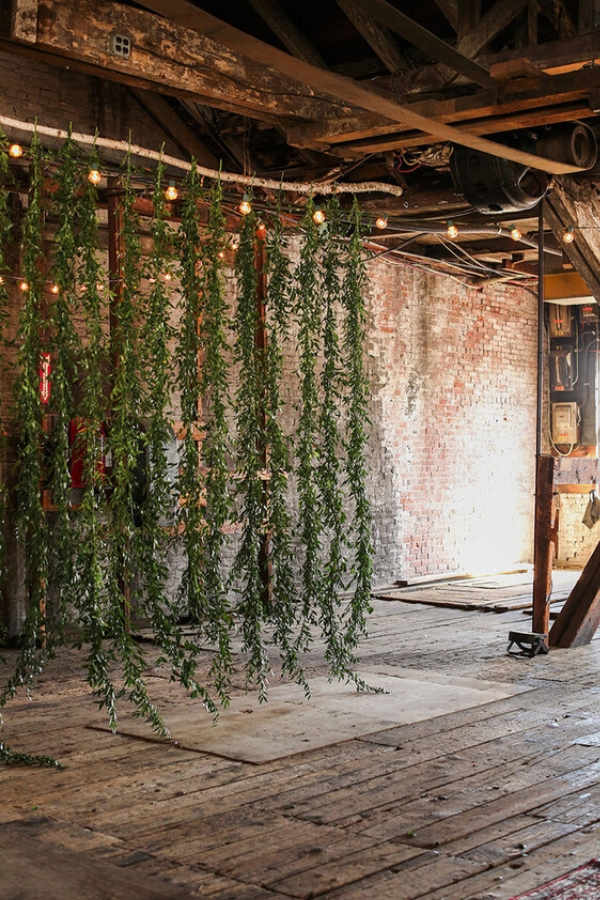 #11

Pretty Lanterns
These lanterns are so incredibly cheap & easy to make and will look incredible at your wedding!
You could also use white string instead of brown jute rope for a more elegant wedding look!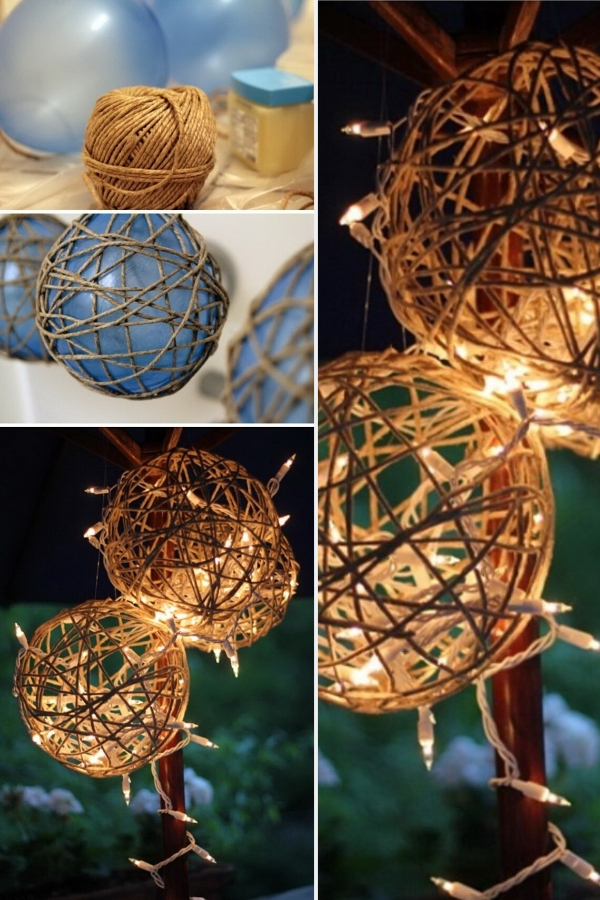 Before You Go...
I hope you've found some stunning DIY wedding decor ideas within this post that you can use for your own wedding.
As you can see, with a little creativity it's easy to save money on wedding decor & yet still have a truly wonderful & stunning wedding!
Don't forget to Pin these ideas to your favorite Pinterest board…