We all know that redecorating or remodeling a bathroom can end up being a very expensive affair!
In fact, saving up for a new bathroom can take years, right?
But, don't panic!
You see, you really can have the bathroom of your dreams, a lot sooner than you think!
And not just any bathroom either…
One with all the storage you desire & with a style that will impress everyone who comes to visit… without the expensive price tag!
How?
With these stunning Ikea bathroom hacks that I'm about to show you!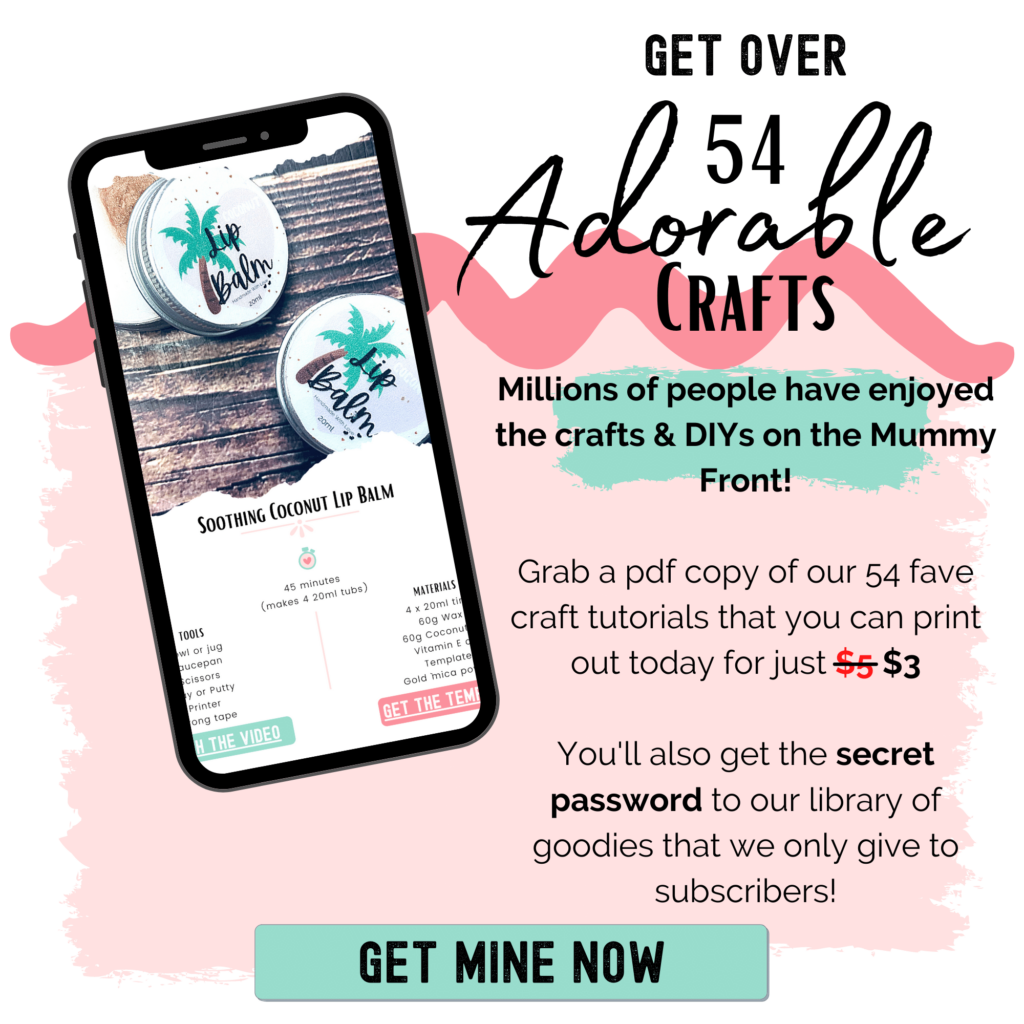 A Quality Bathroom

(on a budget)
IKEA furniture is affordable & practical and often provides you with the perfect bathroom storage solutions… and you don't need to miss out on quality or design either!
In fact,
Ikea is famous for its high-quality products at amazingly low prices!
And…
As you will find out below… there really is no limit to what you can create with an open mind, a dash of creative flair, and a piece of IKEA furniture!
Recommended For You:
An IKEA chopping board becomes a space-saving countertop in a small bathroom, an empty bucket provides the perfect bathroom speaker and an Ikea kitchen cart is easily transformed into a stunning IKEA bathroom vanity with a vessel sink!
To help inspire you with some great organization & money-saving bathroom ideas… I've searched the web for some of the best IKEA bathroom hacks that you can easily replicate in your own home!
Let's do this…
P.S. These Ikea bathroom hacks are awesome so be sure to click here or on the image below to save these great ideas to your Pinterest so you can come back time & time again! 🙂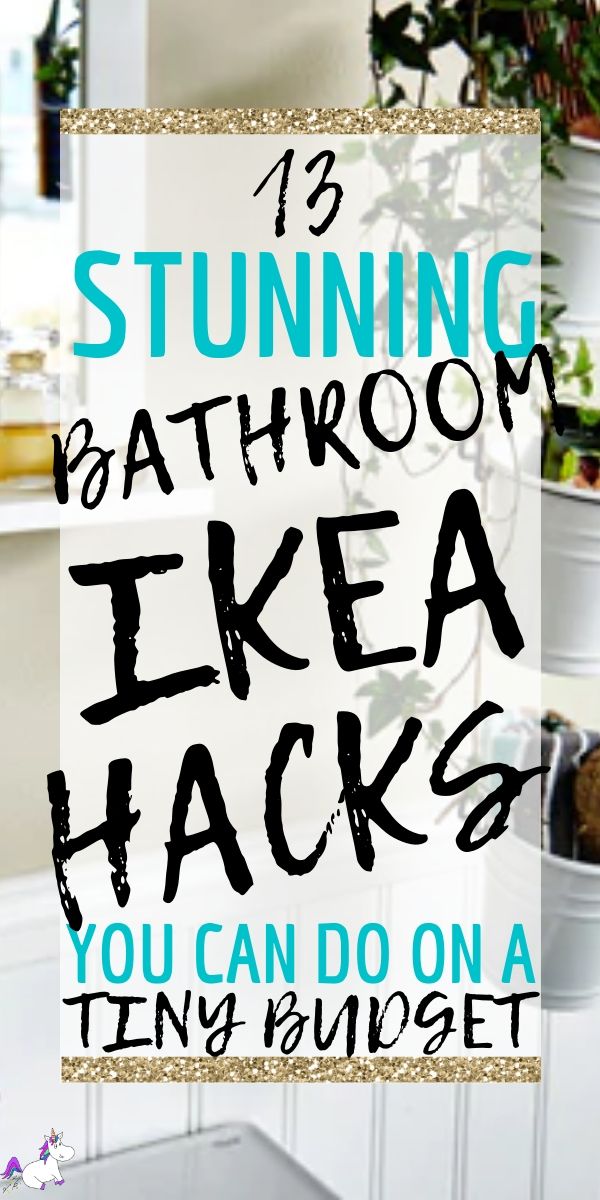 This post may contain affiliate links. See my full disclosure here for more info.
IKEA Bathroom Hacks: 13 Ways To Get Your Dream Bathroom

(On a Budget)
#1

Easy DIY Makeup Storage

Using an affordable IKEA wall storage system is a great way to keep all your makeup & beauty supplies organized whilst keeping the counter space clutter-free!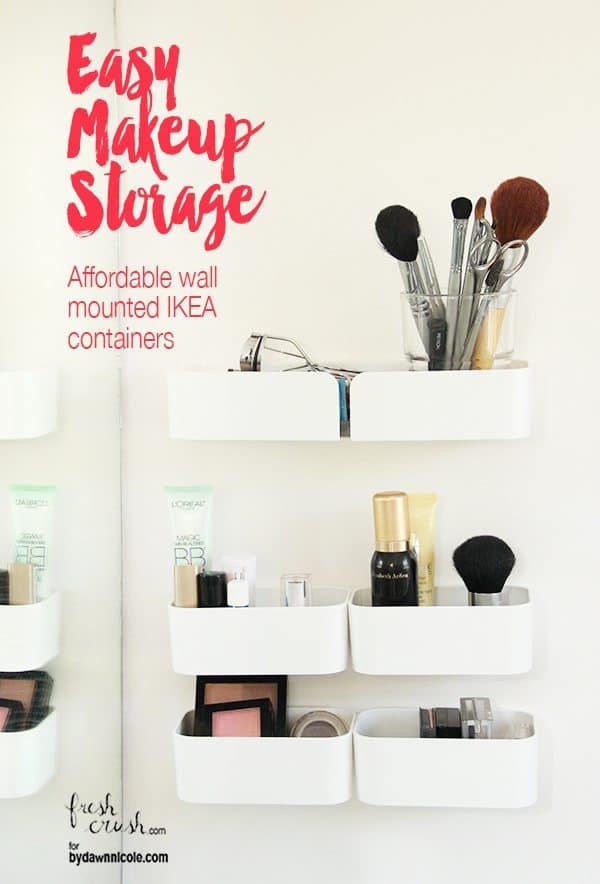 #2

IKEA Bathroom Vanity Hack

Remodeling a bathroom can be super expensive, but if you get creative with IKEA furniture you can achieve a stunning bathroom whilst saving yourself a ton of money… just like this gorgeous bathroom renovation.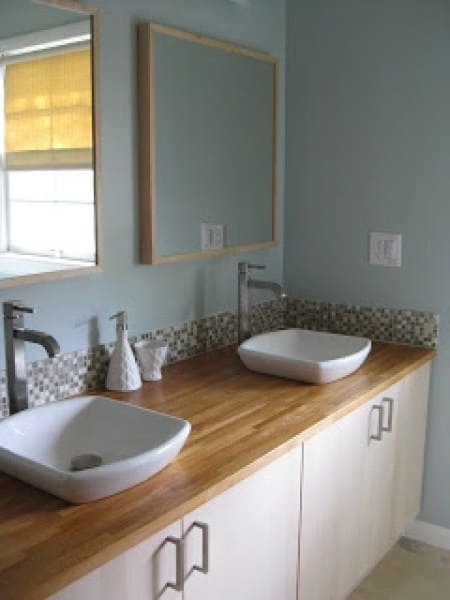 #3

IKEA Bekväm Stool Update

The IKEA Bekväm stool is used in so many IKEA hacks & it's not hard to see why. They are high quality, sturdy & perfect to have at home if you have kiddies who need a boost up to brush their teeth! IKEA bathroom hacks don't get easier than this!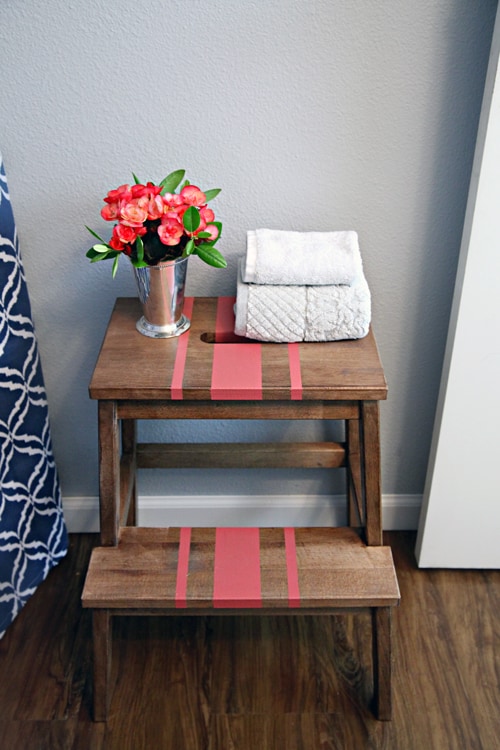 #4

Ladder Bathroom Towel & Storage Rack

If you have a small bathroom then making use of the vertical space available is a must! Check out how this blogger took an IKEA ladder shelf & converted it into this practical & stunning towel storage rack.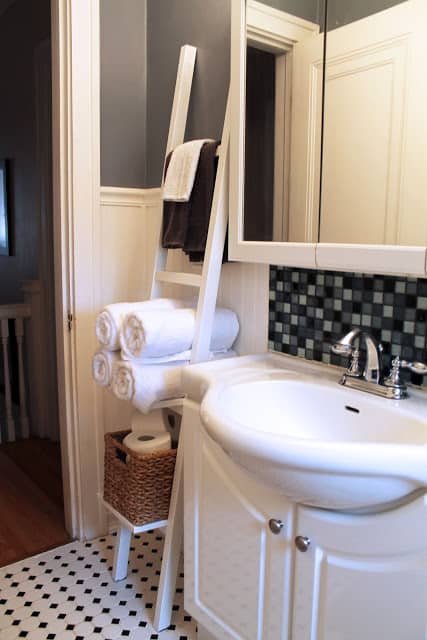 #5

Bathroom Vanity Update

You can easily achieve this stunning vintage look in your bathroom by giving a standard piece of IKEA furniture a lick of paint… cheap, easy & stunning!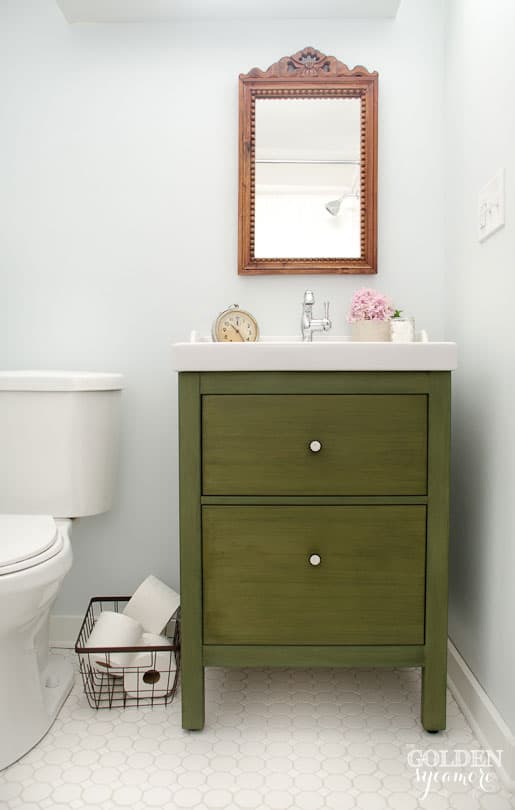 #6

IKEA Raskog Hack: DIY Rolling Vanity

The IKEA Raskog service trolley is an awesome piece of furniture that would be handy in every room of the house! This cart has been transformed into a stunning makeup & beauty supplies holder… I especially love the added curling iron holders on the side! If you don't live near an IKEA you can get yourself a similar cart here.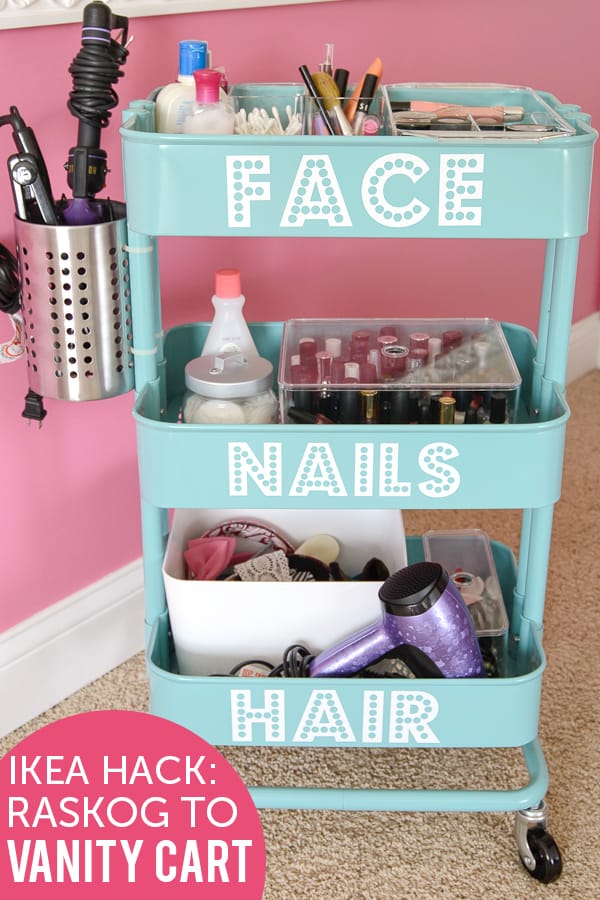 #7

Fintorp Bucket Storage & Speaker Hack

For a gorgeous boho style storage idea use the IKEA Fintorp system to create a handy, space-saving vertical storage solution that doubles up as a speaker for your bathroom!… putting your smartphone into an empty bucket will make your music so much louder!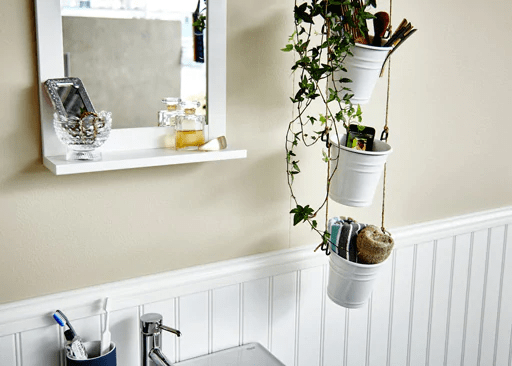 #8

Spa Bath Mat

This gorgeous spa style bath mat was created using IKEA outdoor decking tiles… Genius!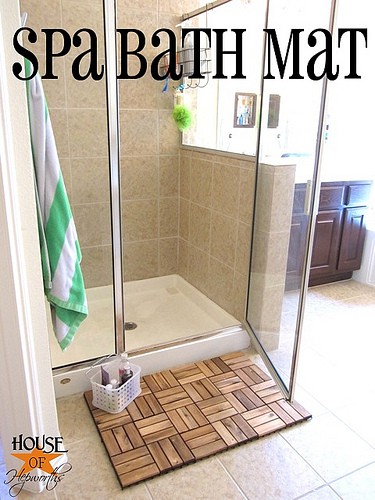 #9

Bathroom Toy Storage Hack

Organizing the kiddies bath toys just became super easy & fun with this wall storage solution… check out the tutorial to find out how this child-friendly hack can be converted into a more adult-appropriate luxury storage solution for when you have guests coming to stay.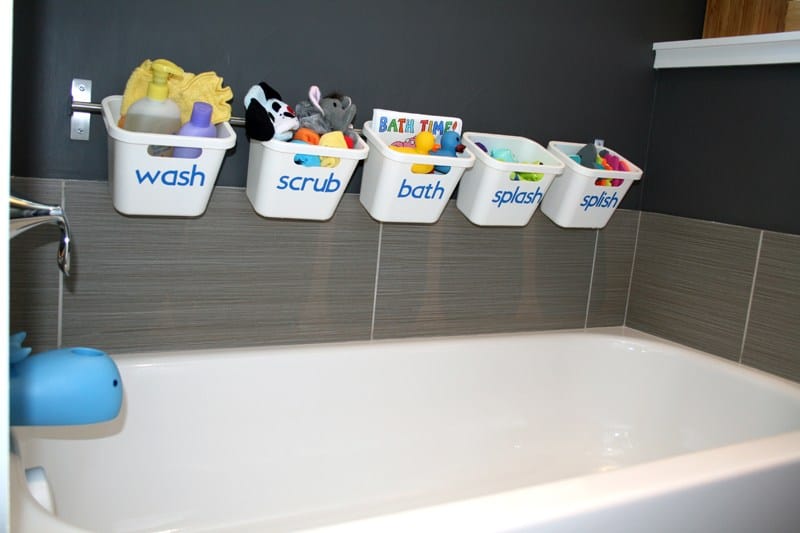 #10

Spice Rack Bathroom Shelves

IKEA spice racks have many uses besides simply organizing your spice jars… this hack uses them as a stylish space-saving bathroom storage system that will hold all your bathroom essentials!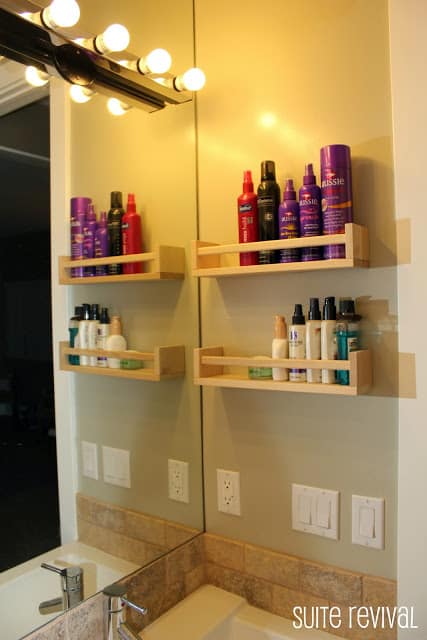 #11

Fabulous Bathroom Vanity

I love this stunning rustic style bathroom vanity hack that was created from an IKEA kitchen unit… I recommend you check out the tutorial for some unmissable tips on how to paint IKEA furniture properly!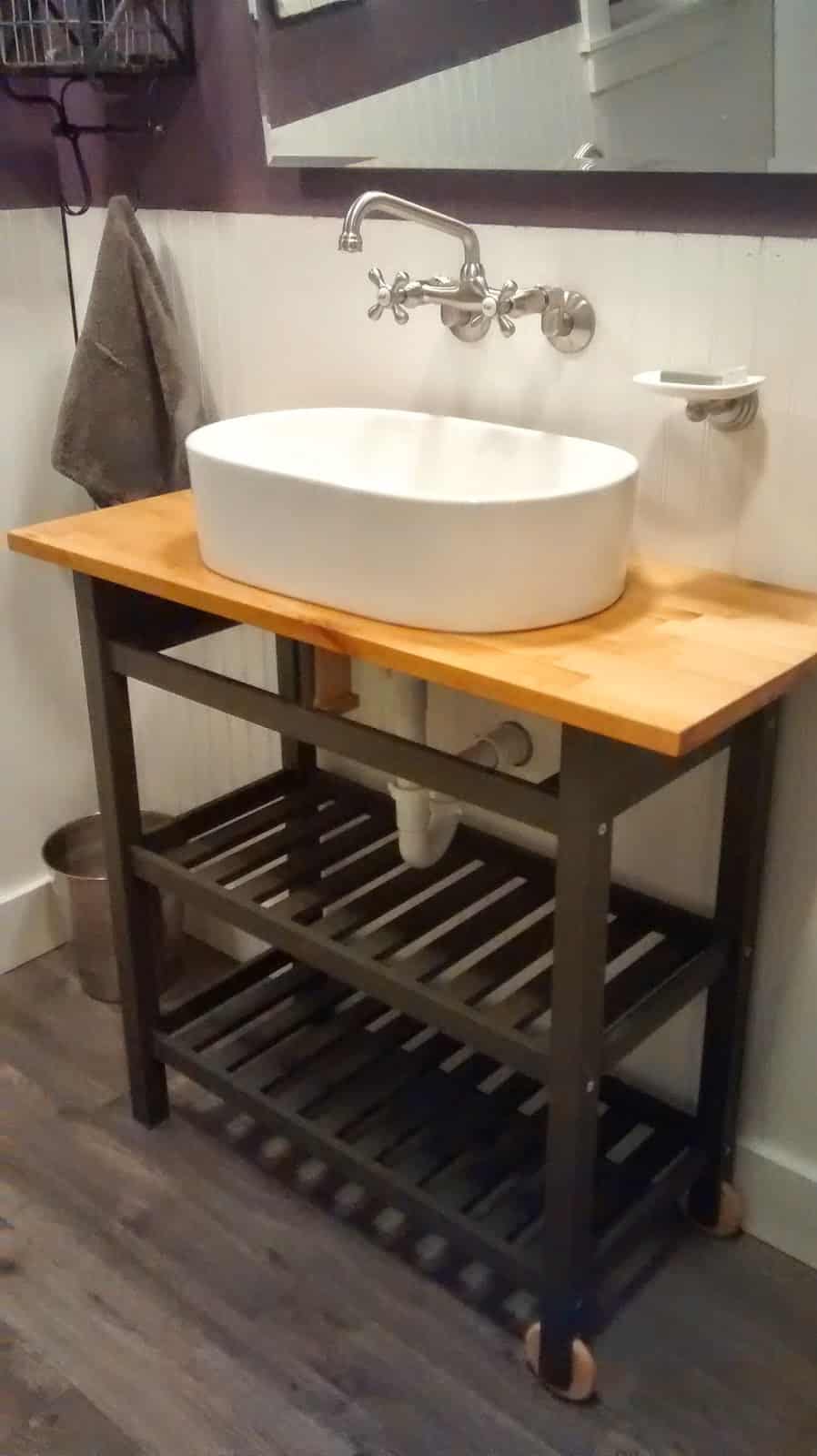 #12

Bathroom Counter Tops Hack

You will be surprised to find out that this nifty bathroom countertop solution was created using IKEA bamboo chopping boards!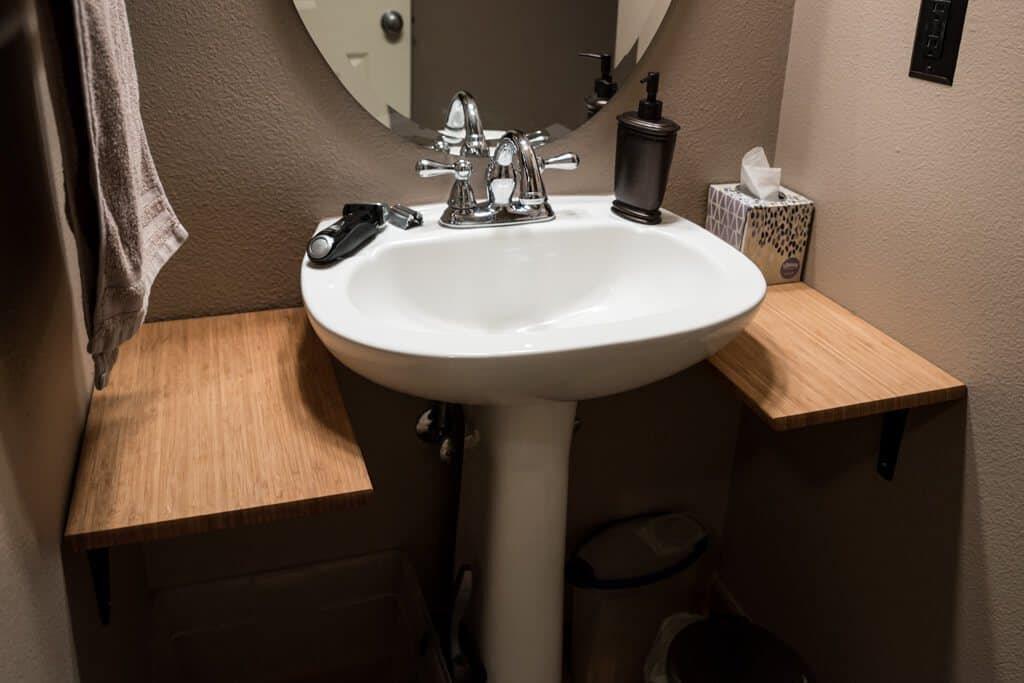 #13

IKEA Hack Bathroom Vanity with Bekvam Kitchen Cart

Not only is the result of this Bekväm kitchen cart hack stunning… but the talented blogger who created it provides you with an awesome, detailed tutorial that will show you how to turn a kitchen cabinet into a bathroom vanity easily from start to finish!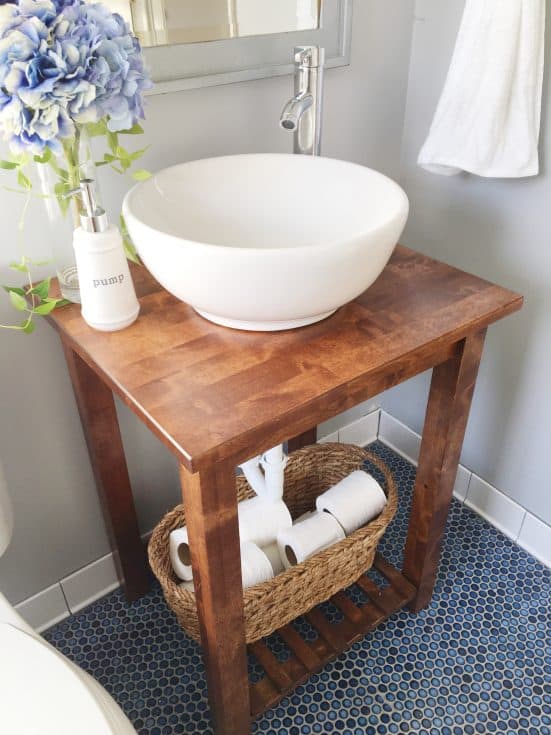 Before You Go...
These genius IKEA bathroom hacks prove that doing up your bathroom doesn't have to be expensive or complicated… I hope you have found some great inspiration & ideas for your own bathroom!
Loved this post? Be sure to click here to pin it for later!