So you want to know how to make money blogging…
Great! You're in the right place!
Today, I'm going to share with you the exact steps I've taken to be able to earn over $2400 a month from my blog in less than a year… and with no previous experience!
No matter where you are on your blogging journey, you're gonna be able to use the tips within this post to start making money from your blog!
This article is gonna be a long one because it covers A LOT of useful info… so grab yourself a hot cup of coffee & some choccy biccies… and let's do this!
P.S There are going to be some seriously helpful tips included in this post that are going to help you drive traffic to your blog & make you money! Be sure to Click Here to easily save this post to Pinterest so you can come back anytime!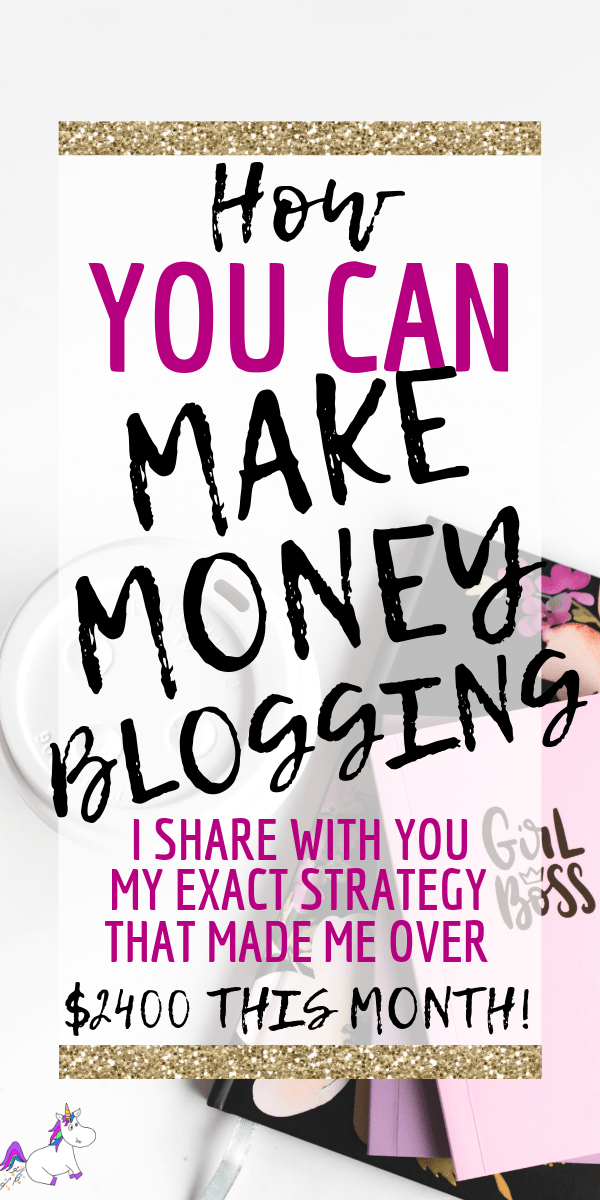 This post may contain affiliate links. See my full disclosure here for more info.
Why I Started A Blog
I started a blog because I wanted to be able to stay at home with my kids & earn money!
Simple as that!
Have you ever dreamed about quitting the 9-5 and living a life of Freedom?
I certainly did… but I didn't know where to start!
I've always dreamed of becoming a successful writer so when a successful writer told me to gain an online presence through blogging… I looked into starting a blog!
I soon found out that people were actually making money blogging and this excited me!
If they could do it, then why not me?
A blog seemed like the perfect solution as the start-up costs were minimal & I knew I could work on it when my kids were in bed!
Perfect!
Being one of those people that jump right in head first… I immediately signed up with BlueHost & had my very own blog within 5 minutes.
Your Blogging Start-Up Costs
One of the first things you're gonna want to know when you start a blog is the start-up costs!
These fall into 3 categories: essential, optional and the downright waste of money!
Your Essential start-up costs
a laptop or desktop PC
Hosting: $285.60 for 36 months or $143.04 for 12 months
Your time spent: Totally up to you
The essential costs come out at less than $8 per month… that's less than your daily lunch at Starbucks & incredibly cheaper than most business start-up costs!
The time you spend on your blog is totally decided by you… I usually work 15-20 hours on my blog per week but you could work more or less depending on the time you have available.
Your Optional Extras
More About Blogging Themes
There are hundreds of awesome free themes to choose from when you first purchase your blog so you're not going to need to pay for a theme.
Eventually, you may want to purchase a theme as you'll be able to make extra customizations…
…Think: AL

L

.

T

H

E

.C

O

LO

RS

…
but it's not a necessary cost when you're just starting out.
More About Blogging Courses
Blogging courses are a great way to fast-track your learning & success but be careful… many courses are not what they're made out to be & you really don't have to spend money on courses to guarantee the success of your blog.
I only invested in a blogging course after a ton of research & only when I could afford it…
If you're thinking about investing money in a particular course, be sure to check out the course creators free resources before you buy.
How Not To Waste Your Money!
Everywhere you look there will be people telling you that you NEED to spend money to be successful…
& while I agree that investing in yourself & your business is a really good thing to do… it's also wise to be careful about what you're spending your money on.
Often you can find the same service cheaper, if not free elsewhere so do your research before you buy!
These resources will save you money when you start a blog:
Use a FREE email provider like MailChimp if you want to start an email list
Use MailMunch to create beautiful free forms on your blog
Use a FREE Privacy policy generator
Use Canva to create your Images
Ok, Ok… the numbers…
How Soon Can You Make Money Blogging?
My intention with this post is to be ultra-transparent with you…
It's no good me saying…
'hey click here, start a blog, knock up a post, everyone will love you and you'll be making it rain with a month'
Because despite what you've probably read elsewhere, that's not usually how it goes down!
Sorry!
In my experience, it can take up to 3 months to actually start seeing a financial return on your time & effort.
My Income Stats
To give you an idea of numbers & time, I'll share my stats with you…
It took me 3 months to earn my first income from this blog and over the following 4 months, I earned…
Making this amount within 7 months of starting my blog felt awesome! It was a great amount of money but I knew I could do BETTER…
So, I kept learning as much as I could and in my 8th month of blogging I managed to earn…
Much, Much better because this was earned in one month!
Now as we approach the end of November 2018, so far this month I have managed to earn…
As you can see, my income is growing month on month!
Proof of Earnings
This whole post would be as useful as a chocolate teapot if I didn't back up what I'm saying with proof of earnings, right?
Of course & I'm more than happy to share with you…
I applied for Mediavine, an ad providing company, in July 2018 (5th Month) having reached 25k sessions on my blog over 30 days.
Here are my ad earnings from Mediavine…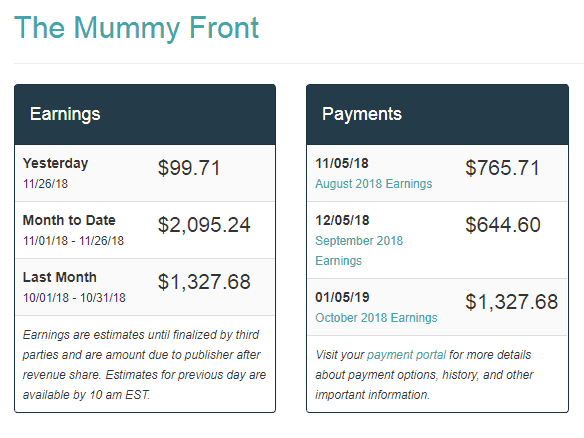 To get an income from ads like this, you will need quite a lot of TRAFFIC…
Blog Monetizing Methods
There are other ways to make money blogging that don't require a huge amount of traffic including:
Affiliate Sales
Digital Product Sales
Online Courses
Email Courses
Membership Sites
Sponsored Posts
Services
As most of the money on this blog was earned from ads, this post will teach you how to drive great traffic to your blog so you can make money!
Important: The tips in this post are going to help you increase your earnings through blogging no matter how you decide to monetize your blog! Becuase whether you're monetizing with affiliate links or email courses MORE TRAFFIC = MORE MONEY!
You're going to learn the exact steps I've taken to get over 171k page views this month with my blog in just a sec…
But first, you need to know a couple of important things…
Could These Numbers Be Better?
It's totally possible to for you to see better numbers and faster than I did… because I have this thing about achieving my goals in micro-steps (that's code for I'm a mega procrastinator).
With the help of this post, you can smash your blogging goals in 2019… it's a little cliche but honestly, if I can do it with zero experience, then so can you!
Is It Easy To Make Money Blogging?
As you can see, making money blogging is totally possible… but it's not necessarily easy!
Blogging takes commitment, time & effort… ESPECIALLY in the beginning.
You see, in the beginning, you have to put in all the hard work and build your blog… and then the rewards will begin to come.
It's through those moments when you're working hard to set up your blog & not getting huge traffic that you'll need to keep pushing on through & focusing on your end goal!
People will doubt you, you'll doubt you… there will be times you'll think…
'what have I done?'
…But keeping your motivation up & getting through those times will mean that you'll be there ready & waiting to receive the rewards when they come!
Is It Hard To Be A Successful Blogger?
Ok… a day in the life of a blogger requires a post all of its own (I'll link it here when I've written it).
But the tasks of a blogger are basically endless!
Sure, blogging is a really fun thing to do & it gives you the freedom to design your days & be available for the school holidays or impromptu shopping trips which is awesome… but you still need to actually factor in time to work on your blog.
You can do as little or as much as you like but in a nutshell, your blogging tasks will look something likes this:
Coffee
Research content ideas
Research keywords
Write the article
Find images for your article
Upload images to your article
Add links within your article
Research Titles for your article
Create social media graphics for your article
Proofread & edit as required
Optimize your article for SEO
Publish article
Promote your article via social media
Link other articles to your new article as required
Update & edit old articles
Continuously promote articles old & new via social media
Continue to learn & be willing to adapt your approach
P.S. I missed a ton of Coffee off that list!
Ok, none of these tasks are overly complicated but they do take time & a degree of planning.
If you're still excited by the idea of starting your own blog after reading the above then carry on reading, you're gonna smash it!
How To Make Money Blogging… Step By Step
Wahoo… you've made it to the strategic part where I'm going to show you step by step how I've managed to take my blog from 0 to earning over $2k this month…
Step 1: Choose Your Hosting Plan
When I started my blog, I made the mistake of starting a FREE blog with WordPress.com…
Why was this a mistake?
Firstly, because you cannot monetize a free blog & secondly, you don't actually OWN your blog or content.
The host can shut your blog down at any moment & all your hard work will be gone!
To ensure you can actually make money from your blog & that your content is protected, then you need to be self-hosted…
How To Be Self-Hosted
Don't worry… being self-hosted sounds complicated, but there's really nothing to it!
When you sign up for hosting with a company like BlueHost, you will automatically have yourself a self-hosted blog with the WordPress.org platform (what you'll use to edit your site & write posts) installed & ready to go!
Once I realized my mistake, I immediately changed my blog to the WordPress.org platform by signing up with BlueHost!
Why you should choose BlueHost to host your blog
Bluehost is the #1 recommended web hosting company by WordPress & from my own experience I can totally see why!
With BlueHost you get a Free domain name, One-Click WordPress install & unbeatable value on your hosting price!
BlueHost has been an absolutely excellent hosting provider for me, they're tech help has been awesome & that's why I can so confidently recommend them to you!
You can Click Here to get started now with BlueHost… you'll only need their cheapest Basic Package to get started which is a great cost saver when you're just starting out!
Step 2: Be Responsive
Now you have your hosting sorted out, you're going to need a theme for your website!
When it comes to selecting a theme for your new blog, make sure that your theme is responsive.
All this means is that your blog will work for visitors on mobile too.
As most of your visitors will likely be mobile users, it makes sense to be able to give them a great experience when visiting your blog, right?
Did you know that a responsive theme also helps your *SEO too?

*SEO stands for Search Engine Optimization & put simply, it's the things you do to your site to ensure search engines can find you… meaning you get page views from Google.
There are many free WordPress themes to choose from that are brilliant!
However, If you want to invest in a theme that will allow you to make more customizations than a free version will offer then I highly recommend the Genesis framework.
Not only are there a huge amount of themes to choose from within this framework, the popularity of Genesis means that you'll easily find support & help if you ever need it.
You can click here to go over to the Genesis Framework & take a look.
Step 3: Nailing It With Awesome Content
Your content is going to be vital to your success…
Without good content, you won't get page views & without page views, you're not going to be making money.
Ok, that sounds important… but what makes good content?
Content that solves a problem for your readers is good content…
Whether that's the best apple pie recipe or tips on how to make a cat happy… as long as your content addresses a problem your reader has… and then solves it for them… you have done your job!
You have given them VALUE in return for their time & page view!
And hey…
…They may even Share your content if they love it that much!
People don't want to waste their time coming to read just about you, they want to know what you can do for them and how you can make their lives better!
Harsh, but true!
Many Bloggers write about their own passions & unfortunately, these blogs often don't make money… that's not to say you can't make money blogging about your passion,
Never say never, right?
But if you want to start a blog to make money then it makes sense to start in a niche that's popular with many people.
However, I don't recommend you start a blog in the Craft niche if you know NOTHING about crafts… you need to be able to have an interest in what you're writing about otherwise you won't enjoy it & your readers won't get value from you either!
I write about a variety of topics on this blog & I love them all… you're bound to find a topic you can passionately get behind that falls within a successful niche category!
How to find content your audience wants to read
I'm going to show you my exact method of finding content that I know has a good chance of doing well!
There are other ways to find great content ideas for your blog, but this is my easiest method…
Type your content idea into Pinterest. For example, you might type 'DIY Christmas Decorations' into the search bar
Click on the results that come up first & check out their repin counts on Pinterest. To see the repin counts on a desktop & mobile you simply click on each pin… the repin count will show at the bottom right of the image. On a tablet, the repin count of each pin should already be visible on the page without needing to click onto the pin.
When you find a result with high repins… think 1.5k plus repins, click through to that blogger's website & examine their post.
Take inspiration from what they have done but… (and this super important) DO NOT COPY!!… It's just not how we should play ball! So, think of ways that you can make it better! For example, could you make the steps to solving the problem easier? Could you offer extra info that this blogger has missed?
Double check the share count using the Buzzsumo browser extension (you can see it in the image below)… a high share count indicates an audience for this topic!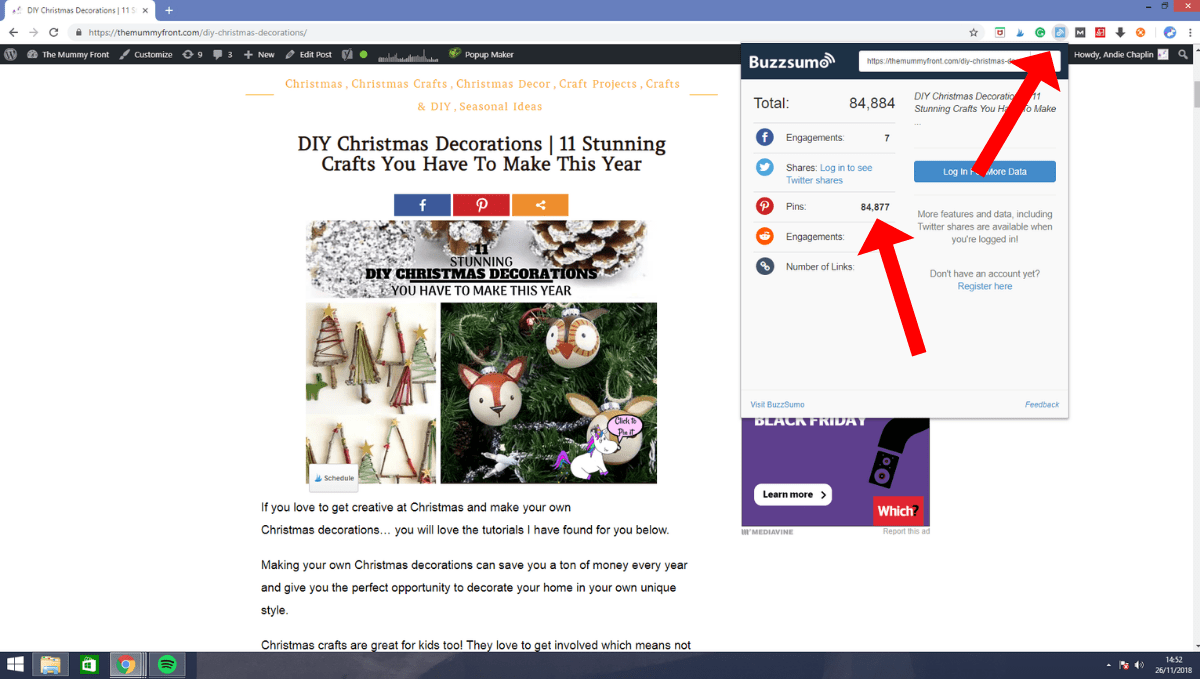 This image is from my own site. With over 84k shares you can bet that a post covering this topic has the potential to do well on your own blog if your niche is crafts/ home decor.
Obviously, if you have a foody blog, this topic wouldn't be a good fit.
After you've published several posts you'll begin to get a feel for what your audience likes to read on your blog & you can expand your content within those topics… my blog was never intended to be just crafts & home-decor but my audience is telling me time & time again that this is what they want to read. To serve my audience & continue growth, I make sure I deliver on these topics… it would be counter-intuitive not to.
Step 4: Mastering Pinterest
When you start your blog, you're going to want to be on Pinterest!
Seriously!
How do I know?
Because Pinterest will most likely be your number one driver of traffic… especially in the beginning!
Don't believe me?
Let me show you the stats for the past 30 days on this site…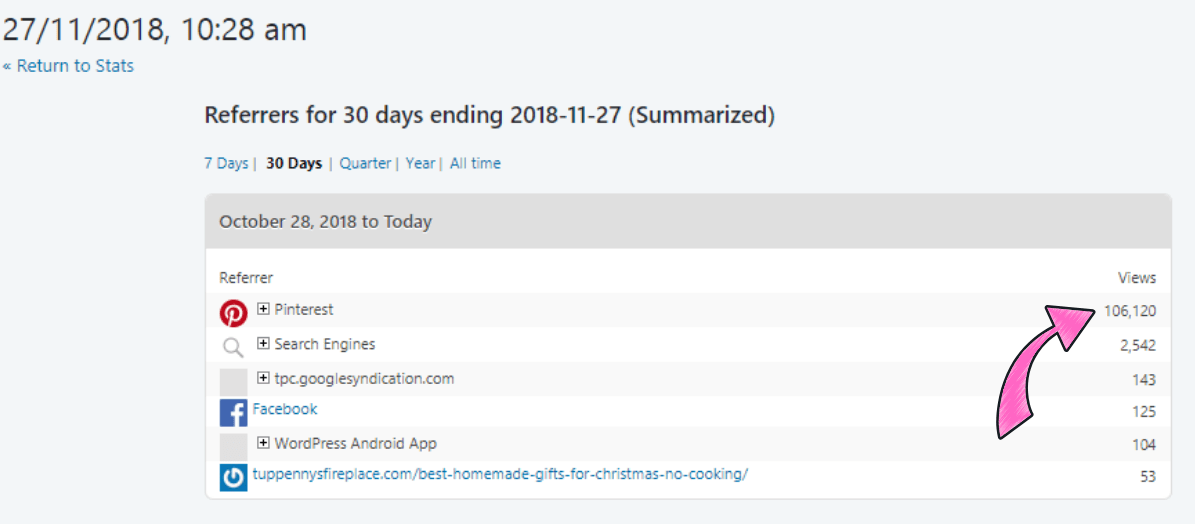 As you can see, using Pinterest to drive traffic to your blog is a clear no-brainer!
How Much Does It Cost?
Well, it may surprise you to know that Pinterest drives all this traffic for FREE…
Yep… totally free!
To get the same reach & traffic numbers from Facebook, you would have to spend a near fortune on ads.
A common misconception about Pinterest is that it's a social media platform when actually Pinterest is a Visual Search Engine…
Just think of how you use Pinterest yourself…
You want to find a delicious recipe for a cake… so you type in 'delicious cake recipe'
The results that show up are all technically ads from bloggers…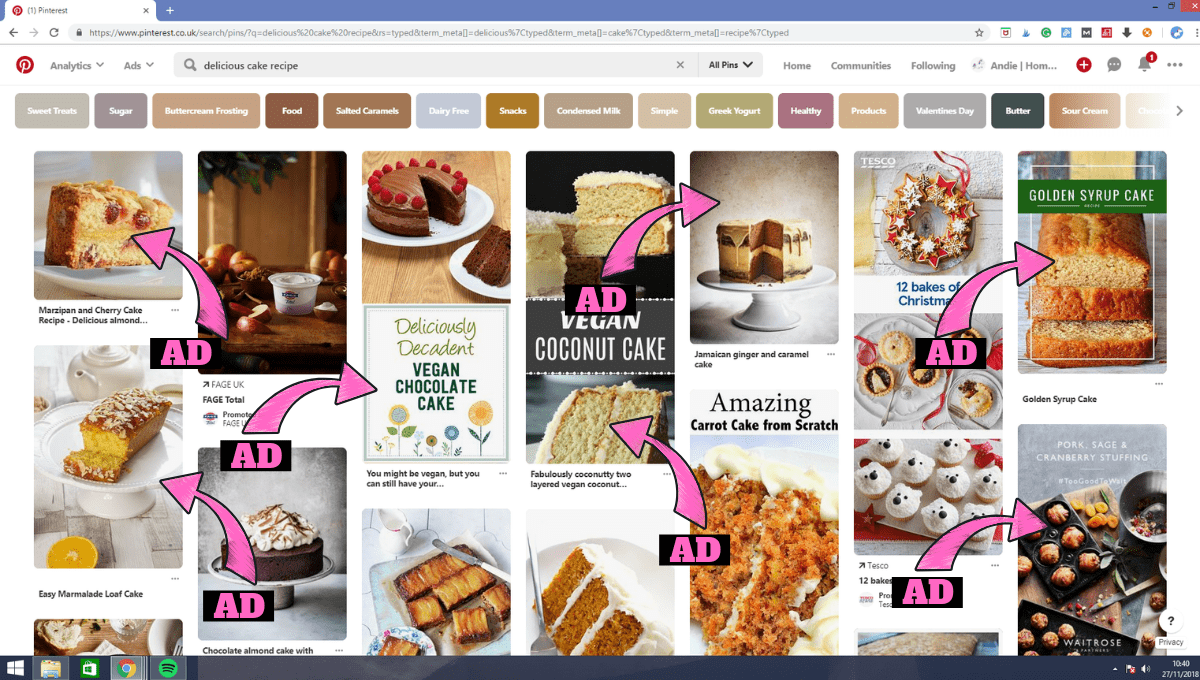 Are you looking at Pinterest a little differently now?
Most of the Pins in the image above are from bloggers… the image leads to a post on their site where they give you VALUE in the form of the recipe to make that cake i.e… the answer to your problem.
Using Pinterest the right way will help you to drive massive traffic to your blog…
It only takes one of your pins to go viral to begin seeing exciting numbers like this…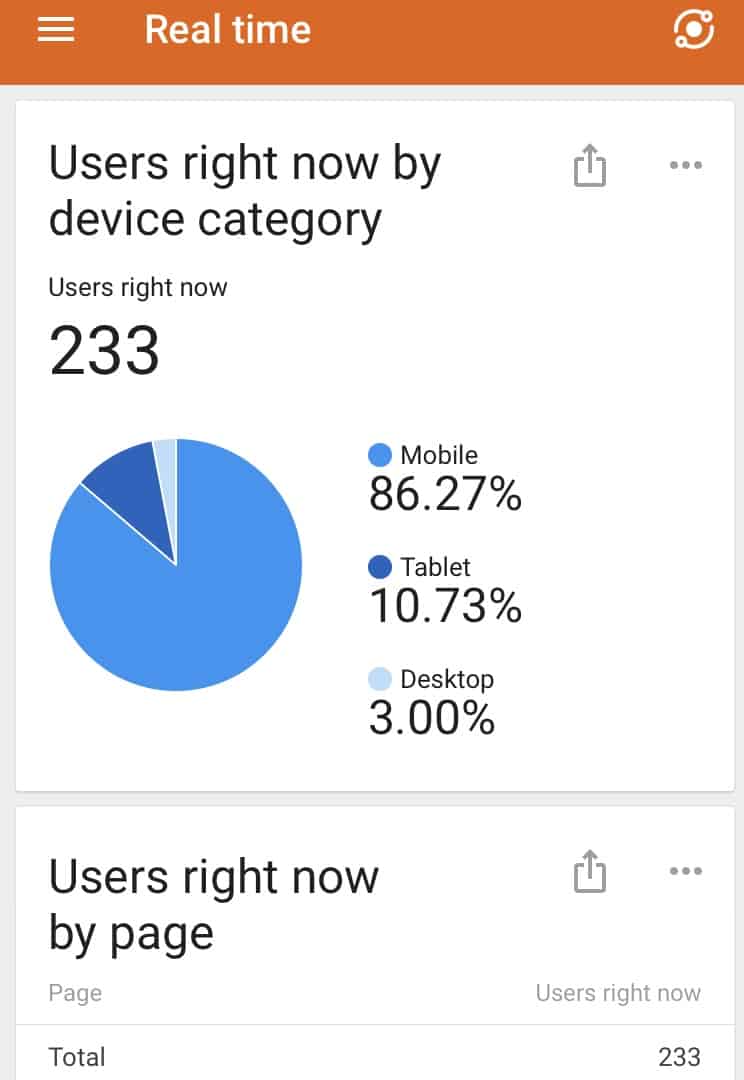 It's so awesome to see this amount of visitors on your site at once.
So, let me show you now exactly HOW I used Pinterest to make this happen…
How To Use Pinterest For Your Blog
The first thing you want to do is register for a Pinterest Business account by either creating a new Pinterest account or converting your current one to a business account… it's free & super easy to do, simply click here & follow the steps.You want to do this because you get access to detailed stats & analytics with a Pinterest business account that you don't have on a standard user account.
If you need any help with any of this, email me! It's from other bloggers that I was able to learn all these things, so I'm more than happy to help you!
A Good Pinterest Strategy
Now you've got all that set up… I'm now going to show you the exact steps I take to promote my site & content on Pinterest…
1. Set up an attractive Pinterest profile with a keyworded profile name & description!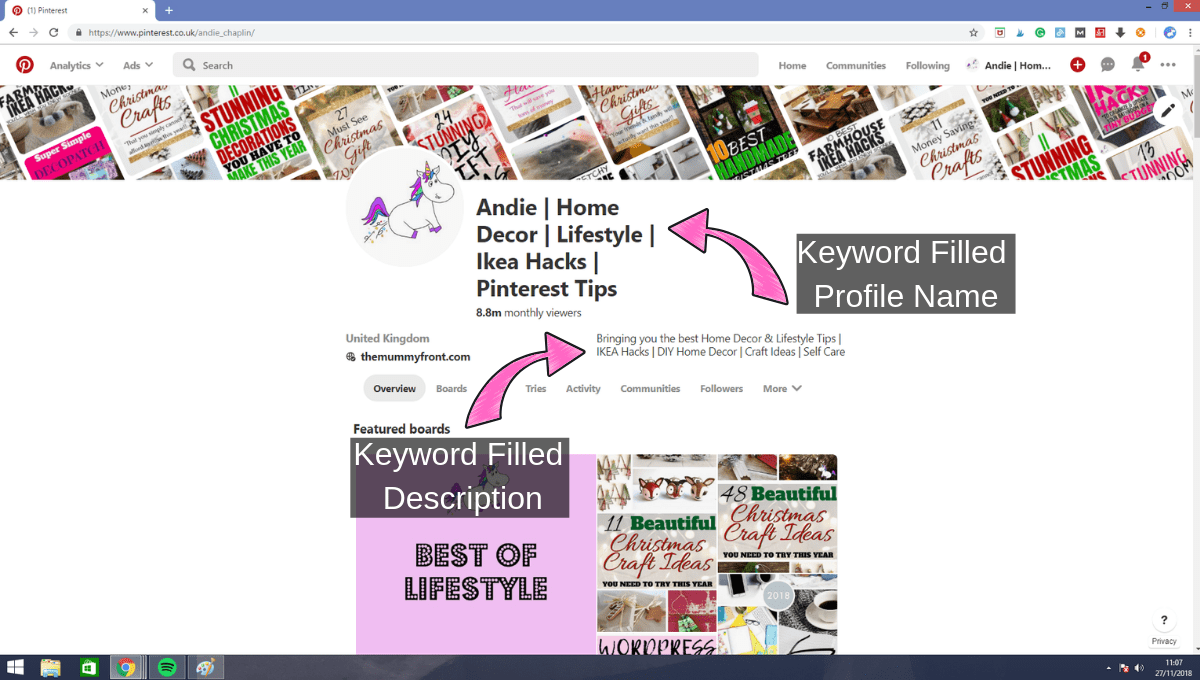 Having keywords in your Pinterest profile will help Pinterest learn what your content is about!
You'll also be giving anyone who views your profile an immediate indication of who you are and how you can help them!
2. Create boards with keyword filled titles & descriptions
Because Pinterest is a search engine, you need to fill your boards with keywords in all the right places to help Pinterest know what your boards are about.
I recommend creating at least 20 boards that are relevant to your blog niche…
For example, if your niche is fitness you could have boards with titles such as:
Fitness
Health Tips
Exercise Tips
Healthy Lifestyle Tips
Fitness for beginners
The idea is to start boards that your audience would be interested in following & that you can pin your content to.
If your niche is Fitness, but you have a passion for crochet & want to pin crochet ideas for yourself then it's a good idea to set up your own personal Pinterest account that is completely separate from your business account…
Keeping your Pinterest account in line with your niche will help Pinterest to understand you & your content meaning your pins are going to be shown to the RIGHT audience!
Once you have your boards created, you should pin 30+ GOOD pins that are relevant to that board… these are not your pins, they're third party pins that have an excellent re-pin count & that lead to the correct website!
You do this so Pinterest will see your board as HIGH-QUALITY!
Important: Be sure to check that every pin you pin leads directly to the original bloggers website… many pins get stolen on Pinterest by spammers and lead to spam sites… If you pin a pin that has a spam website attached to it, you'll stand a better chance of being banned by Pinterest… so only pin GOOD pins!
When you come to add your own pins to your board, all the keywords from the board will be latched onto your Pin & it has a much better chance of doing well.
3. Create 5 or more pins per blog post
The more pins you have, the more you can pin…
Obviously!
I like to Pin like a girl possessed… therefore I create several pins per post…
There is no limit to how many pins you can create for your posts.
Some of my posts have 10 pins or more, some have 2 or 3…
To get started, aim to make 3-5 pins for each of your blog posts.
You can create pins FREE & easily in Canva… an excellent image creation tool!
Here are some great tips for creating pins that get clicks:
Use relevant, high-quality images that show what's in the post
Use clear READABLE fonts… if you can't read it with your eyes squinted, the text is too small.
Include titles on your pins that generate curiosity or urgency… i.e. '10 things you didn't know about…' '10 tips about cats you'll wish you knew sooner'
Create pins that are 600×900 pixels as recommended by Pinterest… 600×1200 works well for me!
If you share a pin to Pinterest & it does well i.e it gets repins & clicks…

…make similar pins to this successful one for your other posts!
4. Apply for good niche-specific group boards
Group boards are not as important as they once were in the world of Pinterest.
Why?
Because Pinterest wants niched-down, well-keyworded boards so they can show their users RELEVANT results…
You have just learned the importance of pinning your pin to your own well keyworded personal boards so you'll understand that pinning your pins to a multi-niche group board makes it possible that your pins keywords become diluted.
Is it still worth applying for group boards?
It's not worth applying for 'All niche' group boards… but some group boards can still be very lucrative!
One of the group boards I'm in has a smaller follower count than my own profile but still brings me an incredible amount of Repins.
Therefore, find some good NICHE SPECIFIC group boards to apply for.
To find group boards easily:
Visit the Pinterest profiles of your favorite bloggers in your niche
Scan through their boards & find the group boards they are members of
Read the group board description & apply as instructed
Repeat for other group boards
You'll likely find applying to group boards to be a painful and repetitive task… many bloggers will not get back to you & some will simply say no.
Don't let this stop you applying for more…
To increase your rate of acceptance, I recommend applying to group boards with an owner that has a similar follower count to yours & work your way up.
Until you're on a board, you won't really know how it's going to perform for you.
5. Your Pinning Strategy
One of the things you'll likely begin to ask early in the game is 'how many pins should I share a day?'
I can't tell you!
Honestly, there is NO right answer to this question… I know you're not going to like that answer but I would be lying to you if I told you there was a CERTAIN amount.
Pinterest really is an unknown entity… They keep their algorithm close to their chest & you'd be wasting your time trying to understand it…
Trust me!
All you can control is your content, your keywords & pin design… beyond that Pinterest decides and so there's not much point worrying about it.
So, what should you do?
You do 4 things…
You deliver valuable, awesome content
You have kick-ass Pinterest boards
You make awesome pins with great keywords
You start pinning… just pin!
Pin one or two a day or 100 if you like… if it brings you traffic that you're happy with…
KEEP DOING THAT!
If it doesn't? change it up & pin more or less.
It's going to be a case of trial & error…

If you find something that works, keep doing that & try other things alongside it.

If something isn't working, you adapt & let it go.
This is exactly how I grew my Pinterest account to over 9million monthly viewers per month… trial & error and a big dose of chill!
Some of my blogging friends only pin 30 a day & they are doing fantastic, others (me) are pinning over 100 & seeing similar results…
There is no one-size-fits-all method when it comes to pinning on Pinterest.
6. Automating Your Pinning
In the beginning, I was manually pinning
To achieve this I had…
a handwritten list of all my pins numbered
a folder with all my group boards to track which pins could go into them
a long list of my pins to track the date I last pinned them
It was a complicated system and if I'm honest I was glad to see the back of it!
I was seeing incredible growth from manually pinning so the effort was worth it.
However, it's not necessary to be that rigid with your pinning schedule!
If you're just starting out, make as many pins for your posts as you can and pin them out throughout the day.
It's ok to pin the same pin more than once per day but don't pin the SAME pin over and over again.

Try to break the same pins up with other pins in between, otherwise, it'll look 'spammy'…
Use Tailwind To Save Time & Increase Engagement
After I had 200 pins of my own, I gave up on manual pinning & switched to Tailwind to automate my pinning & save me time.
If you haven't heard of Tailwind yet, it's an awesome tool that helps you automate your pinning!
Basically, you add your pins to Tailwind directly from your website & Tailwind will schedule them out to your boards throughout the day at an OPTIMIZED time…
Their smart scheduler knows when your audience is most engaged & will pin at those times meaning you get more engagement on your pins & traffic to your website.
You can use my link here to get a free month of Tailwind & give it a try for yourself! I'm confident you'll love it as much as I do!
Until you have a lot of your own pins, you're going to need to Pin more third-party content.
Eventually, you'll have enough pins to pin mostly your own content.
For an indepth look on how to build traffic with Tailwind click here.
How many third party pins should you be sharing?
Some bloggers pin zero third-party content & still do brilliantly… Some do 50/50… again, there is no definite answer to how many third-party pins you should be sharing.
Personally, I pin 30-50 a day of my own and 20-30 or so third-party pins.
Remember to make sure all the third party pins you pin are GOOD quality with the CORRECT URLs attached to them…
Any easy way to do this is to pin from your group boards as this will also increase the engagement of those boards… meaning your pins have a better chance of performing well.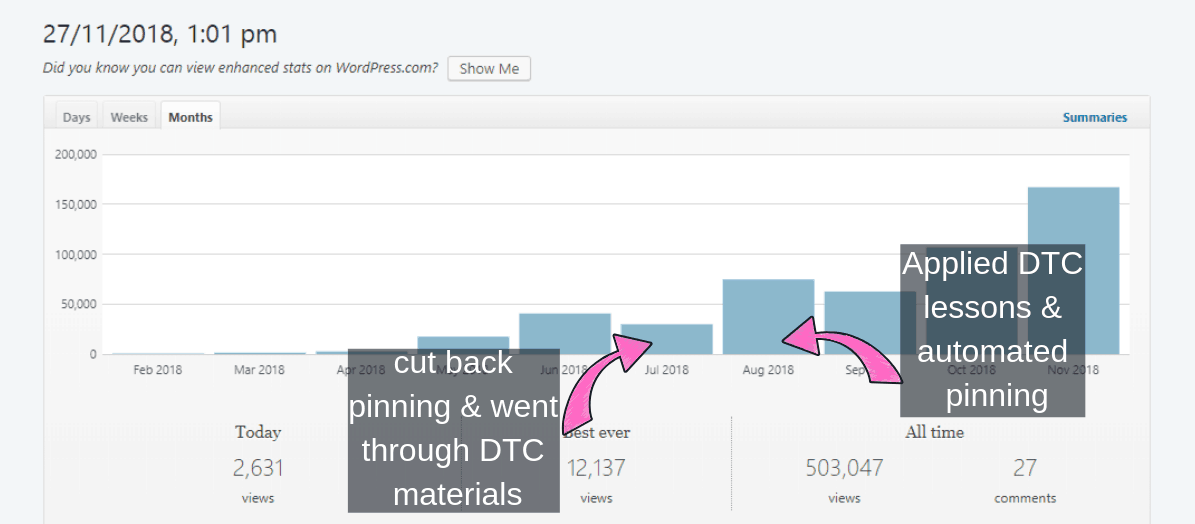 My traffic was BOOMING!
Step 5: Never Stop Learning
I spent my first two months learning everything I could about blogging…
To do this, I signed up for every mailing list out there and attended all the Free webinars I could… I took tidbits of information from all these free resources and applied them to my own business.
Aside from my hosting & theme, I didn't spend a penny on anything else… mainly because I didn't have a ton of money at the time to invest in my blog.
There are so many tempting courses out there being pushed by bloggers… and while I agree that it's a good idea to invest in your business, you do run the risk of spending money & not getting a return on your investment.
Before You Go…
I hope you've found this post helpful & informative!
So, you can see it's definitely possible to make money blogging!
As long as you do your research, give your audience what they're asking for with awesome content & use Pinterest to your advantage… there's no reason why you can't make your blog a success in 2019!
Remember to email me [email protected] with any questions… I would love to help you out!
If you found this post valuable, remember to Click Here to save it to Pinterest so you can come back to it easily!