This simple twig Christmas tree has been in my home for many years now but it's so pretty & easy to do that I thought why not take it apart & share with you how to make it.
The one thing I have learned from this project is that I am seriously bad at taking photos… they really don't do this tree justice!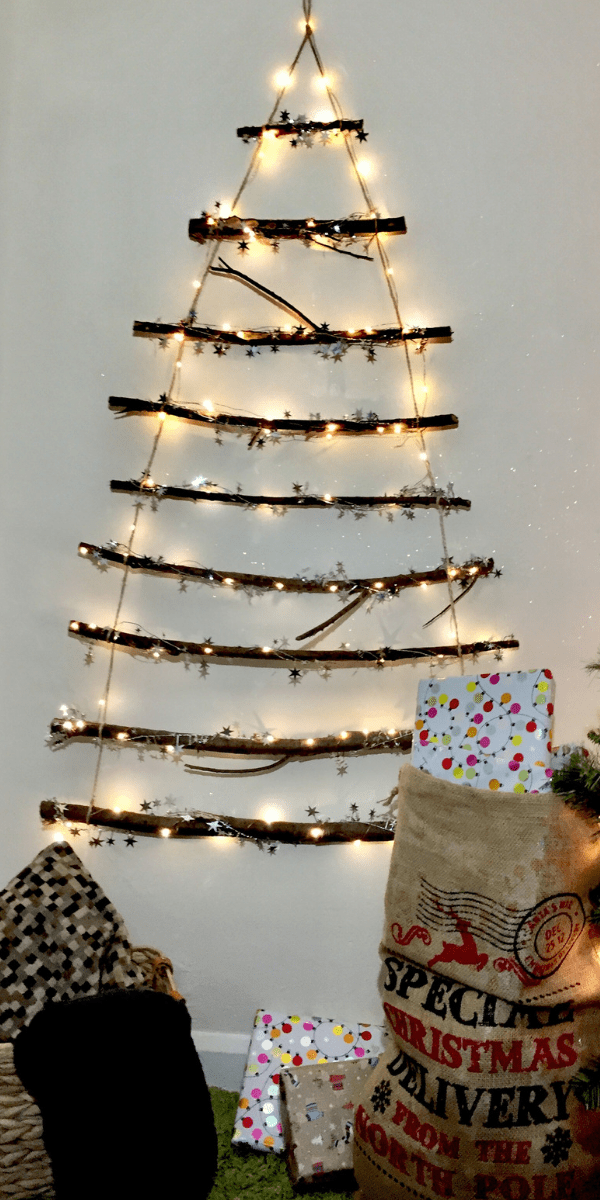 In real life, this twig Christmas tree is captivatingly pretty & you can easily customize it with your own decorations & style.
Rustic Style Twig Christmas Tree
When it comes to Christmas decorations, you can't beat a natural rustic feel!
Not only do the fairy lights create a gorgeous cozy warm glow on the wood that instantly fills you full of festive spirit…
But also, this DIY twig Christmas tree totally beats the plastic, fake twig trees you can buy at the store… hands down!
So, with a few cheap supplies and in less than 30 minutes, you can have your very own stunning rustic style twig tree that will stay in your family for many years to come!
Be sure to click here or on the pic below to easily save this post to Pinterest so you can come back easily whenever you like!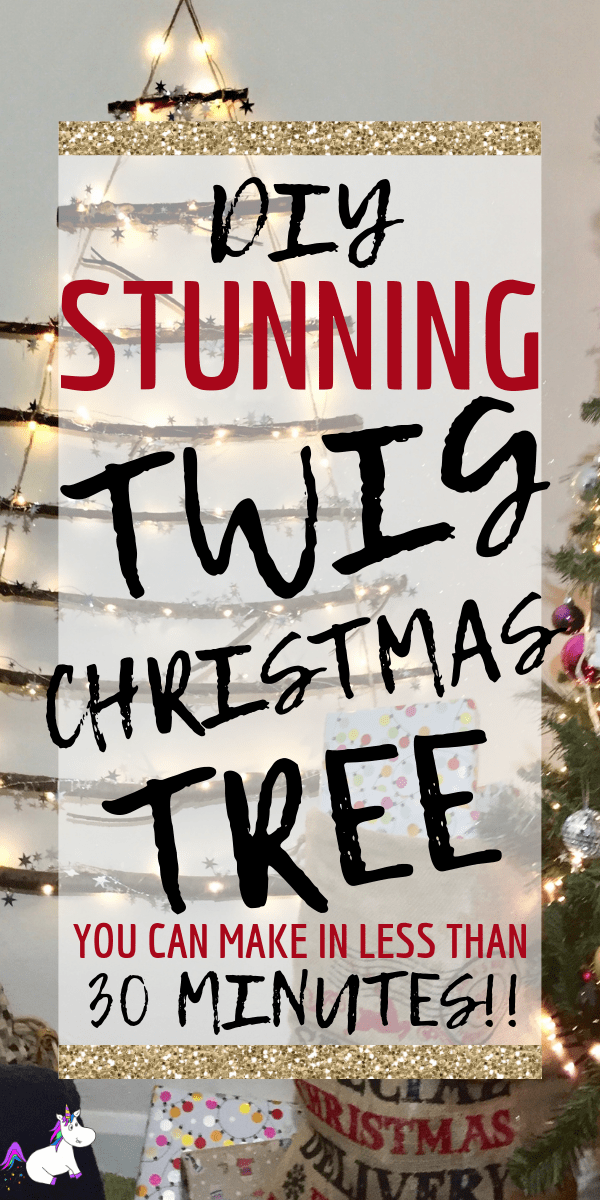 This post may contain affiliate links. See my full disclosure here for more info.
Supplies & Tools You Need
The hardest part of this project is venturing out into the garden or local wooded area to find tree branches… you can grab them in any size and us a basic handsaw to cut them to the size you want.
I used 9 branches in total to make this twig tree, the longest being 30 Inches (2.5 ft) & the shortest being 8 Inches.
You can cut your branches to your preferred size… just make sure each one is cut gradually shorter than the last.
STEP 1
Find your wood & cut to size. Gather together all your supplies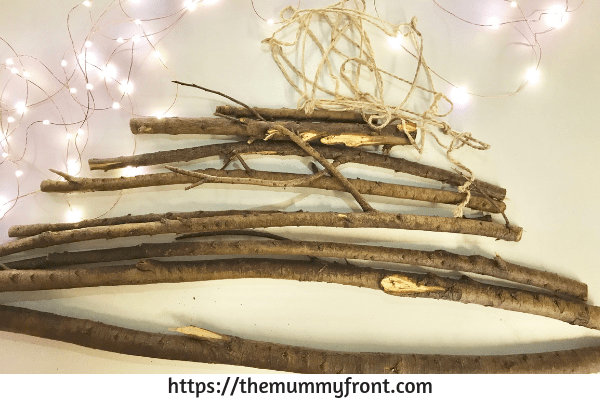 STEP 2
Now you need to cut approximately 13ft of string, depending on the size of the tree you're making!
One side of my tree is just over 4ft long, however, the string used was over 6ft long so make sure to cut your string much longer than you think you'll need!
After you've cut your string, you need to fold it in half to find the center & tie a simple knot… this is what you'll use to hang your tree.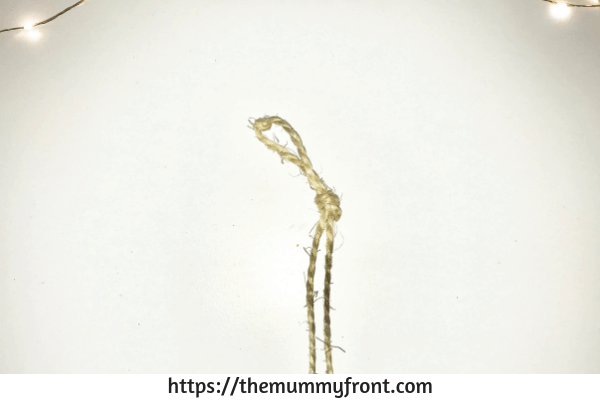 STEP 3
Now it's time to tie on your branches…
Starting with the shortest branch, tie on all your sticks using simple knots (the same kinda knot you'd use as the first step when tying shoelaces).
Repeat for all your branches & tie on your last branch using a double knot to secure.
I found it much easier to get all my branches (almost) level by hanging my tree up after the first twig was tied on.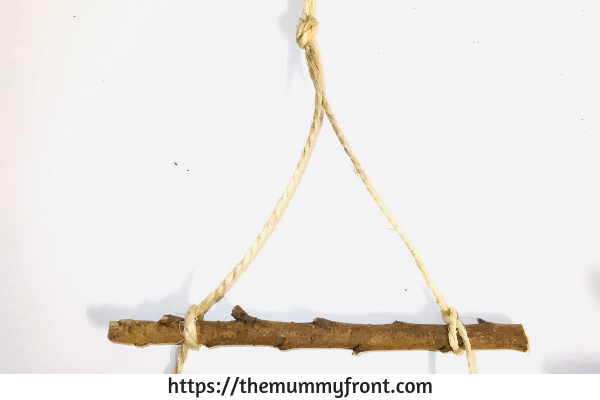 STEP 4
Now it's time to finish up your tree by decorating with lights, sparkly garlands & festive tree decorations of your choosing…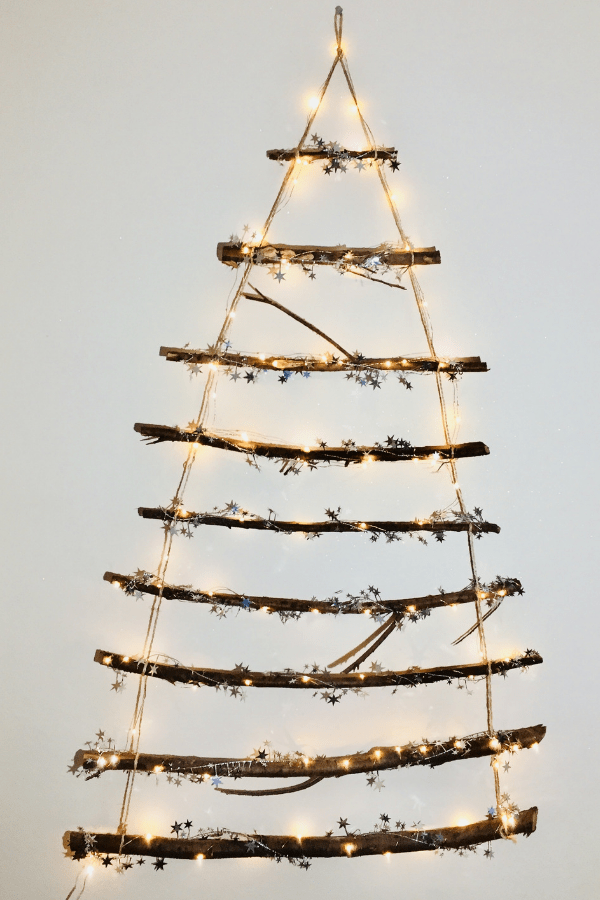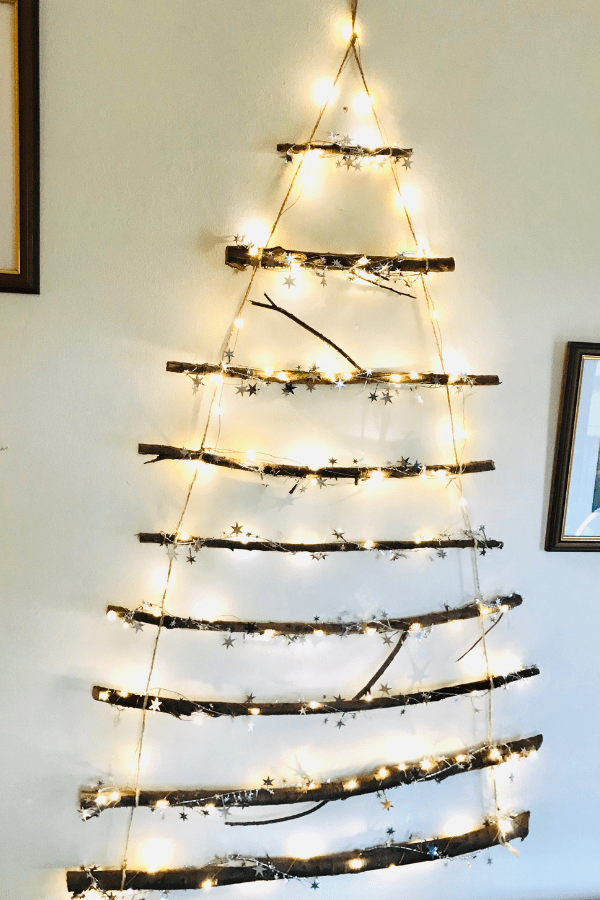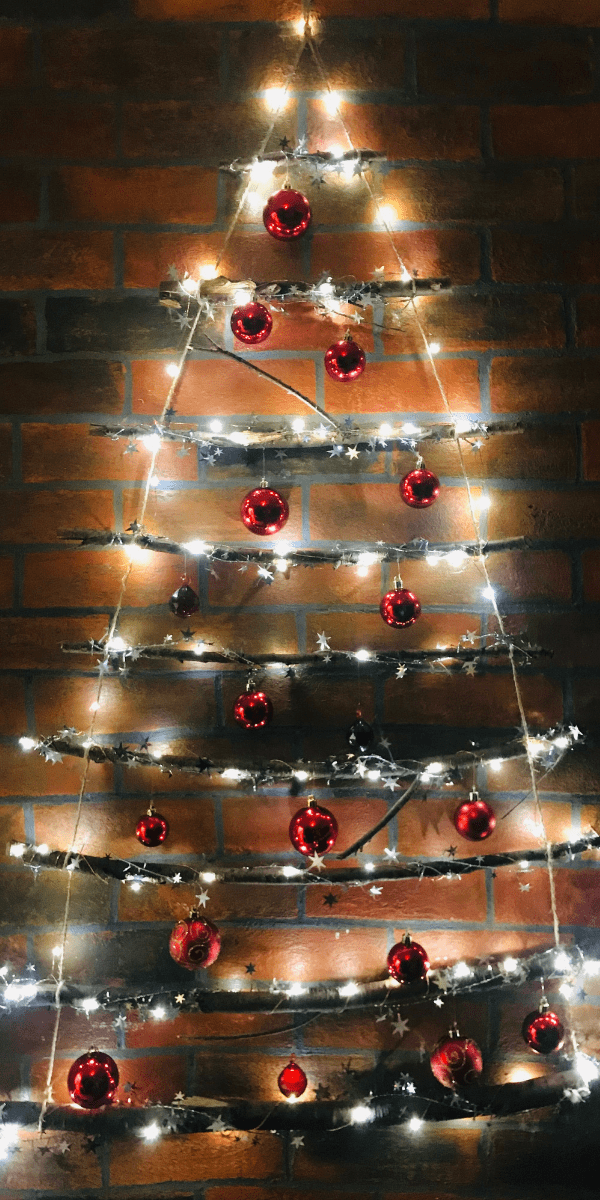 Before You Go...
As you can see, it really doesn't have to be difficult or expensive to have Christmas decorations that are true to your own style.
You could go out & buy your decorations from the store, but really, nothing can compare to making them yourself.
And it gives your Christmas decor an extra special meaning which is just perfect for Christmas time!
Merry Christmas!
Did you like this Festive Twig Christmas Tree? Click Here to easily share this post with your friends on Pinterest!