DIY hand warmers are the answer to keeping warm when the cold winter months start setting in!
Not only are these little hand warmers the perfect size to pop into your pocket, they're also just as good when tucked into your gloves too.
The best part about these DIY hand warmers, aside from keeping your hands nice and snuggly of course, is that they're unbelievable cheap & easy to make!
You can whip up a pair in less than 30 minutes…
[thrive_leads id='8182′]
As for the cost they're beyond cheap… seriously! I spent a total of $22 on materials and that was enough to make 32 of these stunning hand warmers!
That's approximately $1.30 for a pair of hand warmers!
Perfect if you're working with a tight budget this Christmas as these gorgeous little hand warmers make the perfect gift idea!
A Handmade Gift
They are so cute & useful, I'm planning on giving them away as gifts this year & I know my family & friends are going to love them!
If you're doing the same, you could even wrap them up with a cute pair of woolly gloves!
When I was thinking up these little hand warmers, I wanted to make sure that you could easily get hold of all the supplies & cheaply too.
Therefore, you'll be able to find most of your supplies on Amazon.
You may be surprised to learn that I used a cotton dust sheet as the backing to the hand warmers… this gave me over 24ft of fabric for less than $8… a complete no-brainer & they turned out amazing!!
So without further ado… let's get on with the tutorial…
P.S. I've included a load of pics in this tutorial to help you make these DIY hand warmers as easily as possible… Be sure to click here to save this post to Pinterest so you can come back to it easily 🙂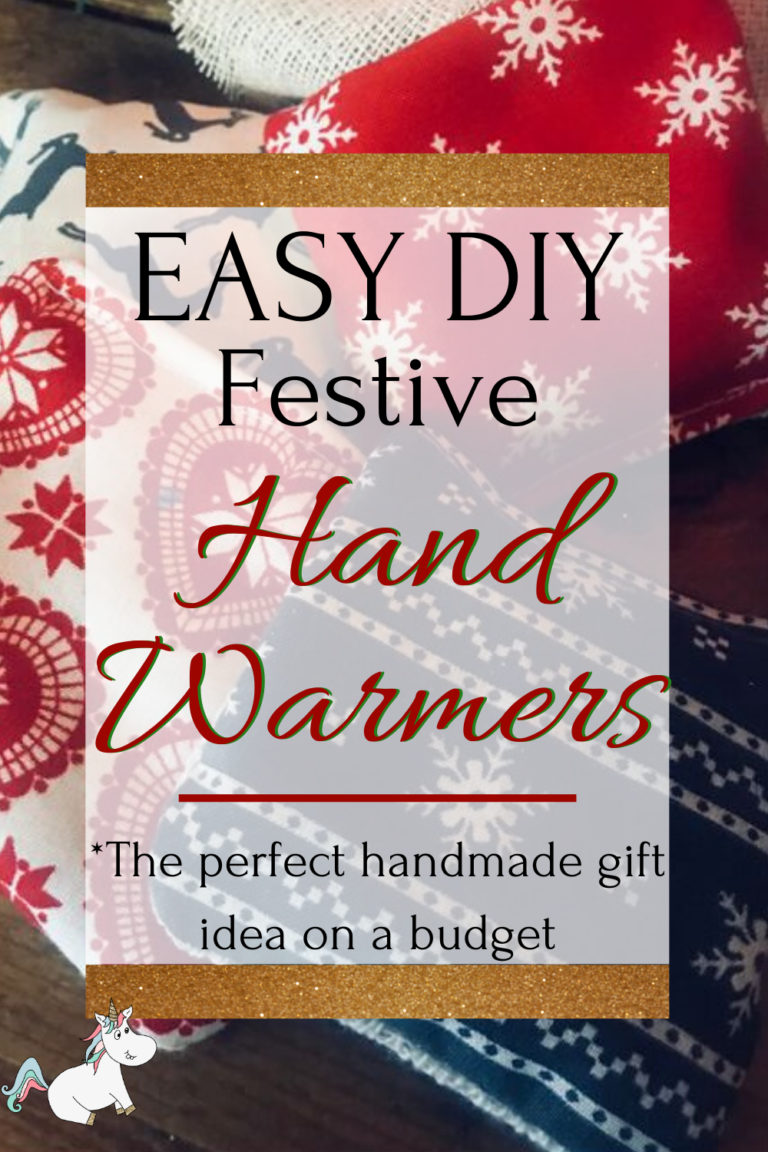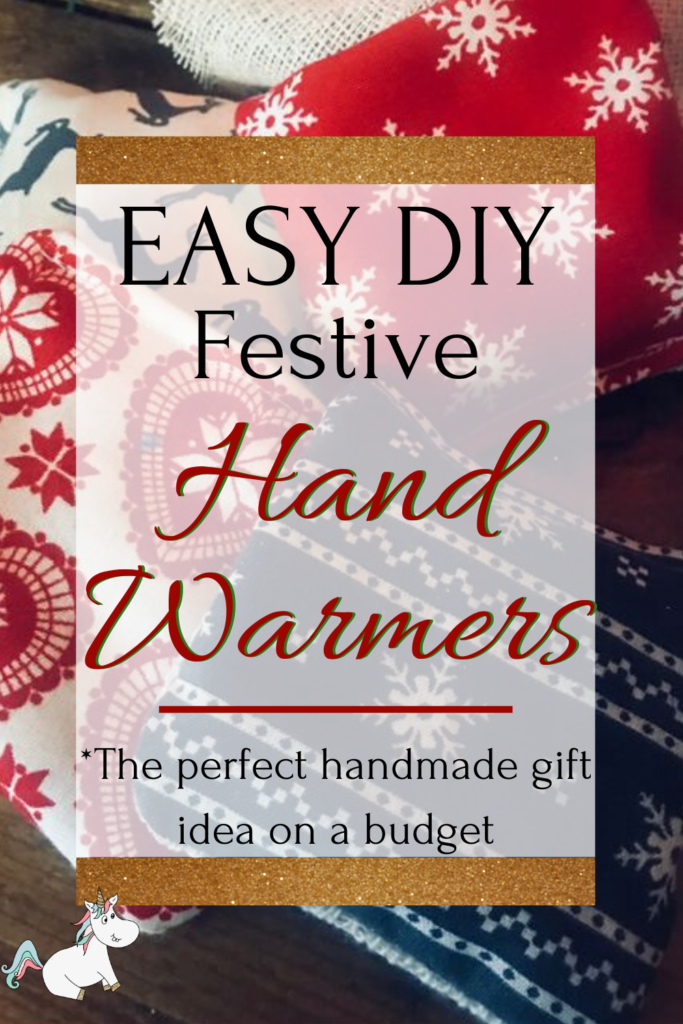 This post may contain affiliate links. See my full disclosure here for more info.
How To Make DIY Hand Warmers
Step #1: Gather Supplies
You Will Need
General Tools Required: Sewing Machine, Scissors, Cotton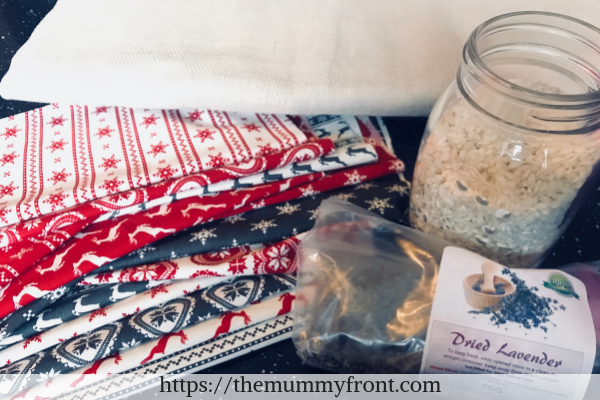 Step #2:
Use a 3 x 3-inch square template as a guide to cut your fabric… I used a post-it note 🙂
Do not cut right along the edges of your template… leave approximately half an inch space between the edge of your template to where you cut the fabric so you have plenty of room to sew.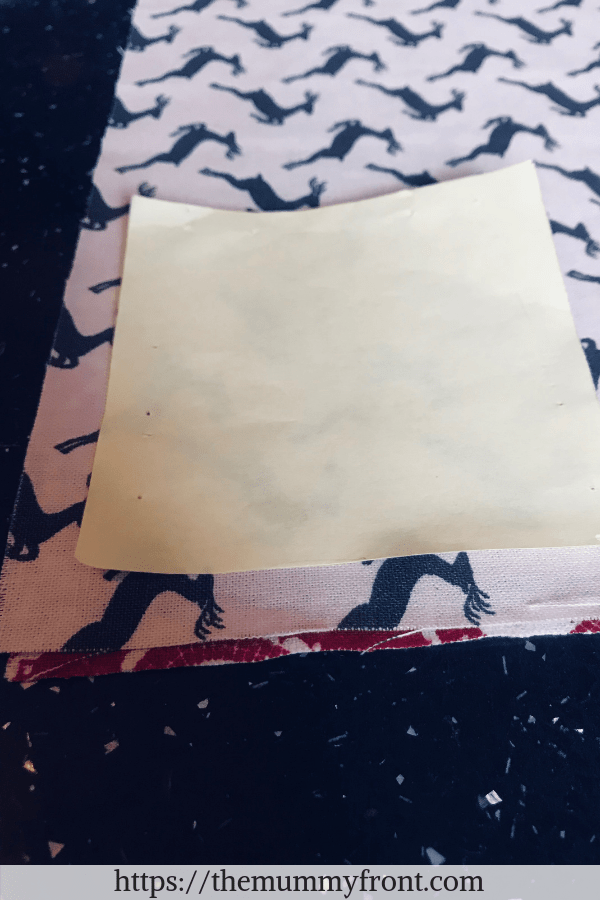 Here are two squares of fabric ready to be made into snuggly hand warmers…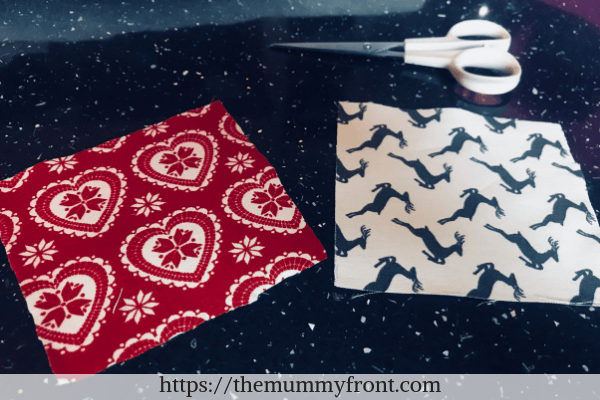 Step #3
Now do the same as above on your dust sheet… I recommend leaving an even bigger edge here between your template & where you cut, as the dust sheet frays easily once you cut into it…. don't worry, it will not fray once its sewed up into a hand warmer.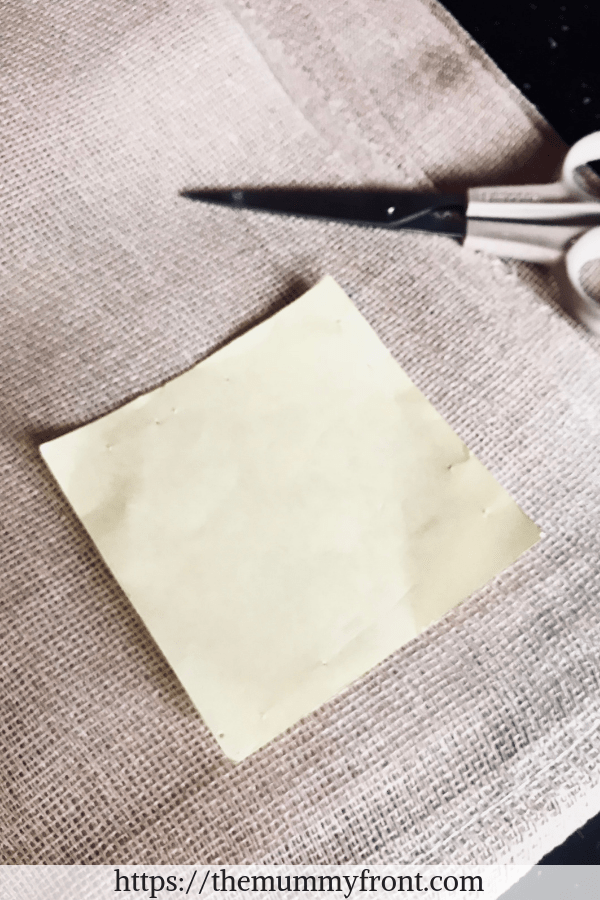 Step #4
Place your piece of cut fabric face down onto the dust sheet piece & place your template on top… I marked out where I wasn't going to sew to make sure that I had a gap left that was large enough to turn it back out the right way once it was sewed.
When marking out where you aren't going to sew you need to ensure that the gap is large enough to easily turn inside out.

It took me several tries to find the right size gap to leave. The first time, I didn't sew one of the corners which ended up being a challenge to sew up after the hand warmer was filled with rice.

I then left the gap too small which was a nightmare to turn back out the right way because of how easily the dust sheet frays.
Having your 'no sew' area as shown below will ensure your corners are sewed & that the gap is large enough to not fray & ruin the hand warmer.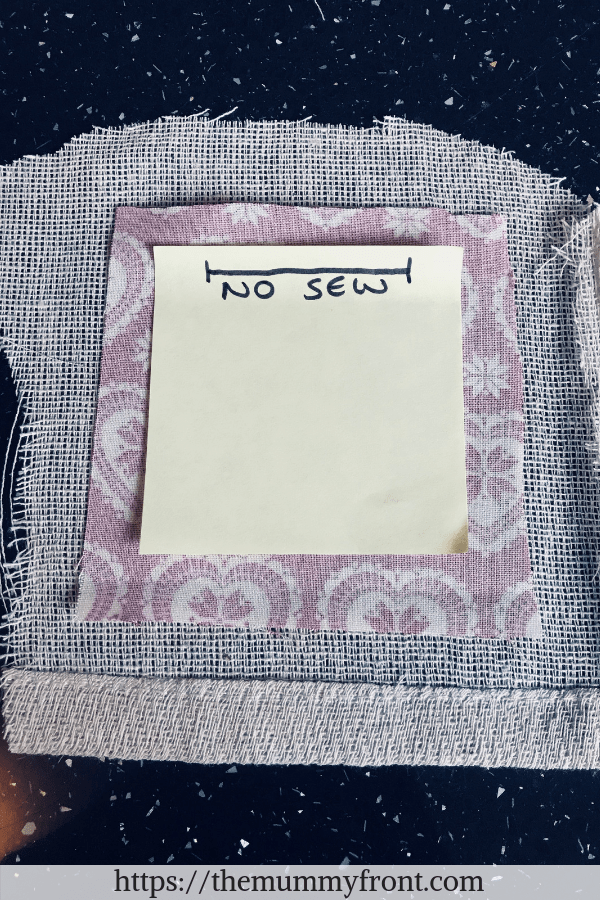 Step #5
Now pin it all together to hold it in place & then sew around as close to your template as possible, using your template as a guide.
Important: When you begin sewing, start at the right-hand side of the 'no sew' line and work clockwise around to the other side of the 'no sew' mark.
Sew around the template once with a regular stitch & then repeat again with a zigzag stitch (remembering to leave the gap). This will help to reinforce the seams & stop the hand warmer fraying.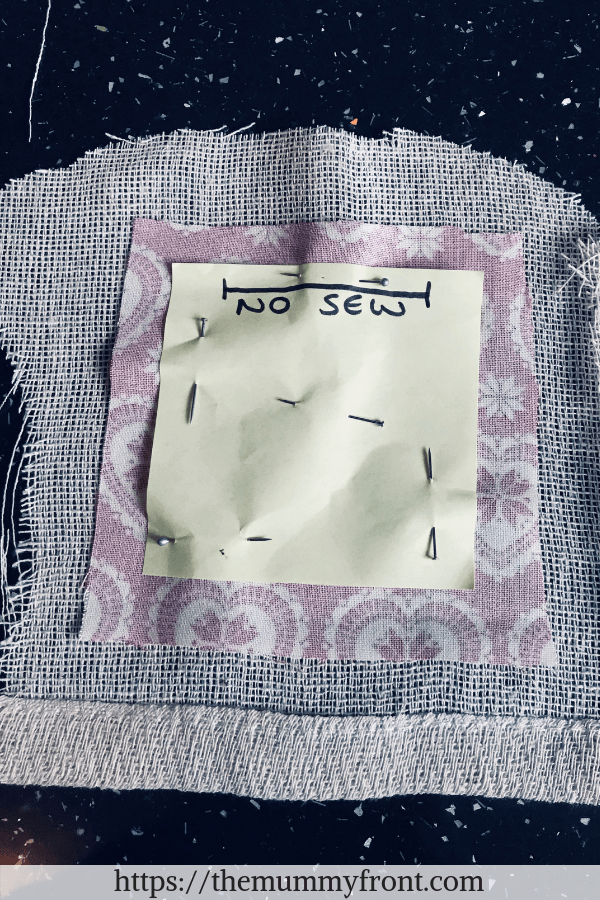 You can see both the straight stitch & the zigzag stitch in this picture…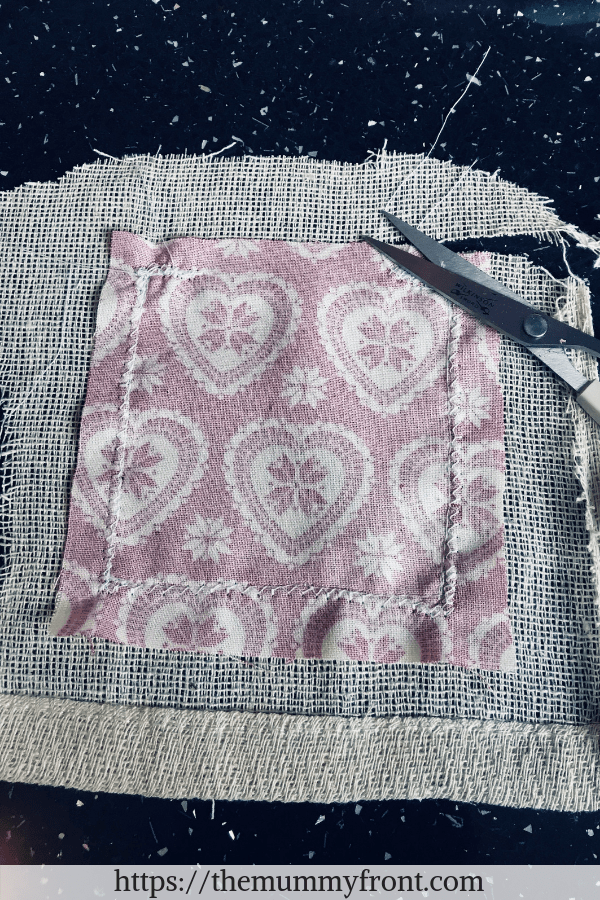 Step #6
Now it's time to cut off the excess. Try not to cut too close to the stitching & remember to leave a larger edge on the side that you left the gap… This makes it easier later on when you come to sew up that side.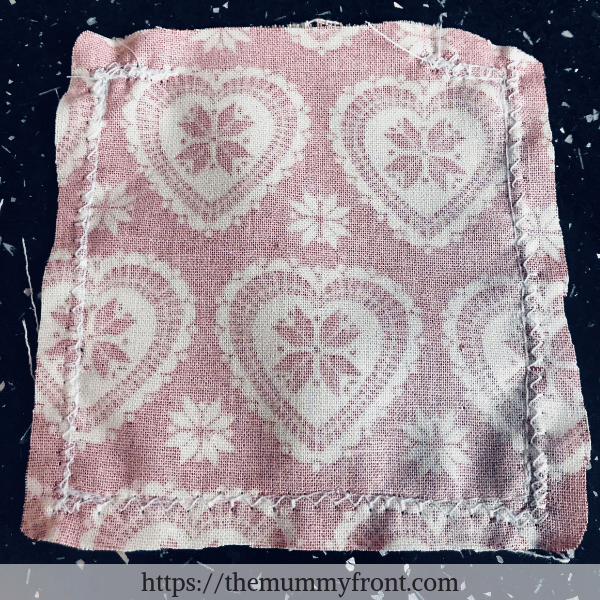 Step #7
Now turn your hand warmer out into the right way…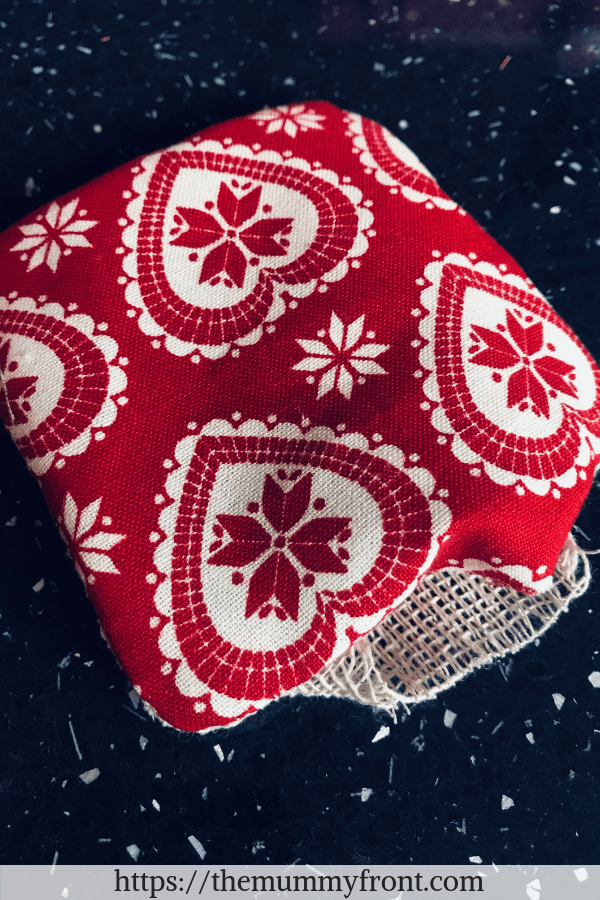 Step #8
Use a teaspoon to insert approximately 4 teaspoons of uncooked rice & two teaspoons of dried lavender.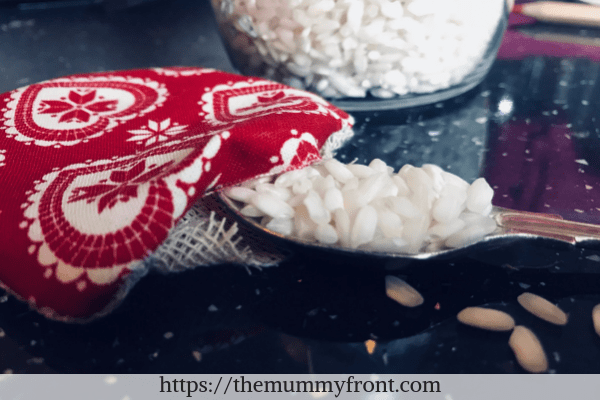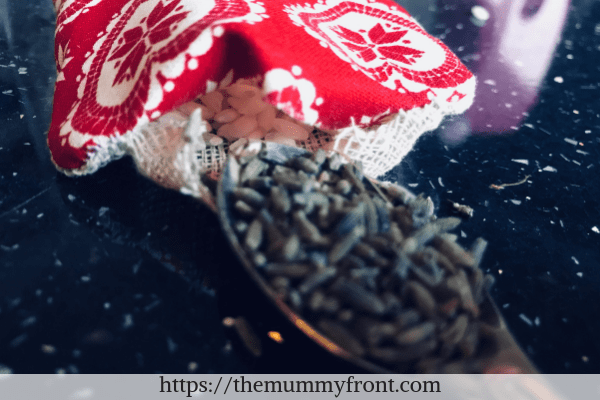 Step #9
Now its time to close the gap. To begin, fold the edges in & pull the corners… you should find the hand warmer closes really easily… secure with a pin.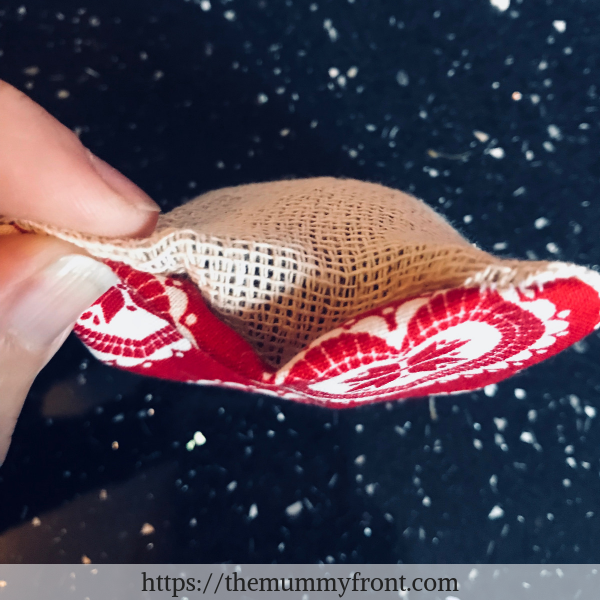 You can see in this picture that I used a couple of pins to secure the seam & another two to temporarily hold the rice & lavender inside while I sewed up the edge.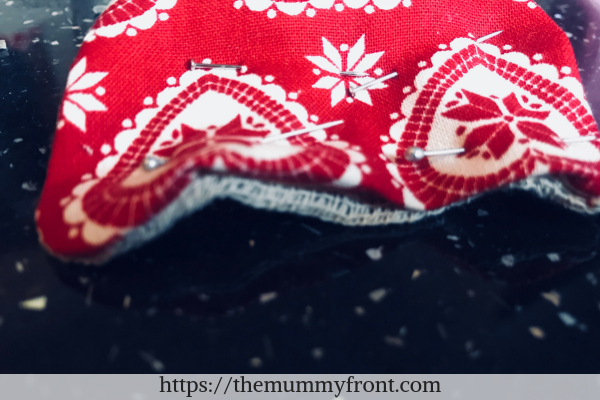 Step #10
Sew along the last edge… I easily did this with the sewing machine, but you could also sew by hand if you prefer.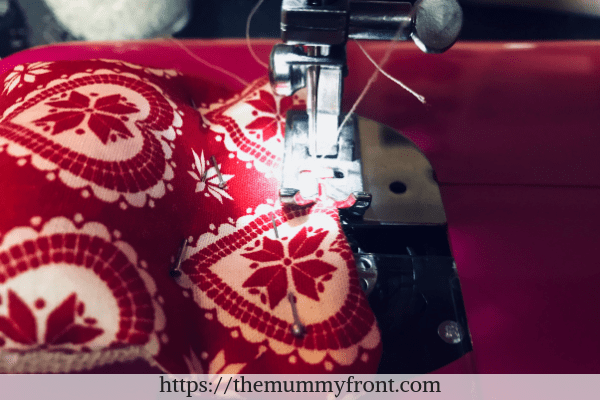 The Finished Hand Warmers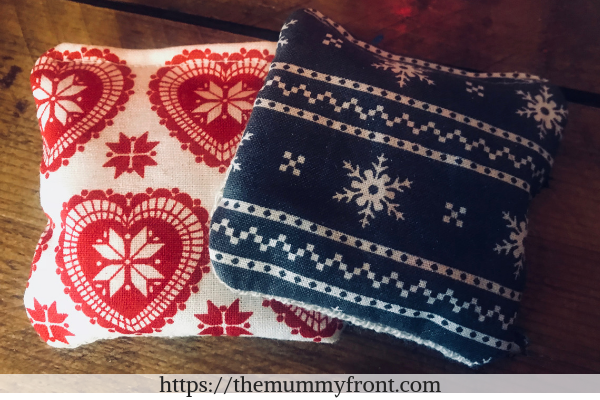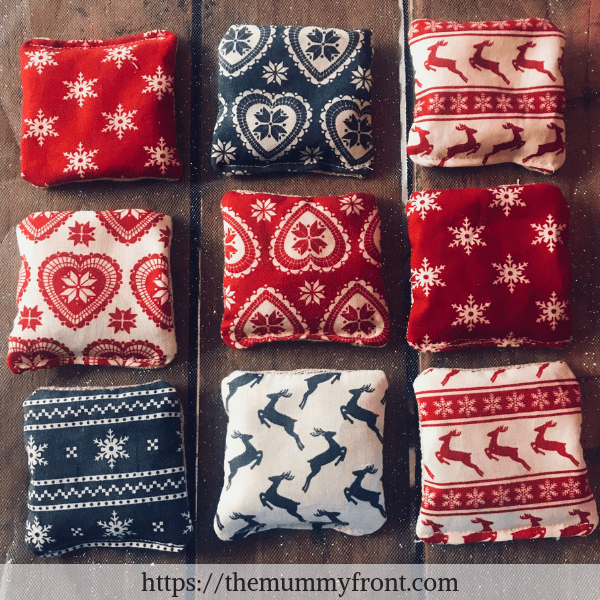 How To Heat These DIY Hand Warmers
Heating these hand warmers is so easy! All you need to do is pop inside the microwave for 20-30 seconds!
I would recommend heating for only 20 seconds for children as they do get quite hot at 30 seconds.
These hand warmers are 100% cotton so they are completely safe inside the microwave.
The best part is they smell absolutely gorgeous & you can reheat them over & over again! too!
Once they're heated, simply pop them into your pockets or slip them inside your gloves to keep your hands toasty warm on your way out.
[thrive_leads id='8182′]
The Perfect Handmade Gift Idea
With a few supplies, you can make the hand warmers look extra special if you're planning on giving them away as gifts
To make the hand warmers extra fancy, you will need
String
A rectangle of your leftover fabric (3 x 2 inch)
A label… you can download & print the template I used here.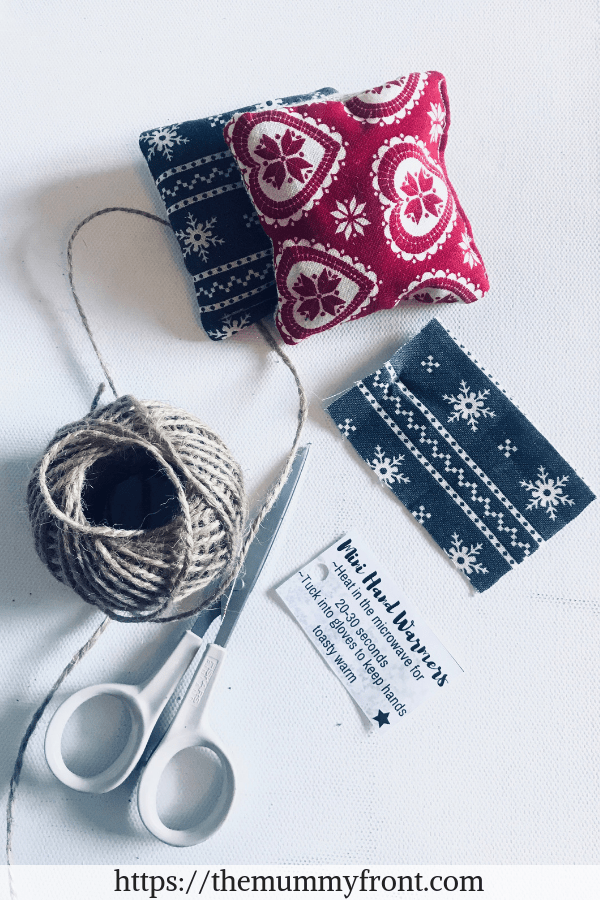 Step #1
Cut a length of string to about 30 inches & lay the center of the string over two hand warmers that are on top of each other…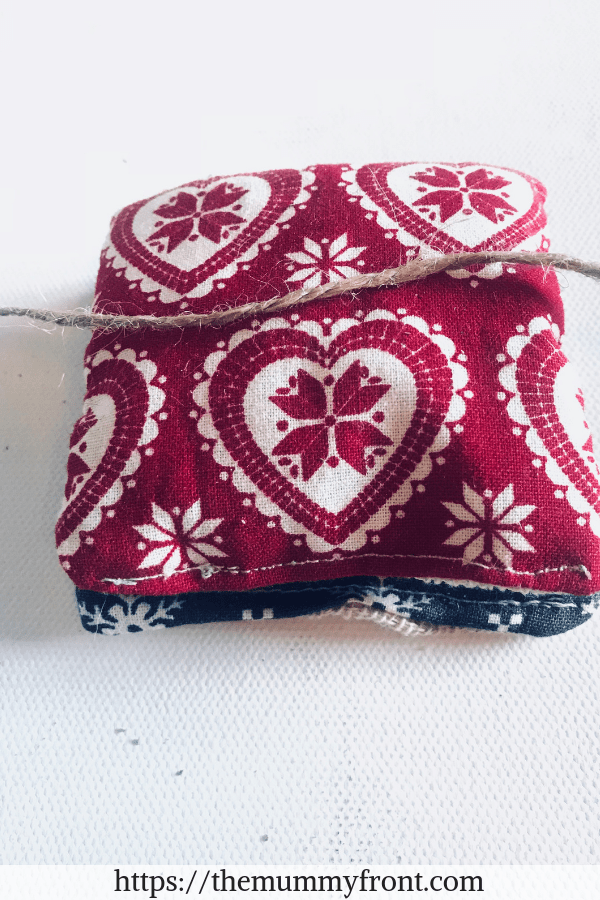 Step #2
Bring the string around and under the hand warmers… turn the hand warmers over…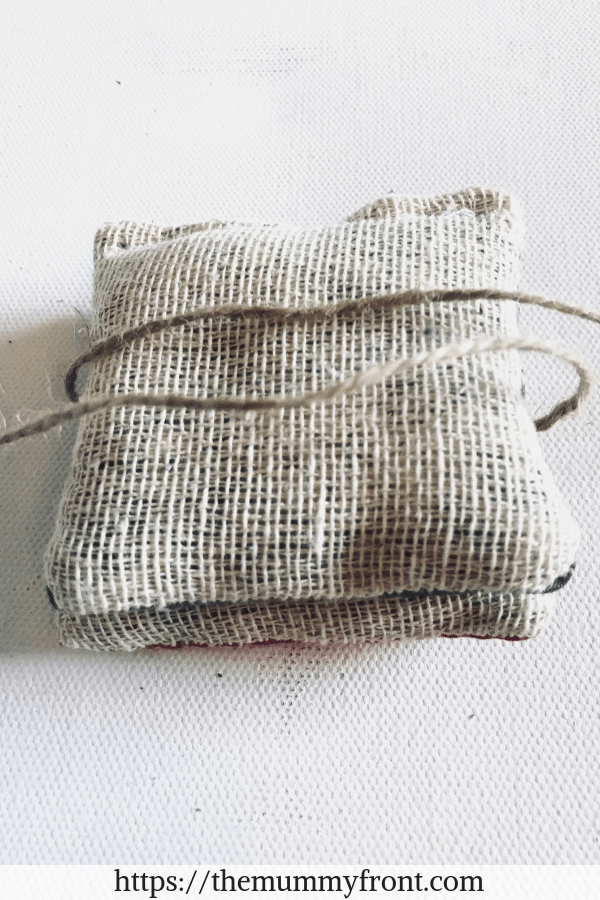 Step #3
Wrap the strings around each other & take them down the other sides…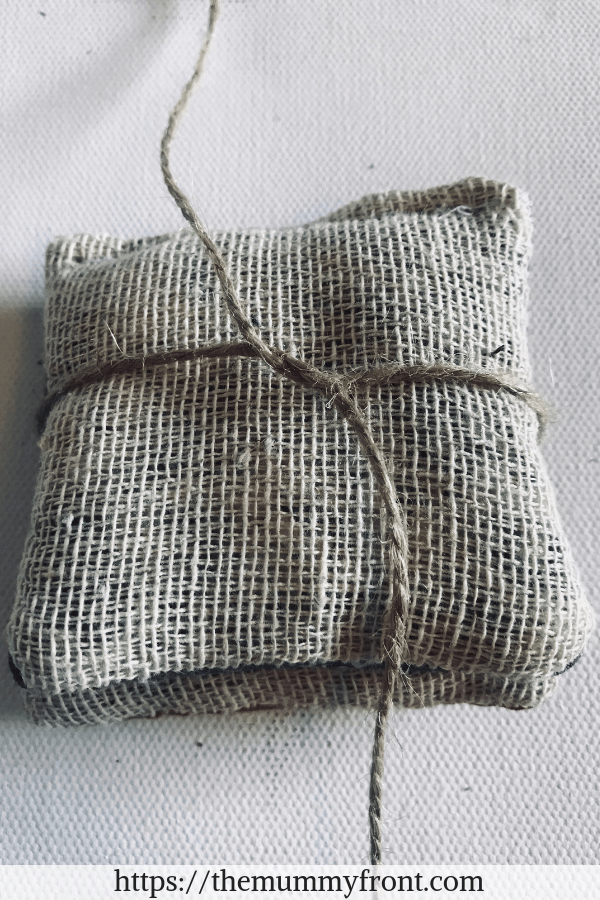 Step #4
Flip the hand warmers back over & bring the strings up & over & begin tieing them as if you were going to tie a shoelace.
Make a hole in the piece of fabric you've cut & slide onto the string… I used a paper hole punch for this step, but you could just pierce a hole with scissors if you prefer.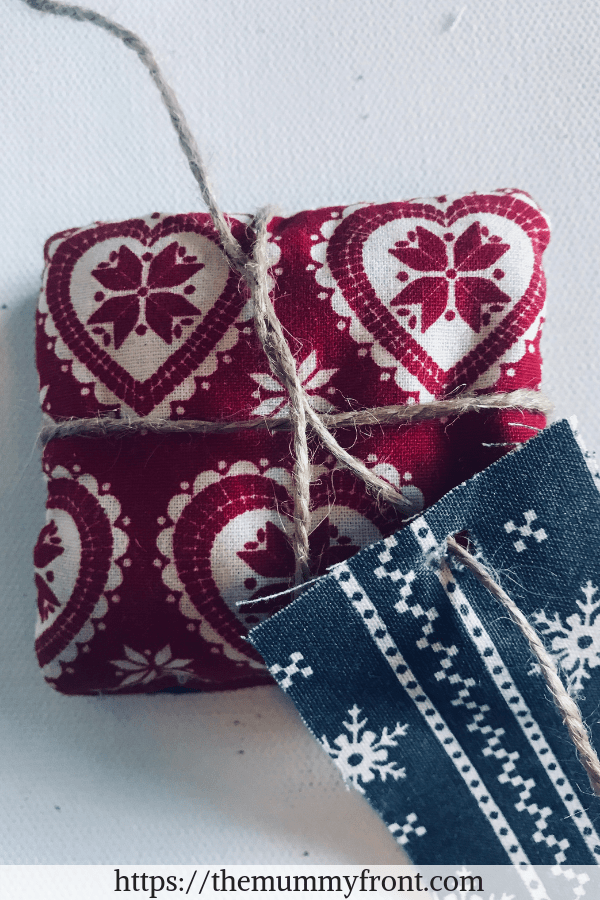 Step #5
Slide the paper label onto the string over the fabric piece…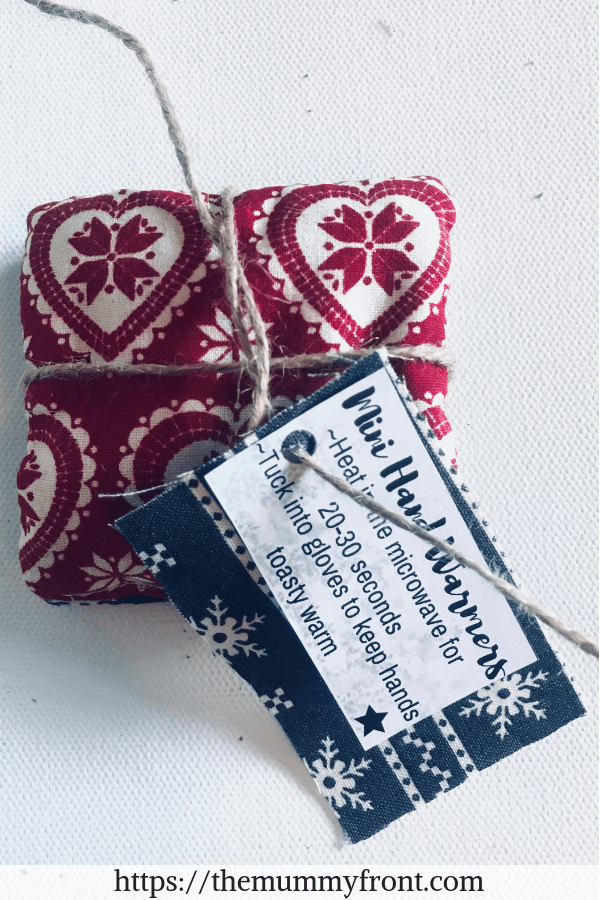 Step #6
Finish by completing the bow the same way you would tie a shoelace.
And that's it… All ready to give to your loved ones…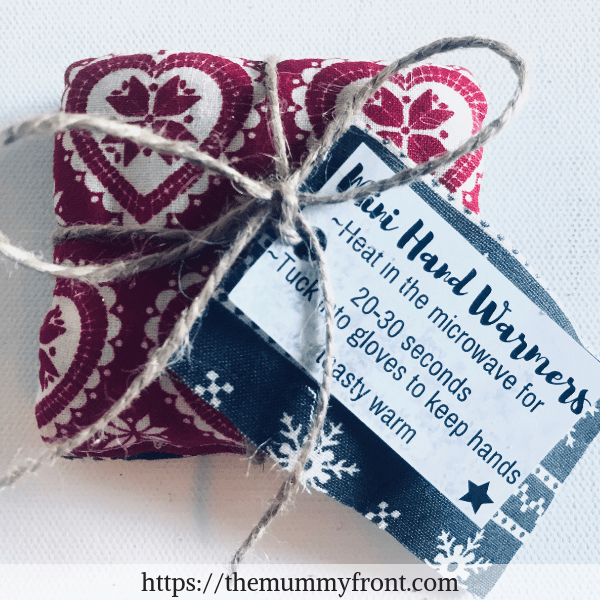 Before You Go...
I hope you've found this tutorial easy to follow & useful.
These DIY hand warmers really are cheap & easy to make & are the perfect handmade gift idea this Christmas.
In fact, they're so lovely & smell so good… I think you'll struggle not to keep them for yourself! 🙂
If you give this tutorial a go, I would love to see your finished hand warmers! Please email me a pic at [email protected] or add your pic to the Pin on Pinterest!
[thrive_leads id='8182′]
For now, if you loved this post & want to help to warm up cold hands everywhere… click here to Pin this idea to Pinterest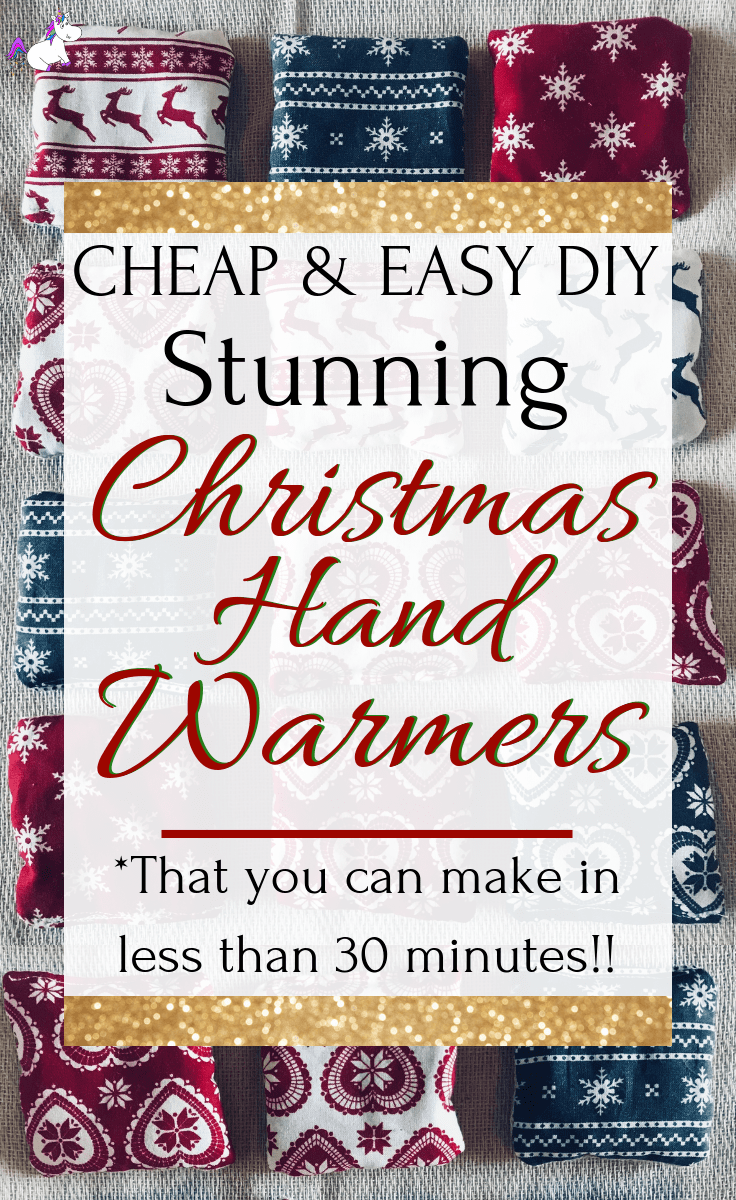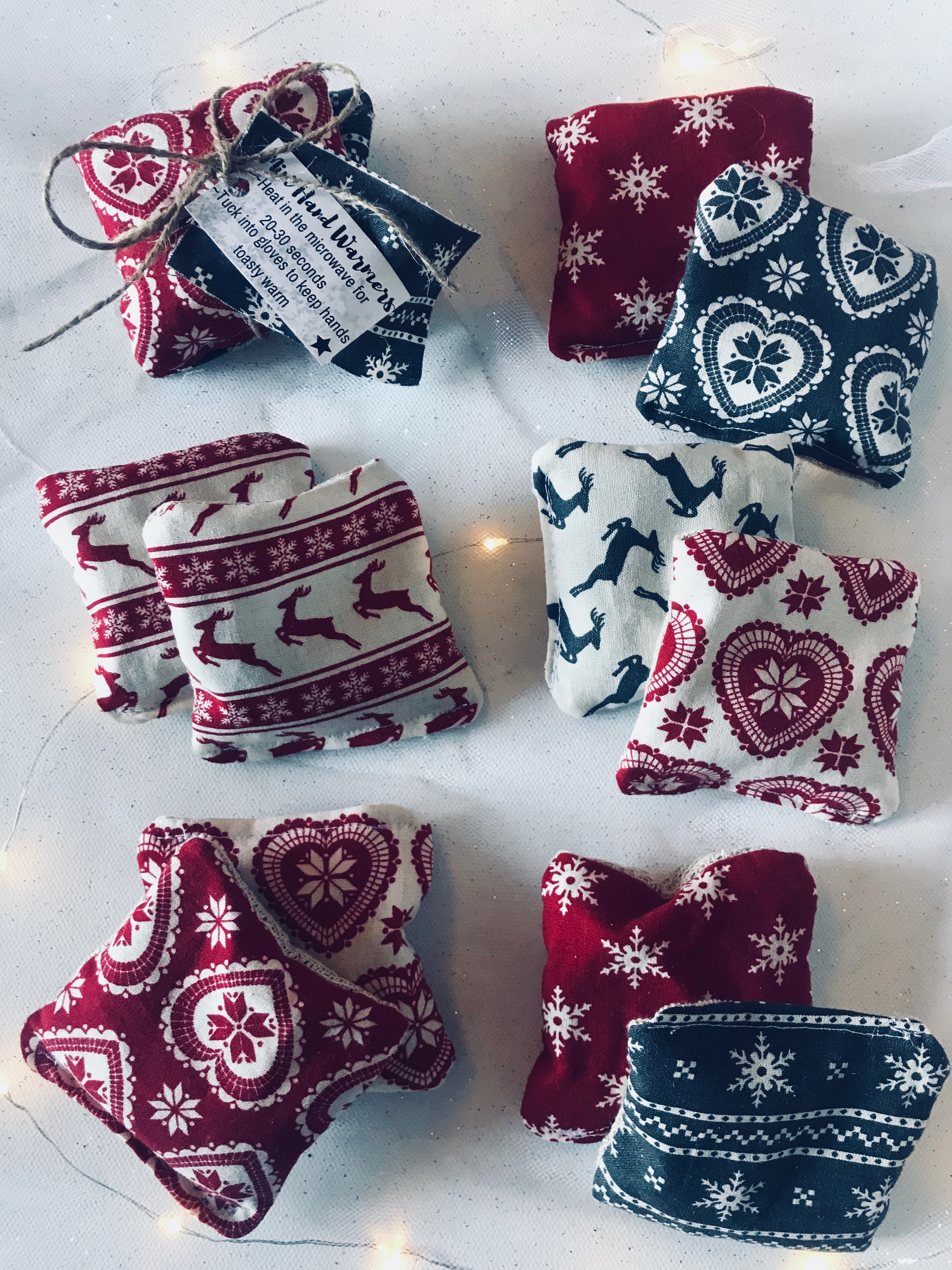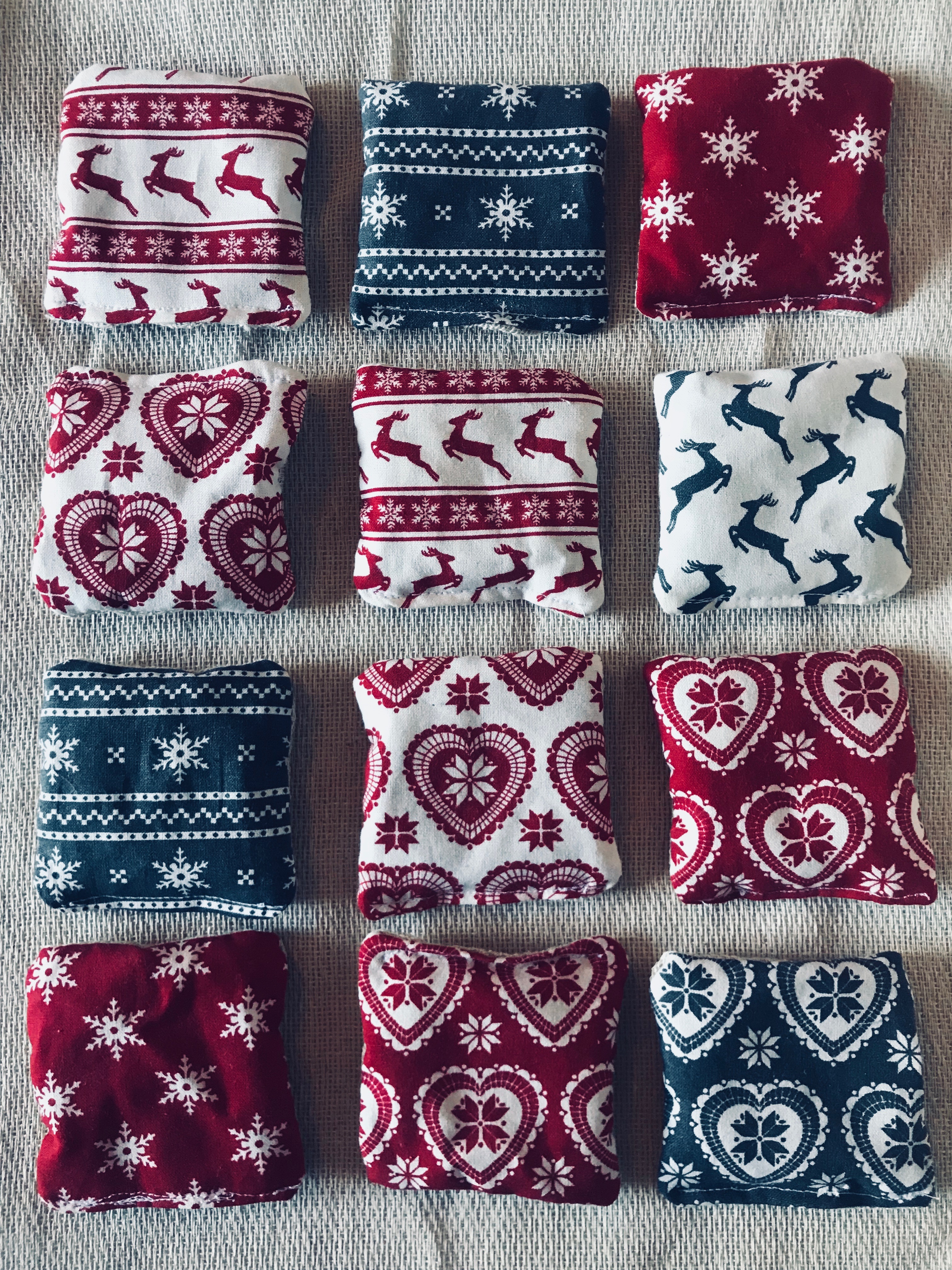 Merry Christmas!