These DIY hand warmers are the perfect pocket-sized answer to keeping your hands toasty warm this winter!
In this post, we tell you everything you need to know about making hand warmers like what to fill hand warmers with, how to warm them, how long they stay warm, and how to make them smell amazing!
We've even got a super easy tutorial so you can make your own hand warmers!
And the best part?
Homemade hand warmers are really cheap to make and will be the perfect DIY Christmas gift for practically everyone in your family!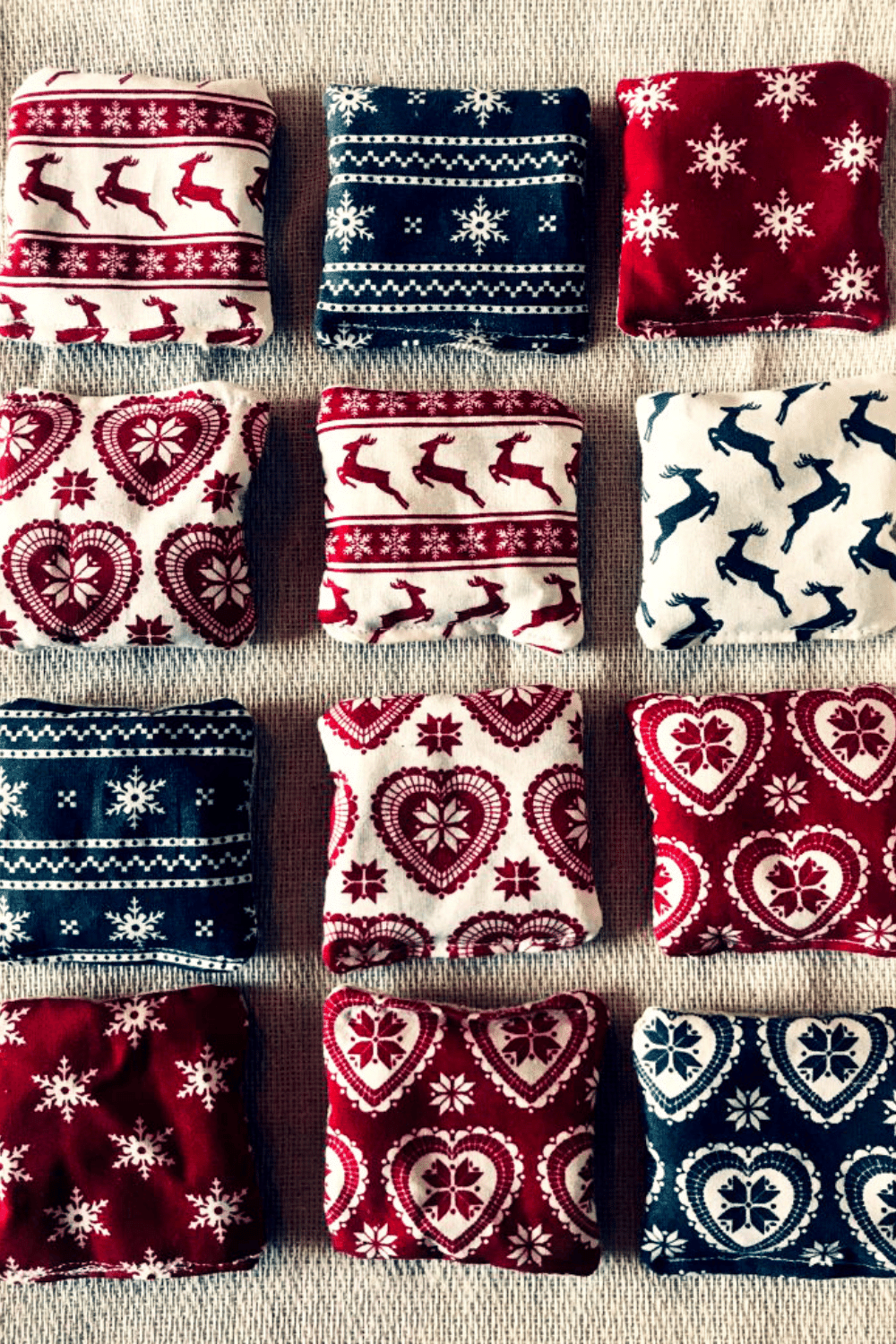 Perfectly Sized Pocket Warmers
I love the winter, it's my second favorite time of year behind Fall…
However, cold hands are really not my thing at all! So the one thing I'm never without is my trusty set of hand warmers when the weather gets colder!
And once you've made yours, you won't want to be without them either!
You'll love that they're the perfect size for fitting into pockets (both big and small) and that they look super cute and smell great too!
What Are Hand Warmers Filled With?
One of the most popular fillings for hand warmers is uncooked rice. It's a natural filler that will withstand the test of time.
Another popular option for filling hand warmers is rolled oats.
In this tutorial, we will be using rice because I find it works really well when adding scents… more on that below.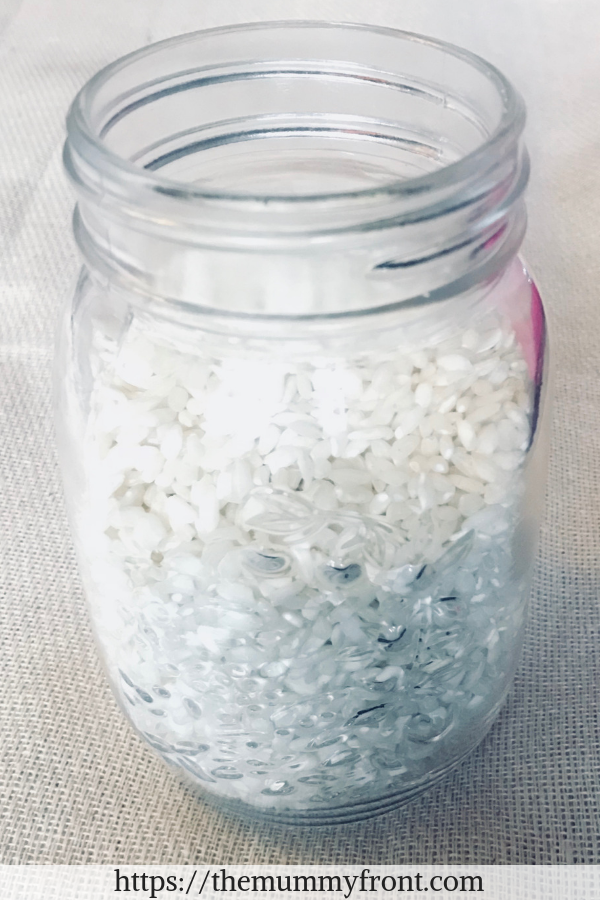 How Do You Warm Homemade Hand Warmers?
Warming hand warmers is easily done in the microwave and only takes approximately 20-30 seconds.
The handwarmer tutorial in this post uses 100% cotton fabric which is safe to put inside the microwave.
However, you can still make some really adorable hand warmers out of felt that can be heated in the microwave…
You'll just need to make a very simple removable cotton bag filled with rice that fits inside the felt pocket.
How Long Do DIY Hand Warmers Last?
Hand warmers will stay warm for approximately 15 minutes when heated inside the microwave for 20-30 seconds.
You can keep them warmer for slightly longer by keeping them tucked away inside your pocket or by making them with a felt pocket to add an extra layer of warmth.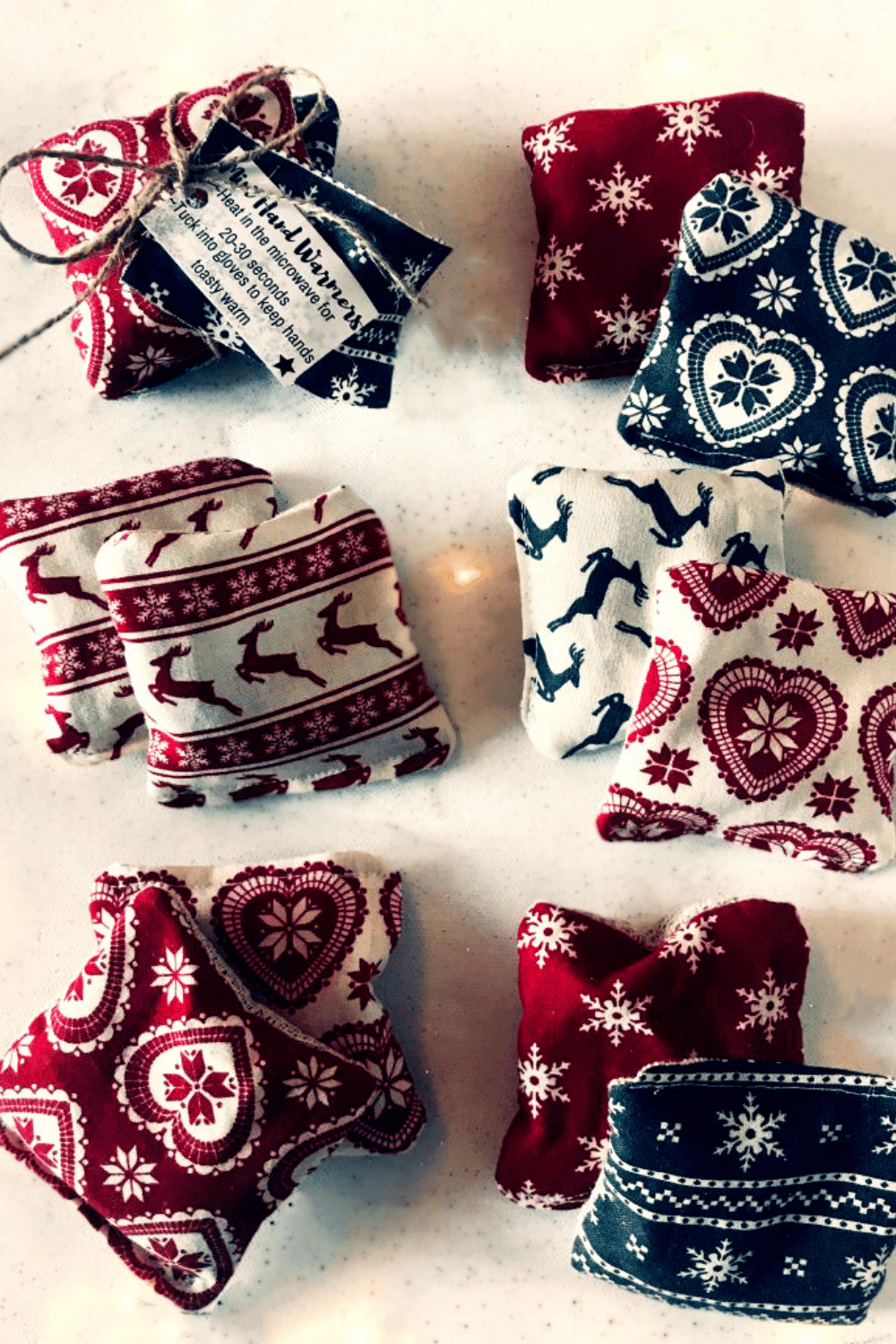 Can You Put Hand Warmers In The Microwave?
As I explained above, you can safely put hand warmers in the microwave providing the fabric you use is microwave safe.
Cotton fabrics are safe to put inside the microwave but metallic fabrics and felt are not.
Remember, you can still make your hand warmers out of any fabric, just make sure you have that removable 100% cotton-filled bag of rice that can be placed inside the microwave and then be tucked into the hand warmer.
Are These Reusable Hand Warmers?
Yes! You can reheat these hand warmers as many times as you want inside the microwave.
How To Clean Homemade Hand Warmers
Use a slightly damp cloth to clean the surface of your hand warmers if the inner bag is not removable.
This is because you cannot make the rice inside the hand warmers wet without ruining your hand warmers.
However, if you make the hand warmers with a removable pocket then you can take out the inner bag and wash the case of the hand warmer in the washing machine.
How To Make Your Hand Warmers Scented
One of the best things about these hand warmers is how amazing they smell!
You can add different scents for different occasions.
For example, try pumpkin-scented hand warmers for Halloween or Peppermint scented ones for Christmas…
Easy Ways To Add Scent To Handwarmers
Mix a teaspoon of dried lavender into your rice filling
Use a few drops of scented oils to scent the rice before filling the hand warmer.
Supplies For DIY Hand Warmers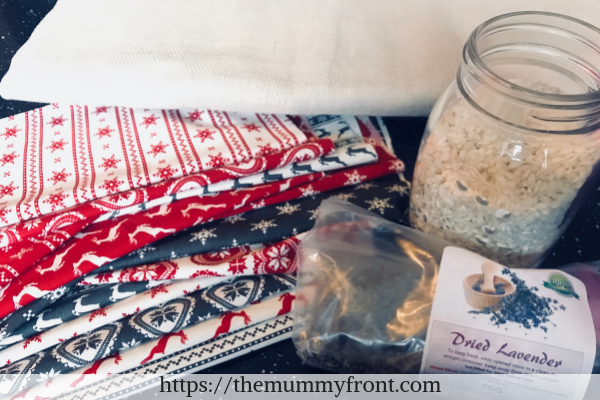 100% cotton fabric for the front and back of the hand warmer.
10g Dried lavender (or the scented oils of your choice)
30g Uncooked rice
Needle and thread (or use a sewing machine)
Scissors
Are you ready to make these adorable hand warmers? Let's do it…
P.S. 90k people have saved these hand warmers, thank you so much 😊 Be sure to click here to save them too!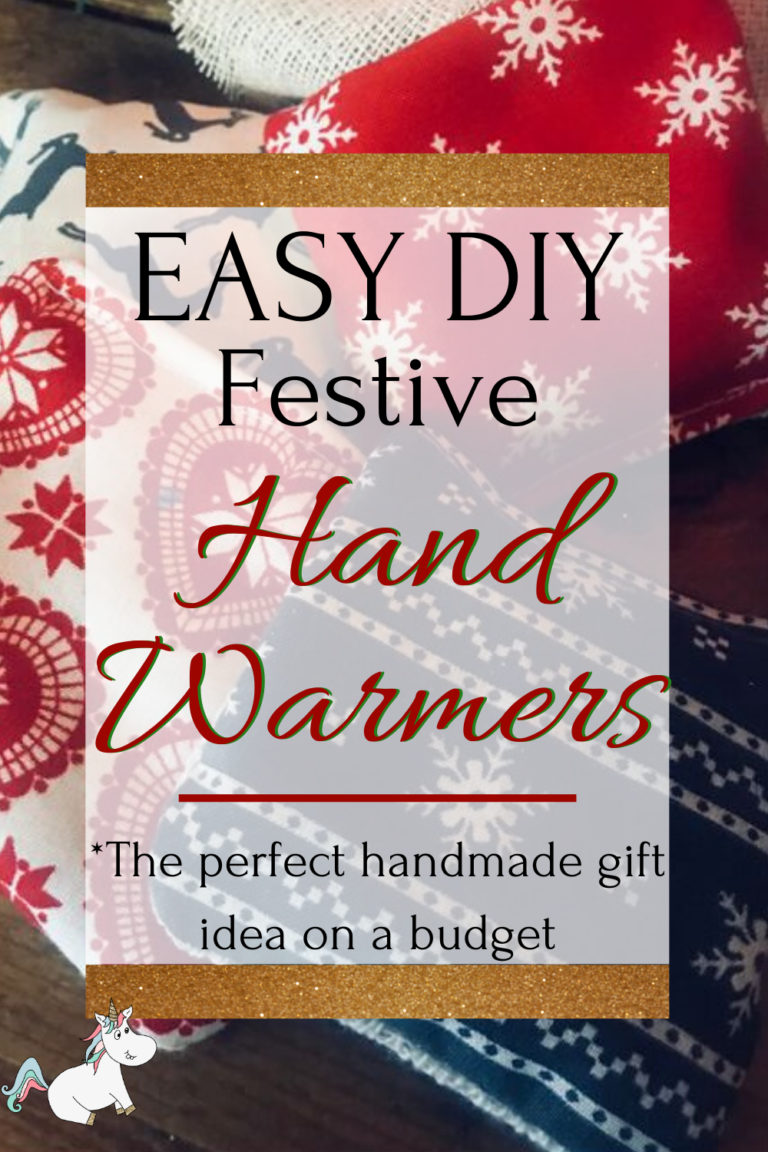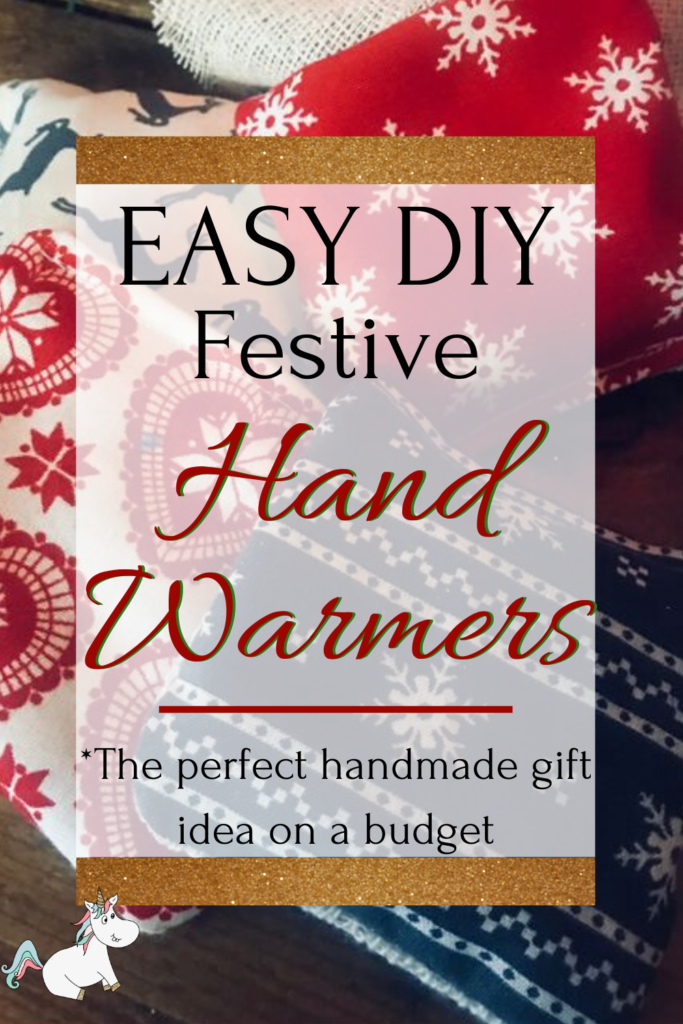 This post may contain affiliate links. See my full disclosure here for more info.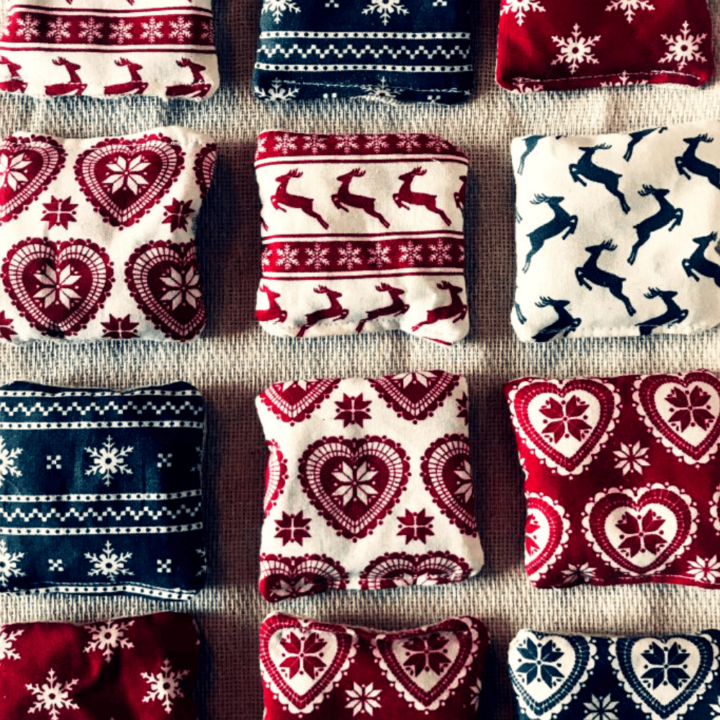 How To Make DIY Hand Warmers
These handmade hand warmers are filled with rice and lavender. They're great for slipping into your pocket and keeping your hands warms! They also make the ideal handmade Christmas gift.
Materials
100% cotton fabric for the front and back of the hand warmer.
10g Dried lavender (or the scented oils of your choice)
30g Uncooked rice
Tools
Needle and thread (or use a sewing machine)
Scissors
Instructions
Use a 3 x 3-inch square template as a guide to cut your fabric. Cut four squares in total (two for the back and two for the front). I used a different fabric for the back for aesthetic reasons only. Leave approximately half an inch of space between the edge of your template and where you cut the fabric so you have plenty of room to sew.
Place the top piece of fabric and the backside piece together with the correct sides facing inwards and pin together.
Use a sewing machine (or hand sew) three full sides of the handwarmer being sure to leave an opening on the fourth side for filling with rice. However, be sure to sew around the corners of the fourth side as this will help you when you come to closing the gap later. Sew a second time around the three sides to reinforce the seam.
Turn the piece back the right way so the good sides are facing out and fill with approximately 15g rice and one teaspoon of dried lavender.
Pinch the seam together and close the gap either with the sewing machine or by hand sewing.
Place your finished hand warmers into the microwave for 20-30 seconds and then pop them into your pocket for warm toasty hands.