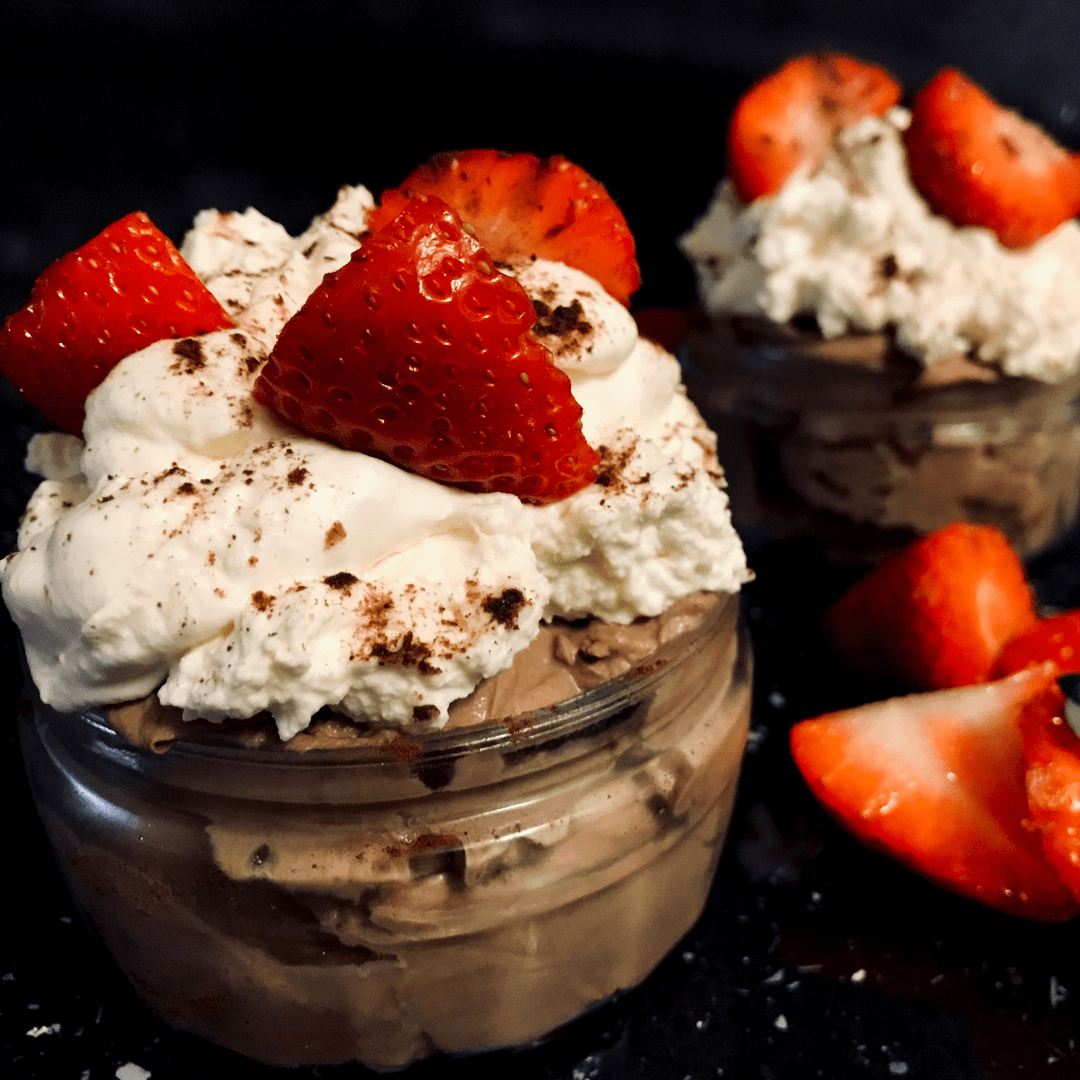 This Low-Carb, Keto chocolate mousse is perfect for when you need a chocolate hit fast! Using only 4 ingredients & less than 5 minutes to whip up, this delicious low-carb chocolate mousse will leave you feeling satisfied… serves 4, but it's better just kept to yourself!
Satisfy Your Sweet Tooth
This keto chocolate mousse is a life-saver when you're following a low-carb diet…
Most people feel the hardest part of following a low-carb diet is that they won't be able to eat sweets!
But don't worry! This delicious keto-friendly dessert proves that with a few simple swaps, you really can have a sweet treat! And stay in ketosis too!
When your cravings strike on a low-carb diet, this keto chocolate mousse comes to your rescue…
You want quick, fuss-free & delicious?
You can whip up this delicious dessert in less than 5 minutes!
With no baking required & with only 4 cheap ingredients & a handful of strawberries… your sweet tooth will be satisfied in no time!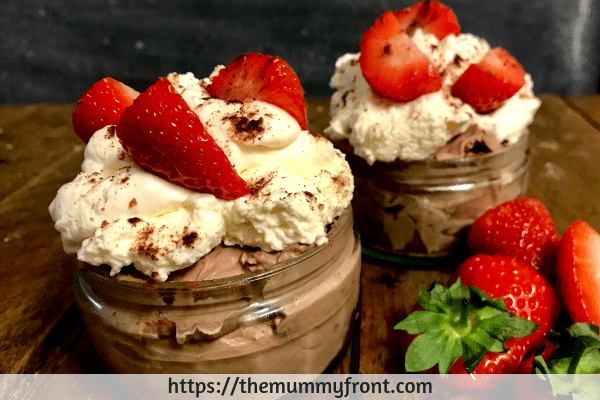 When To Eat Keto Chocolate Mousse
This simple keto mousse pudding is perfect for any & all occasions!
It will go down a treat at a summer BBQ, just serve extra chilled… or if you're looking for something satisfying on a cold winters day… this comforting chocolate treat has got you covered!
If you love quick & easy keto desserts like this keto chocolate mousse… you can also try a keto cake in a mug… check out some great recipes here!
This keto recipe is delicious for non-keto followers & kids too! If you like, you can easily swap out the ingredients to suit any dietary requirements!
Keto Chocolate Mousse Calories
Fat is king on the keto diet… if you've figured out your macros, you'll know that sometimes reaching those high-fat targets is pretty tough.
This low-carb, high-fat chocolate mousse doubles as the perfect delicious keto fat bomb!
At 380 calories & 49g of fat per serving, you'll be reaching your fat macros with no trouble at all.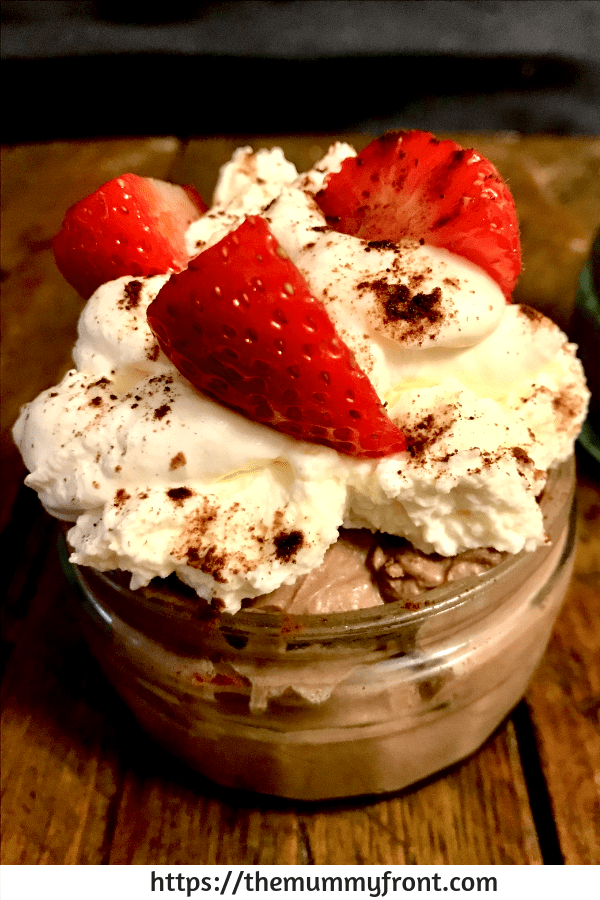 How Many Carbs In Keto Chocolate Mousse?
Keeping your net carbs down on the Keto diet is another priority.
At most, you'll want to be eating 30g Net Carbs per day to stay in ketosis…
And that's easily done with this chocolate keto mousse which has only 2g of Net Carbs per serving!!
Remember, net carbs are Fiber subtracted from Total Carbohydrates… so carbs – fiber = Net Carbs.
To make this chocolate mousse low-carb and sugar-free, I used cream cheese, Stevia granulated sweetener, cocoa powder & double cream!
I'm no fancy pants either… in the interest of not wasting money, I used the supermarkets own brand of cocoa powder & the results were perfect!
Just check that the ingredients of the cocoa powder contain more fiber than carbohydrates.
How To Make Keto Chocolate Mousse
I would love to tell you there were some fancy steps involved in creating something as delicious as this low-carb chocolate dessert… but, I can't.
Making this no-bake keto chocolate mousse couldn't be any simpler…
It's pretty much a throw it all in the bowl & mix kinda recipe… brilliant for when you have a chocolate craving that needs fixing fast!
You could enjoy this keto chocolate mousse by itself, but I like to add a bowl of strawberries on the side too… yummy!
P.S. Never lose this delicious recipe by clicking here or on the image below to quickly & easily save this post to your Pinterest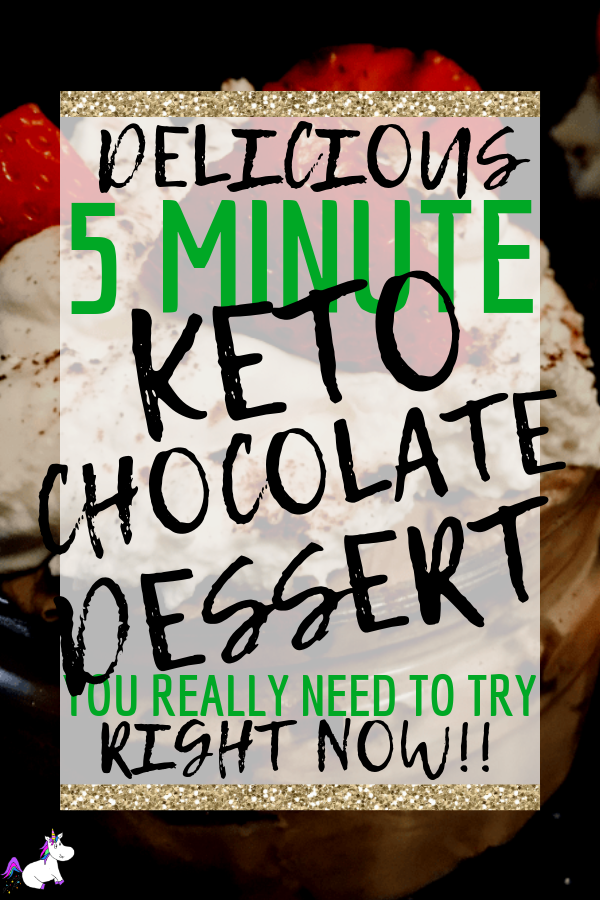 The Best Keto Chocolate Mousse – In Under 5 Minutes!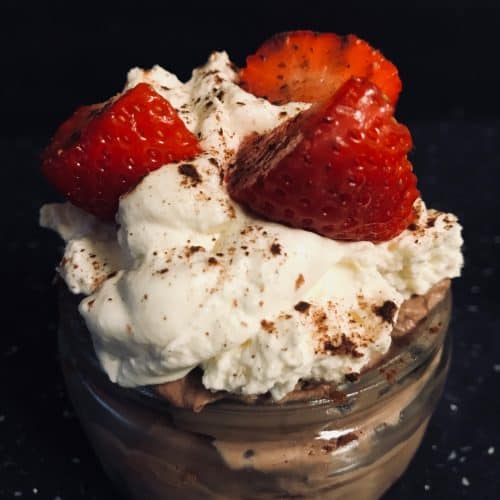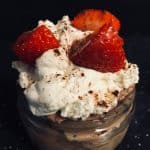 The Best Keto Chocolate Mousse
This low-carb chocolate mousse only takes 5 minutes to prepare & it's super delicious too... It's creamy, light texture & chocolatey taste are bound to stop your chocolate cravings dead in their tracks!
Keyword:
keto chocolate mousse, keto dessert, low carb chocolate mousse
Ingredients
For The Mousse
250

g

Mascarpone

60

ml

Double Cream/ Heavy Cream

6

tsp

Cocoa Powder

2

tbsp

Sweetener

1

tsp

Vanilla Essence
For the Creamy Top
100

ml

Double Cream

4

Strawberries
Instructions
To Make The Mousse
Add all ingredients to a bowl, except 100ml of cream & the strawberries

Whisk up with an electric whisk or fork

Divide between 4 ramekins
To Make The Topping
In another bowl, whisk the cream until it becomes thick (Make sure you're using full fat cream or it won't thicken up)

Spoon cream on top of the mousse

Slice Strawberries in half & poke into the cream top

Sprinkle with some sweetener & cocoa powder to taste
[nitf-label id=4294]
Enjoyed This Delicious Keto Chocolate Mousse? Click Here to save it to your Pinterest