Blogging is a fab way to make money online… if you've started a blog already and have an idea of what affiliate marketing is, this post will help you get affiliate marketing set up on your site with some great tips, recommended programs & best practices.
Making money from your blog can feel like the impossible dream when you're just starting out & you can even feel guilty for even thinking that you want to make money from it! But I get it.. after all, blogging does take time & effort so why shouldn't you be rewarded for creating valuable content that helps & entertains people?
Haven't got time to read this now? Click Here To pin it for later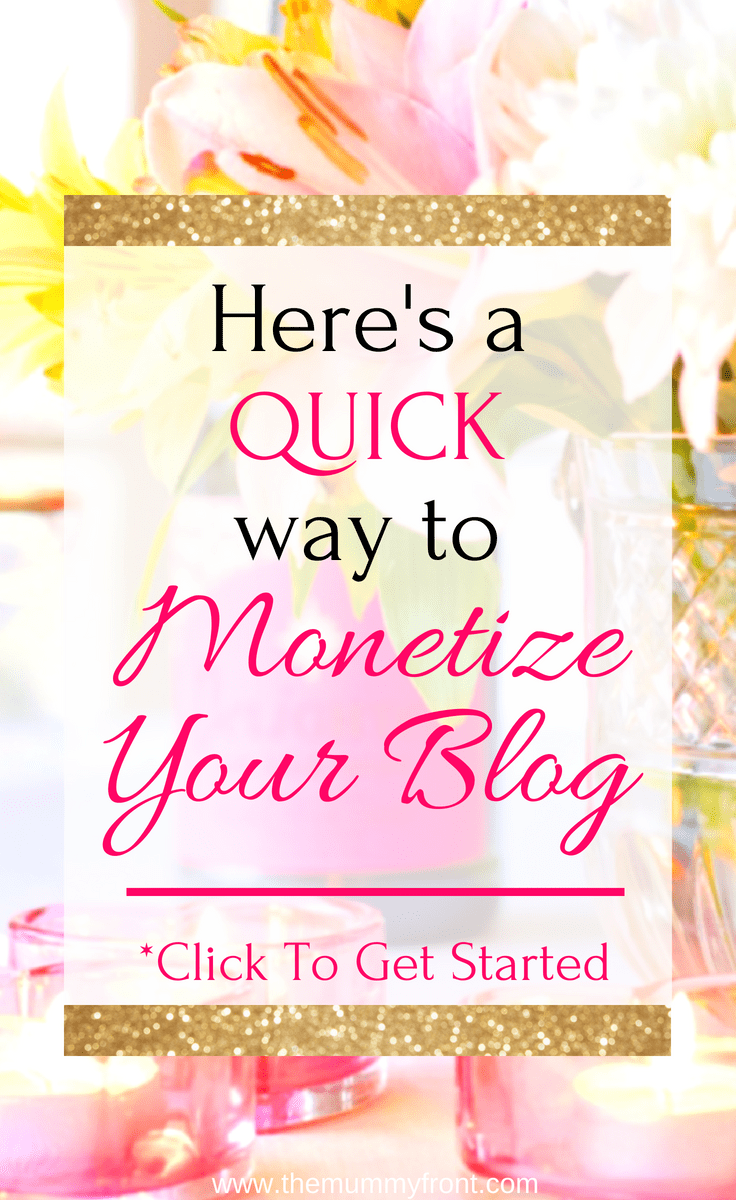 This post may contain affiliate links. See my full disclosure here for more info...however it is totally boring!
Getting started
I started my blog three months ago… you can read more about my journey here… but in a nutshell… I jumped into blogging on an almighty whim with no idea what I was doing… this means that although I started blogging three months ago, I have only really concentrated on actually blogging & promoting for the past 6 weeks.
The rest of the time was time spent learning the ropes! (there were quite a lot of ropes to be fair)
Within the first 5 months of starting my blog, I've had over 100k page views, which I'm completely blown away by!!!… After all, the more traffic you can get to your site, the more likely you are to be able to make money from your affiliate links.
I began concentrating on my affiliate strategy in my third month of blogging & by the end of my fifth month I have made $800 which may not seem like much to some people, but I can hardly believe it!
I will be doing a detailed post on how I've increased my page views & I'll link it here when it's done, but if you have any questions you want to ask in the meantime… just email me here as I'm always about & happy to help wherever I can.
What is affiliate marketing anyway?
Affiliate marketing is a great way for you to make money from your blog in a non-sleazy way… I'm not good at 'selling' it just makes me feel icky! But with affiliate links you can make money without having to venture out of your comfort zone.
Affiliate marketing basically means that you (the affiliate) recommend brands & products that you love to your audience through special links… if the traffic that you send to the brand make a purchase, then the brand will pay you a small commission at no extra cost to the buyer.
This is brilliant because you get paid but it doesn't affect the price that your reader pays at all. The company who you promoted give you a share of the sale…. nice 🙂
Why use affiliate marketing?
Making money from my blog was the icing on the cake for me… did I really think I could make money with my little blog when I first started? Nope… I didn't even think anyone would actually come to my blog… but they did & I am making money from it…. so it just goes to show that you can do this… we all have doubts but unless you try you will never know & honestly… if I can do it, so can you.
It's so easy to recommend products you love but there are some simple 'dos' and 'dont's' of affiliate marketing that I will mention in this post that will help you increase your income.
The best affiliate companies to get started quickly
Most bloggers, including myself, start with Amazon affiliates to begin monetizing their blogs. After all, there isn't much you can't buy at Amazon & almost everybody shops there… this is awesome because it means you can start linking to products & services that your audience will love immediately!
The application process is simple & the tools to link your products are easy to use (seriously, if I can do it… it's easy).
Be aware that when you first apply you will not be fully accepted into the program until you have made 3 sales. At that point, Amazon will come over and check your site out & if everything is legit, they will confirm you as an affiliate and you will get your commission.
Amazon does this to ensure their affiliates are 'proper' & not breaching their terms & conditions.
Although Amazon is great, the commission for each sale is quite low and you don't get paid per click.
If you want to make more money from your affiliate sales then, in my opinion, ShareASale is one of the best affiliate companies to join when you first decide to monetize your site.
The sign-up process is free, quick & easy and you can be accepted into your first affiliate program within the first day… another great thing about ShareASale is they offer you FREE tutorials on how to make the best out of affiliate marketing!
Many companies that use ShareASale offer a fantastic commission for their affiliates so you will see a much bigger return for fewer sales than by just using Amazon but I definitely recommend using them both simultaneously.
The third affiliate company I recommend is Awin (formerly affiliate window). The sign-up process is straightforward & within minutes you can be applying for affiliate programs within Awin…. & there are thousands to choose from!
When you sign up, you make a small deposit of £5 so Awin can confirm your identity but you get this £5 credited to your own account which means you get this back with your first payment.
Affiliate Do's & Don'ts
The advice on the street of blog town is to only recommend products that you have used yourself.
Doing this will mean you'll be able to give much more info on a product that you have actually used, meaning your audience will be able to trust you.
Never recommend a product that you aren't completely sure about or wouldn't buy yourself. If there is something you think your readers would love… take the time to try it yourself first so you can feel confident in letting your readers know all about how great it is.
Don't overdo it…
I have made this horrible mistake myself… you really do not want to flood your blog with affiliate links left, right and center… it doesn't look good and it just doesn't work anyway.
Instead, choose a few (or at least no more than 10) products you have complete faith in and write your content around these products so you can include your affiliate links in a natural way.
Stand out from the crowd
You want your affiliate link to be like a unicorn in a field of horses… highlight the link, make it bold & change the color so your readers know that they can click on the link.
Create pins
Pinterest is a great way to get traffic clicking through straight to your affiliate product's landing page.
You don't only have to create pins for your blog posts… you can also create pins just for your affiliate products.
This is great because all you have to do is create a beautiful, clickable pin for the product and add your unique affiliate link to that pin.
Anyone who clicks through will be taken to the product page or landing page where the rest of the work is down to the company whose product you are promoting.
Make sure that you don't shorten your affiliate link with tools like pretty links & bit.ly as Pinterest have started to crack down on shortened links and may block them as spam.
The three best post types for affiliate sales
Who doesn't love a good round-up post? I know I do… and it isn't just because they are a great way to promote your affiliate links…
Round-up posts are so helpful to readers who are looking for a selection of the best & what greater way to promote your awesome chosen products than within a round-up that solves your reader's problem?
Tutorials are another great post type to promote your affiliate links as you can give your readers everything they need to know about the product, why you love it & how they can best use it because people like to know exactly what they can expect before they buy.
Gift guides are a great way to gather together awesome products for your audience whilst being able to include your affiliate links in a natural way.
Takeaways
Start a self-hosted blog with Bluehost
Sign up for Amazon, ShareASale & Awin
Search for companies in ShareASale & Awin that would appeal to your audience & apply to be an affiliate
Choose up to 10 products you know & trust to focus on promoting
Don't stuff your site full of links… less is more
Highlight your affiliate links in Bold & make sure they have a different color than the rest of your text
Create content that is related to the product you are promoting so you can seamlessly insert your affiliate links
Create pins that lead traffic directly to the product page
Write round-up posts, tutorials & gift guides to promote your affiliate links
Before You Go...
Did you find this post helpful? Let me know if there's anything else you would like to know about getting started with affiliate marketing & I'll try my best to help you.