Whether you're looking for an easy Halloween craft to do with your kids or you want to create some beautiful Halloween decor, this Halloween flower pot craft will be perfect for you!
Not only is this cute little Halloween project very easy to do… it can be made from start to finish in less than 30 minutes.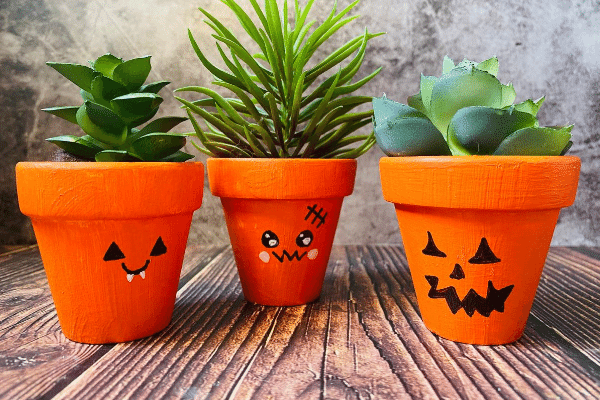 This post may contain affiliate links. See my full disclosure here for more info.
Who Is This Craft For?
This cute craft project is the perfect excuse to get creative and have fun this Halloween!
Not only can you get really creative with your design, but you'll also end up with some adorable Halloween decor to fill with a pretty succulent or even some yummy candy too!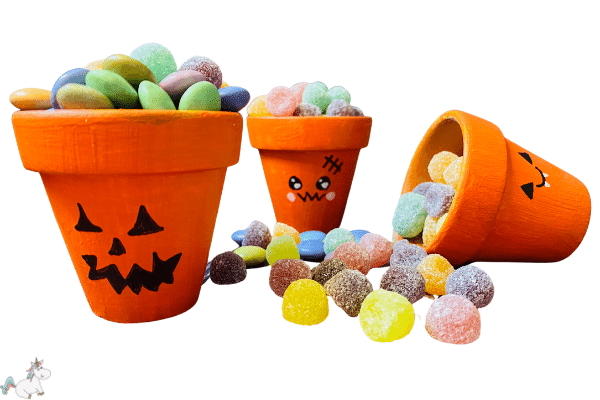 And they're not just for adults either…
Kids will have a lot of fun with this Halloween craft and will love displaying their new pots proudly in their bedroom!
And that's not all…
These Halloween flower pots are so cheap and easy to do (and beyond cute!) which makes them the perfect Halloween craft to make and sell or give away as a DIY Halloween gift!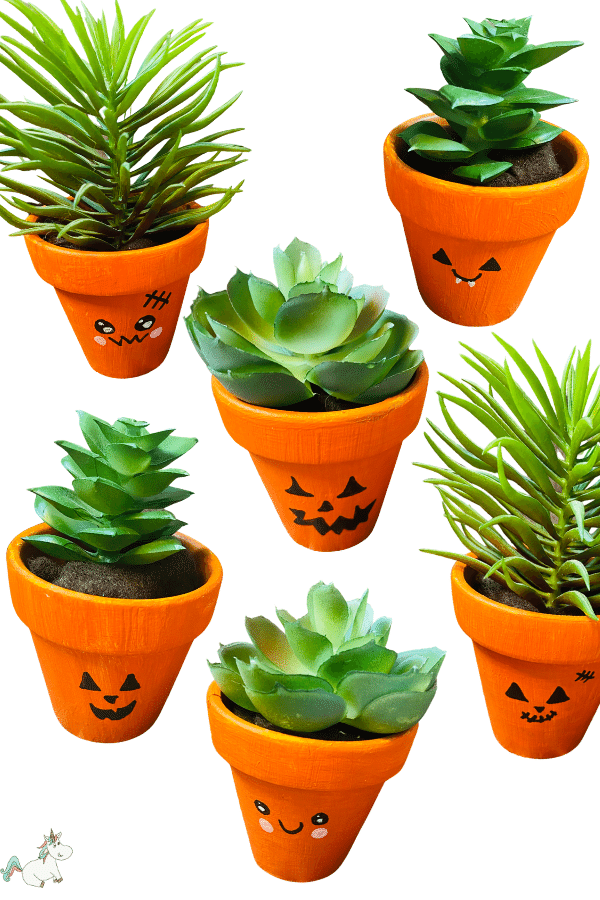 DIY

Halloween Flower Pot Craft Supplies
Orange, white and pink acrylic paint
Black sharpie
Sealant Spray (only if you intend to plant real flowers inside)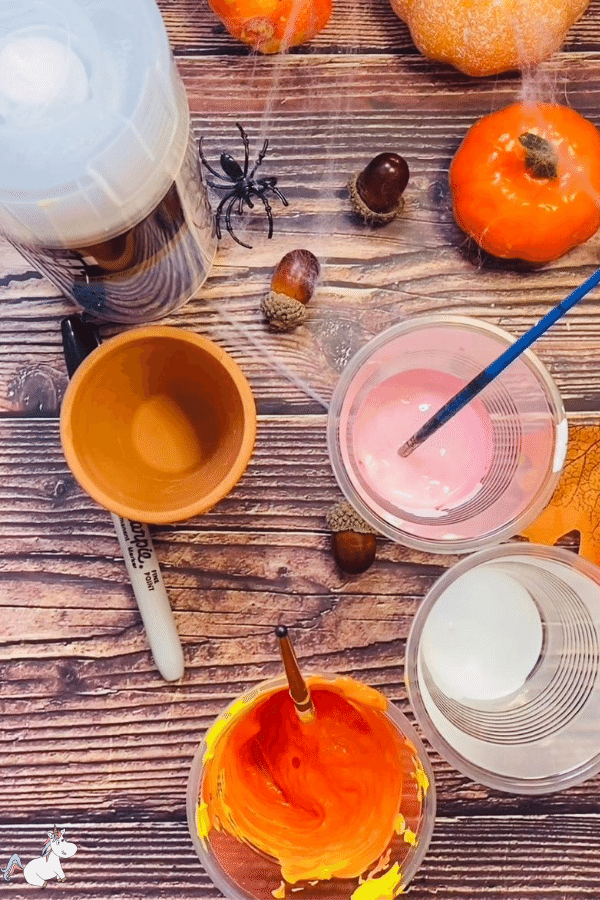 Halloween Flower Pot Craft Video Tutorial
Watch the full video tutorial for these cute Halloween flower pots before moving on to the full tutorial…
So now you've gathered all your supplies and watched the video, it's time to create your Halloween flower pots…
Let's do it…
P.S. Don't forget to save this adorable Halloween flower pot craft by clicking here or on the image below to quickly & easily save it to your Halloween Pinterest board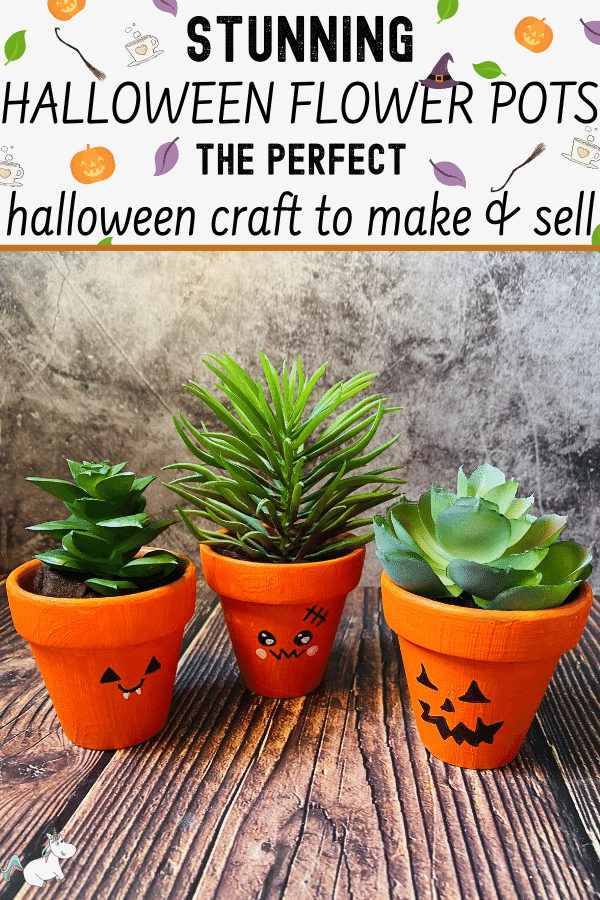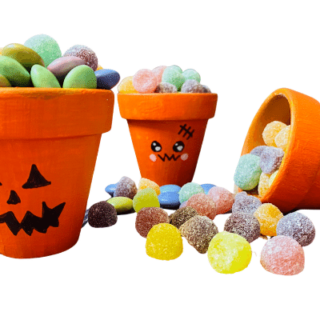 Halloween Flower Pot Craft! (Cute & Easy)
This cute Halloween flower pot craft is the perfect cheap and easy Halloween craft for kids and adults alike! Make in less than 30 minutes!
Materials
Mini Terracotta Plant Pots
White, Orange and Pink Acrylic Paint
Black Sharpie
Sealant Spray (only needed if you're intending to plant real plants inside)
Instructions
Gather together all the supplies you need for your Halloween pots. I didn't have orange acrylic paint so I had to mix red and yellow paint together to create orange! You can also mix a small drop of red paint into white paint to make pink too! This is far more cost-effective (if you don't already own pink paint) considering you're only going to need a tiny amount of pink.
Give your pots a quick coating of sealant spray if you intend to plant real plants inside. This is because terracotta pots are porous and will absorb water resulting in your beautiful paintwork being destroyed.
Once your sealant has dried (should only take 5 mins or so) paint your pots with one coat of white acrylic paint. This will help the coverage of the orange paint in the next step.
Now paint your pots with two coats of orange paint. Allow the paint to dry fully between each coat.
Once your orange paint has dried its time to draw on a cute (or scary) pumpkin face with your black sharpie. A good tip is to practice the pumpkin face on paper first before you start on the actual pot... you can even draw a faint pencil outline onto the pot before going over with the sharpie.
Now it's time to add some cute details using your pink and white paint. I used a Q-tip to dab on the pink cheeks and a cocktail stick for the white in the eyes.
Use your new Halloween flower pots to store candy, plants or leave them empty and display them in your home 🎃
Before You Go...
Do you have any thoughts on this craft? Let me know in the comments section below…