If you're asking 'how can I decorate my Christmas table this year?' then snuggle up on the sofa with a hot chocolate as we've got all the best tabletop Christmas decor ideas that will help you decorate your Christmas table in style!
Decorating for Christmas is one of the most enjoyable things to do… and sprucing up the dining table is no exception!
After all, the dining table is where the family gathers for a delicious holiday meal filled with festive cheer!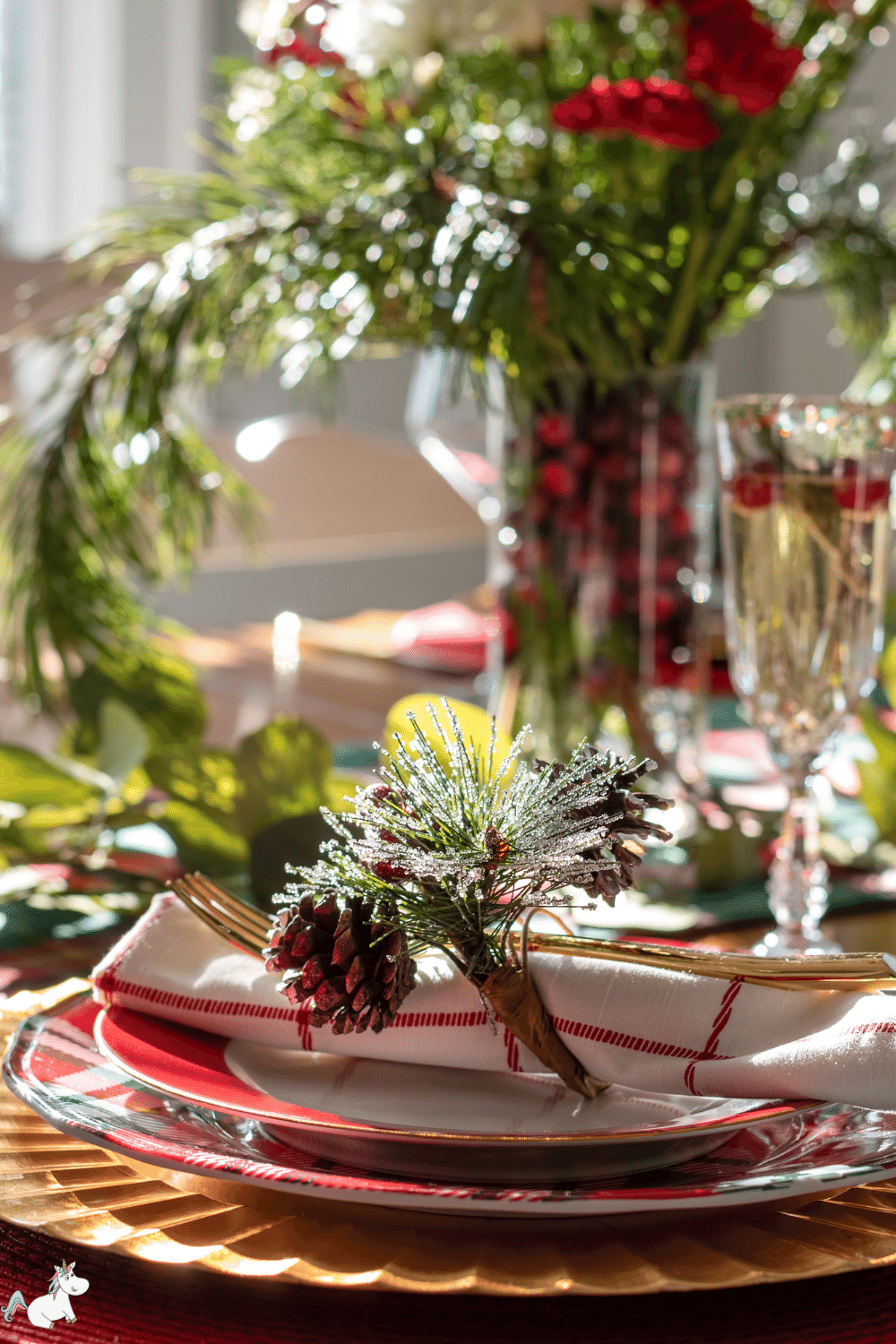 What Should I Put On My Christmas Table?
What you decide to put on your Christmas table this year will depend on your style.
From cozy farmhouse style to modern and luxe looks… you'll find a ton of ideas that will allow you to decorate your Christmas table the easy way!
These decorating ideas for your Christmas tabletop are guaranteed to fill you with Christmas cheer and get you well and truly into the holiday spirit.
No matter if you plan to decorate your table in a simple style or with a lavish display… or even if you plan to get creative and make some DIY Christmas decorations…
We've got the perfect inspiration that will help you welcome your guests and bring effortless holiday cheer to your dining room this year!
Let's do it…
P.S. Don't forget to quickly click here to save these tabletop Christmas decor ideas to your dreamy Christmas Decor board on Pinterest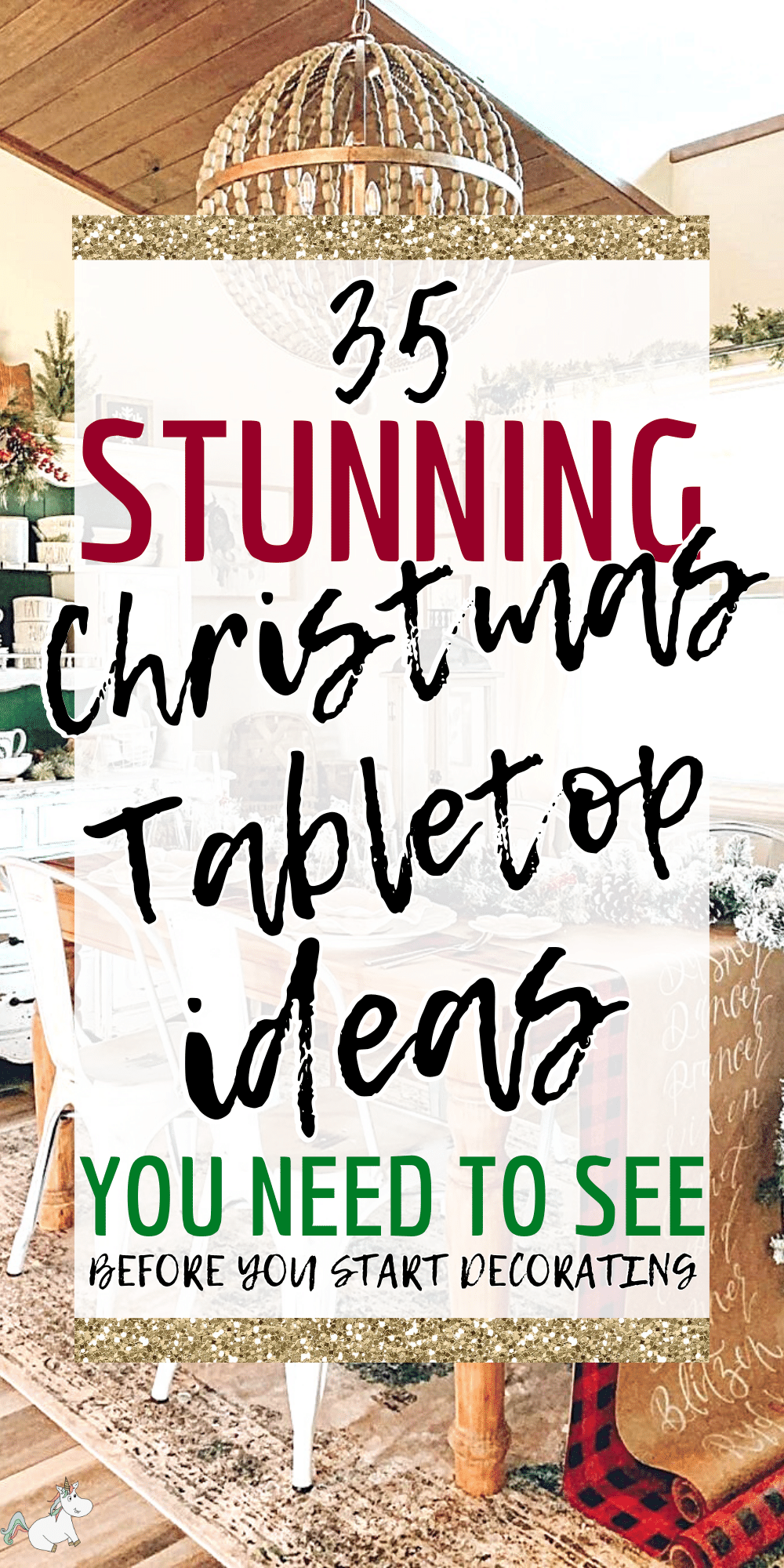 This post may contain affiliate links. See my full disclosure here for more info.
35 Stunning Tabletop Christmas Decor Ideas You Need To See!
1. Candy Cane Vases
Here's a simple yet stunning way to dress up your dining room table for Christmas. Simply fill a square vase with candy canes and fill it with a stunning festive flower arrangement… faux flowers are perfect!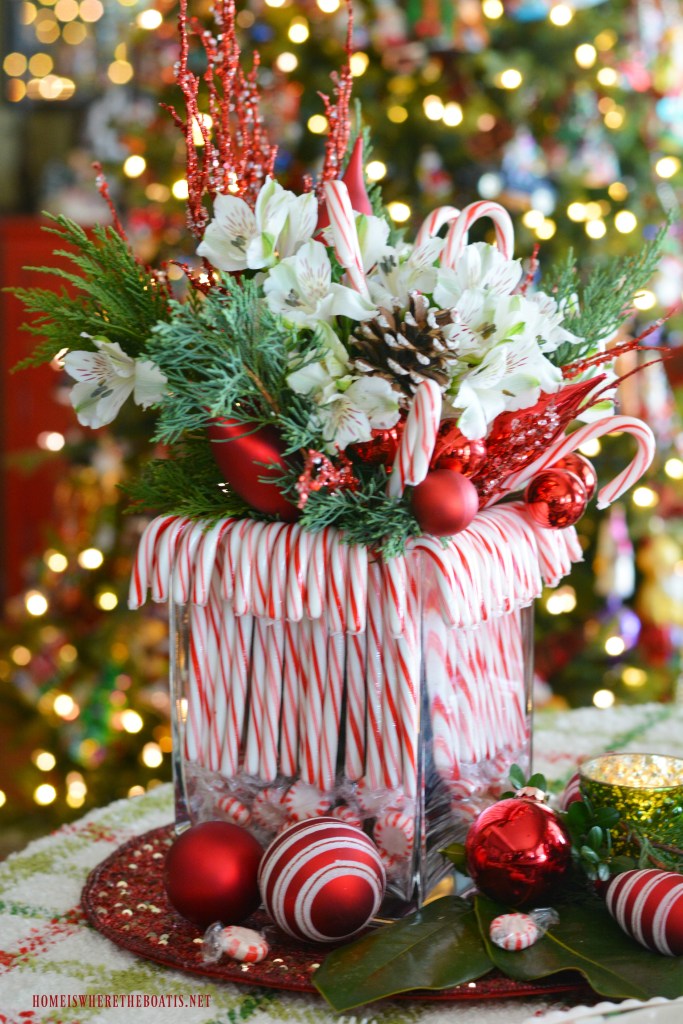 2. Natural Christmas Tablescape With DIY Apple Votives
Apples are used in many cultural traditions around the holidays so why not create some simple apple votives to adorn your Christmas table?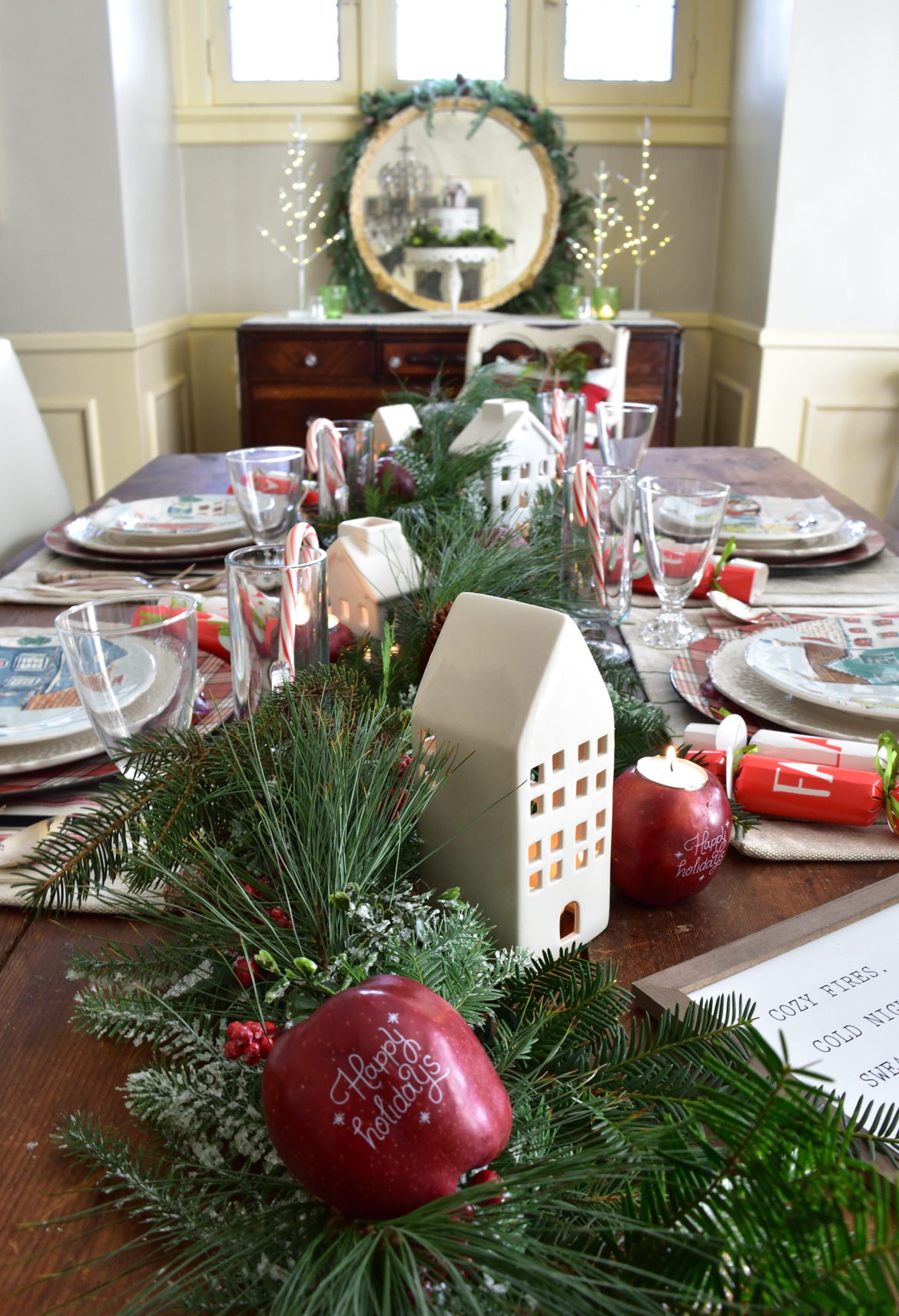 3. Yarn Christmas Trees
Add some vibrant pops of color to your Christmas tablescape with these easy DIY yarn Christmas trees!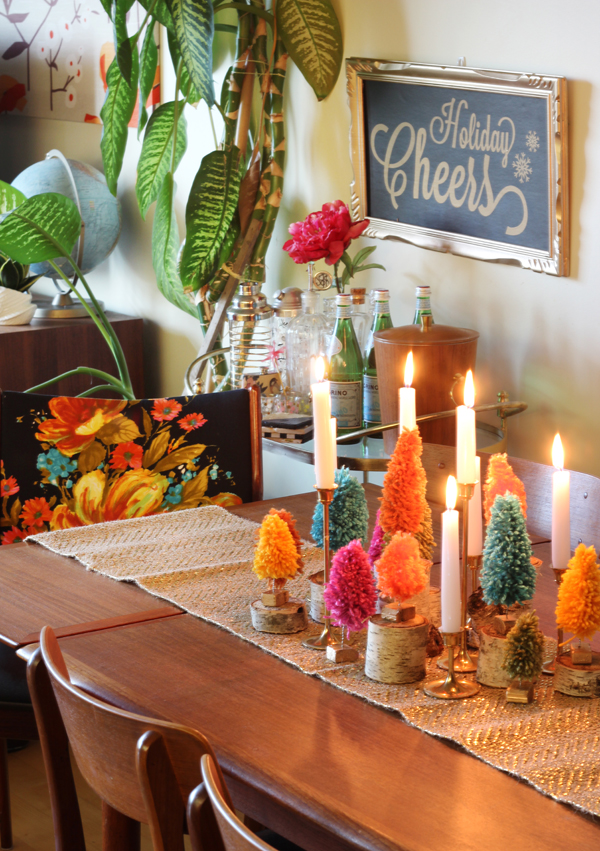 4. Festive Chintz Tablecloth With Candles
There's no need to just stick with neutrals this Christmas, especially when an eclectic mix of colors can look festive and fun! Light some candles to bring a truly Christmas feel to your table decor!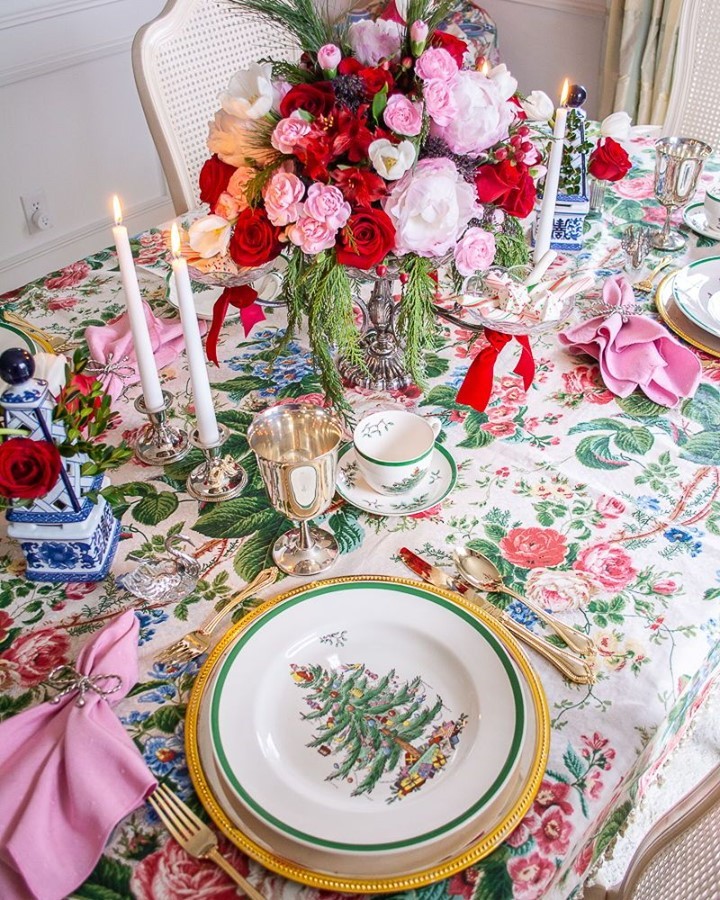 5. Dreamy and Elegant Pink Blush Tabletop Decor
Mix blush pinks with metallics and soft white feathers for an effortless yet luxurious Christmas table setting.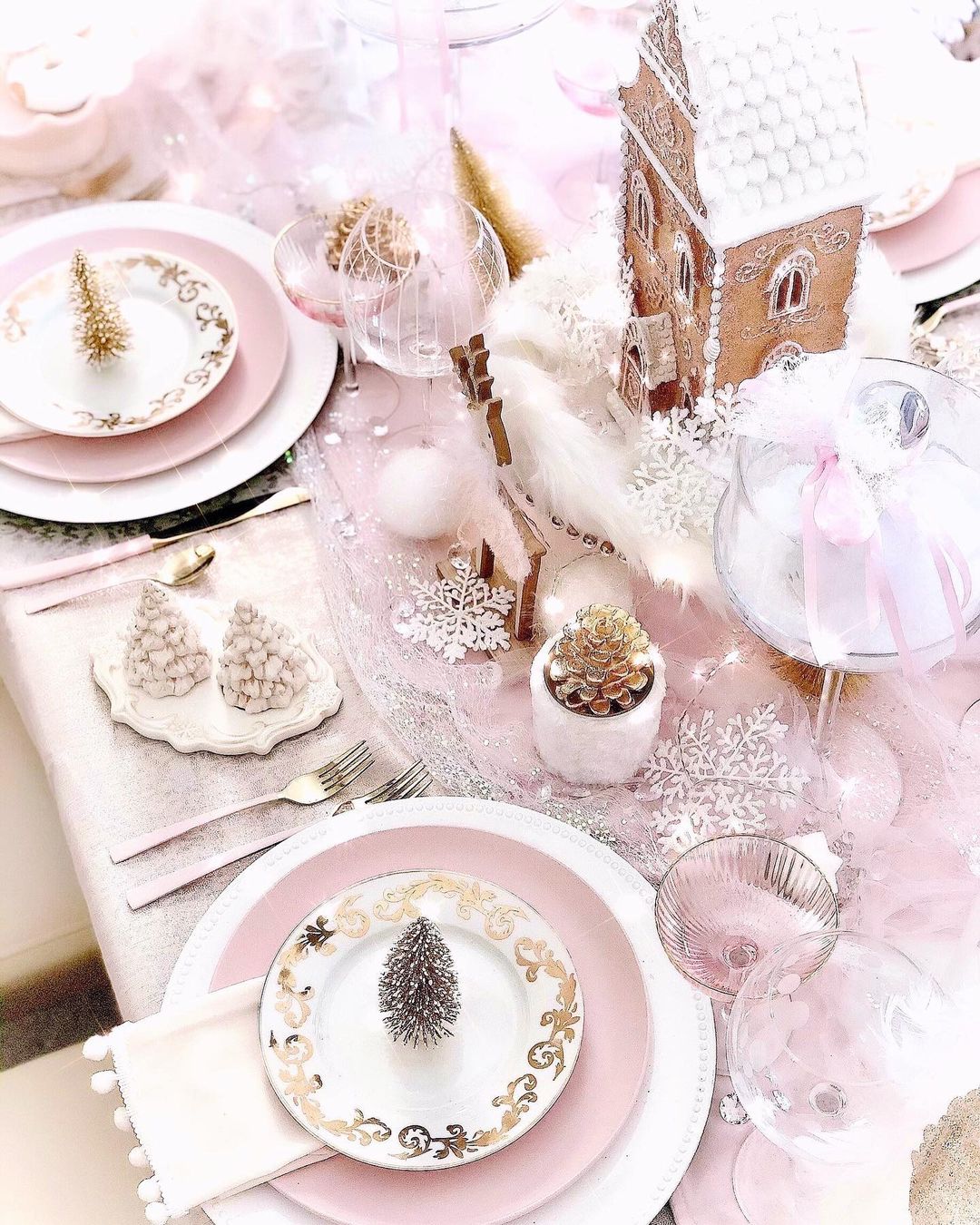 6. Red, White, and Green Traditional Farmhouse Decor
Guests will feel cozy and welcome with this traditional festive setup!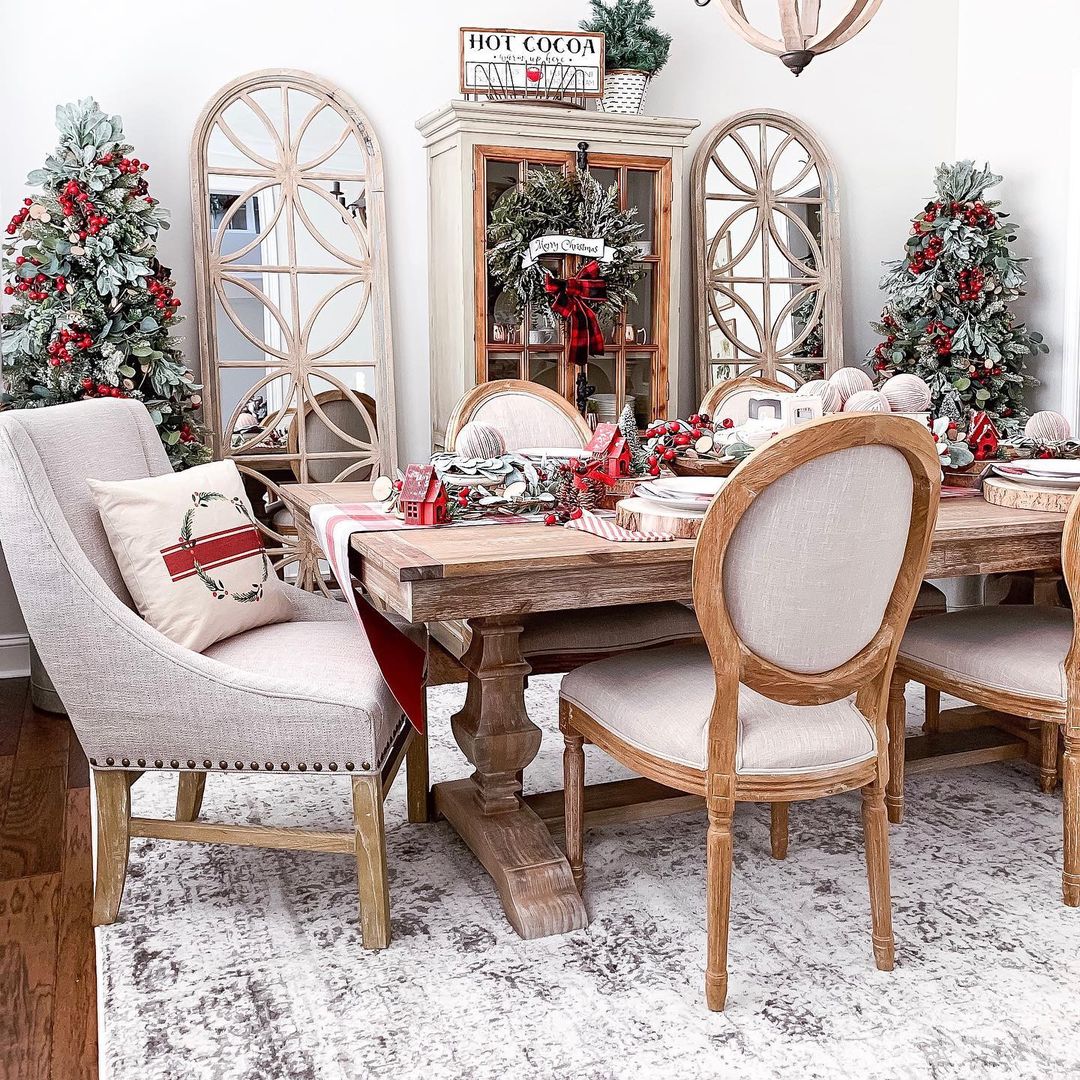 7. Woodland Themed Festive Tablescape
A stunning mix of stripes, metallics, neutrals, and mini Christmas trees brings a warm woodland feel to this Christmas dining table. We especially love the natural tree skirt that compliments the beautiful flocked Christmas tree!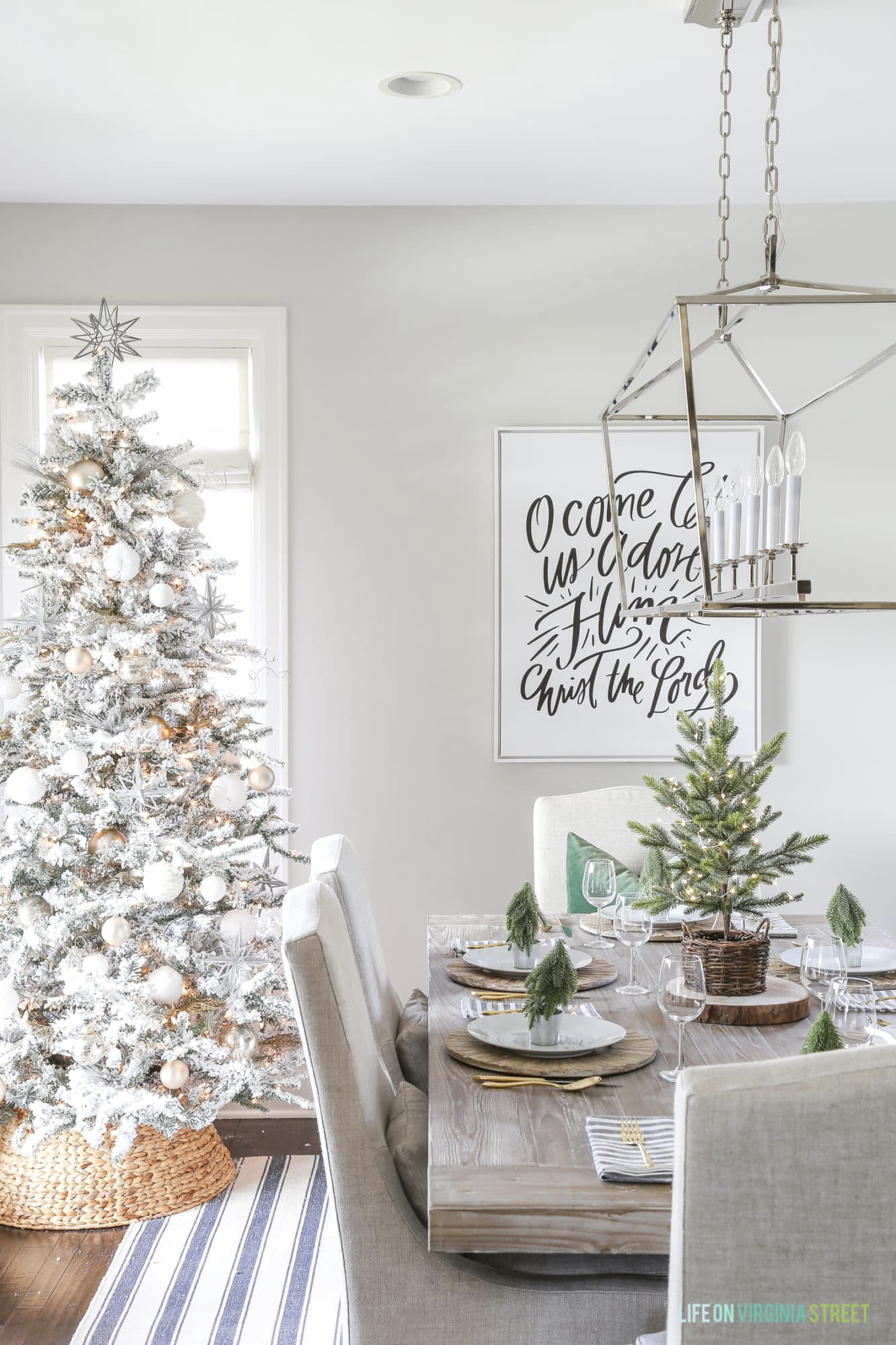 8. Rustic Christmas Tabletop
A bit of greenery paired with neutral linen napkins and mistletoe is the perfect way to offer a warm welcome to your guests this season.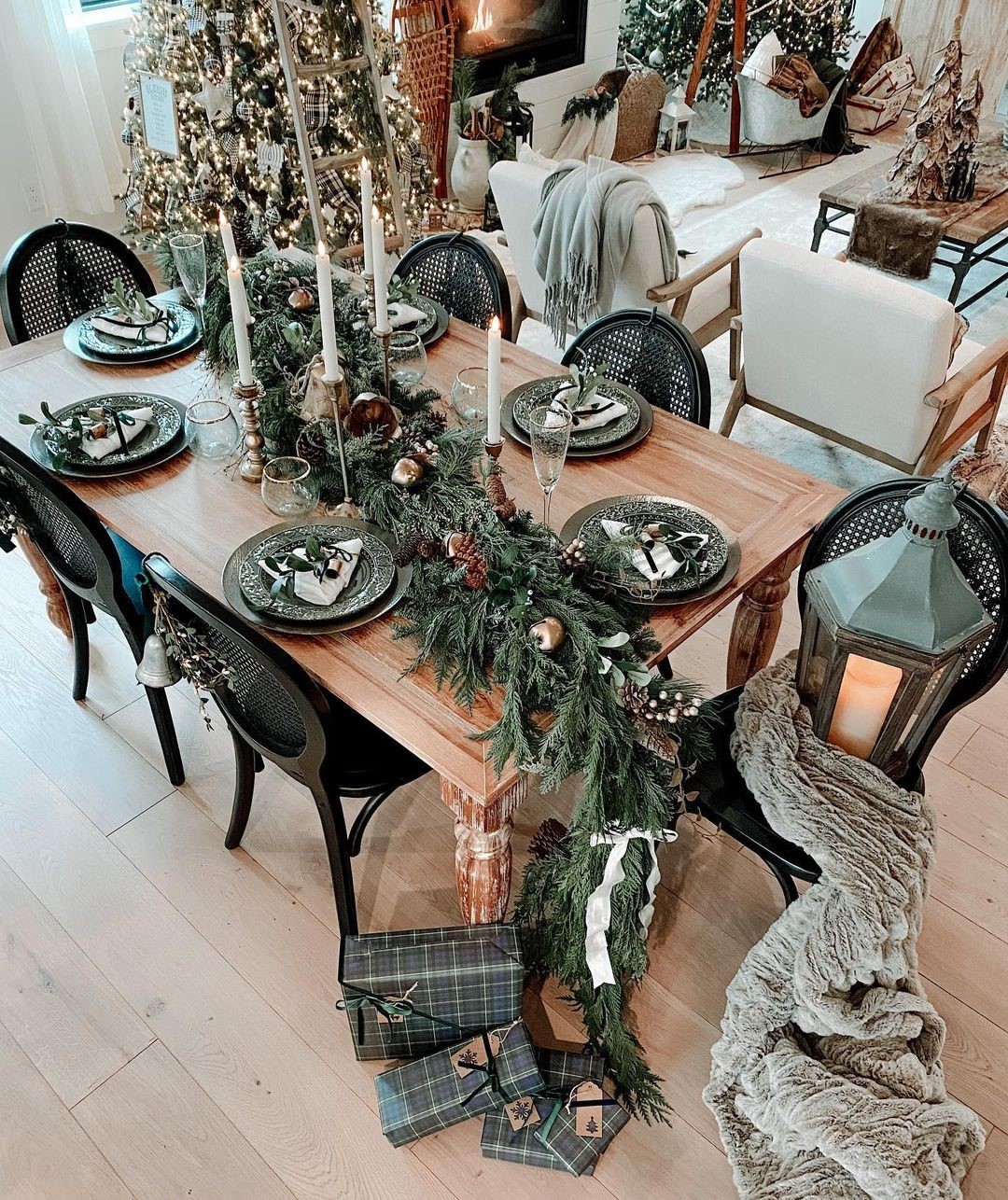 9. DIY Pinecone Pom Pom Centrepiece
Who can resist these adorable and fun pom pom pinecones? They're a simple DIY that will give a festive fun pop of color to any Christmas table!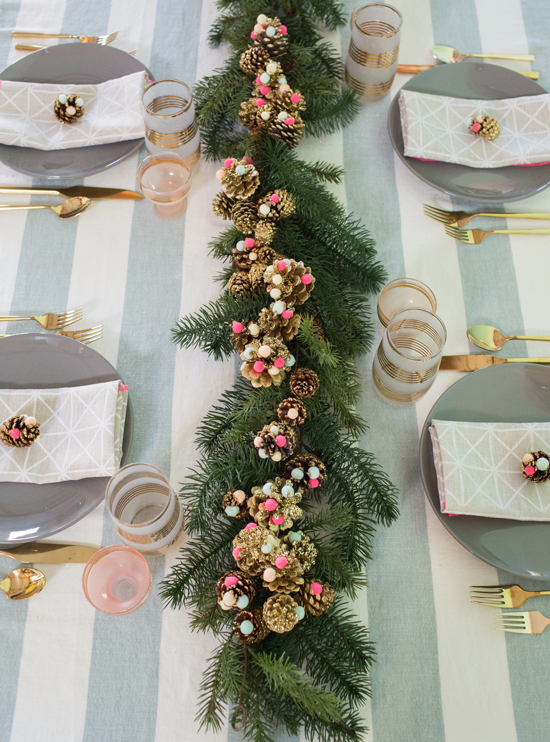 10. Sparkling Gold Modern Display
Gold and white decorations and miniature Christmas trees make for a charming Christmas table centerpiece with an elegant touch of sparkle!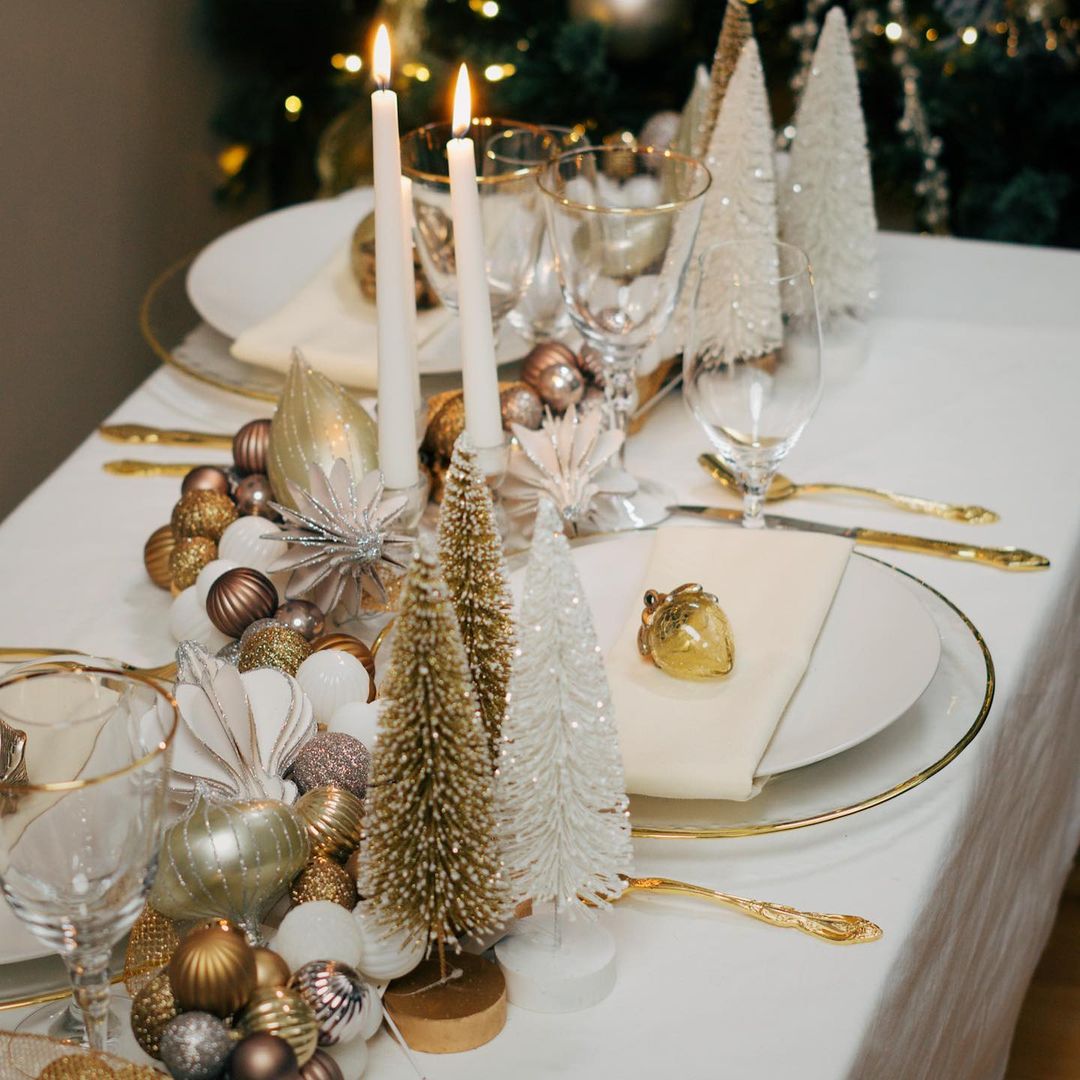 11. Scandanavian Style Christmas Table
A rustic wooden plank adorned with stunning Christmas ornaments is the easy way to bring Scandinavian style to your festive tabletop.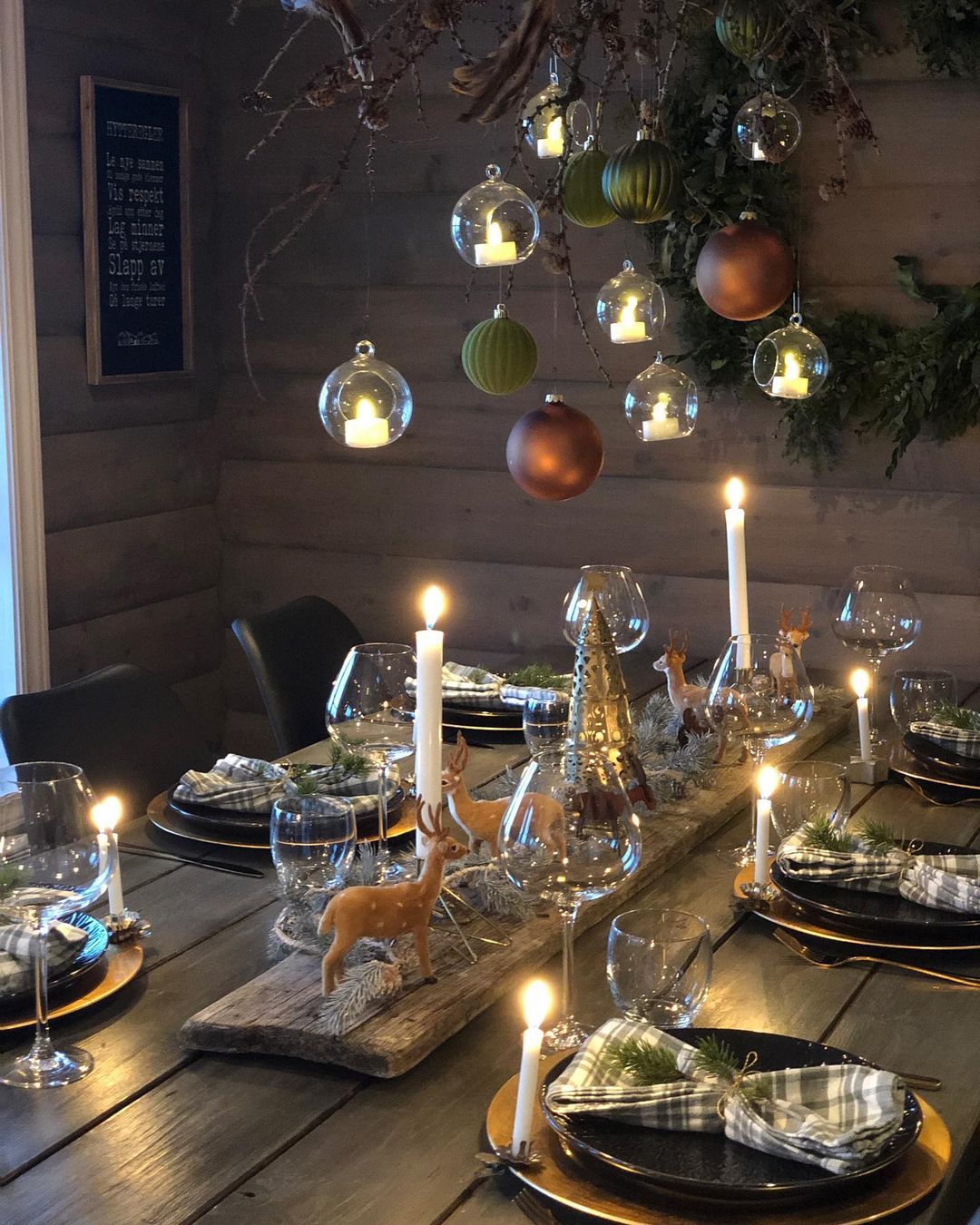 12. Rustic Christmas Table
Pine cones are the perfect versatile Christmas accessory… simply layer them on a festive garland and complement them with neutral linen napkins for a rustic dinner table look.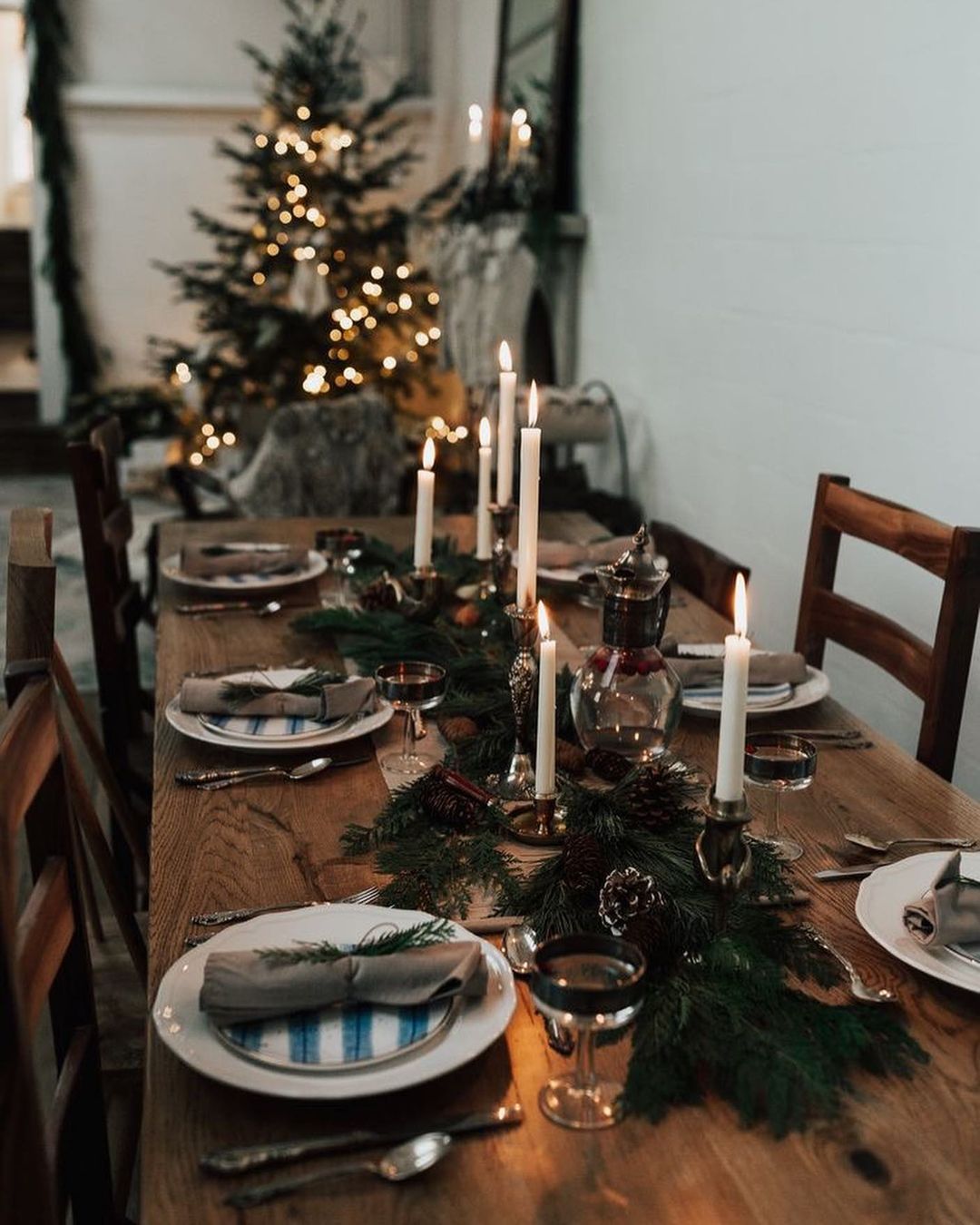 13. Traditional Red Christmas Setting
A great way to give your Christmas dining table a traditional festive feel is to team gold candlesticks and red candles together with a natural pine cone wreath in the center of the table.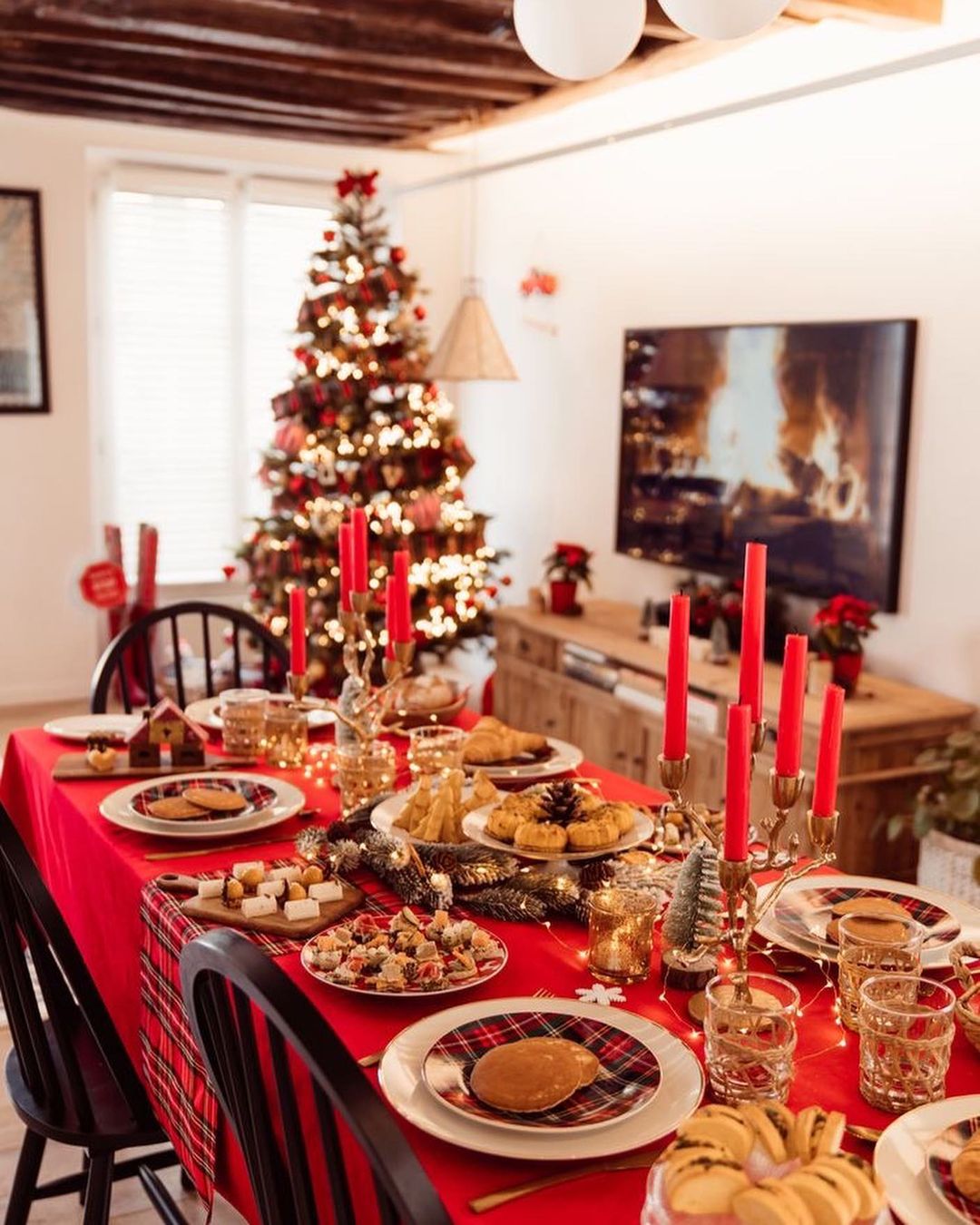 14. Rustic Christmas Table With Natural Elements
A small tree or sprig of pine placed on a neutral table runner can be all you need to create a simple yet pretty dining experience.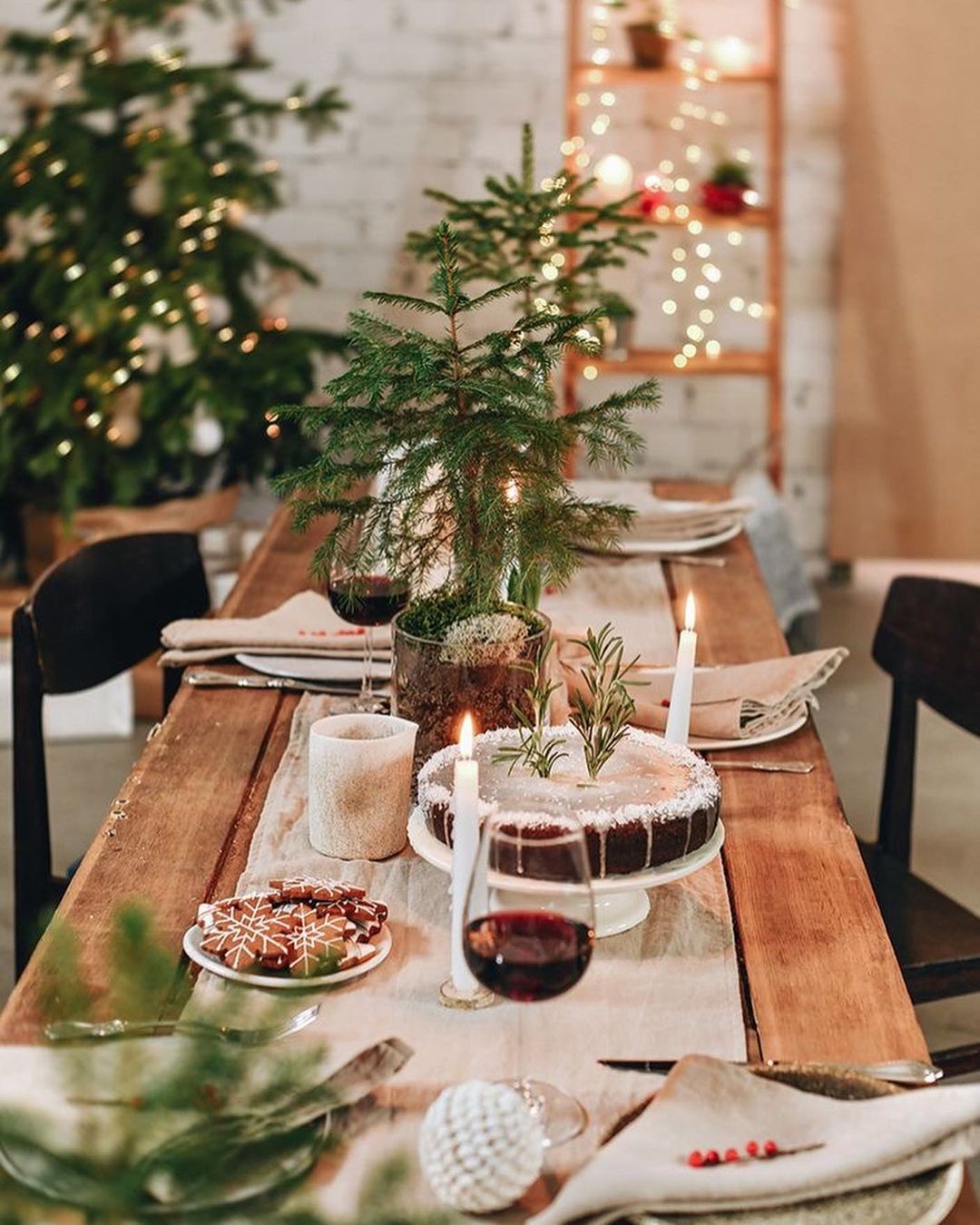 15. Stunning Red and Gold Centrepiece
Wow your guests with a stunning centerpiece and beautifully wrapped party favor that they'll surely appreciate. Red and gold is the classic, time-tested holiday palette that will give a sense of nostalgia to your Christmas gathering.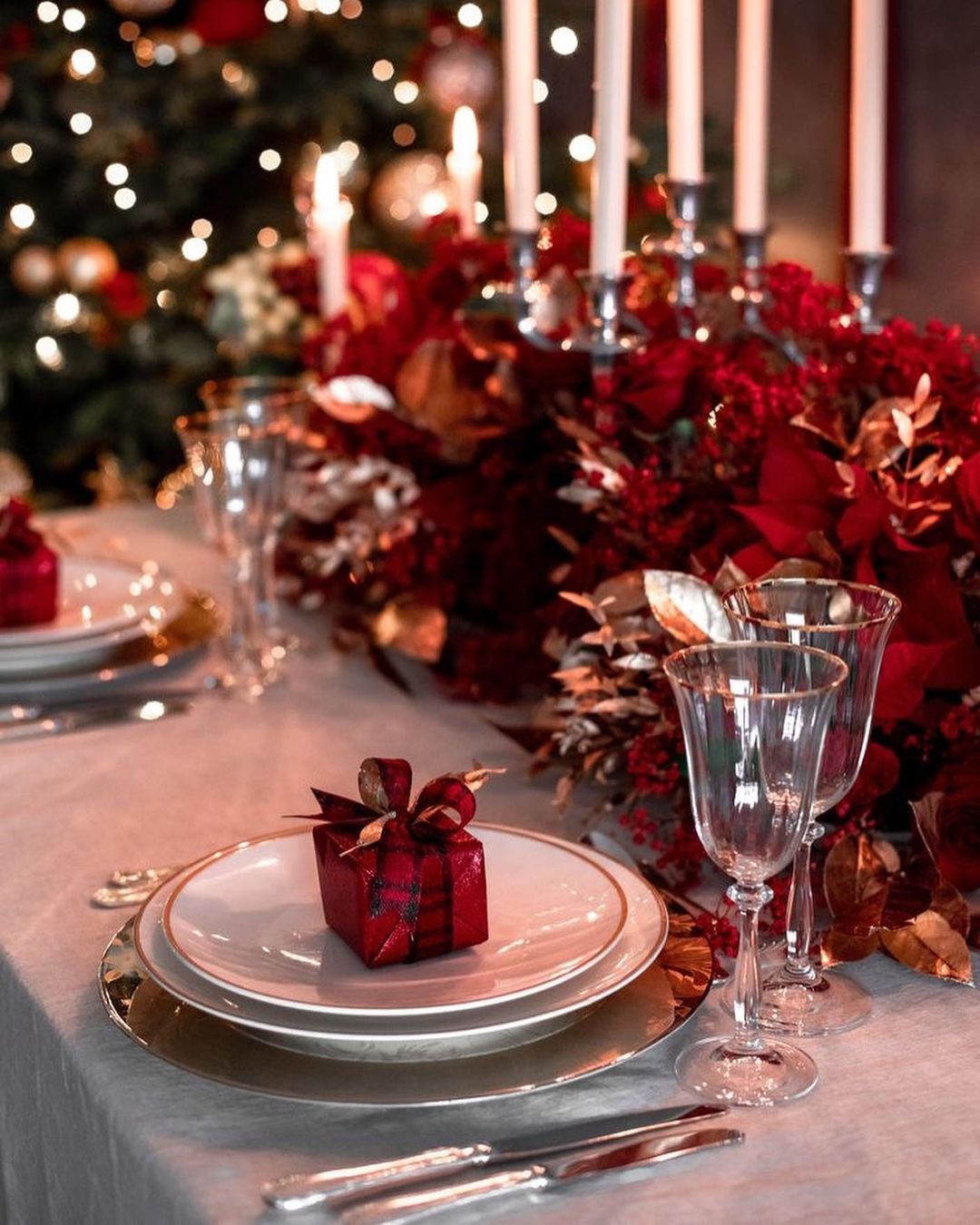 16. Black and Gold Christmas Table
Black placemats and napkins are a great way to ensure the other colors on your dining table pop!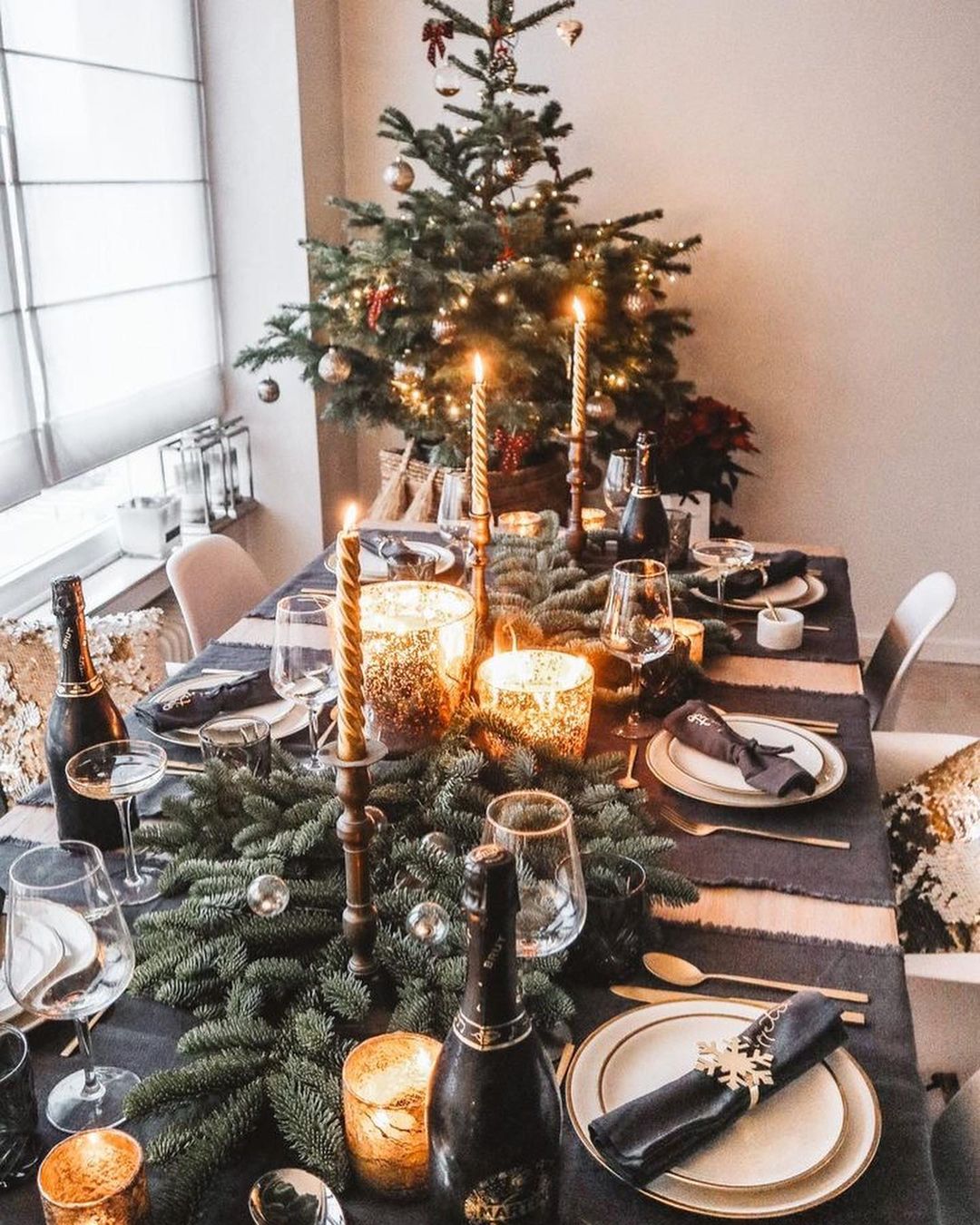 17. Elegant White Christmas Tablescape
A faux snow garland with a textured table runner is all you need to be able to celebrate the beauty of a white Christmas.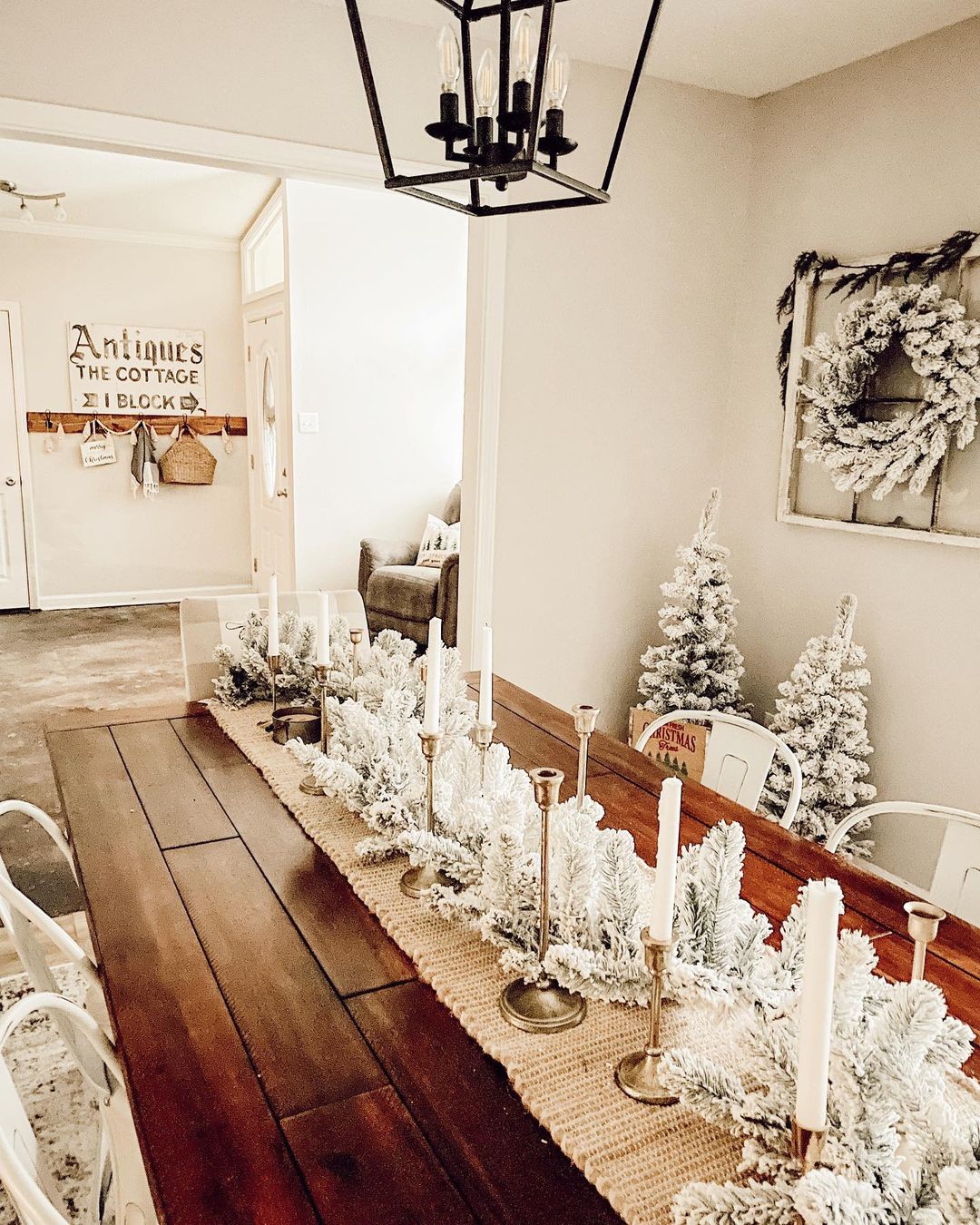 18. Cozy Industrial Style Christmas Table
When it comes to holiday decorations that bring the Christmas spirit, you can't do better than Mistletoe as your table centerpiece!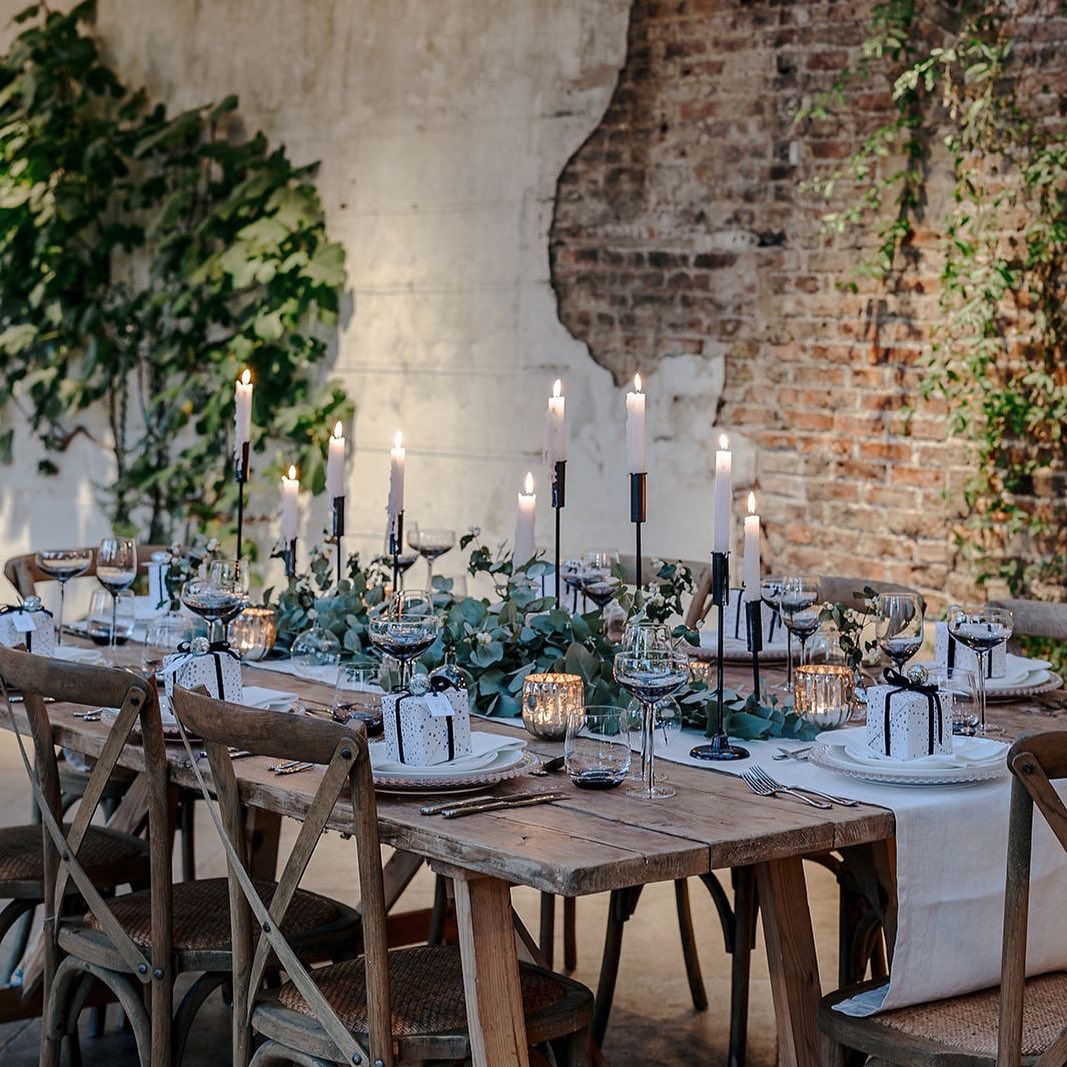 19. Outside Festive Table
Who said your Christmas table has to be inside this year? If the weather allows, you can create a truly magical dining experience outside! Simply surround your table with Christmas lights and add traditional colors like red and green to really bring in the festive cheer!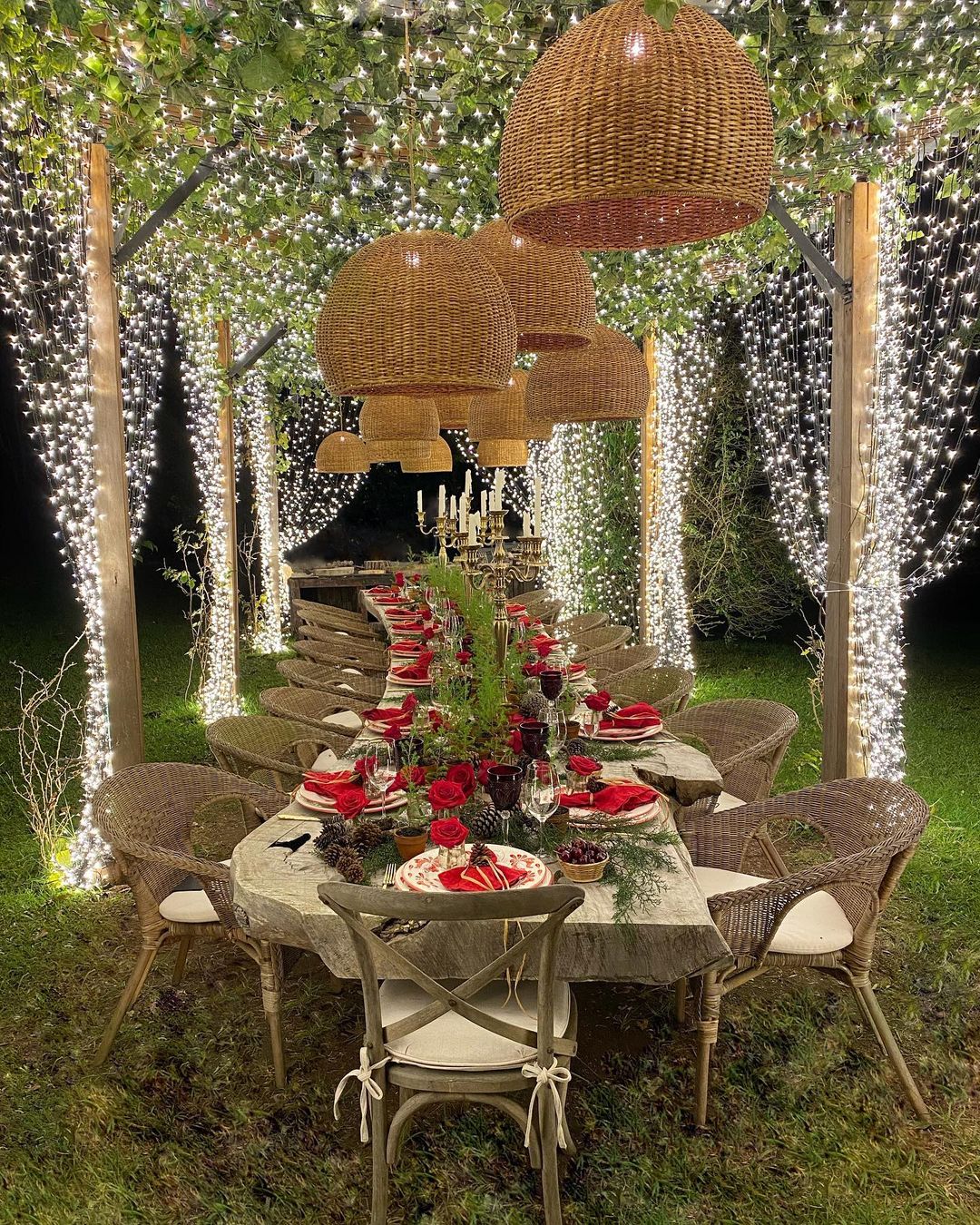 20. Farmhouse Style Tablescape
Small spaces are perfect for creating a cozy festive dining area this holiday season. A tall, narrow vase filled with a stunning festive flower display is a great way to free up space on the table whilst bringing in the holiday cheer. You can also add fancy napkin rings for a little bit of extra Christmas glam to your table!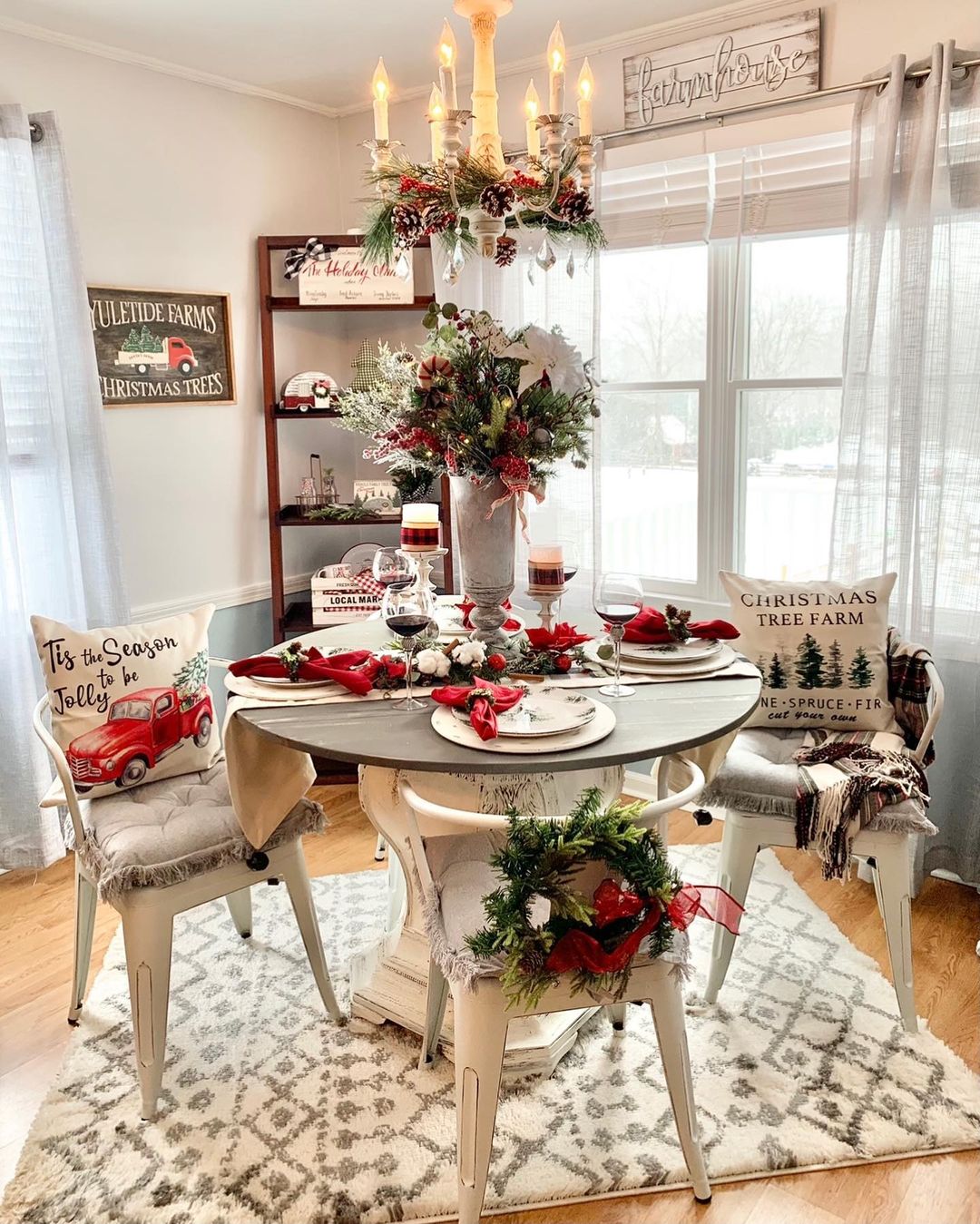 21. Pinecone and Dried Orange Centrepiece
What could be more festive than dried orange slices, apples, and pinecones to complement a traditional festive centerpiece?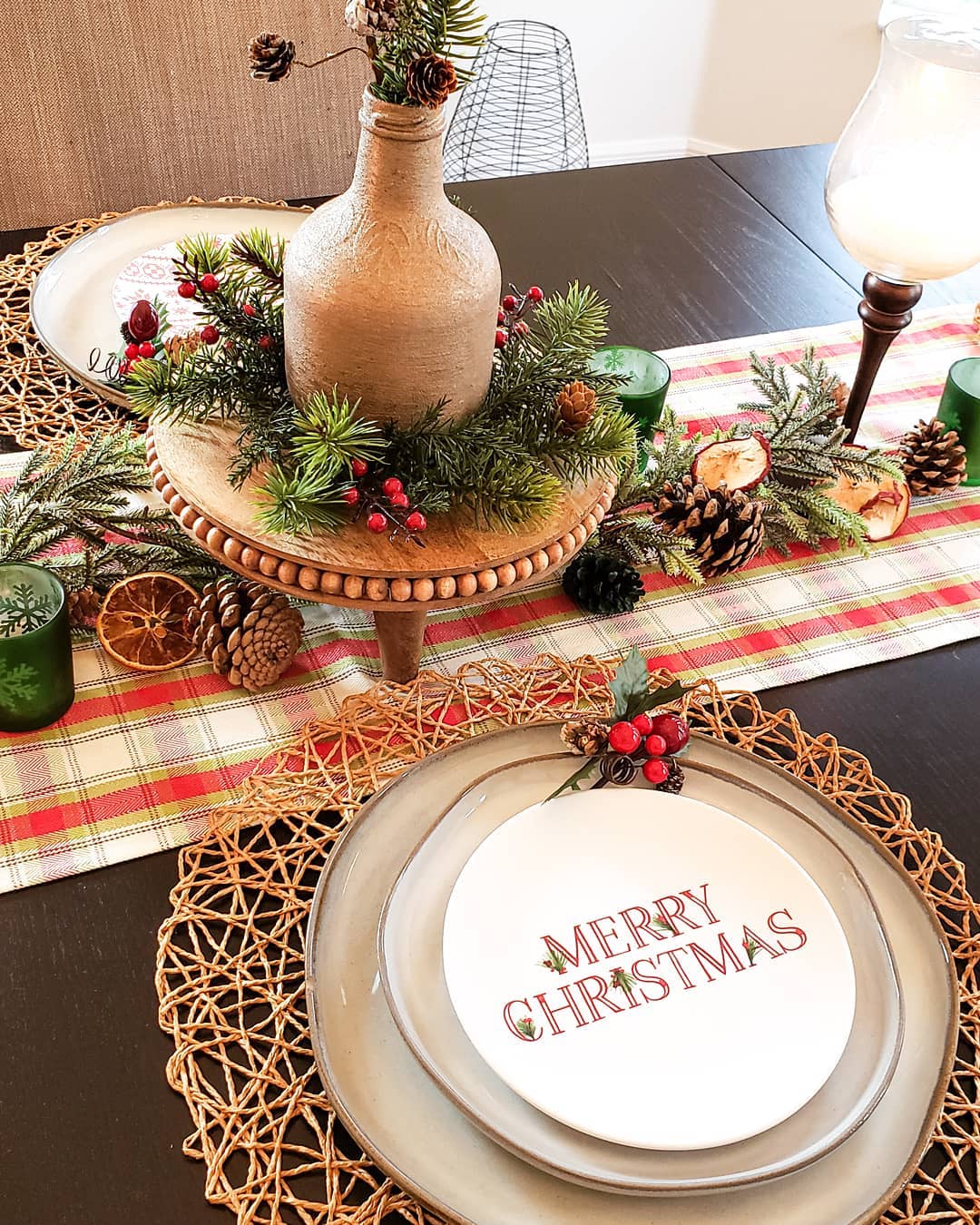 22. Vintage Style Christmas Table Setting
This elegant mix of soft colors, glittery bottles, and mercury glass accents creates a vintage Christmas table setting that looks sophisticated and cozy!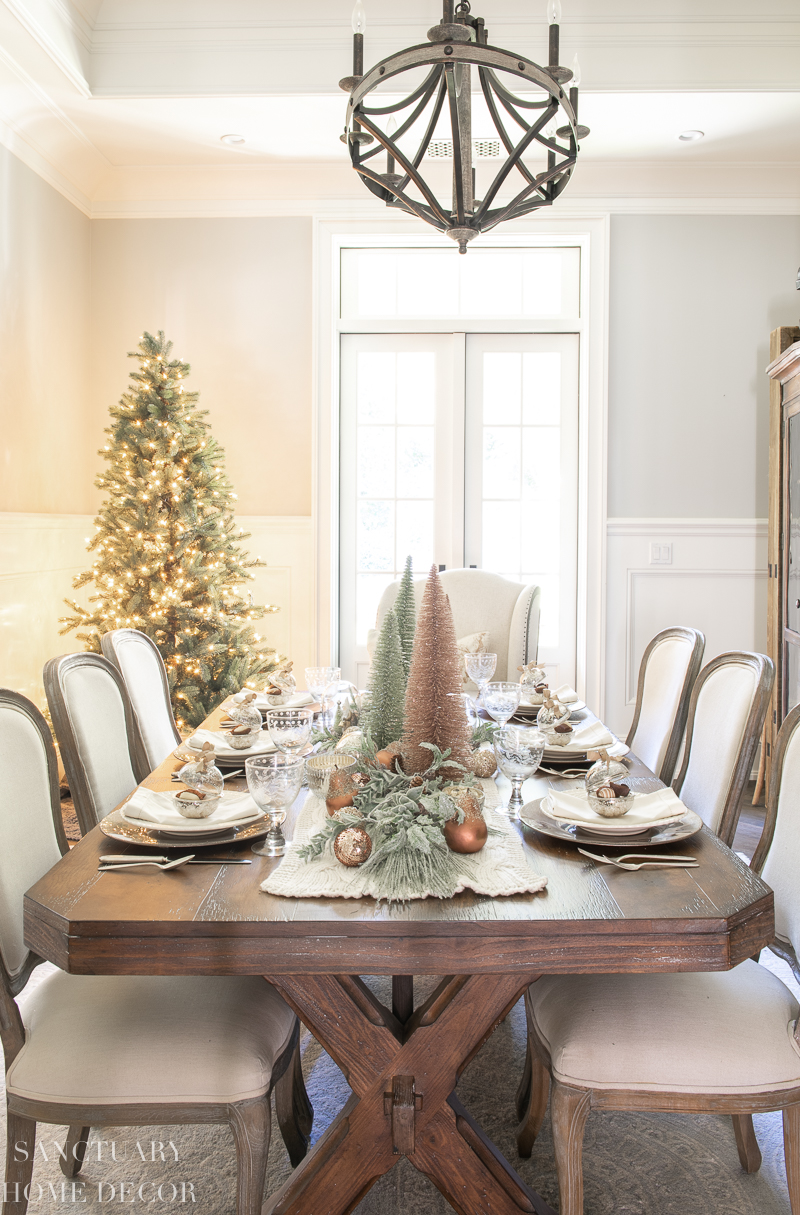 23. Gold and Blue Tablescape
This striking blue and gold dining table is inspired by the three kings and looks truly majestic!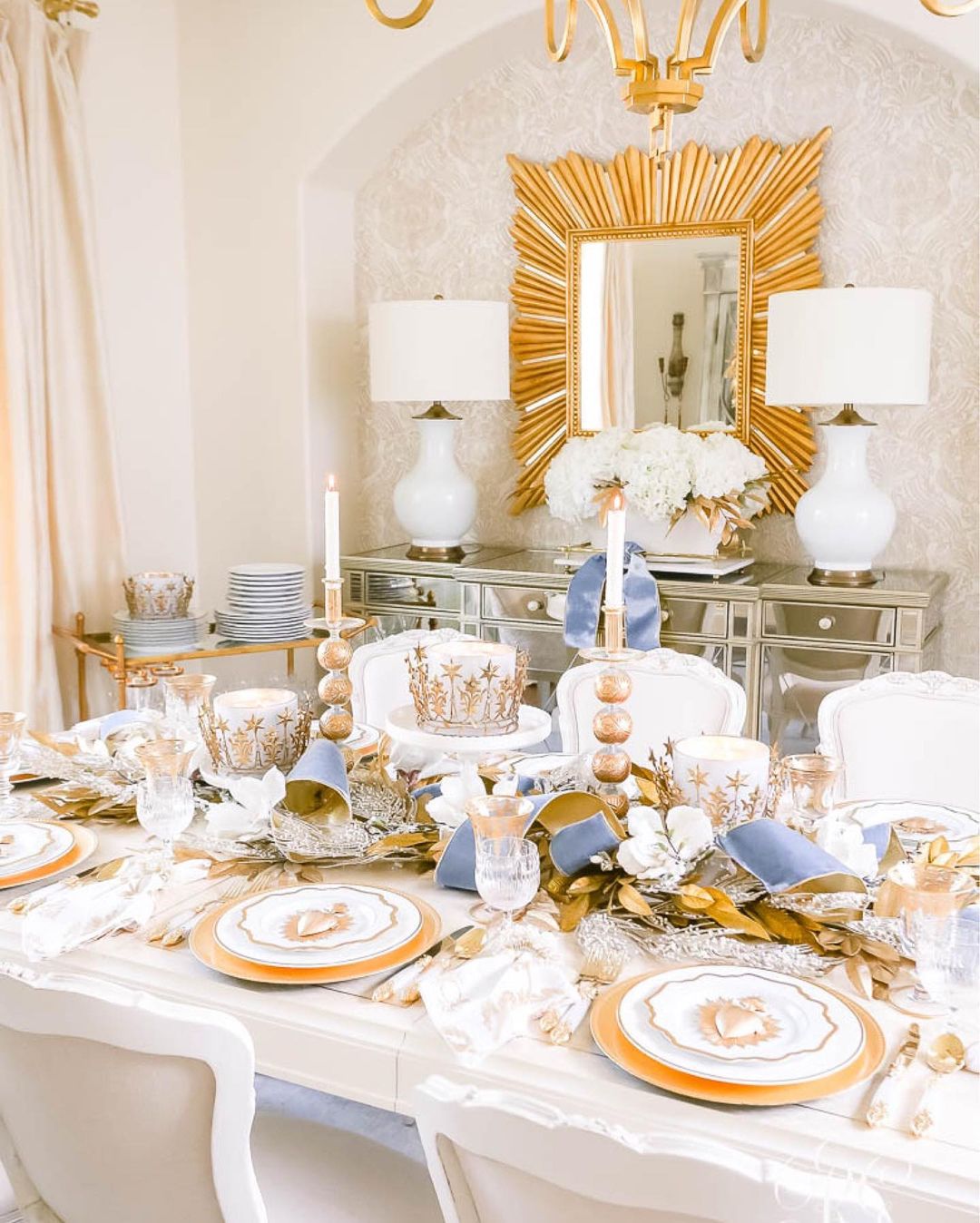 24. Pink Christmas Tree Tabletop Decor
Pink small tabletop Christmas trees and pink roses add a touch of modern glamour to this fresh and inviting Christmas table! We simply adore the miniature Christmas trees for holding place cards too!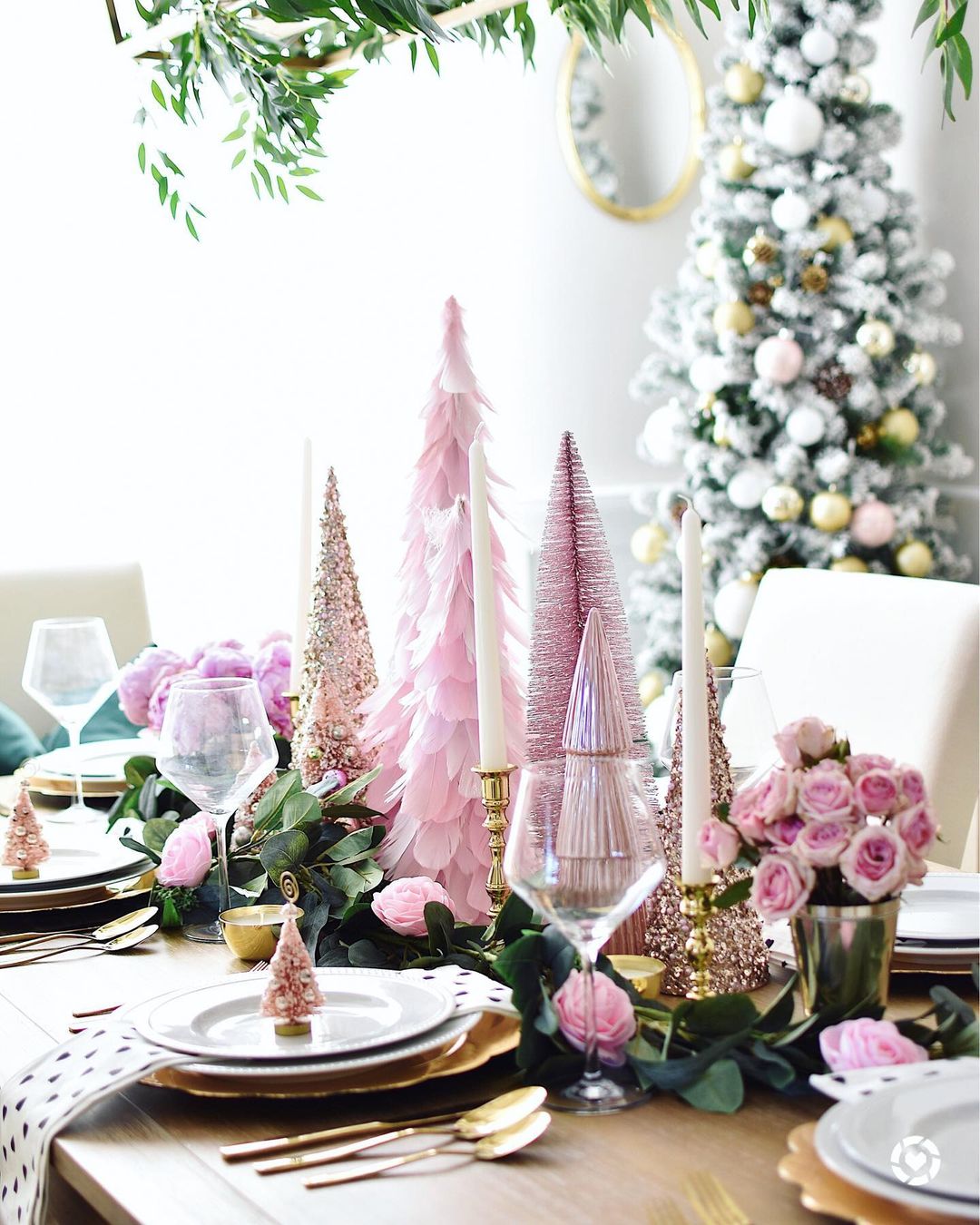 25. Simple Christmas Table Decor
The simple black plates allow the festive colors of this simple and elegant centerpiece on this dining table to really pop!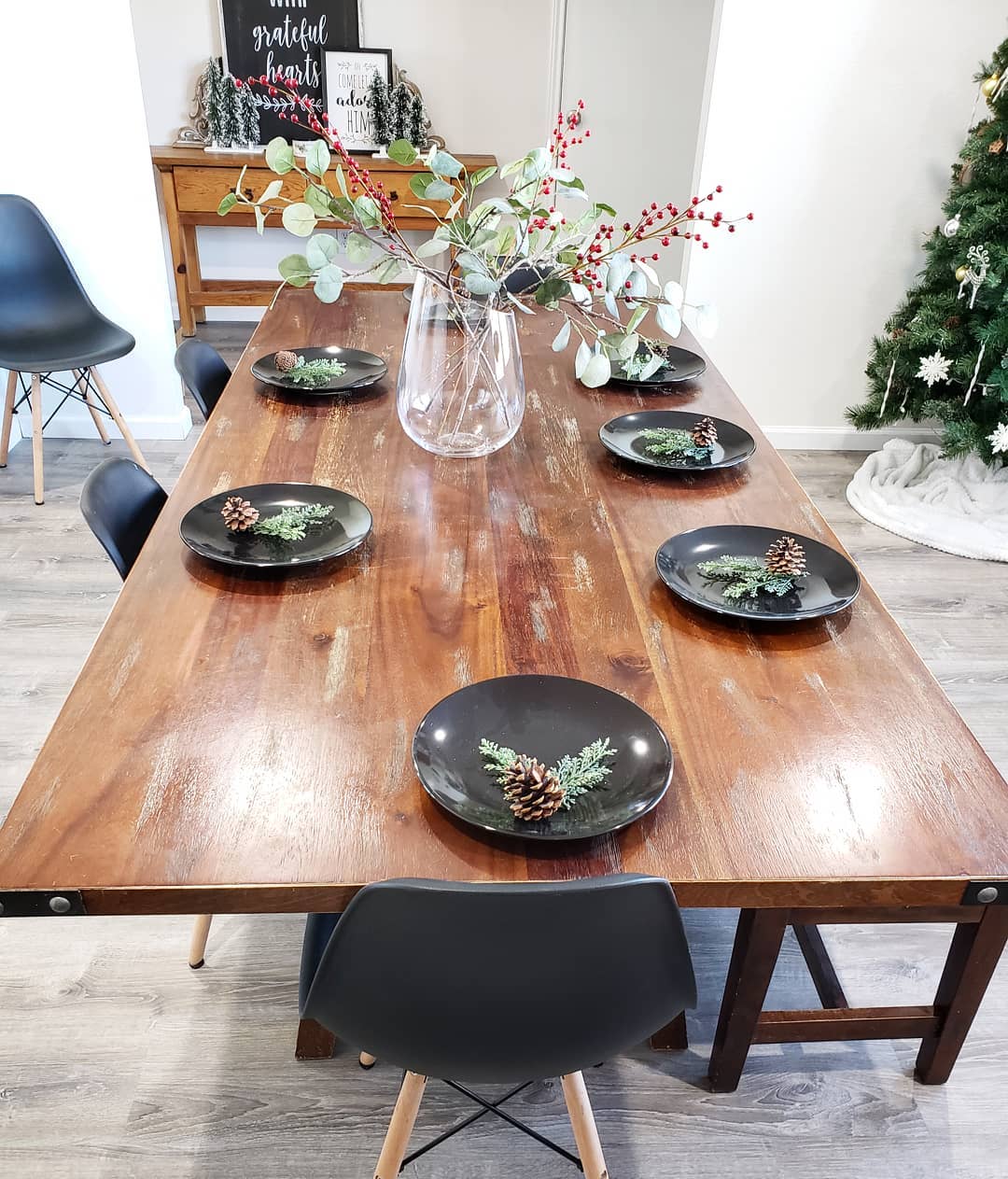 26. Stunning Christmas Decoration With Foliage
Bring in the outside the easy way with a stunning display of live trees and flowers! The white candles add a welcoming cozy feel to this dinner table where guests are guaranteed to feel full of holiday cheer!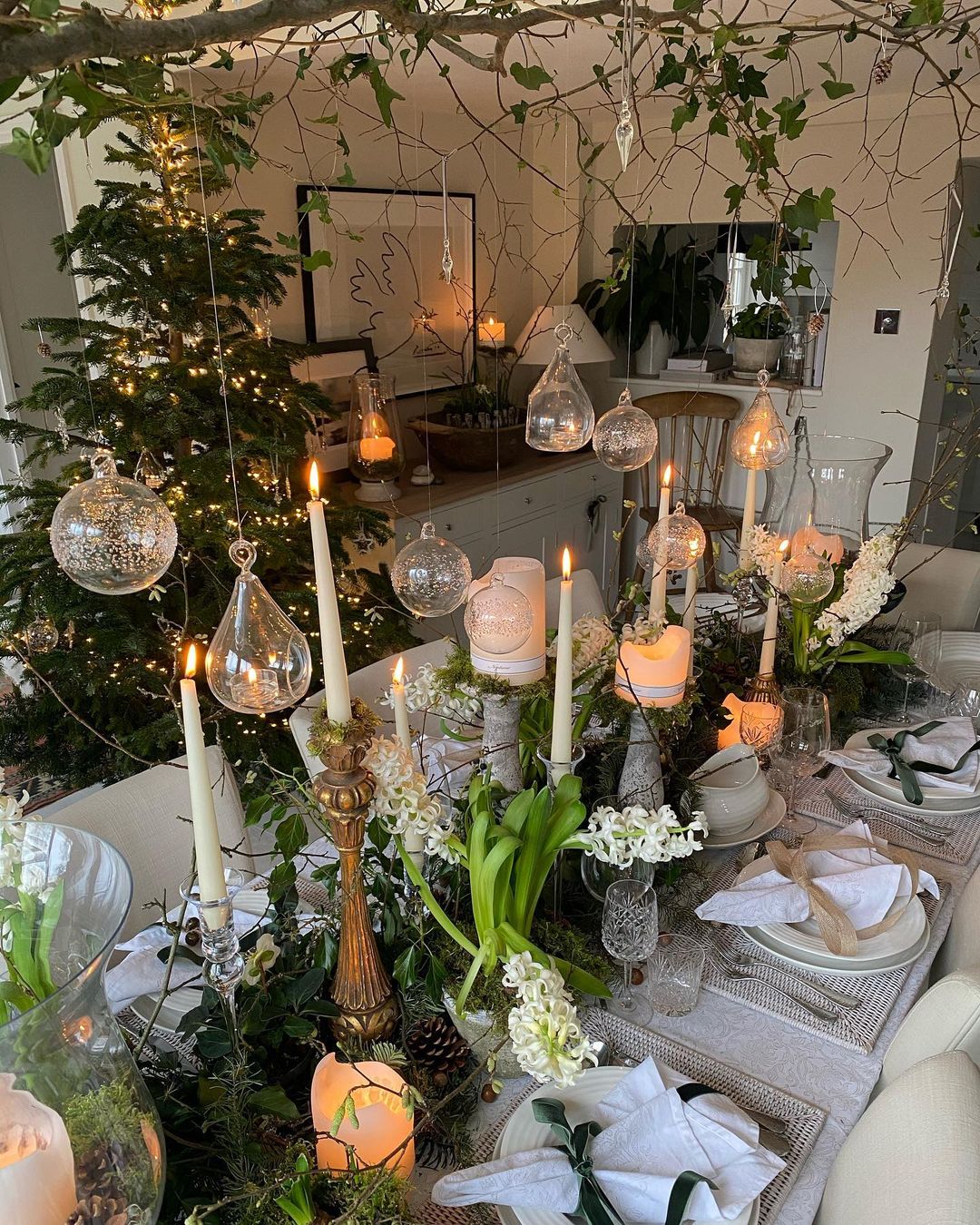 27. Festive Wrap Table Runner
Christmas wrapping paper used as a table running is a unique and inexpensive way to add effortless style to your Christmas decor! Simply layer a faux snow garland on top and you'll be feeling all festive in no time!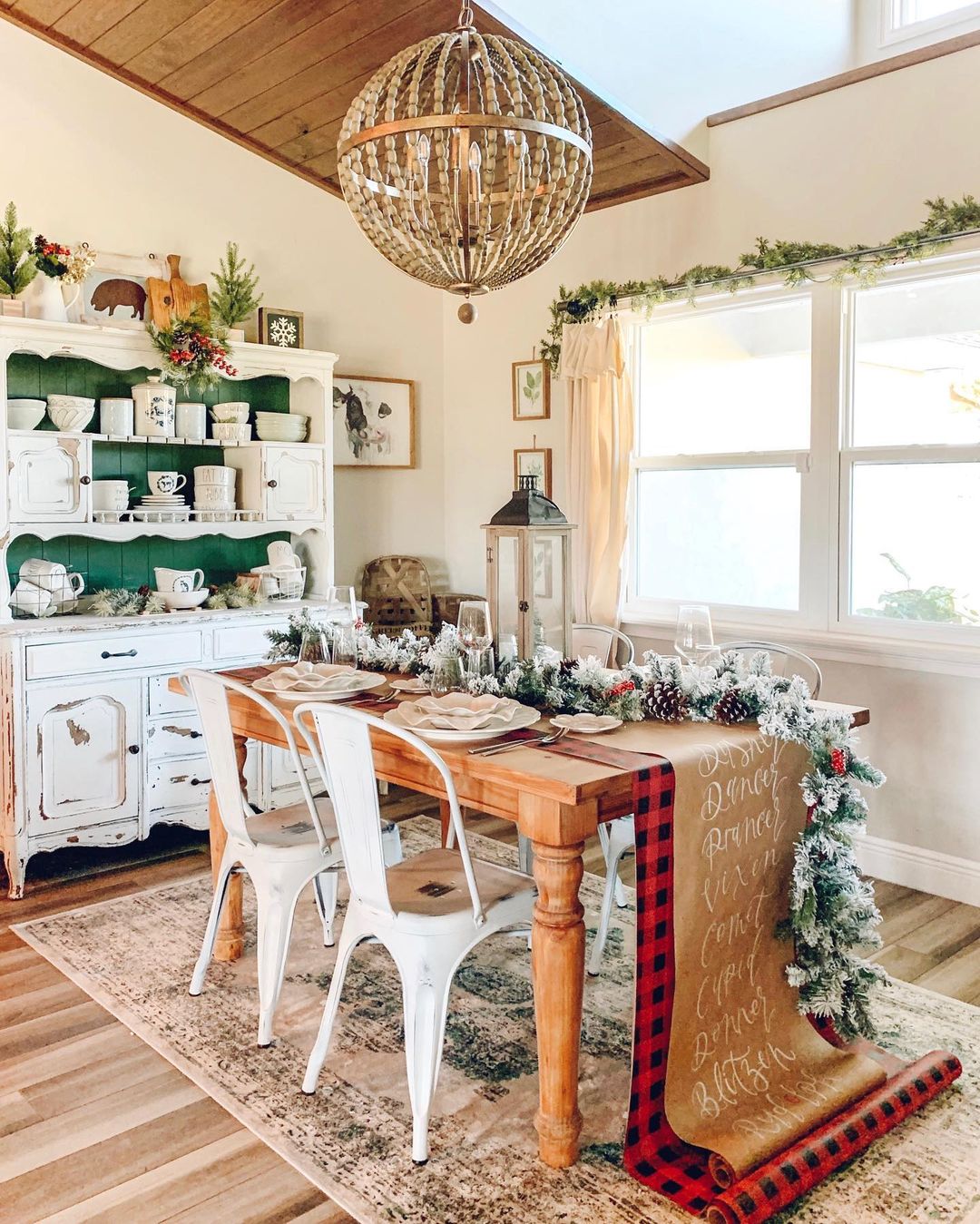 28. Traditional Christmas Table Setting
The stunning gray walls of this dining room truly complement the traditional colors of Christmas that decorate this dining table. Simple, yet stunning!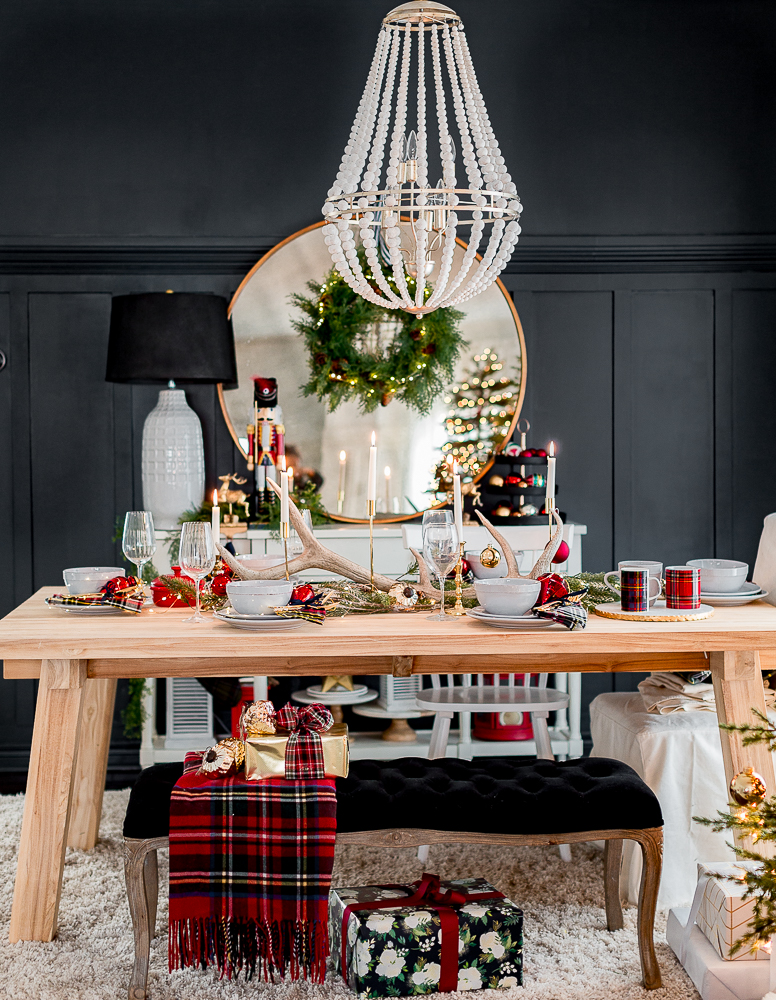 29. Beautifully Rustic Moss Table Runner
Fresh greenery, real trees, and a live moss table runner layered with red apples create an irresistibly festive woodland-inspired scene.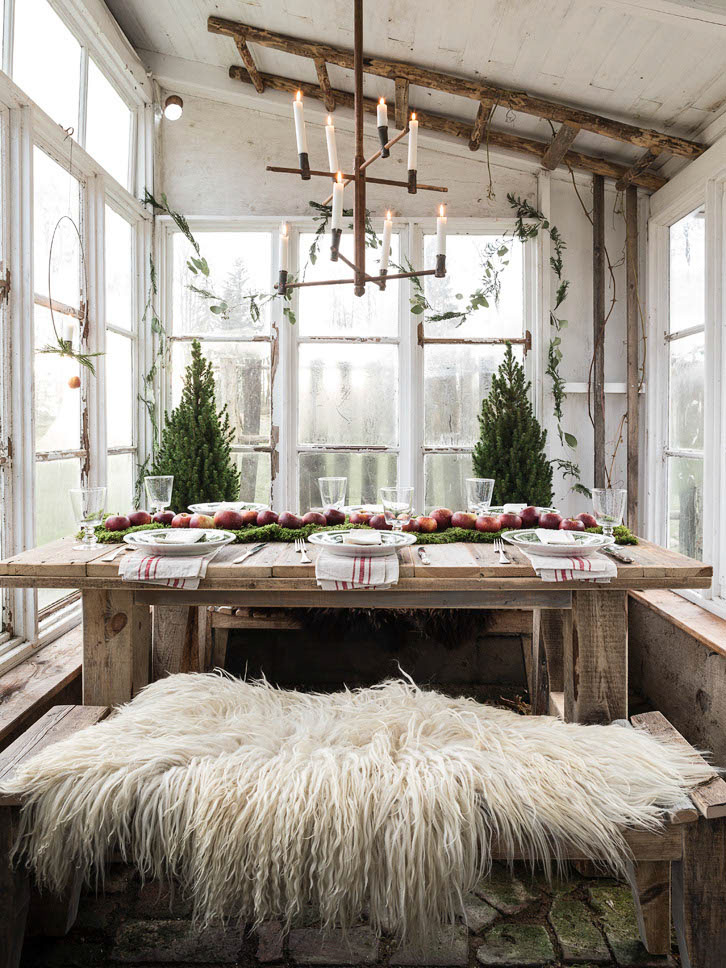 30. Vintage Letters and Envelopes Christmas Decor
Vintage music paper is the perfect material to create these adorable small tabletop Christmas trees.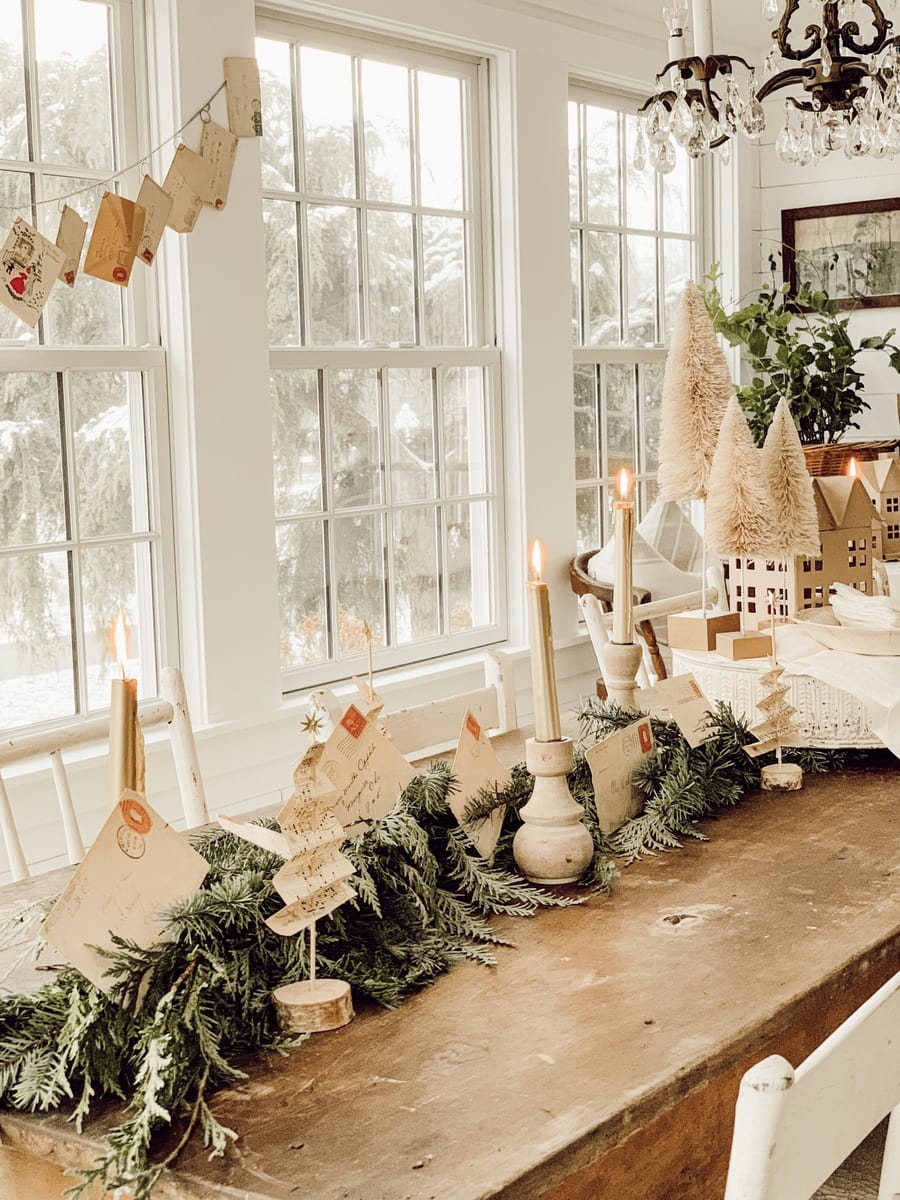 31. Festive Napkin Rings With Cinnamon Sticks
Festive napkin rings created with cinnamon sticks and sprogs of pine will fill your dining room with the scent of Christmas!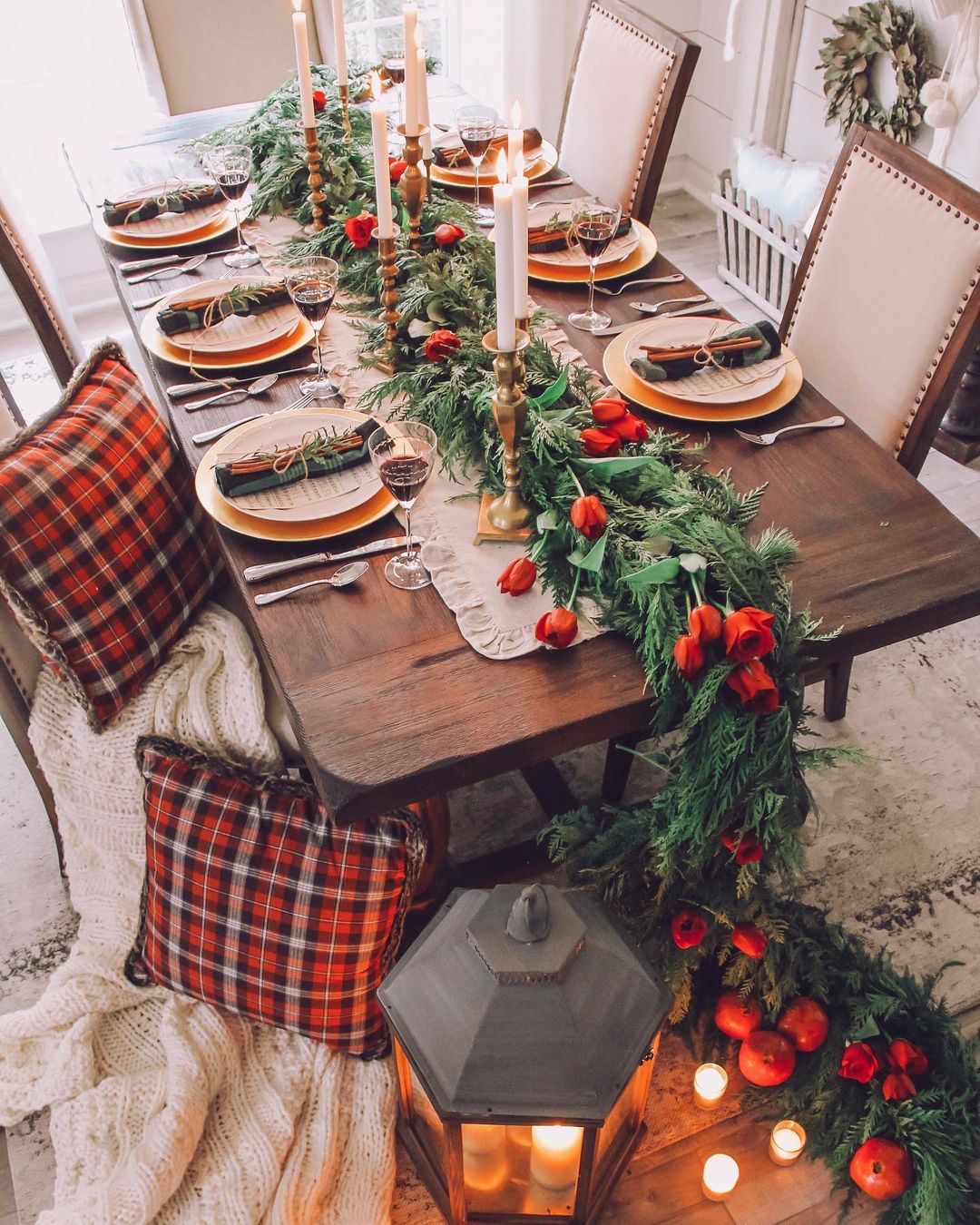 32. Small Farmhouse Christmas Table With Simple Wreath Centrepiece
A simple yet stunning Christmas wreath with a DIY mason jar votive in the center of your table creates the perfect festive scene.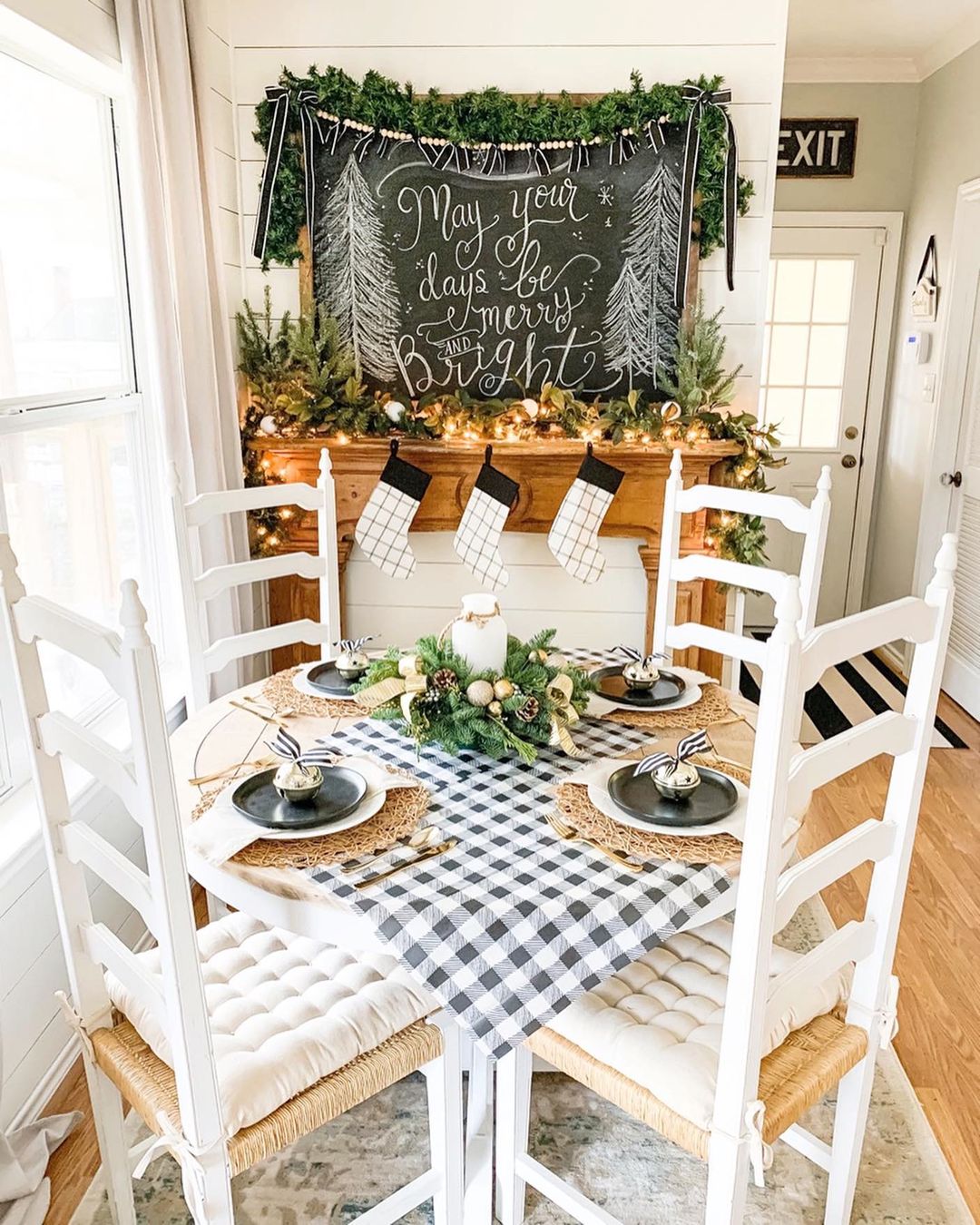 33. Black, and White Buffalo Plaid Christmas Decor With Red Accents
Nothing quite says stunning farmhouse Christmas style than black and white buffalo plaid complimented with red and green accents! A wooden tray filled with beautiful festive flower arrangements is an easy way to bring the holiday spirit to your dinner table!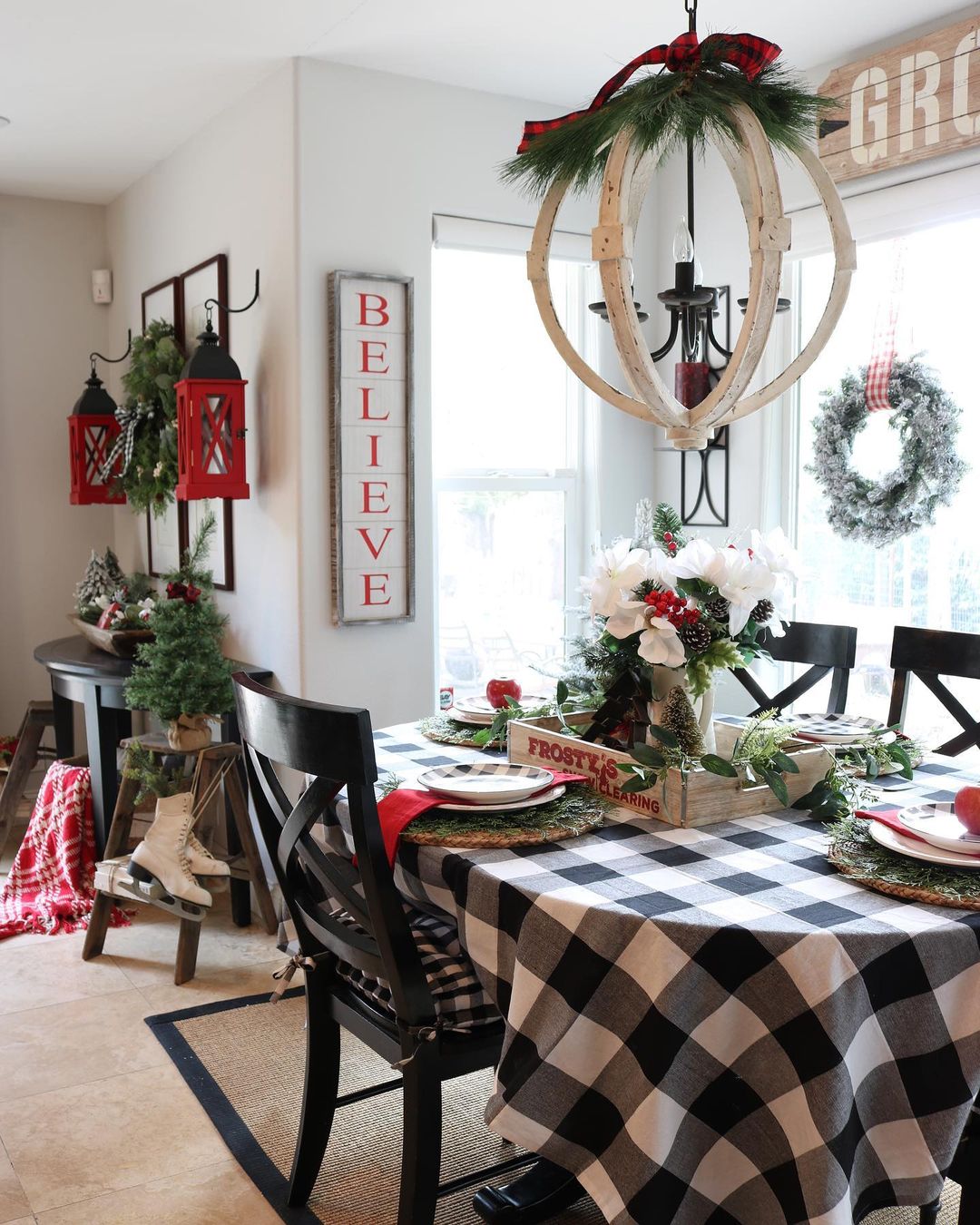 34. Snowman Place Settings
These snowman place settings are simple to create and super fun for both adults and kids… Simply use black napkins for his hat and red napkins for his scarf!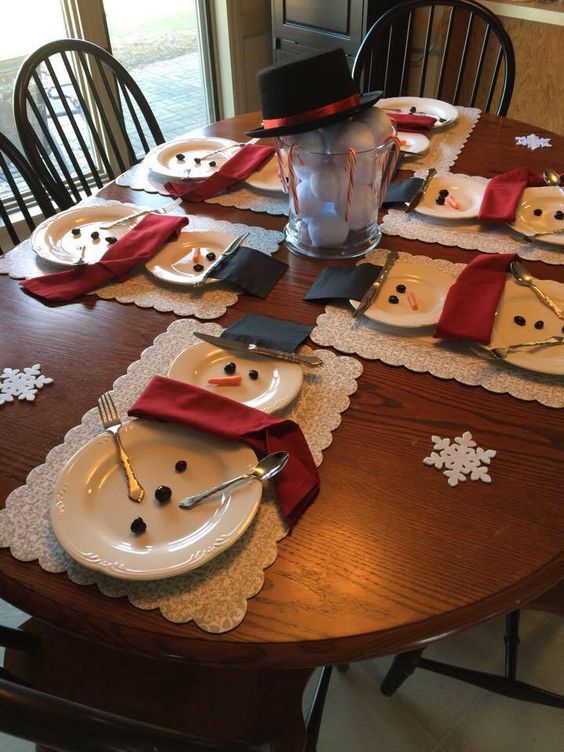 35. Christmas Tree Napkins
Get creative and make a festive Christmas tree with a green napkin. Add a cinnamon stick for the trunk and tie it with festive string to finish the festive look.