It's the most wonderful time of the year once again! And what better way to get in the festive mood than by creating some beautiful Christmas crafts?
Whether you're looking to add a personal touch to your decorations, keep your kids busy, or simply make some unique handmade gifts, there's sure to be a craft idea here that will inspire you!
We've got everything from Christmas wreaths, festive mason jar crafts and creative table setting ideas to budget friendly projects and handmade gift ideas we know you'll love to make!
Psst, you can even make these crafts to sell for some extra Christmas cash! Find out more about that here.
This post may contain affiliate links. See my full disclosure here for more info.
Where To Get Supplies For Christmas Crafts?
First things first, if you're looking to kickstart your Christmas craft projects but are unsure where to source your supplies…
Worry not!
Most of the crafts featured below can be made with supplies from the dollar store or from items you already have at home.
However, if you need to top up your crafty stash, check out the following places…
Craft Suppliers
Online Marketplaces: Amazon and eBay are treasure troves for all kinds of craft supplies. From paint and sewing supplies to jars and wreath forms, you can find a vast range of materials for your festive creations
Craft-Specific Retailers: Jo-Ann Fabric and Craft Stores, Oriental Trading, and Factory Direct Craft offer an extensive selection of holiday craft items.
Dollar Stores: Don't underestimate the Dollar Tree when it comes to craft supplies! You can find essentials like wreath forms, glitter mini bows, and acrylic paints at affordable prices!
Etsy: For unique and handmade craft supplies, Etsy is the place to go. You can support small businesses while finding one-of-a-kind materials for your projects.
Wholesale Suppliers: If you're planning to create in bulk, consider Warehouse Craft Supplies and Craft Supply Depot. They offer wholesale prices on a range of holiday craft items
Thrift shops: Thrift stores are great for finding materials to work with. With a keen eye and a little patience, you can find treasures like vintage buttons, ribbons, and fabric that would otherwise be very difficult to find!
Remember, preparation is key to a successful crafting session.
So, be sure to make a list of what you need, from basics like paper, cardstock, paint brushes, and glue, to more specific items like green cone styrofoam and floral pins for topiaries and then gather your supplies together.
As a result, you'll save time, money and stress and you'll be surprised how much better your projects turn out.
P.S. Don't forget to click here to quickly save these stunning Christmas crafts to your fave Festive Pinterest board!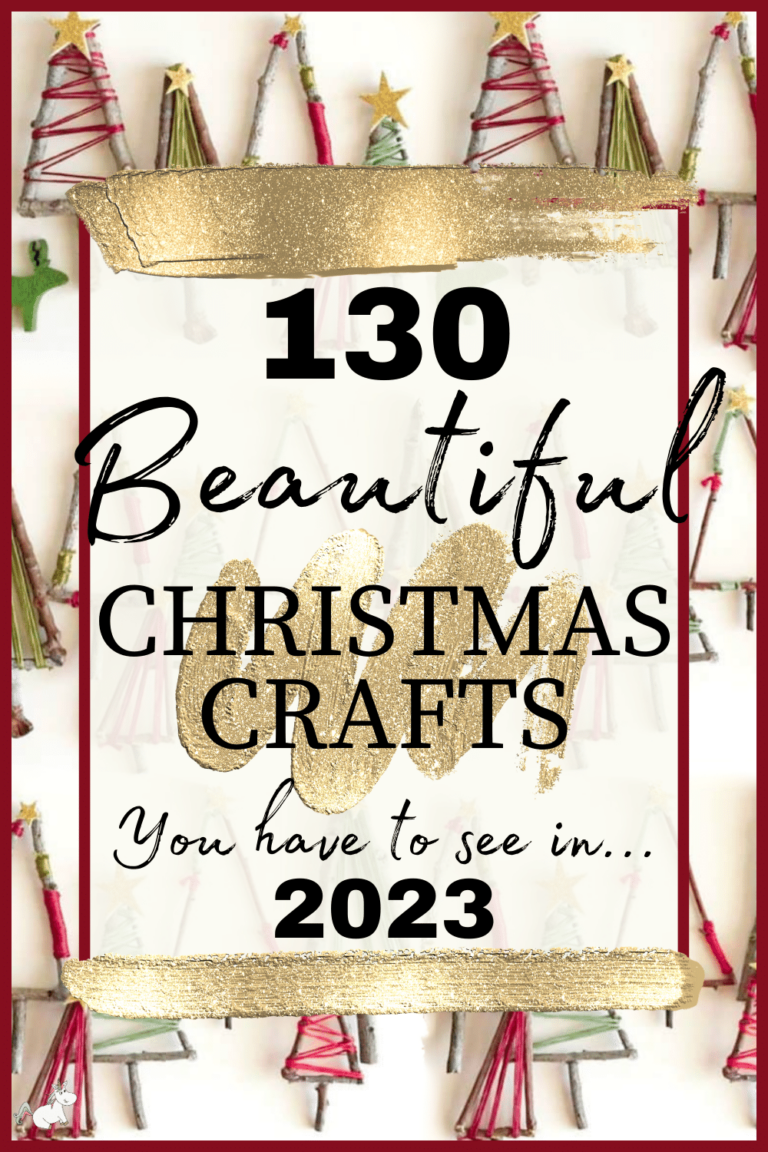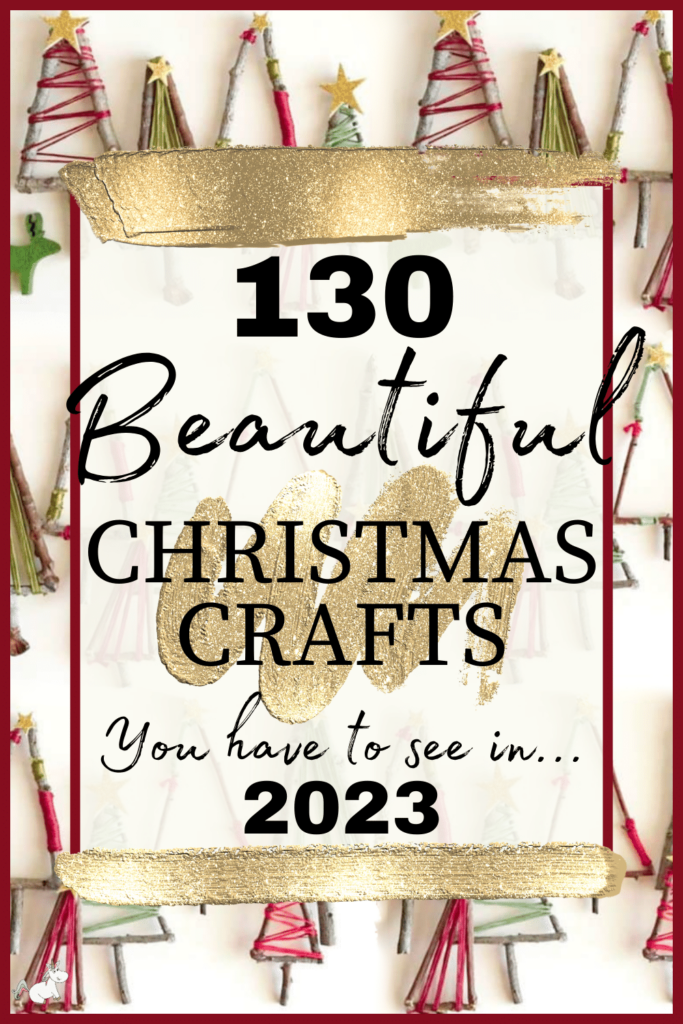 DIY Christmas Crafts for Adults
Get ready to unleash your inner creative spirit this holiday season!
Let's start with this this creative collection of DIY Christmas crafts for adults.
From handmade wreaths to unique ornaments and festive wood crafts, these projects are perfect for adding a festive and personalized touch to your home…
DIY Pinecone Elves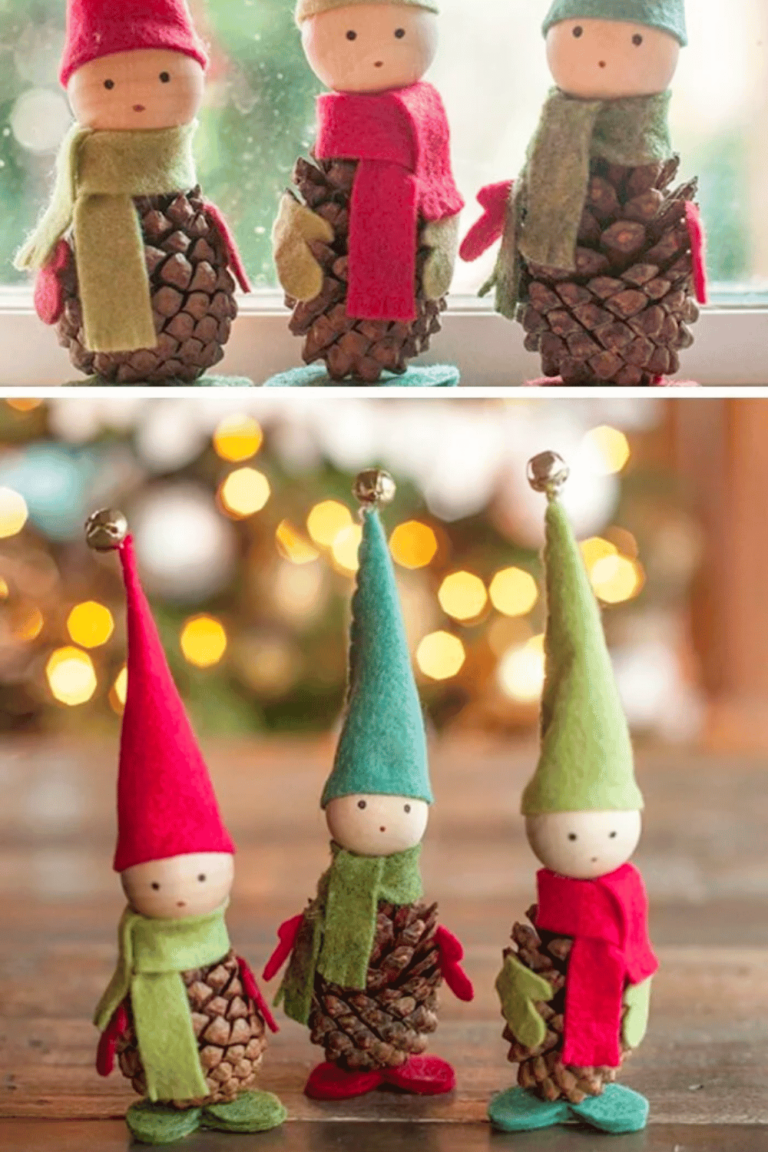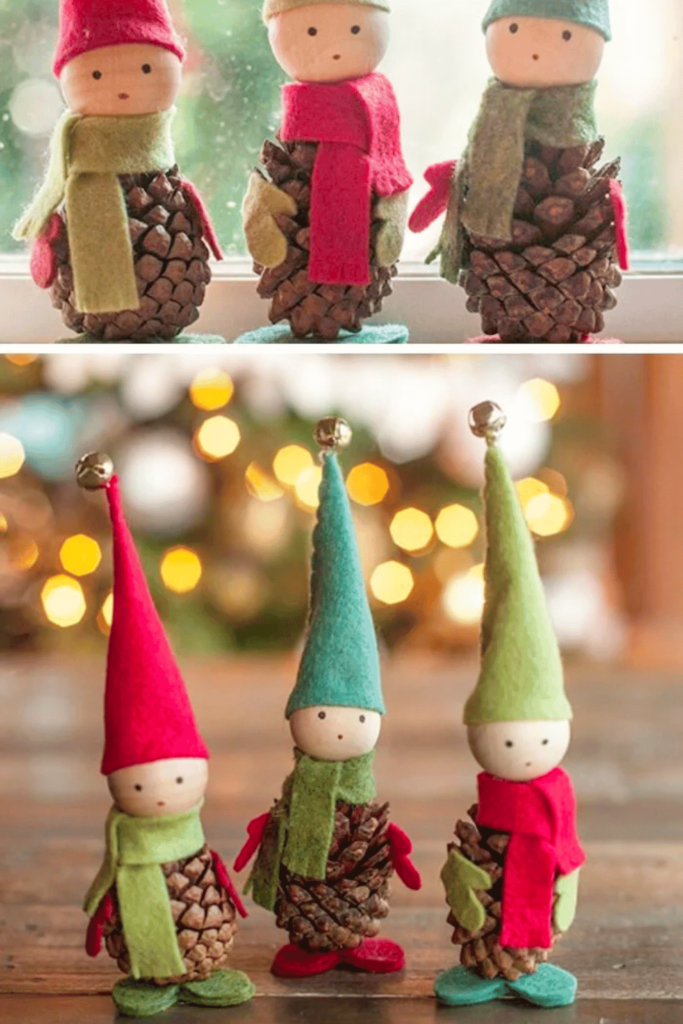 Rustic Festive Swag With Gold Bells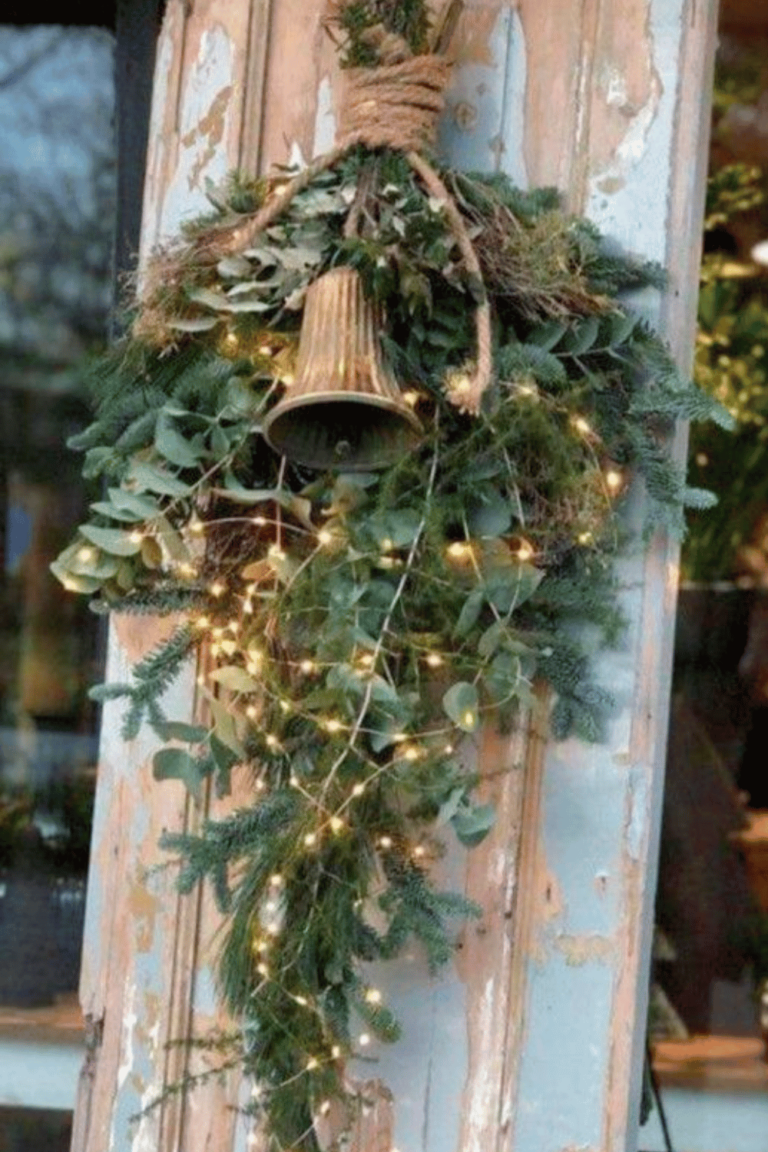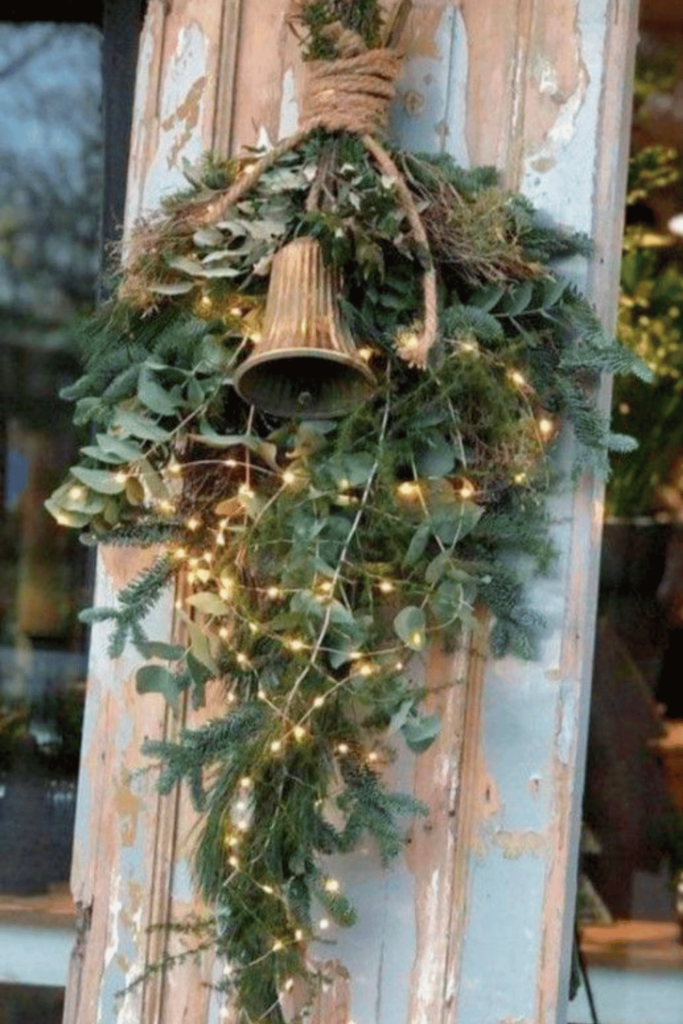 Air Dried Clay Gift Tags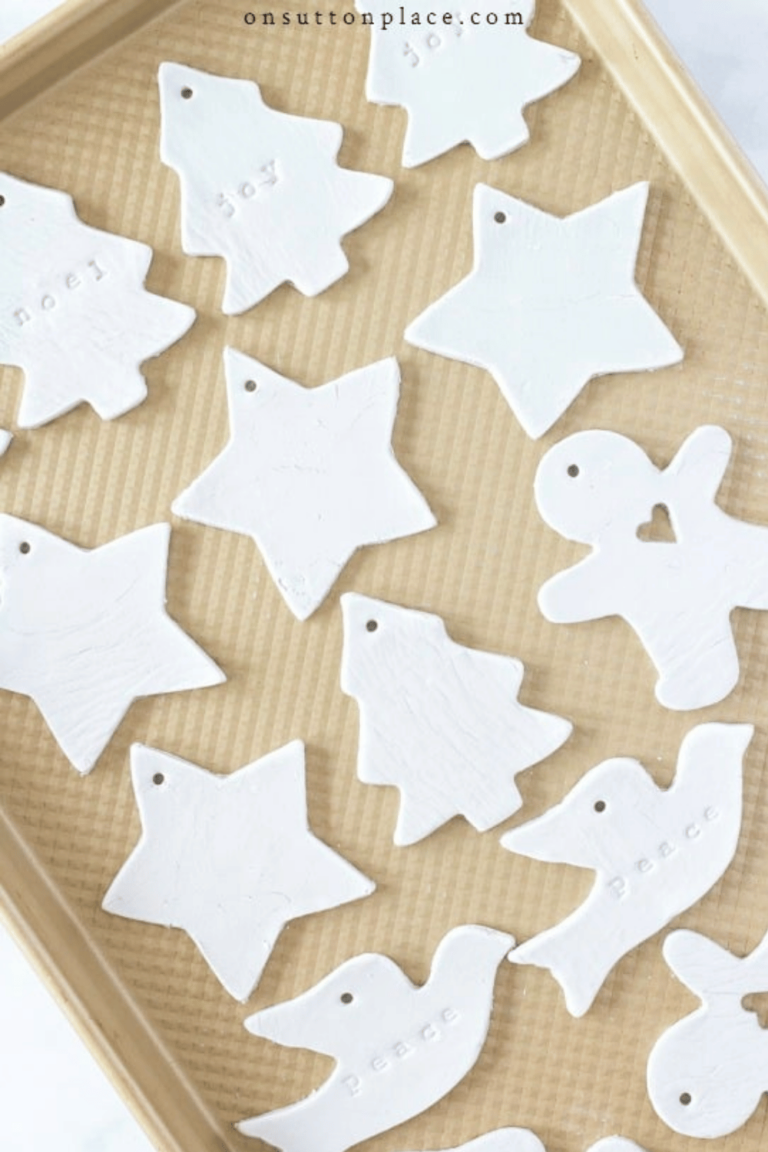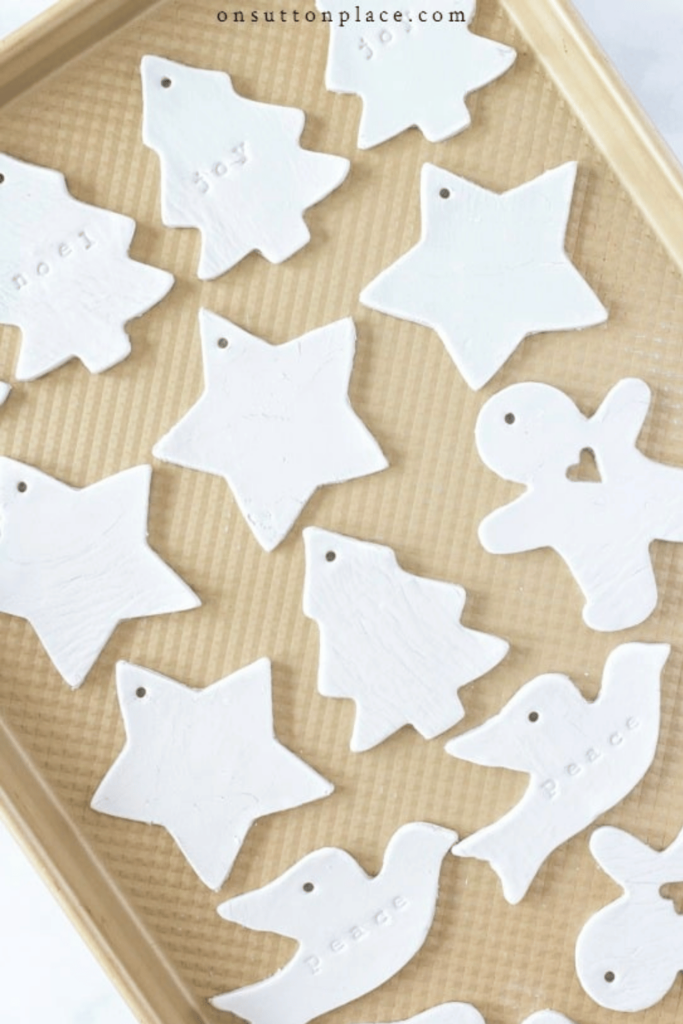 Silhouette Town Scene Mason Jar Lanterns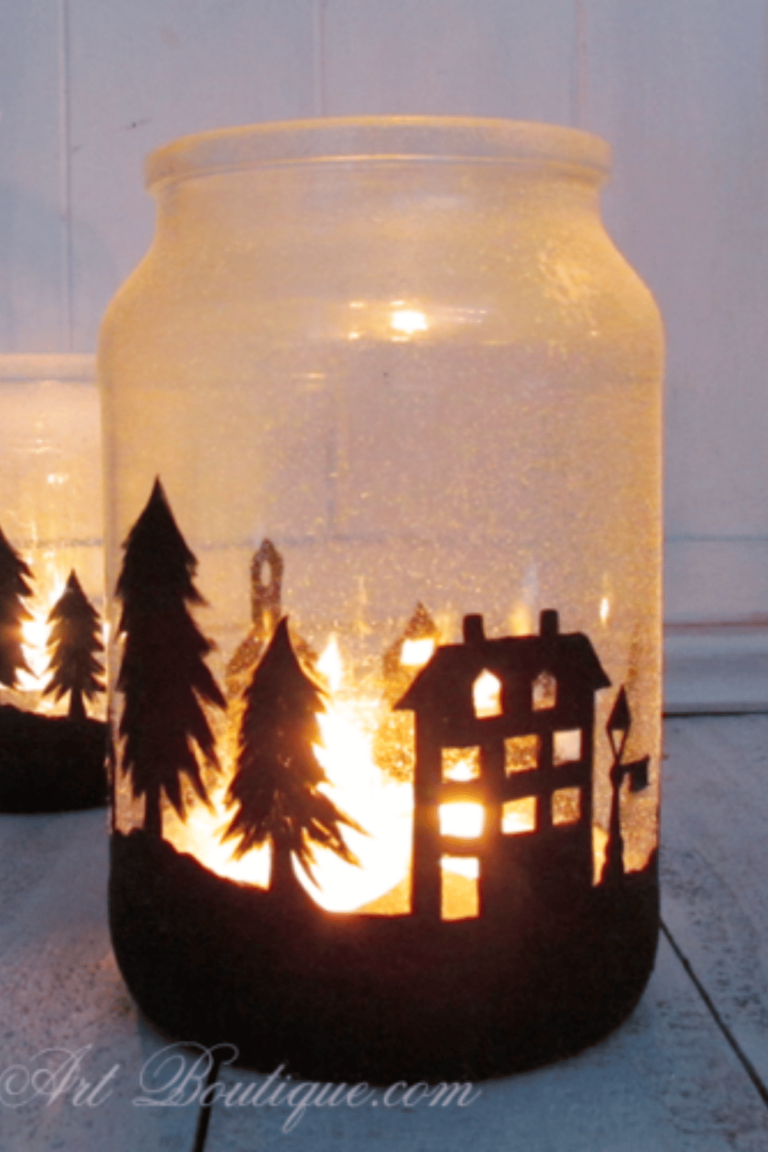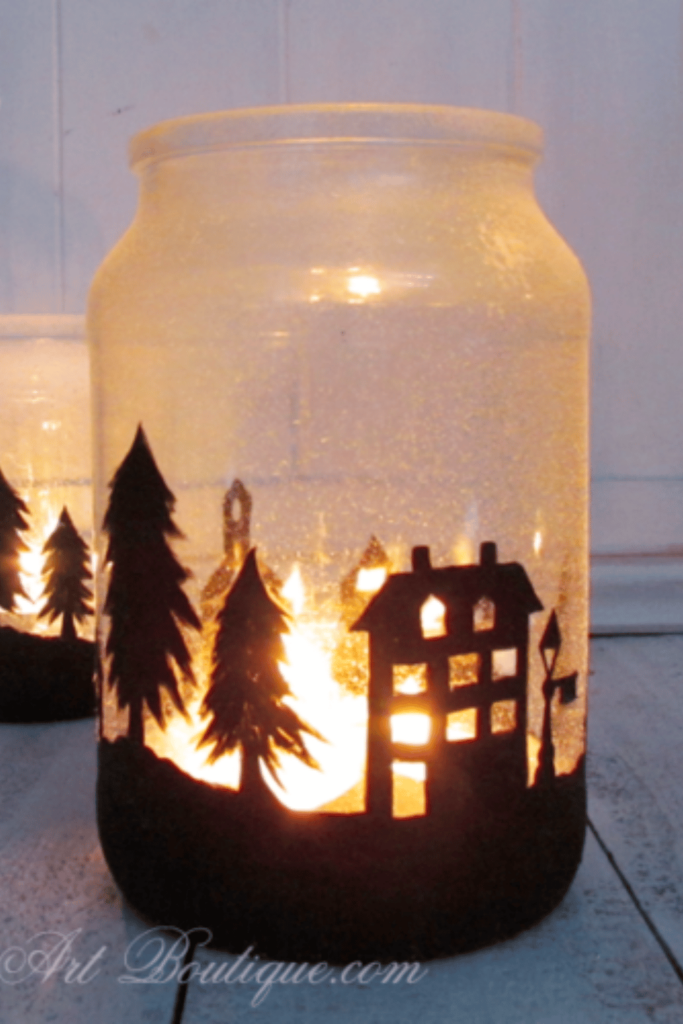 DIY String Art Stocking Holders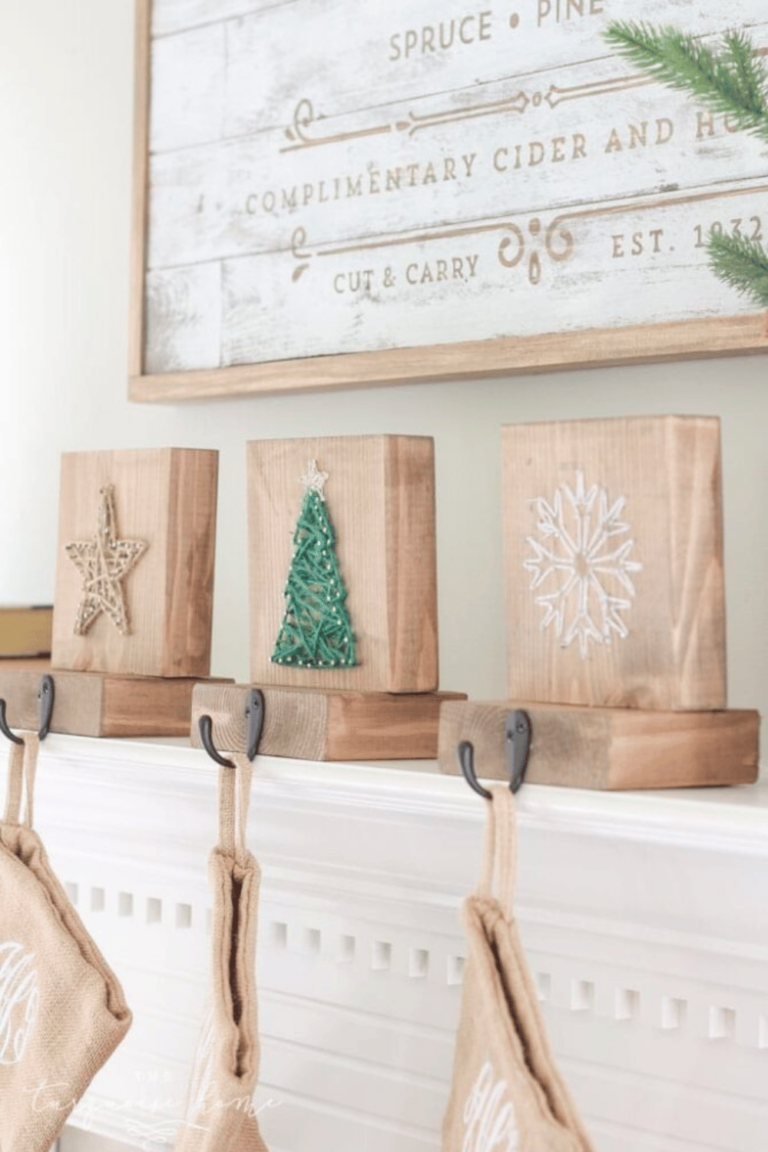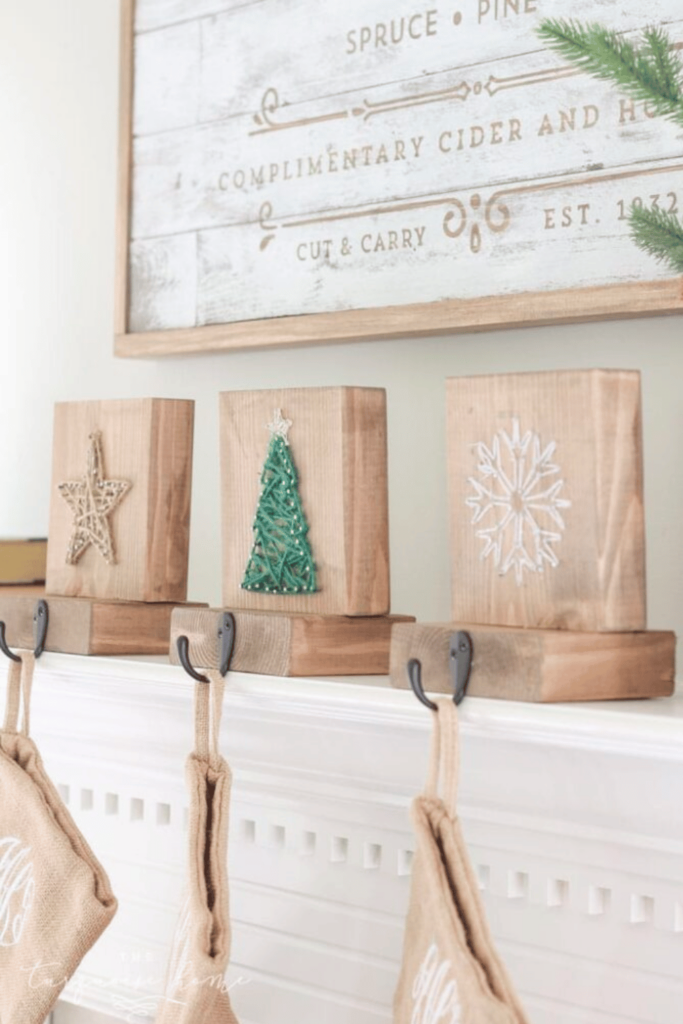 Dried Orange Slice Rustic Wreath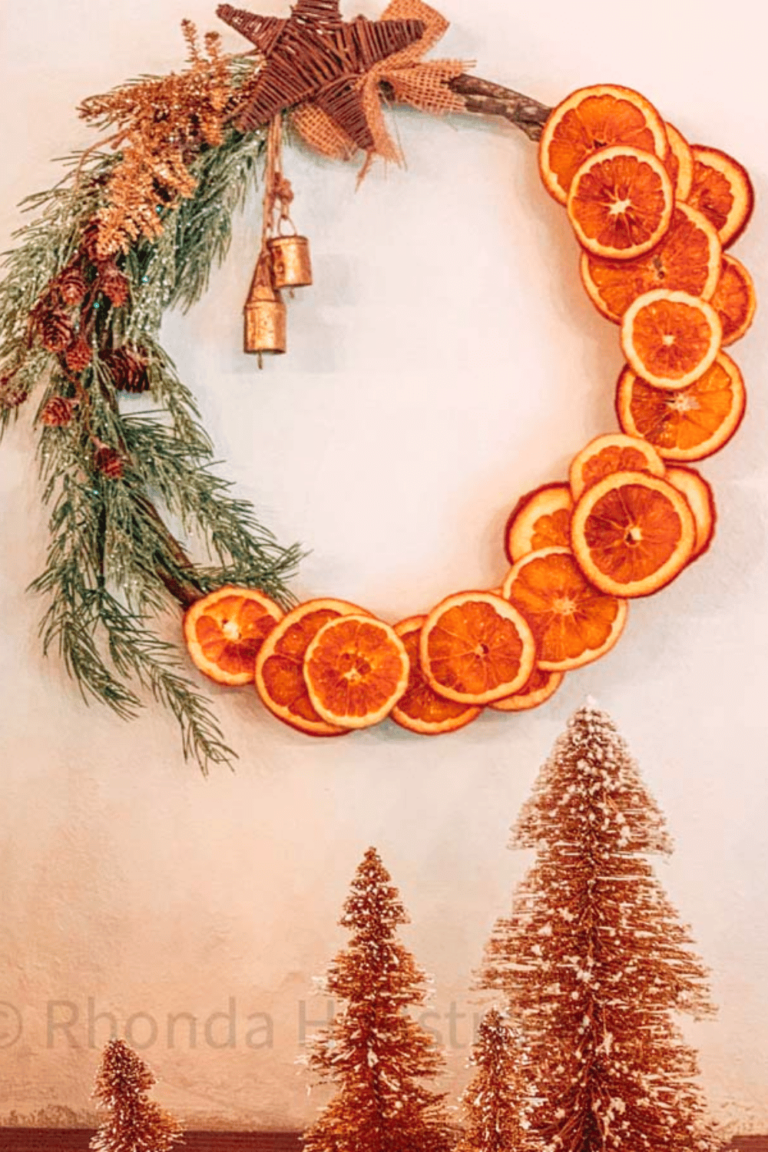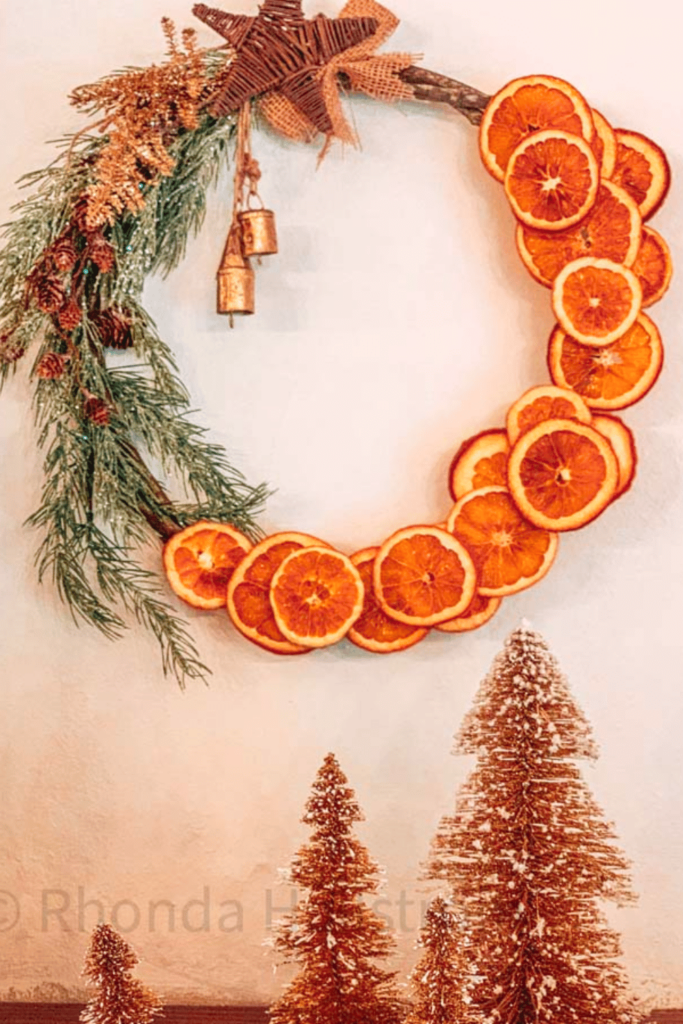 Wooden Christmas Tree Candle Holder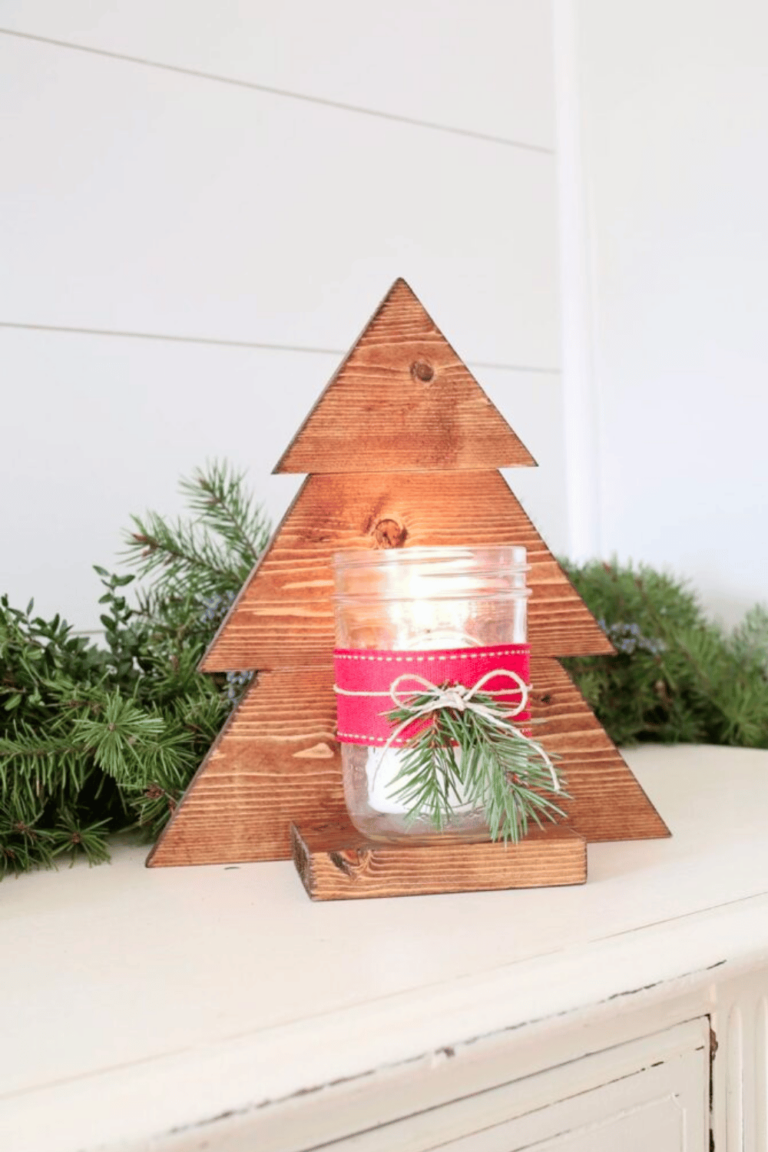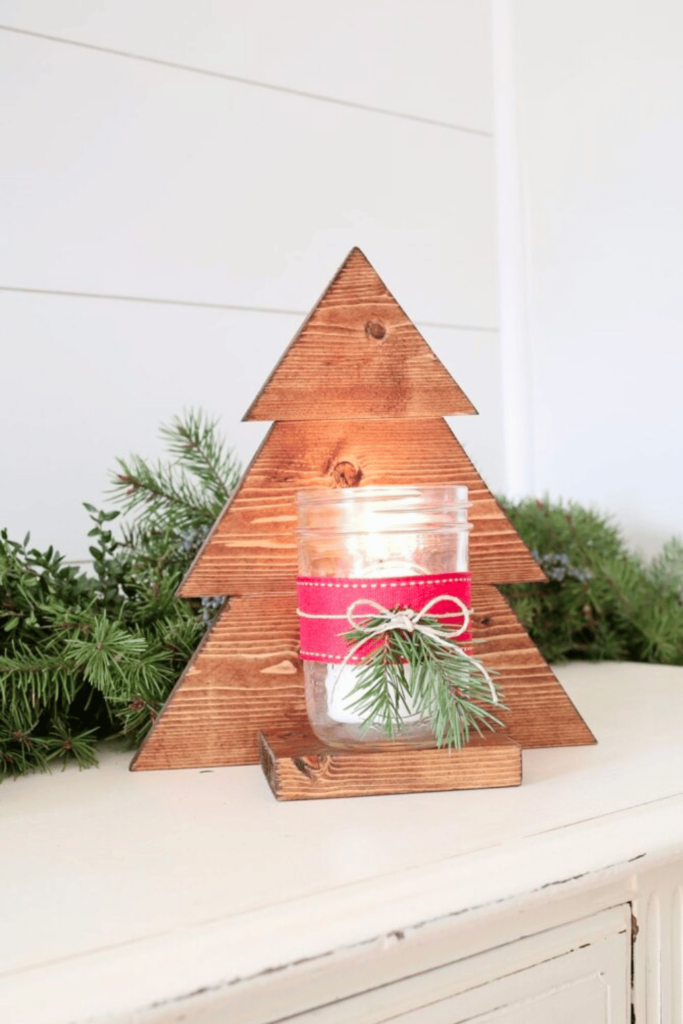 Wood Block Gnomes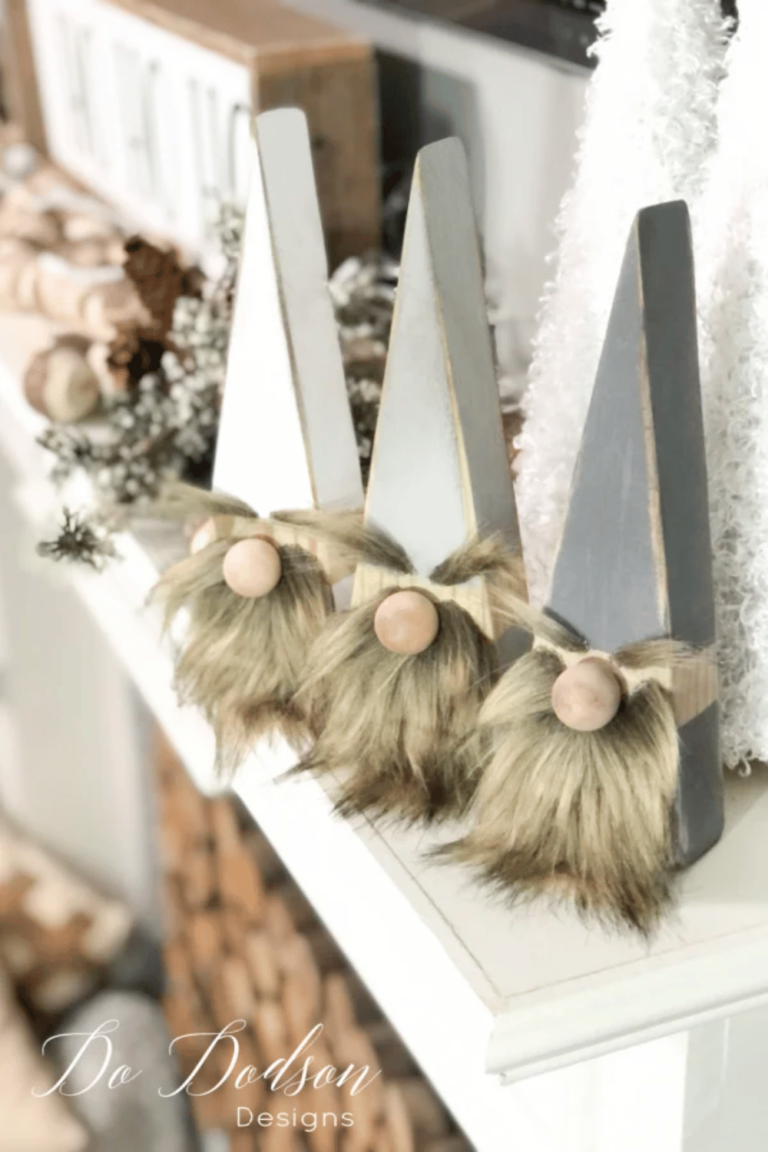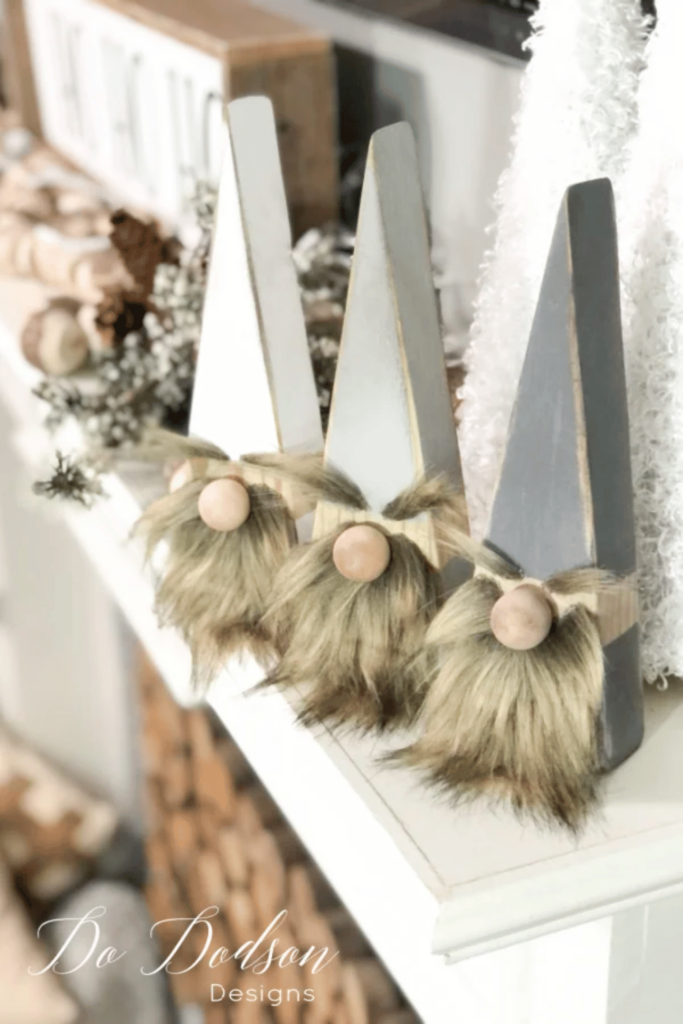 Simple & Elegant Winter Wreath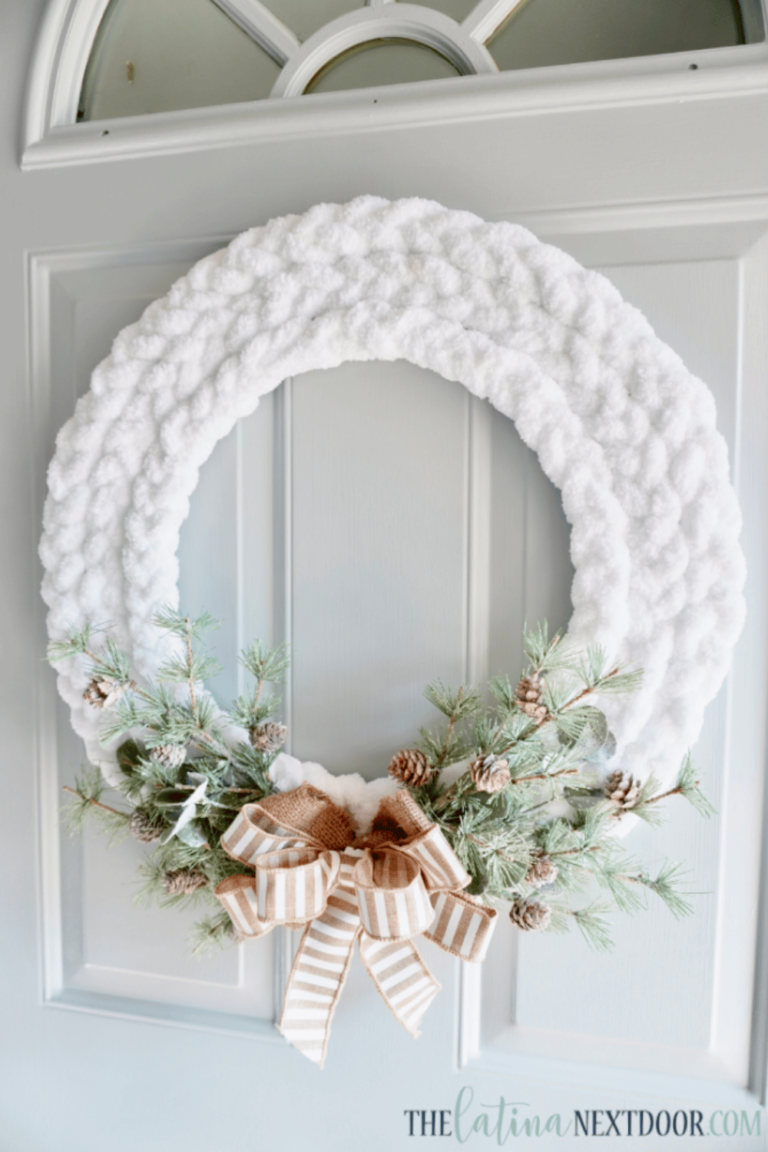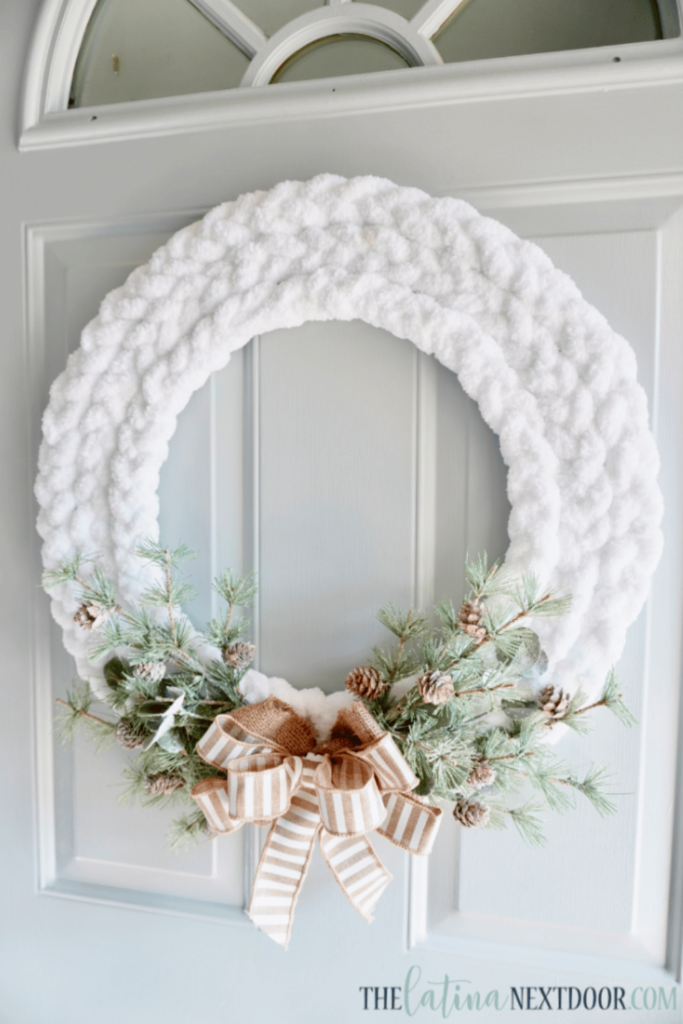 DIY Anthropologie Style Mason Jar Snow Globe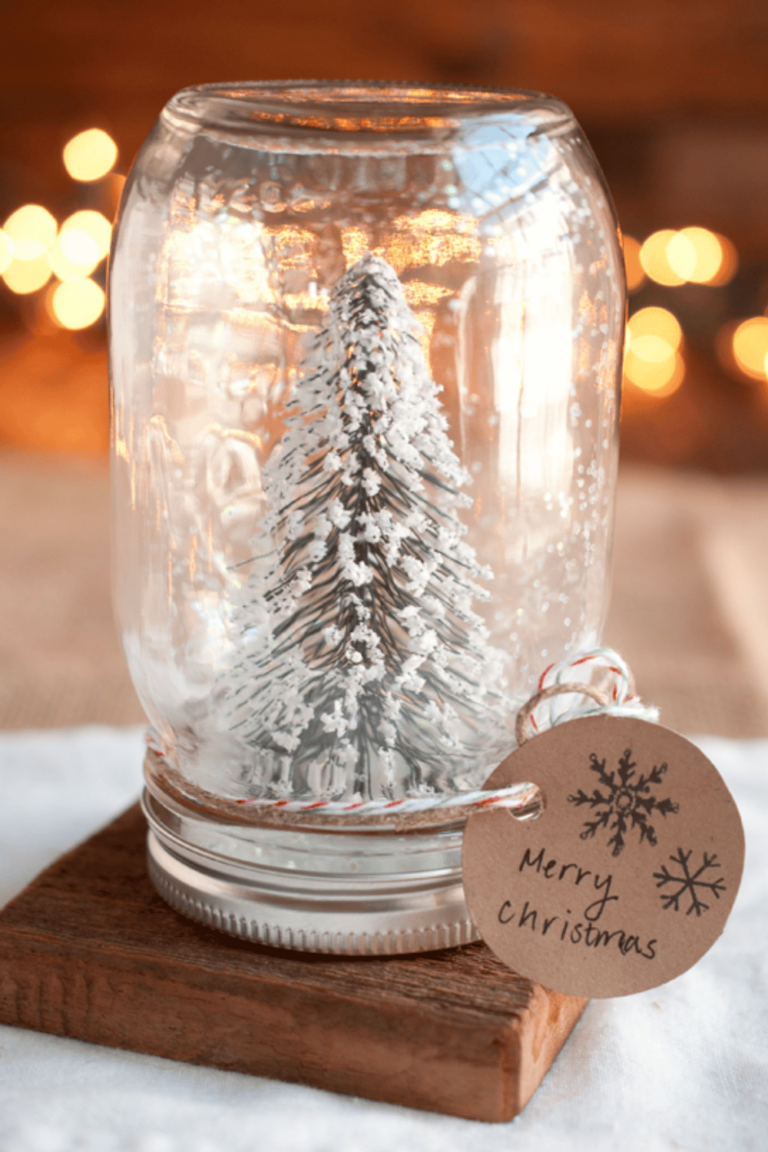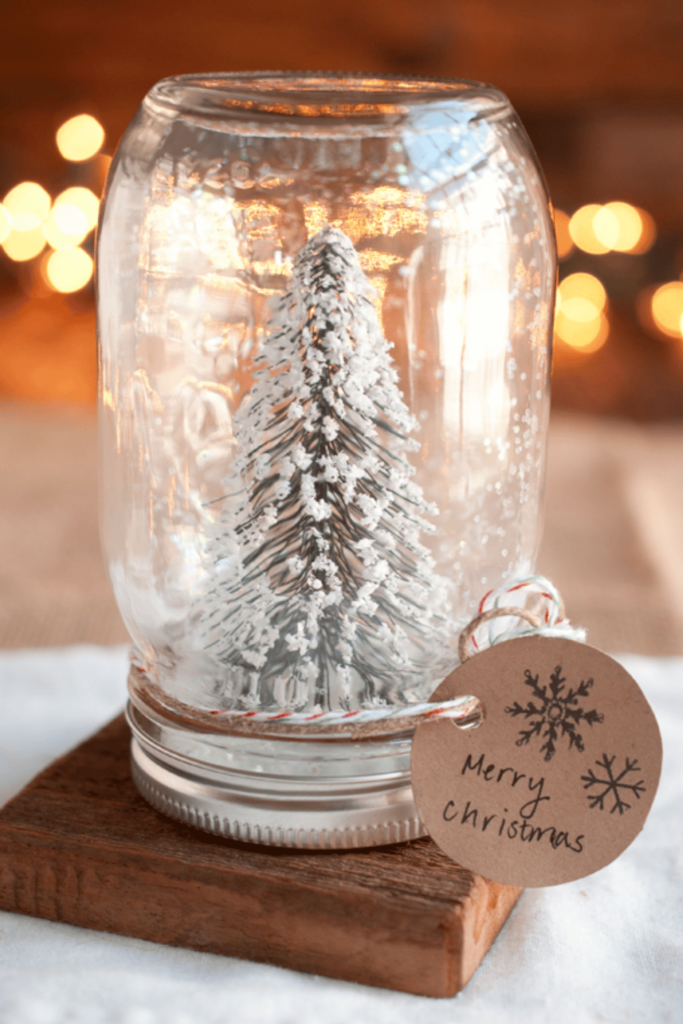 Little House Christmas Wreath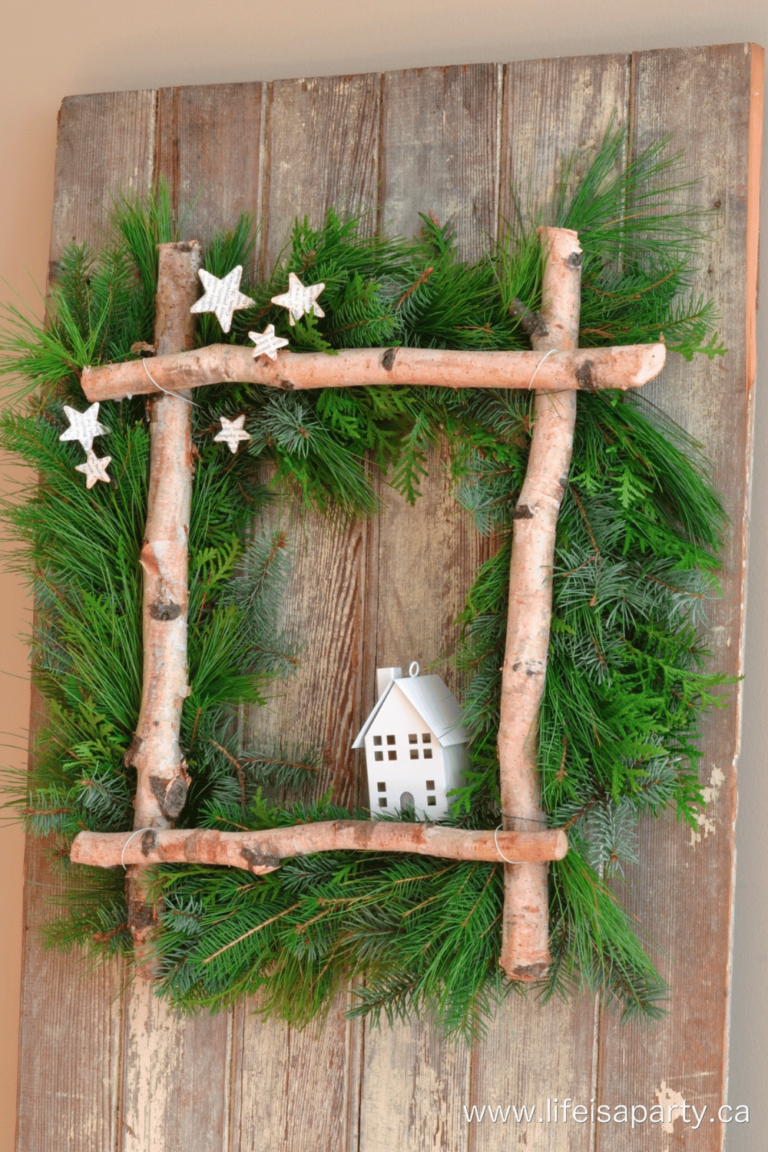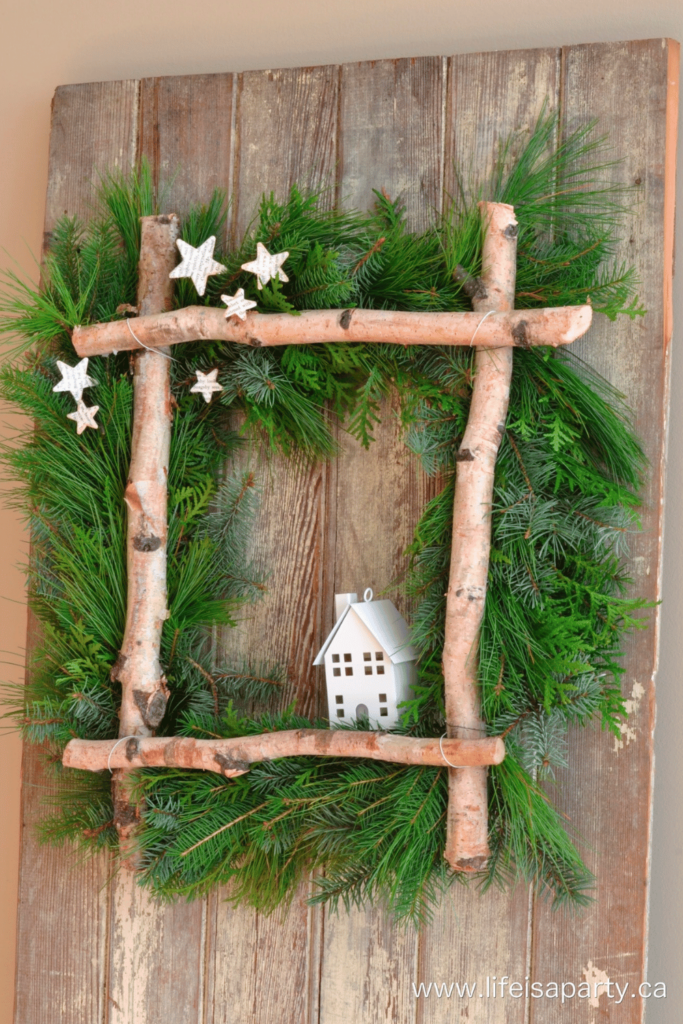 Easy DIY Wood Block Snowman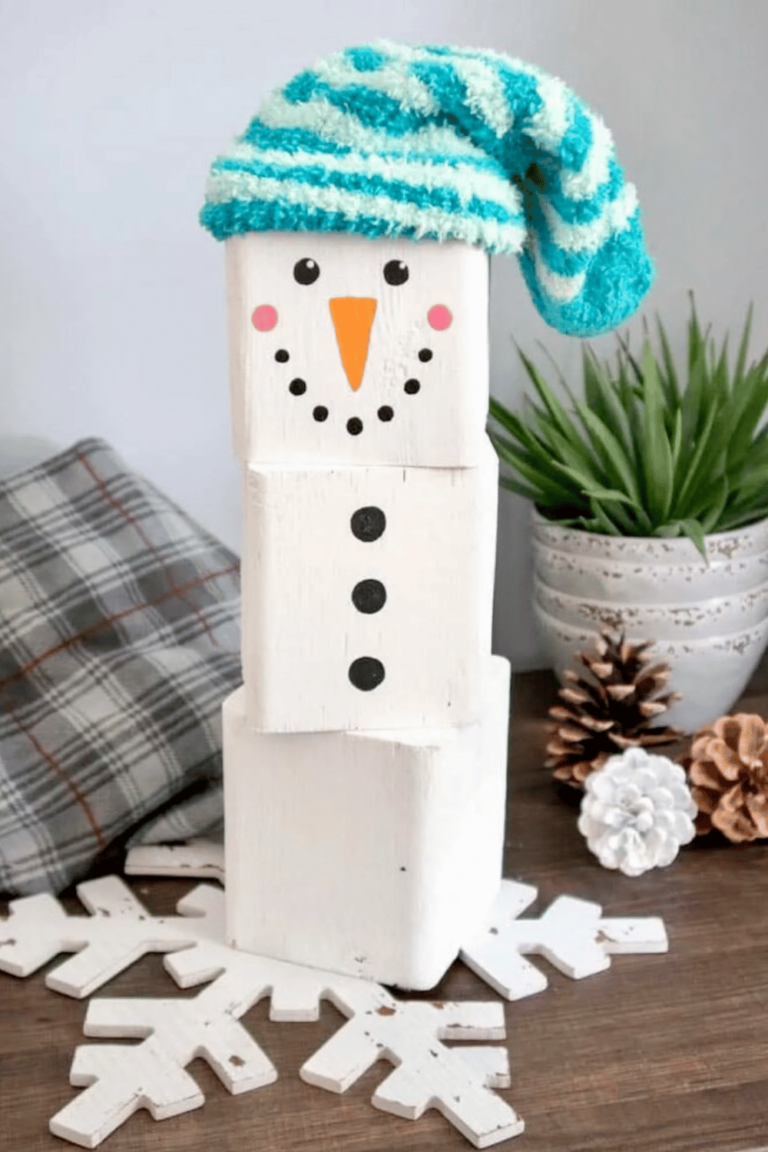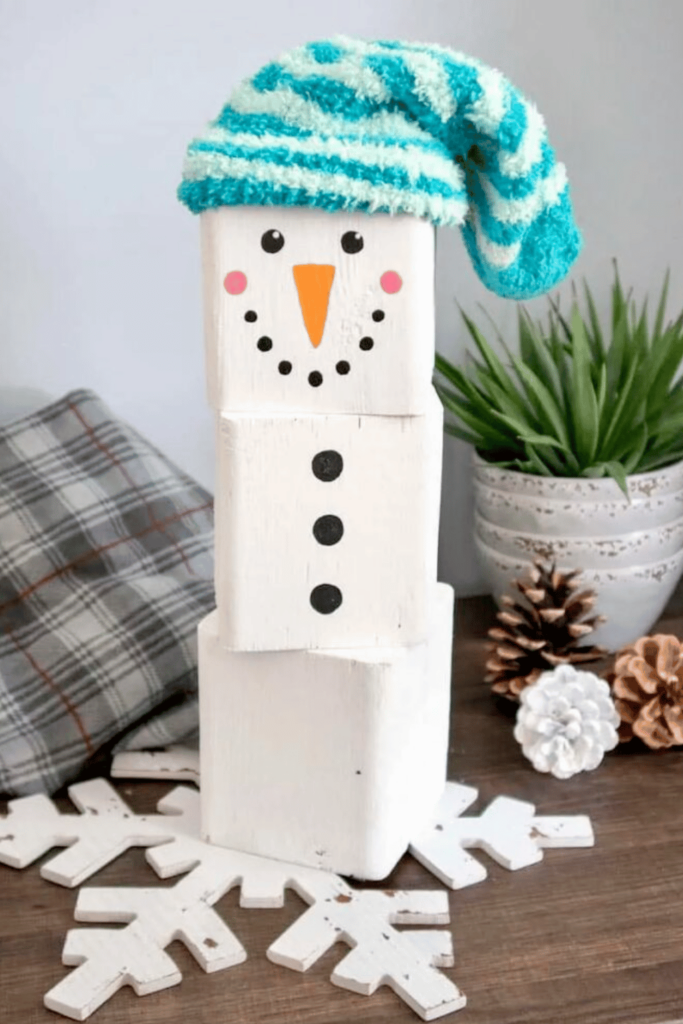 Homemade Christmas Ornaments and Decorations
Effortlessly add a heartfelt touch to your Christmas tree and home decor with our collection of homemade Christmas ornaments and decorations.
Discover creative ideas that will make your tree shine and your home feel warm and festive.
From hand-painted baubles to rustic garlands, these DIY projects will bring joy and charm to your holiday celebrations…
Felt Embroidered Christmas Ornaments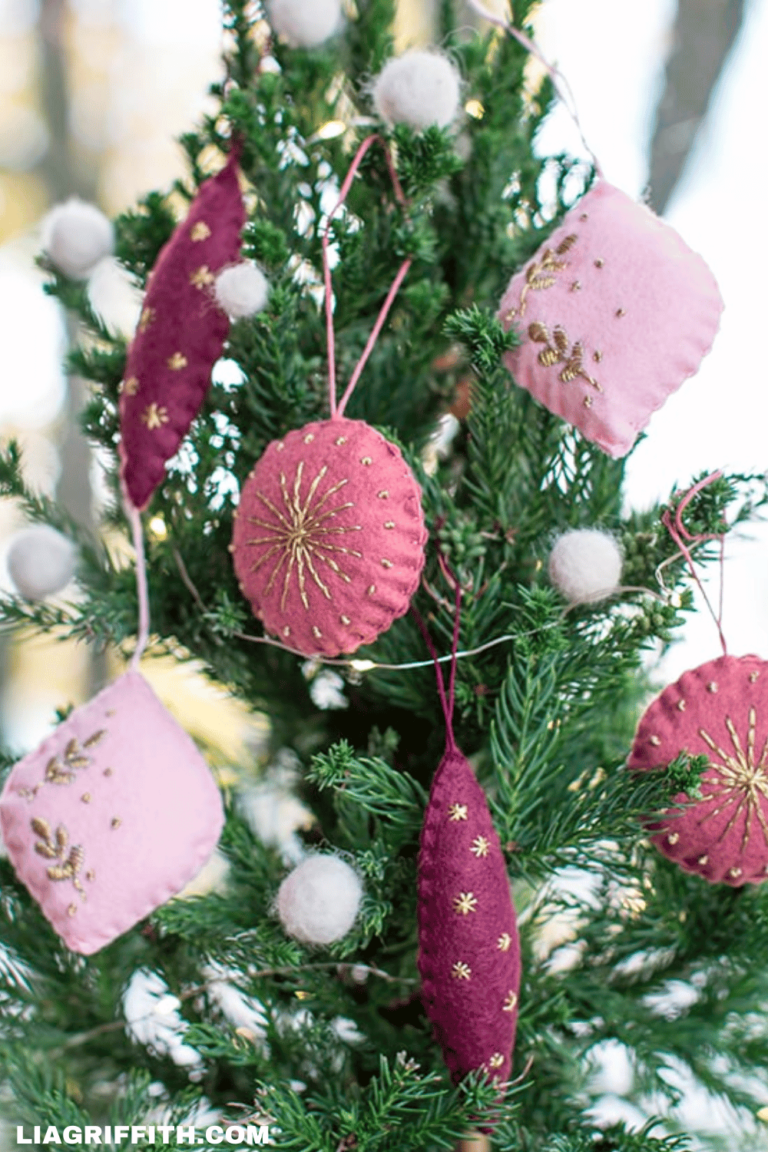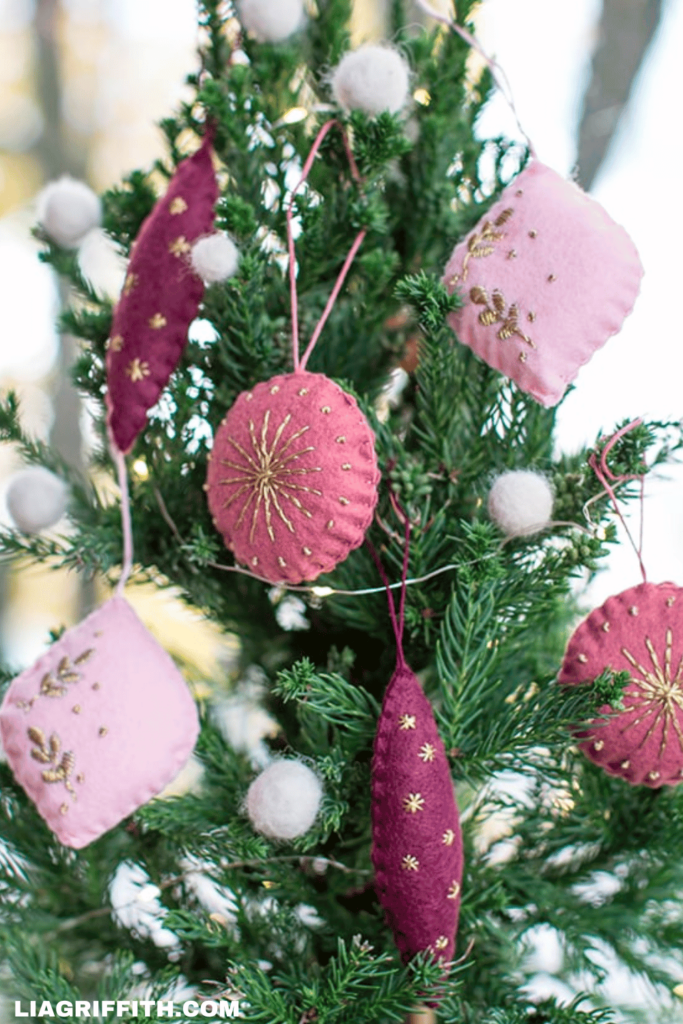 DIY Marbled Ornaments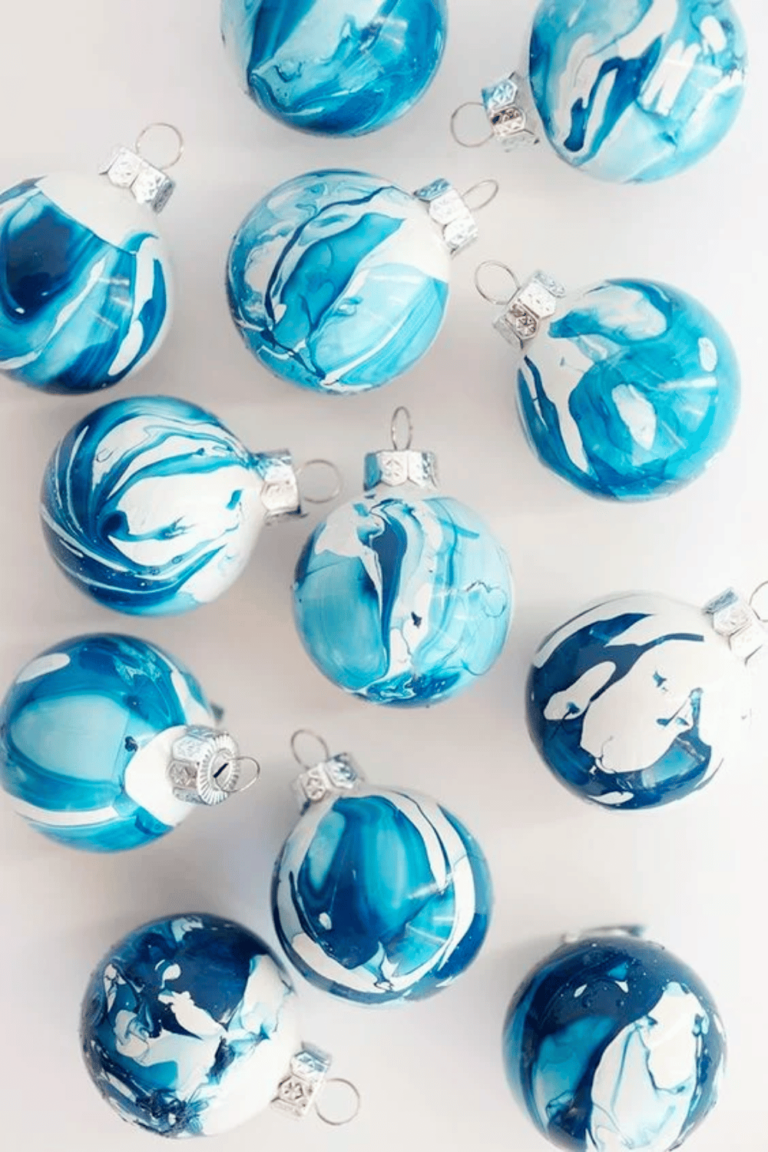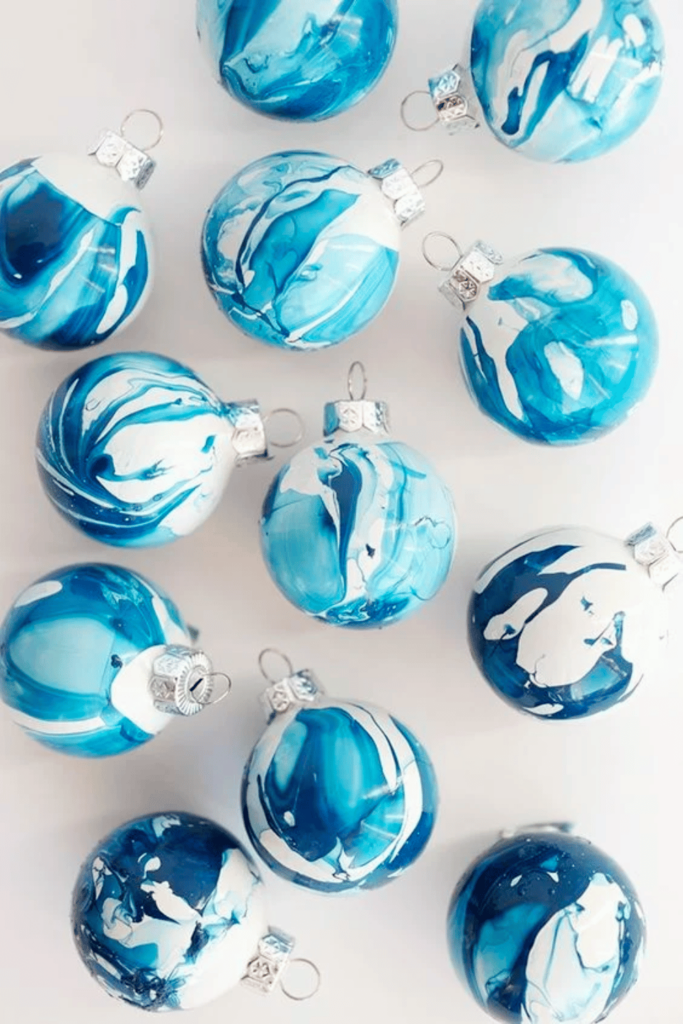 Handmade Christmas Bells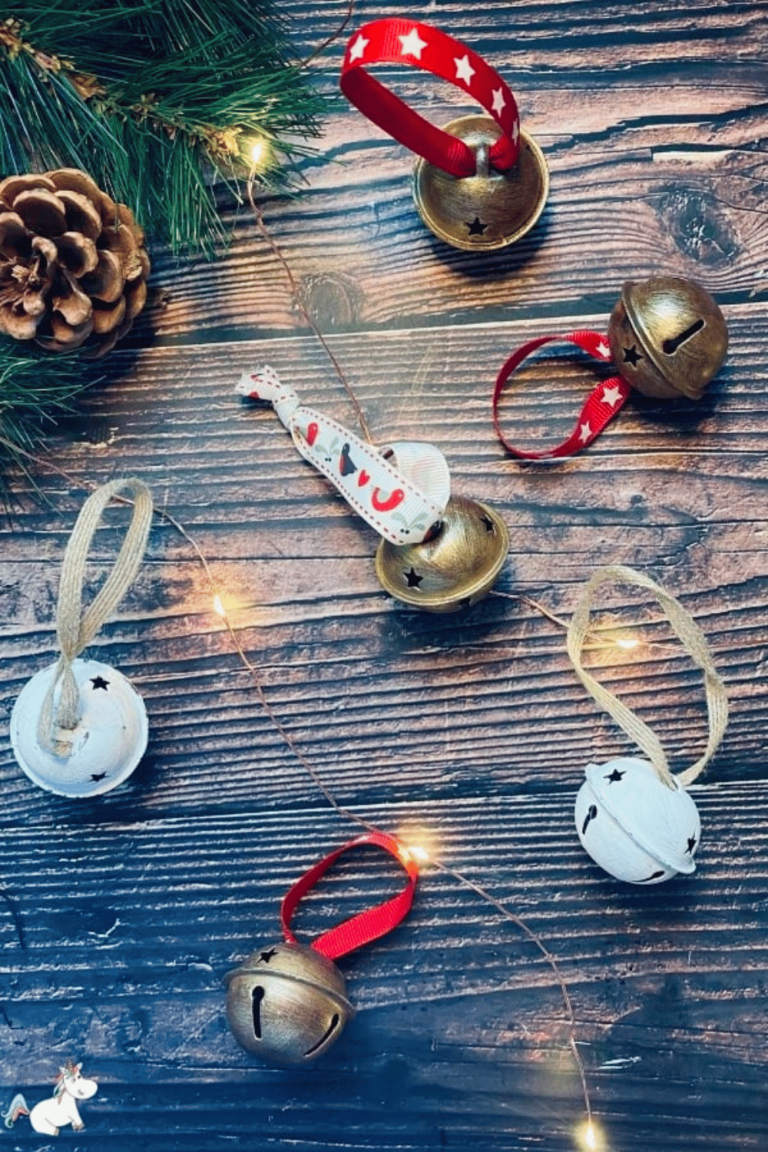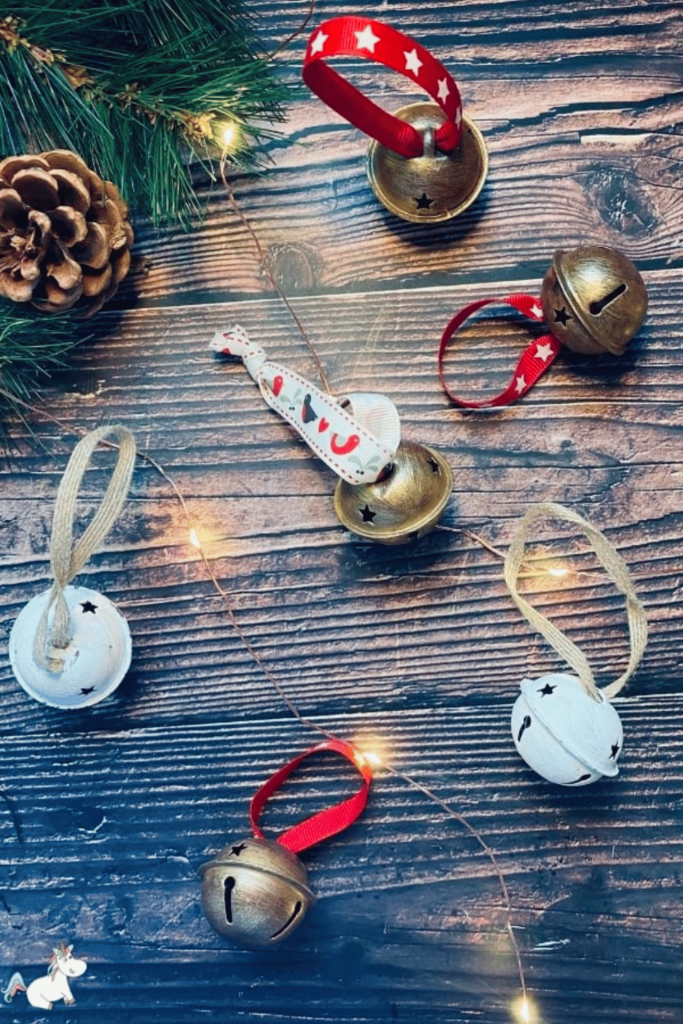 Festive Pom Pom Gnomes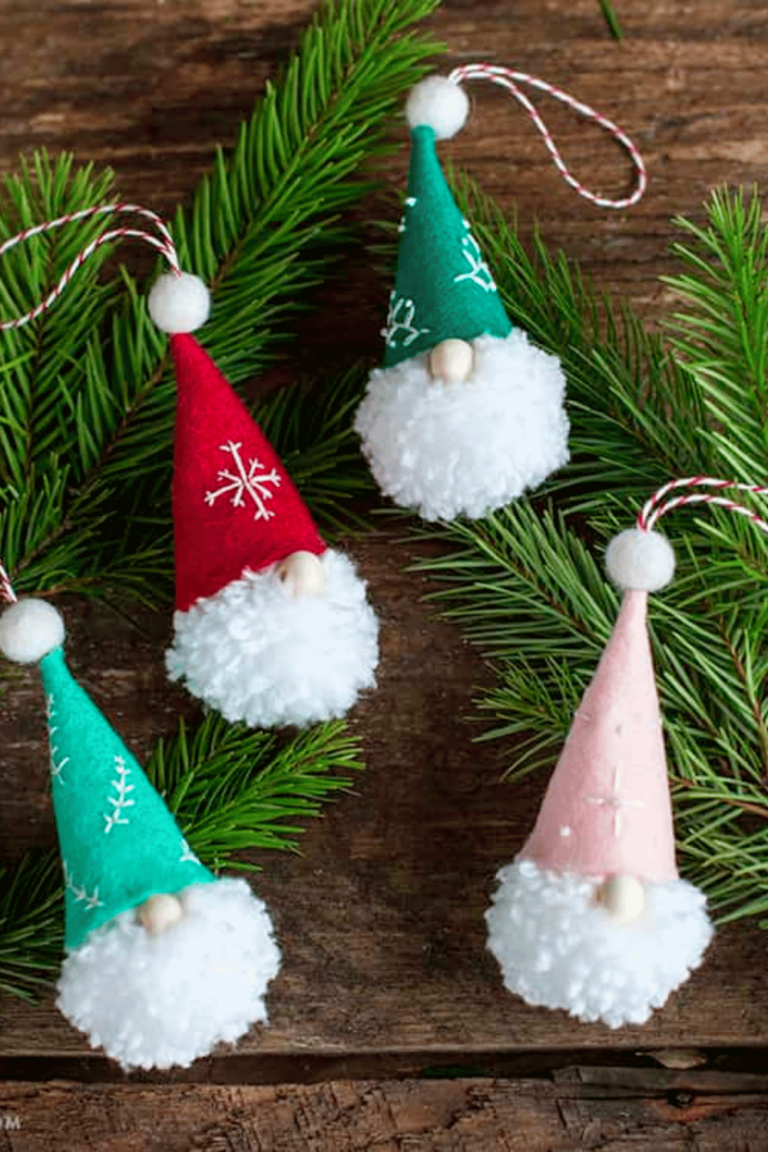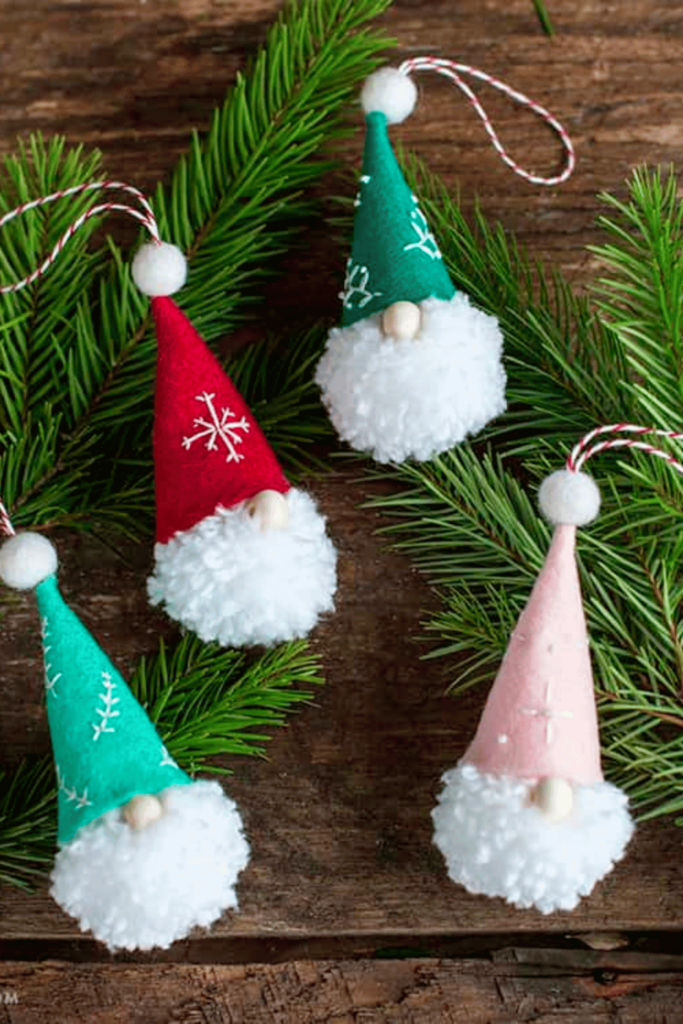 Handmade Wood Slice 'Joy' Banner Ornament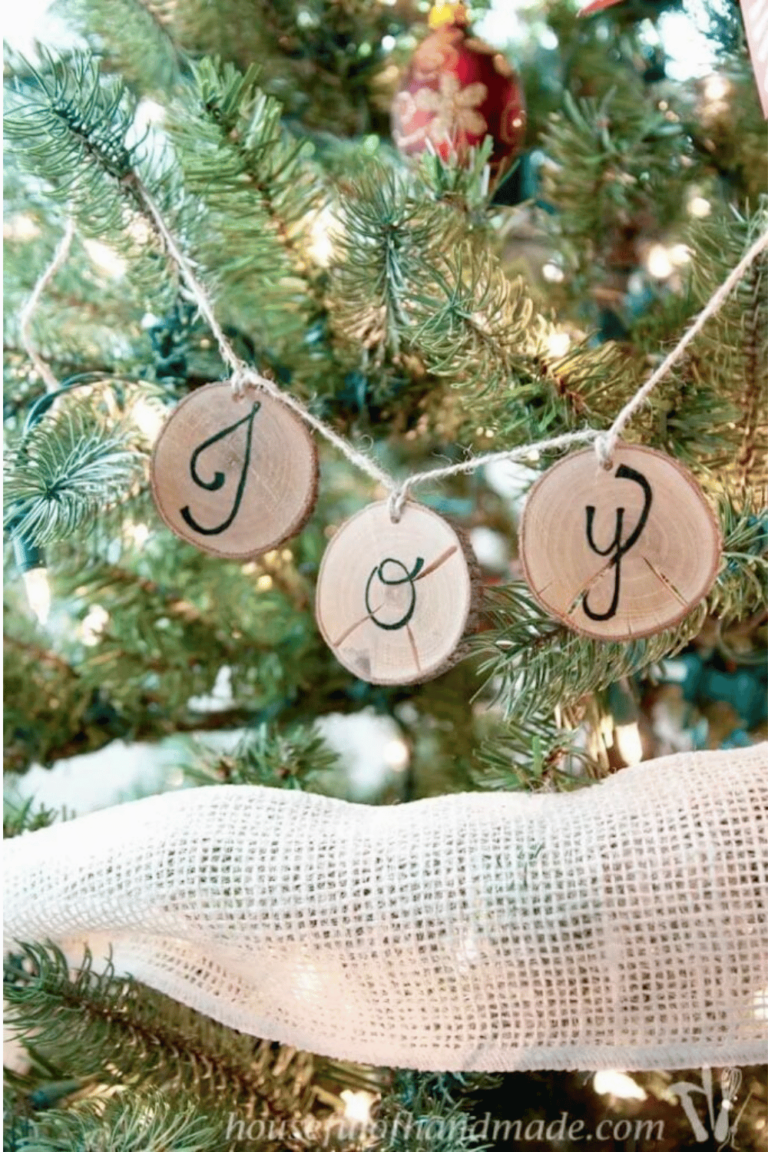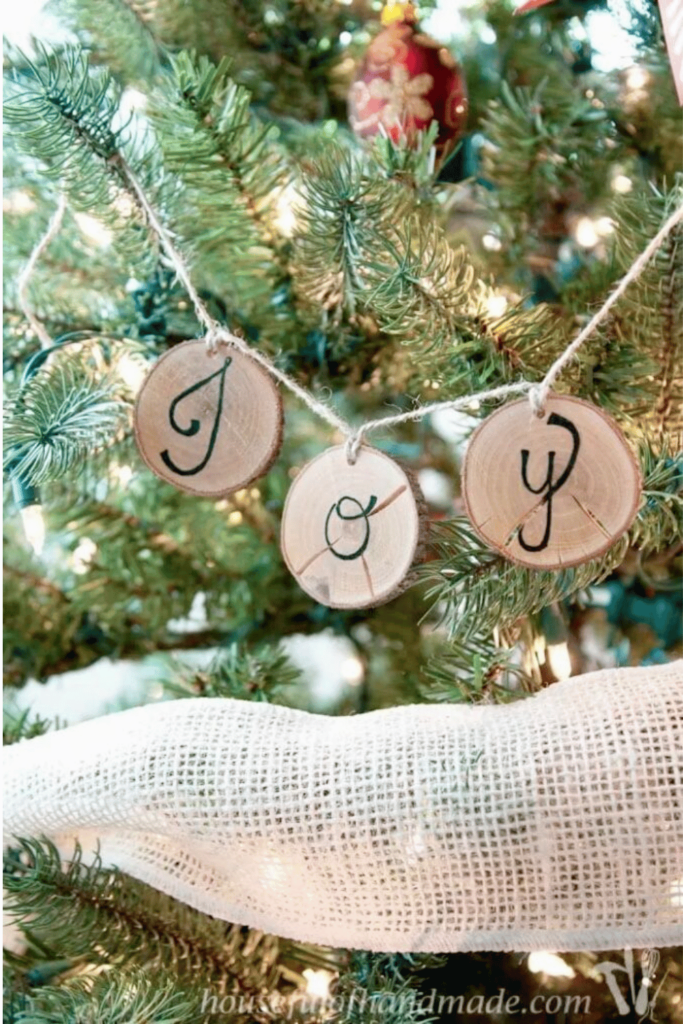 Wooden Bead Snowman Ornaments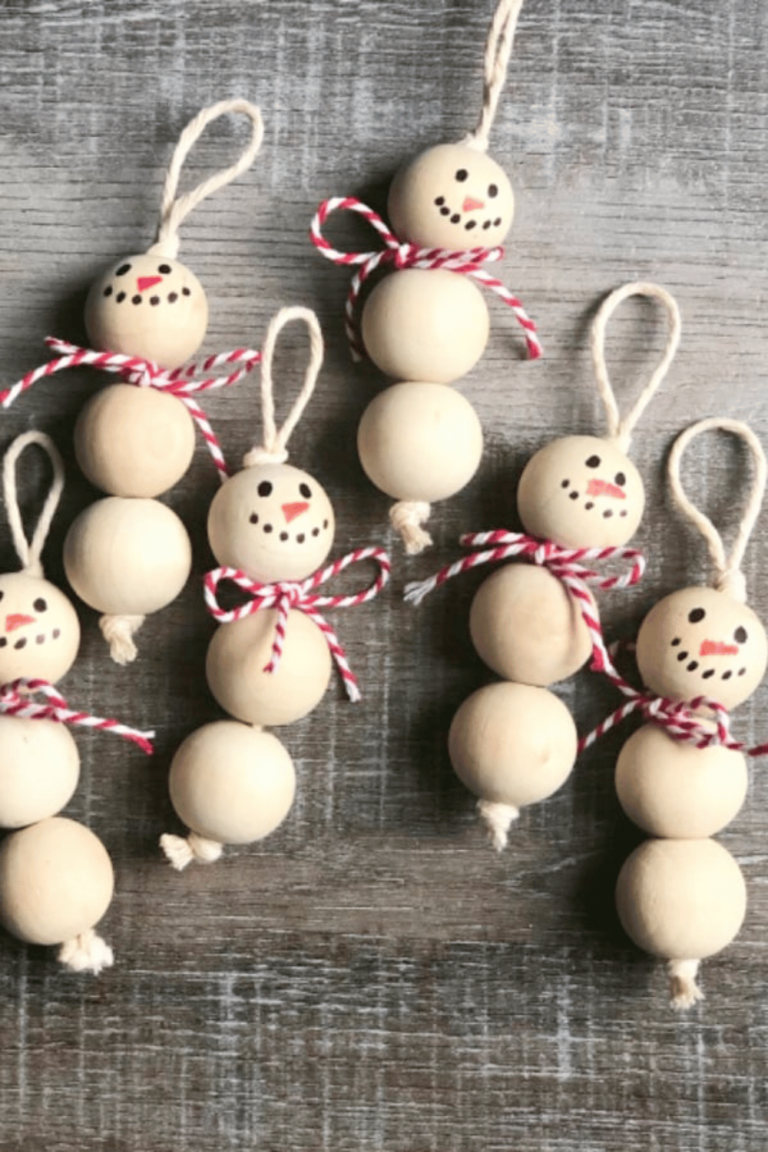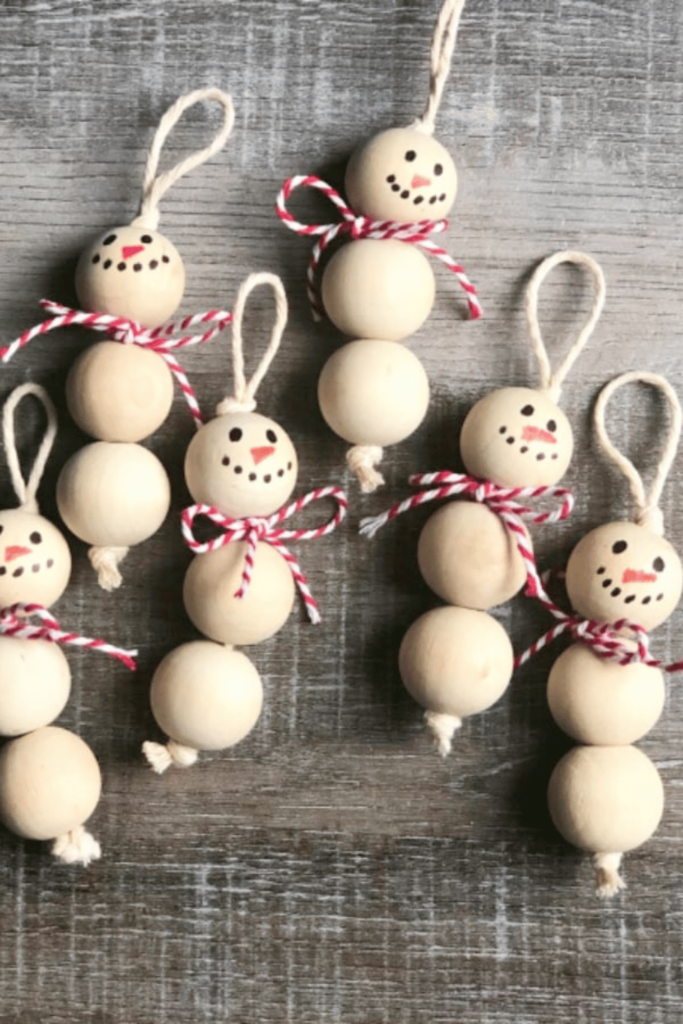 Pretty Marble Acorn Ornaments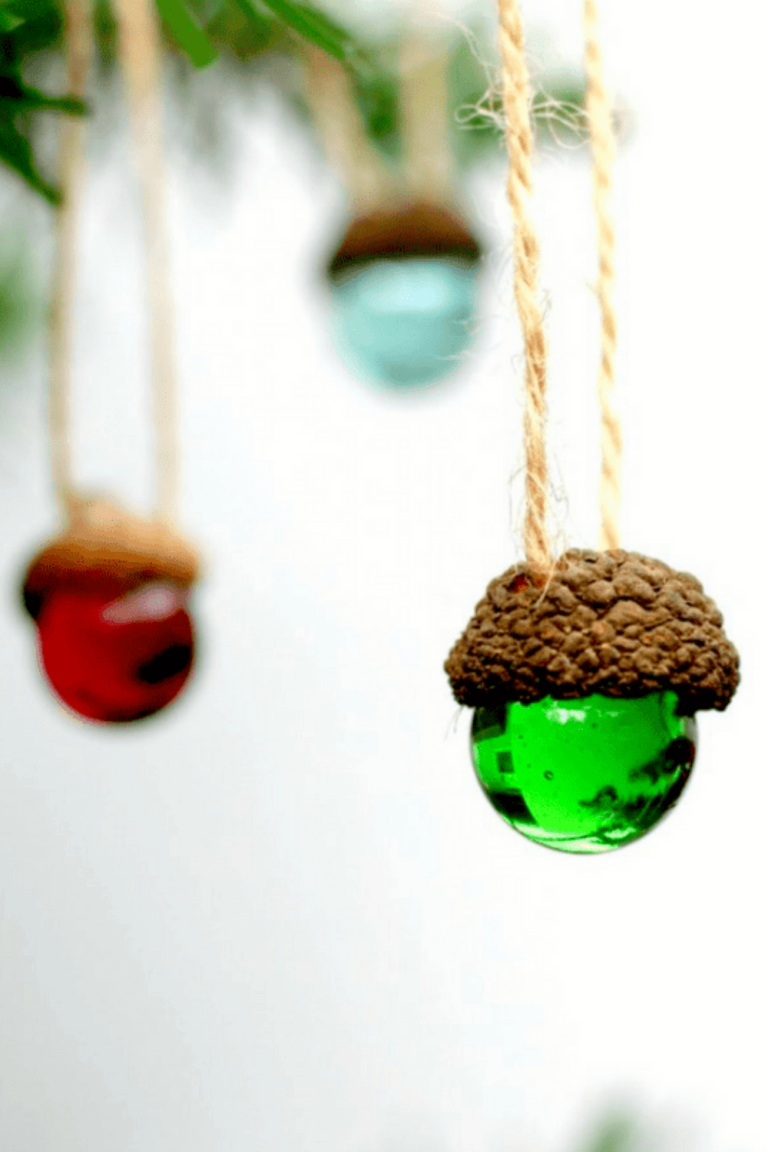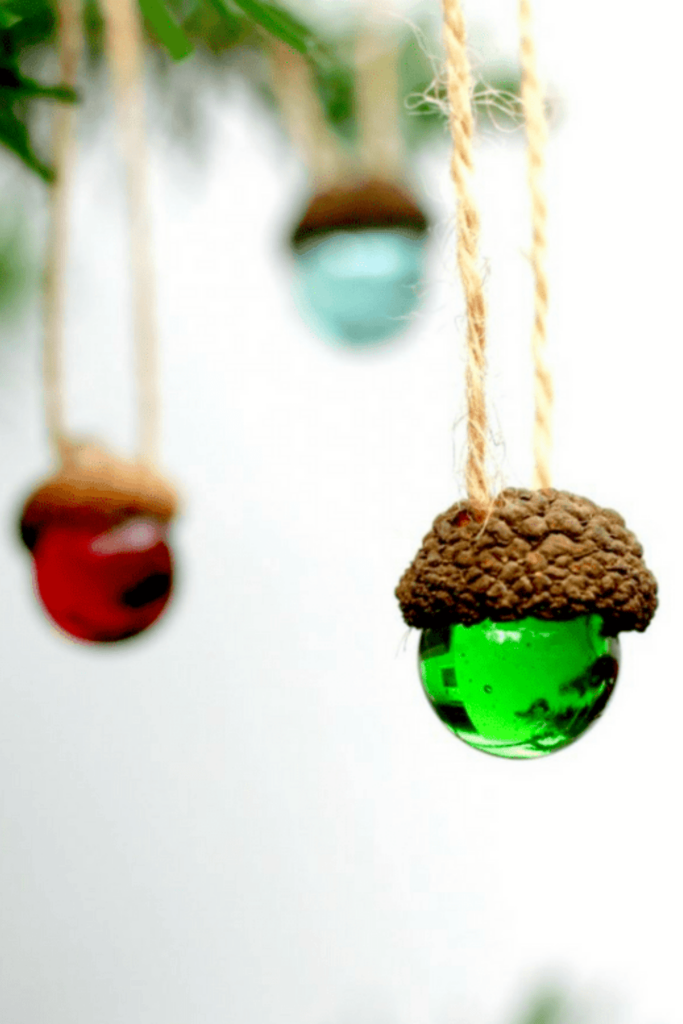 Miniature Bobble Hat Garland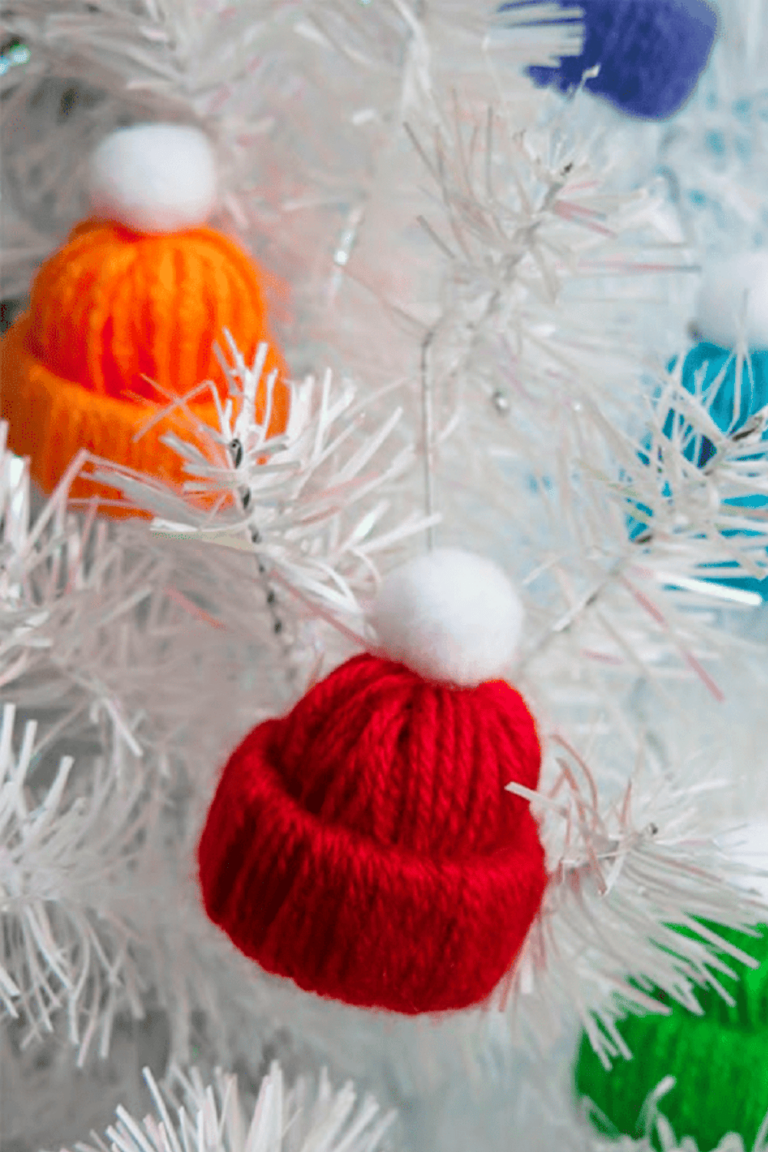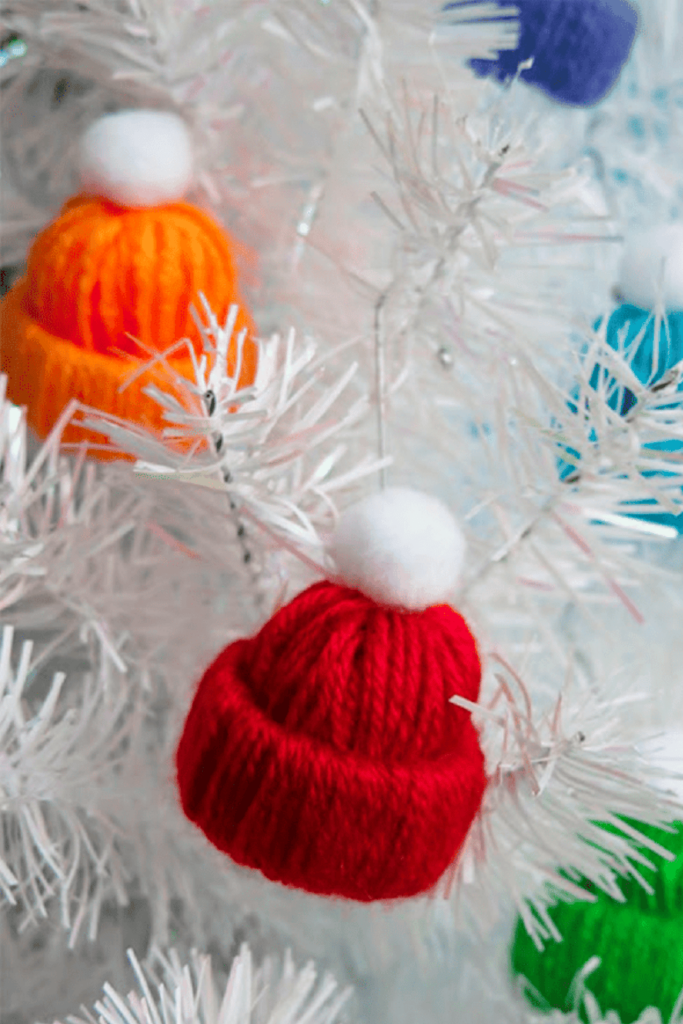 Paper Snowflake Ornaments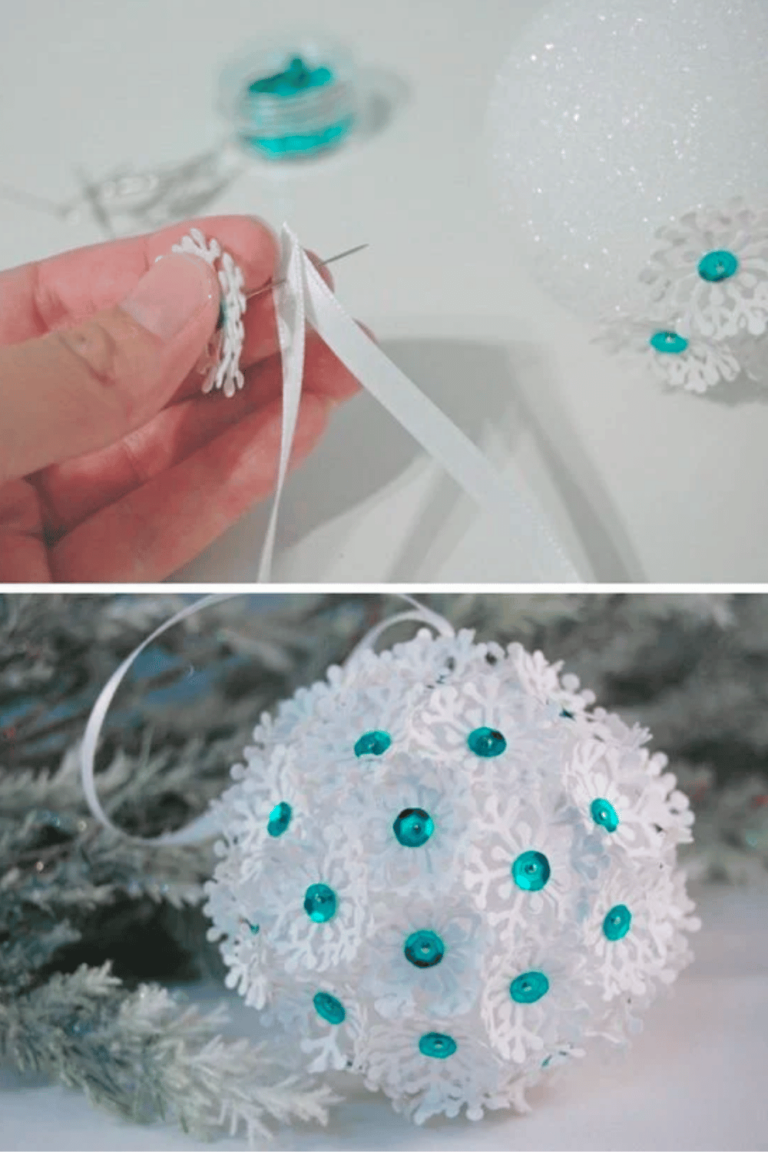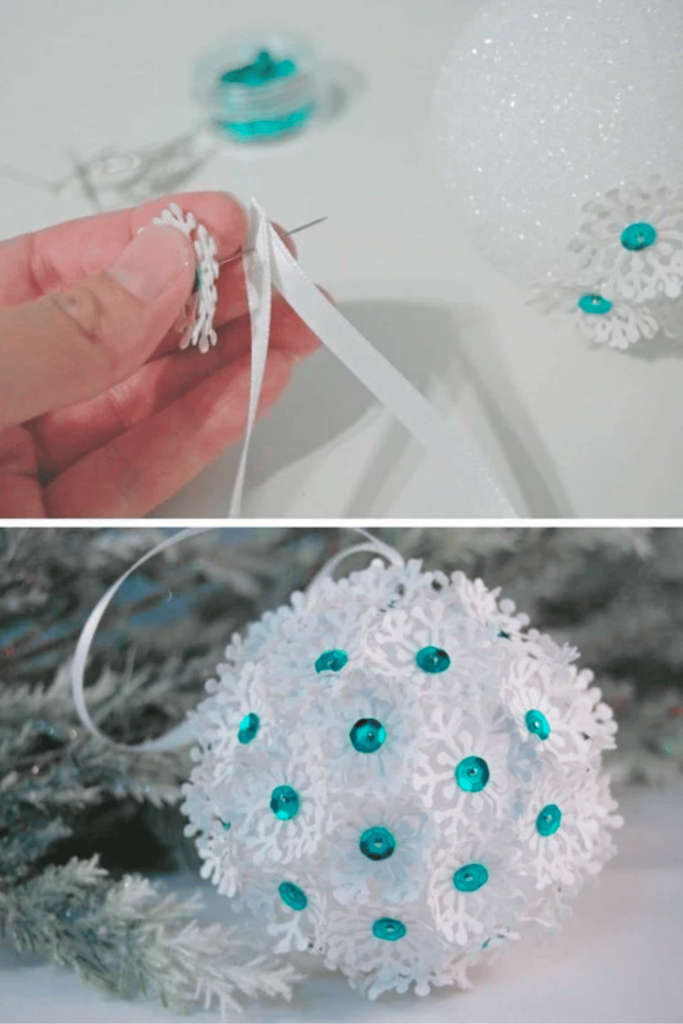 Christmas Tree Cones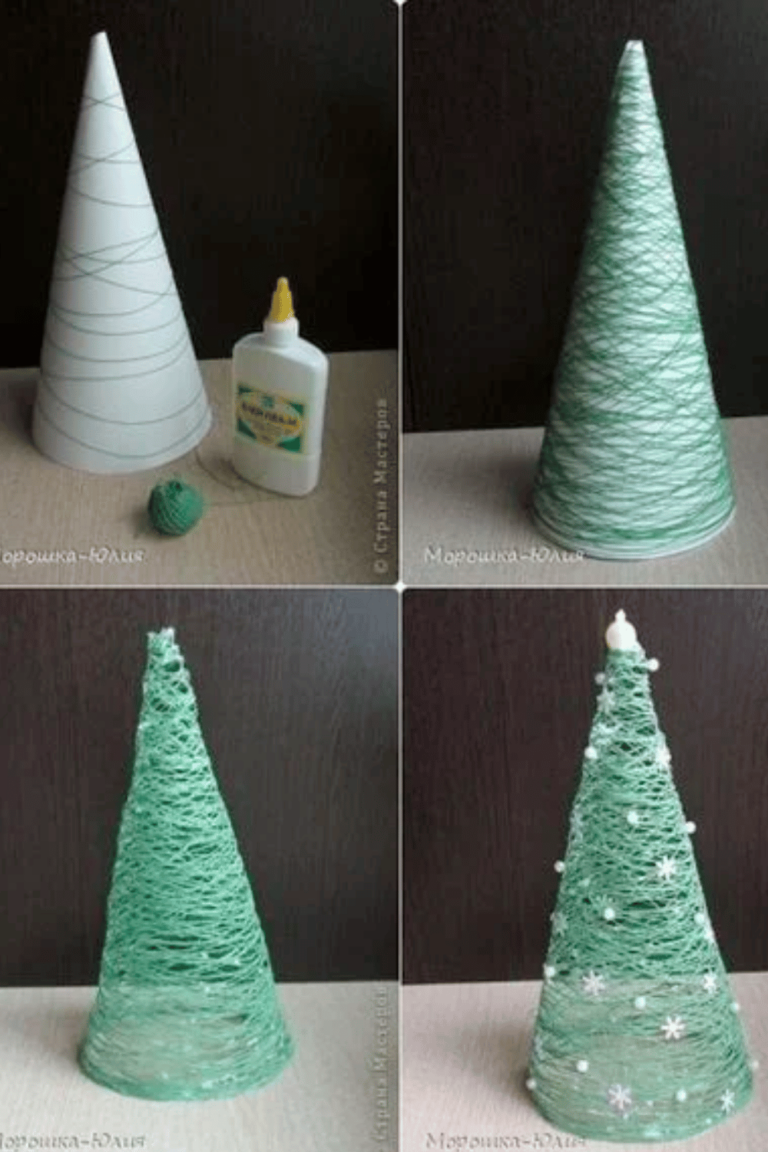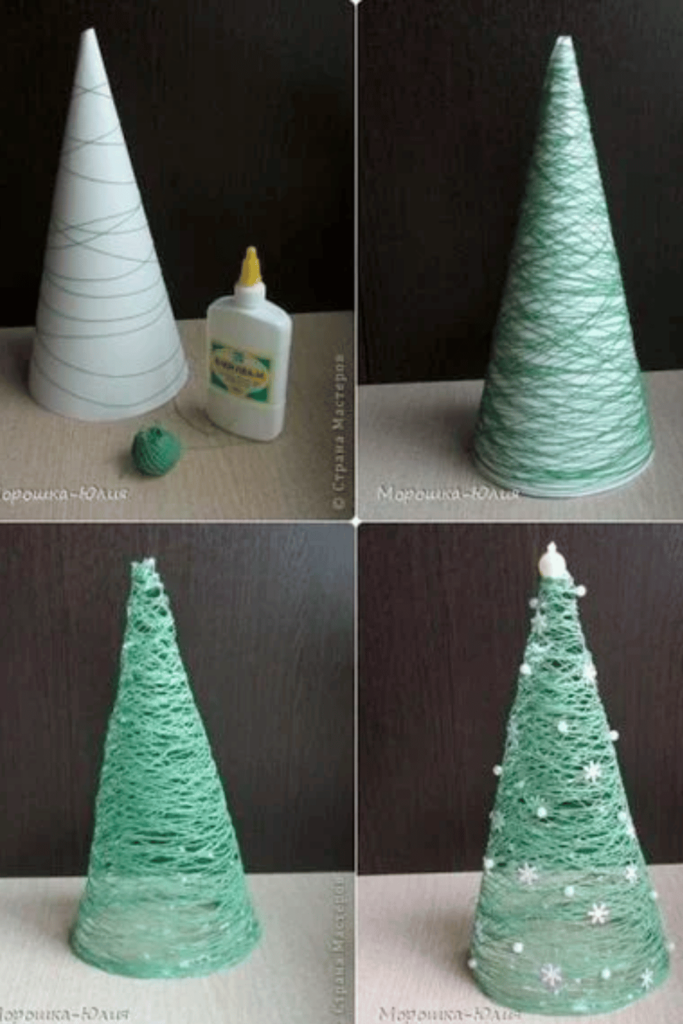 Felt Santa Claus Stuck In A Chimney Ornament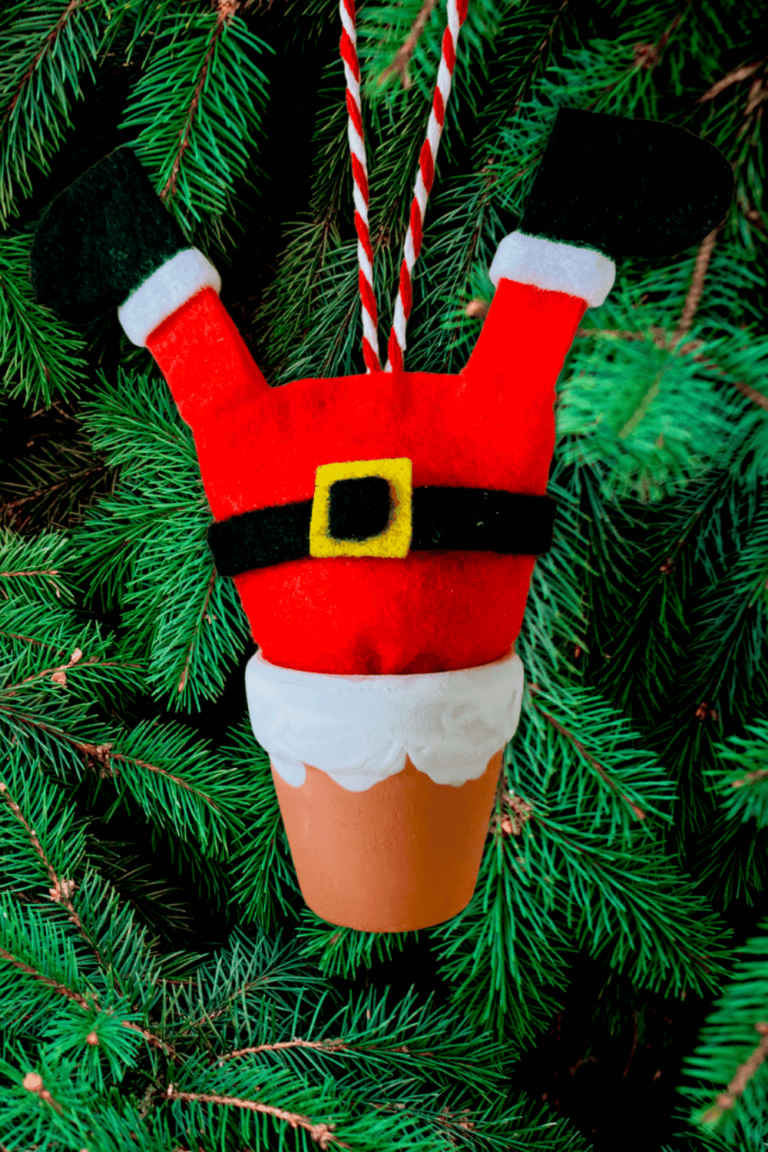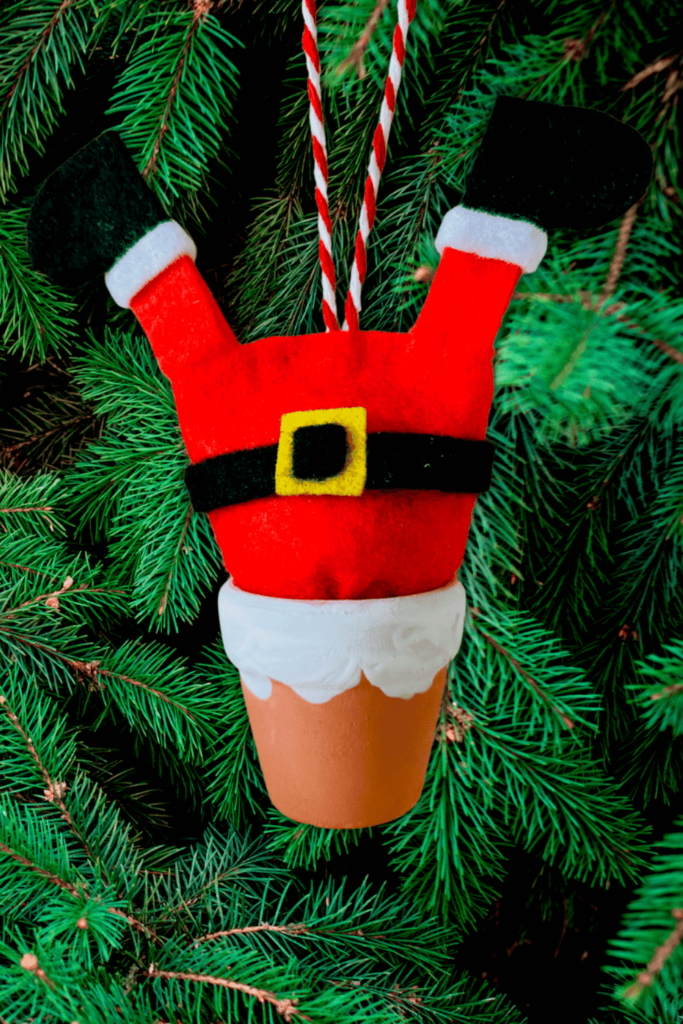 Handmade Christmas Gifts and Presents
Spread joy and show your loved ones how much you care with our selection of Christmas crafts for gifts and presents.
From handmade soaps to cozy scented hand warmers that are perfect for the winter, these thoughtful creations will make for memorable and heartfelt gifts that will be cherished for years to come.
DIY Cranberry Soap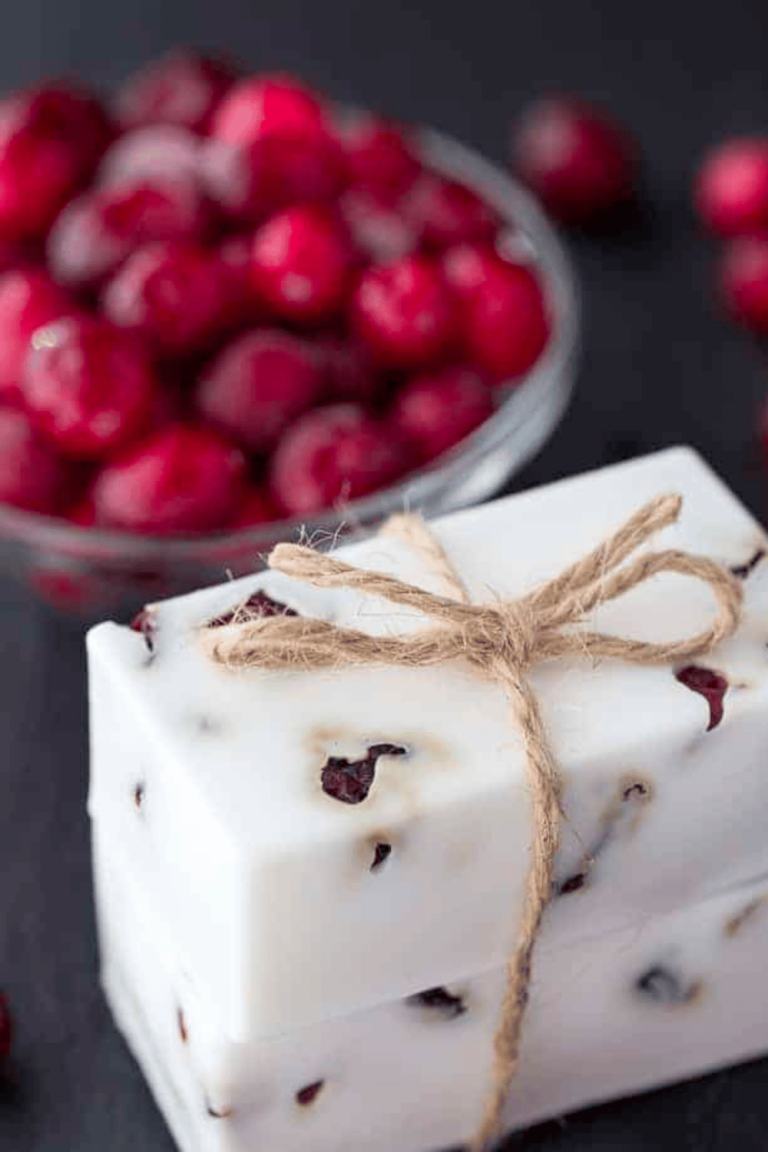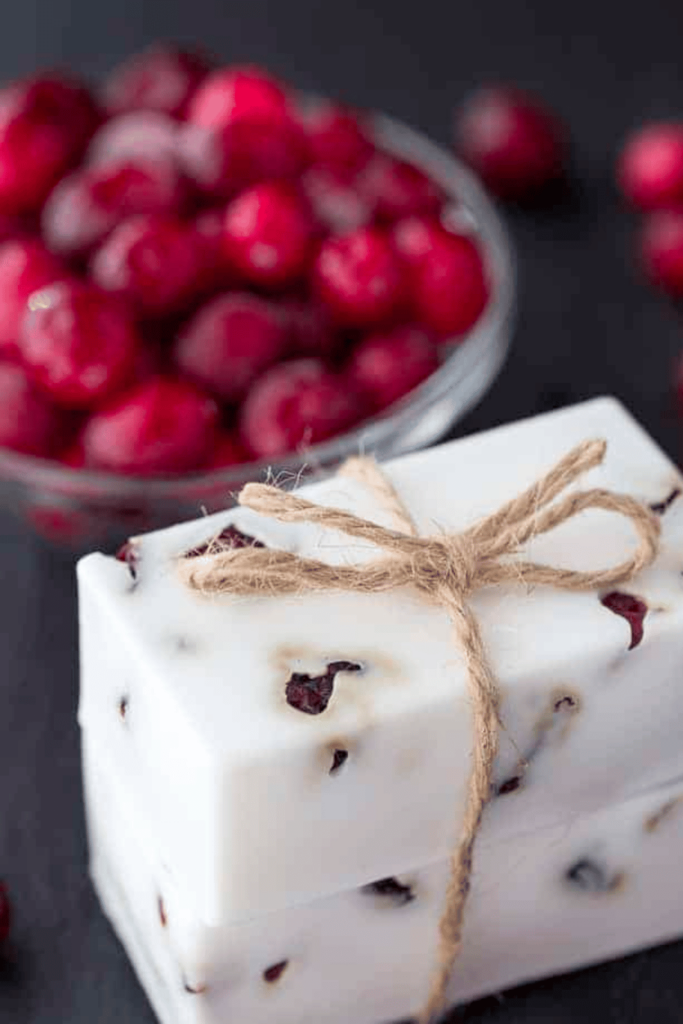 Christmas Stove-Top Scents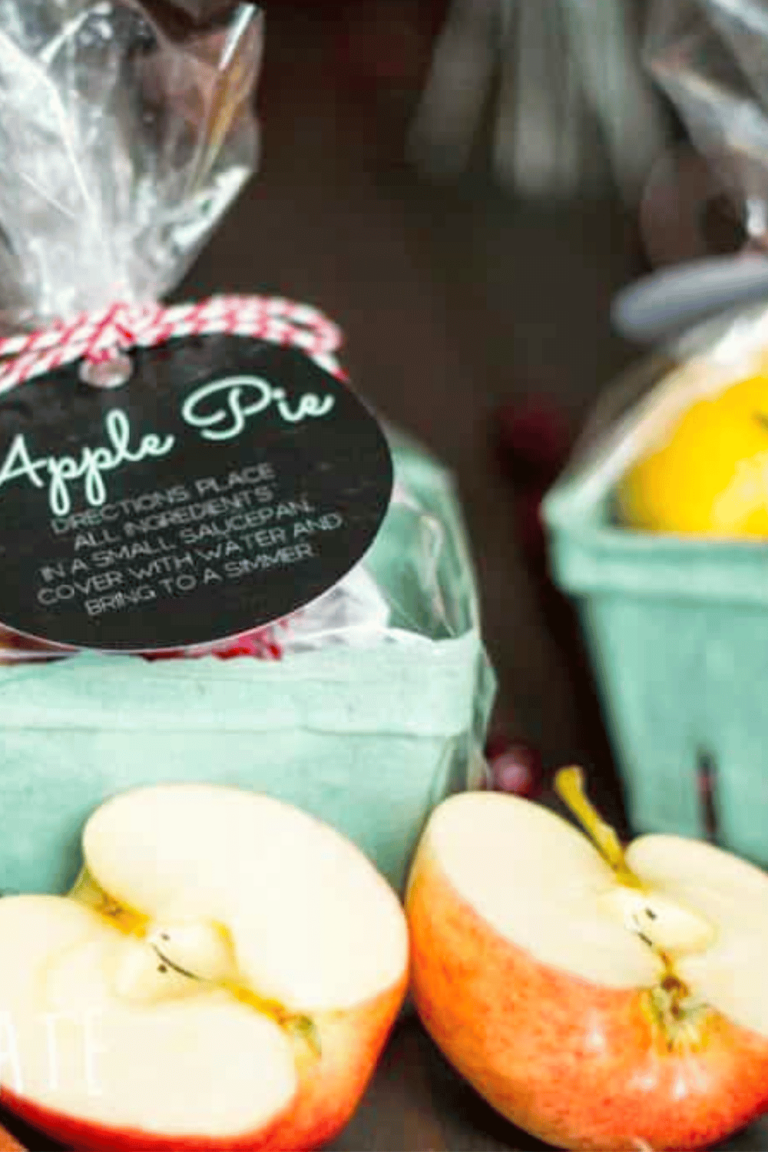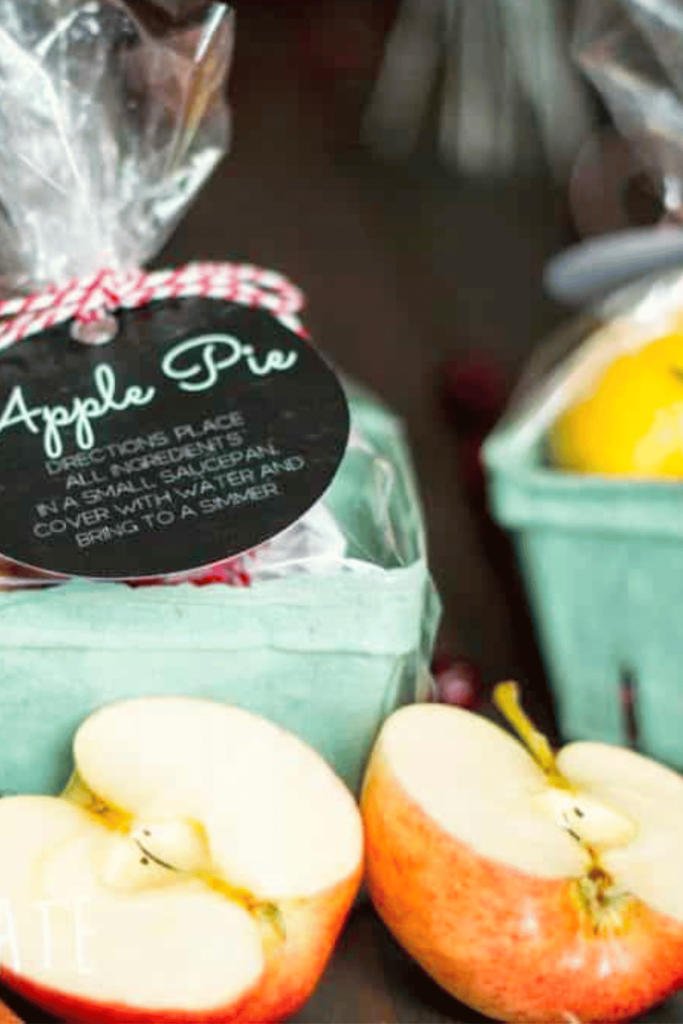 DIY Peppermint Candles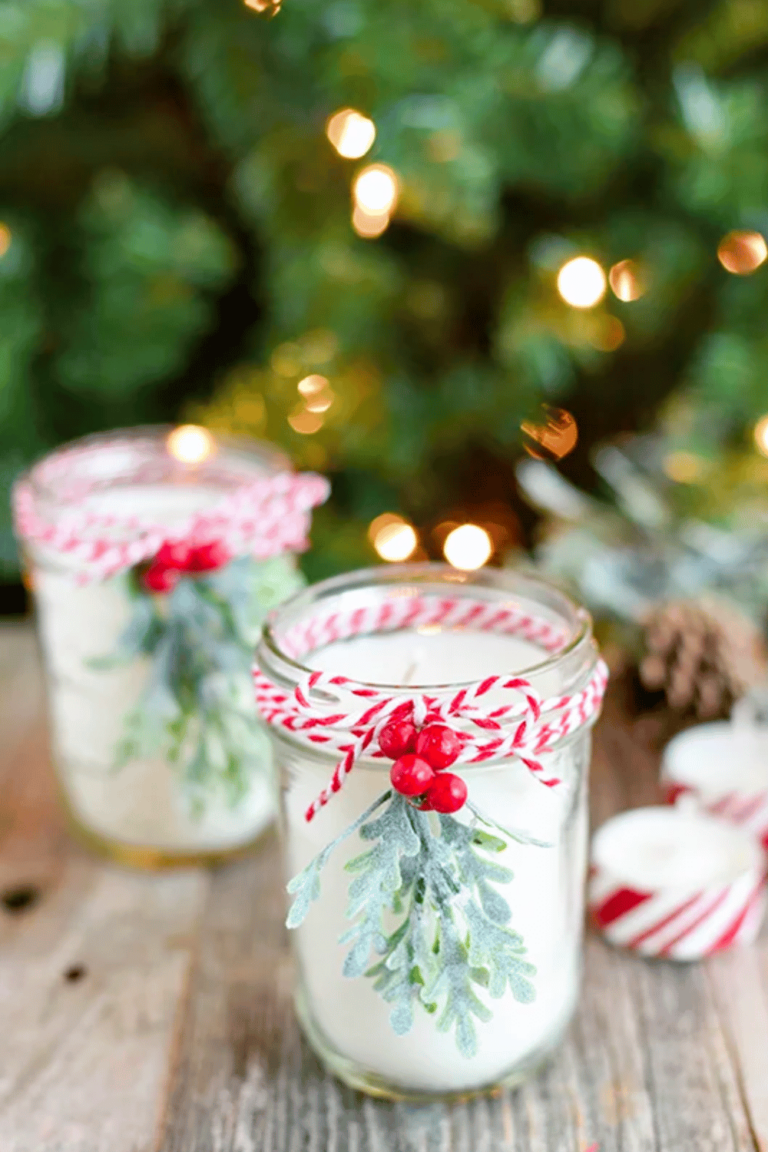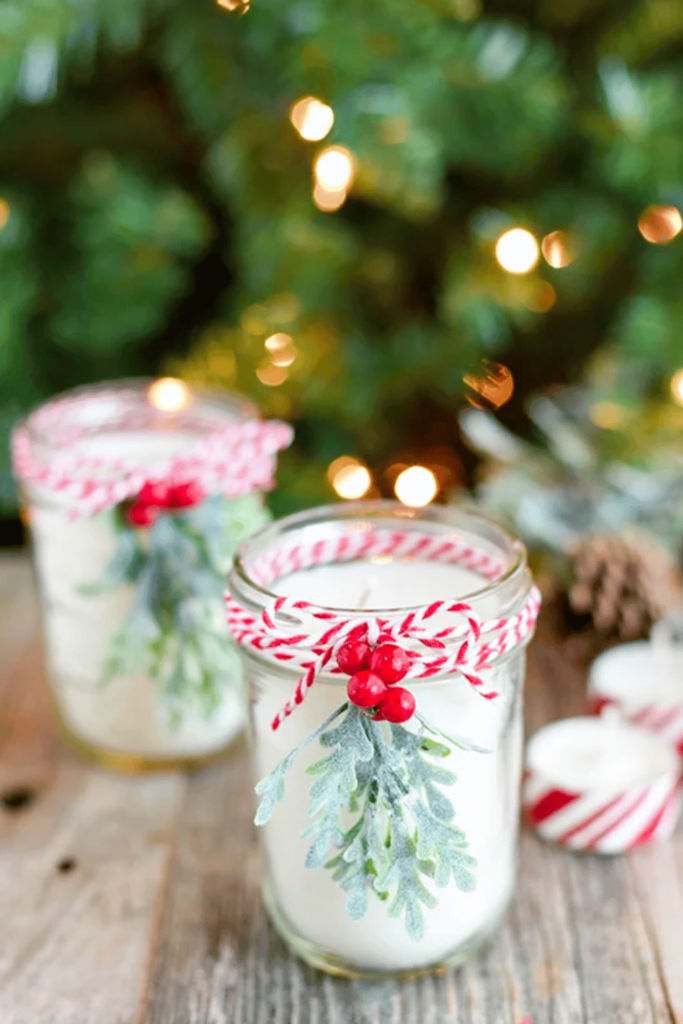 Gingerbread Body Butter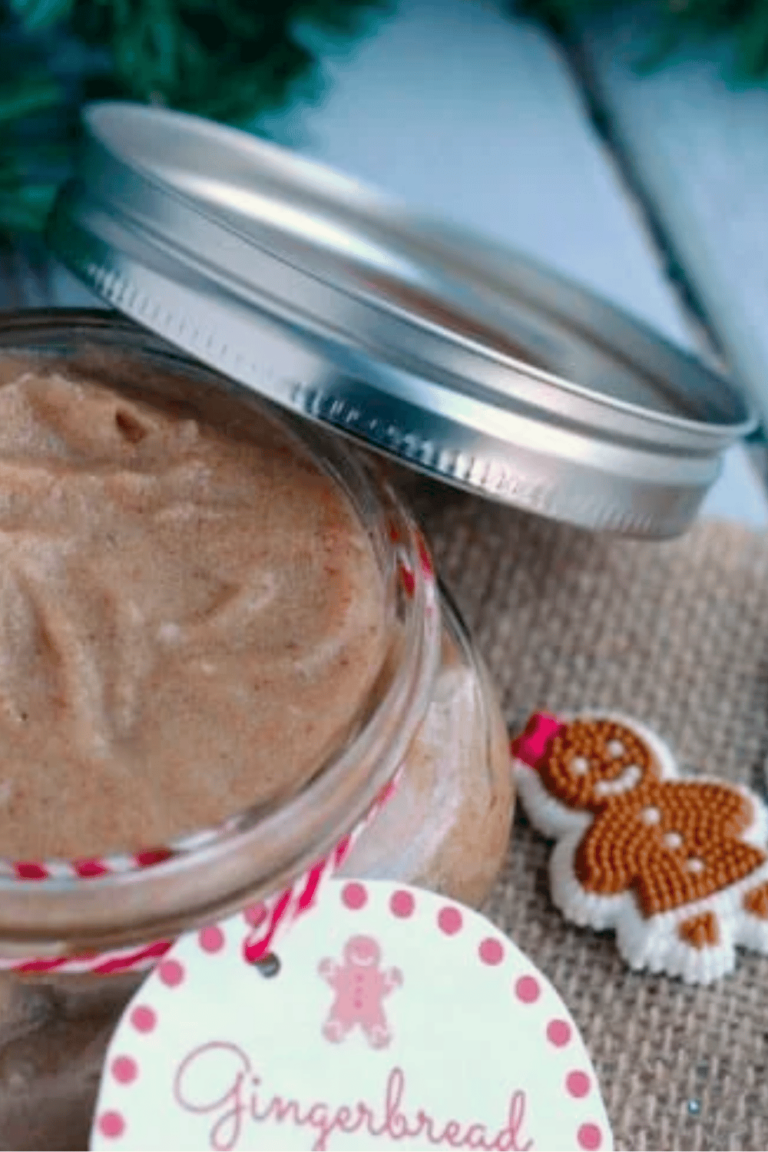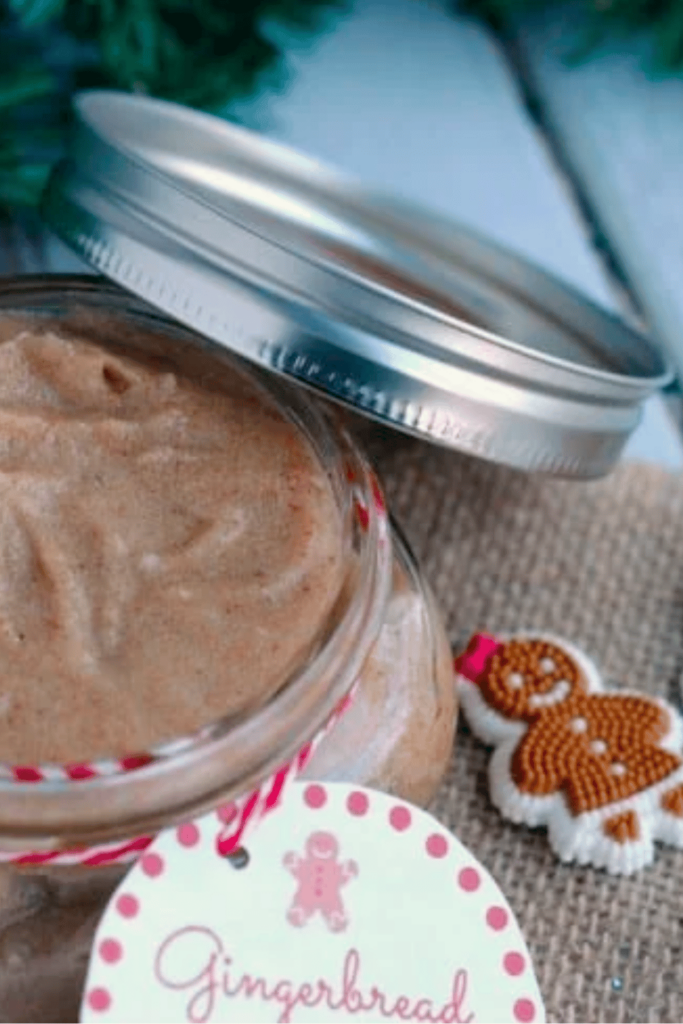 Lavender Scented Hand Warmers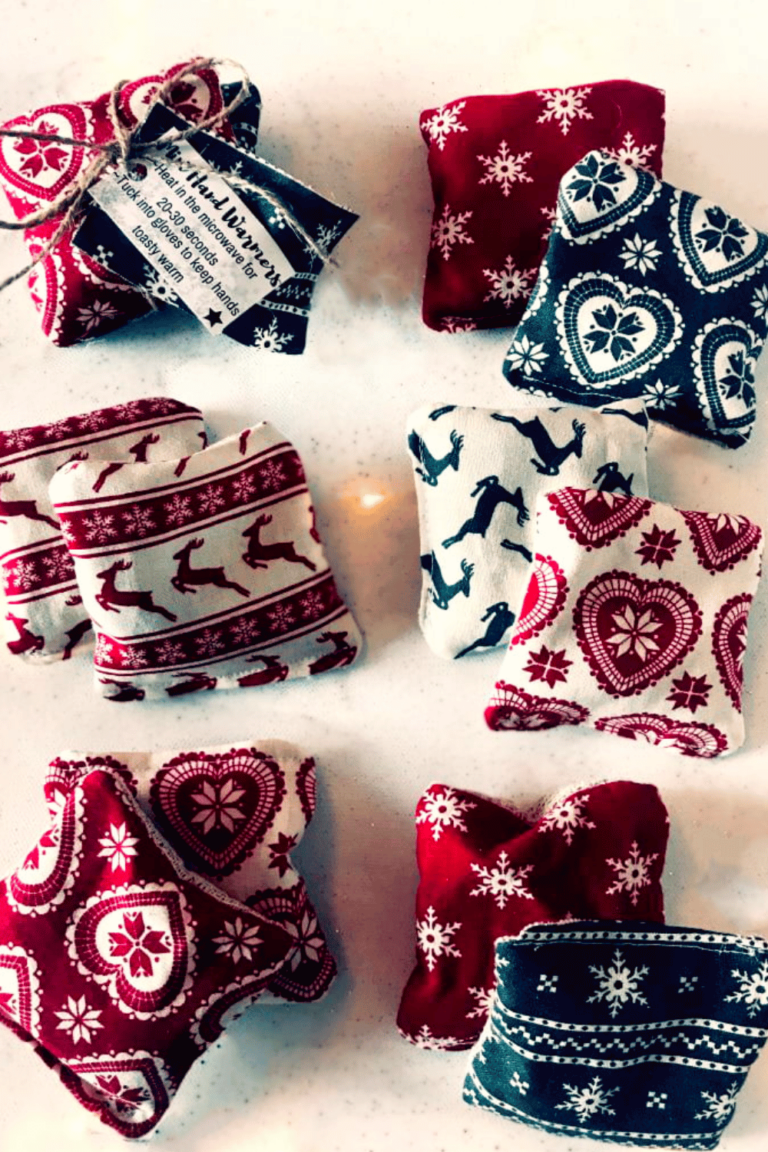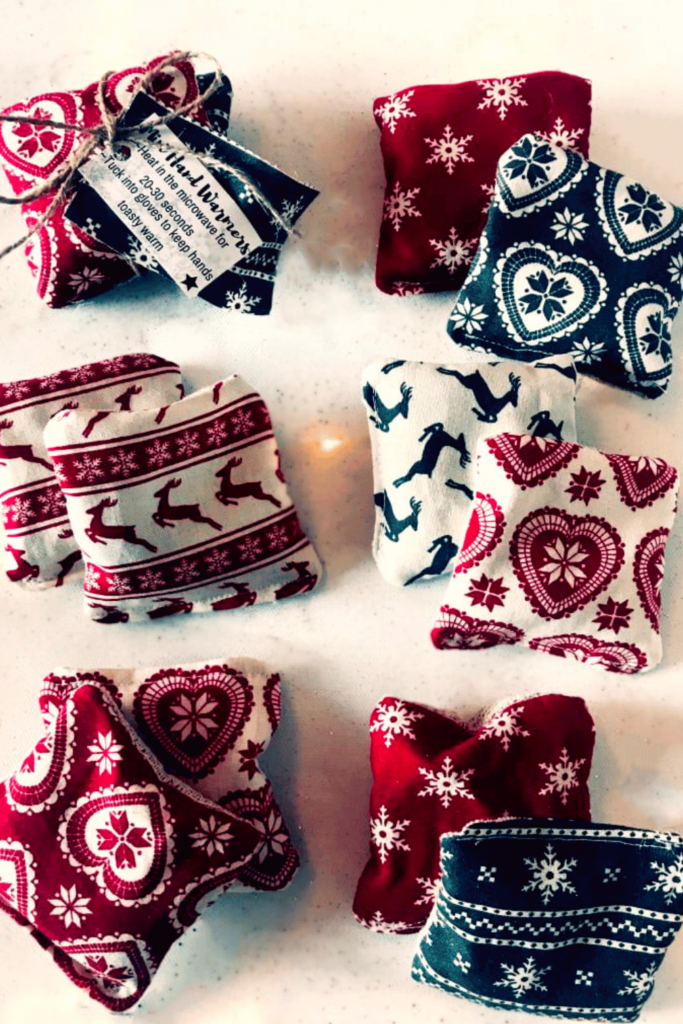 Festive Simmering Pot Mason Jar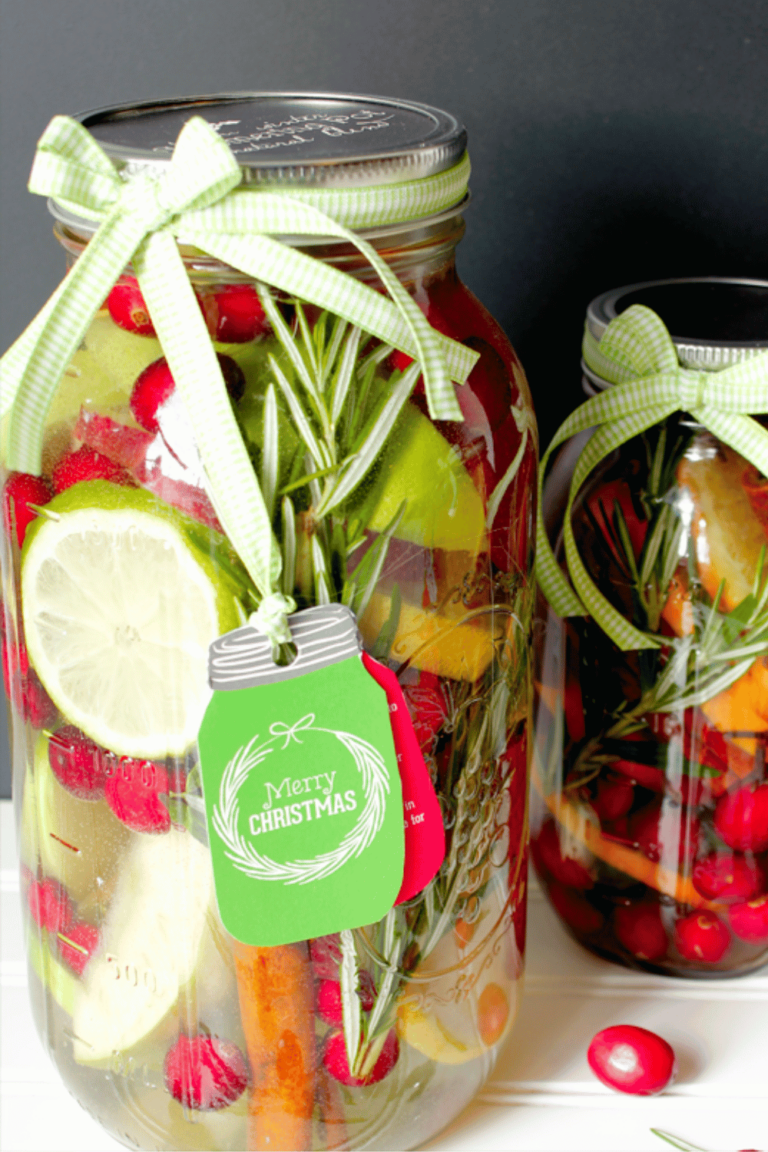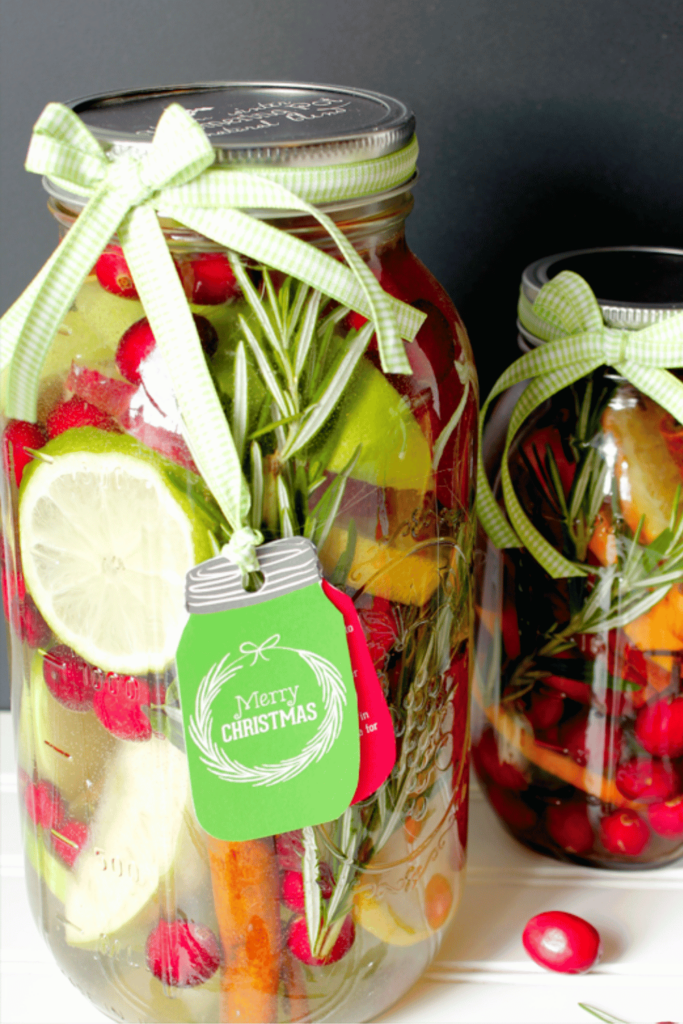 Coffee Body Scrub Gift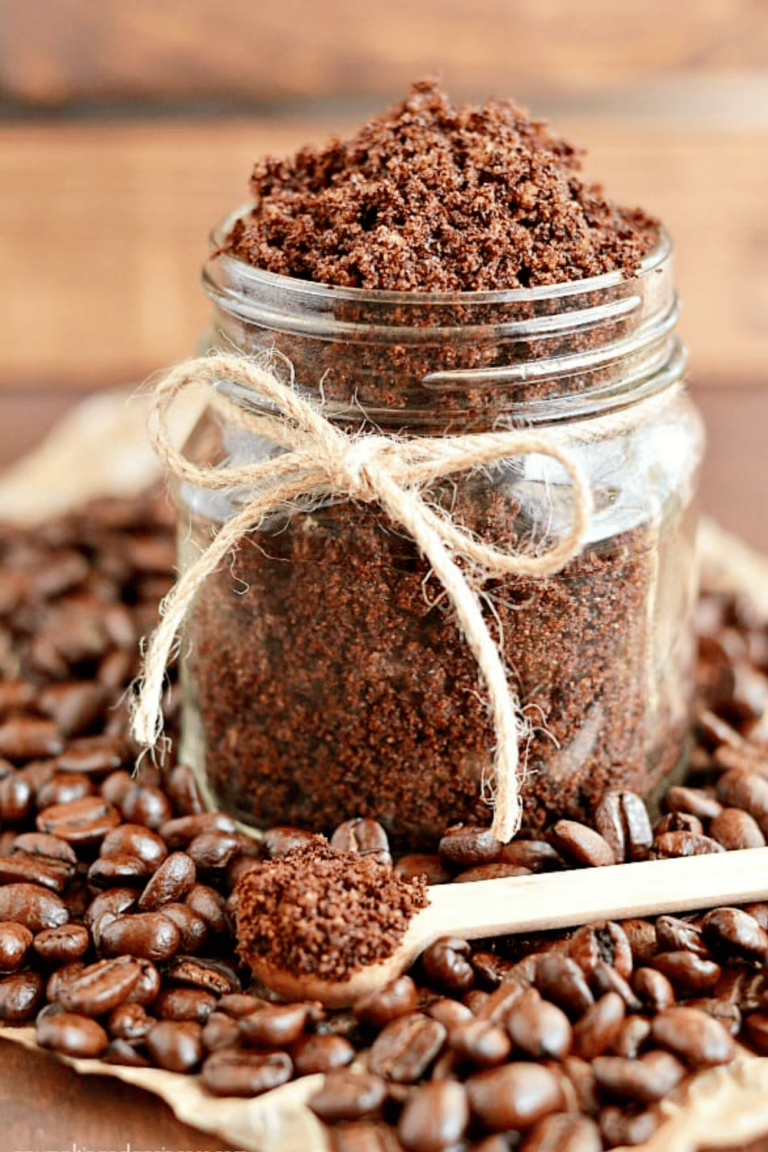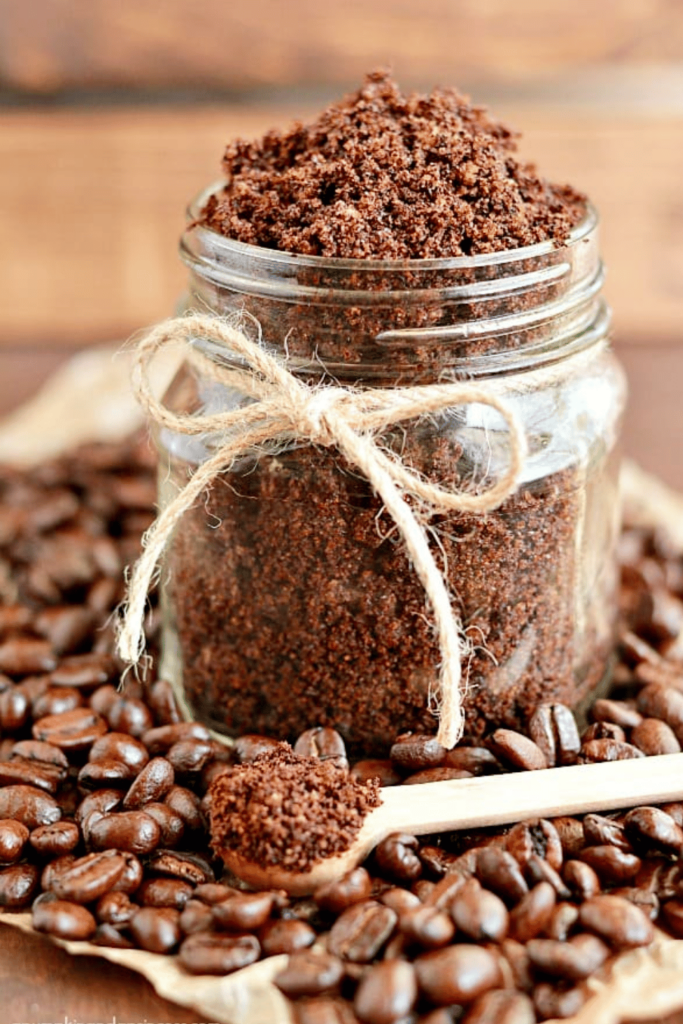 DIY Rudolph Pom Pom Coaster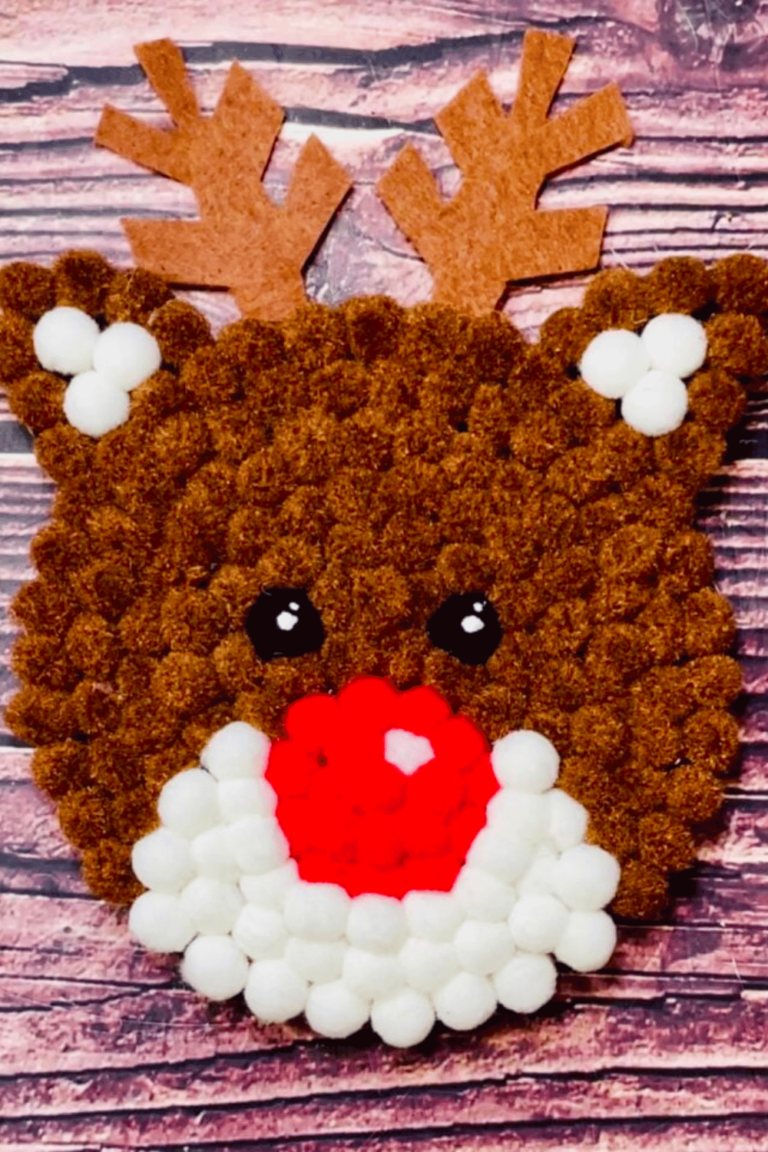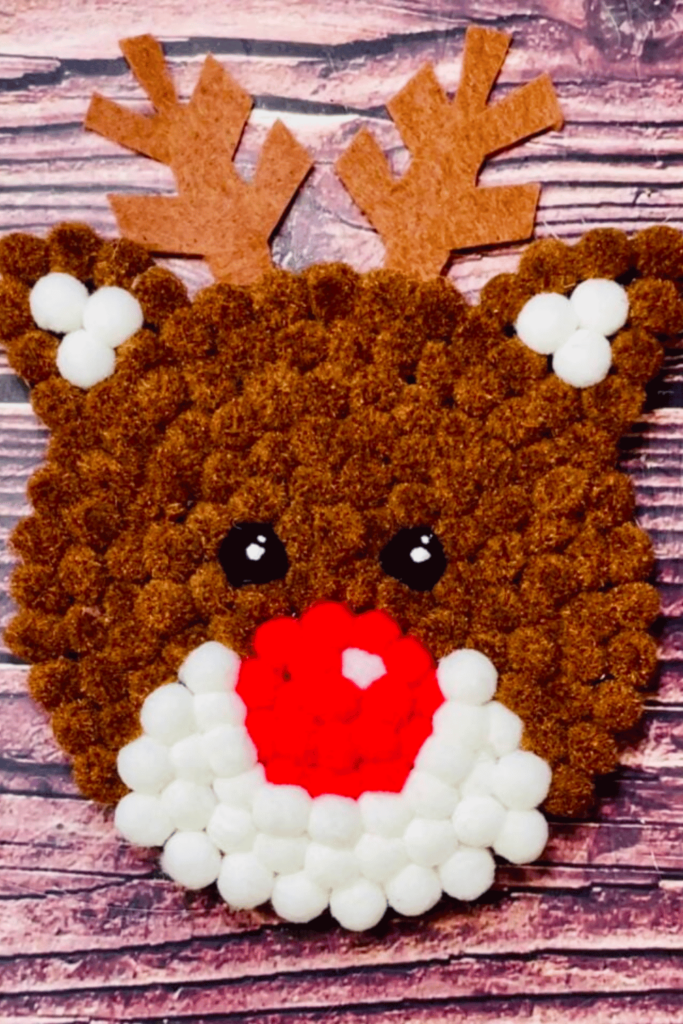 Easy Chocolate Chip Cookie Jar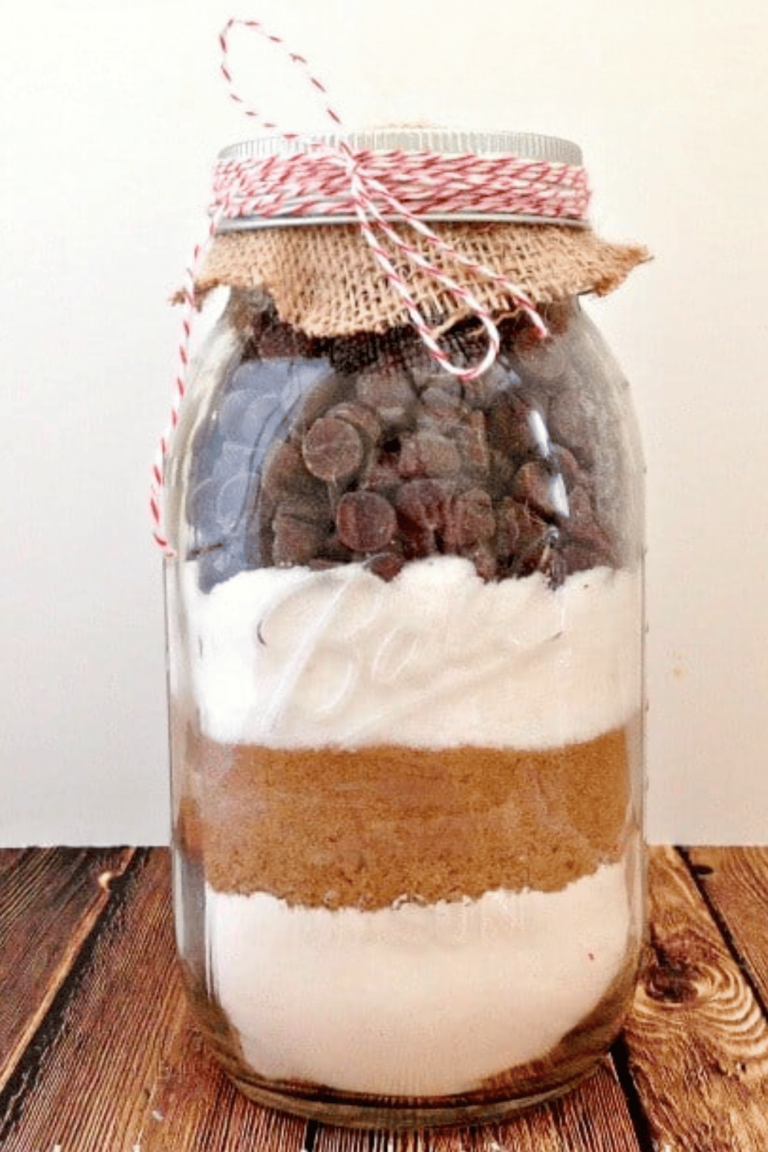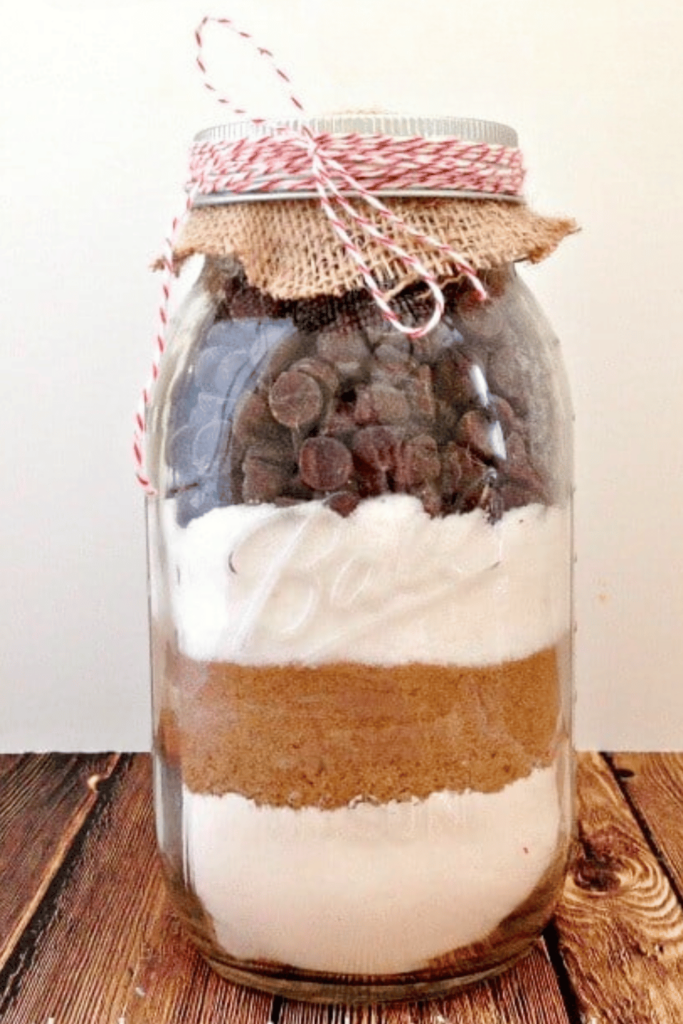 Personalized Dog Bone Ornaments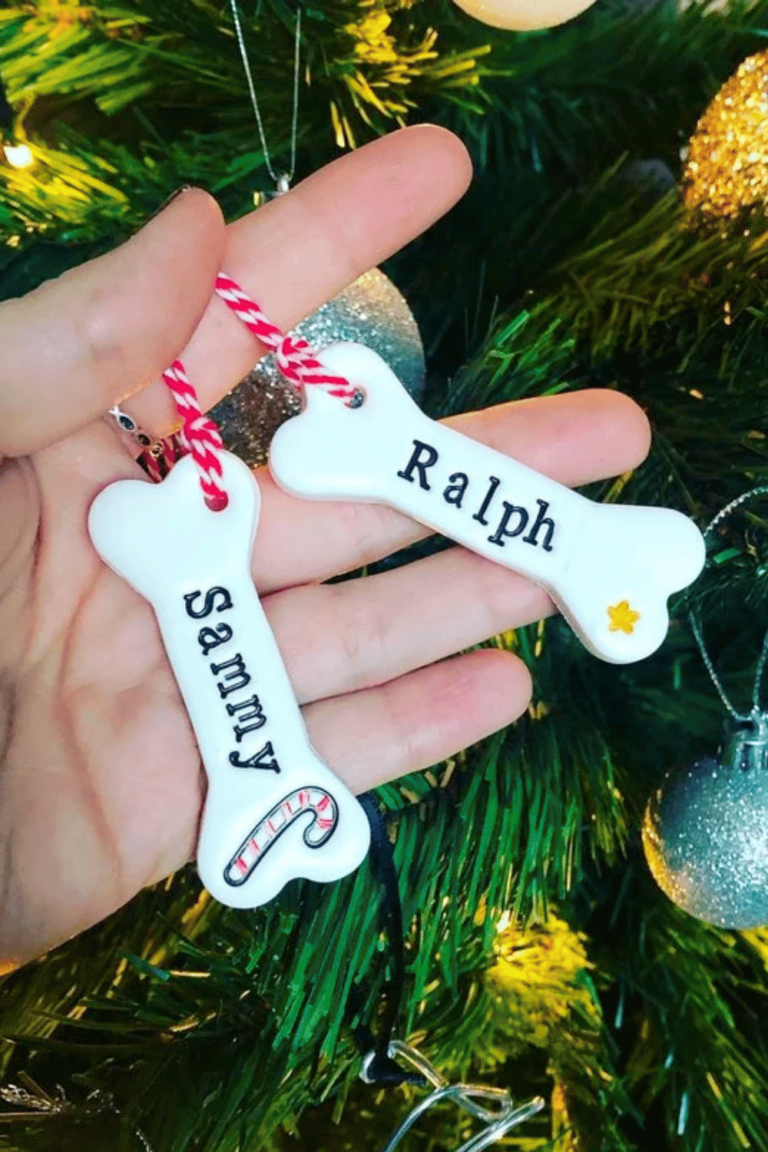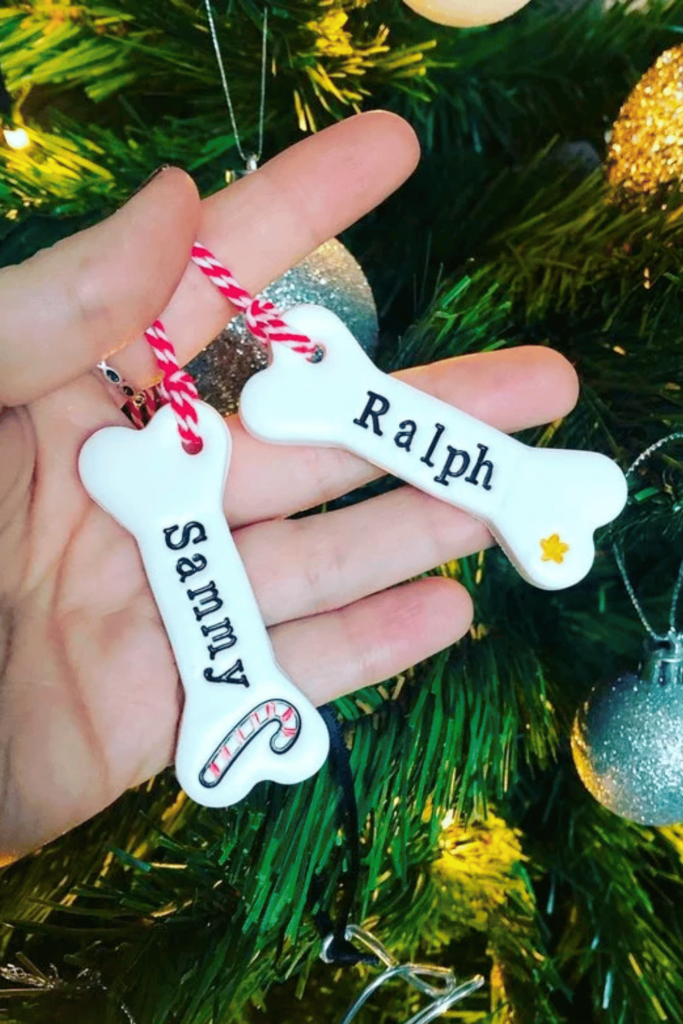 Homemade Peppermint Lip Balm and Hand Scrub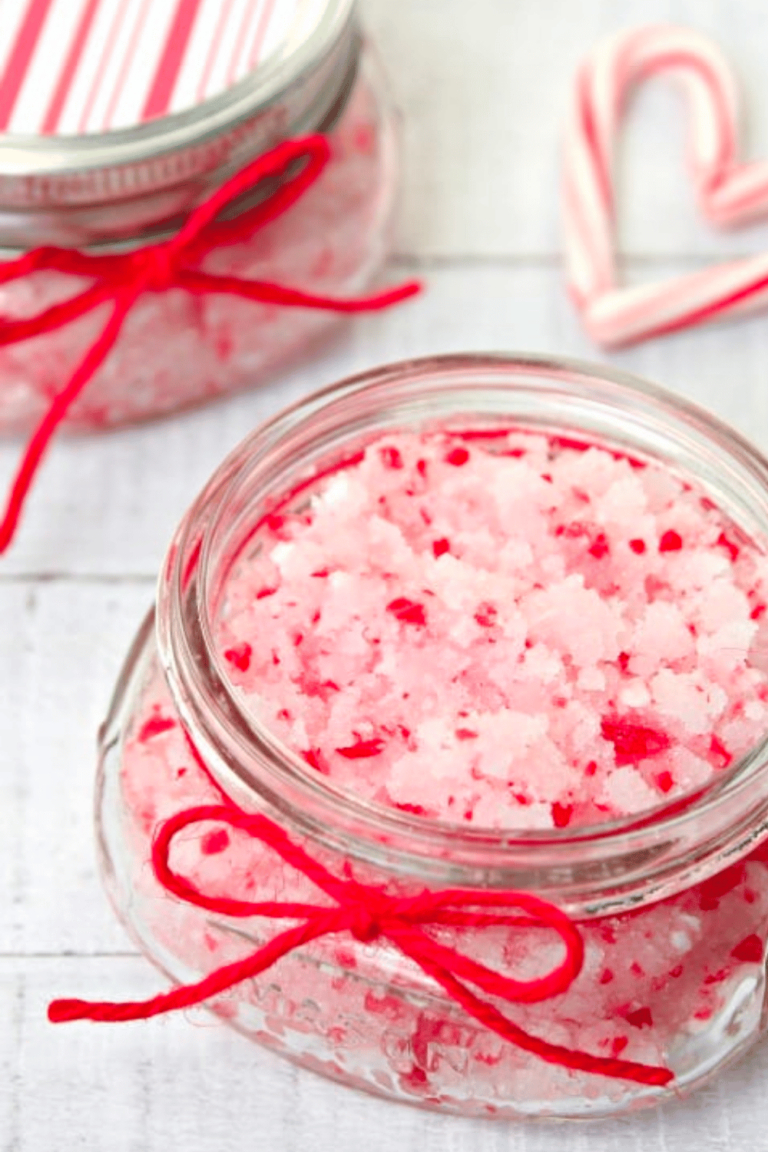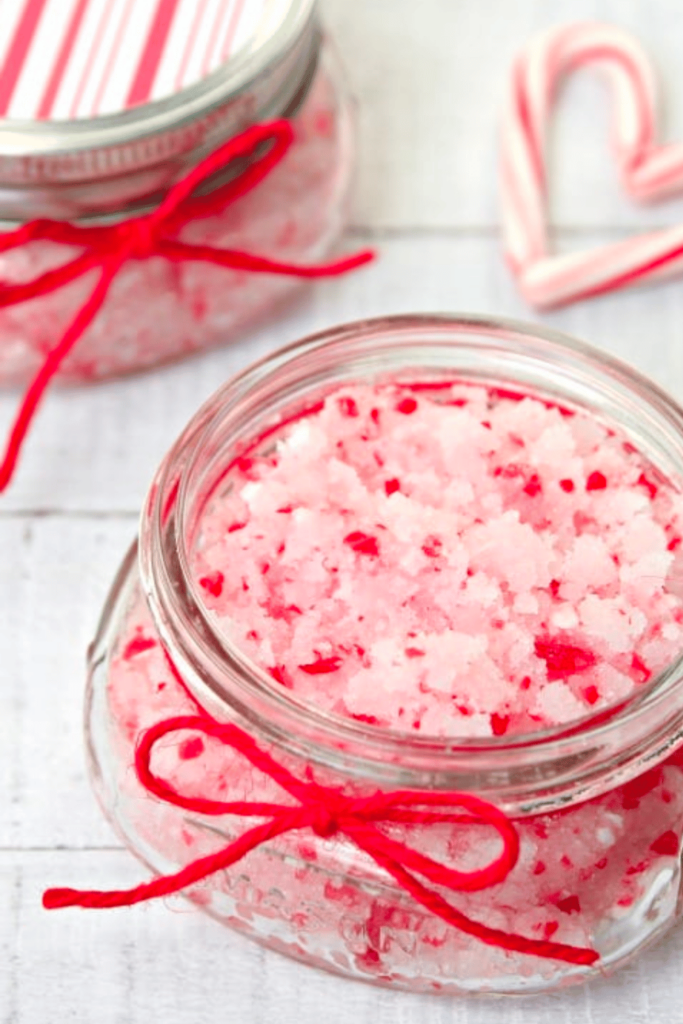 Dollar Tree Santa Belt Jar Filled With Candy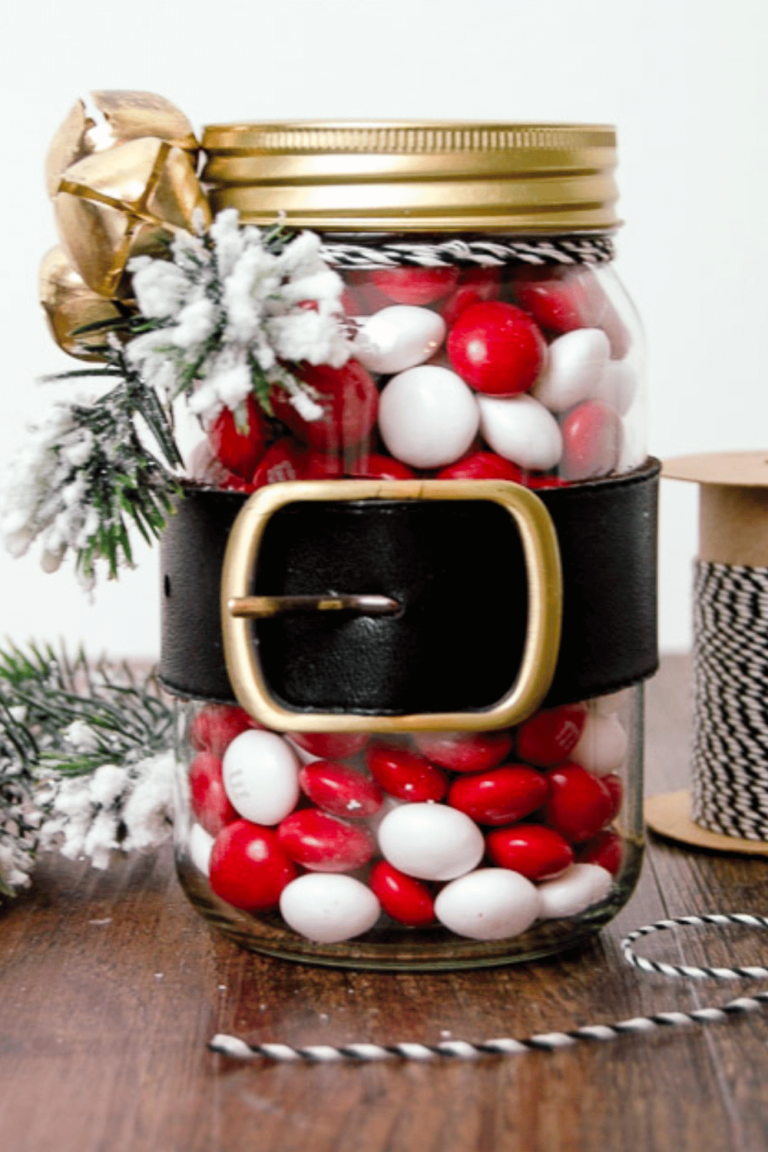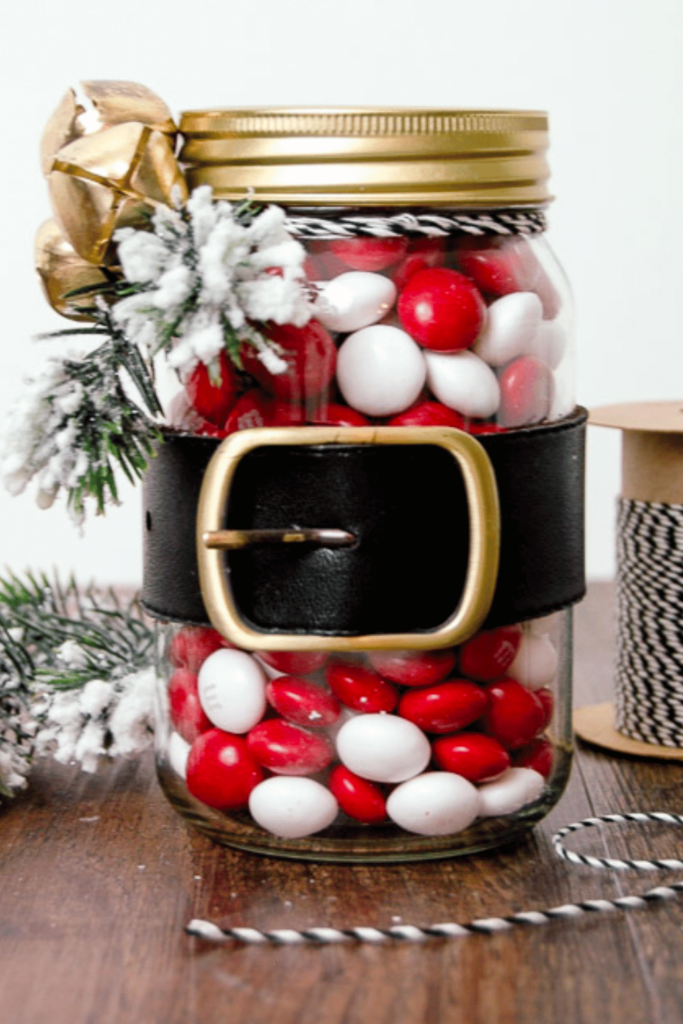 Cocoa Filled Glass Baubles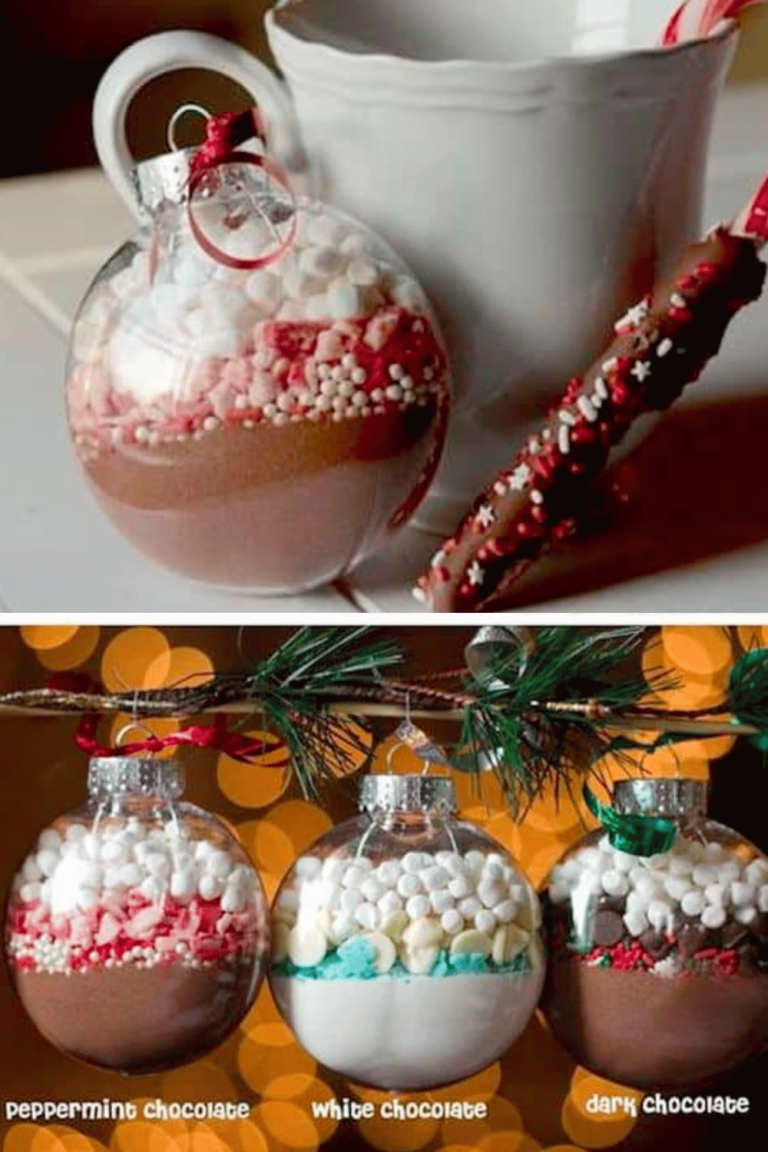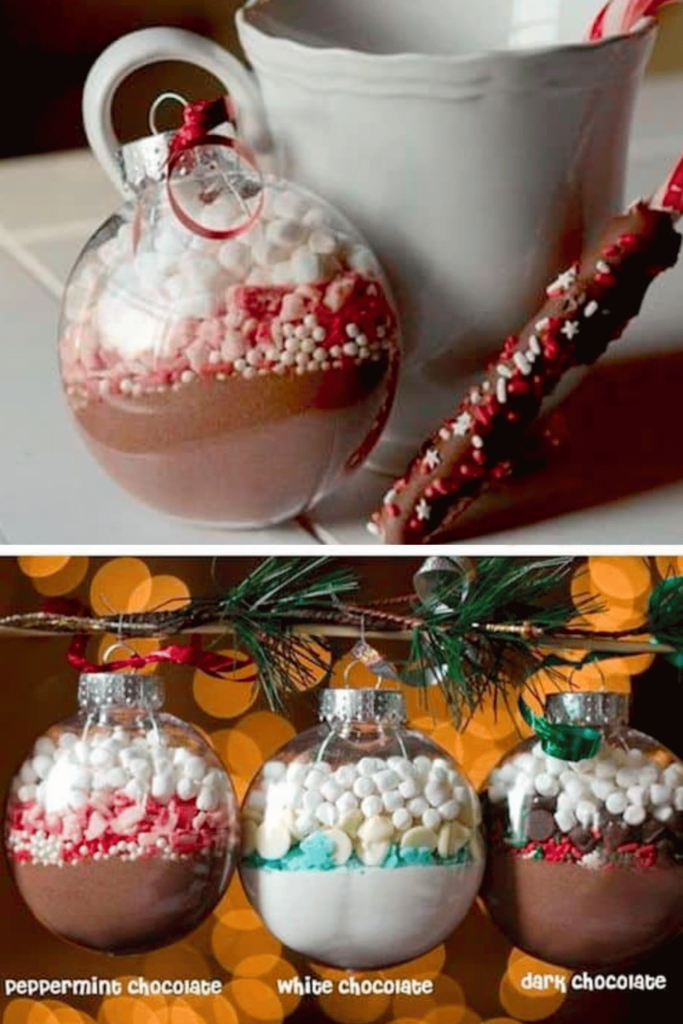 Recycled or Upcycled Christmas Crafts
This Christmas, why not join us in promoting sustainability and get creative with our recycled or upcycled Christmas crafts?
These crafts transform everyday items into stunning holiday decor, while reducing waste in the process and moreover, save you money too!
The following crafts will show you how to give new life to old materials and create unique pieces that are both eco-friendly and festive…
Scented Gingerbread Ornaments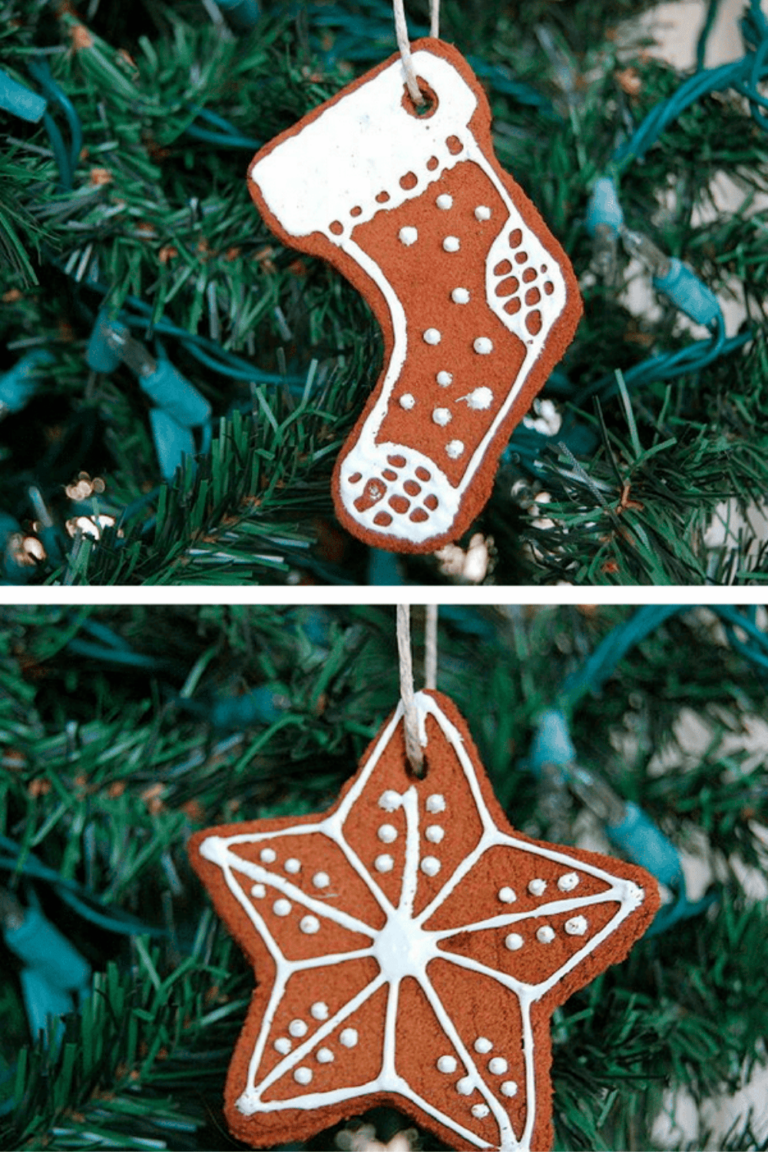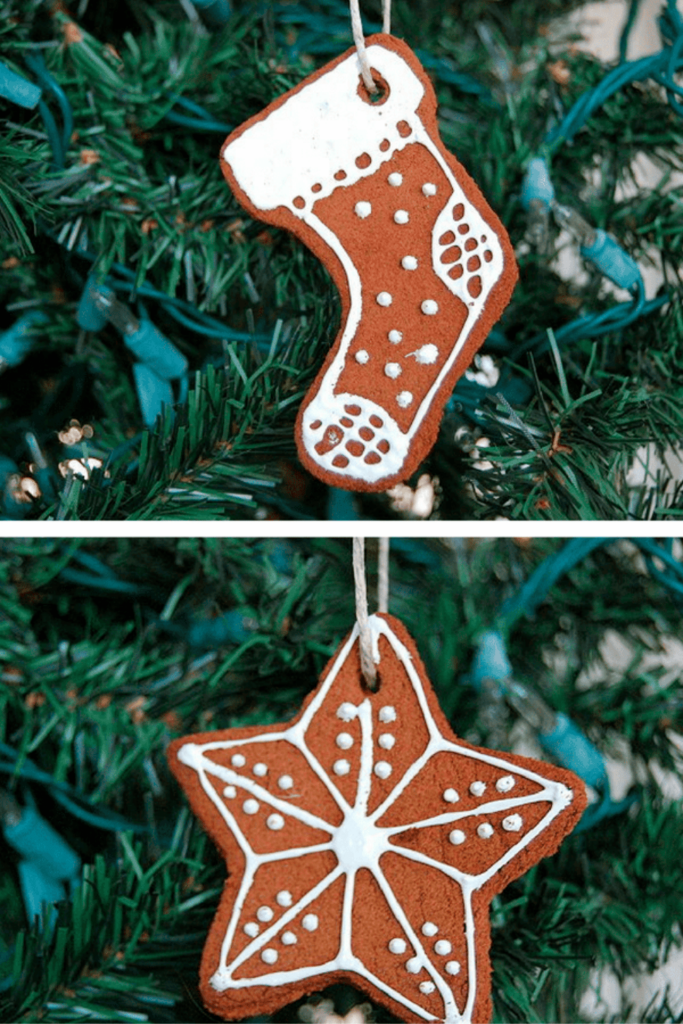 DIY Dried Citrus Tree Decorations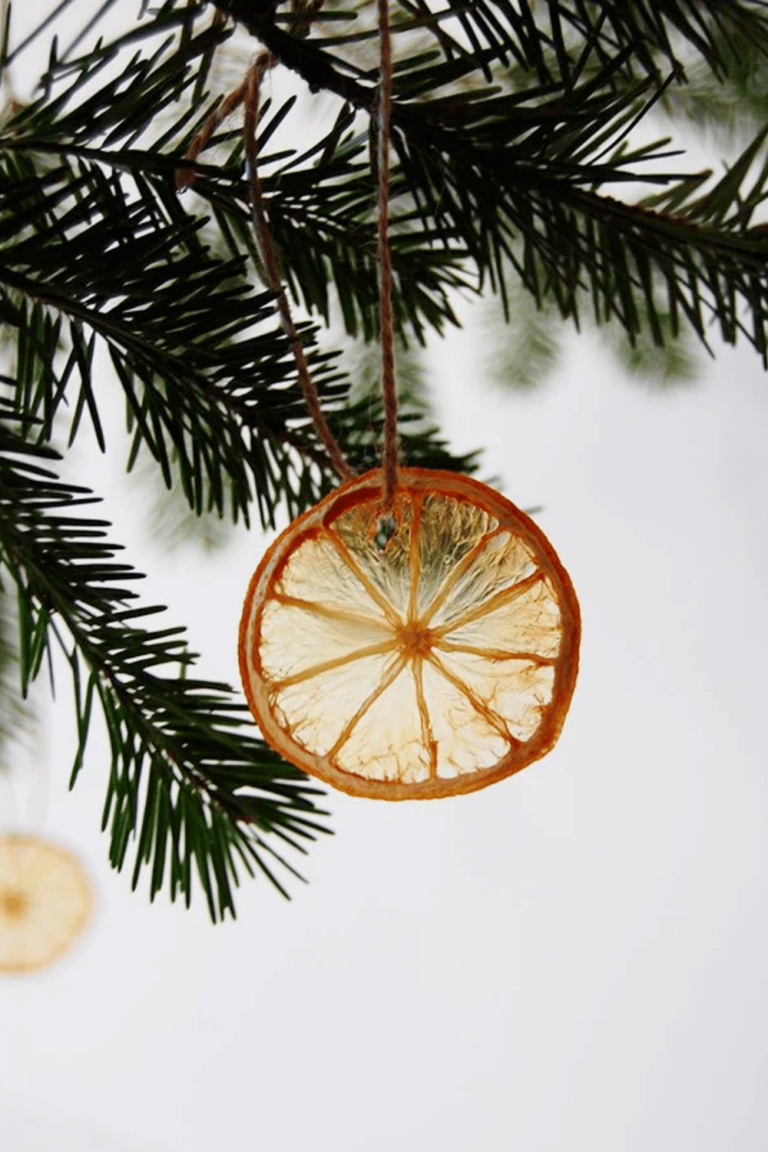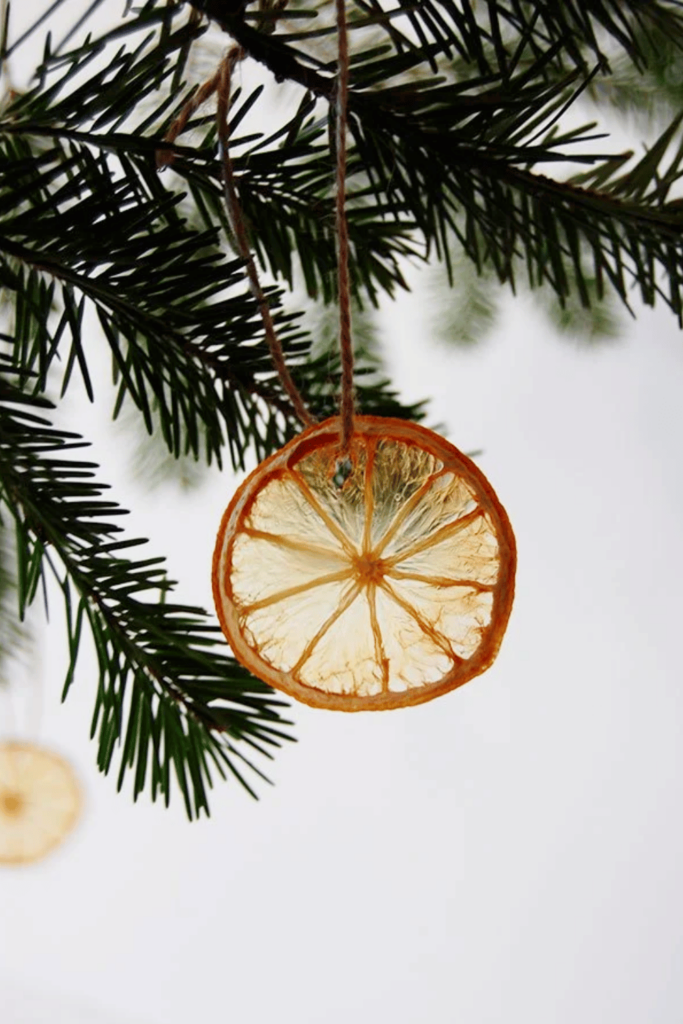 DIY Mason Jar Votives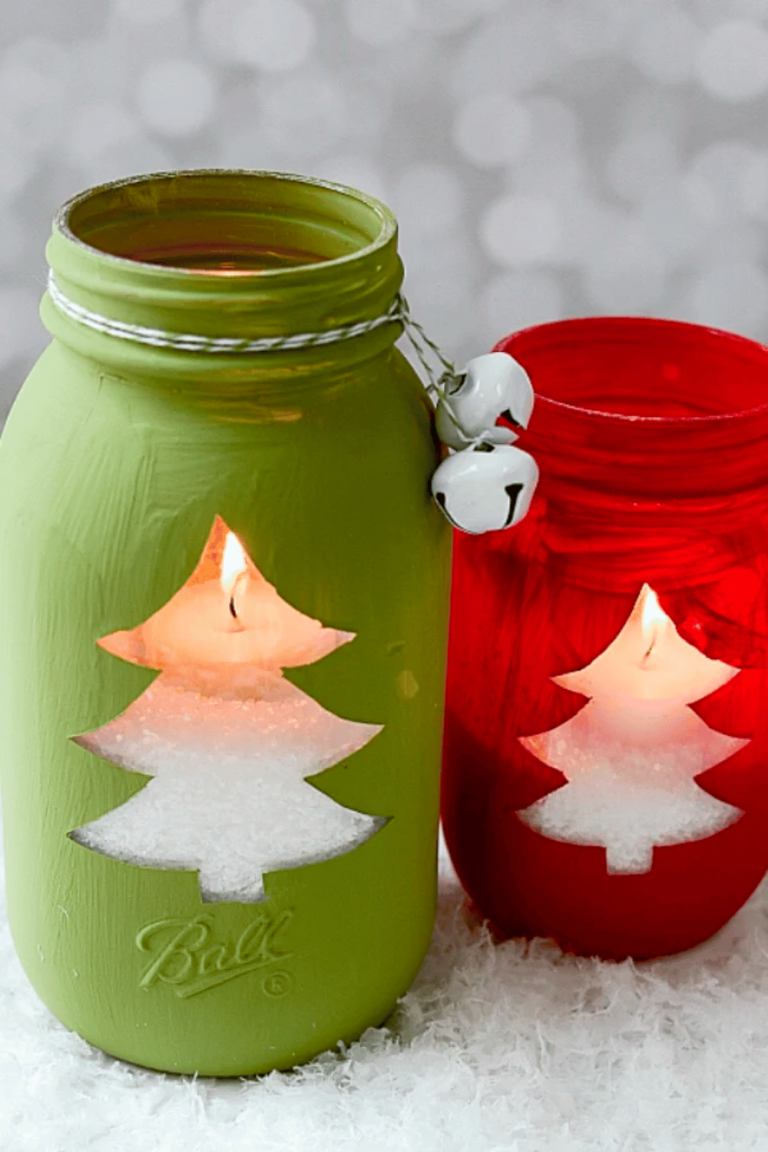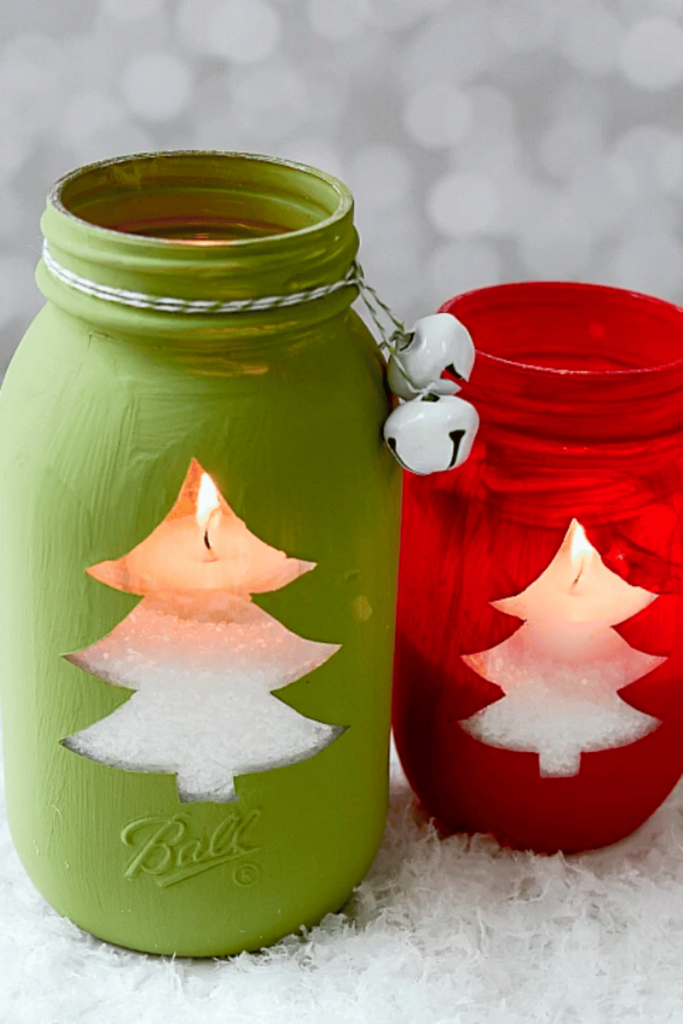 DIY Rag Wreath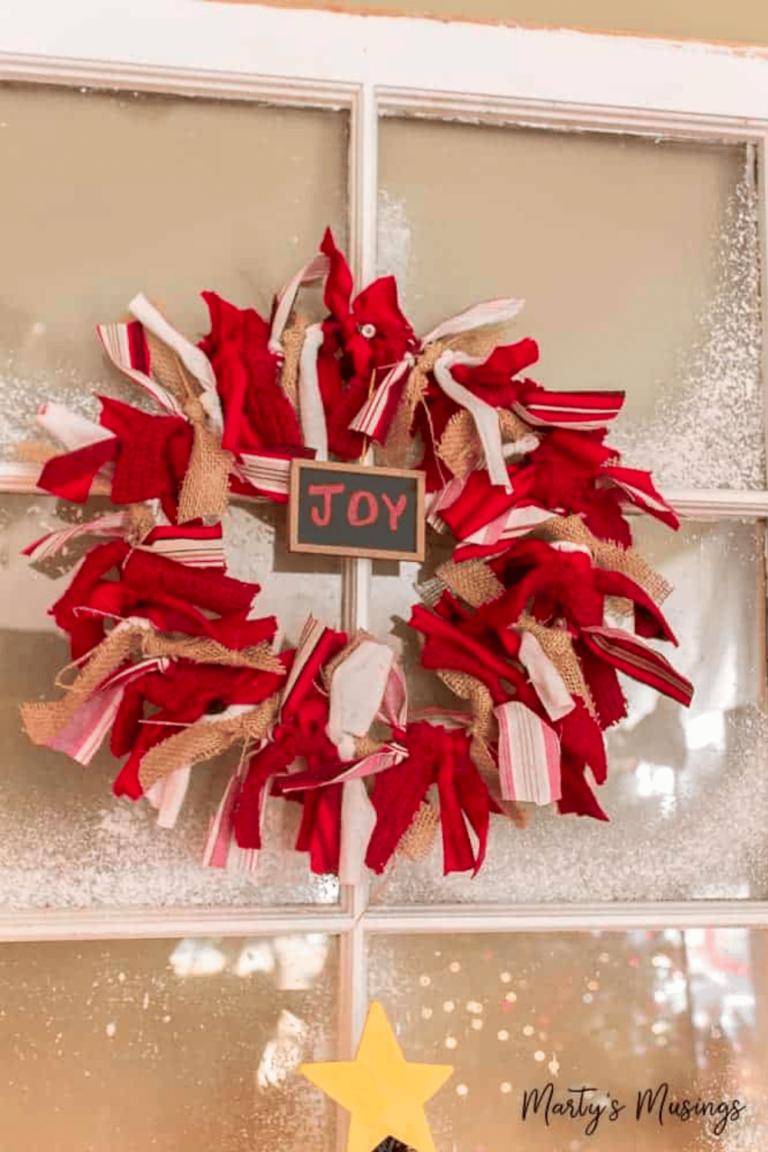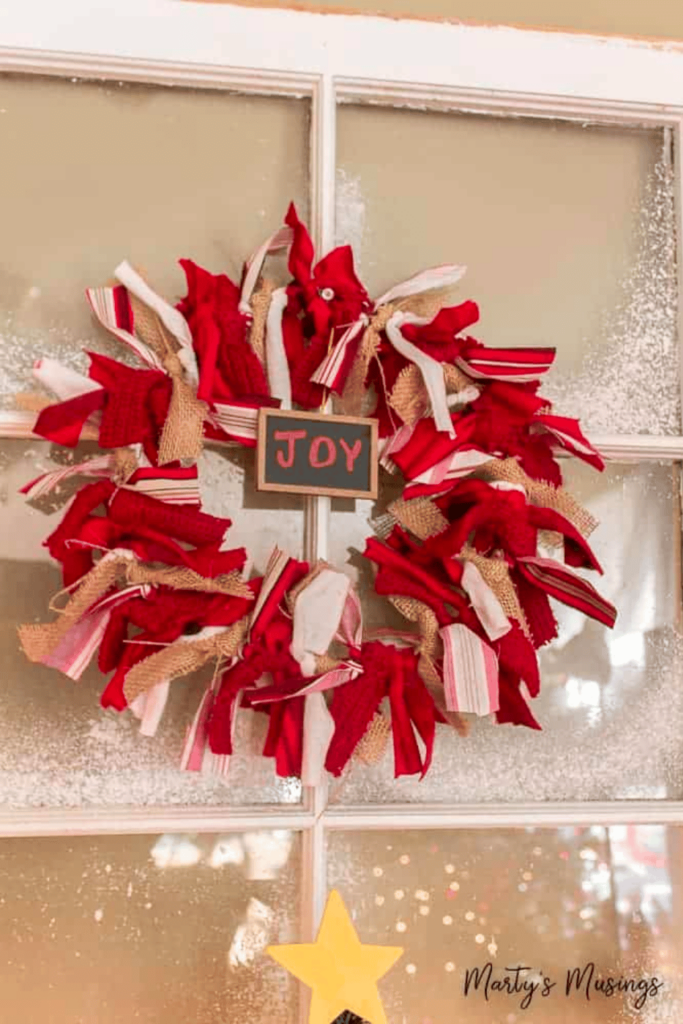 DIY Gold Glitter Pasta Garland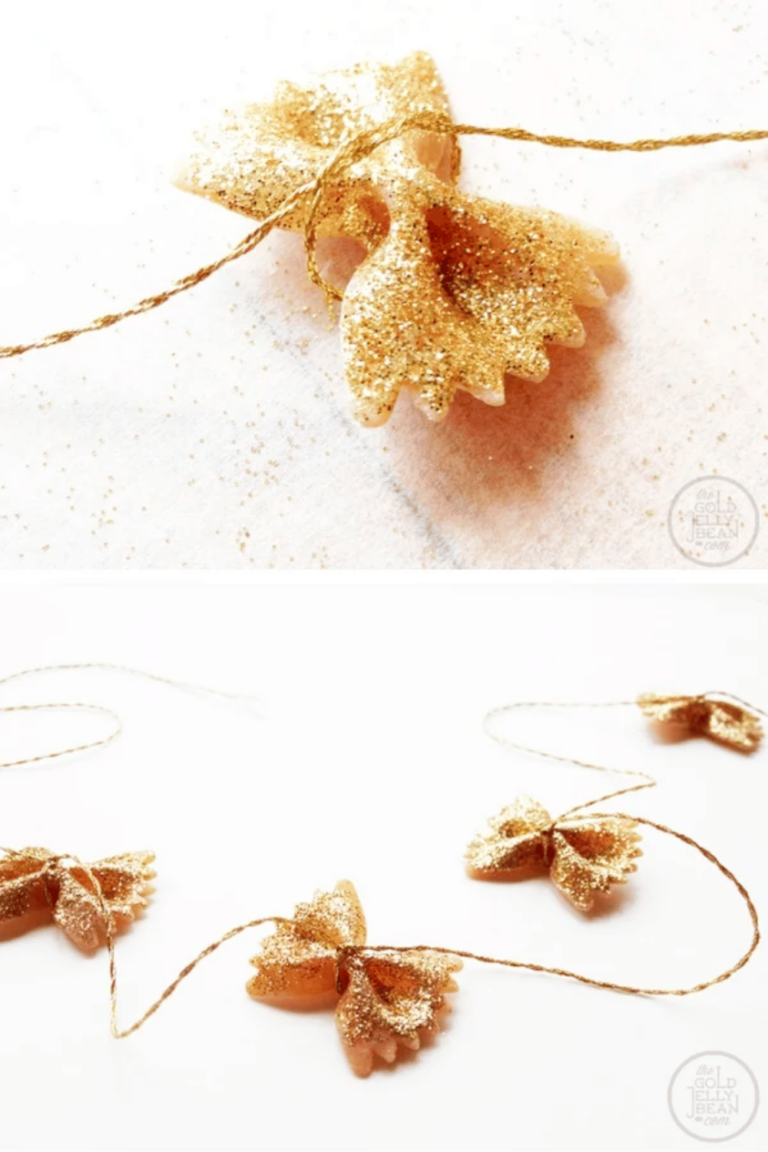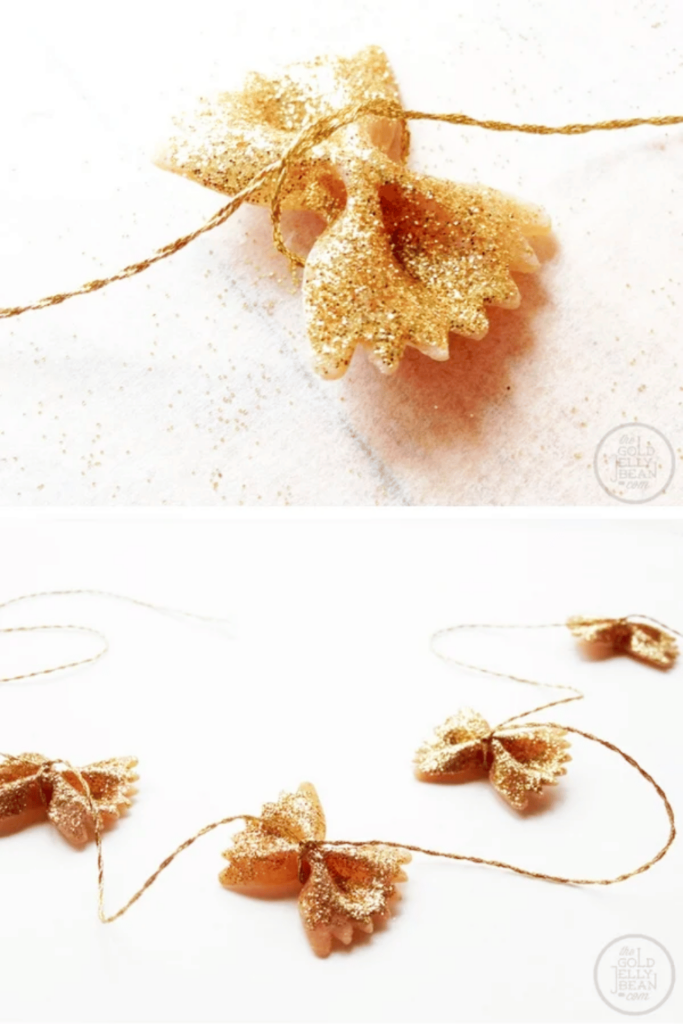 Fabric Scrap Trees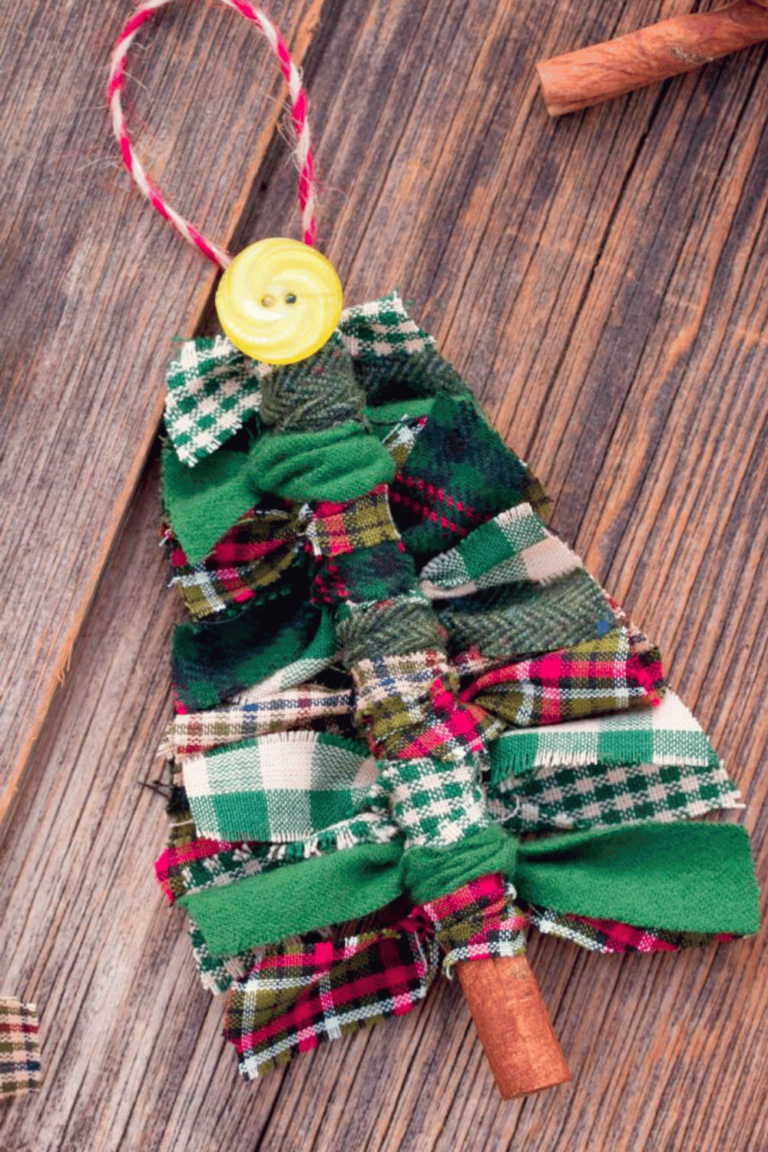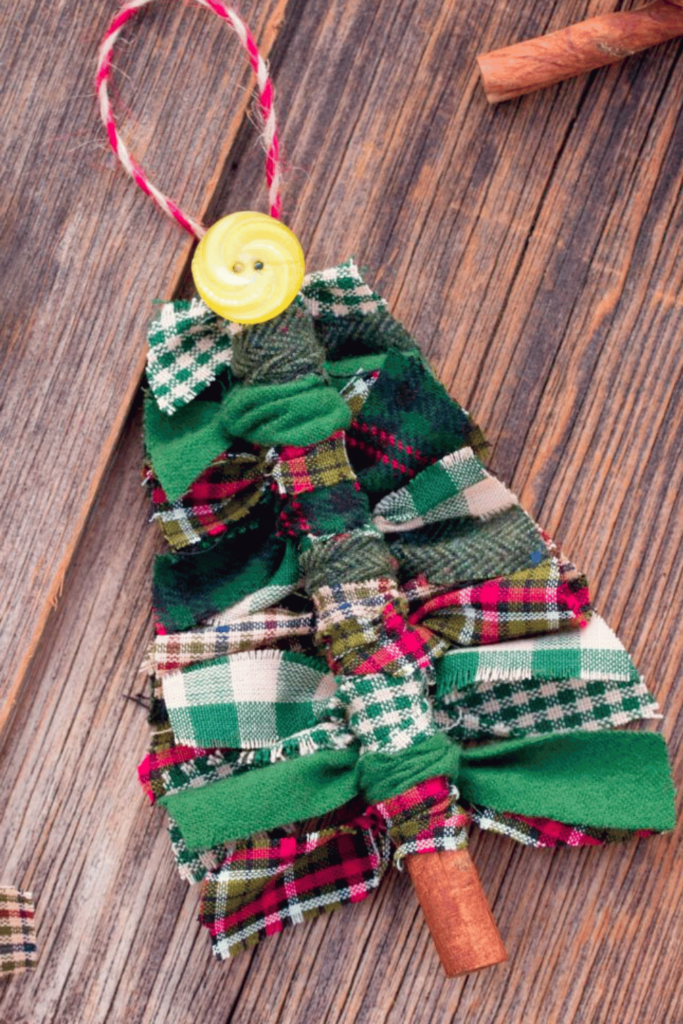 Wooden 'Days Until Christmas' Sign With Red Truck Design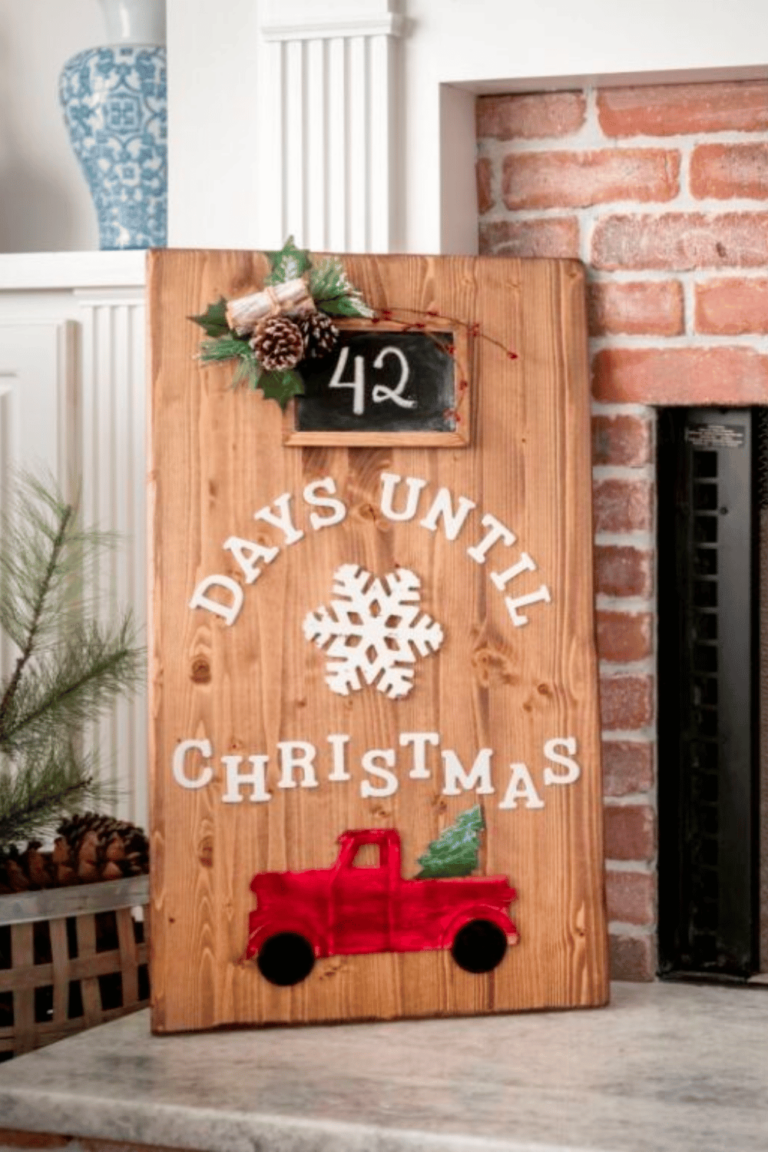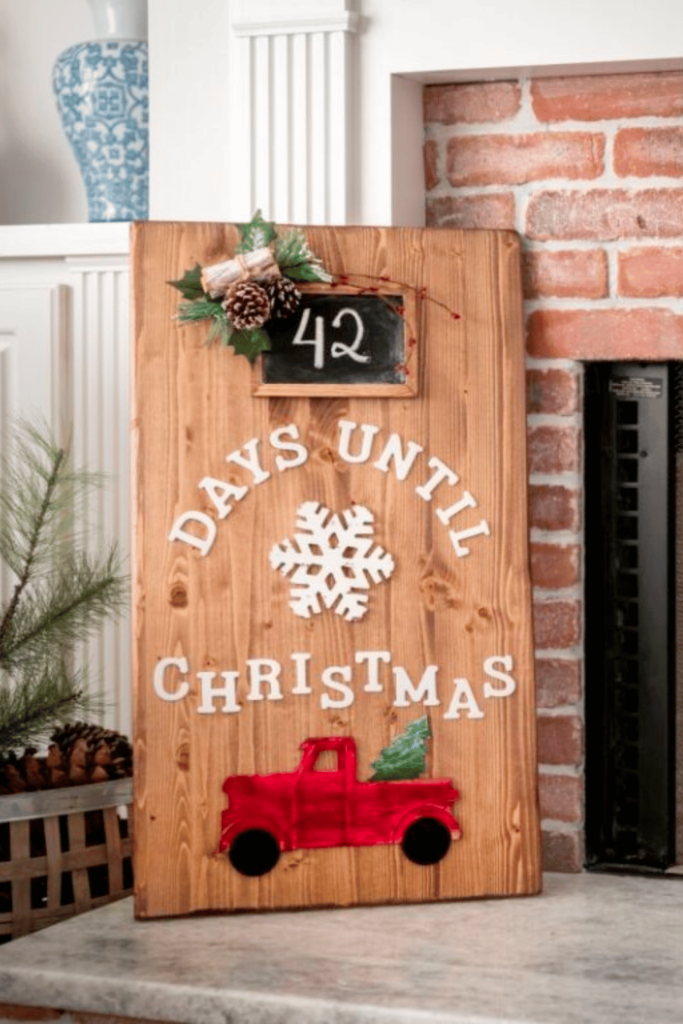 DIY Twig Christmas Tree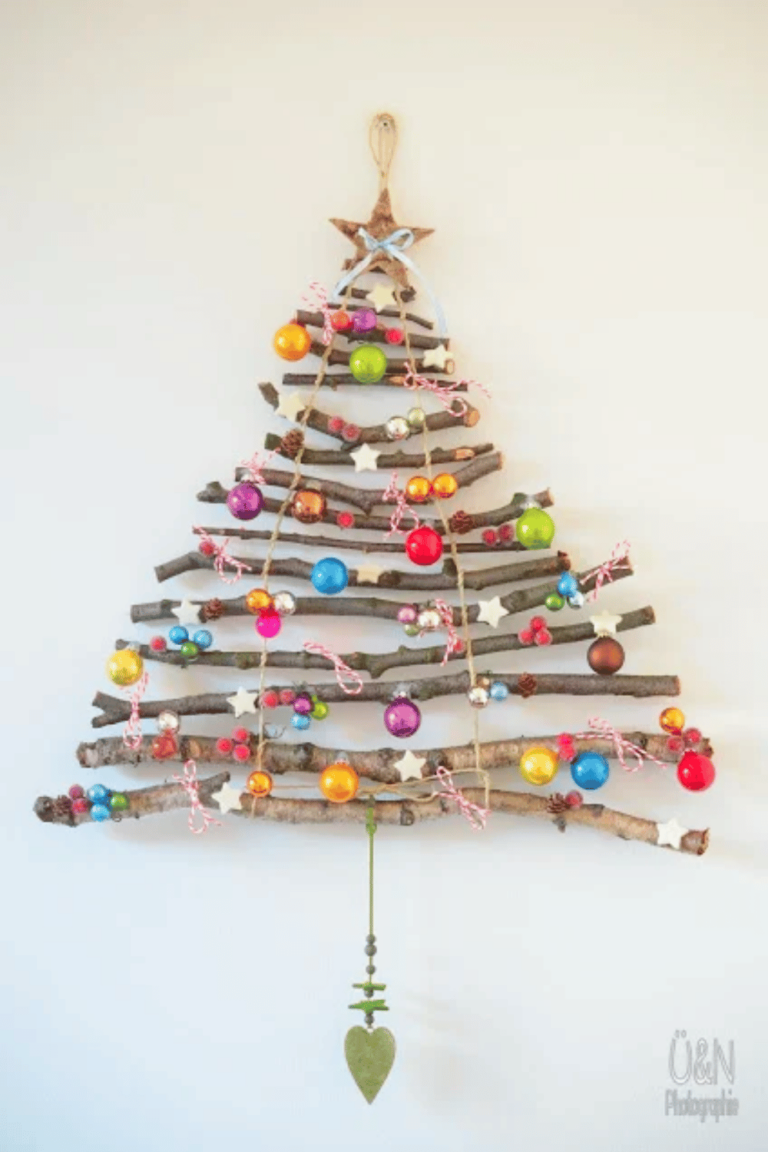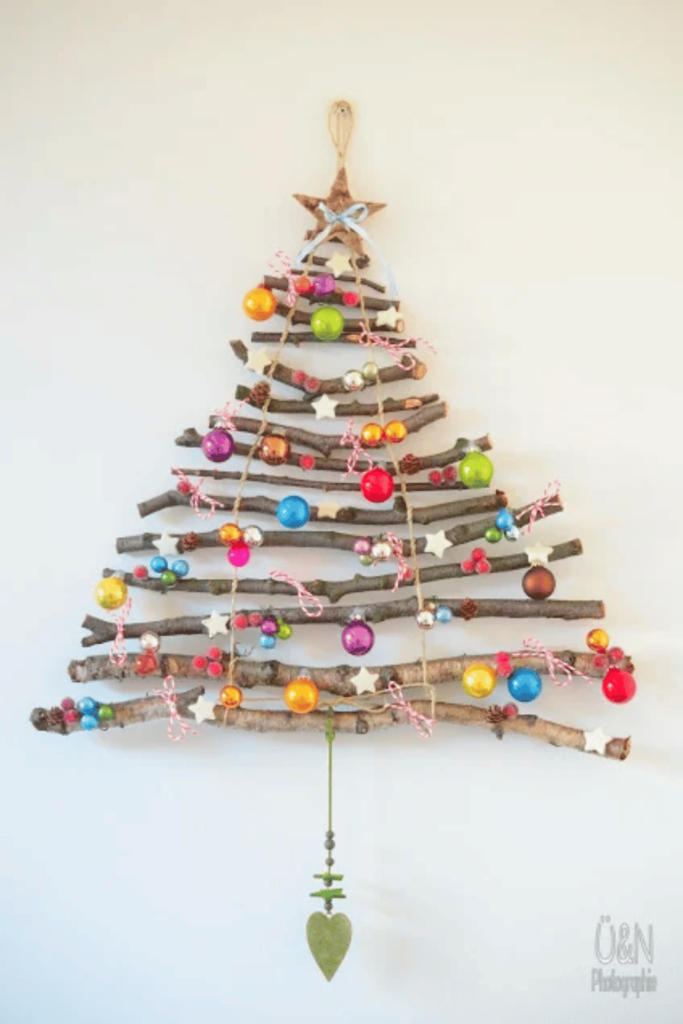 Cinnamon Stick Reindeers & Trees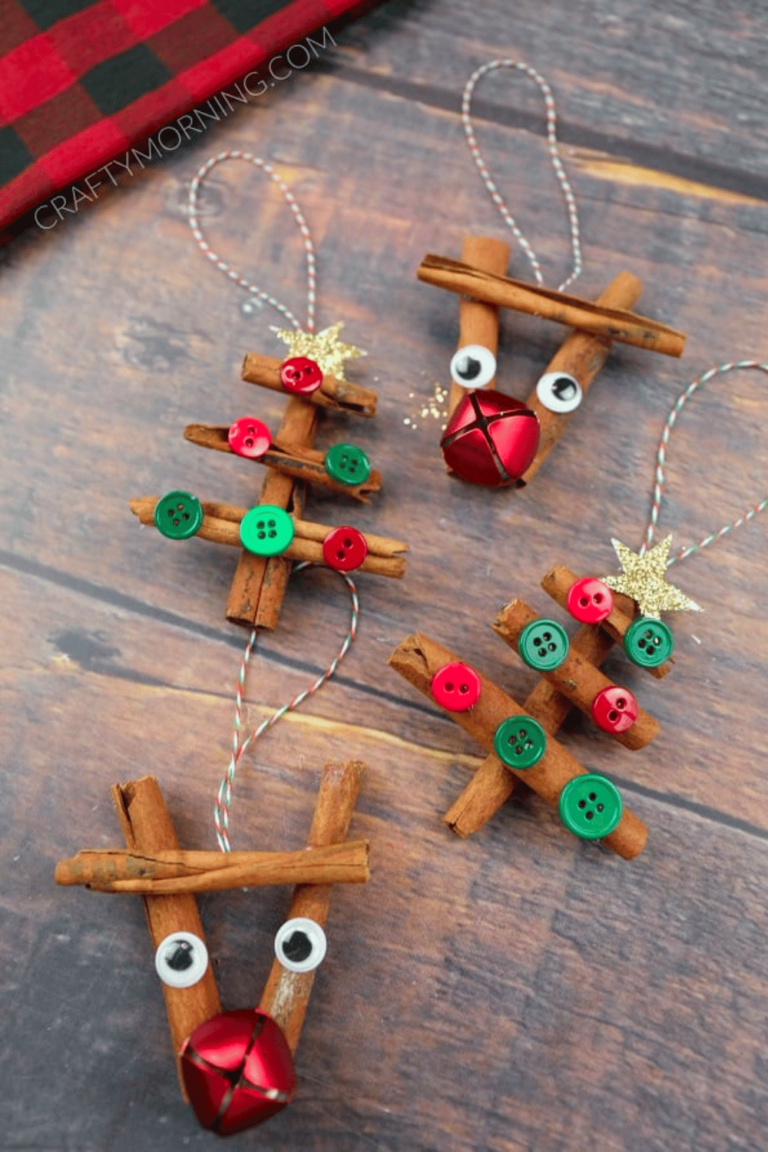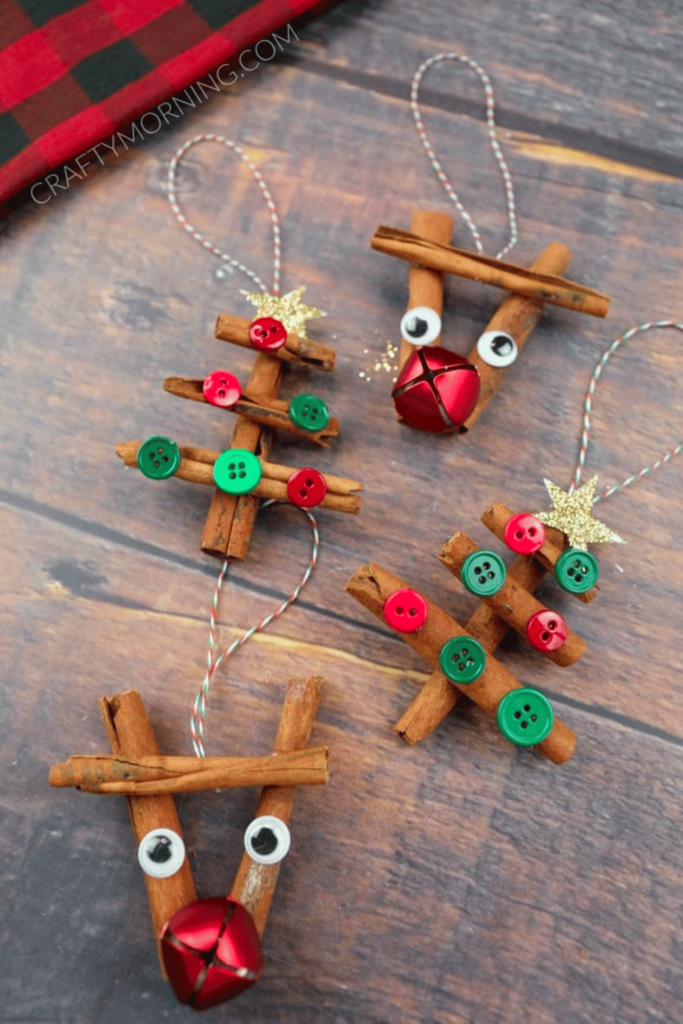 DIY Plastic Spoon Christmas Tree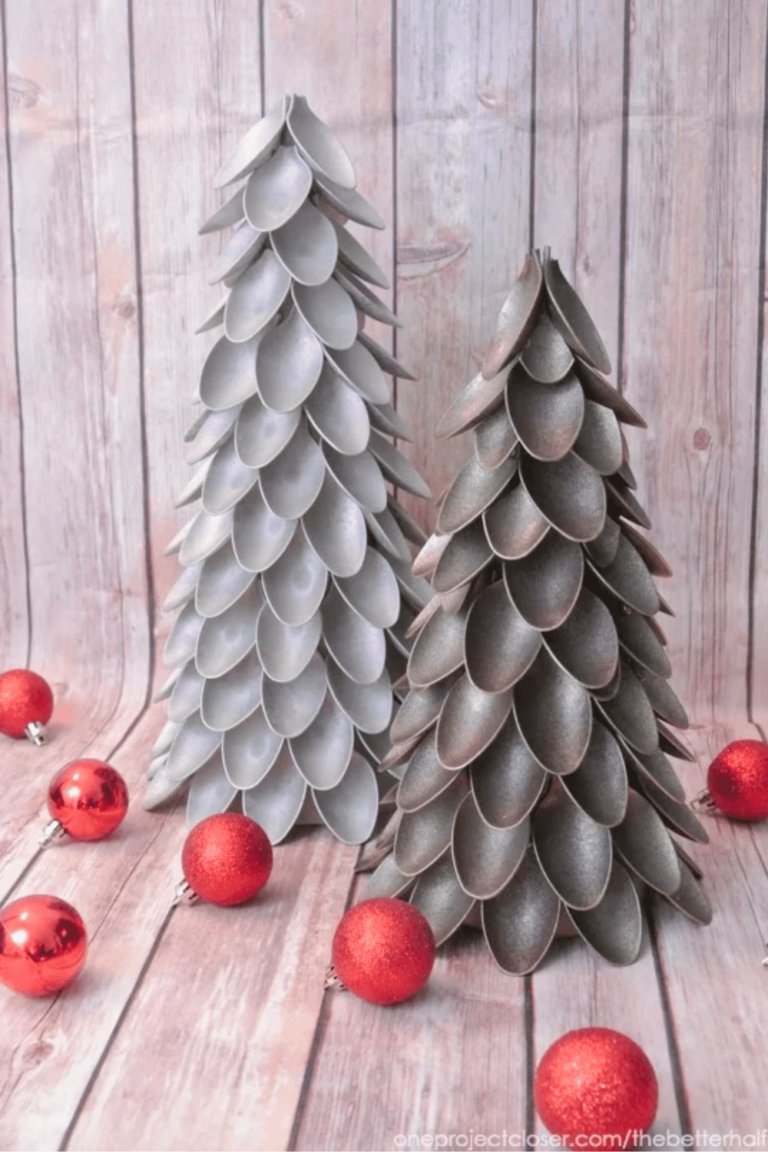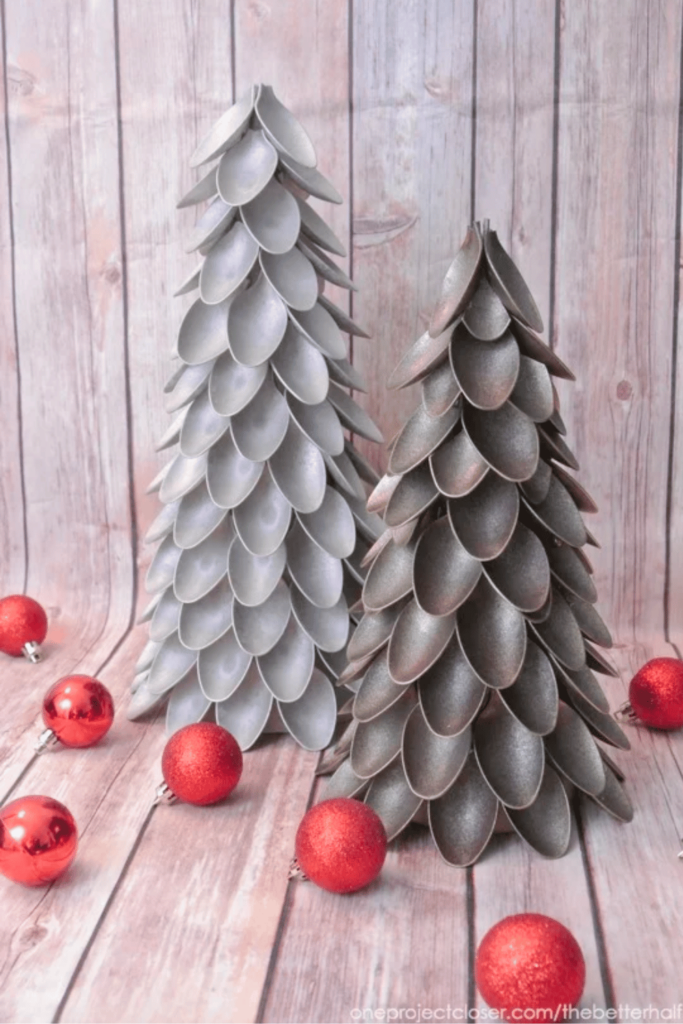 Festive Peanut Garland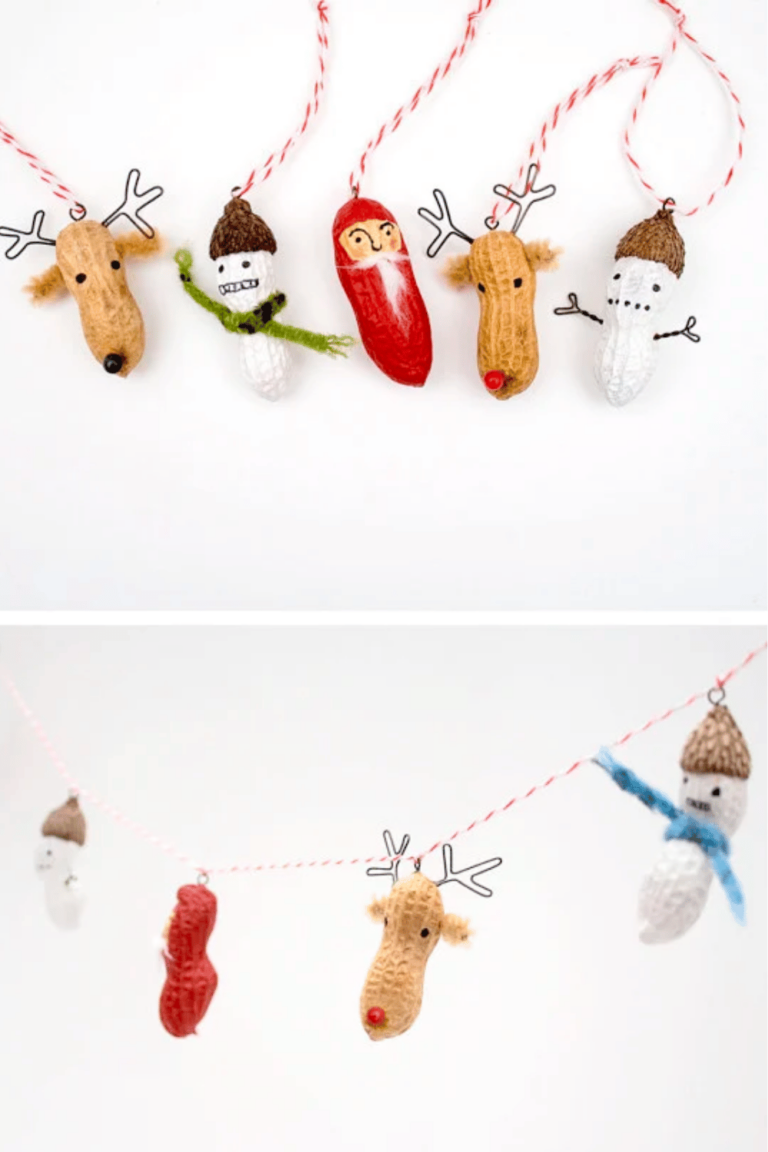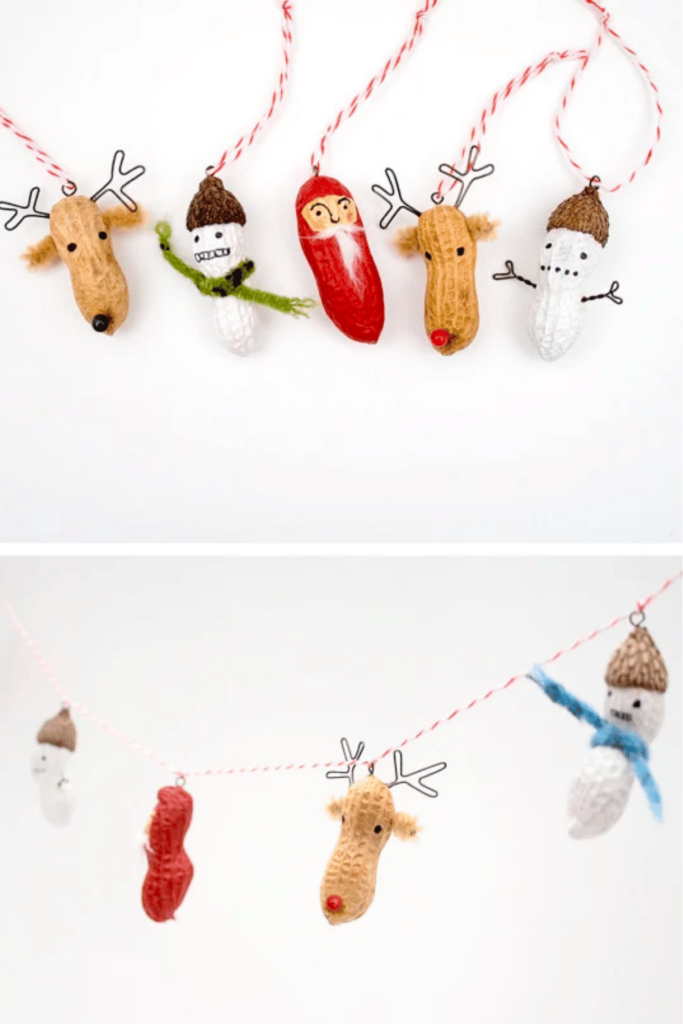 Sparkly Thumbtack Bauble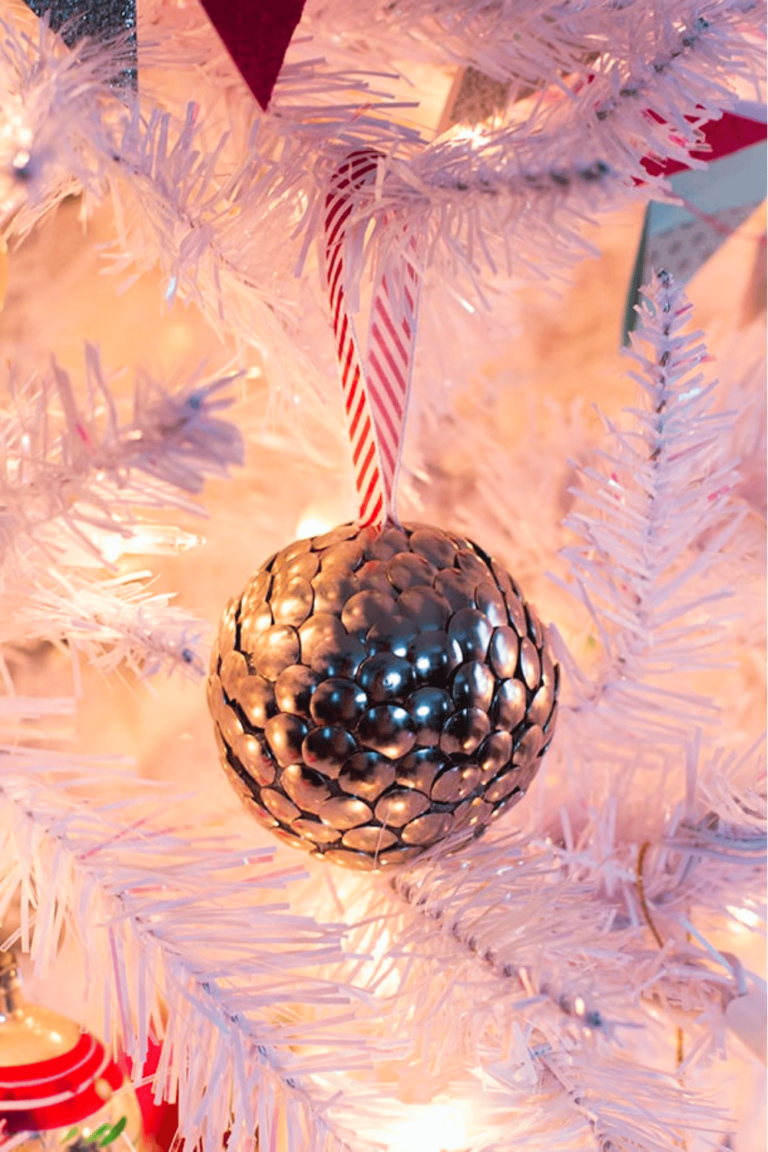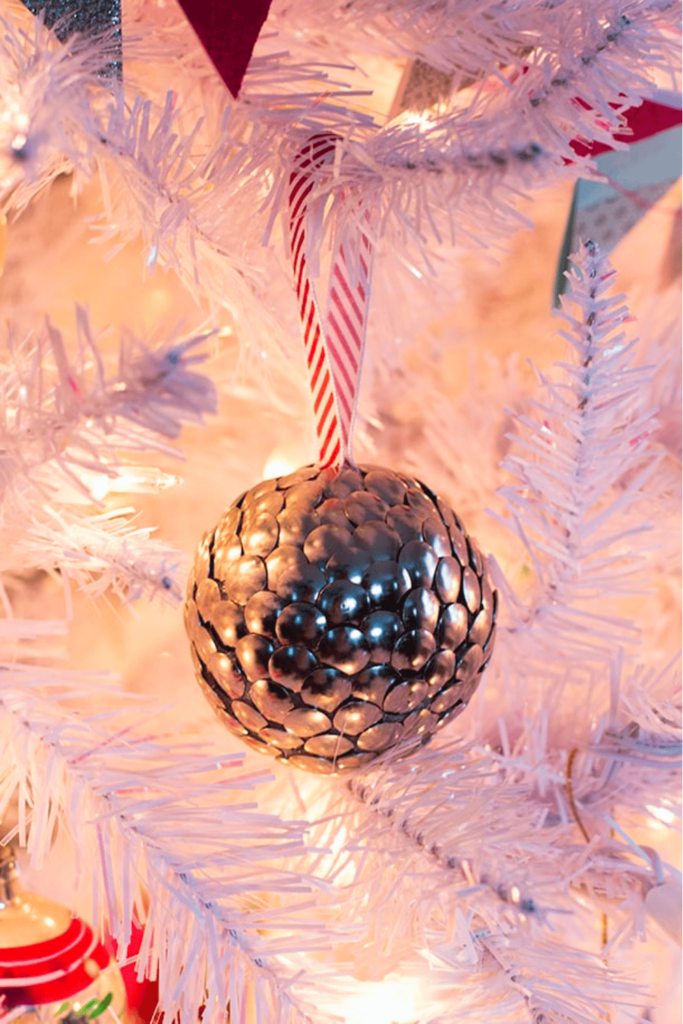 Ribbon and Twig Christmas Trees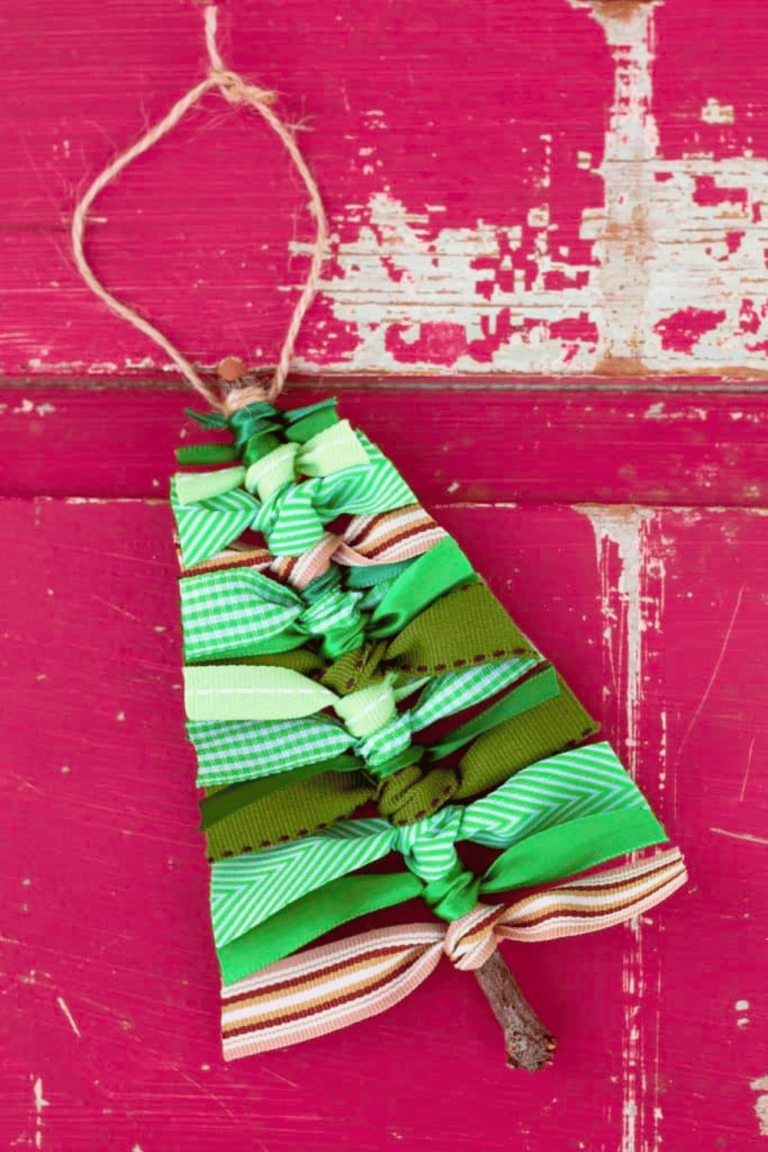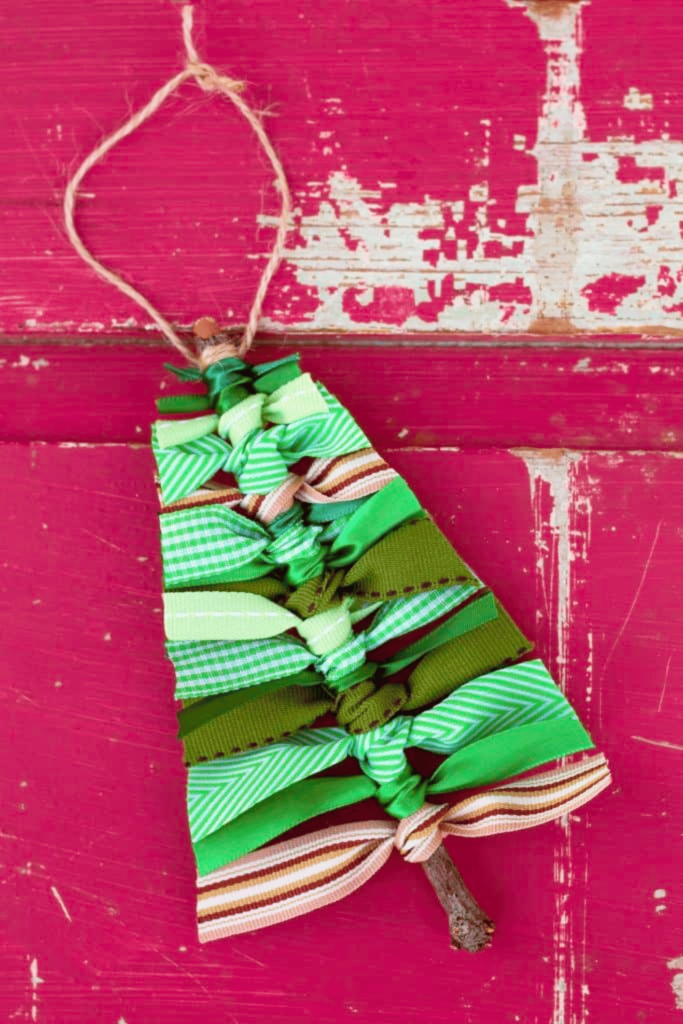 Dried Orange Slices With Star Detail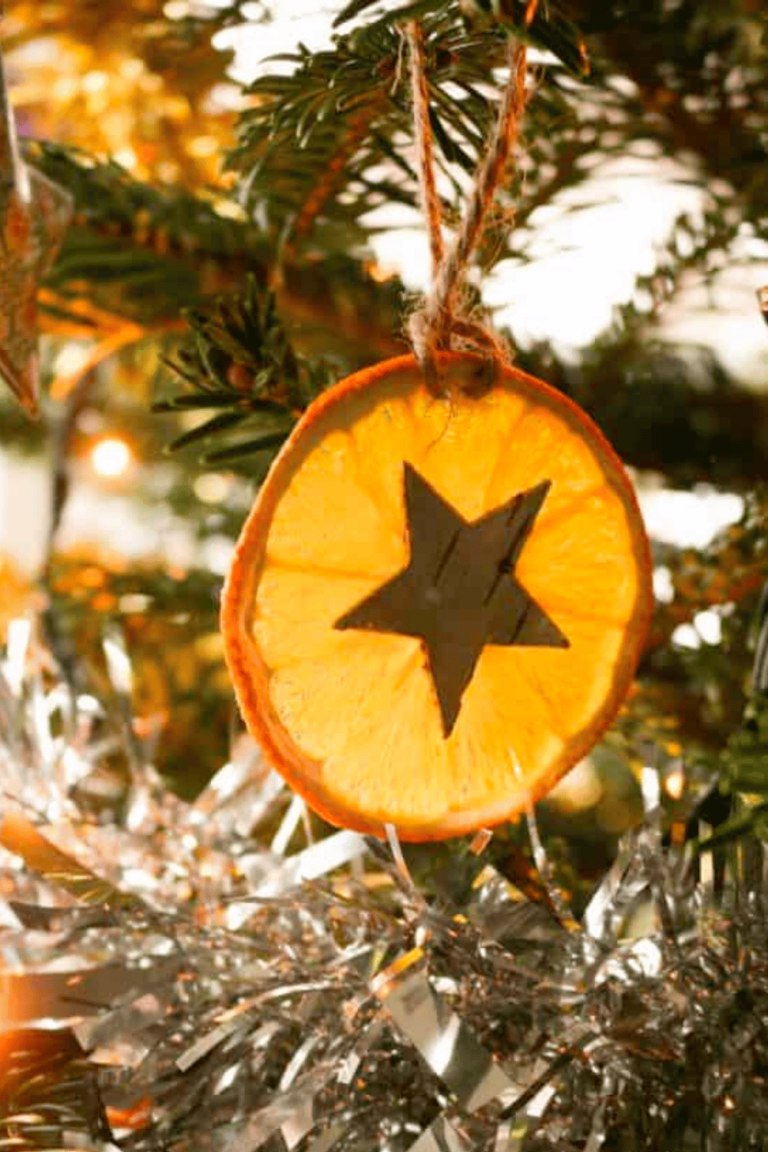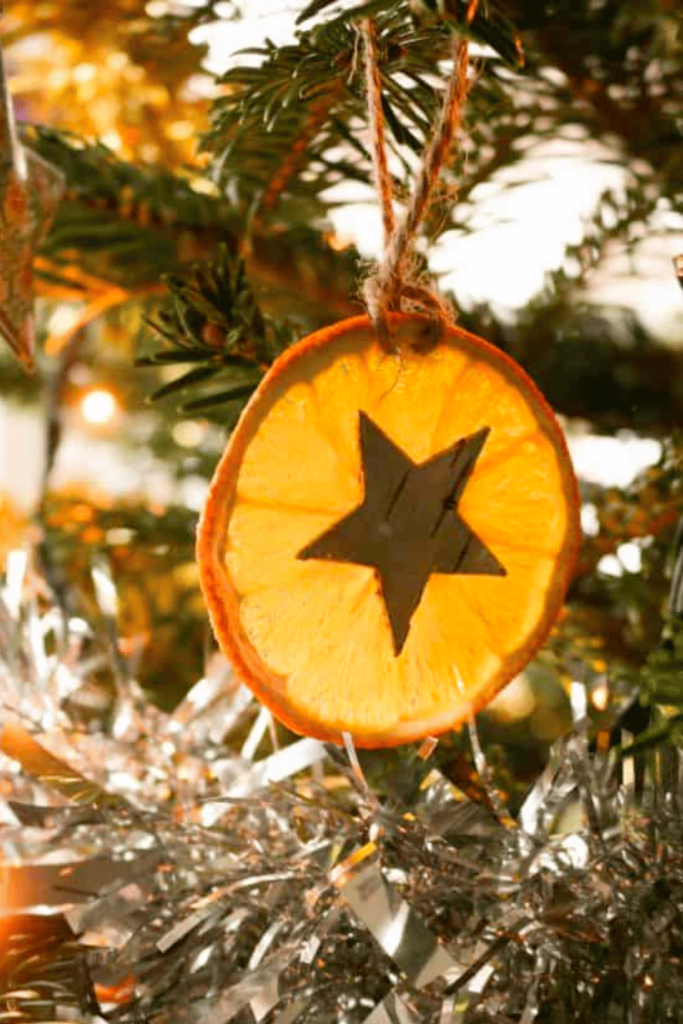 Mason Lid Christmas Tree Wreath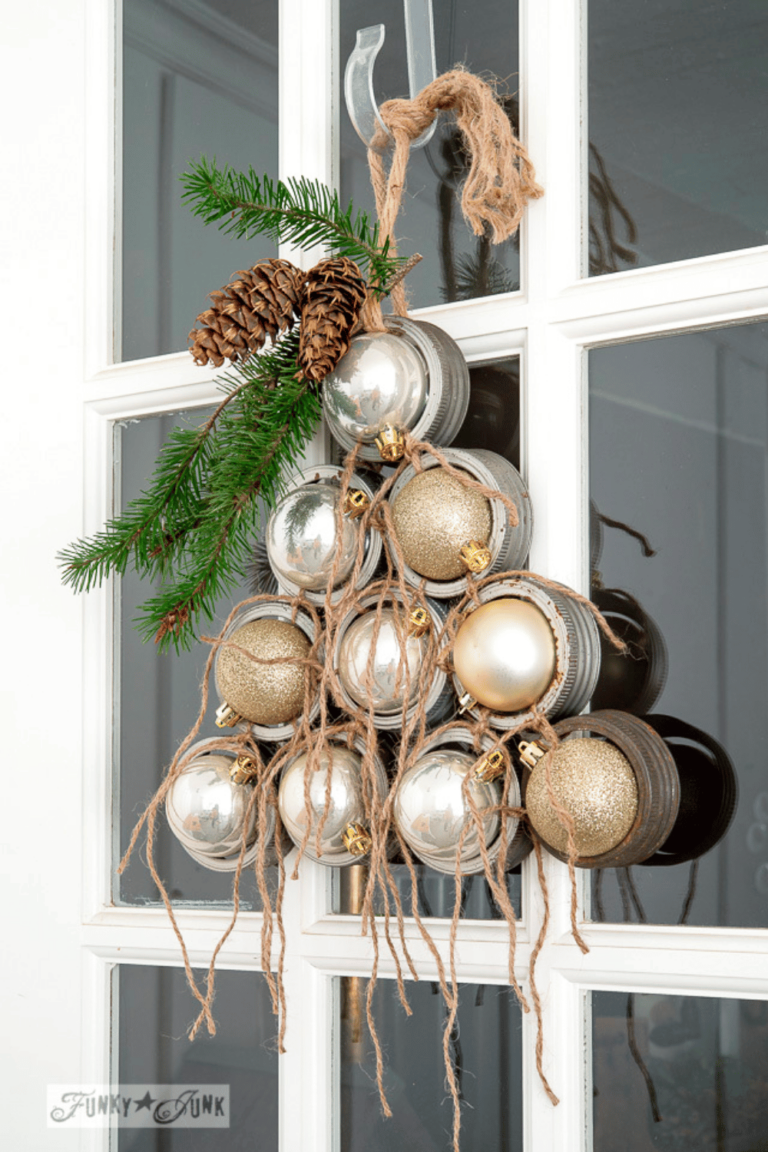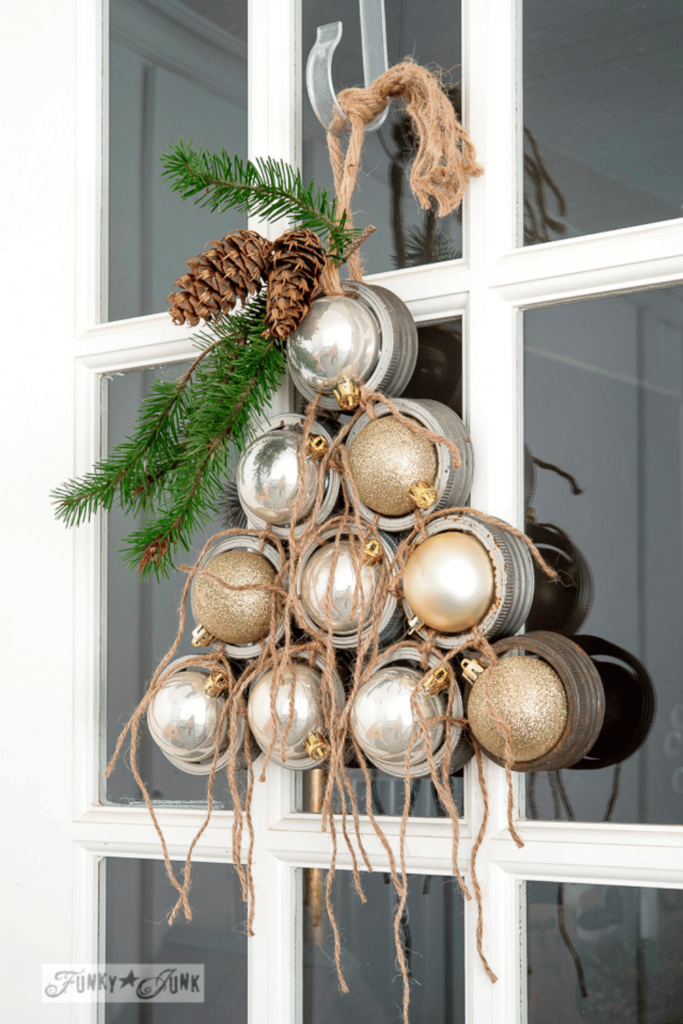 Festive and Whimsical Holiday Craft Projects
Let your imagination run wild and embrace the whimsy of the holiday season with our festive and whimsical holiday craft projects below…
From adorable snowmen and unicorn-inspired crafts to magical snow globes, these projects will transport you to a world of enchantment and joy and fill your home with holiday magic!
Popsicle Stick Sleds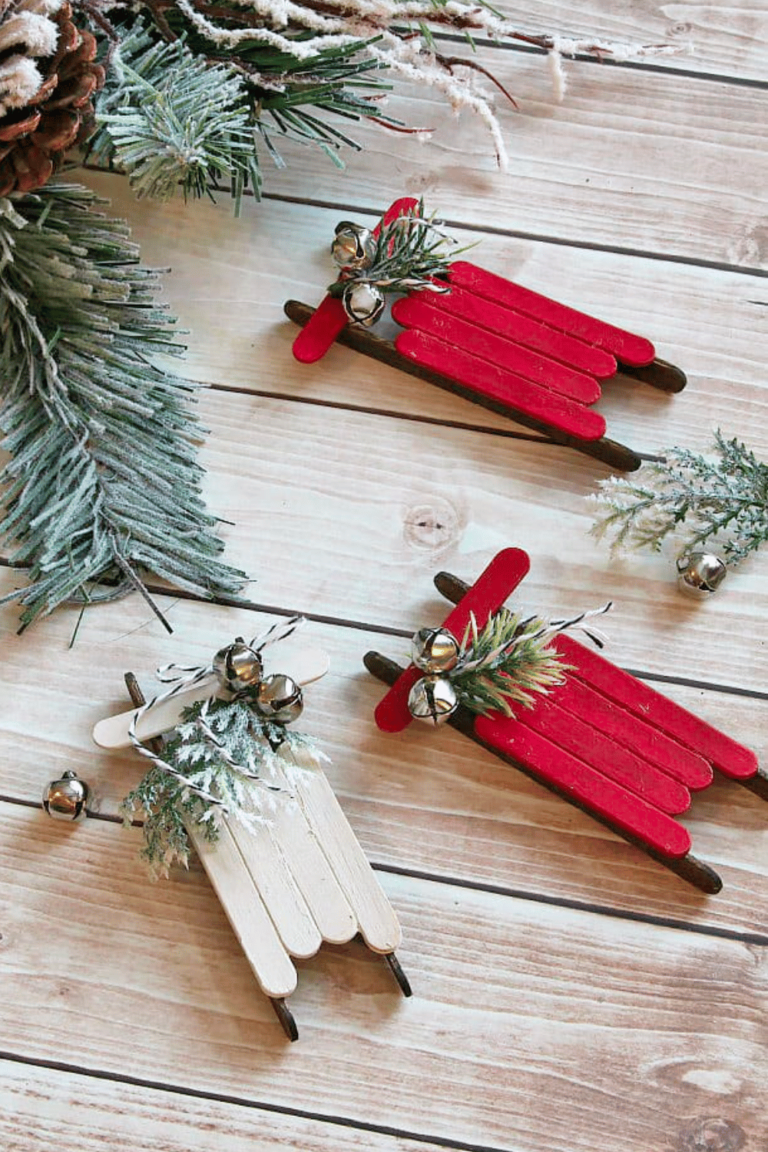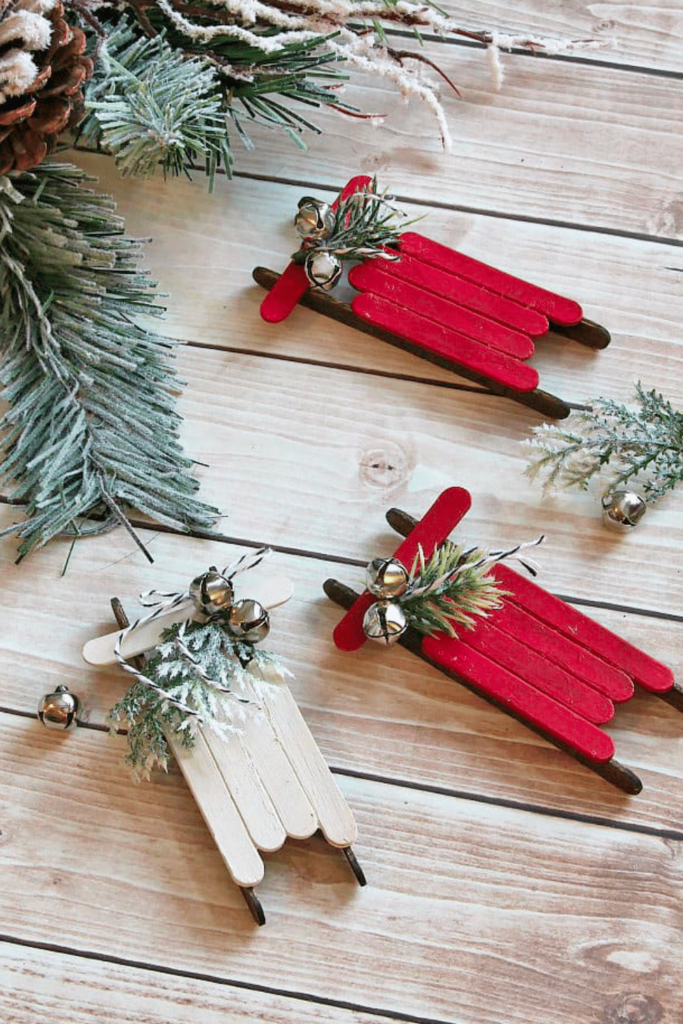 Festive DIY Dry Snow Globes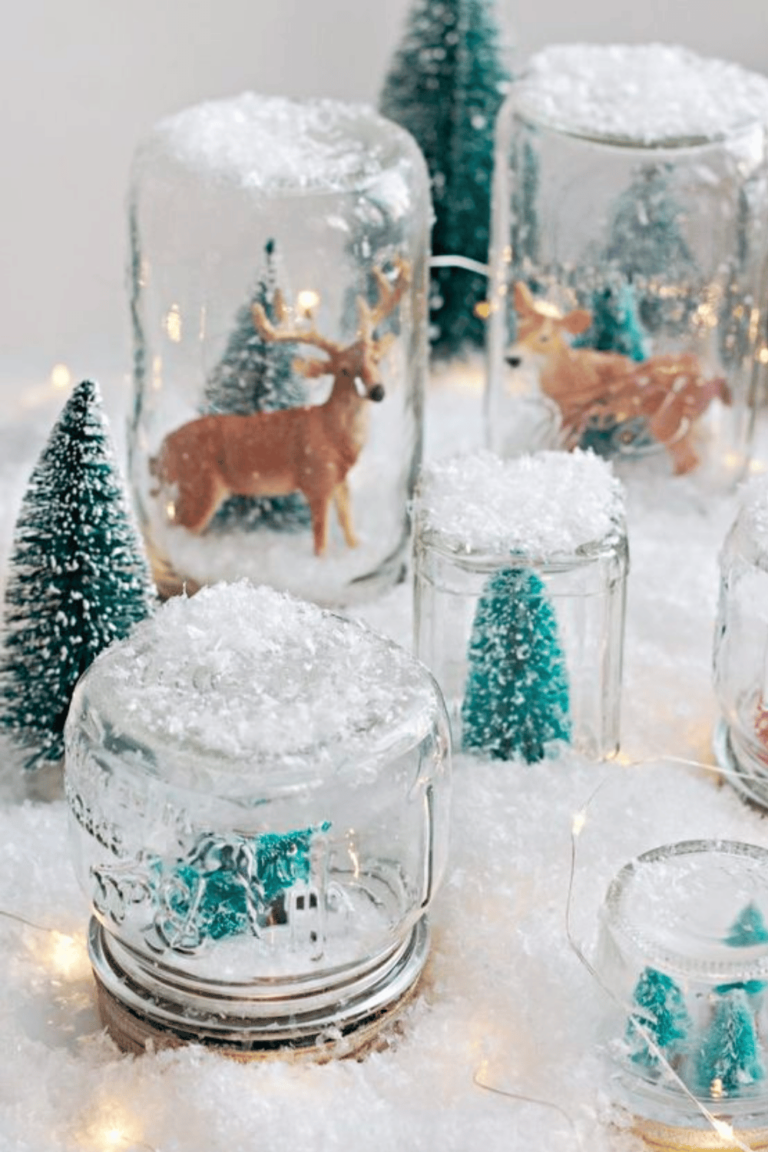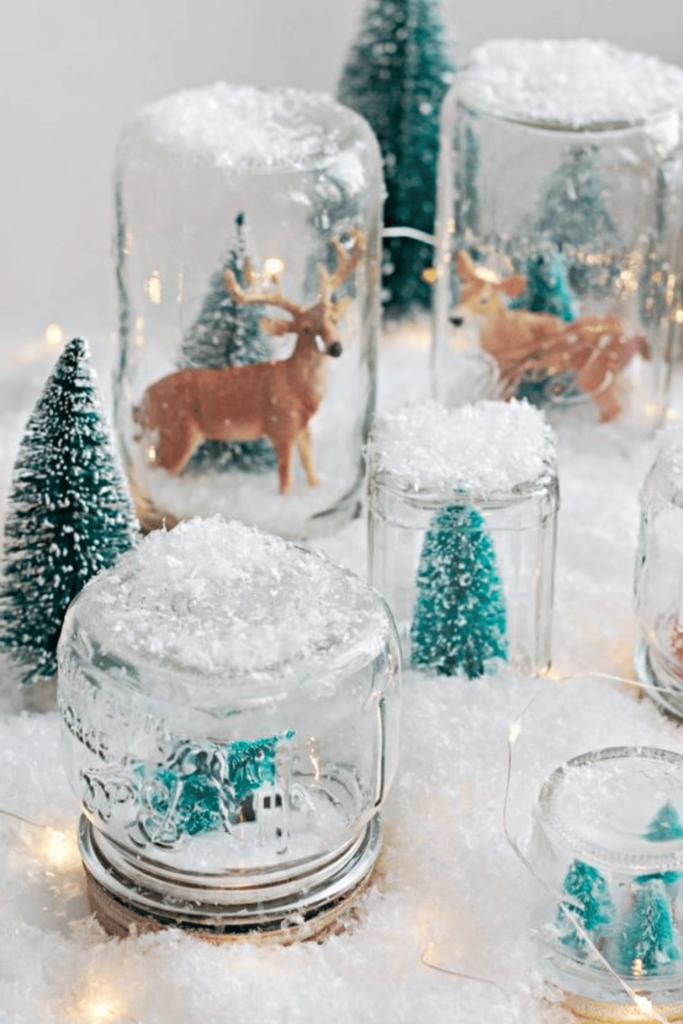 Adorable Felt Coffee Cup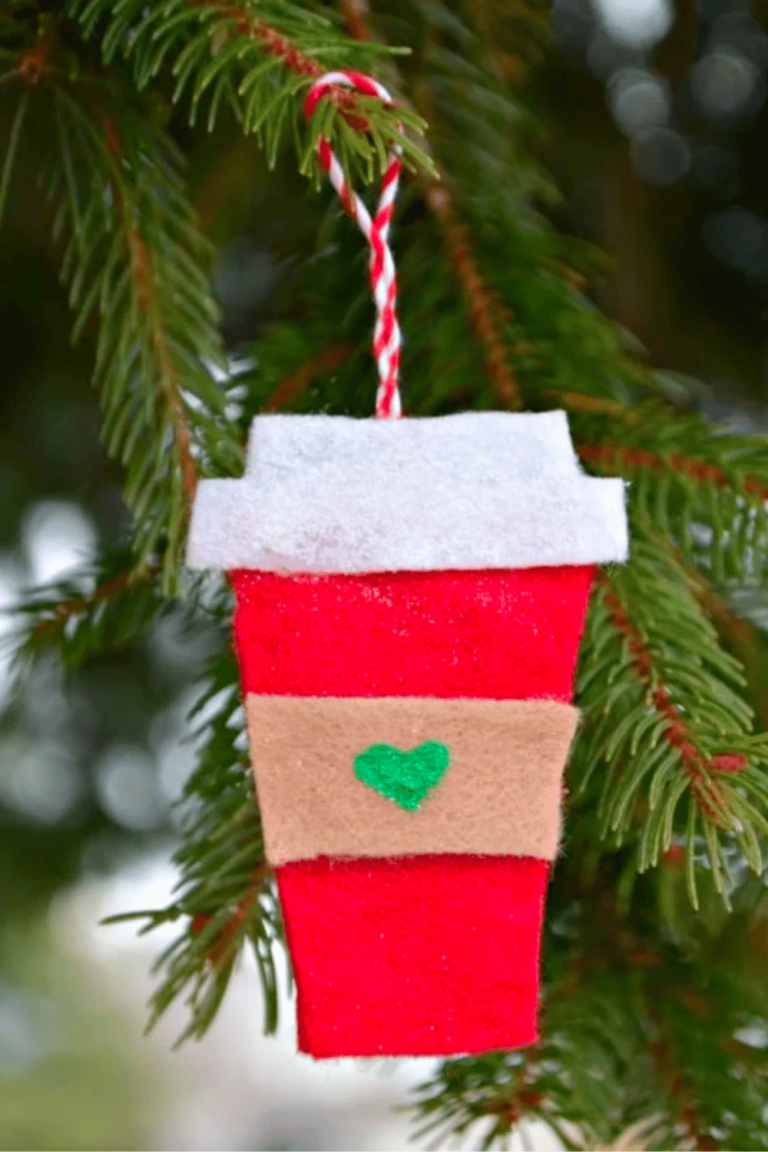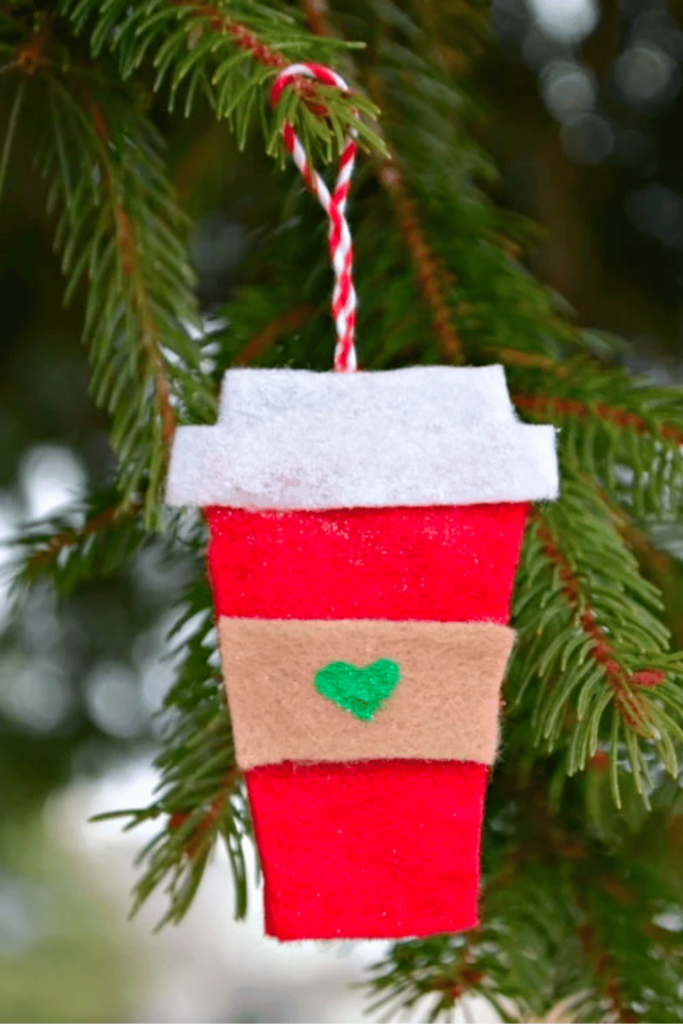 Glitter Painted Glass Ornaments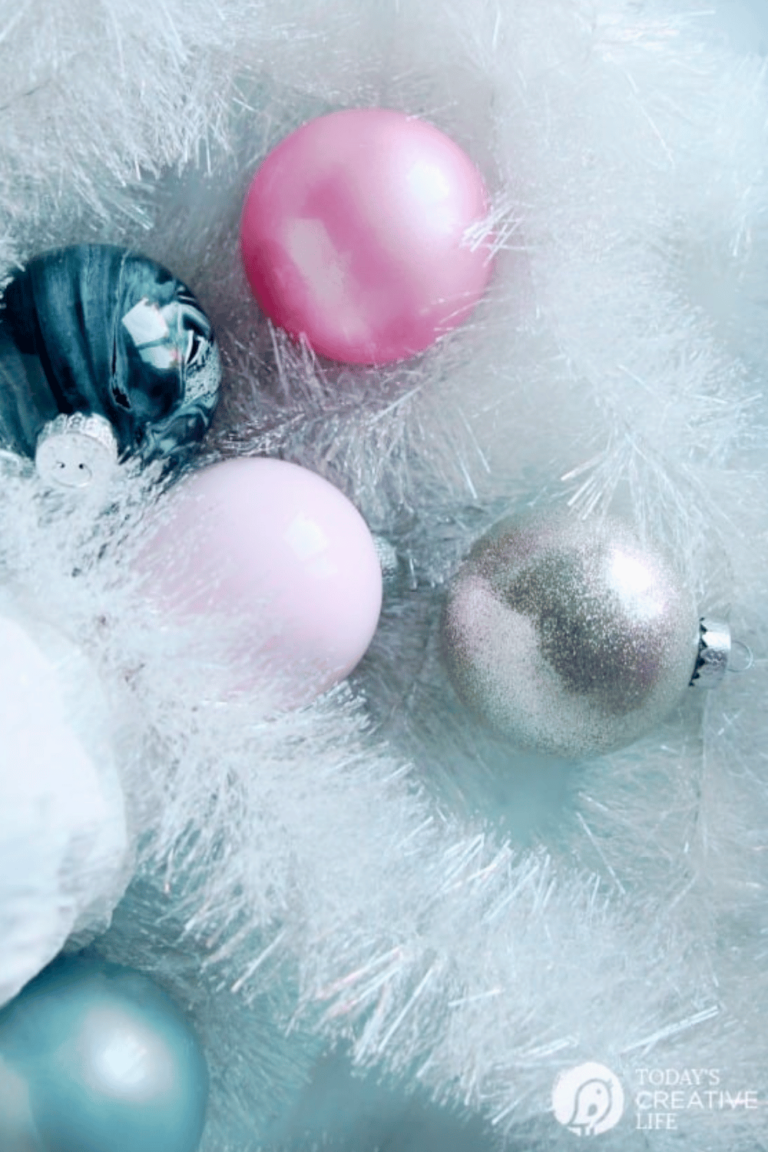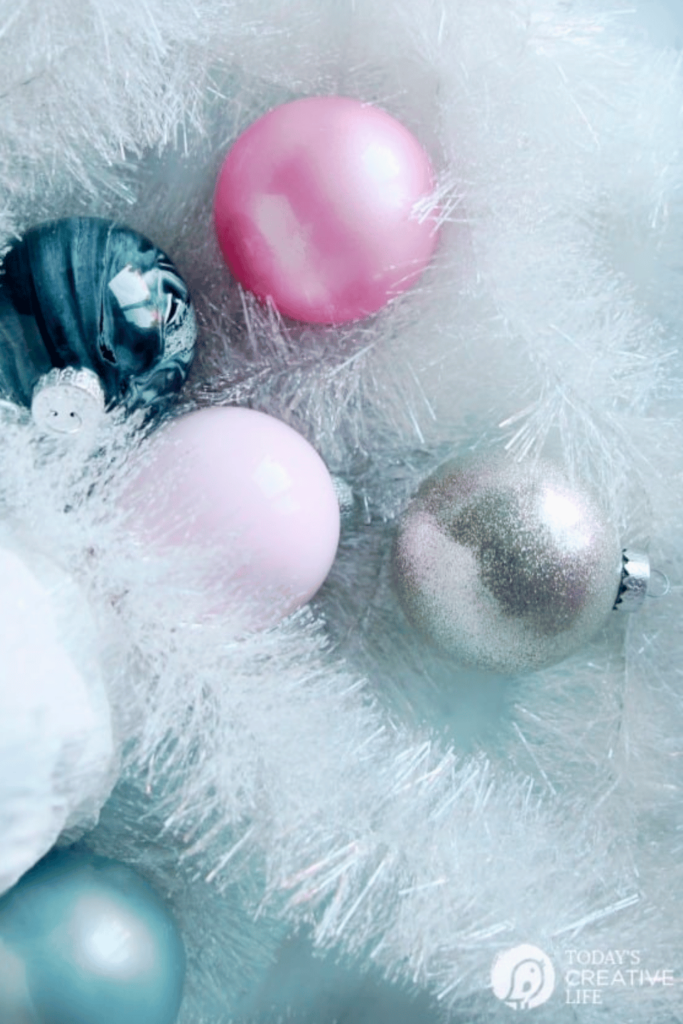 Glitter Unicorn Baubles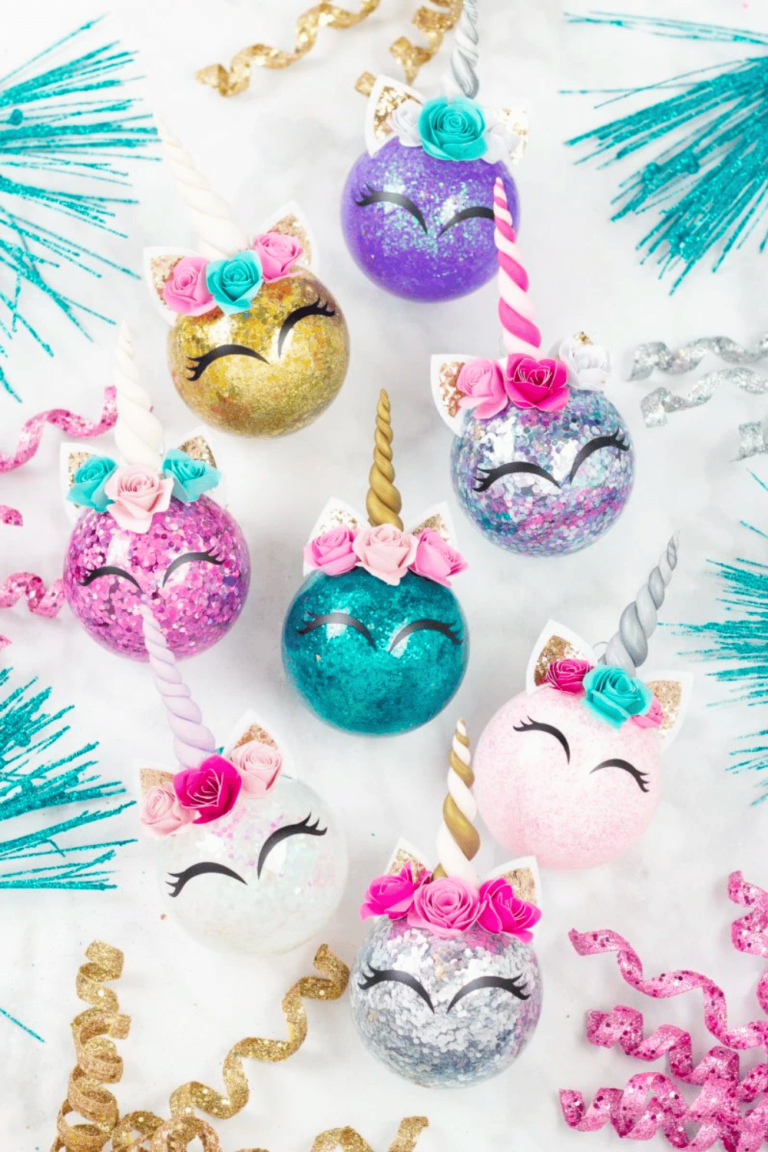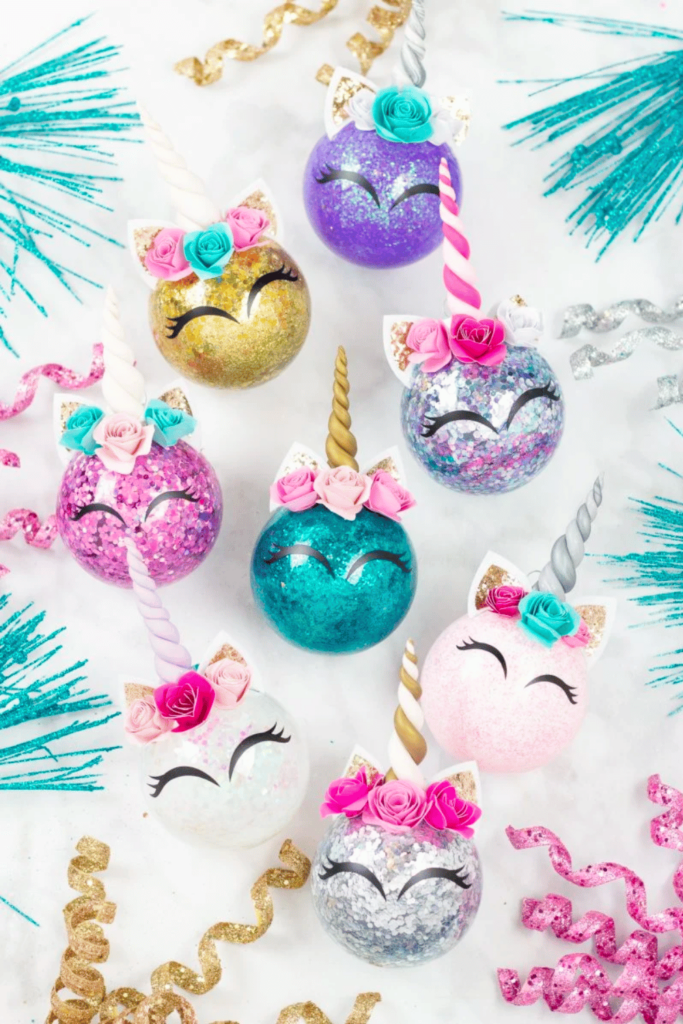 DIY Felt Gnomes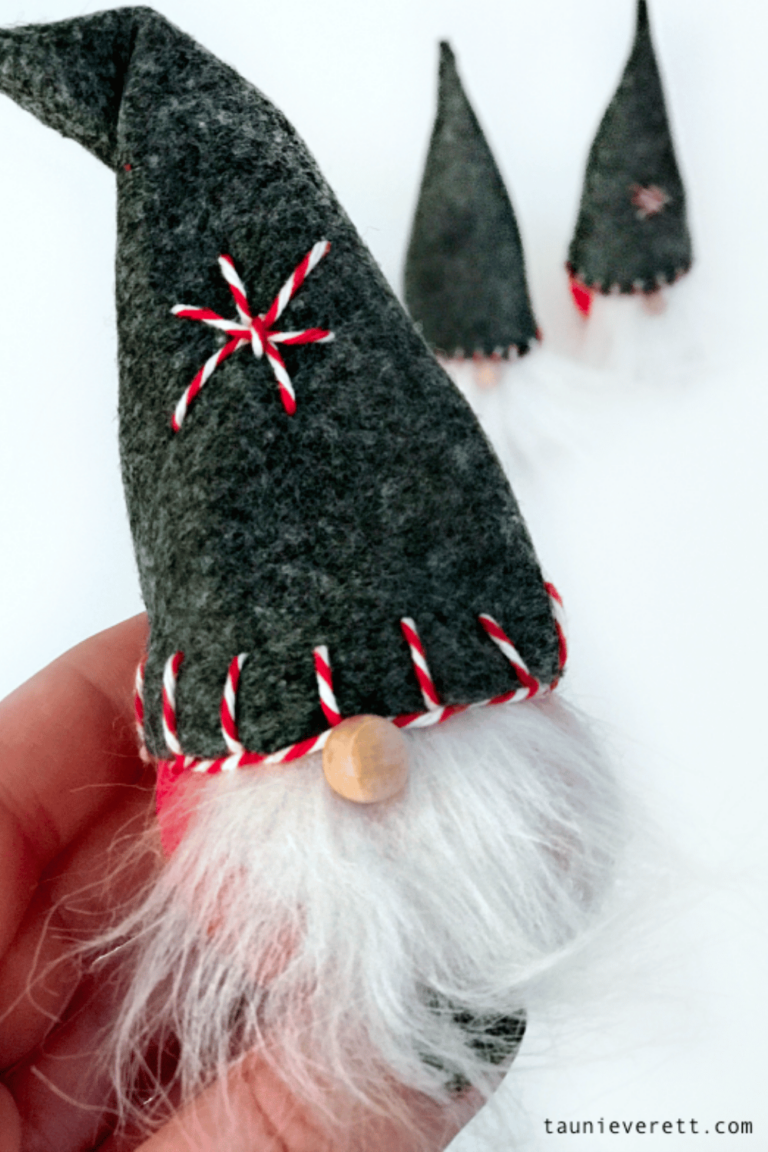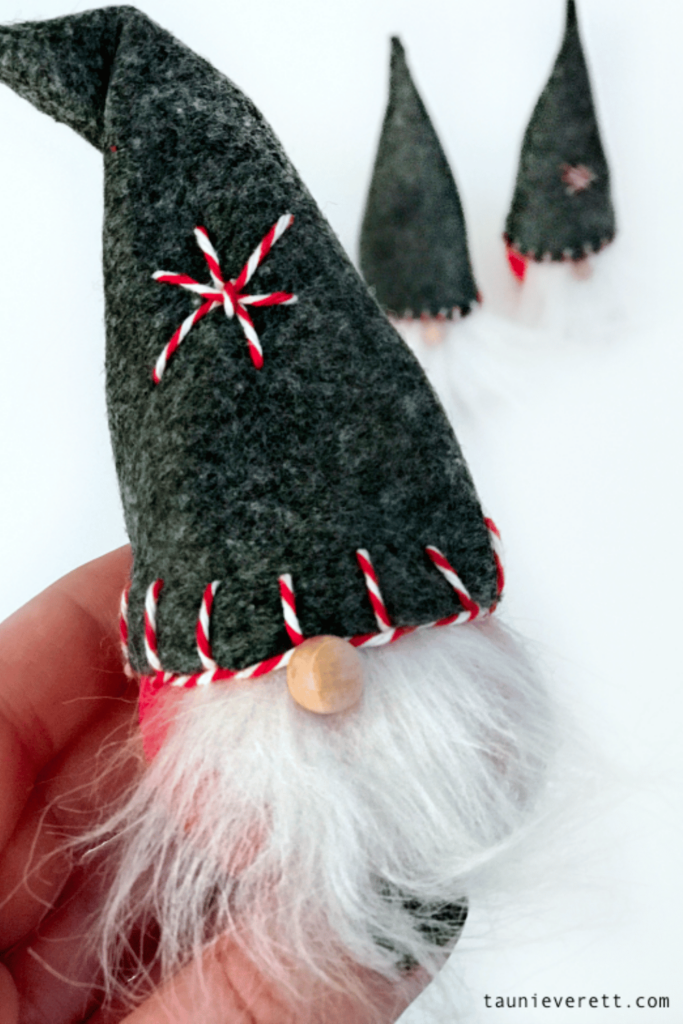 Hand Painted Woodland Ornaments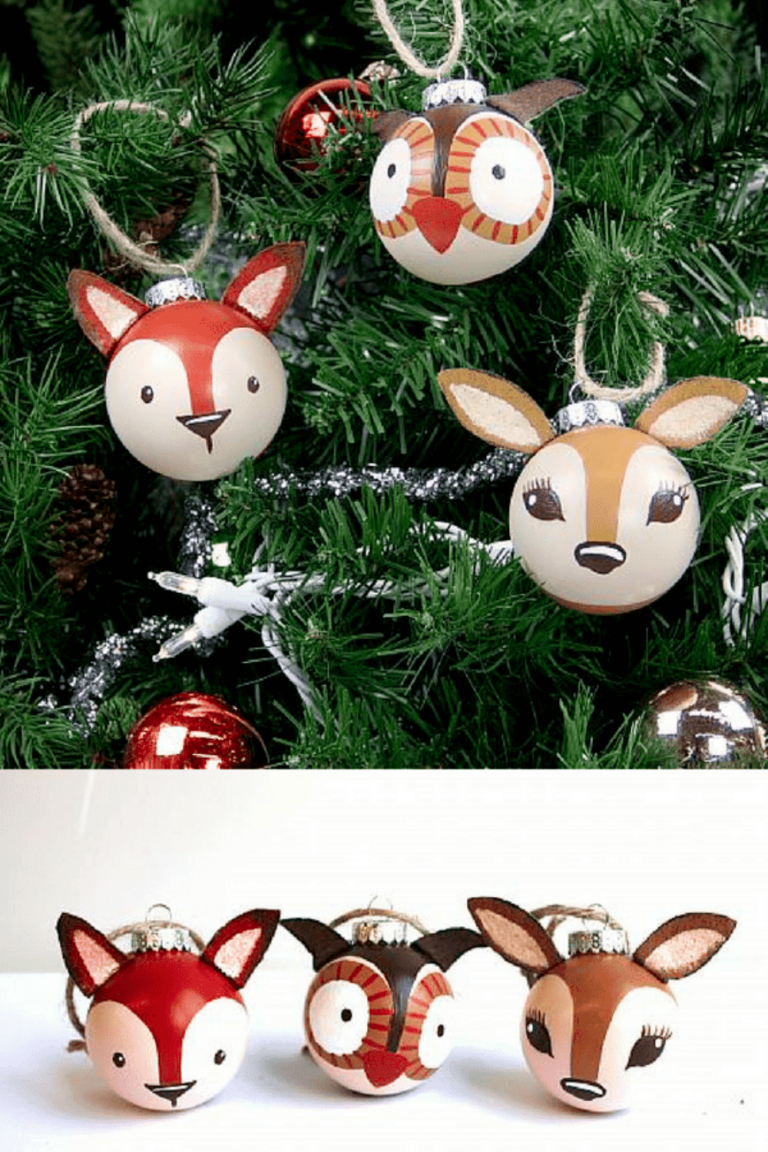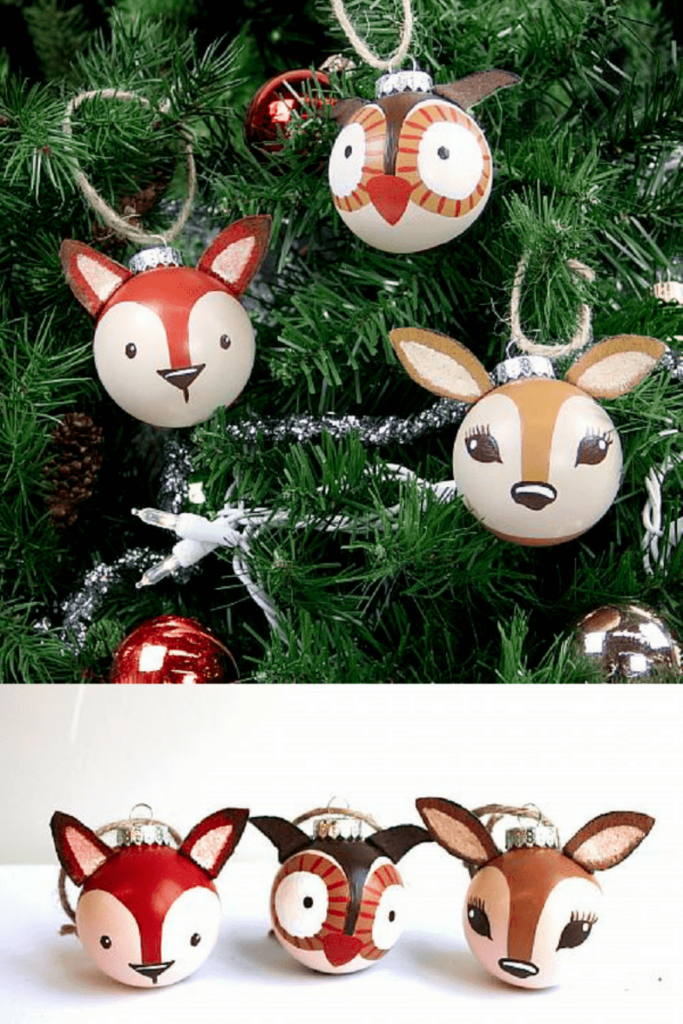 Iridescent Gold Splatter Painted Tree Ornaments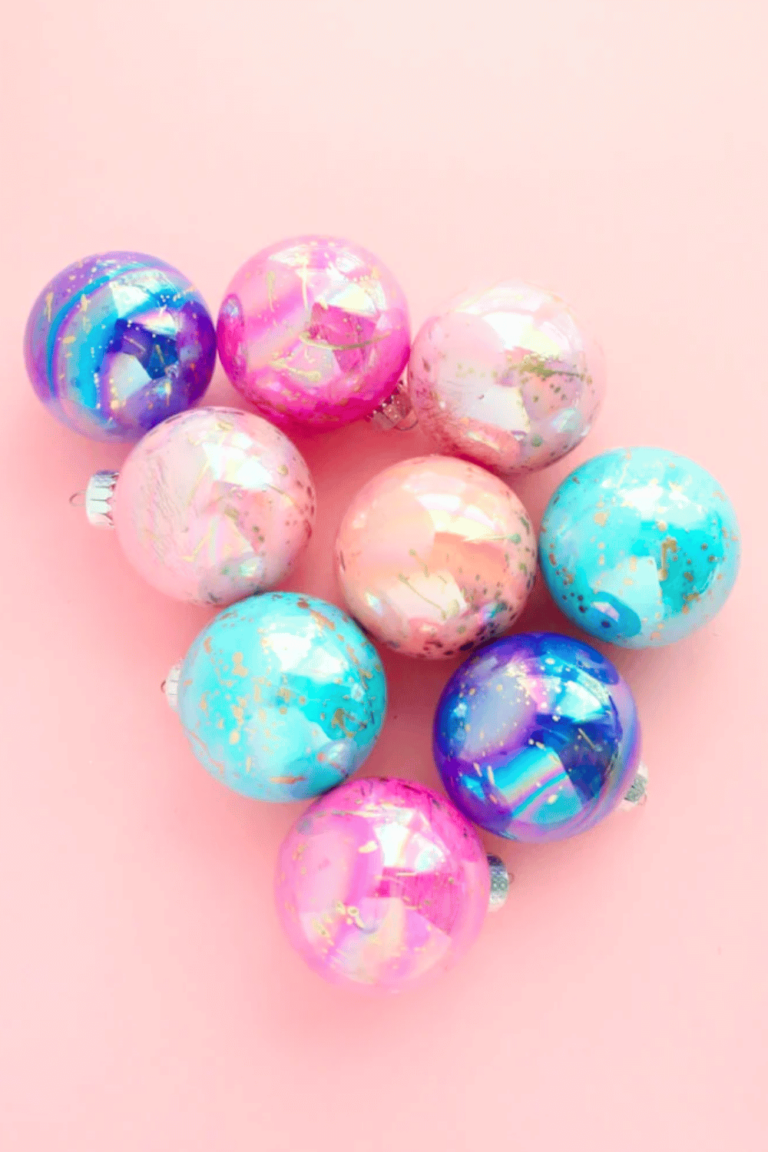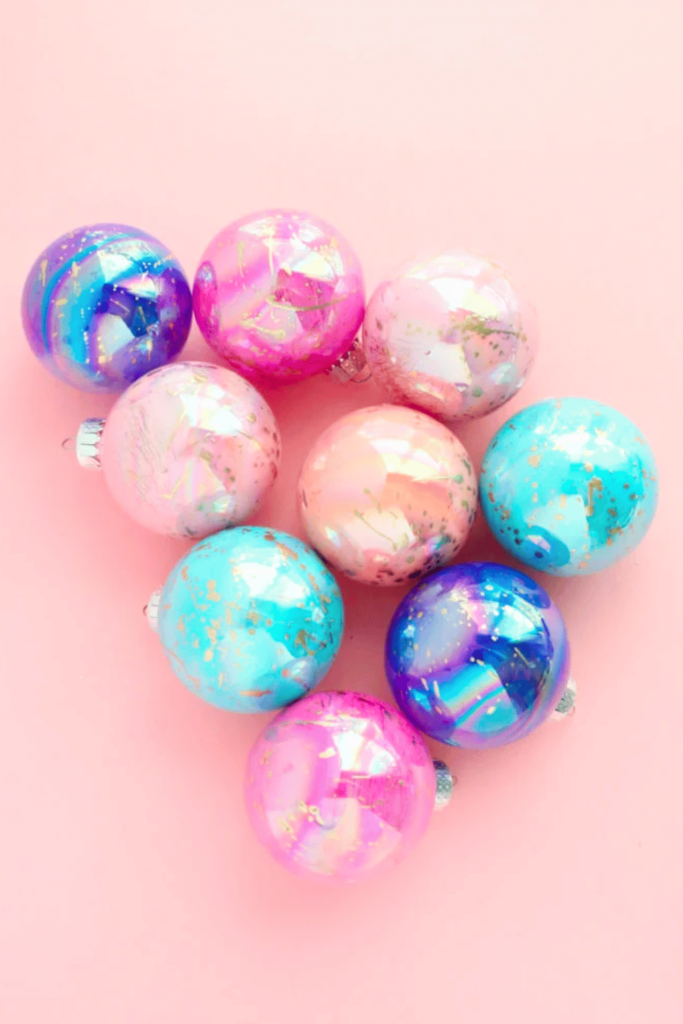 Whimsical Pearl Christmas Baubles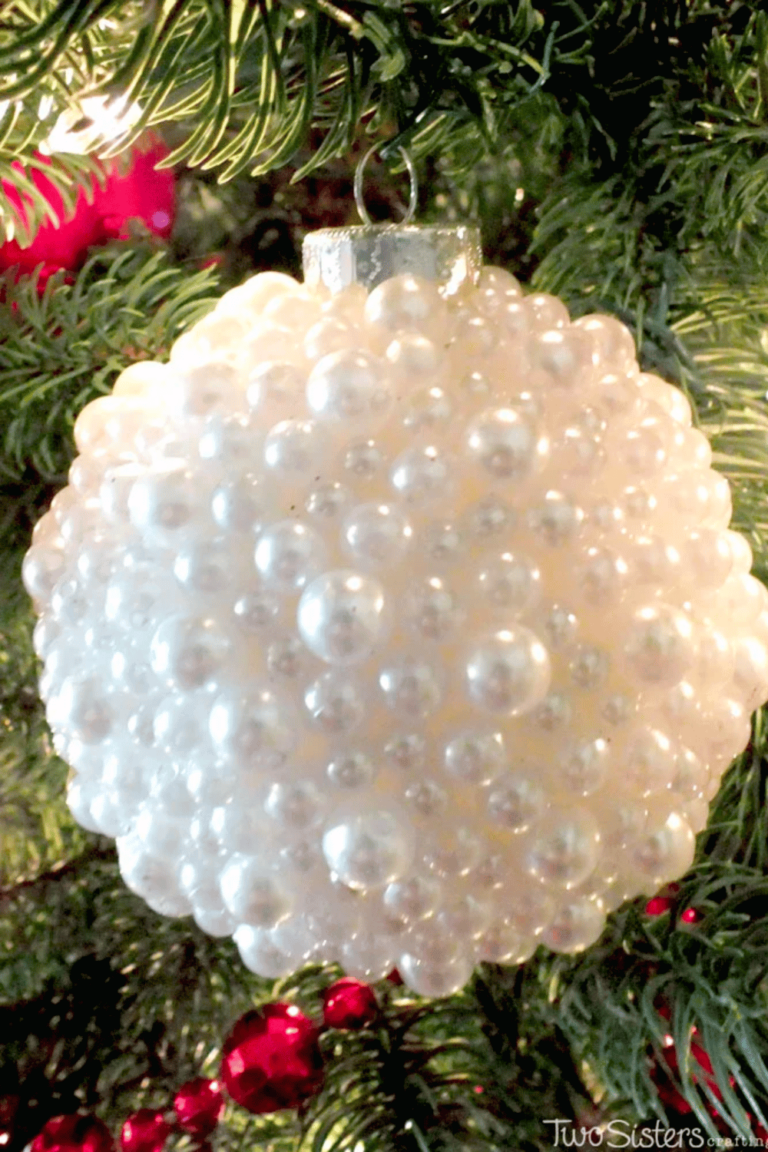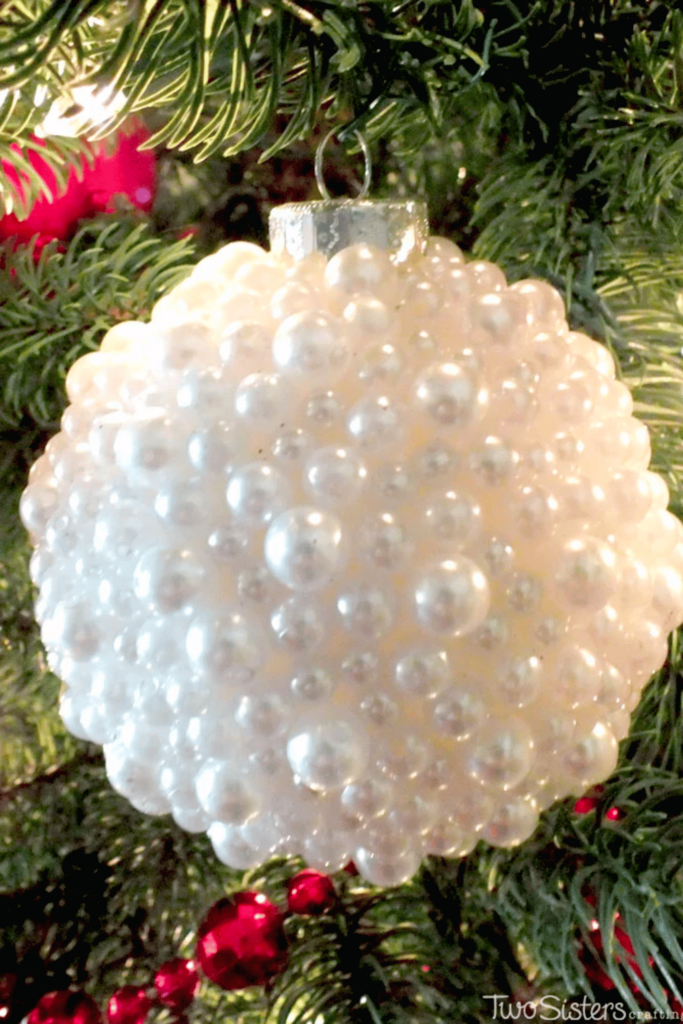 Glitter Filled Ornaments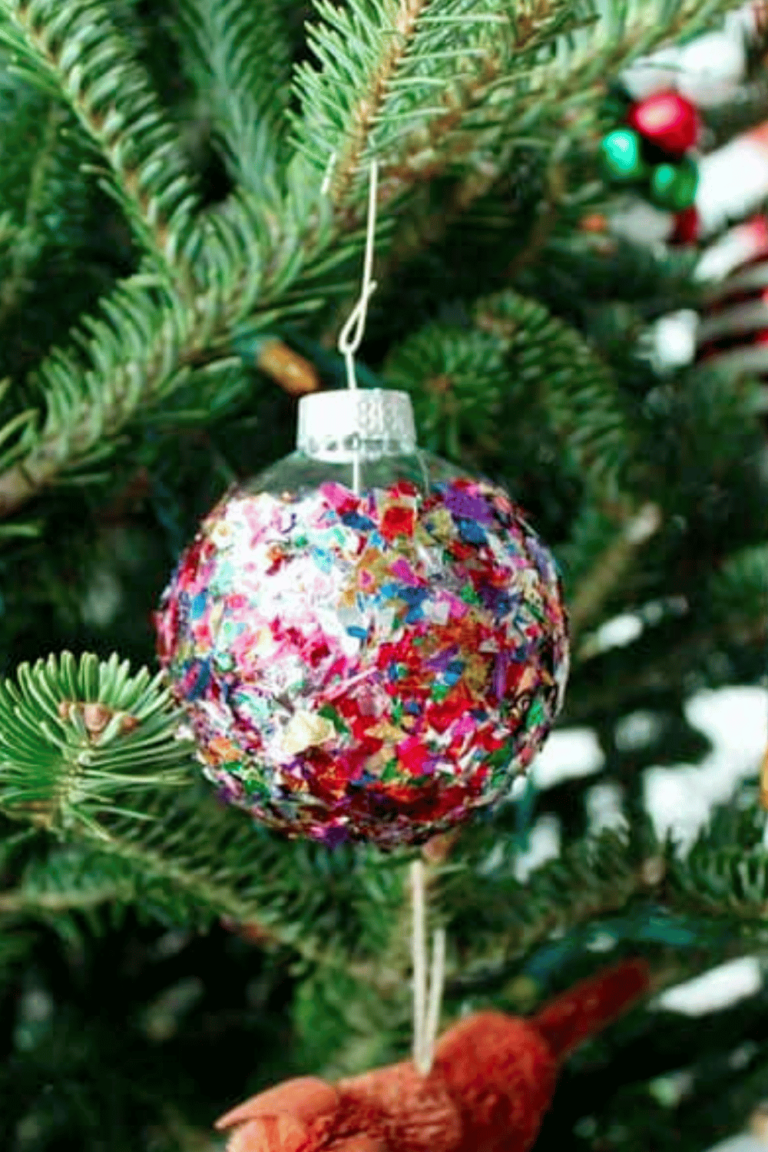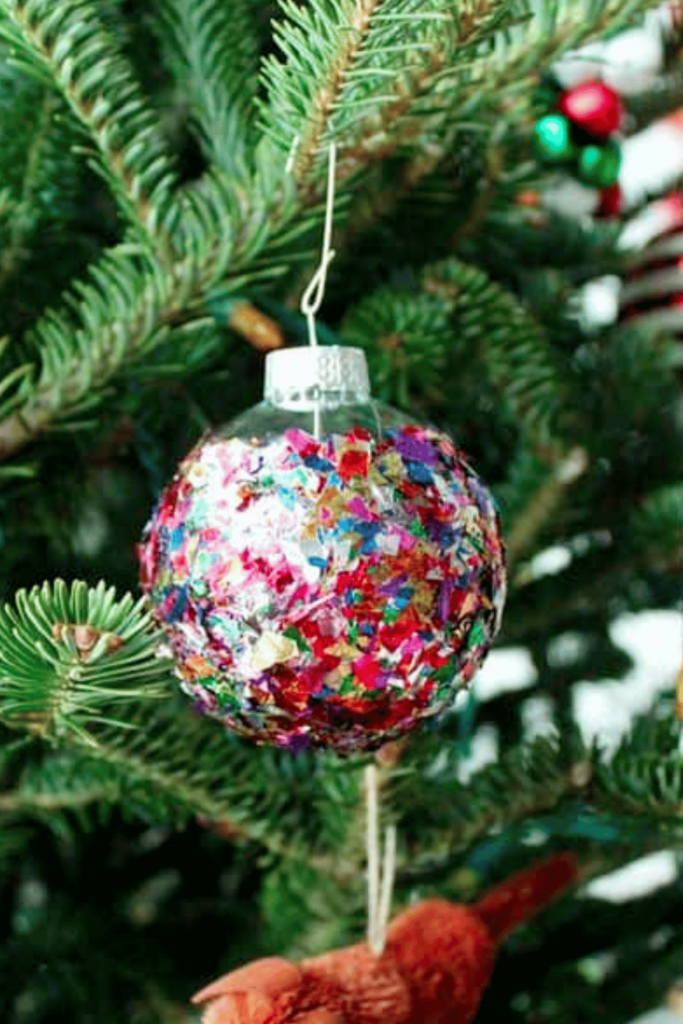 Snowman Ornament With Sock Hats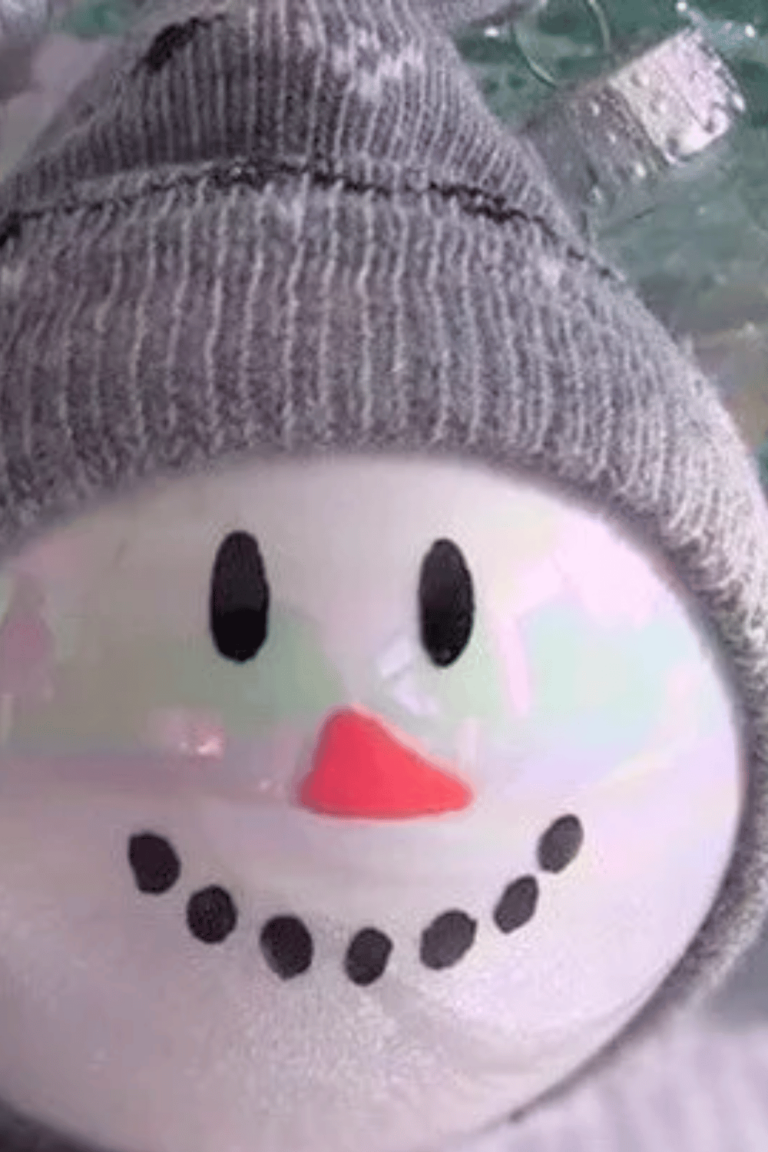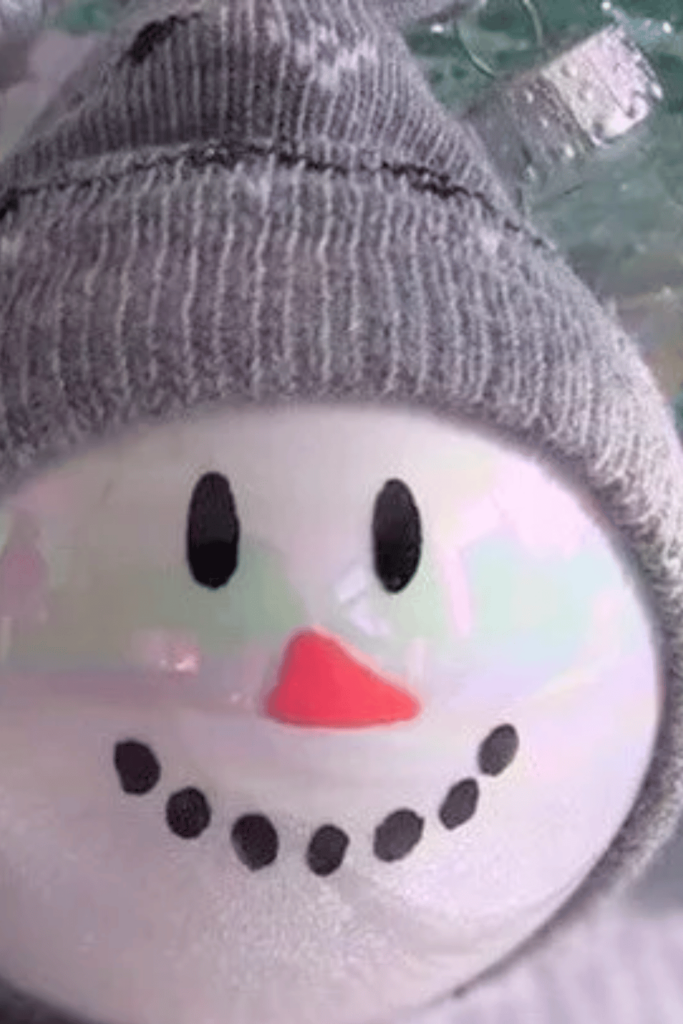 Glitter & Sequin Filled Baubles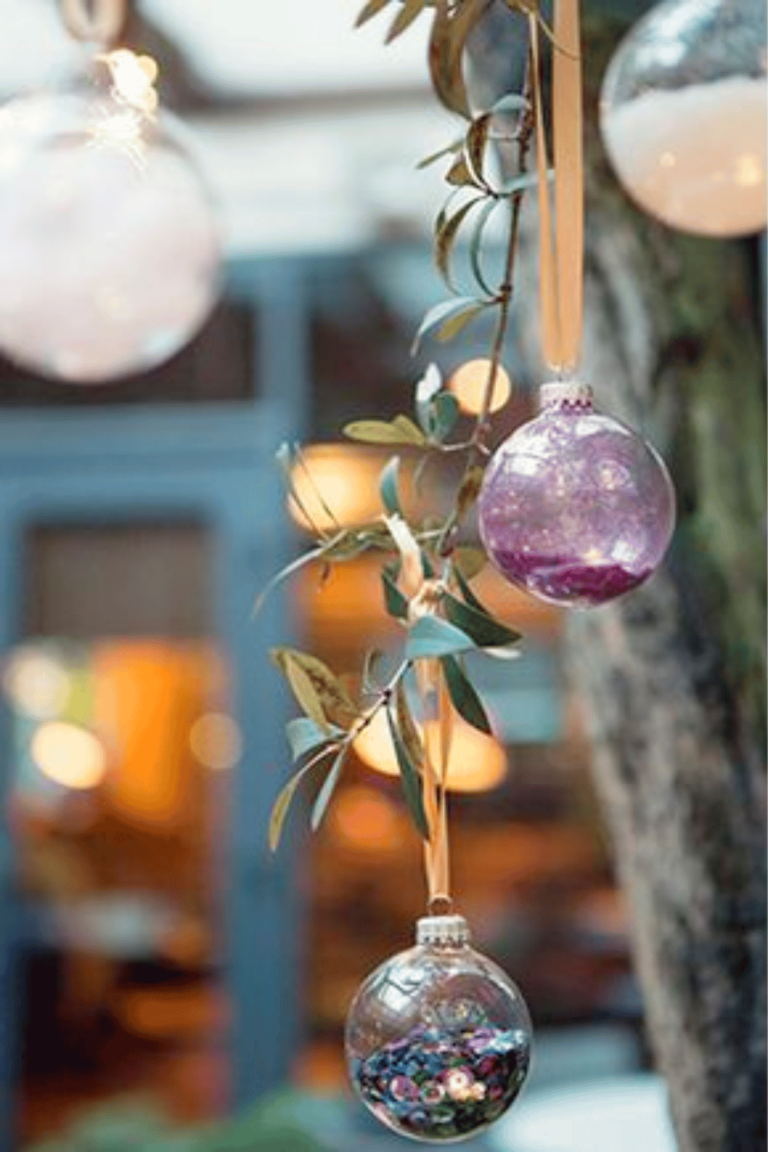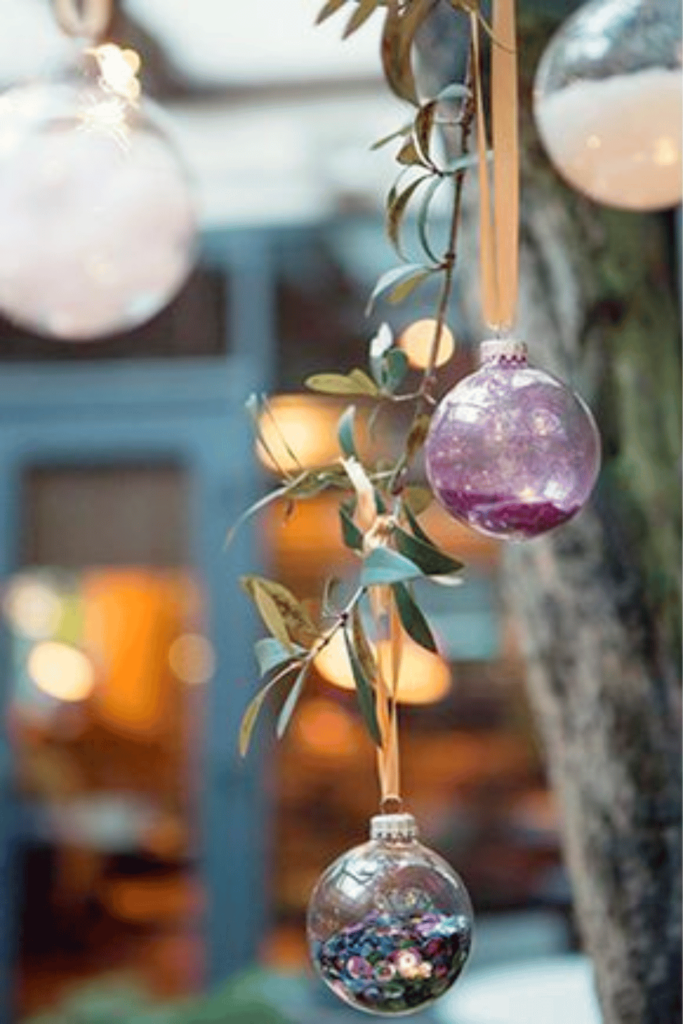 Rustic or Farmhouse-Inspired Christmas Crafts
These crafts effortlessly capture the charm of the countryside and bring a cozy, rustic touch to your Christmas celebrations!
From painted mason jars to wooden signs and burlap bows to wooden signs, these projects will help you create a warm and inviting holiday atmosphere that perfectly embodies the spirit of the season.
Mini Mason Jar Hanging Tree Ornaments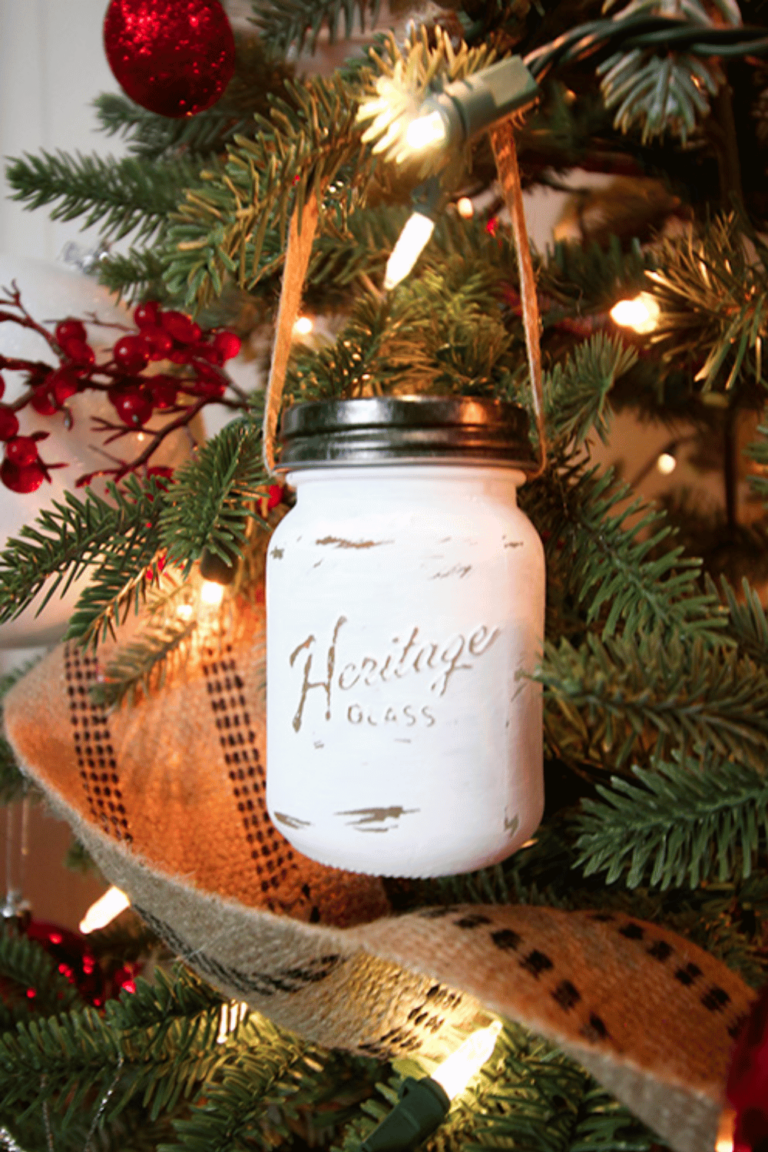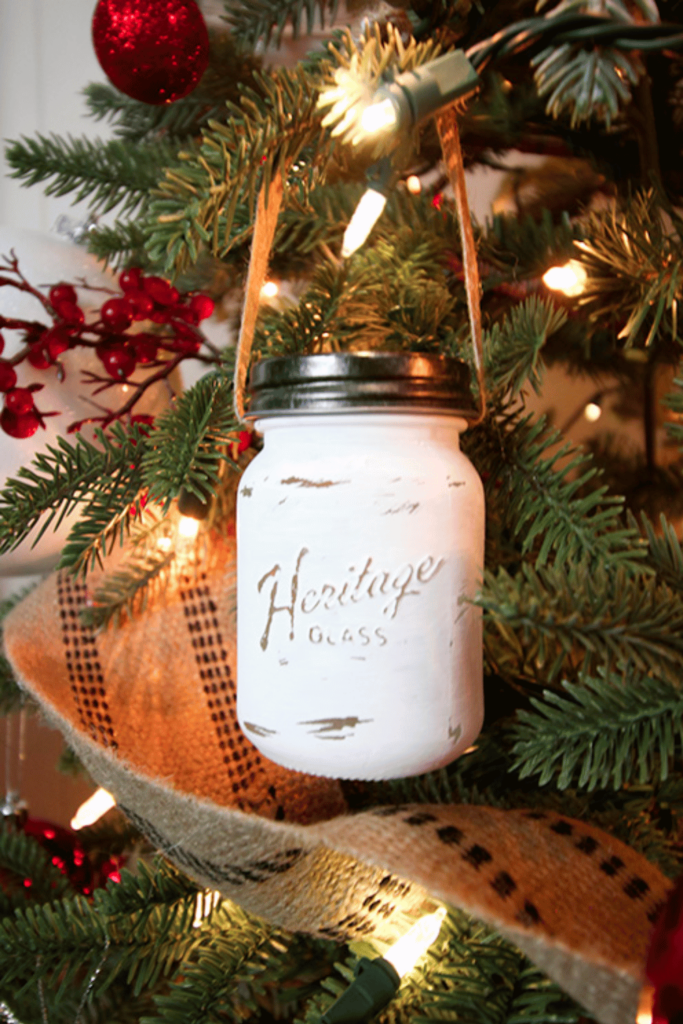 Quick and Stunning Christmas Swag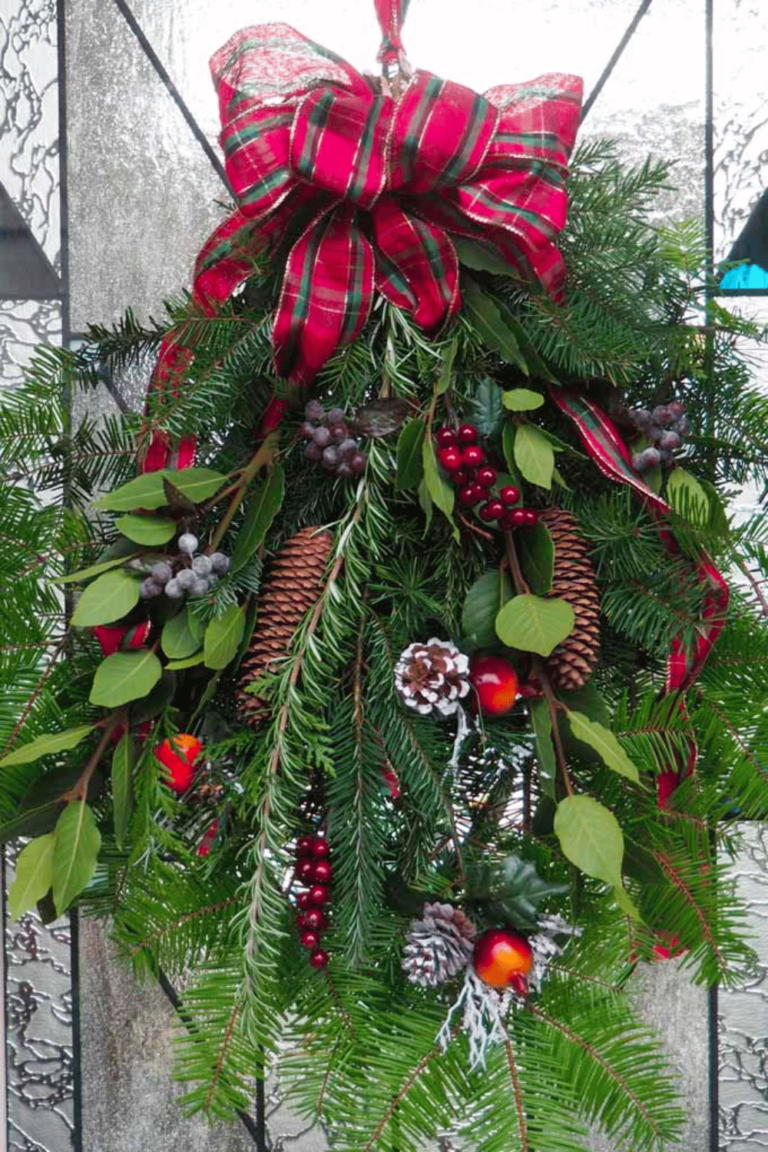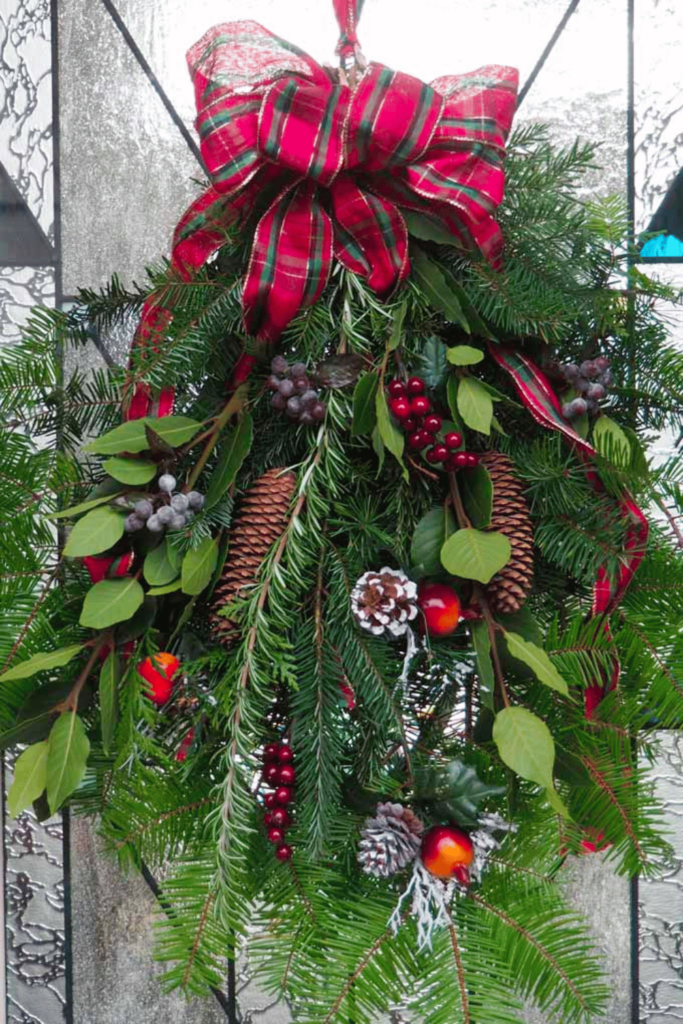 DIY Burlap Bow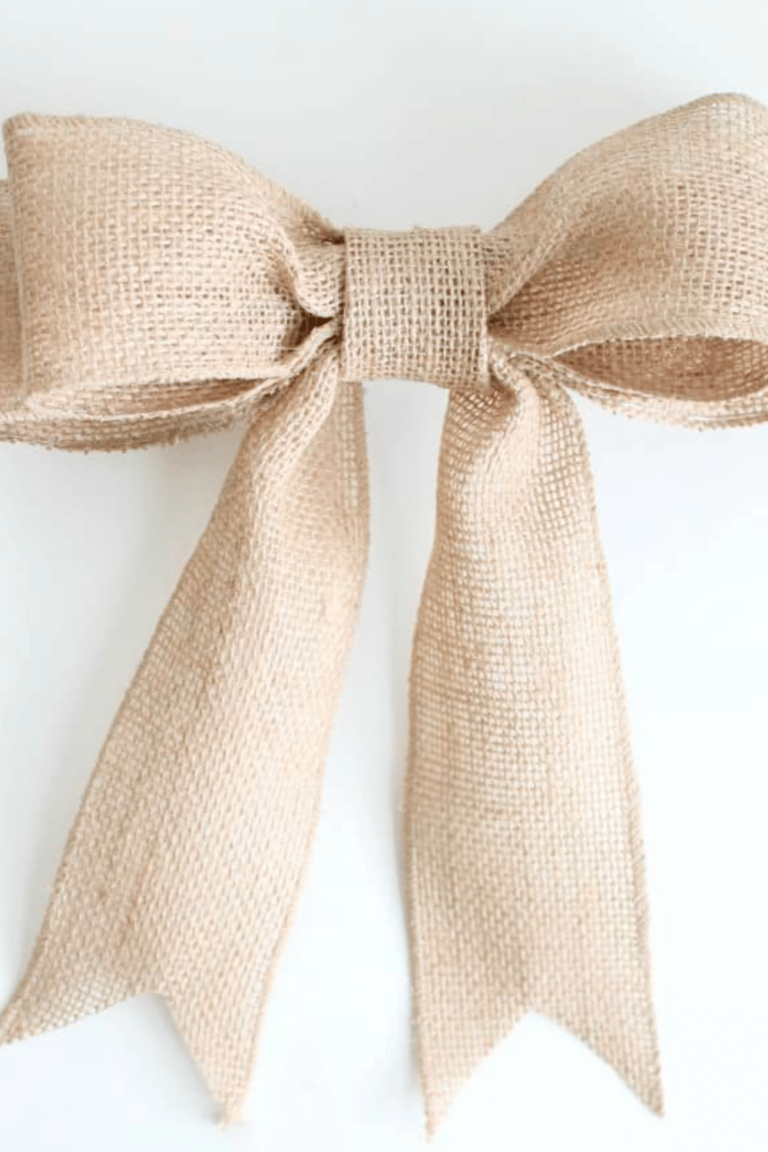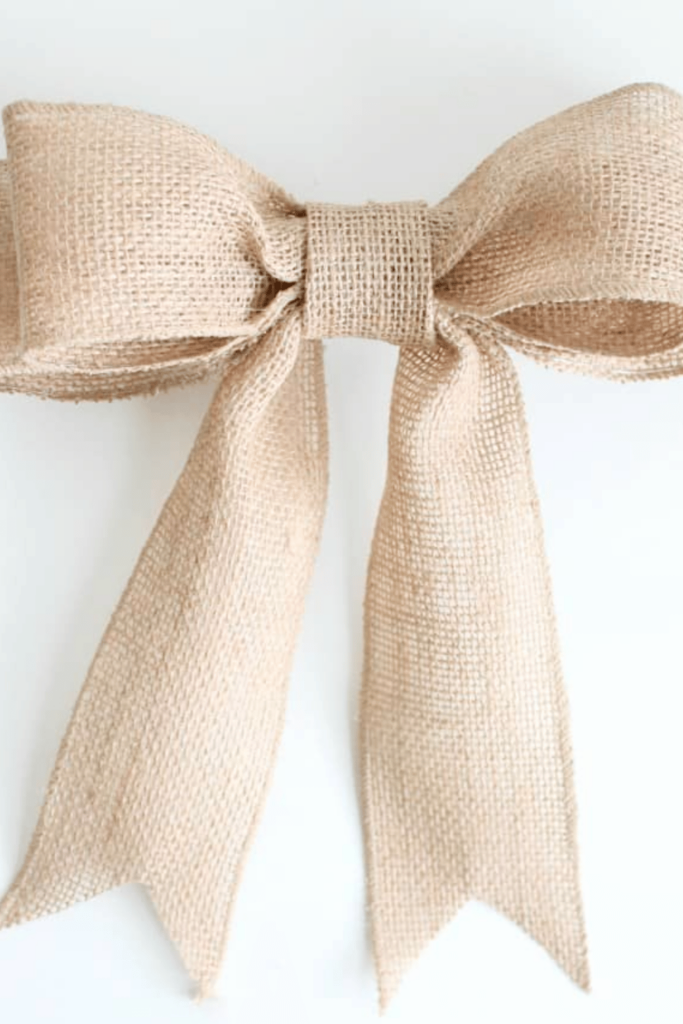 Farmhouse Twine Baubles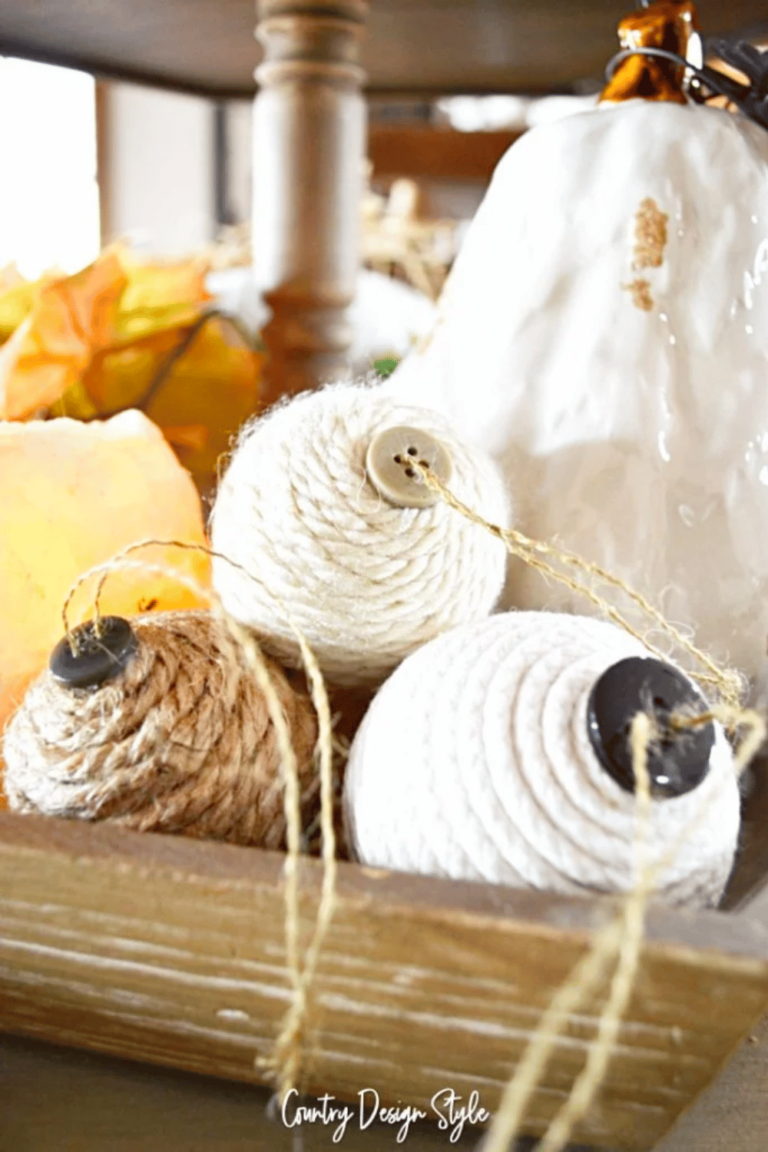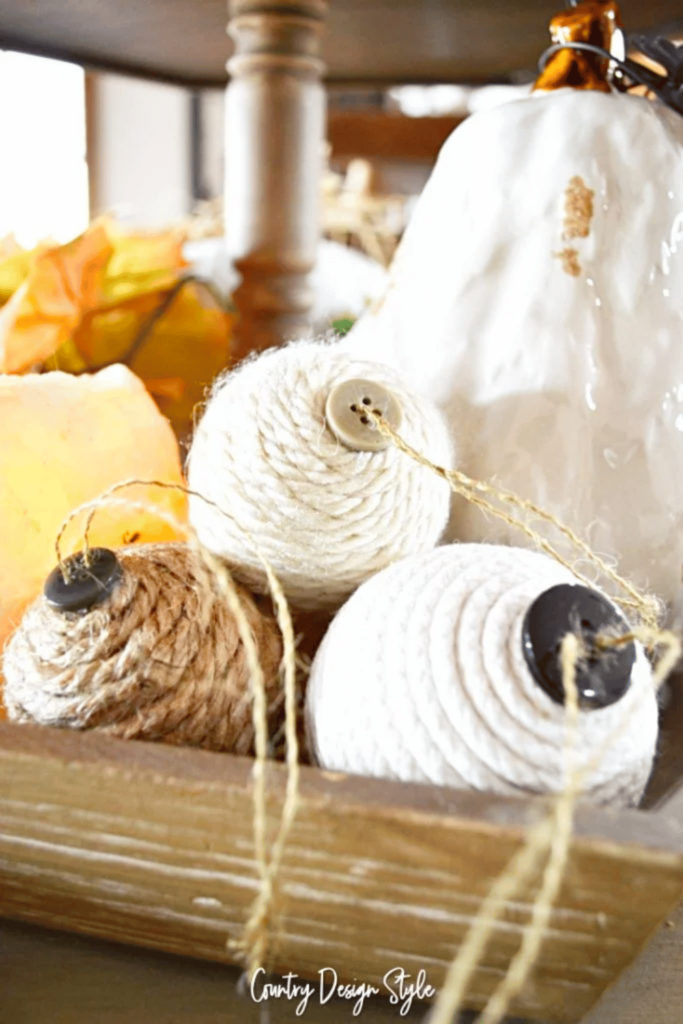 Small Flocked Tree In A DIY Mason Jar Pot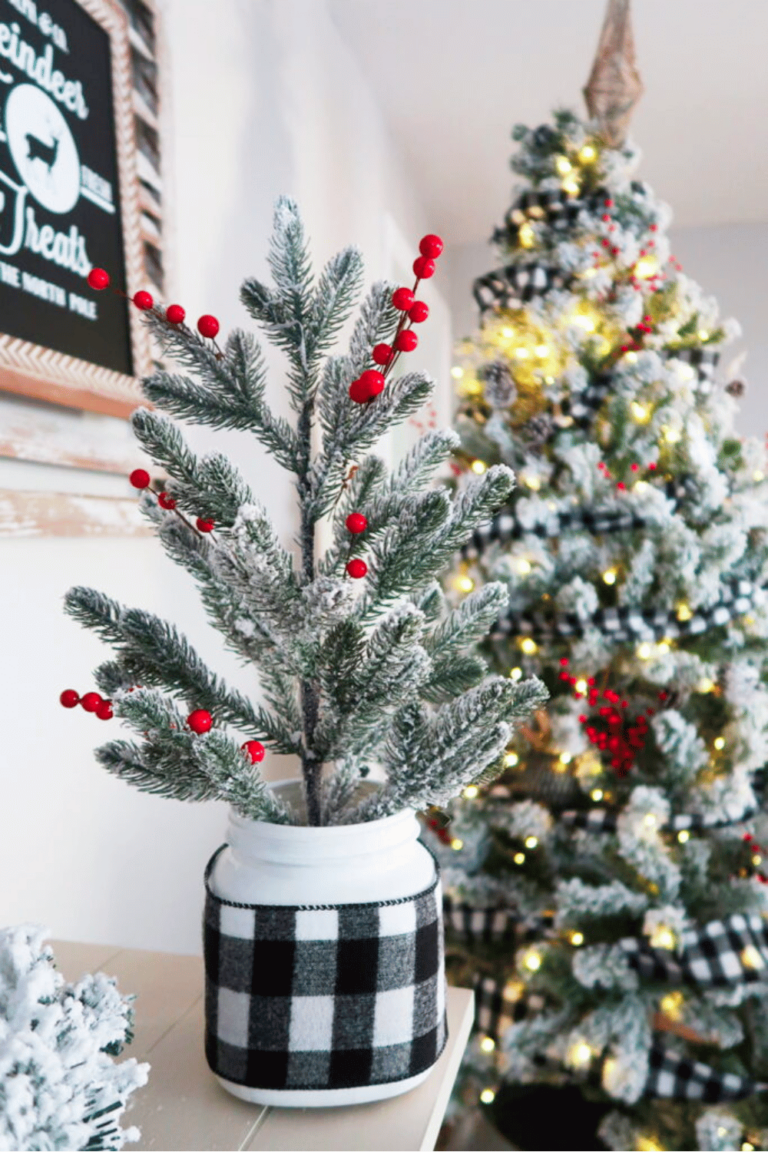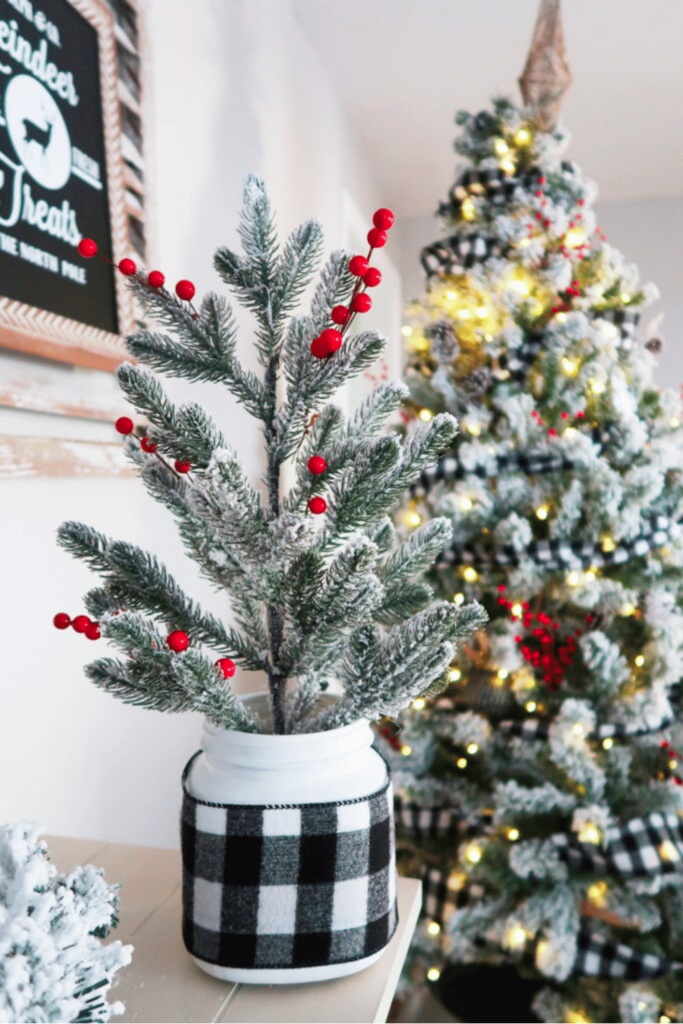 Cinnamon Stick Candle Ornaments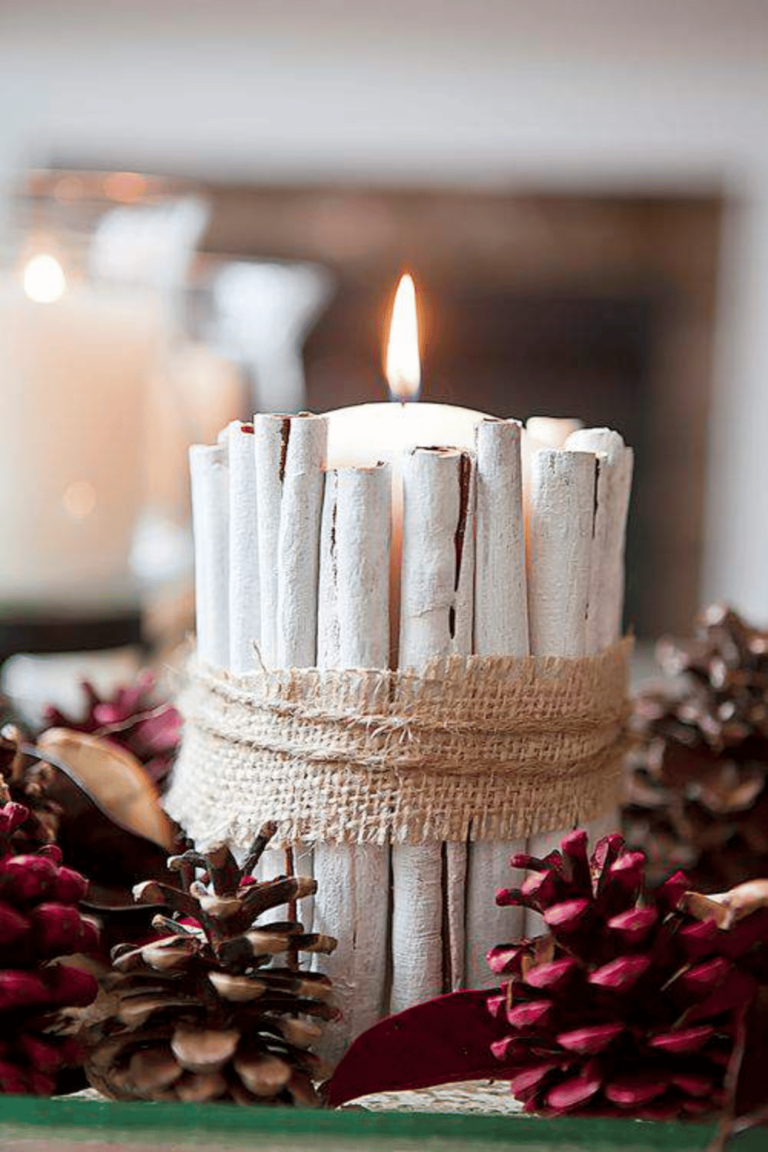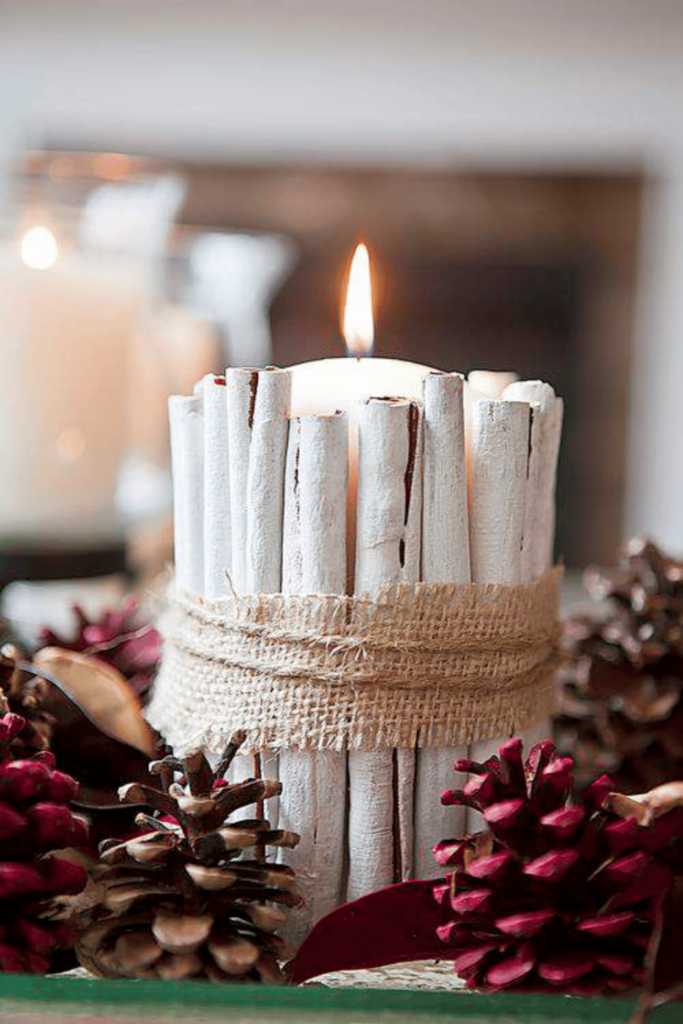 Winter Woodland Sign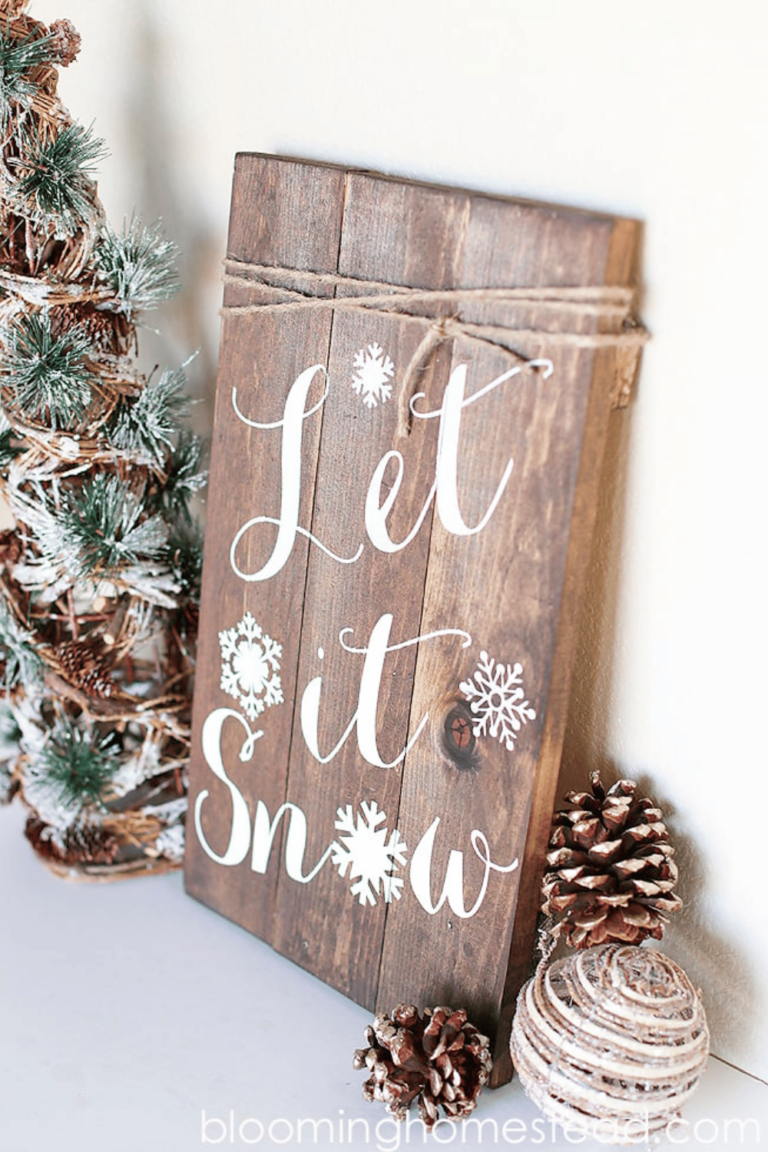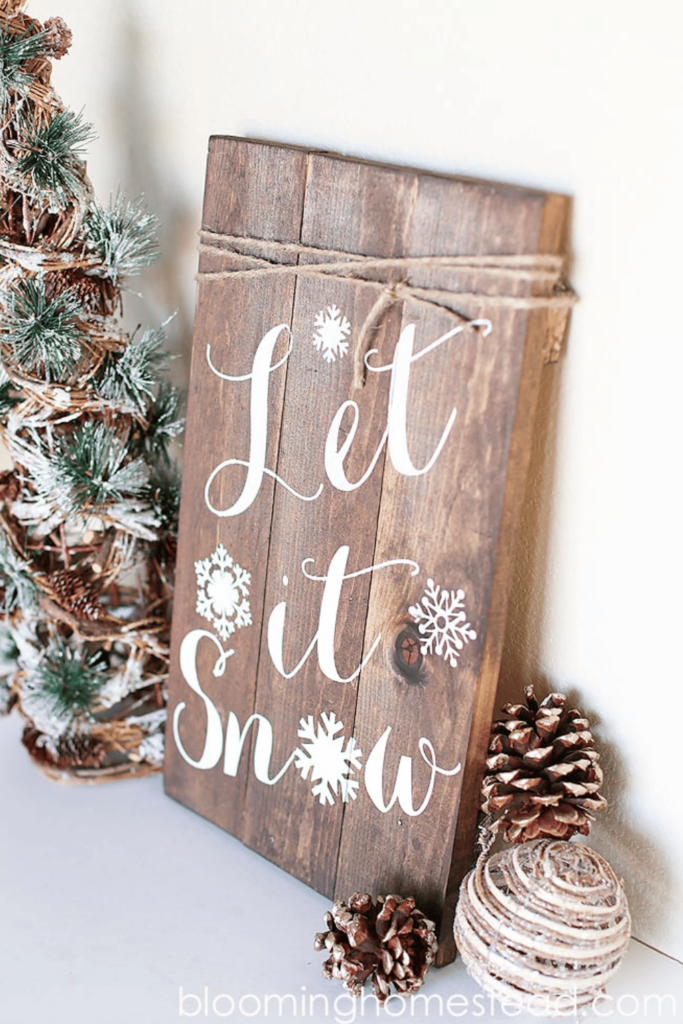 Farmhouse Style Gnome Tree Decorations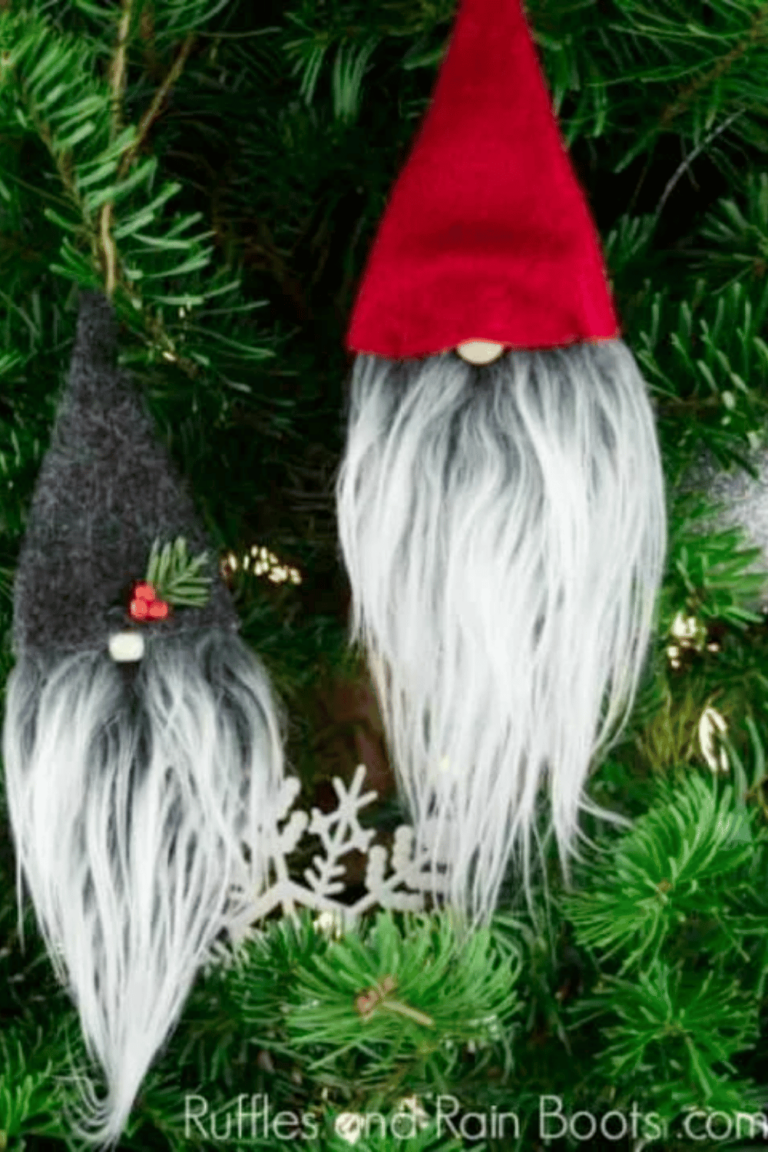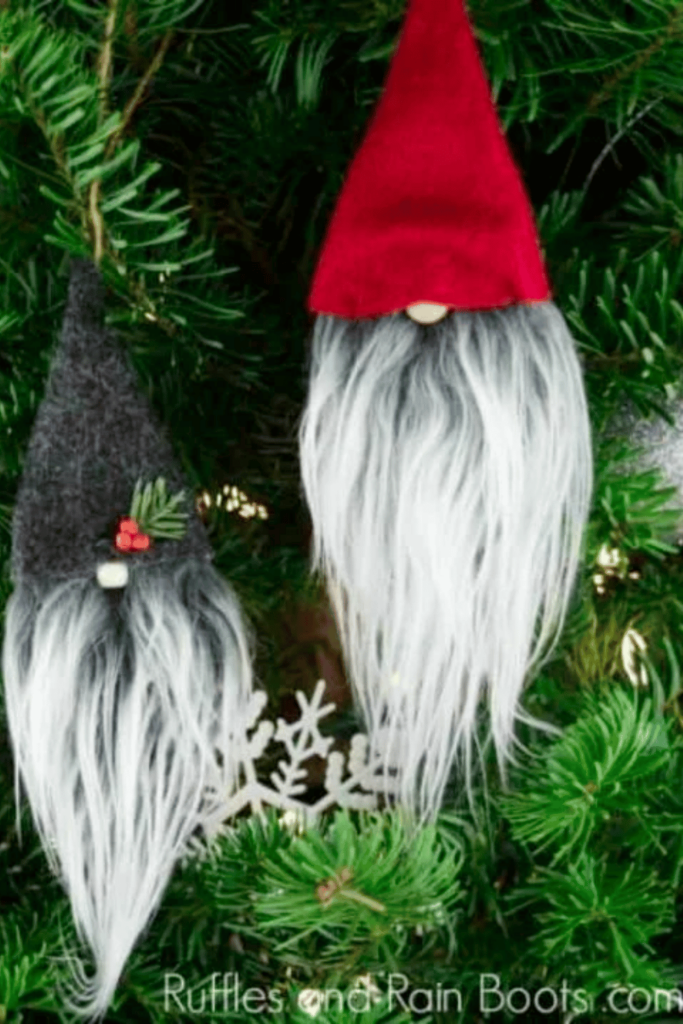 DIY Christmas Advent Calendar Clock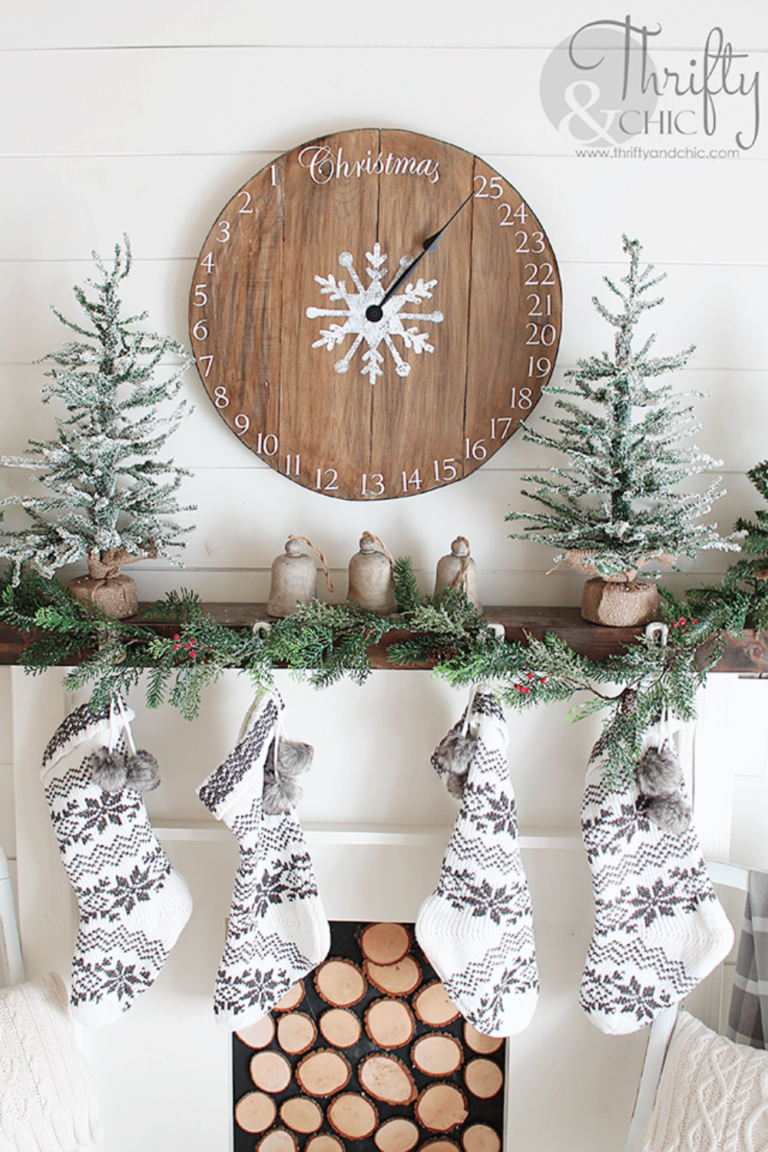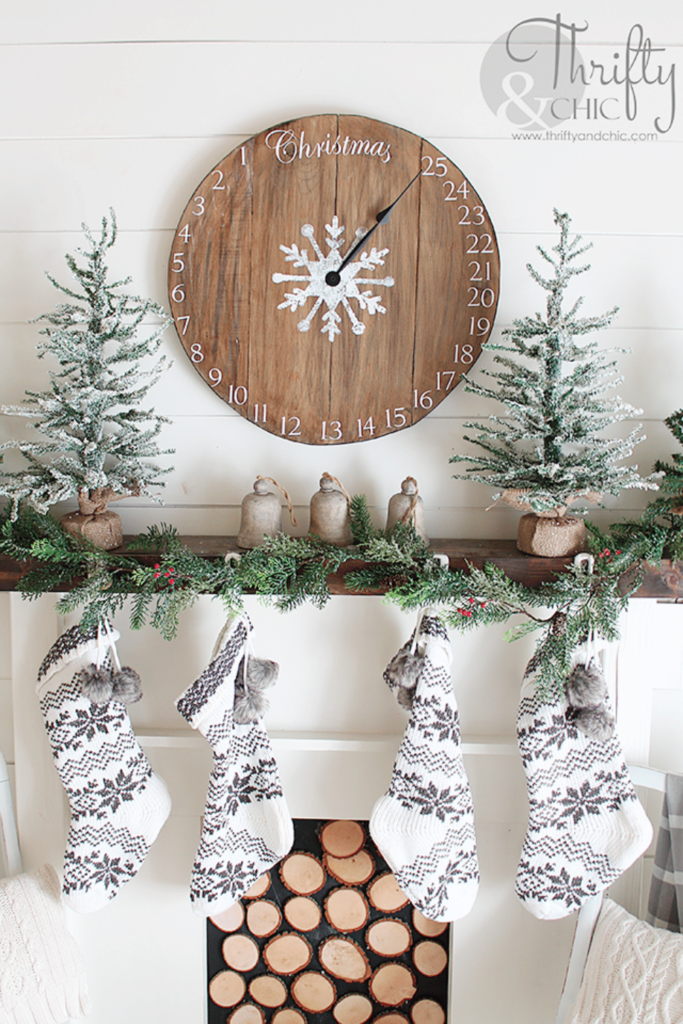 Rustic Christmas Sign WIth Reclaimed Wood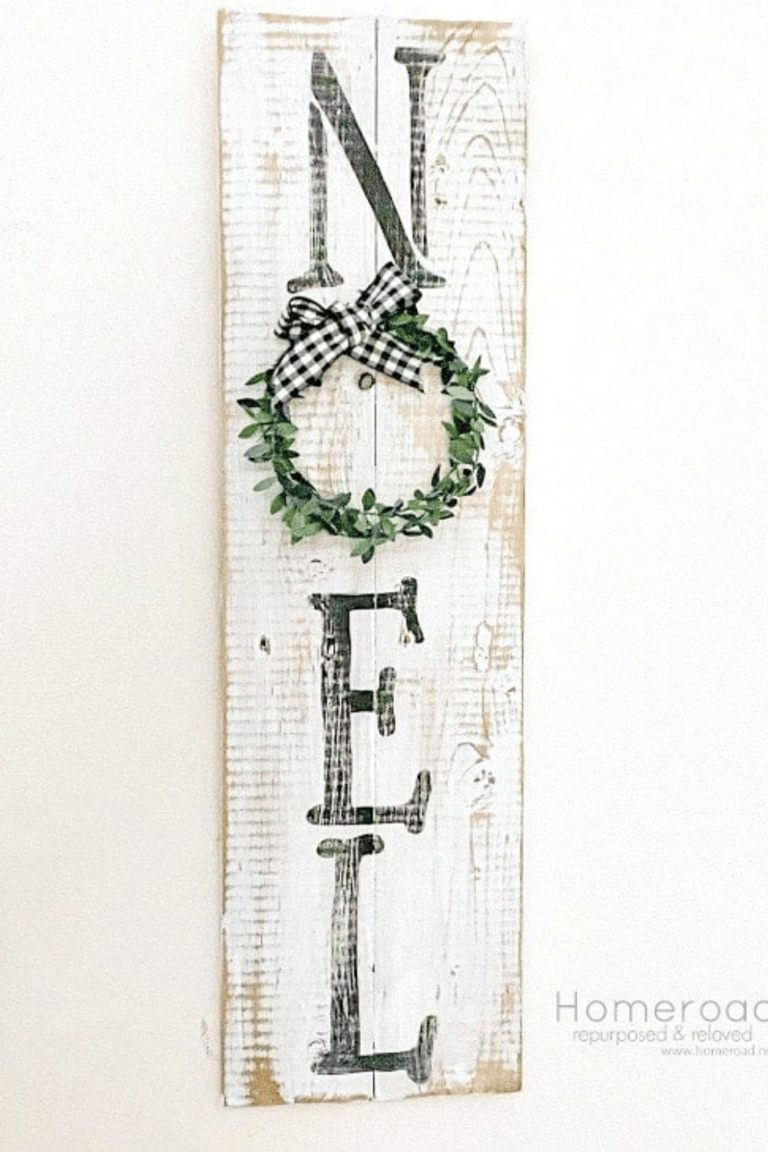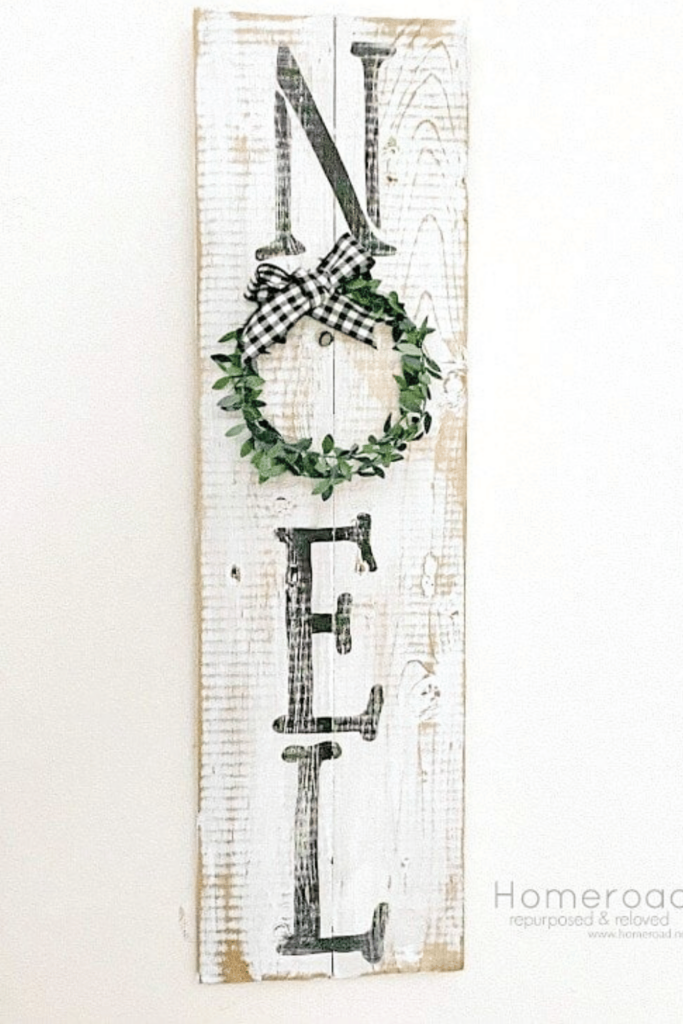 Simple and Last-Minute Christmas Crafts
Feeling the holiday rush? No worries!
Our selection of simple and last-minute Christmas crafts is here to save the day.
These quick and easy projects require minimal supplies you can find at your local dollar store and can be done in a jiffy.
From chic paper baubles to cinnamon scented tree decorations, these ideas will help you add a special touch to your celebrations even when time is short…
Friendly Christmas Crafts: Short on time or working with a tight budget? Don't worry, we've got you covered! Our collection of quick and budget-friendly Christmas crafts will help you create stunning decorations without breaking the bank or spending hours on end. Get ready to deck the halls with style and savings!
Cinnamon & Applesauce Ornaments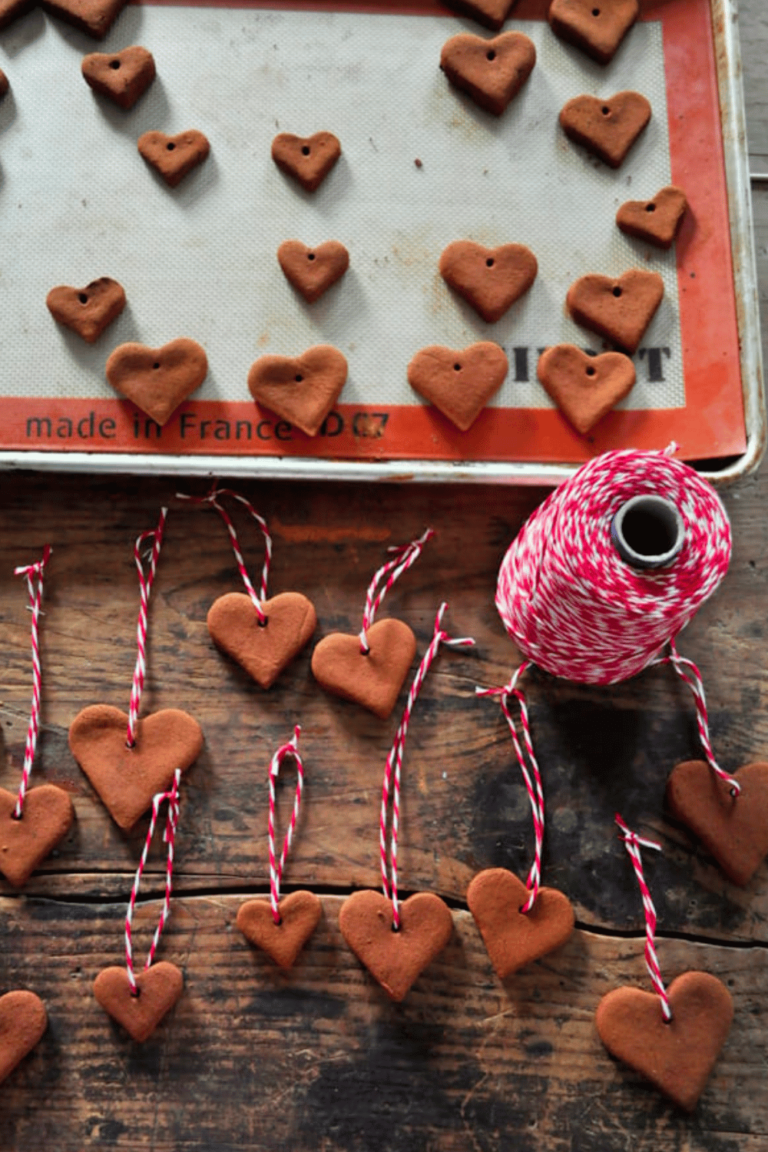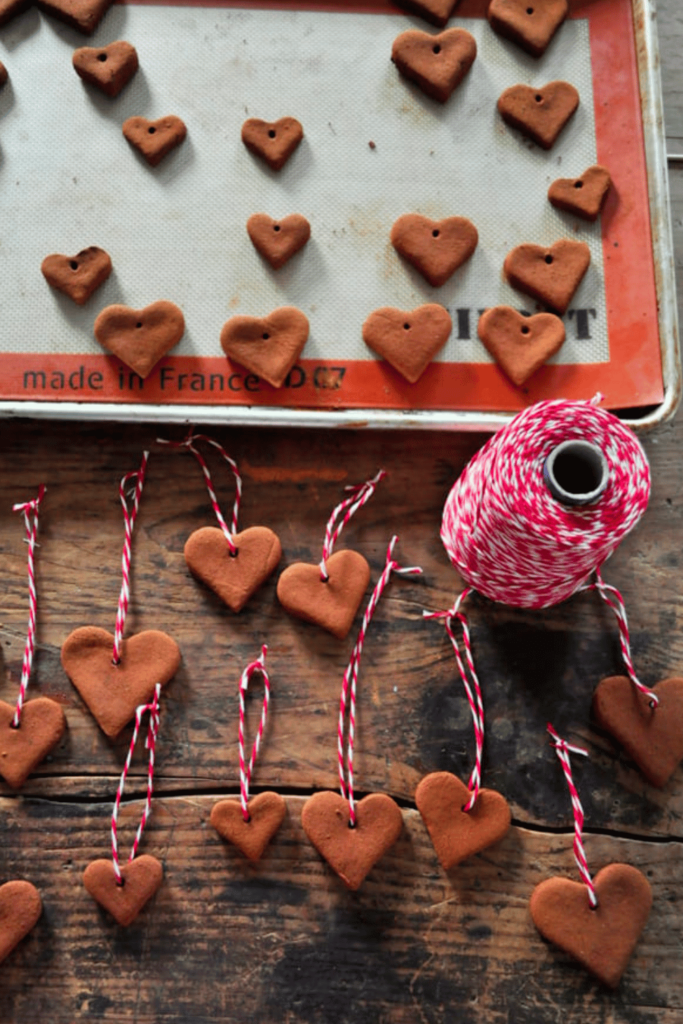 Frosty Pine Cones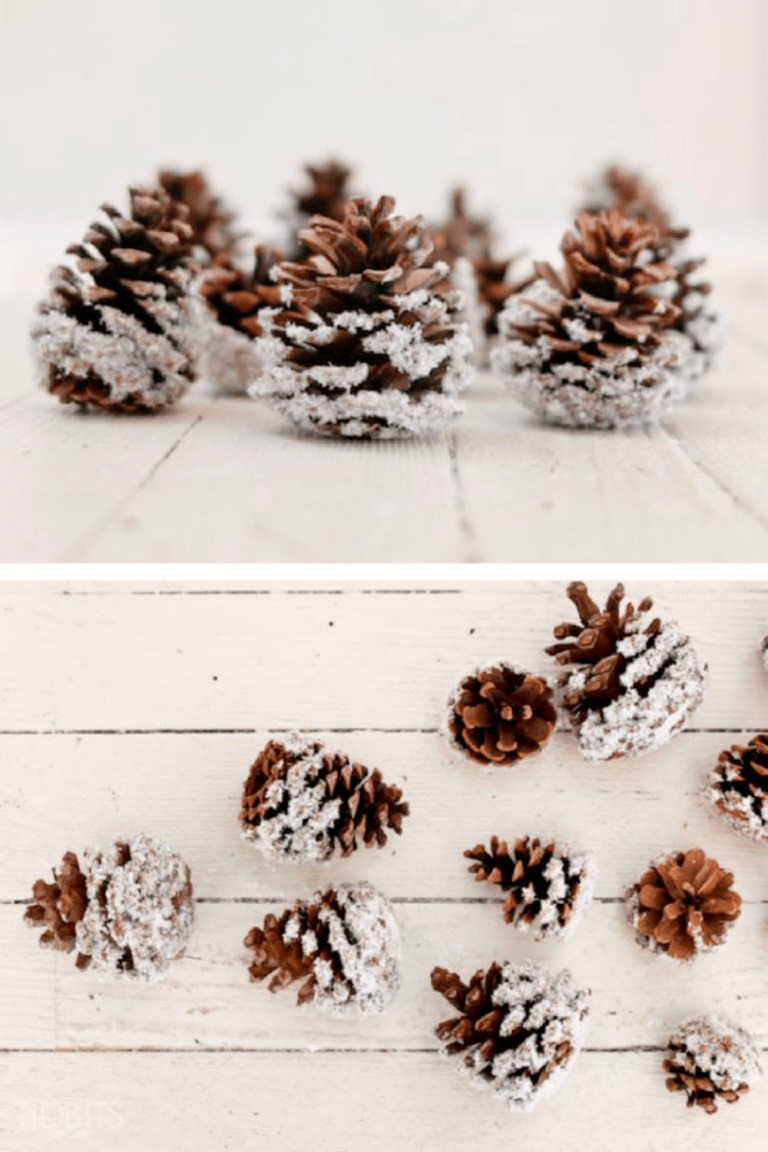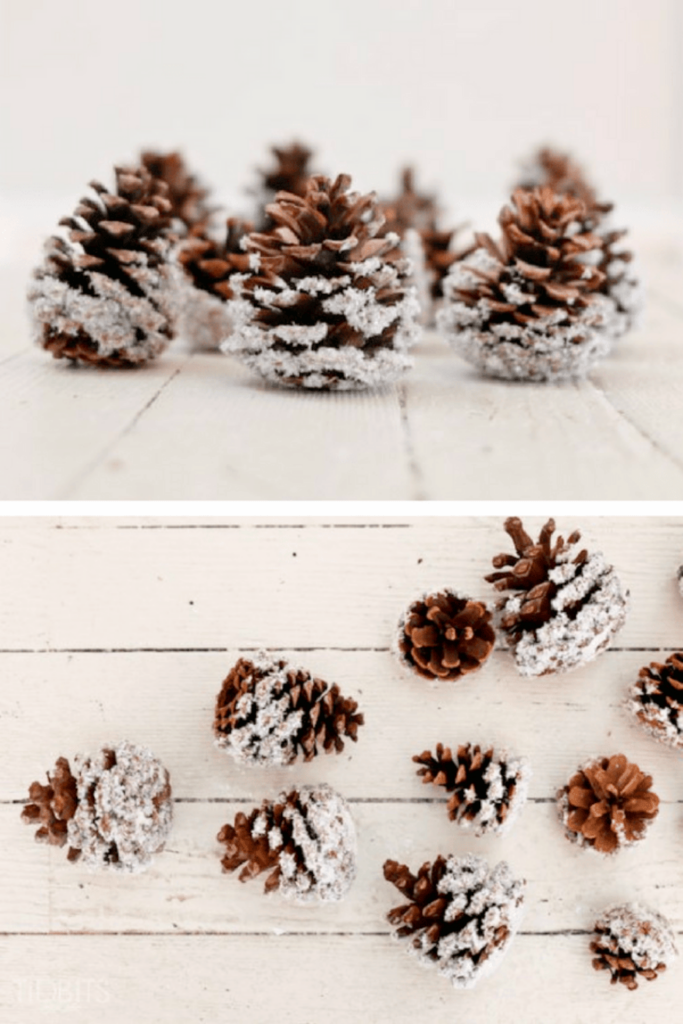 Festive Floating Candles With Fresh Rosemary & Cranberries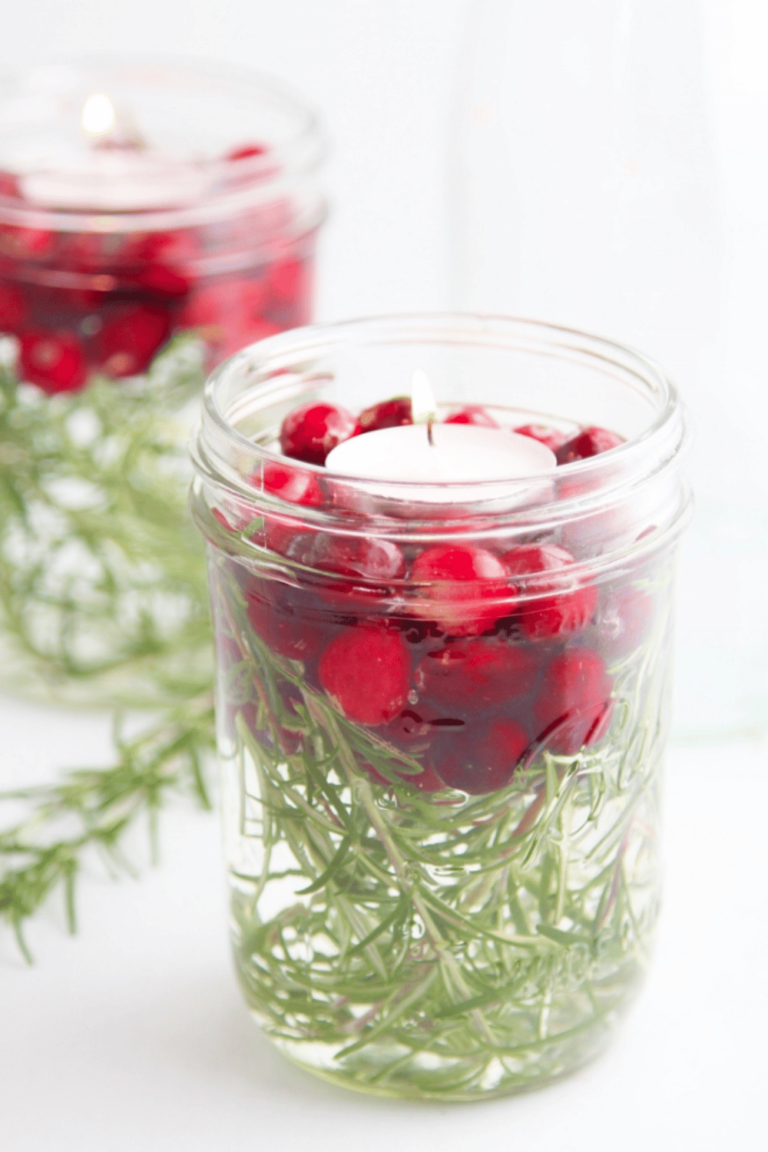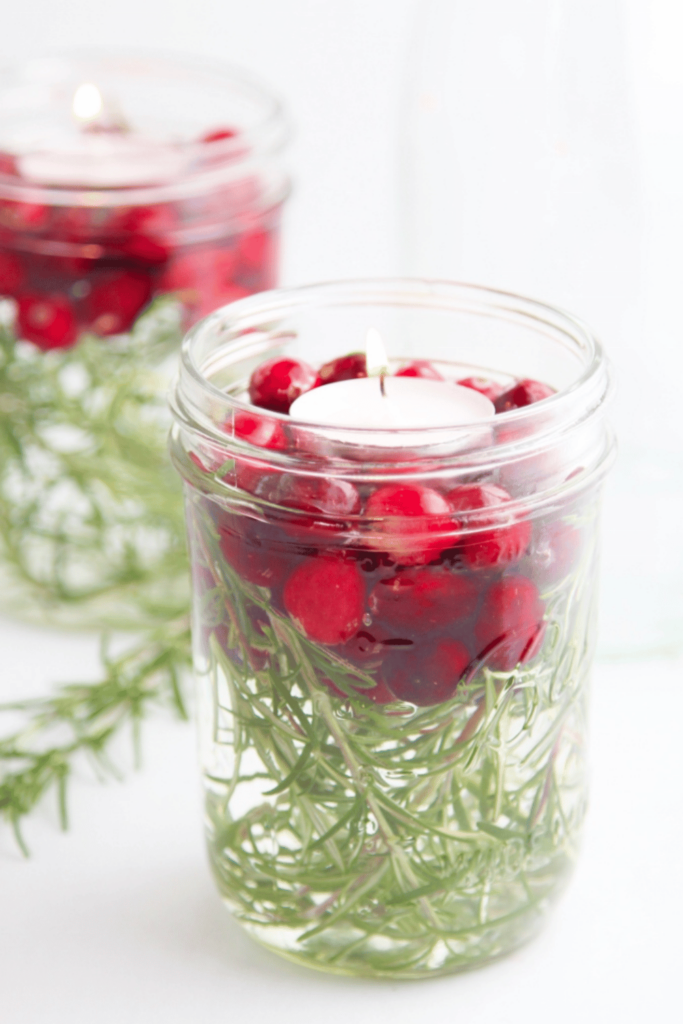 Pretty Pallet Wood Trees With Fairy Lights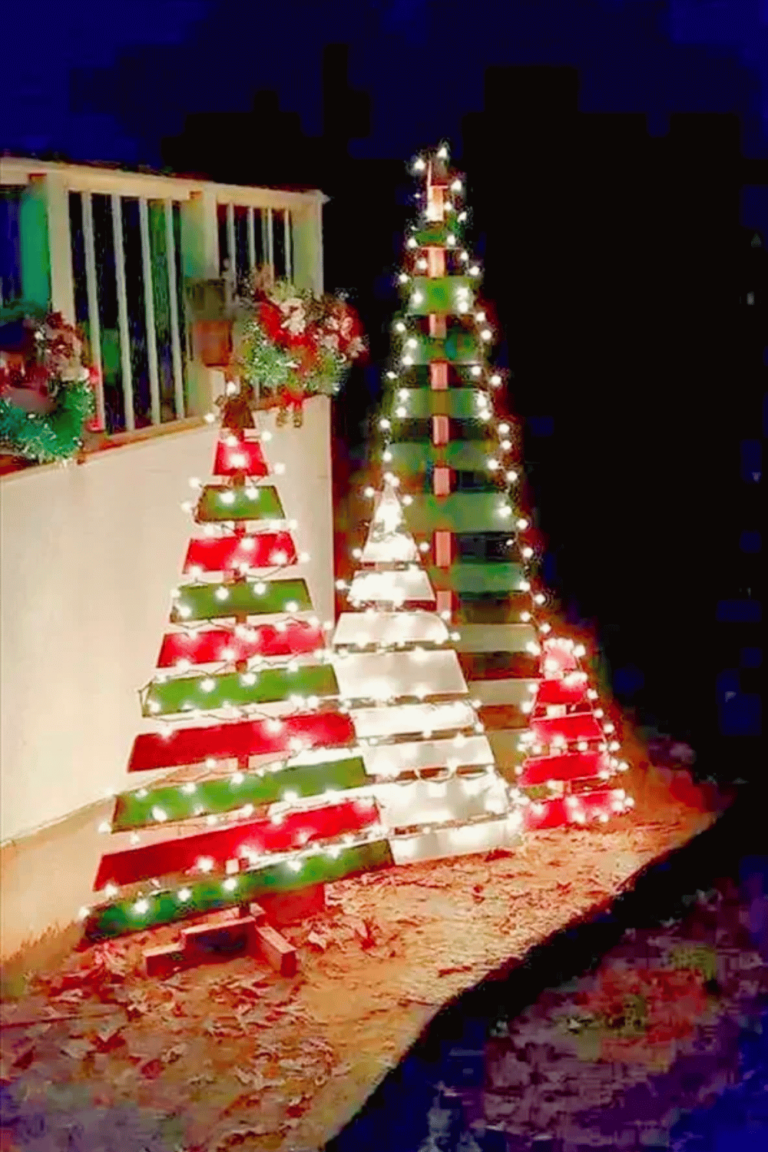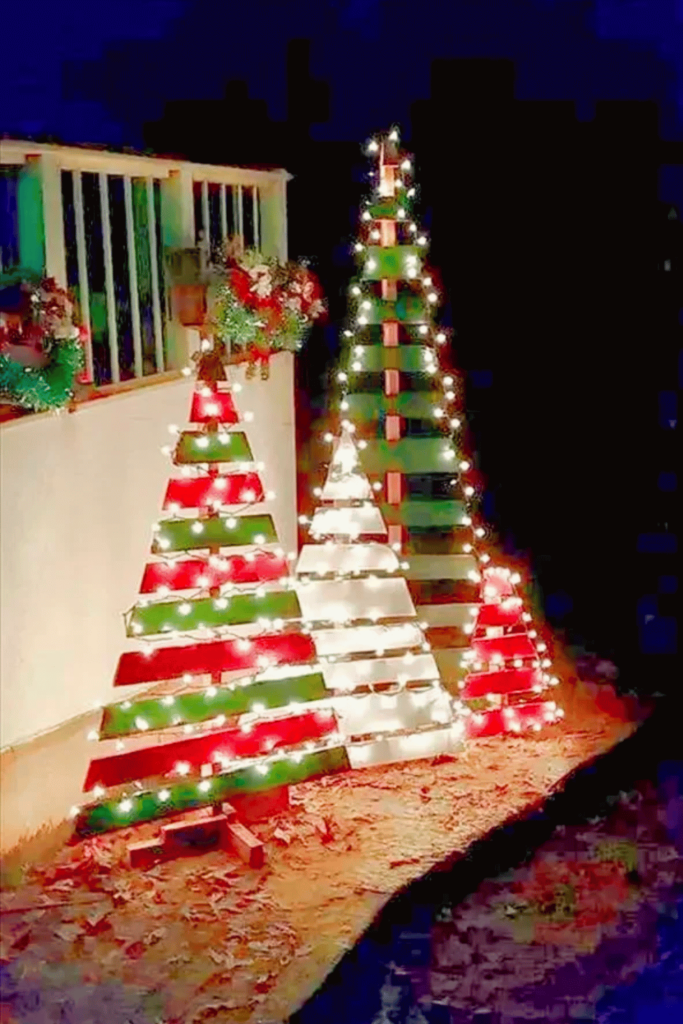 Ribbon And Bead Christmas Trees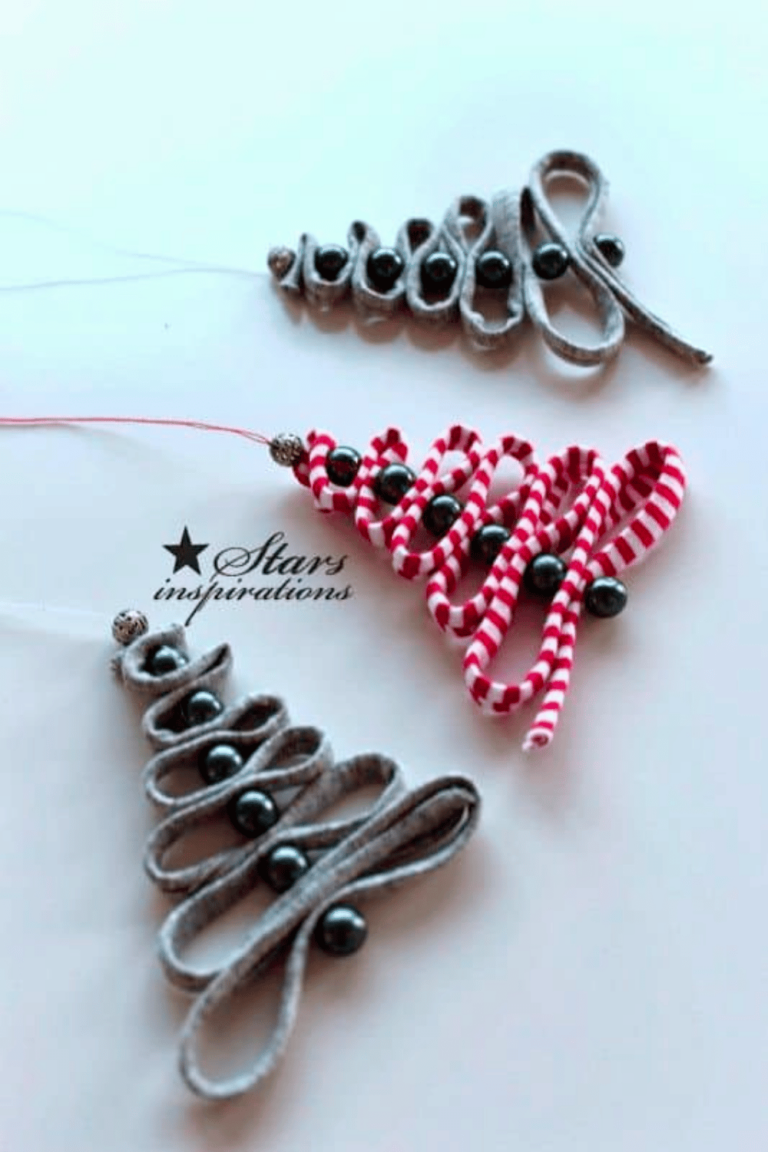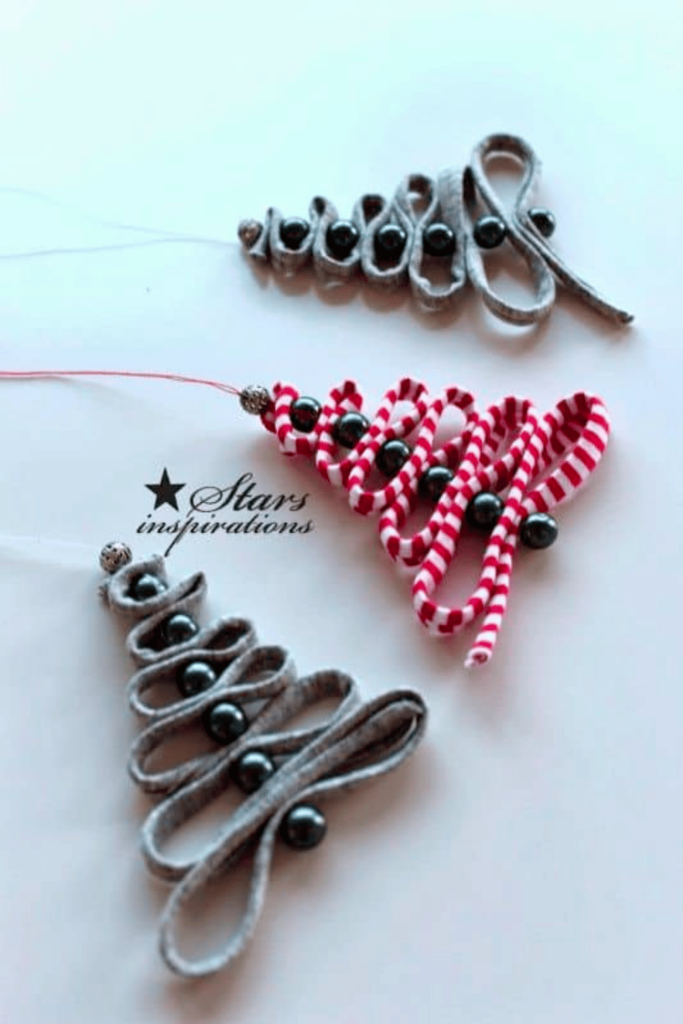 French Sheet Music Mason Jar Votives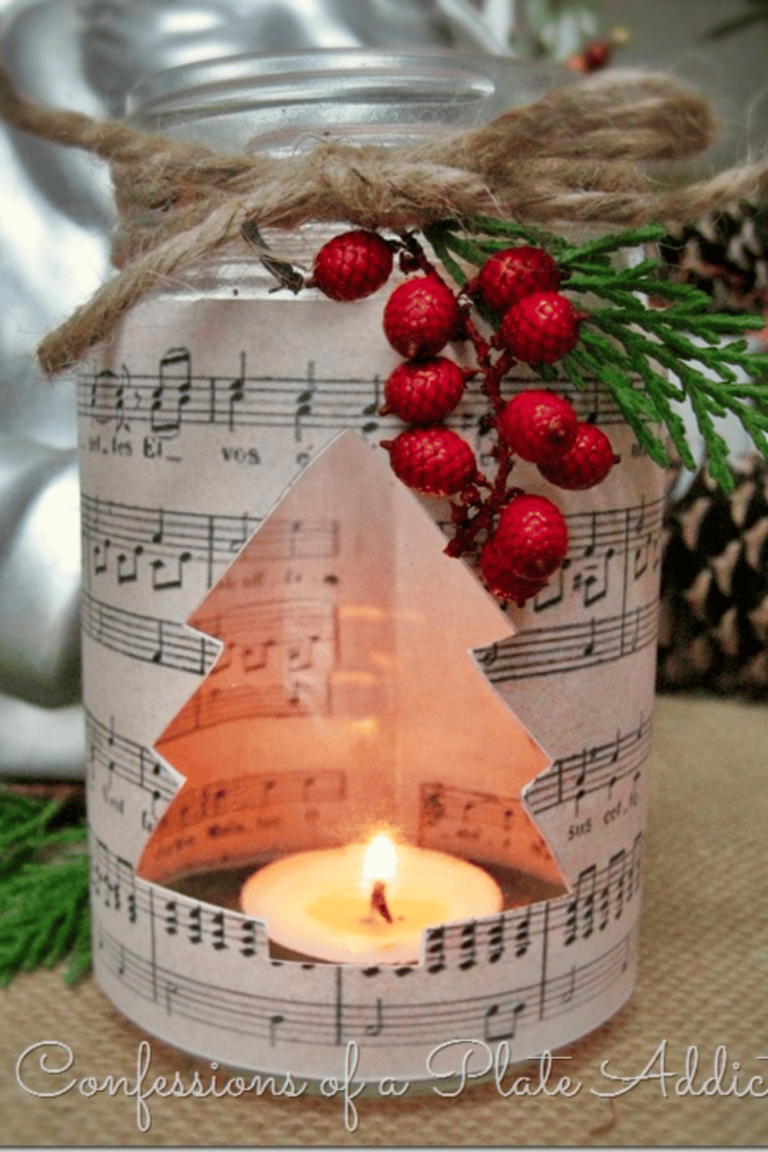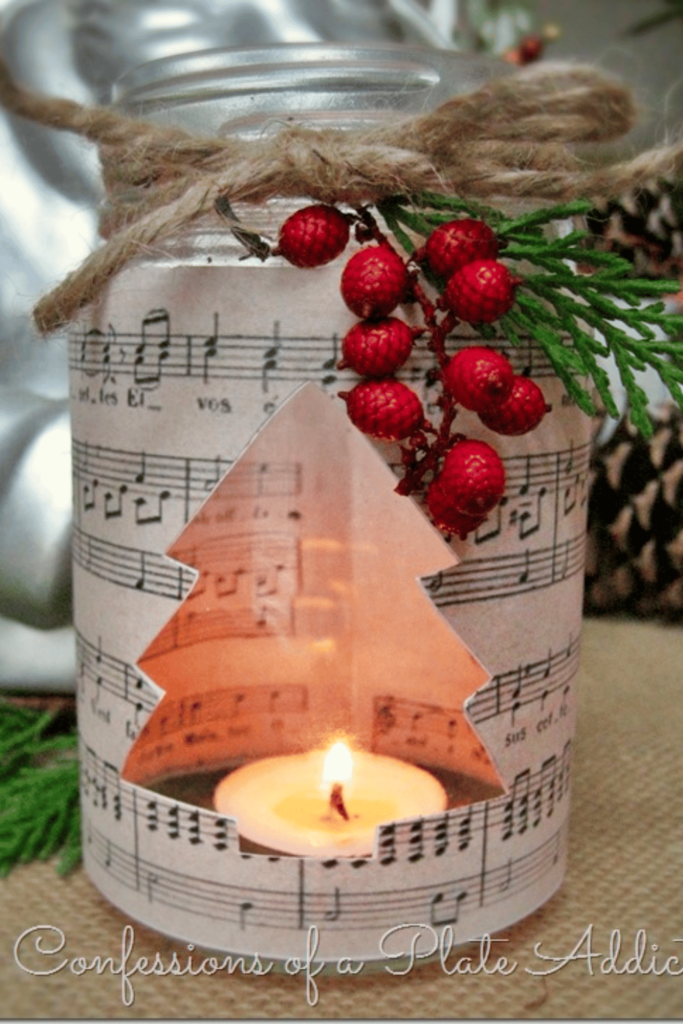 Paper Ball Ornaments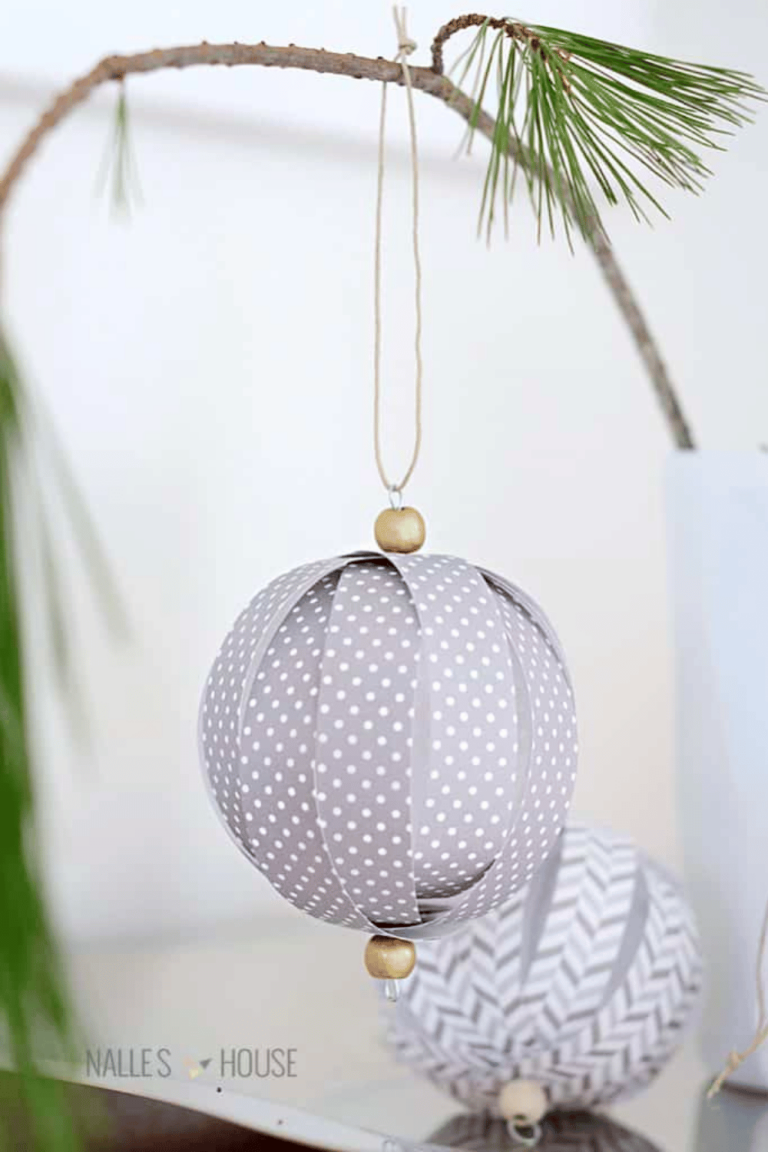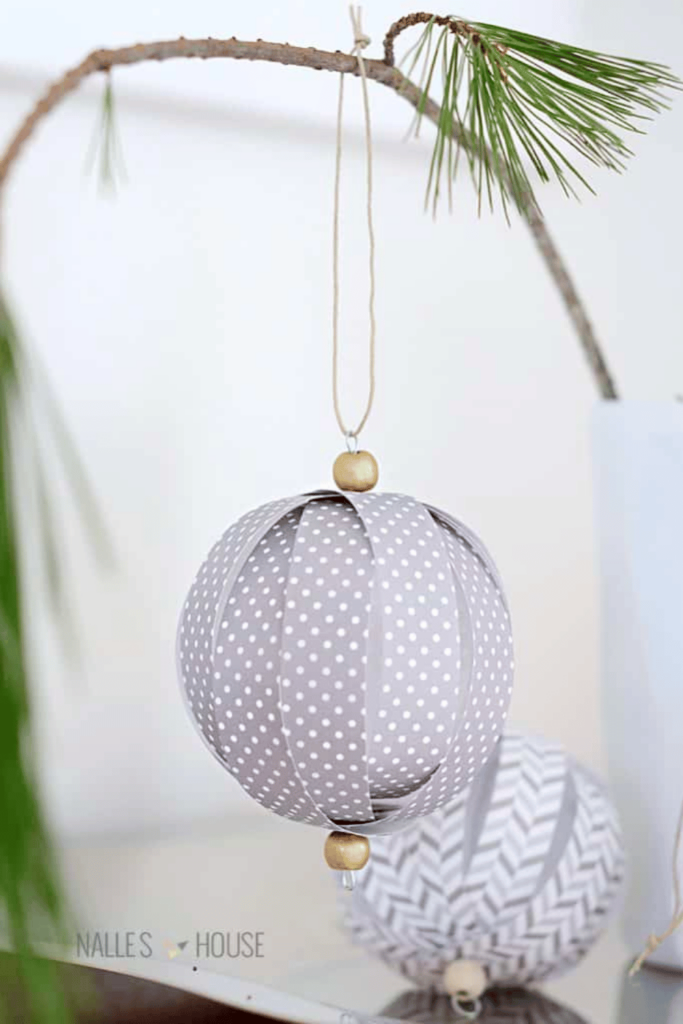 Painted Snowman Mason Jar Vase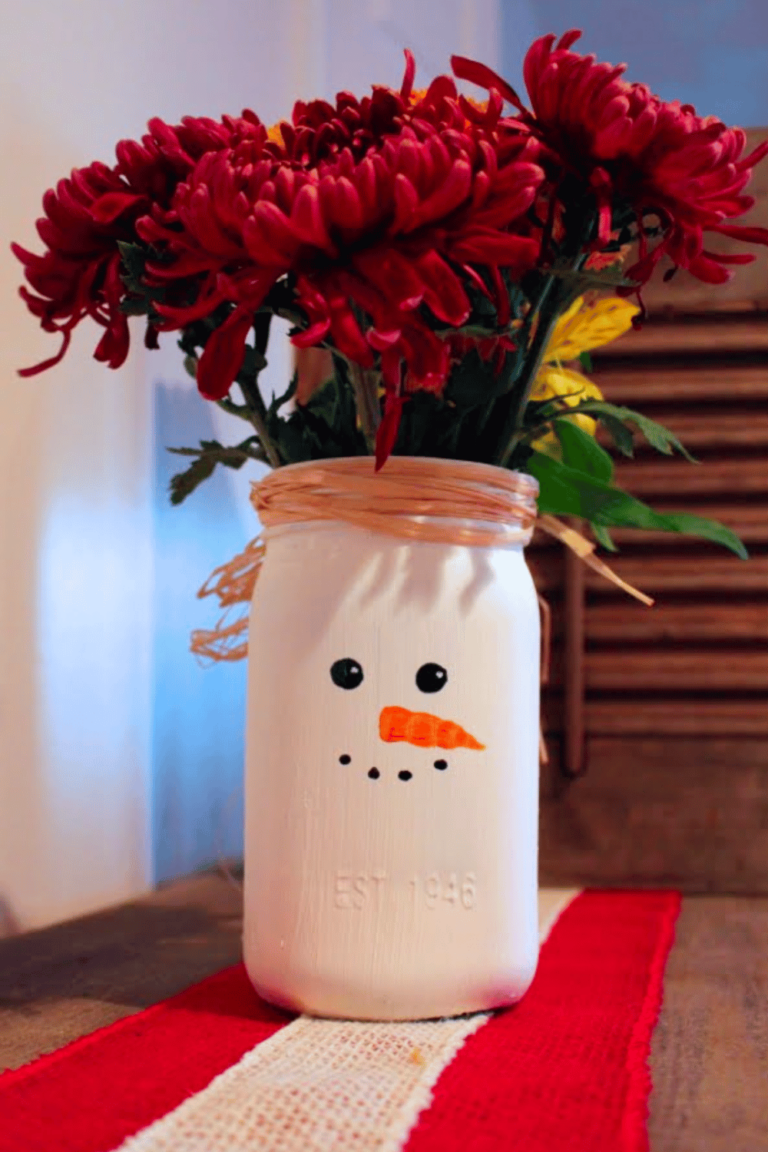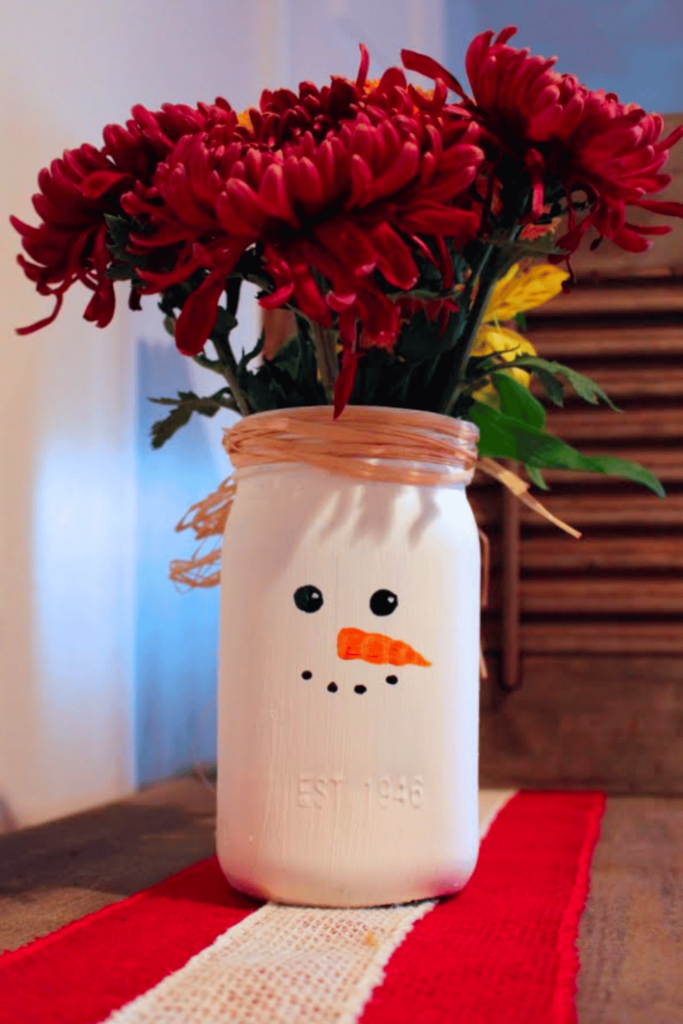 Wooden Bead Wreath Hanging Ornaments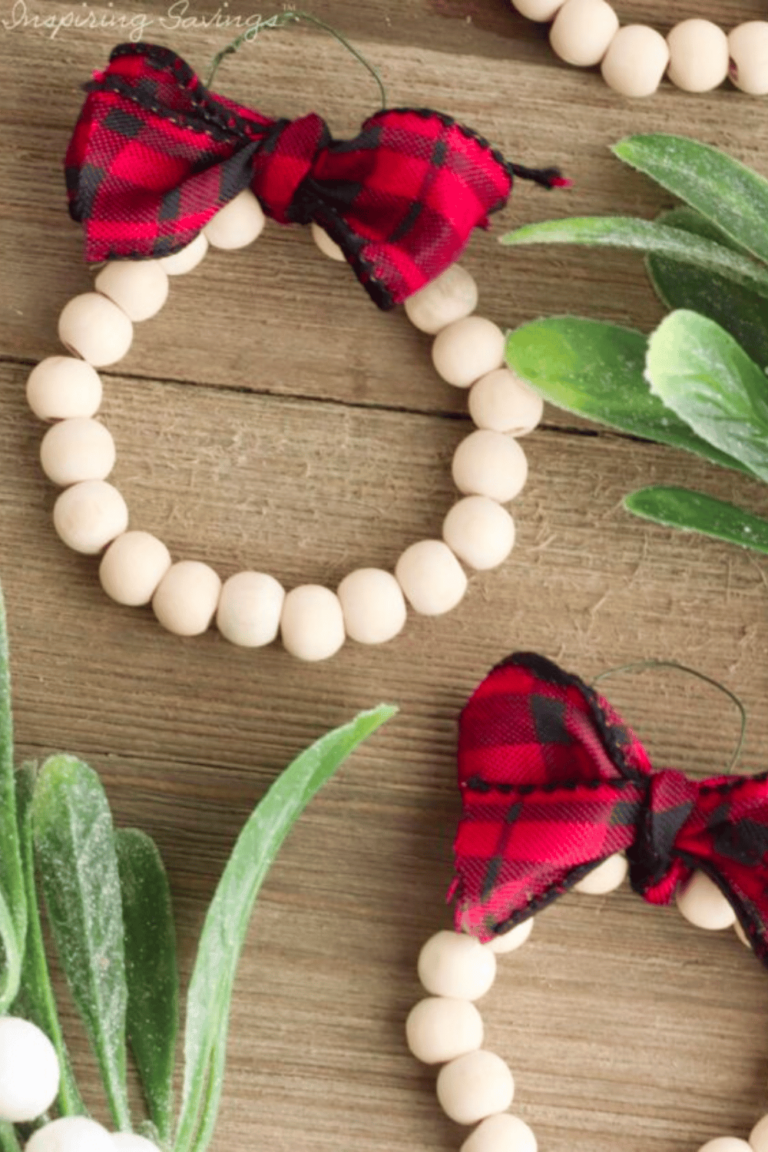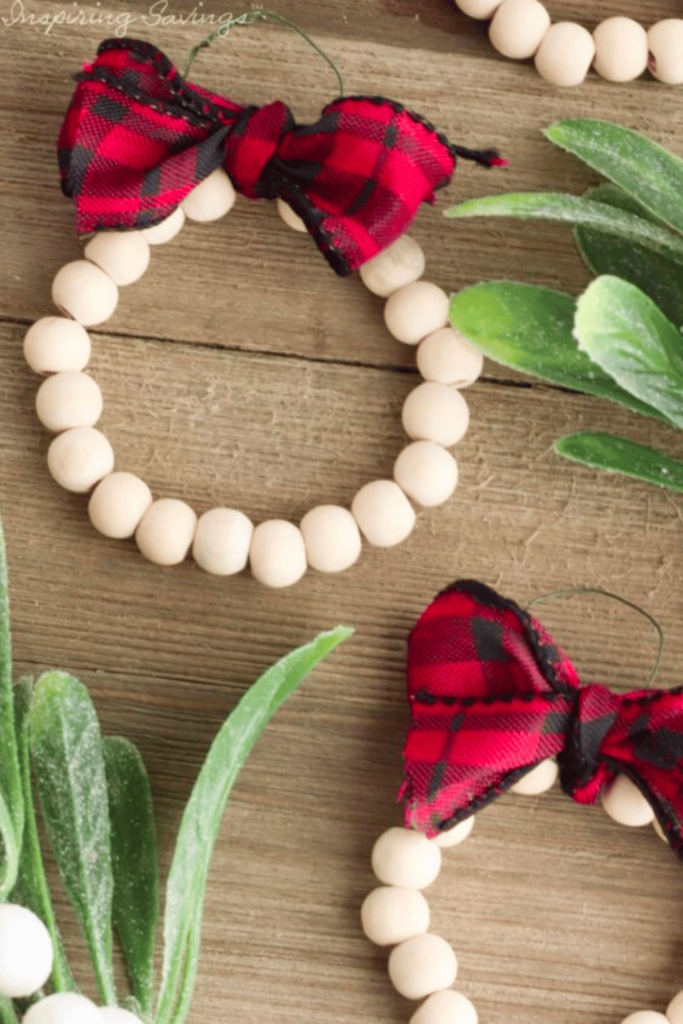 Scented Salt Dough Garland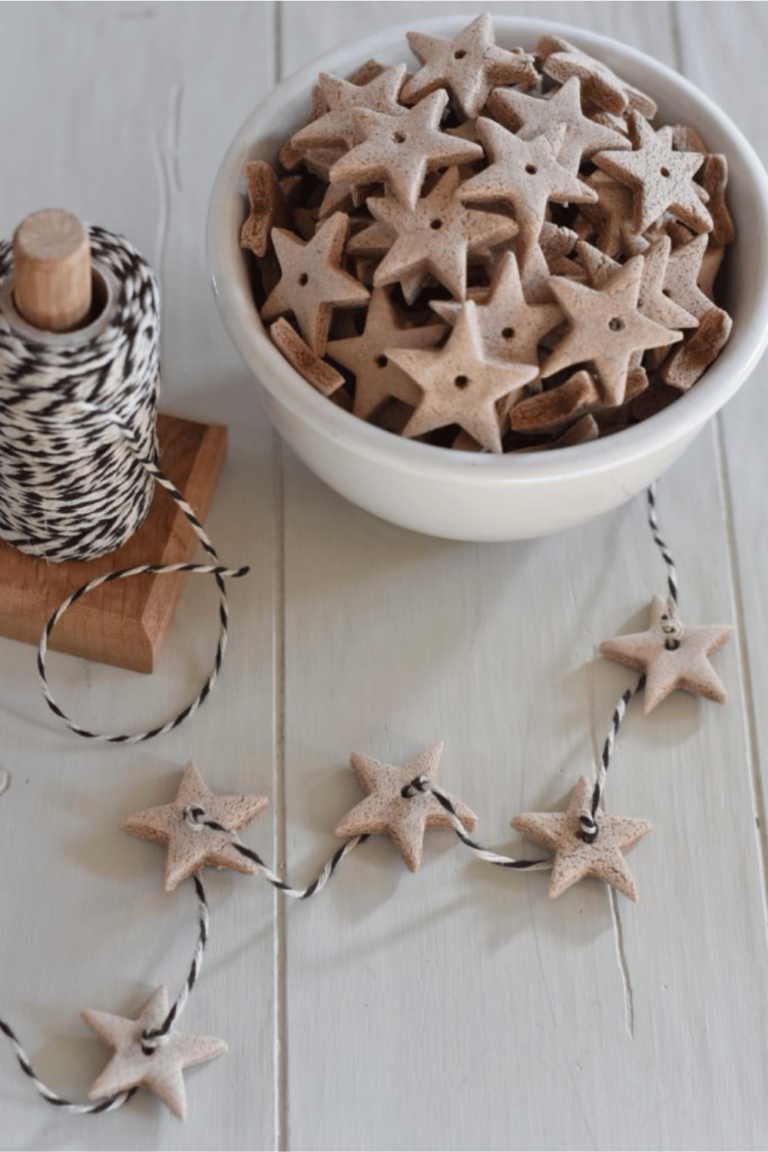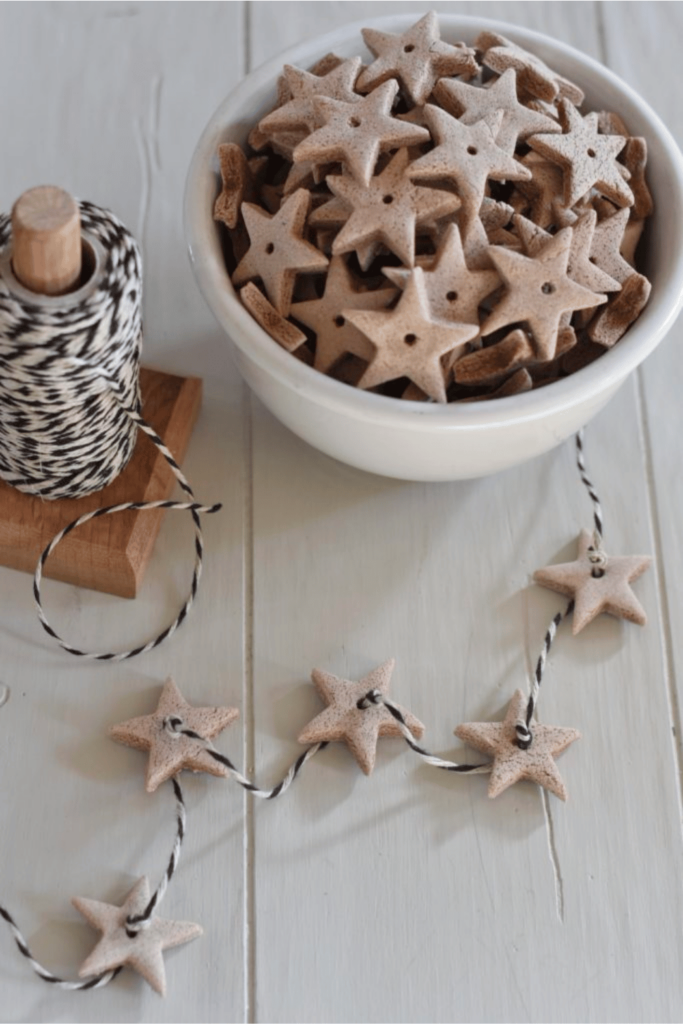 Festive Painted Wood Slices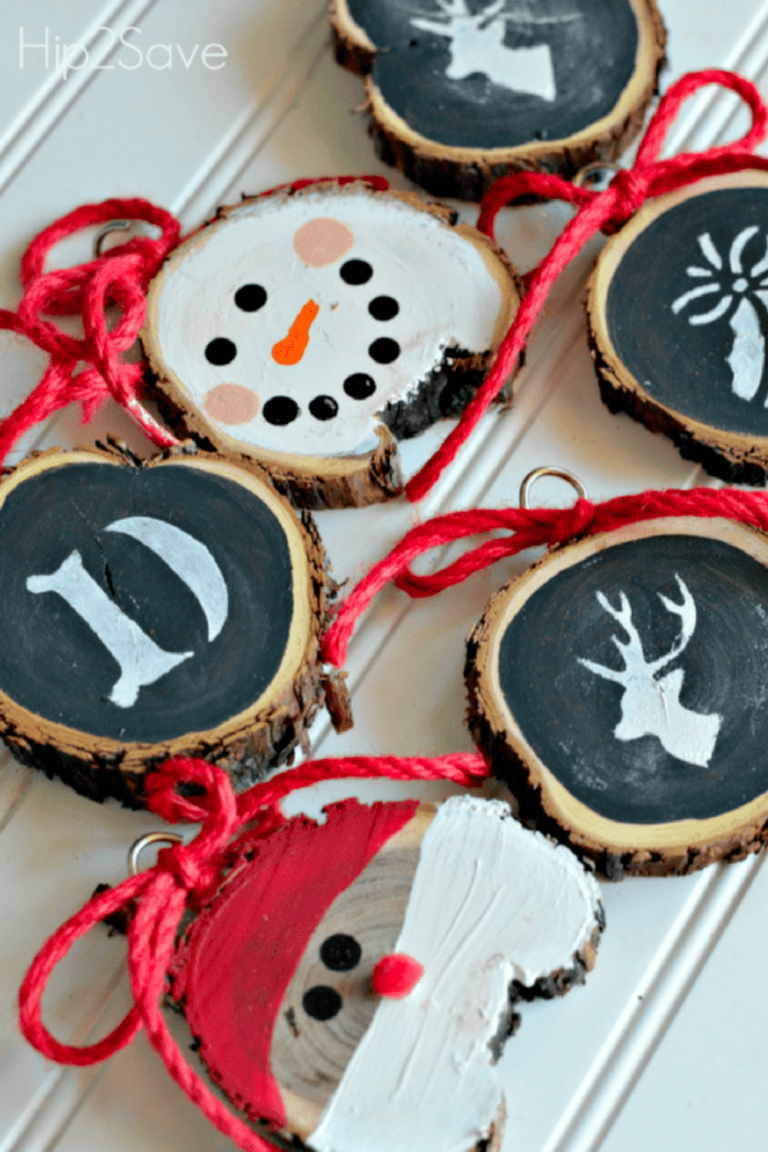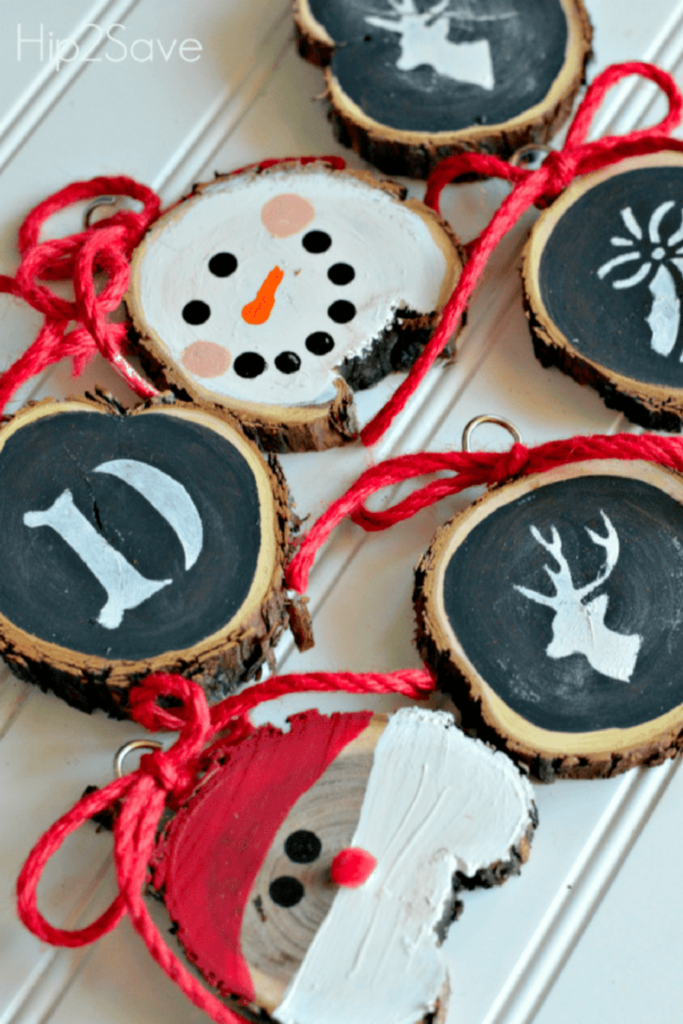 Monogrammed Glitter Baubles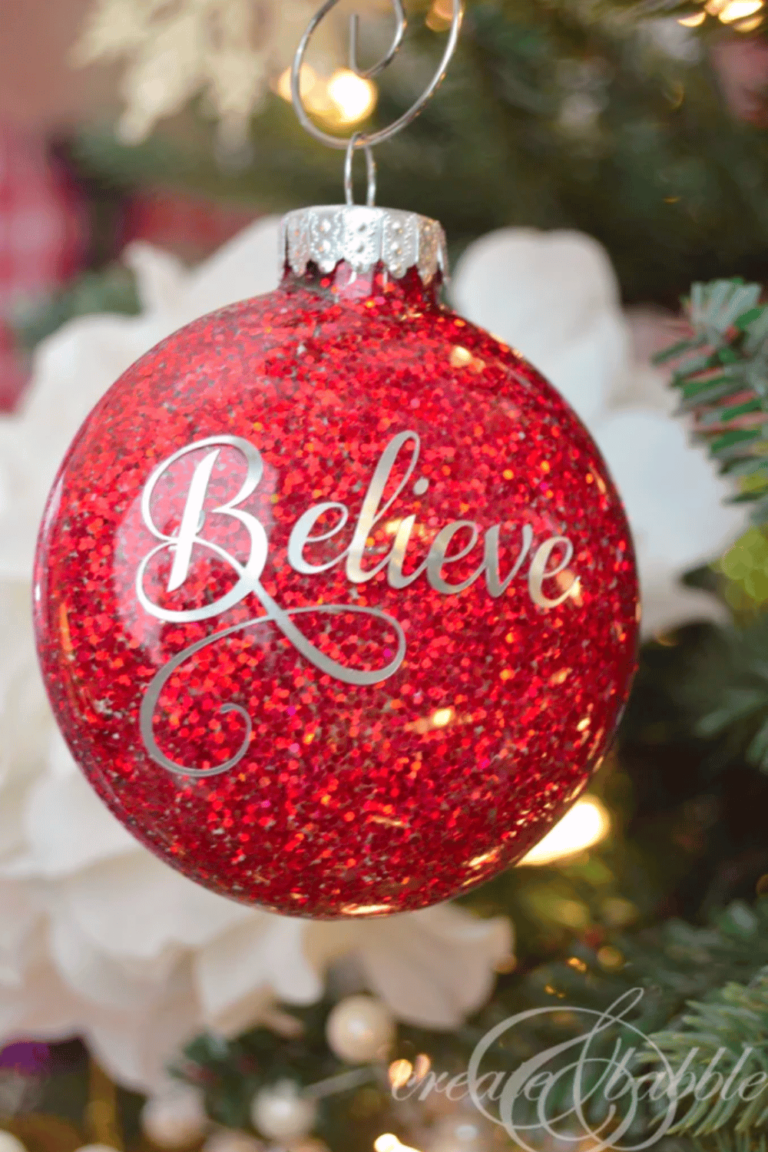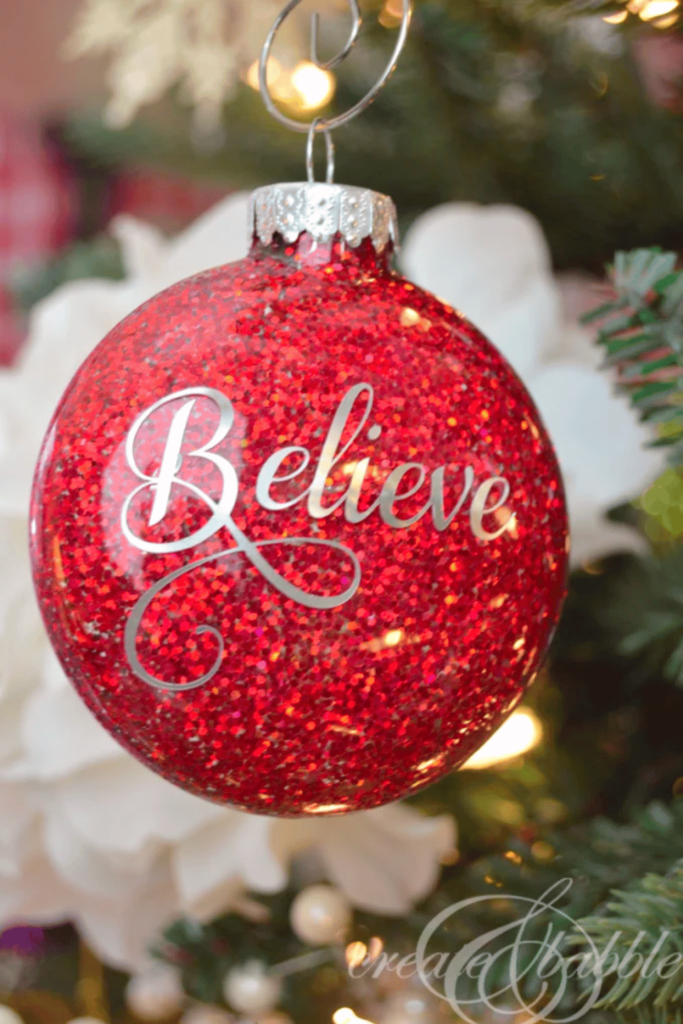 Mistletoe Felt Ornaments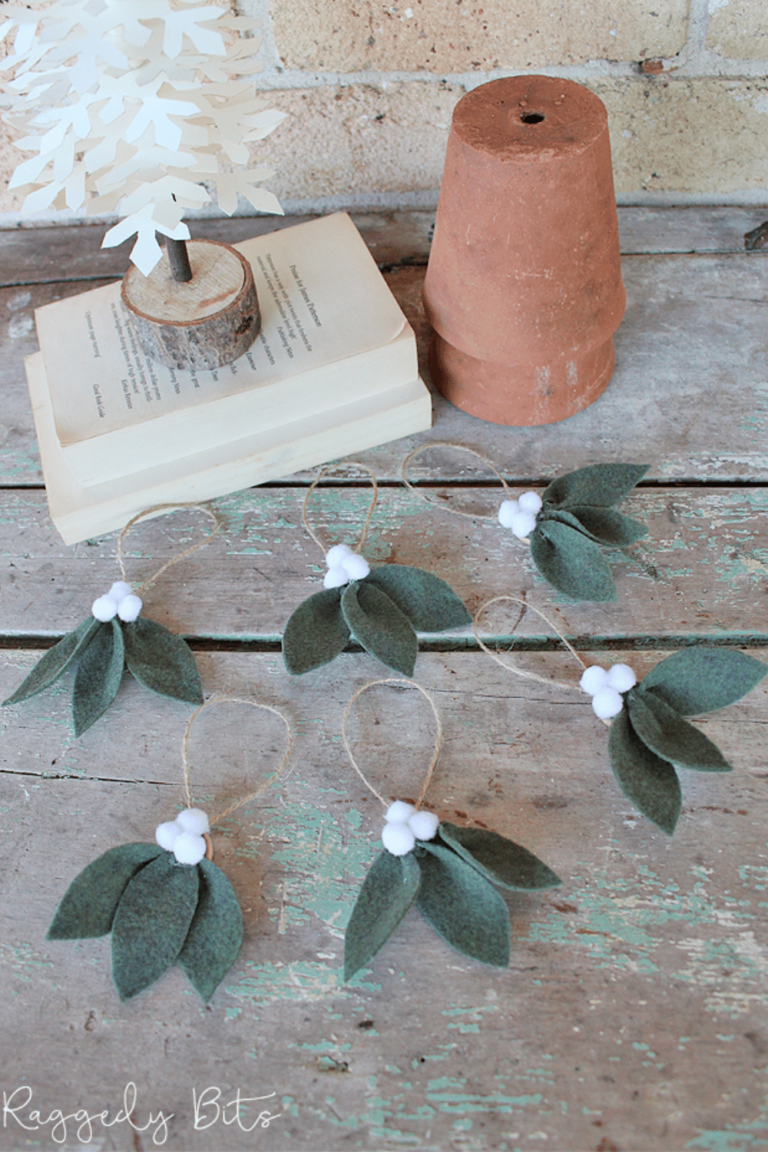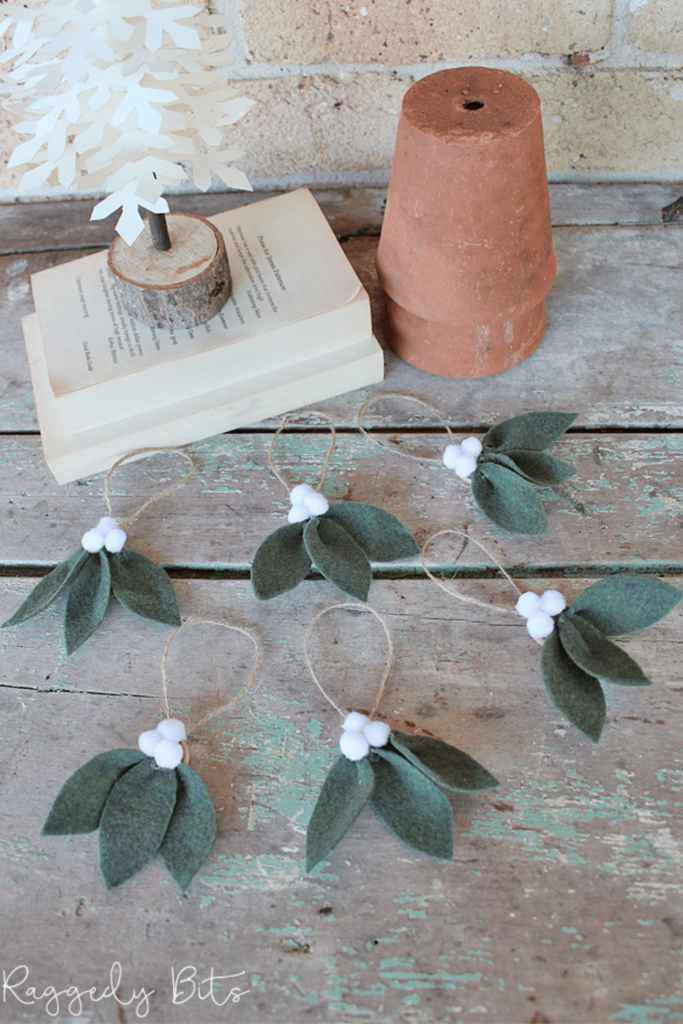 Mini Twig Tree Gift Toppers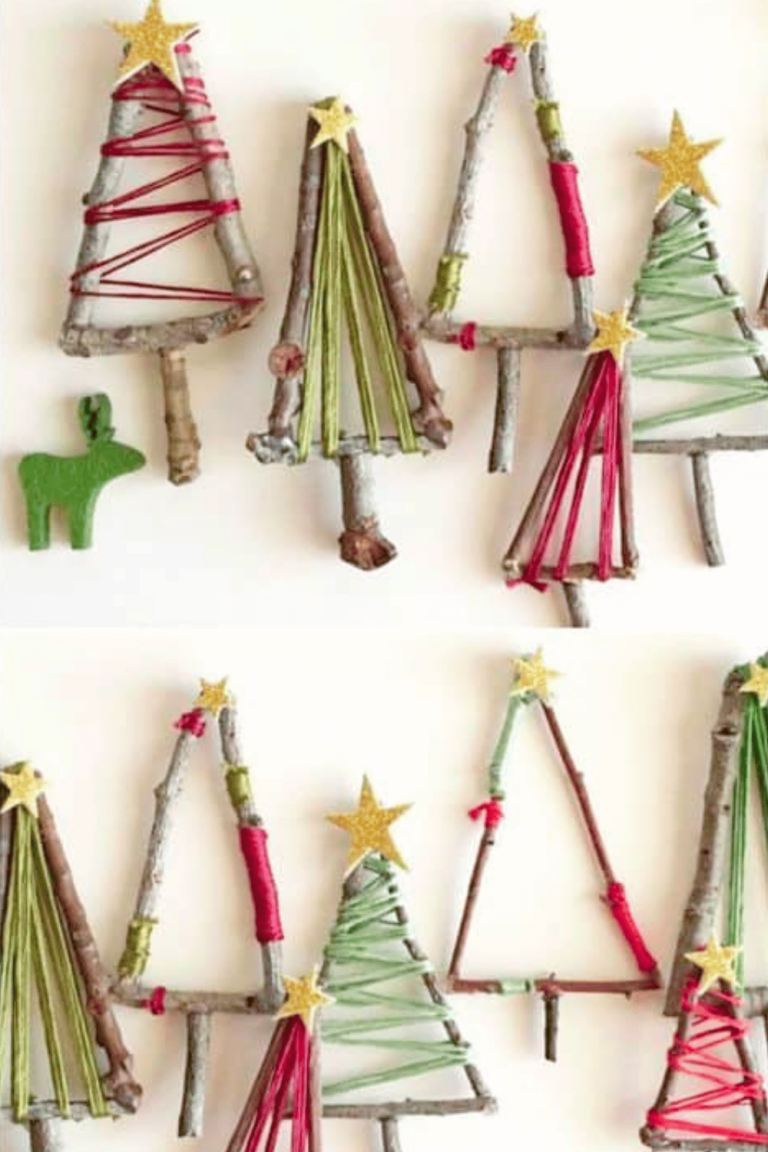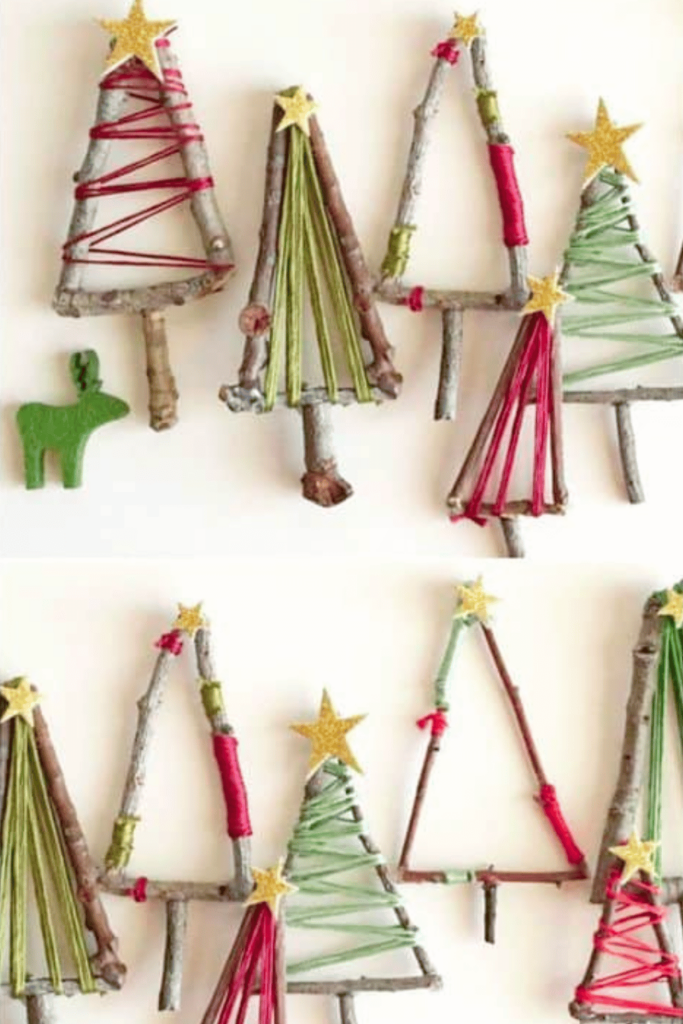 Cinnamon Tree Decorations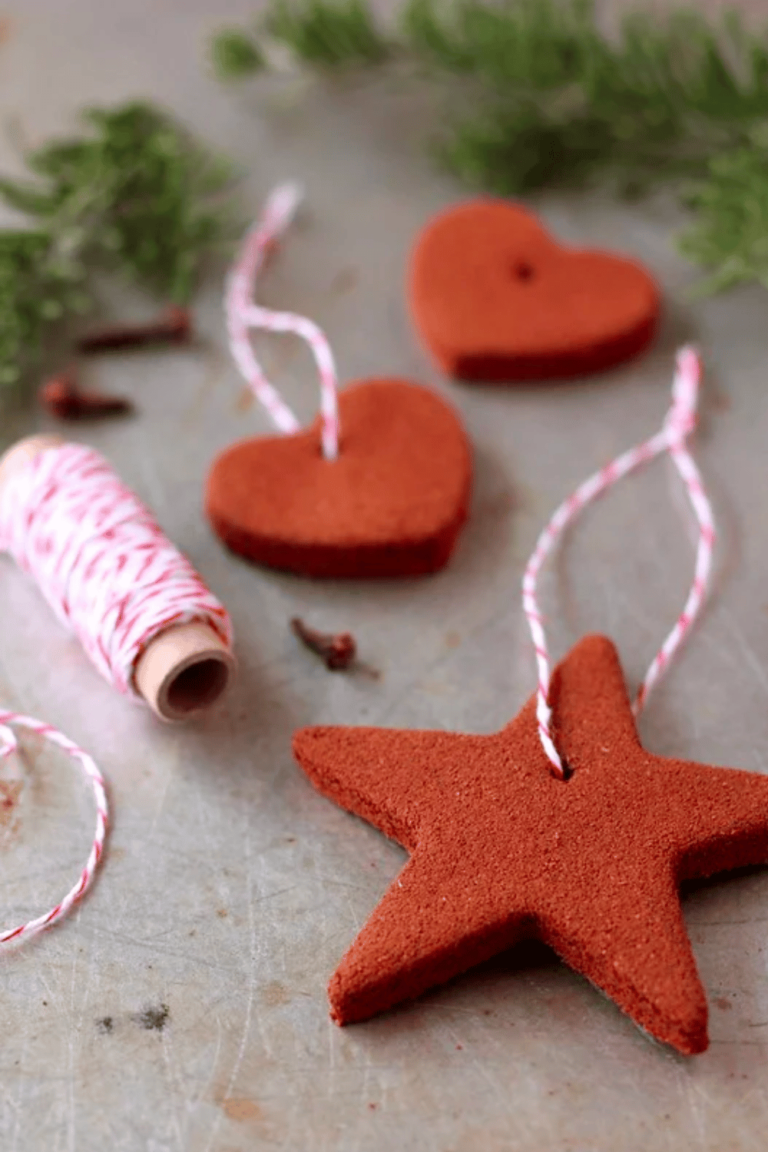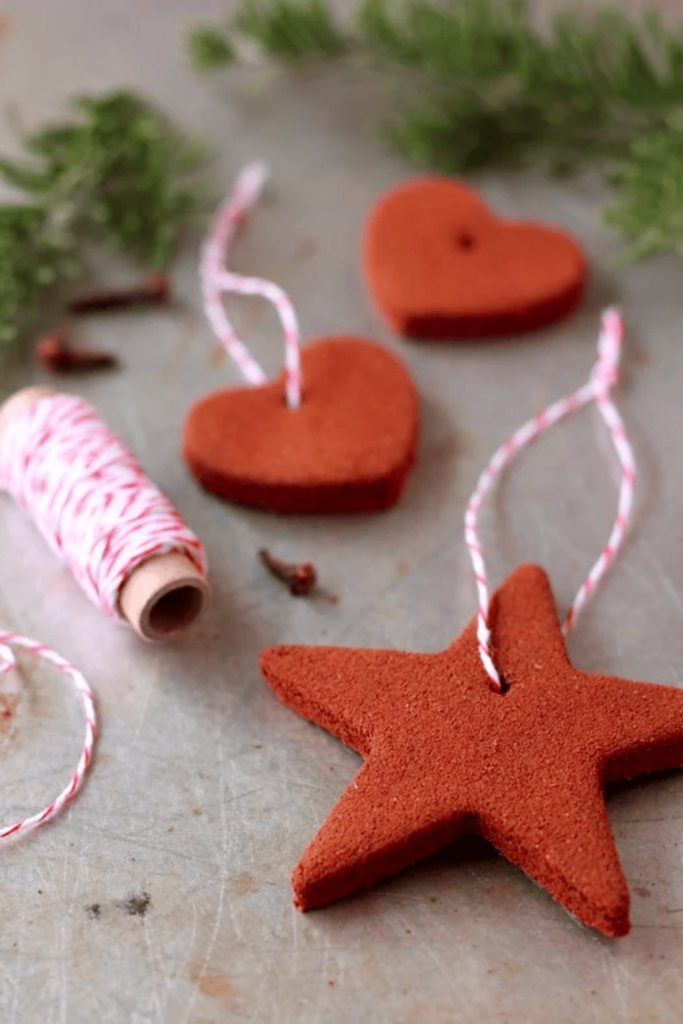 Felt Stars Topped With Gold & Pearl Beads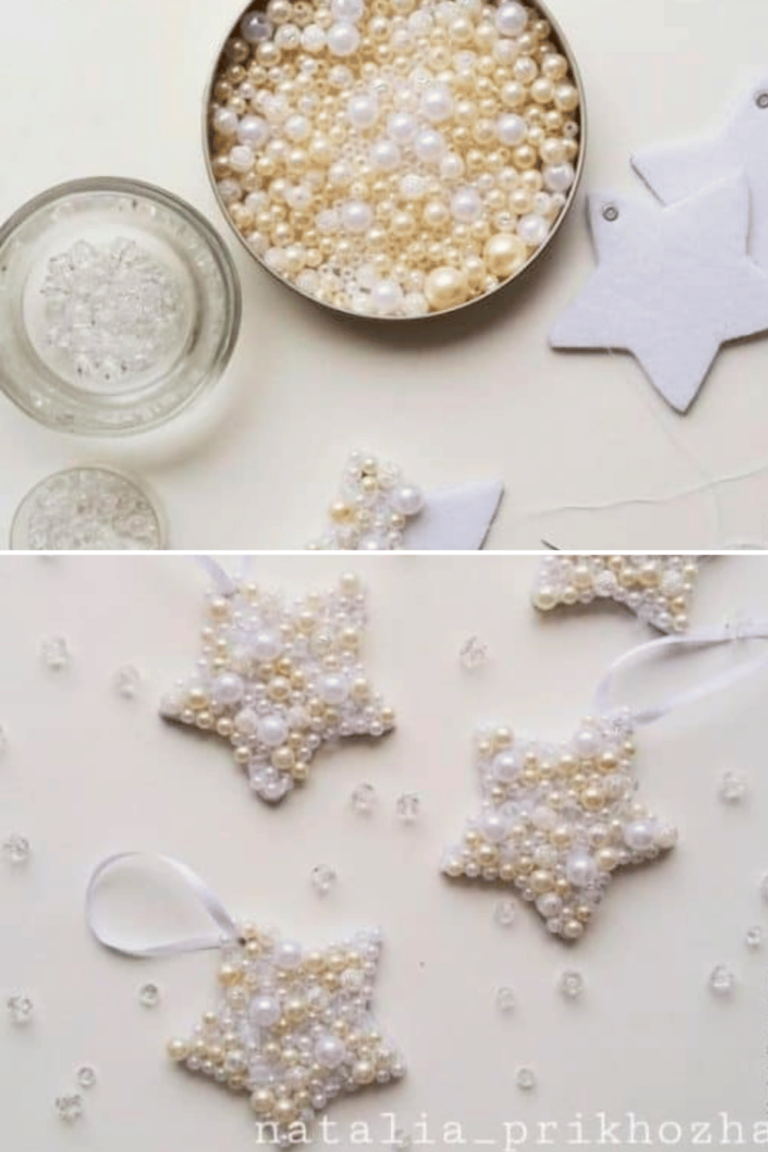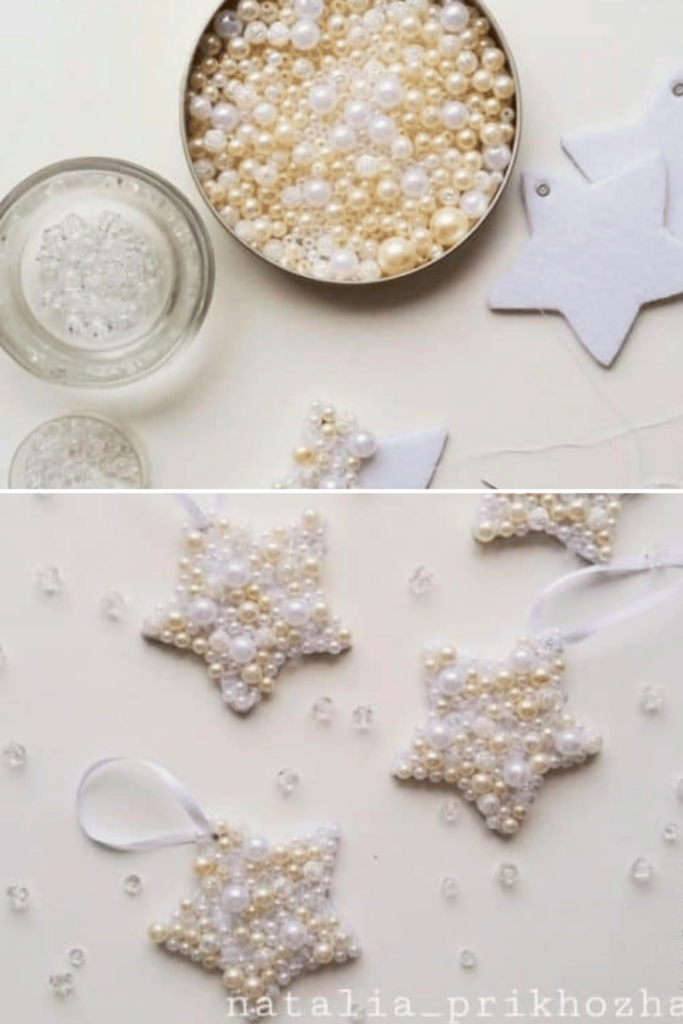 Wine Cork & Pinecone Christmas Trees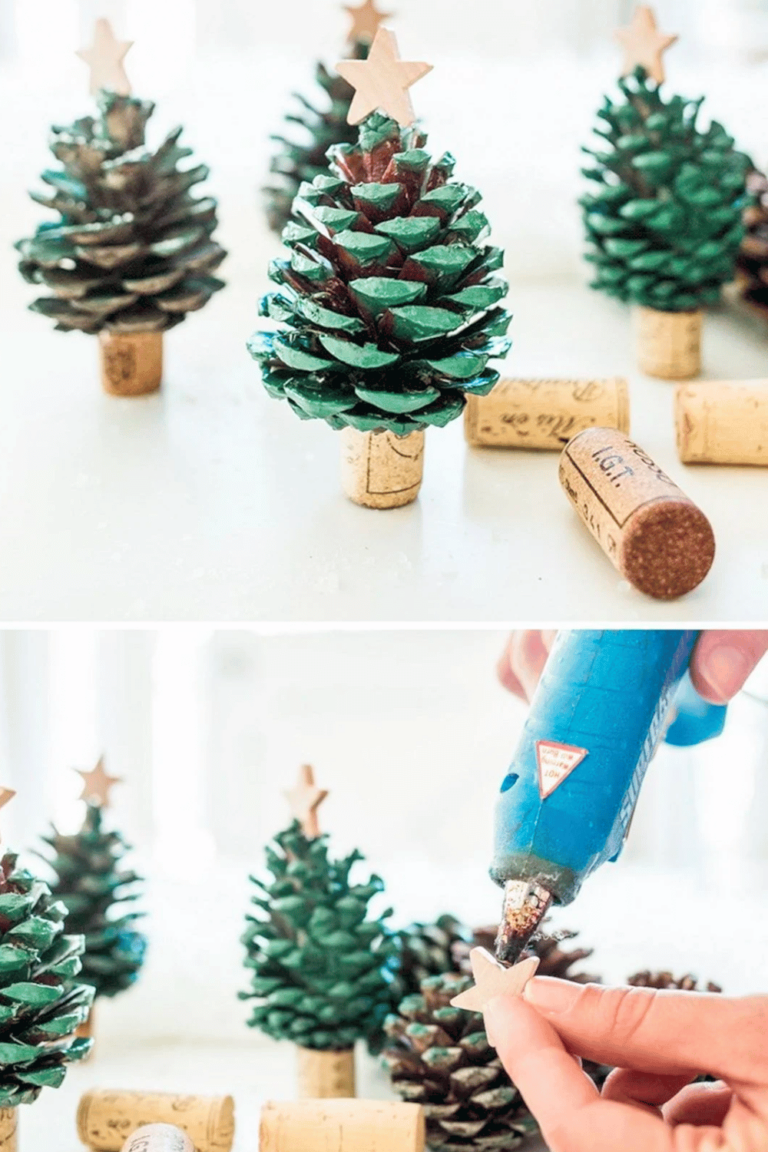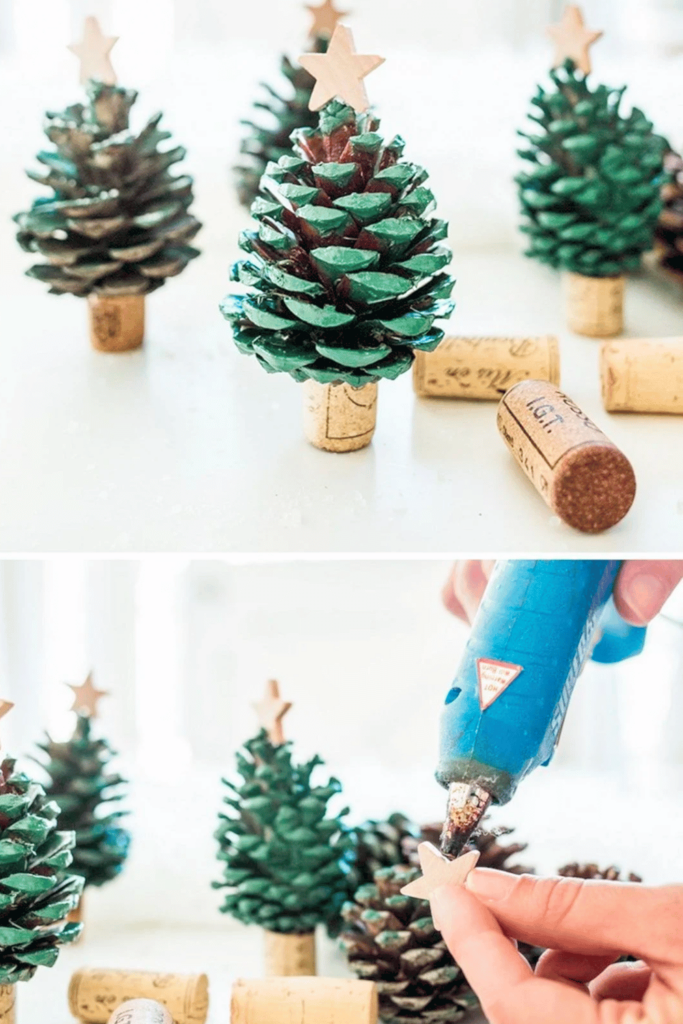 DIY Christmas Wrapping Ideas
Add a special touch to your holiday gifts this season with our DIY Christmas wrapping ideas.
These creative and unique projects not only make your presents stand out under the tree, but also add a heartfelt and personalized touch to your gift-giving.
From rustic and vintage-inspired wraps to modern and sleek designs, we have ideas to match every style and theme…
DIY Scandinavian Style Pattern Paper and Matching Tags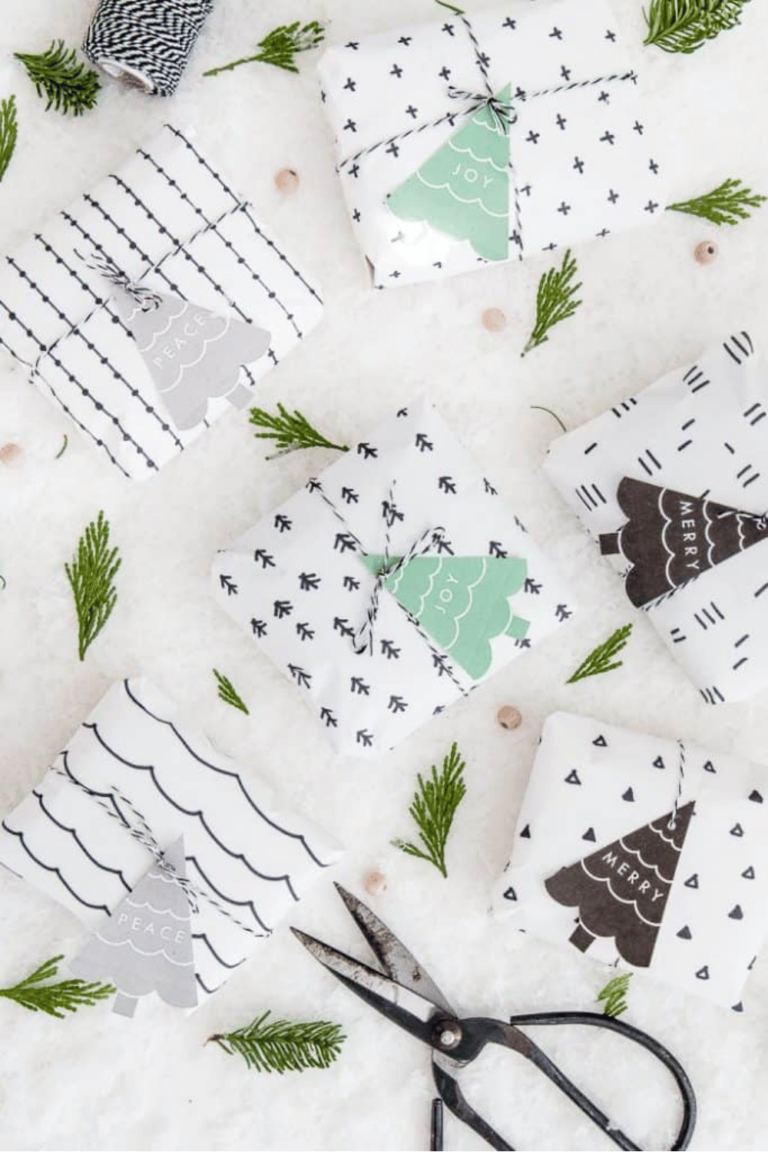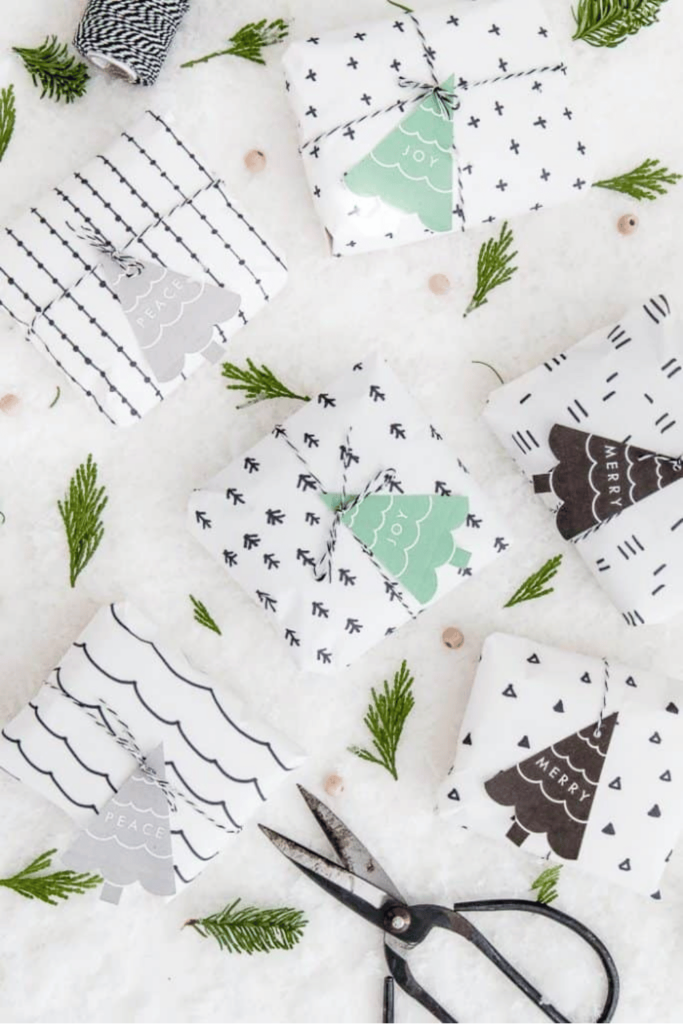 Gingerbread Gift Toppers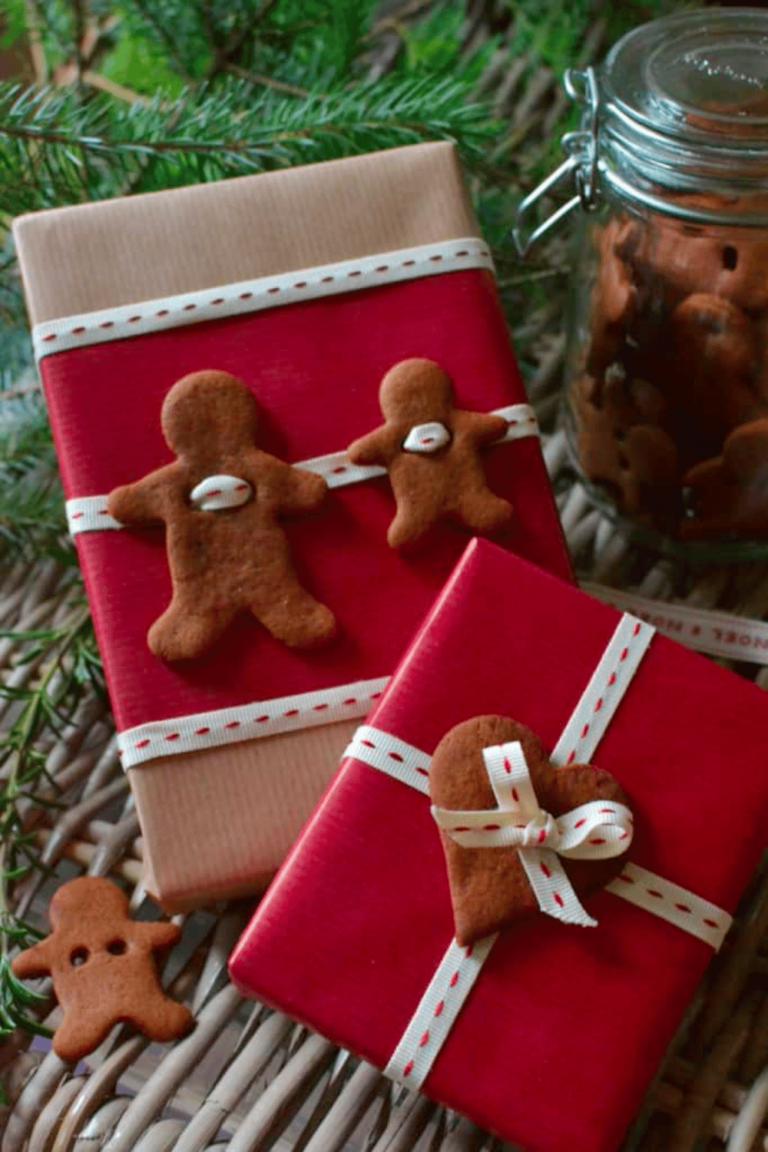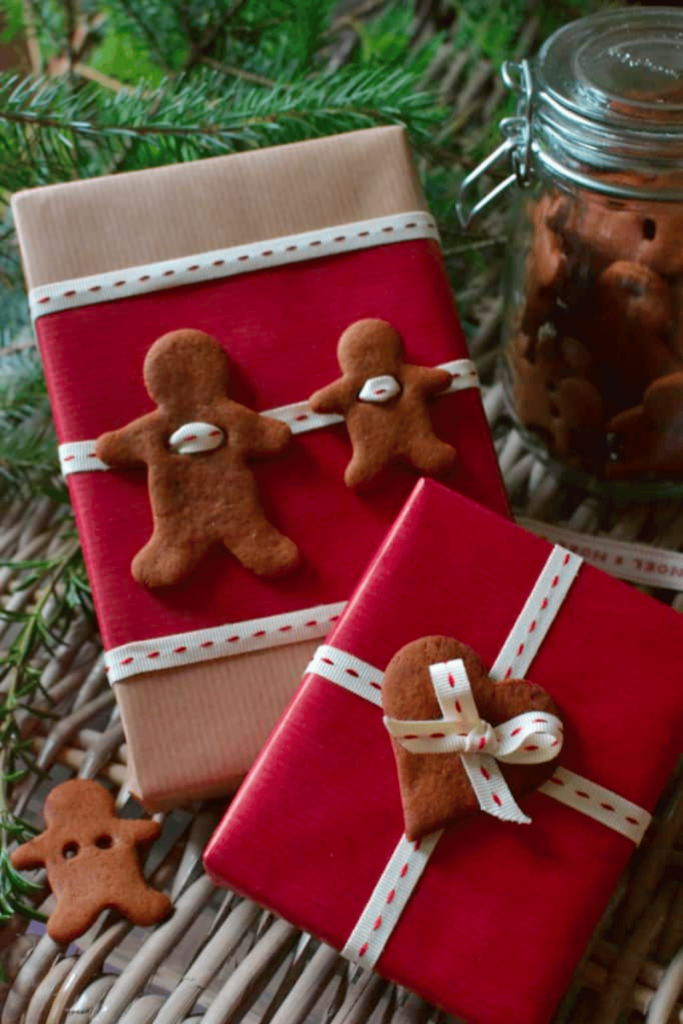 Knitted Treat Bags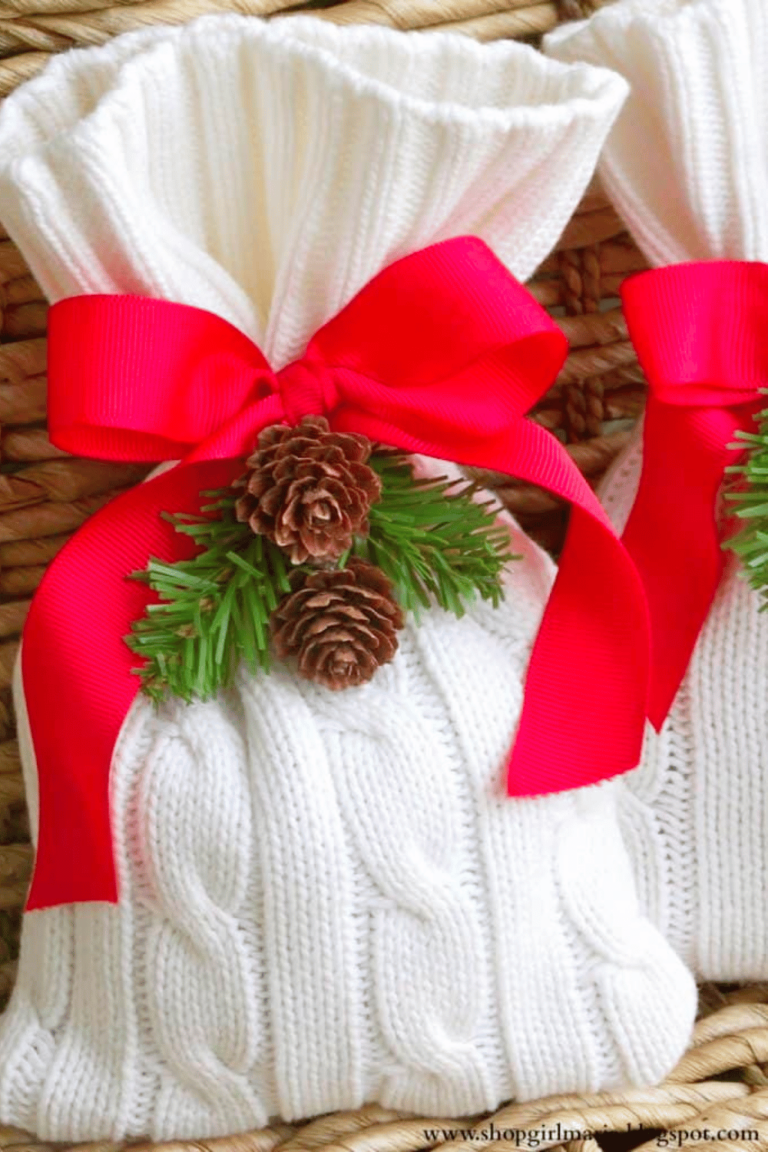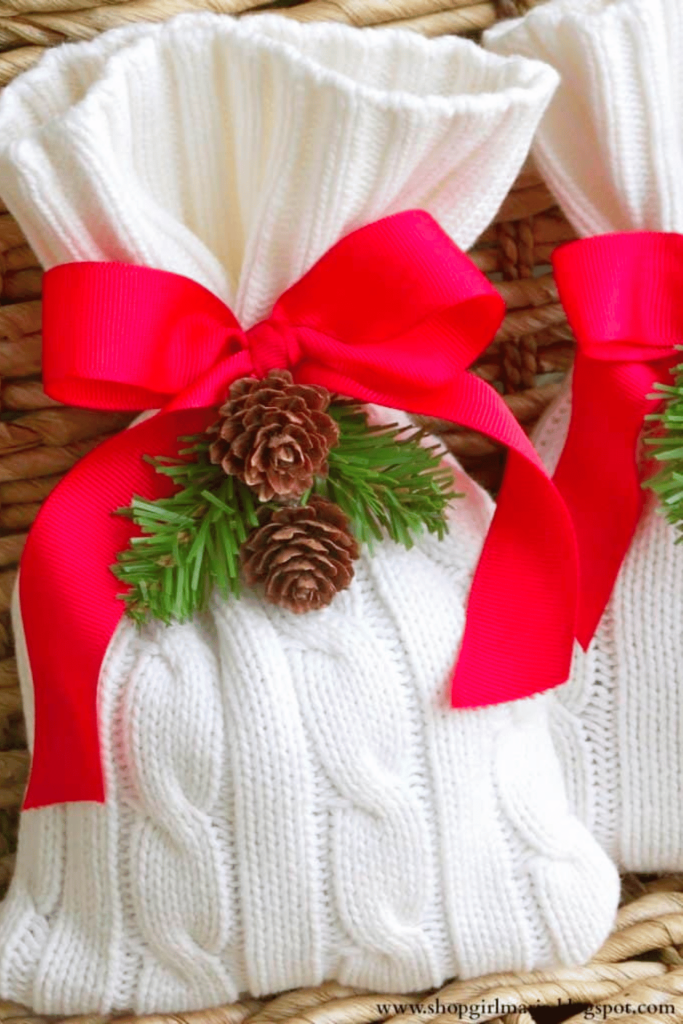 DIY Mini Star Garland Gift Wrap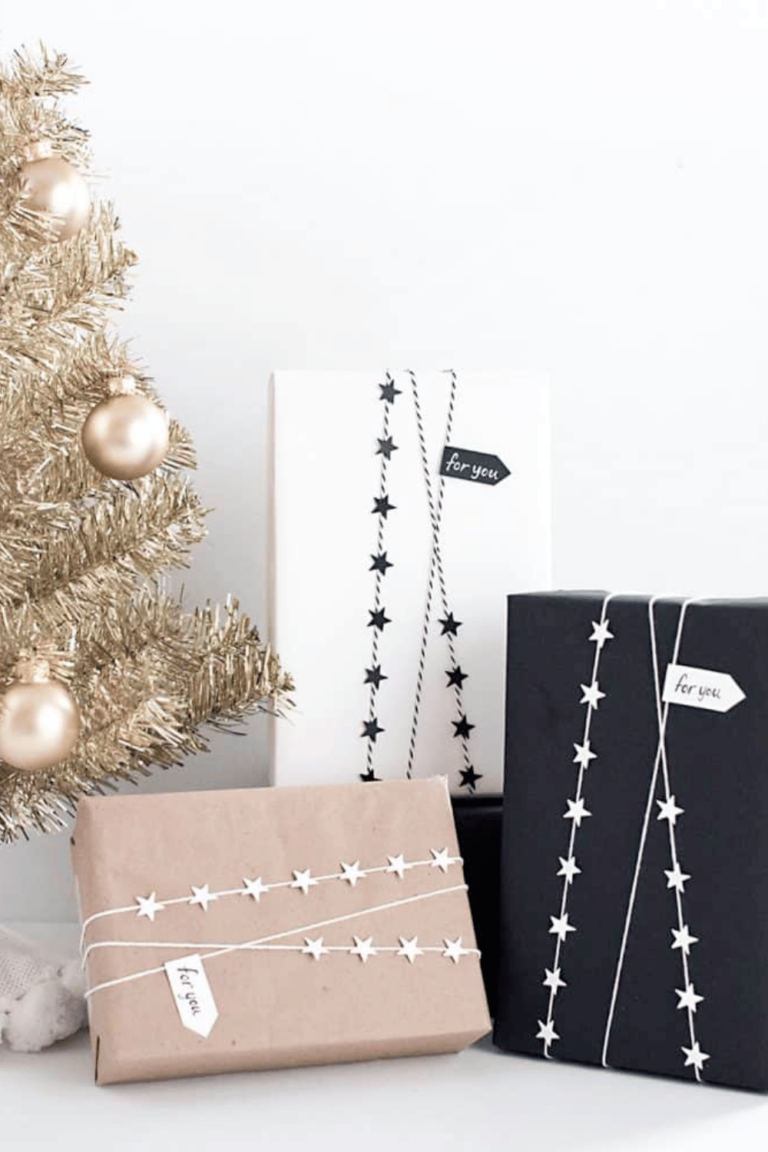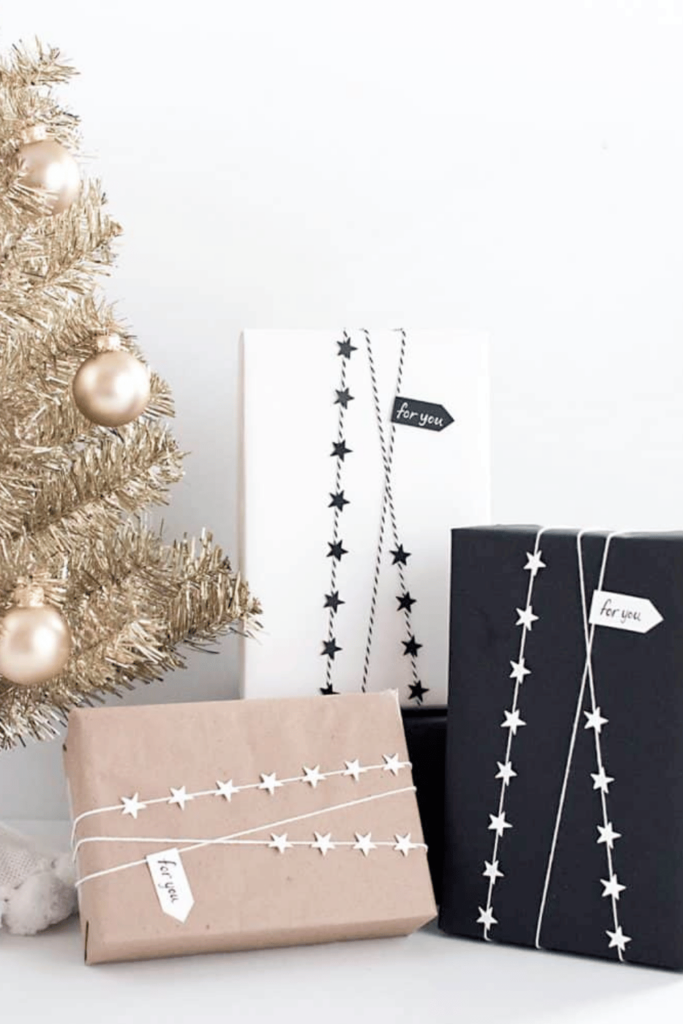 DIY Holiday Gift Tags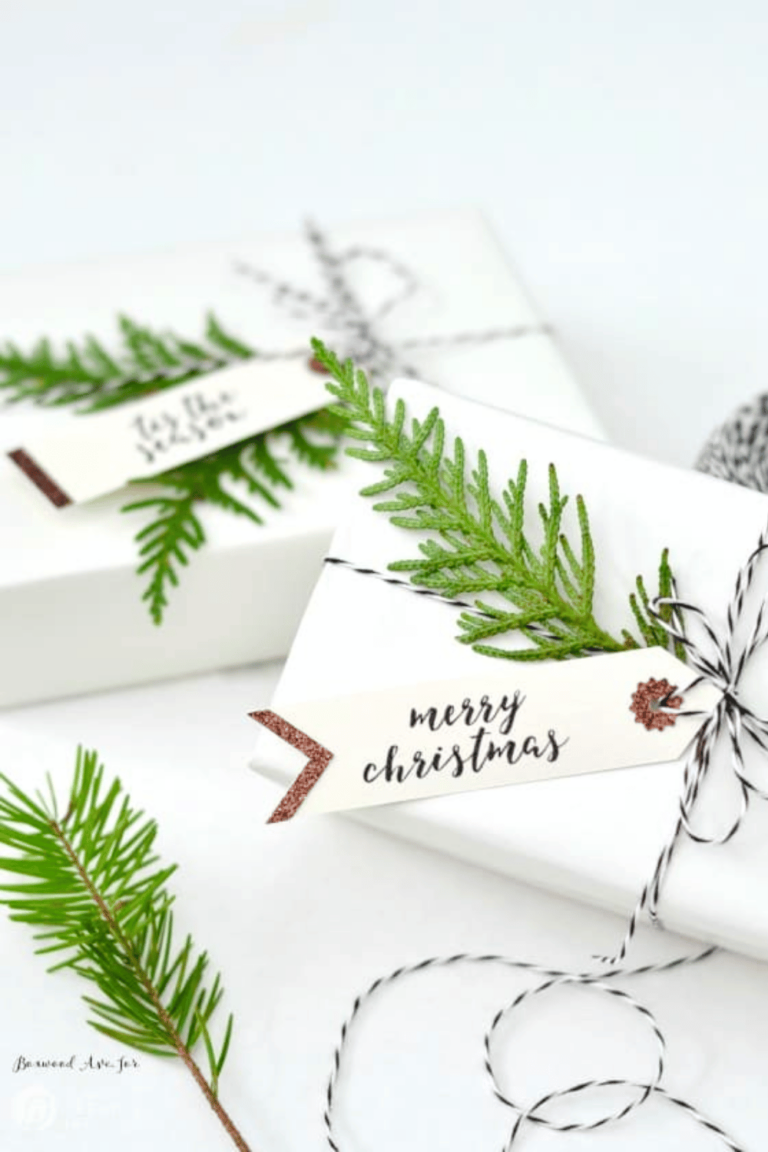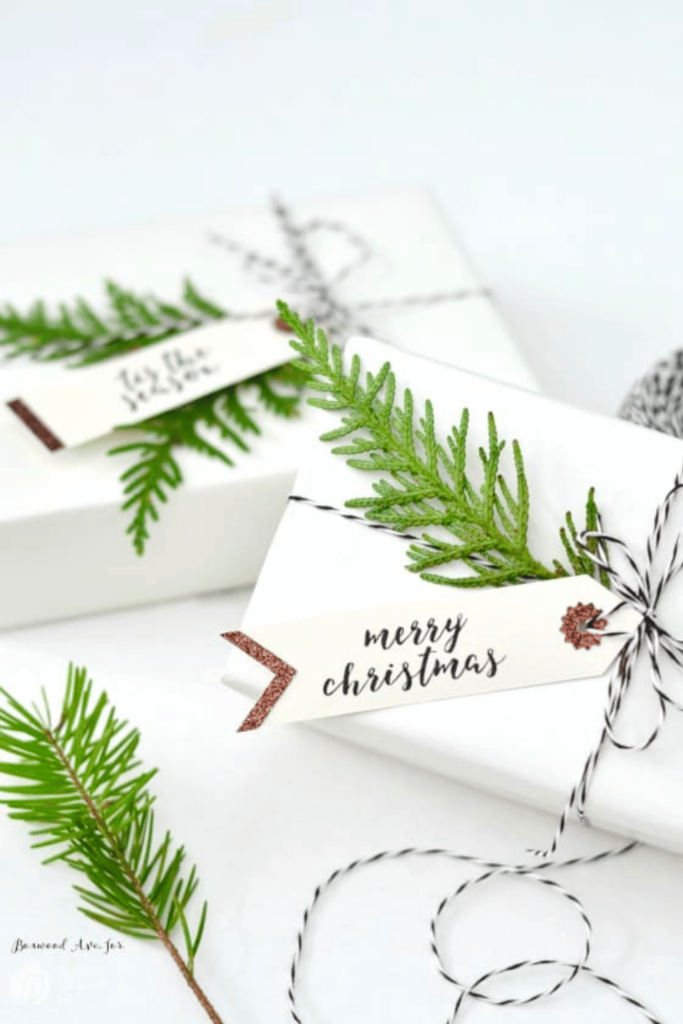 Craft Paper and Boxwood Wreath Gift Wrap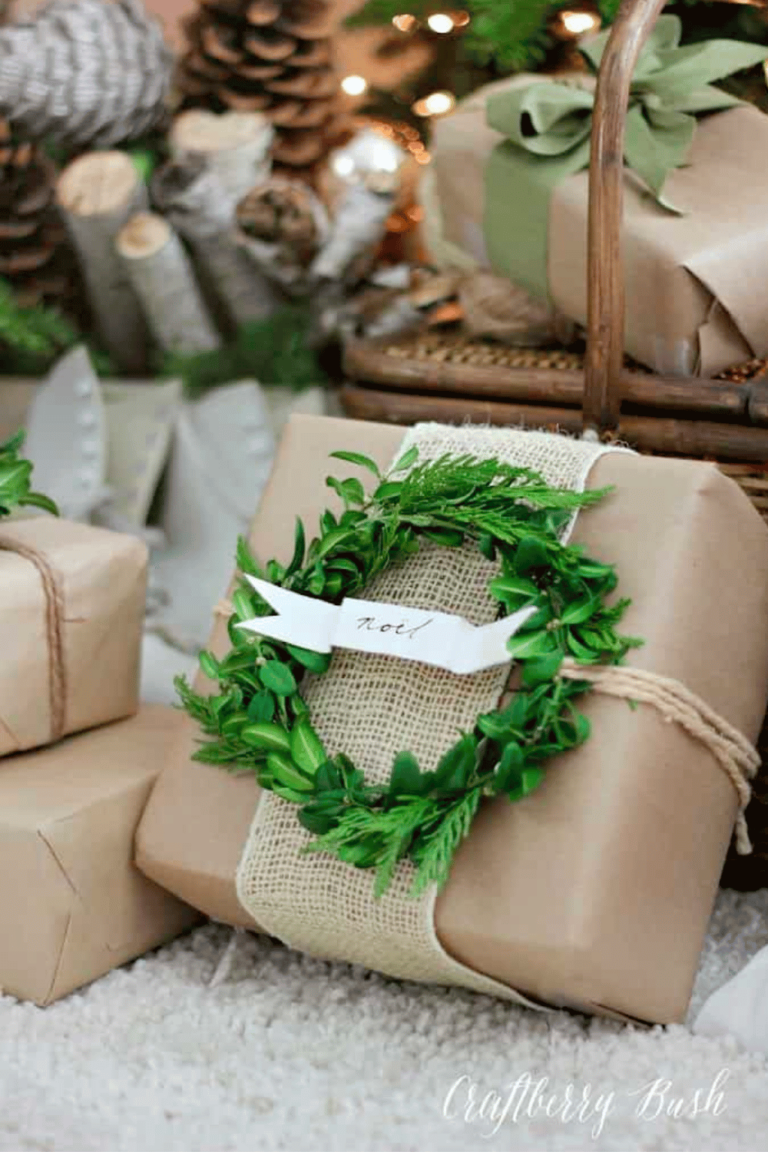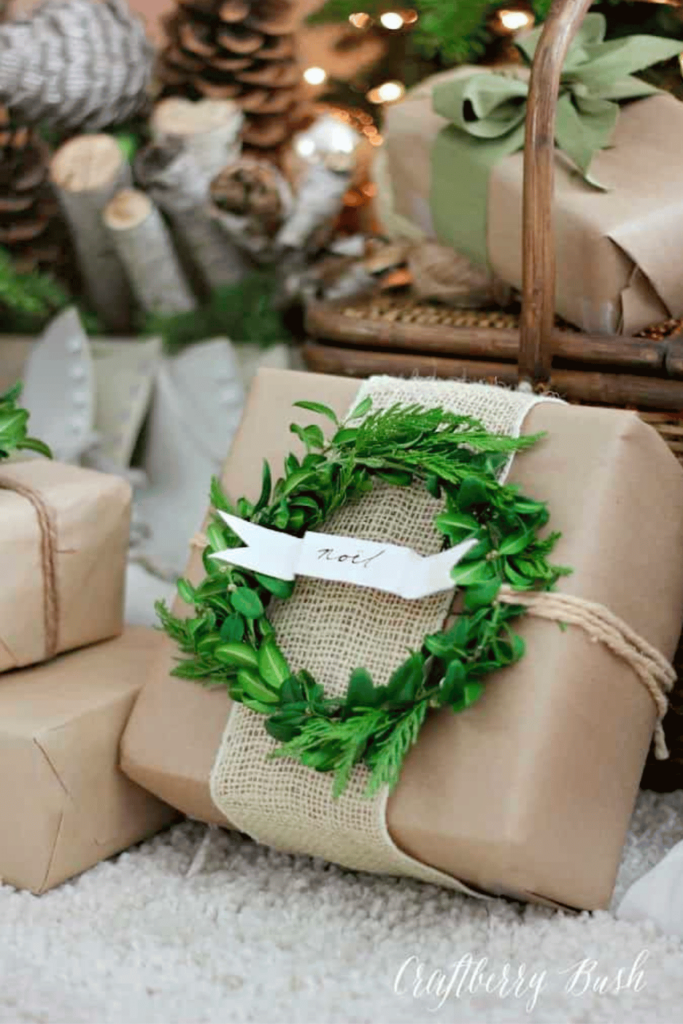 DIY Tree Stamped Wrapping Paper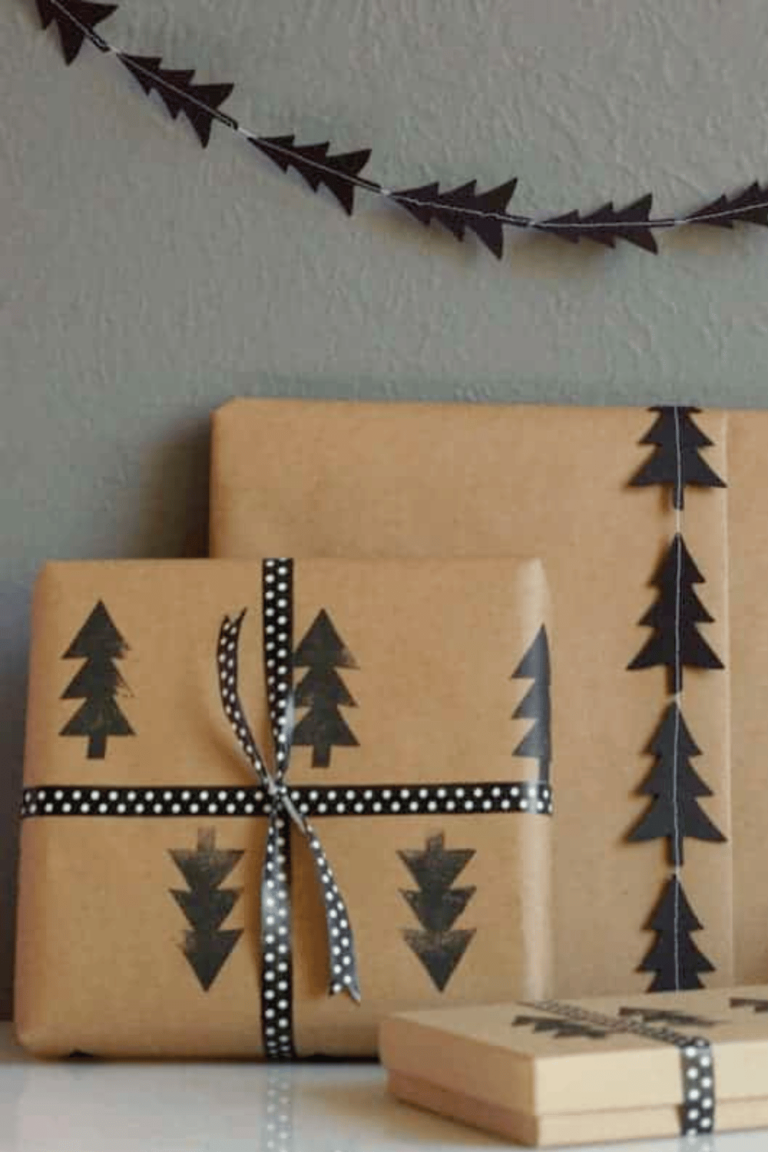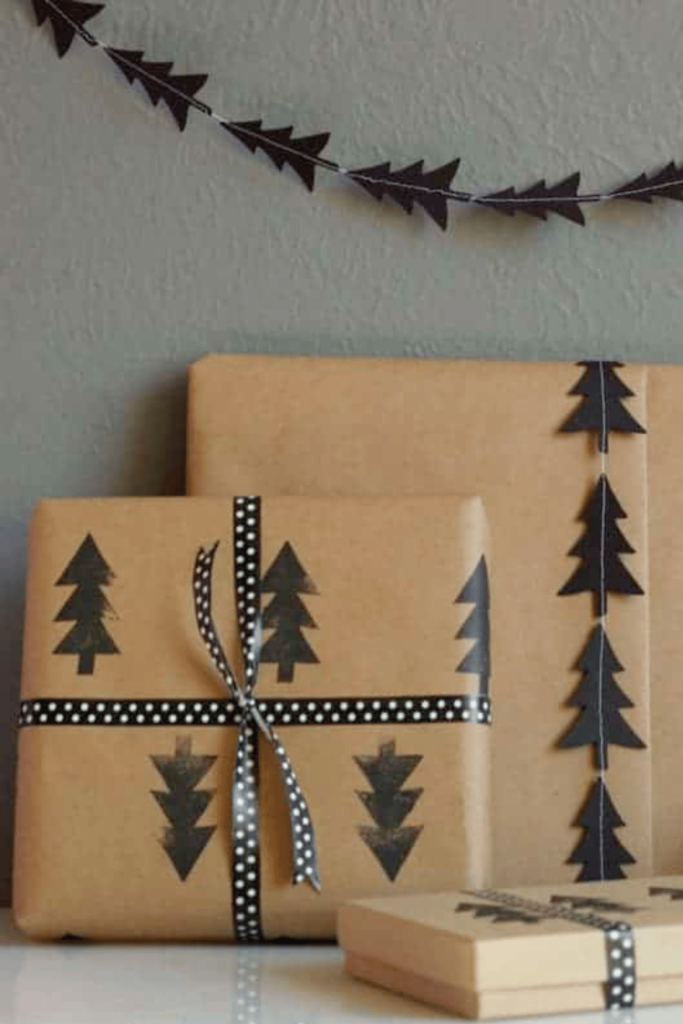 Red Berry Pom Pom Twig Gift Topper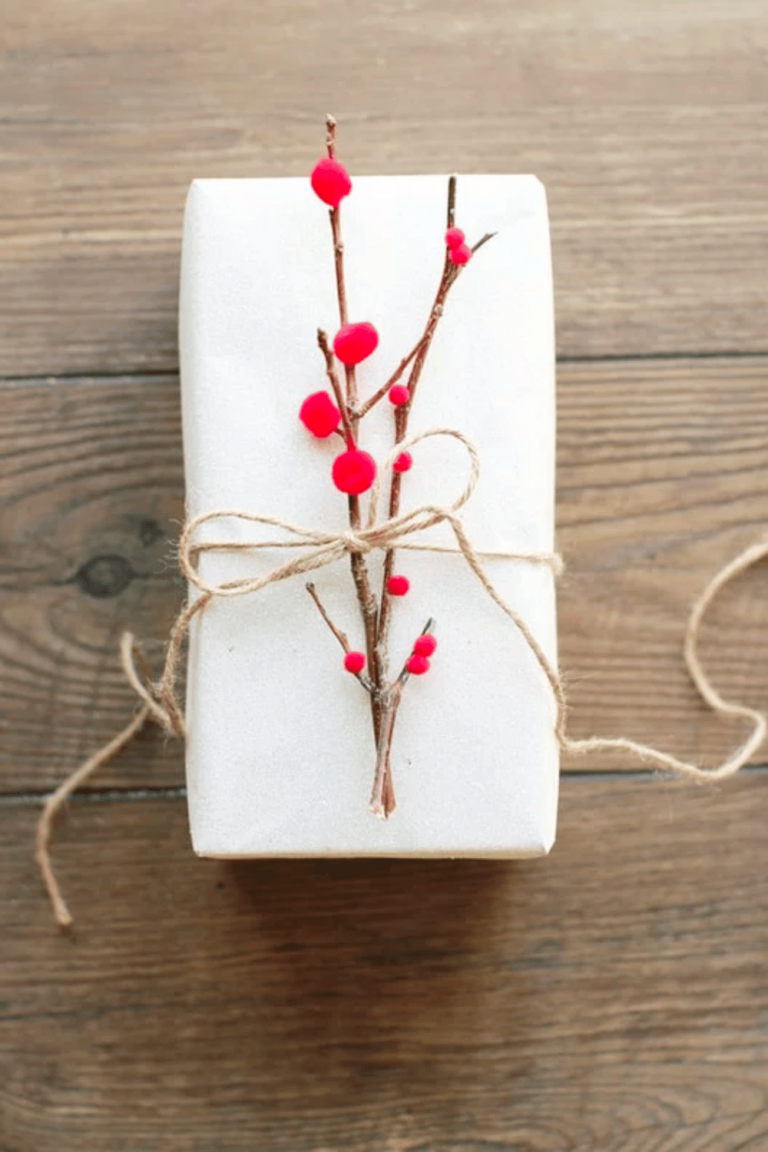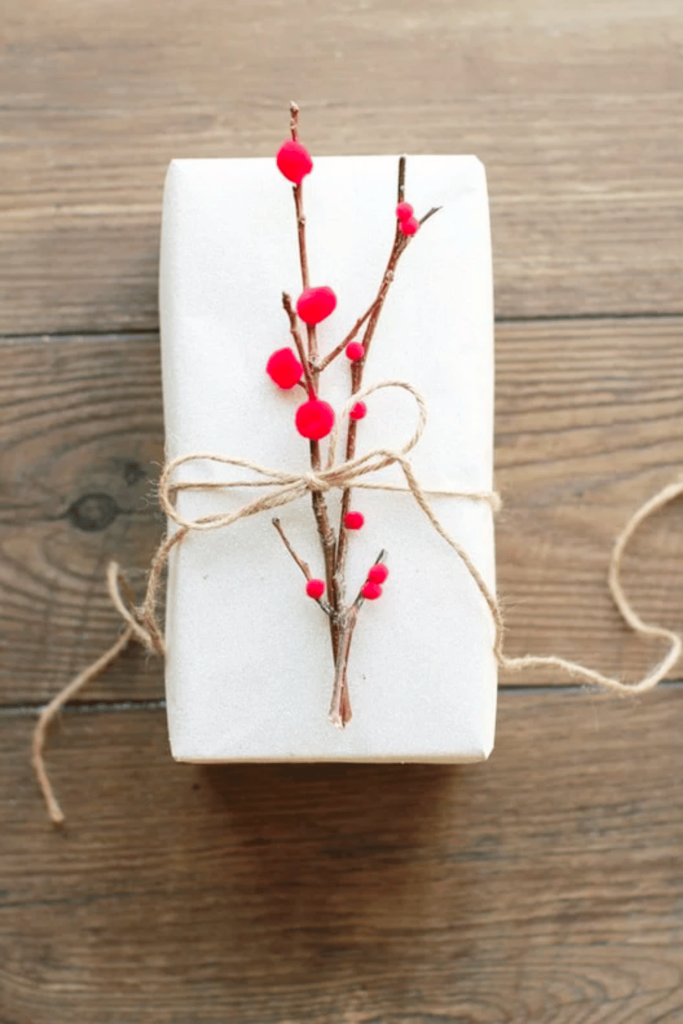 DIY Potato Stamp Christmas Paper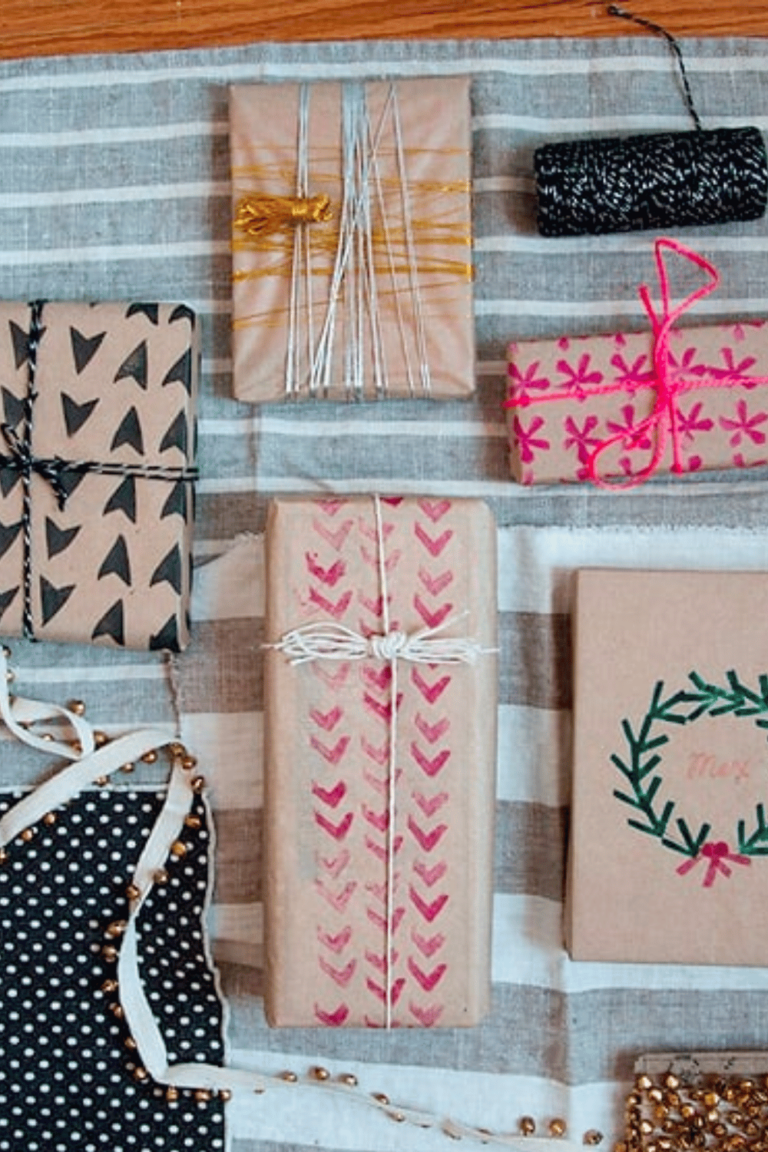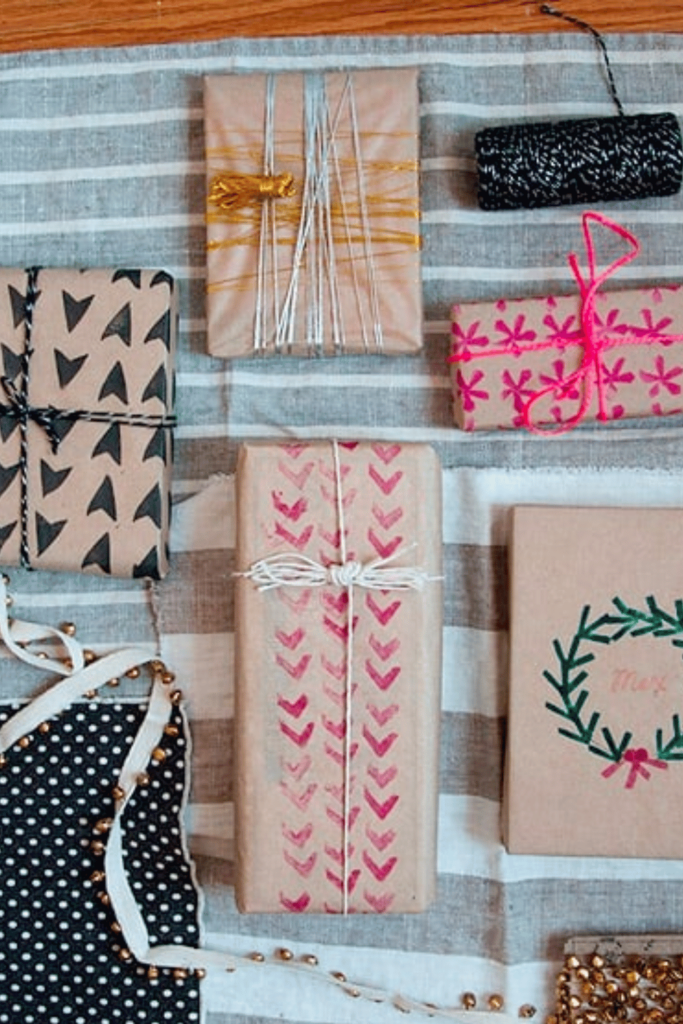 Knitted Ribbon With Pom Pom Topper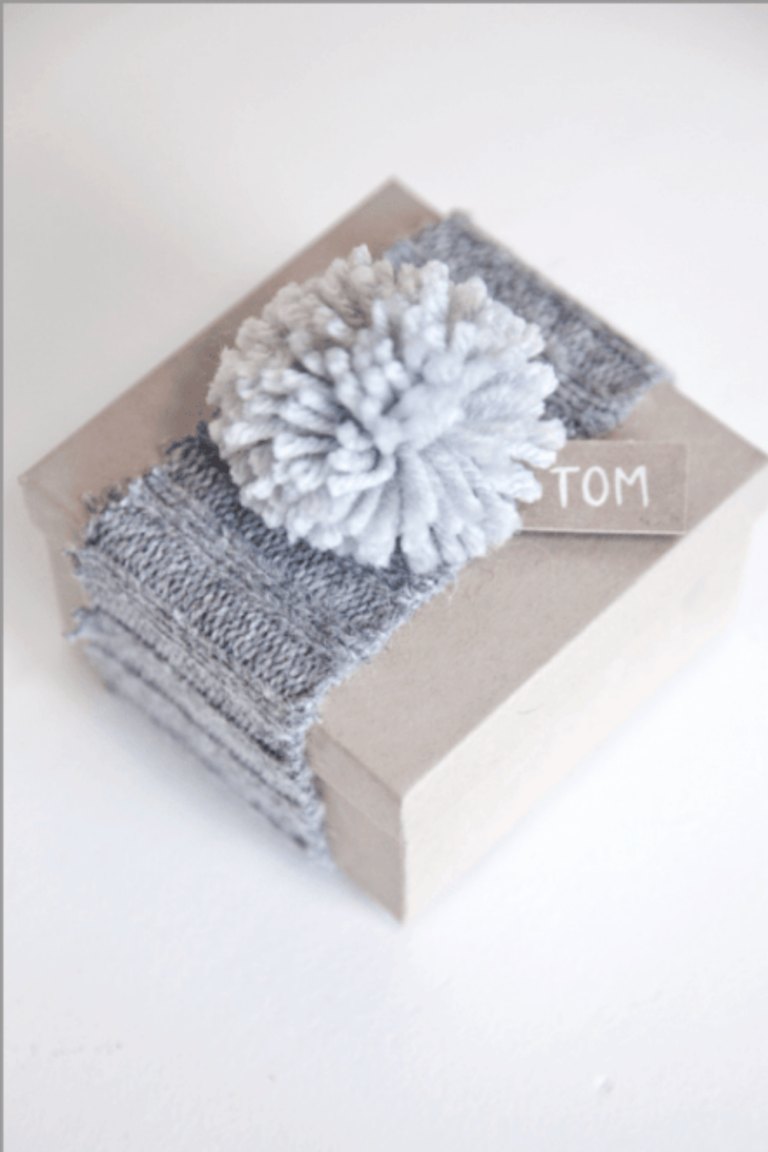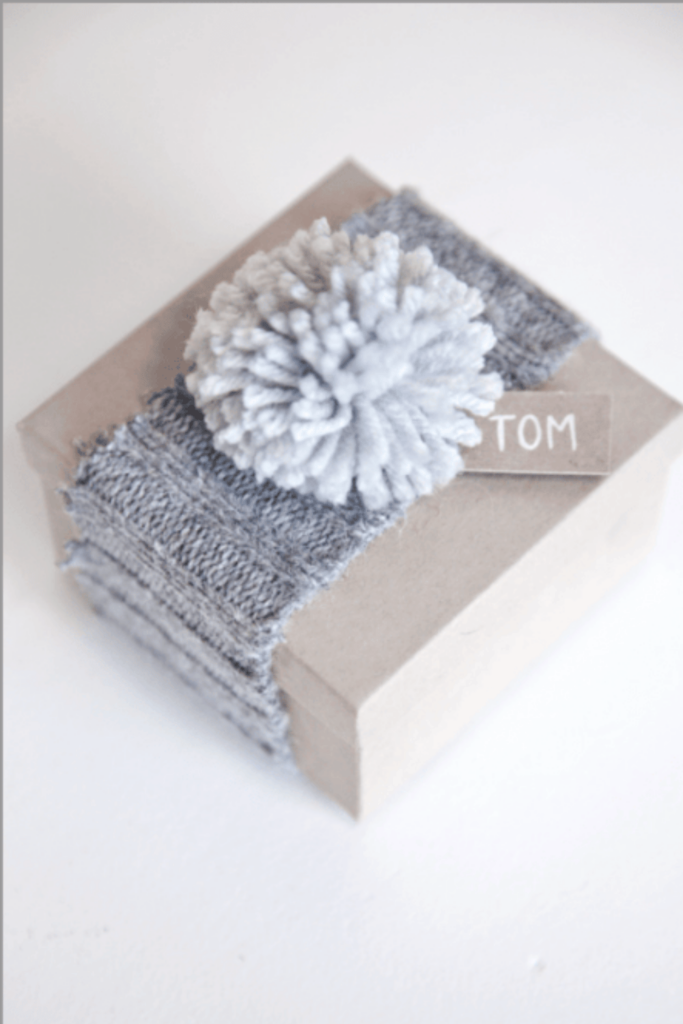 DIY Centerpieces and Decorations for a Festive Feast
Set the stage for a memorable holiday feast with our DIY table centerpieces and decorations…
These elegant yet easy-to-create projects will not only enhance your festive decor but also serve as a stunning focal point at your holiday gatherings.
We've got rustic, farmhouse-inspired arrangements to modern, chic designs… you'll be spoilt for choice!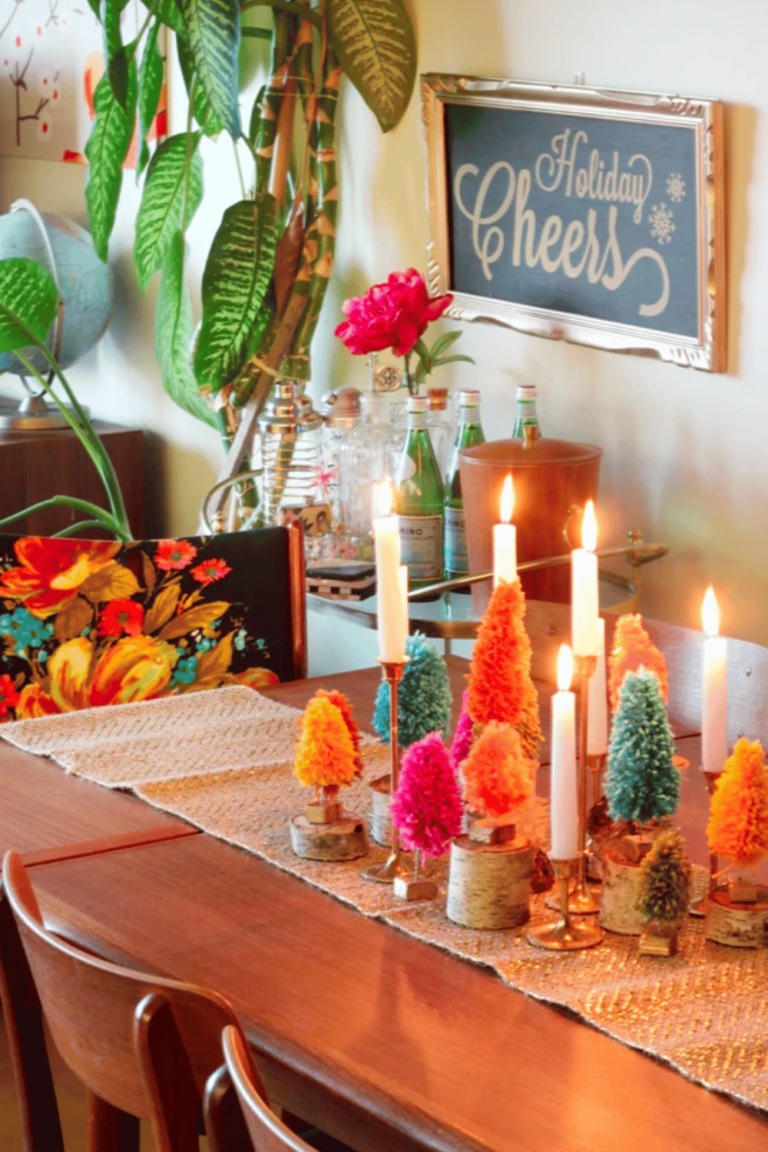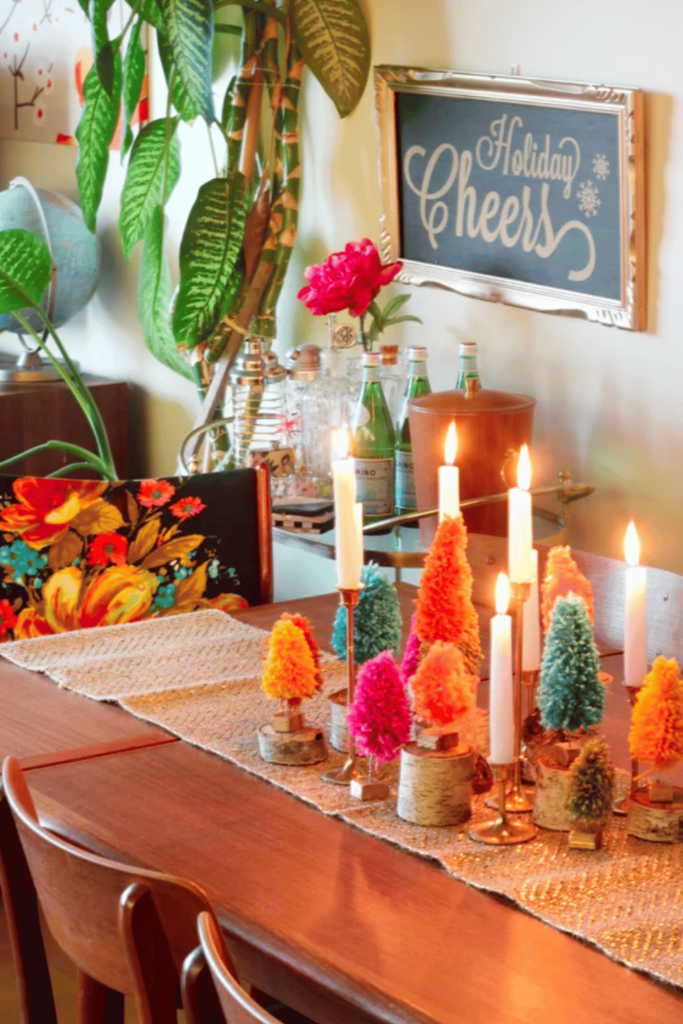 Festive Chintz Tablecloth With Flowers & Candles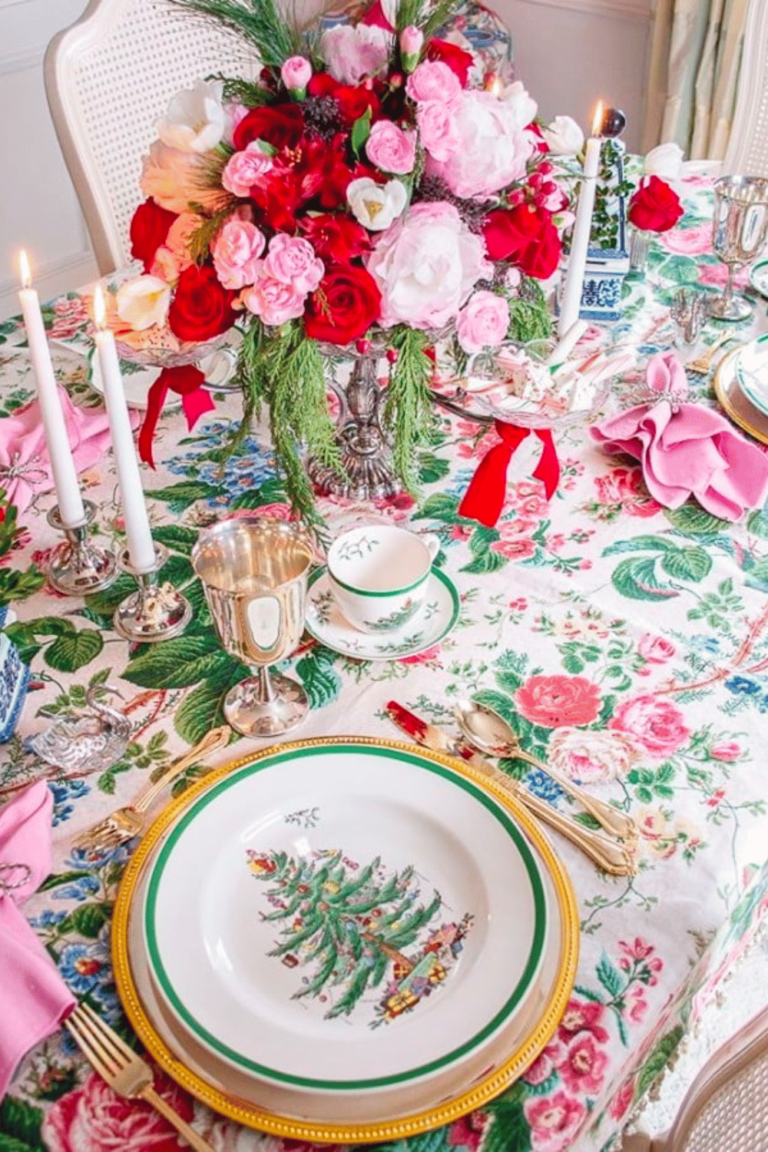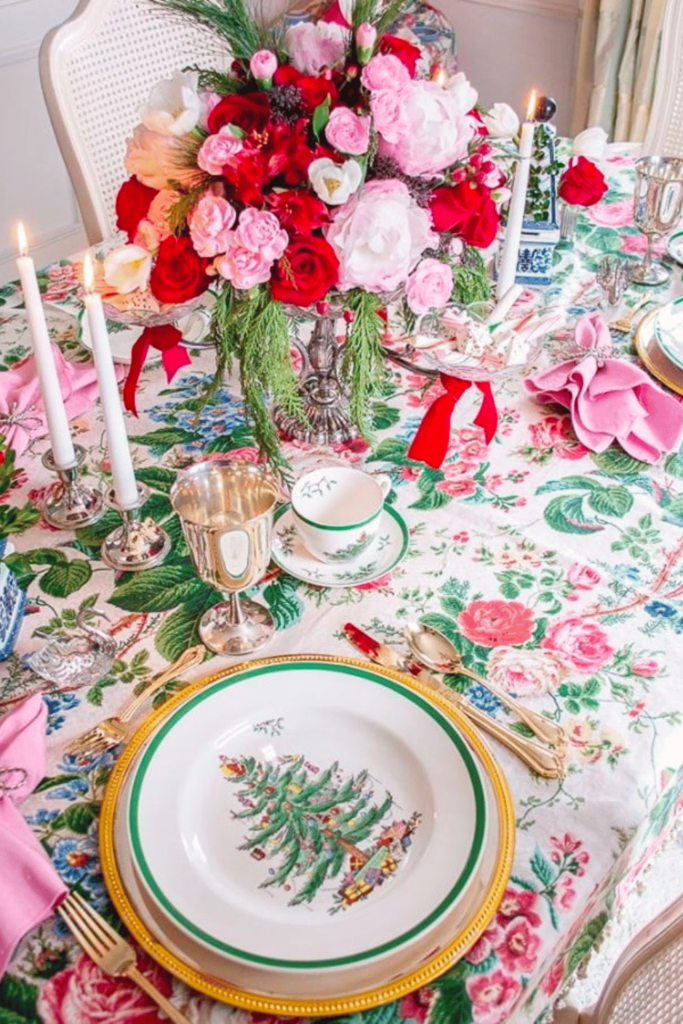 Whimsical Table With Gingerbread House Centerpiece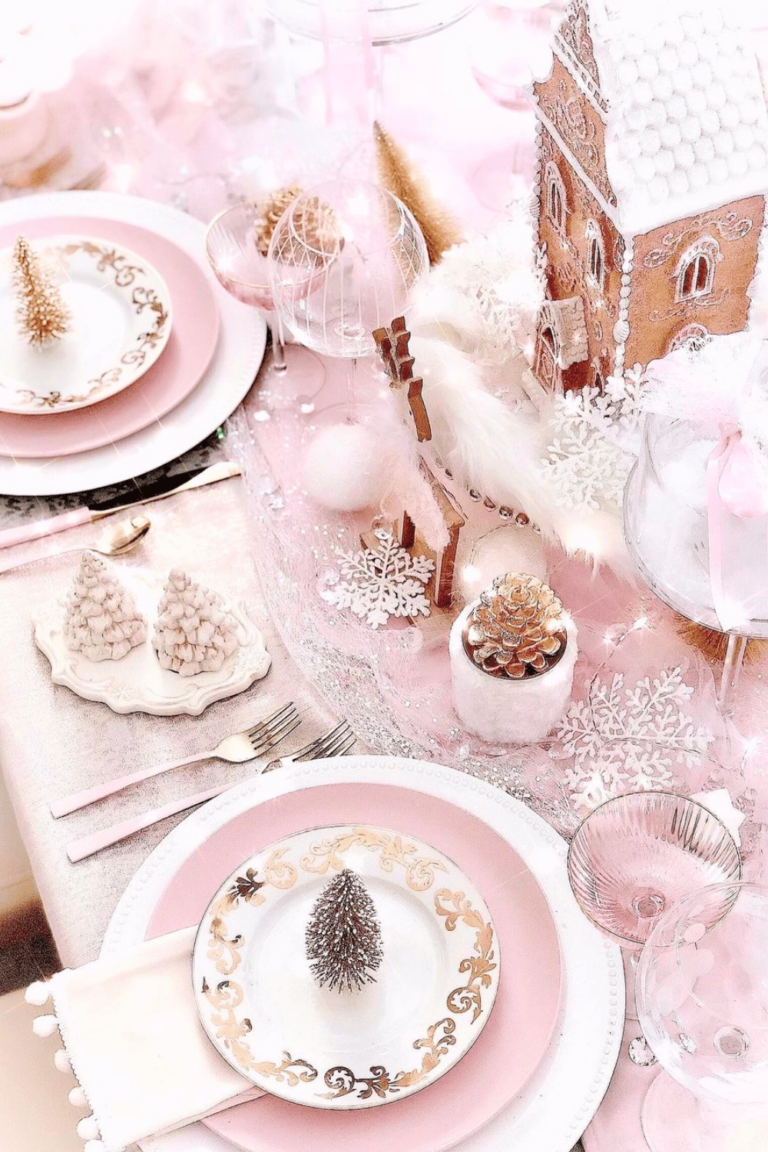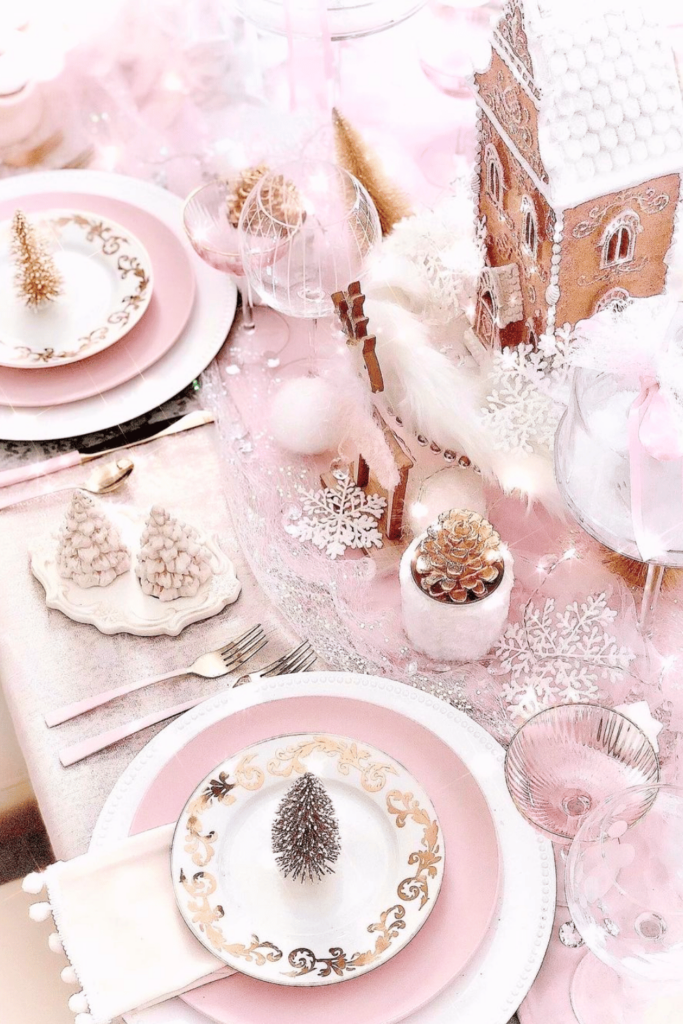 Traditional Farmhouse Table Setting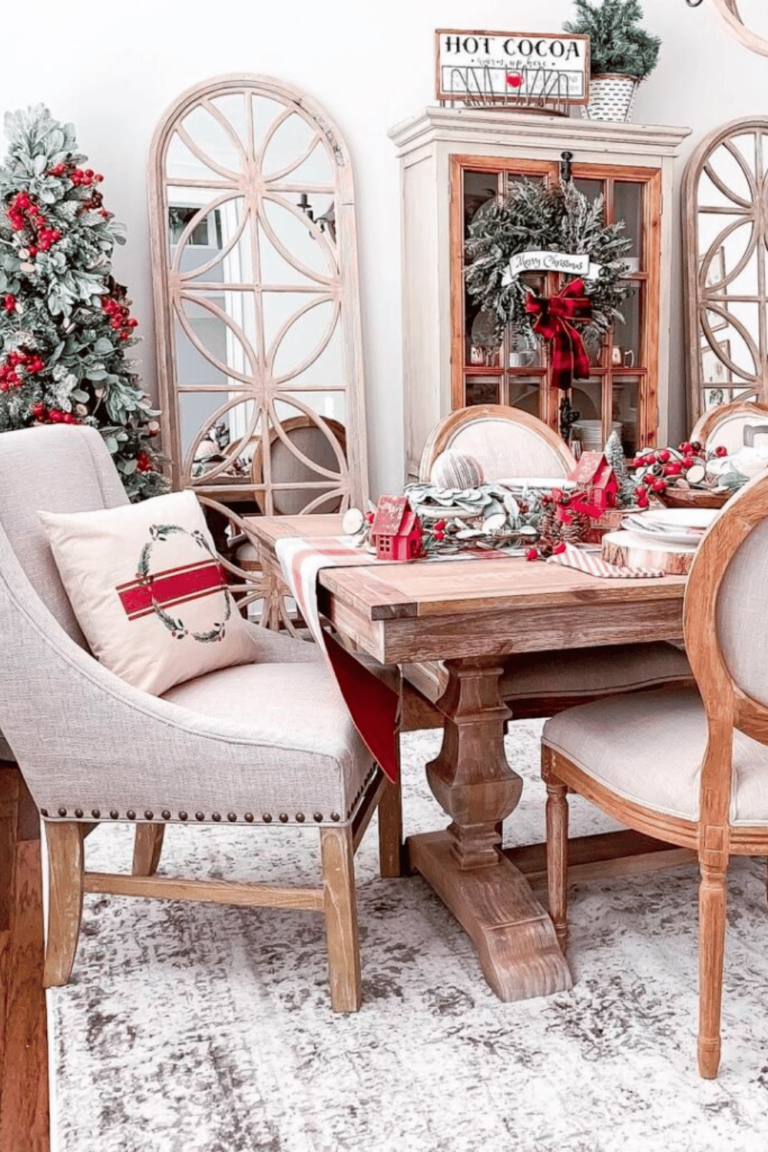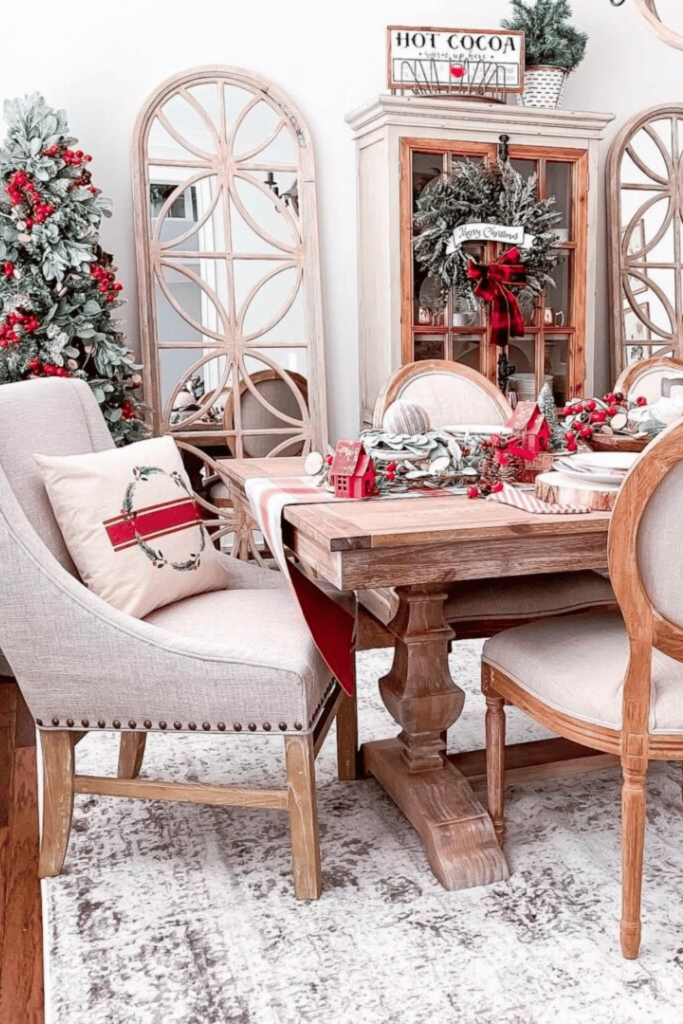 Natural Greenery Table Runner With Pinecones and Gold Bells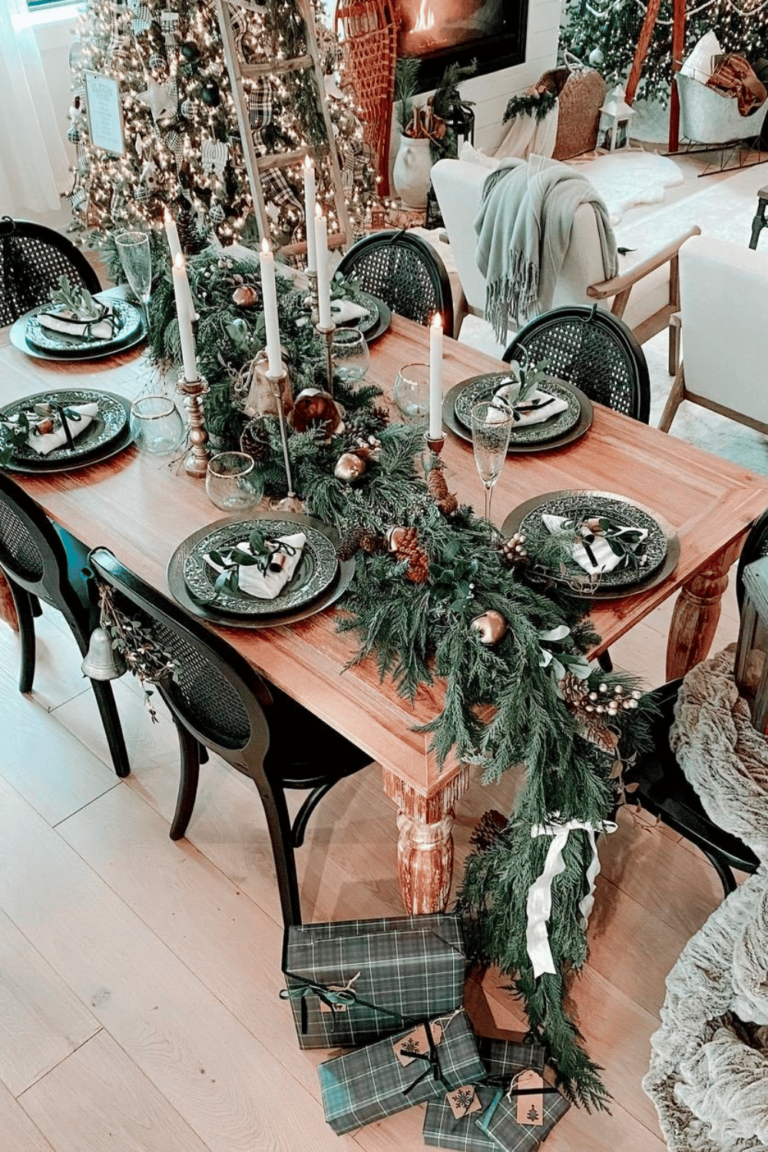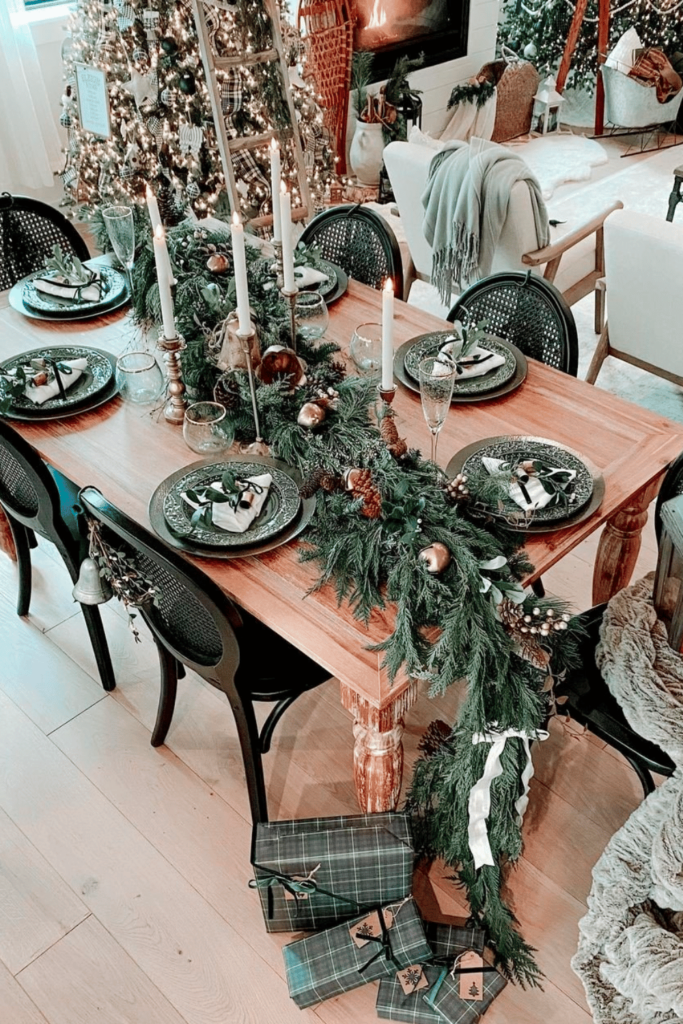 DIY Pine Cone Pom Pom Centerpiece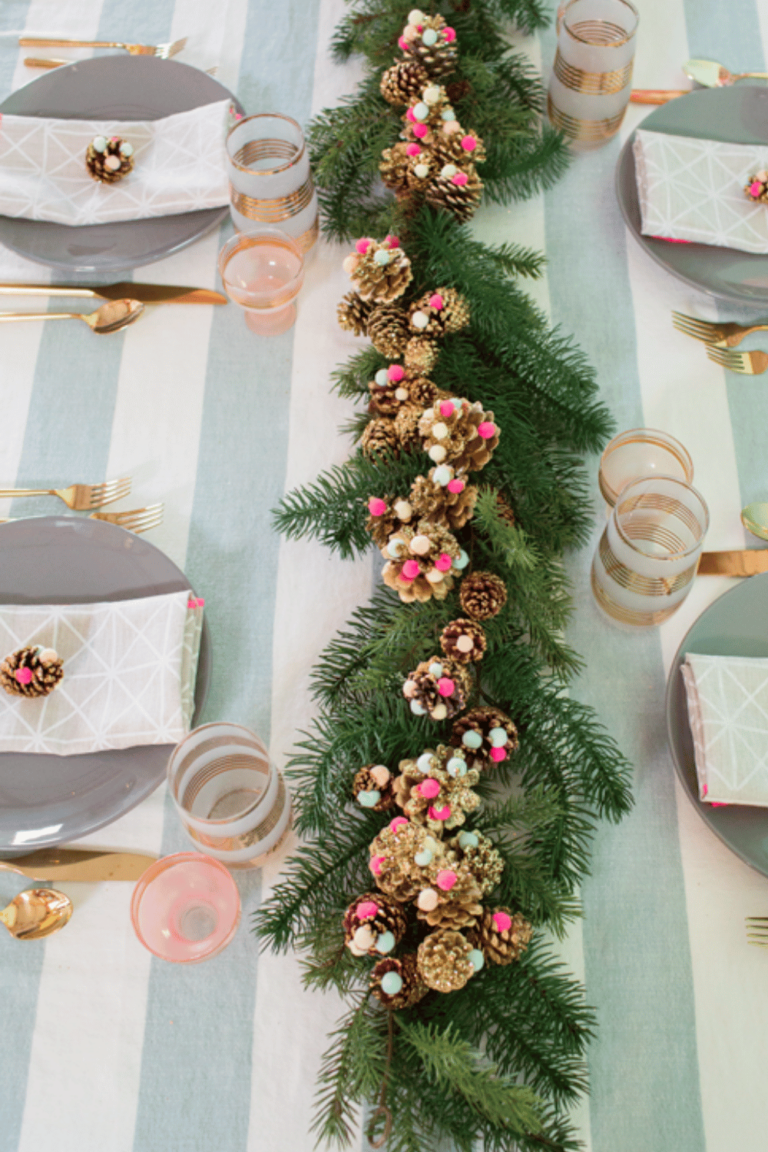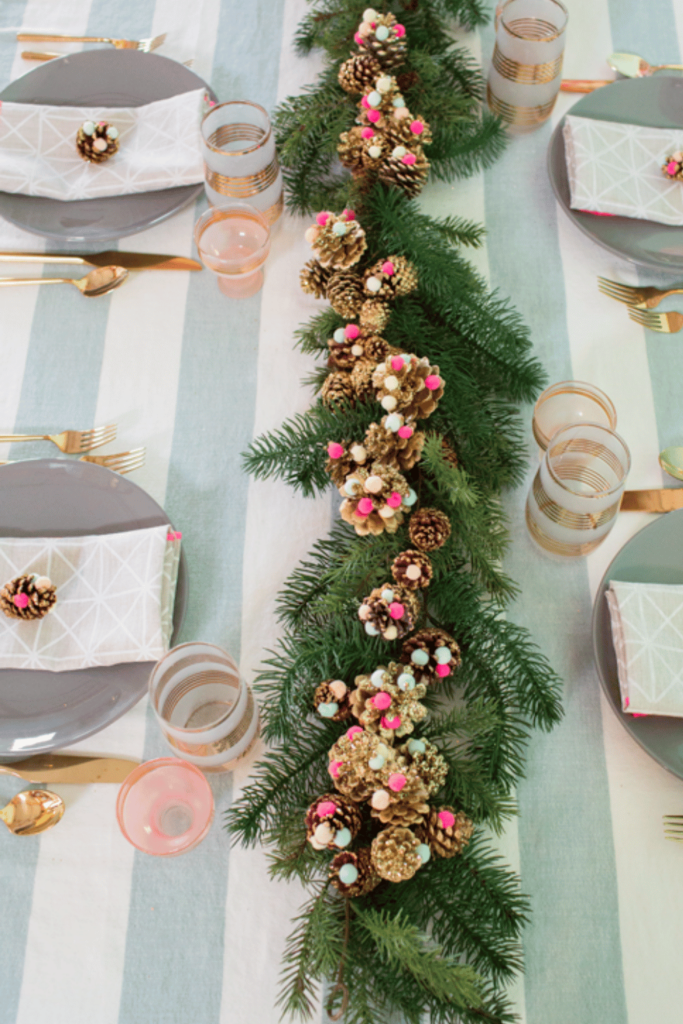 Festive Wrapping Paper Table Runner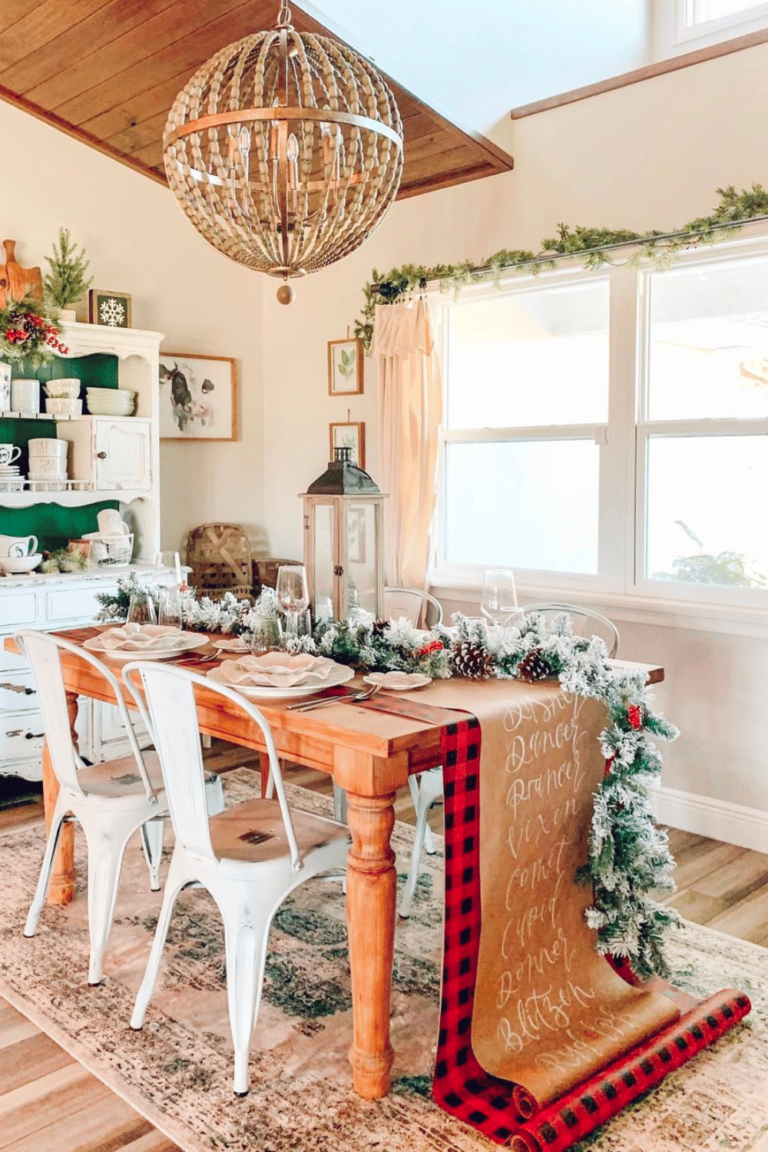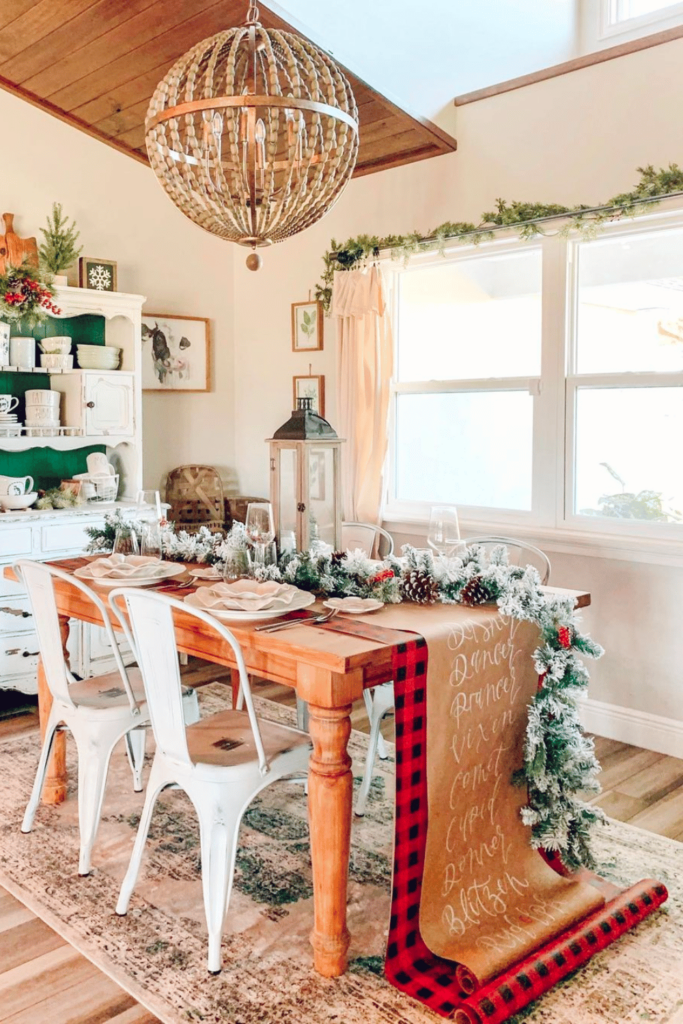 DIY Mossy Centerpiece With Apples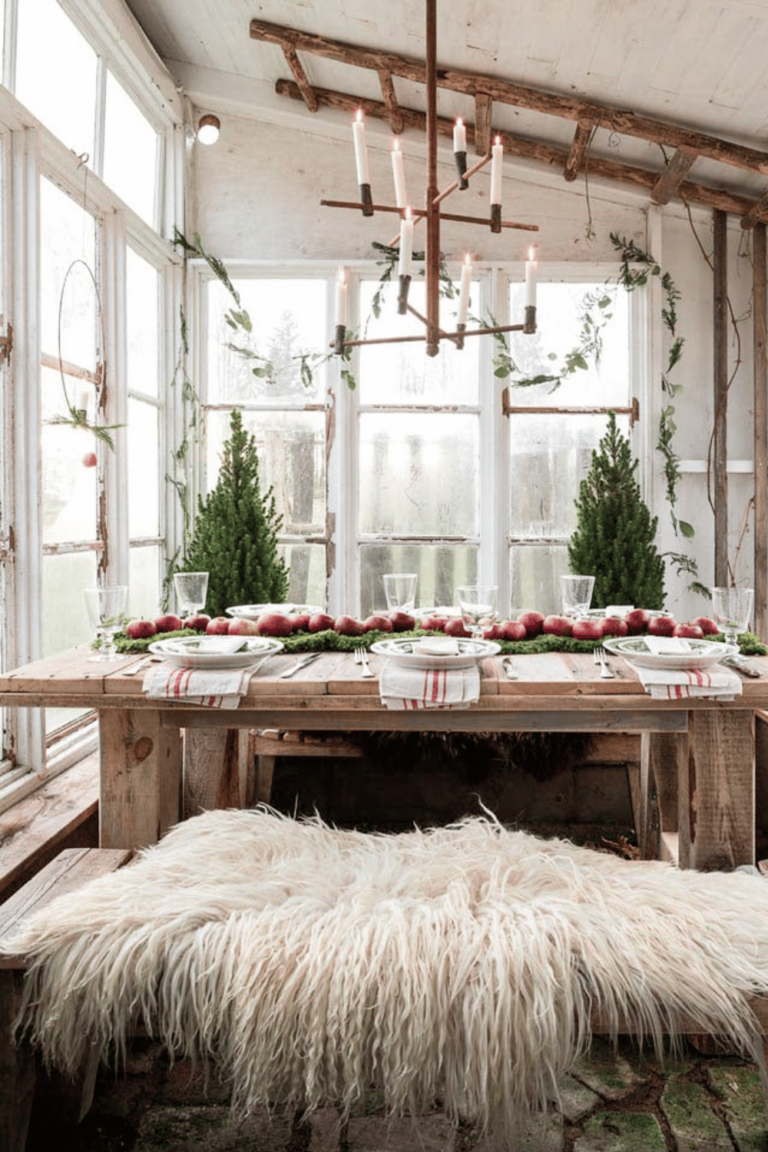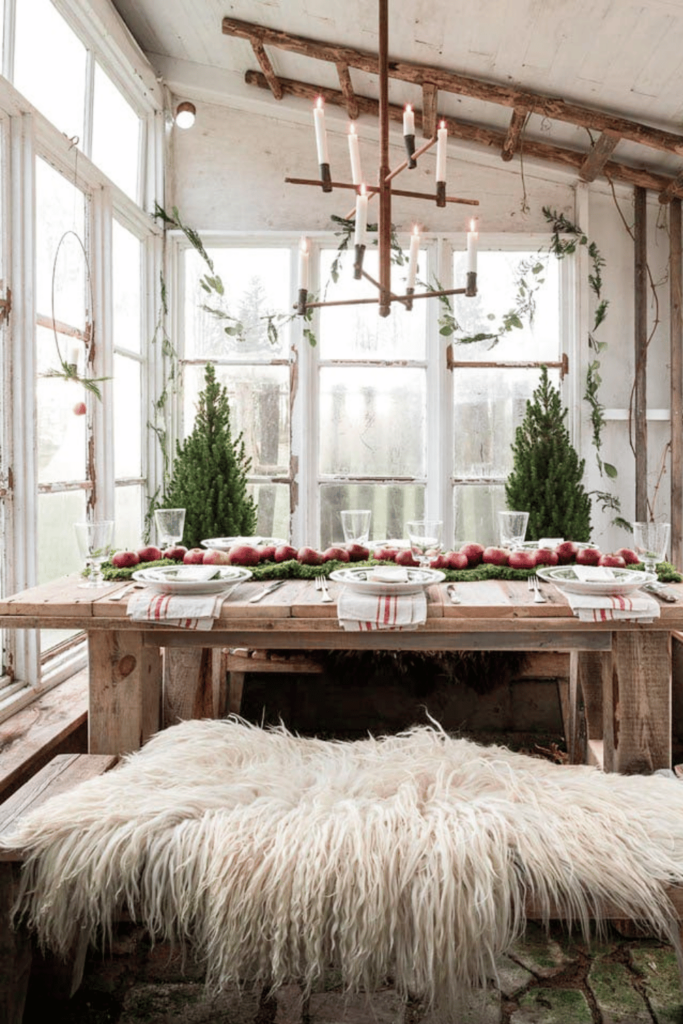 Vintage Letters, Envelopes and Handmade Sheet Music Trees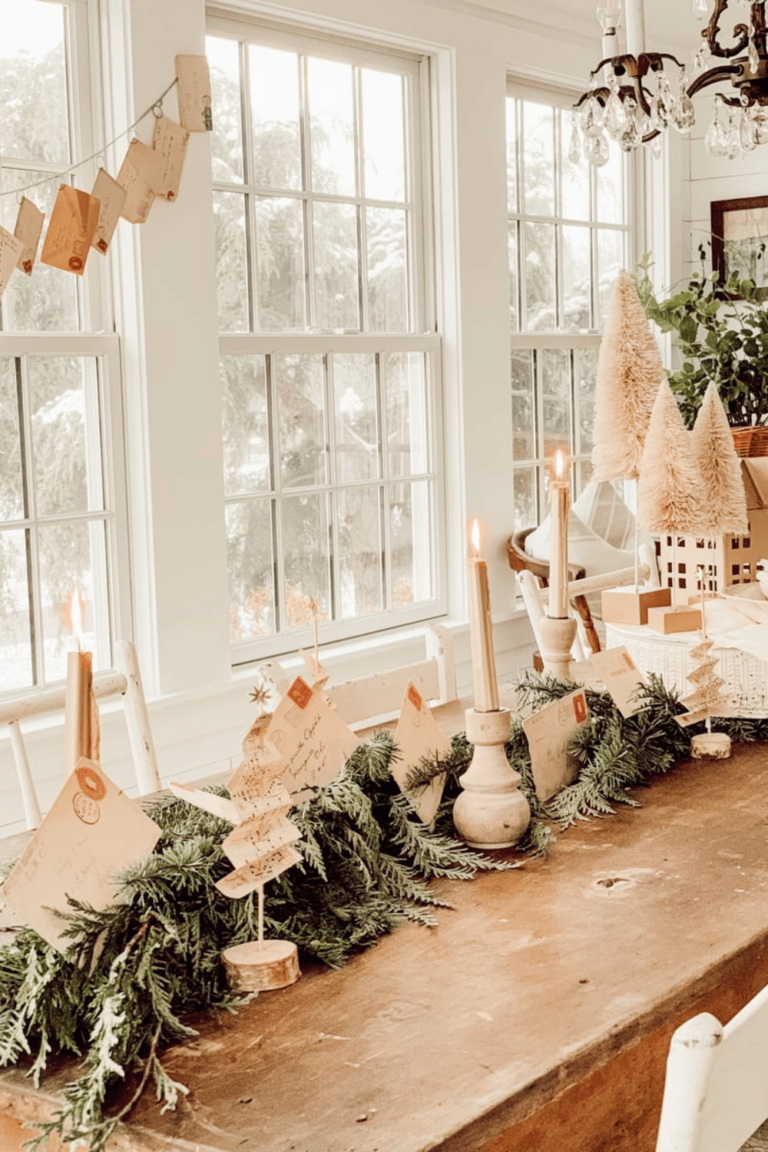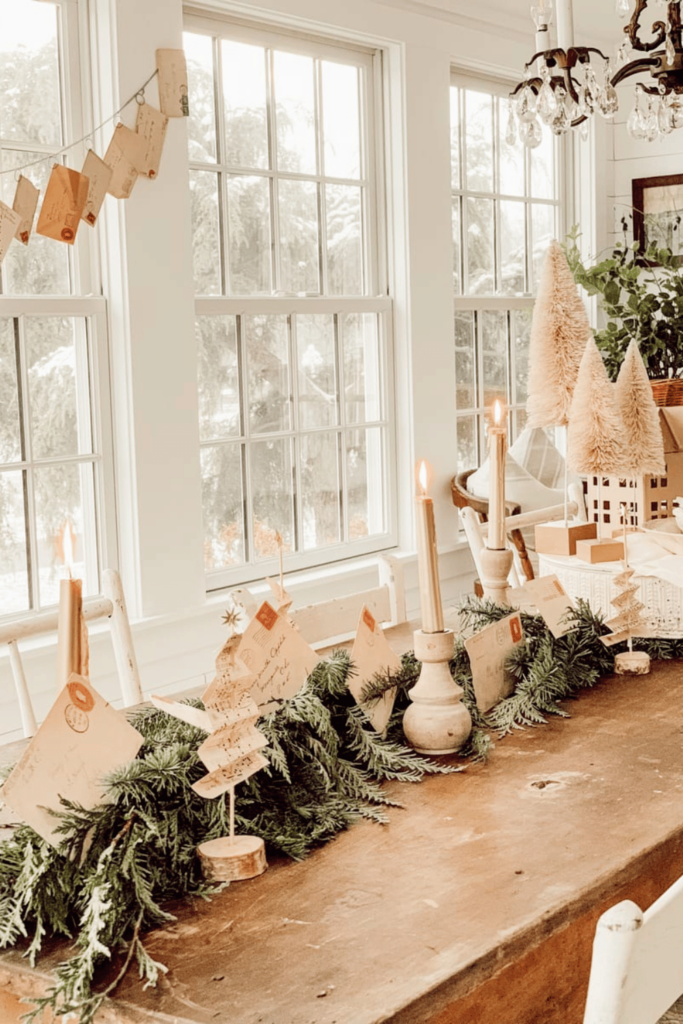 Tabletop Wreath in Traditional Green and Gold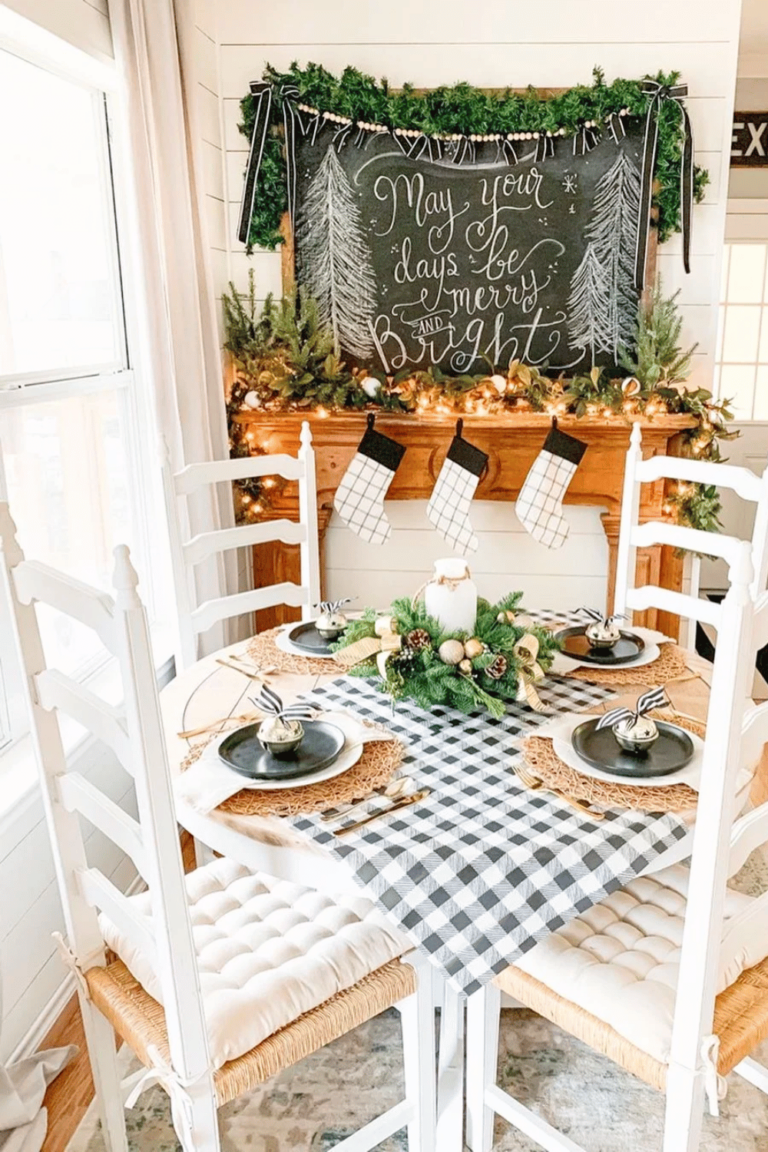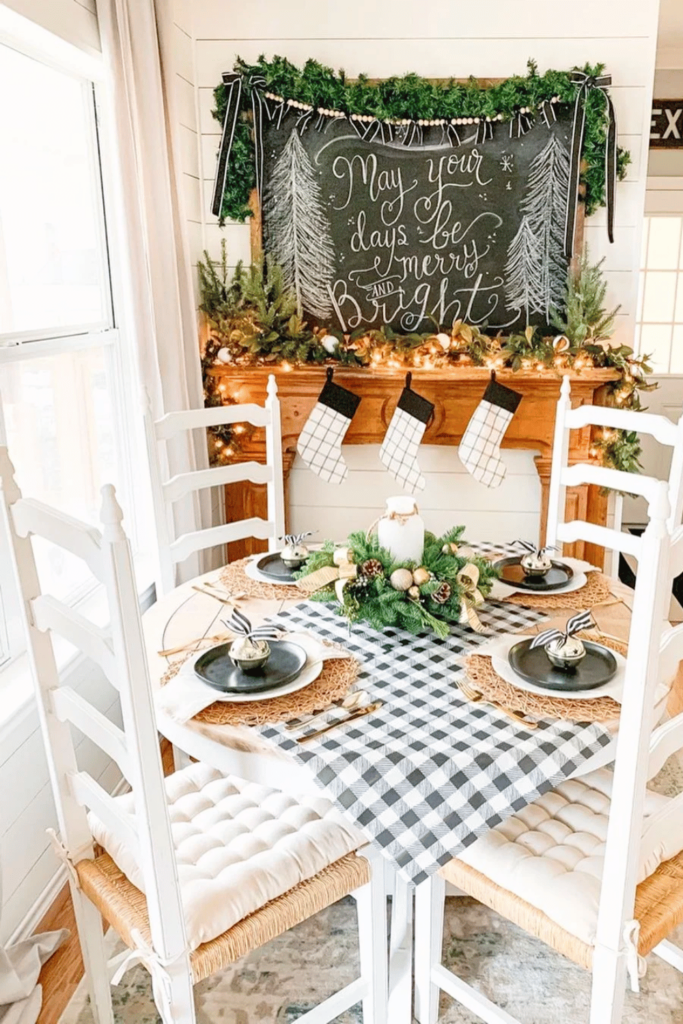 Creative Snowman Place Settings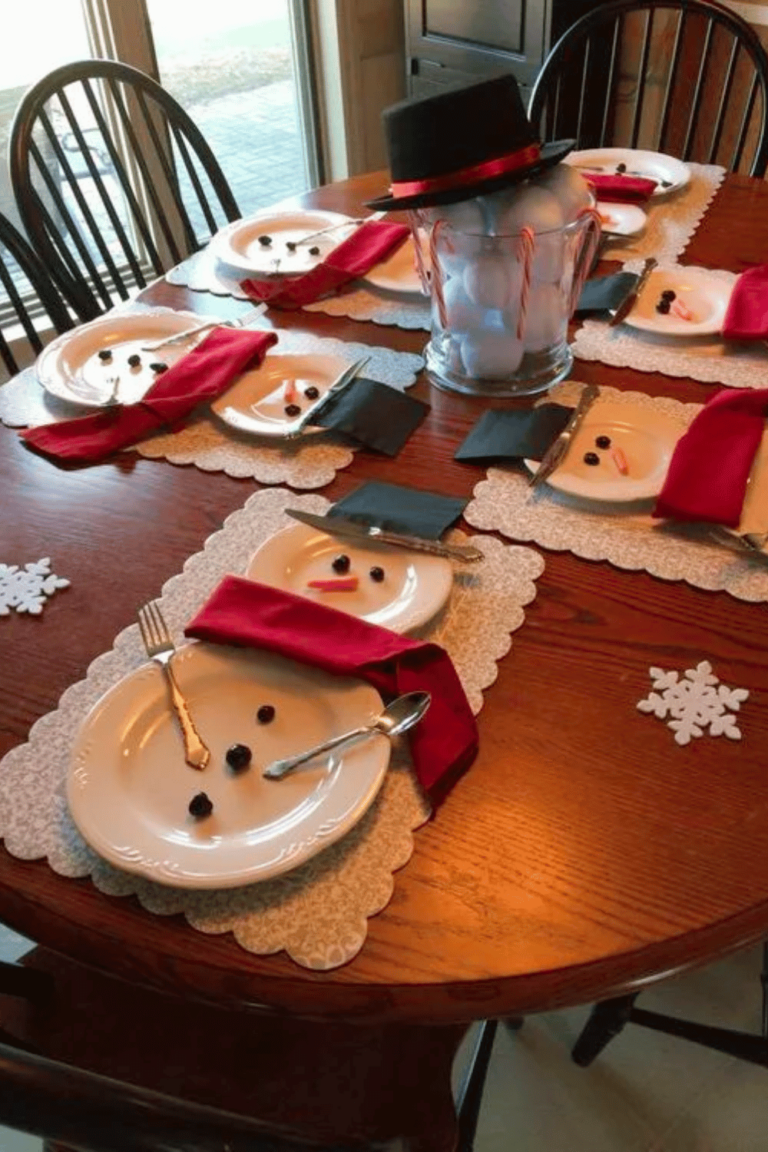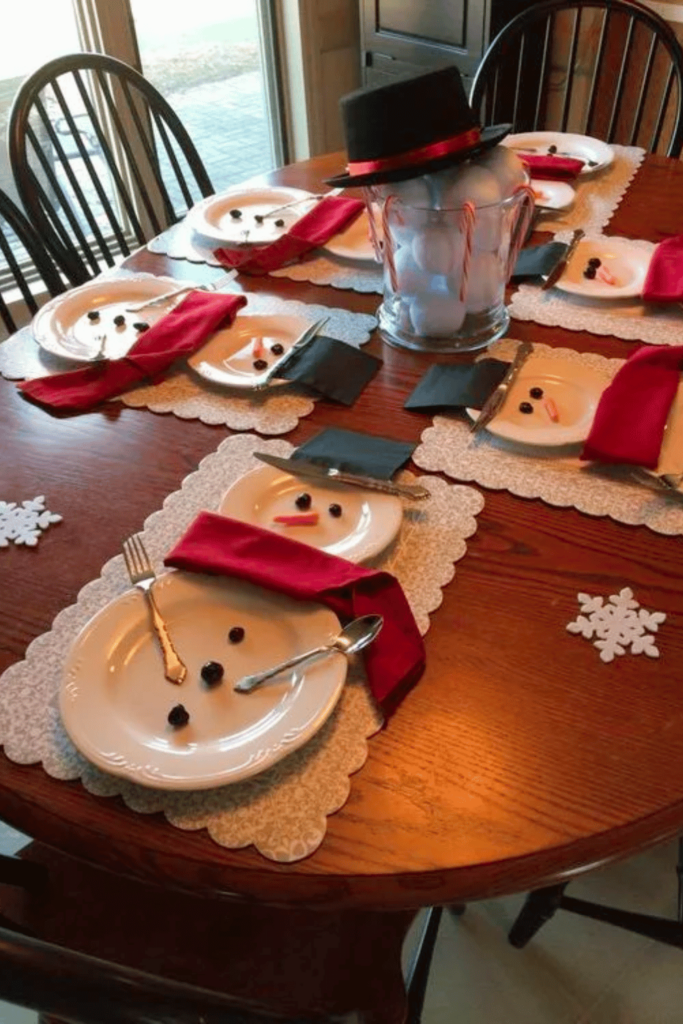 Christmas Tree Napkins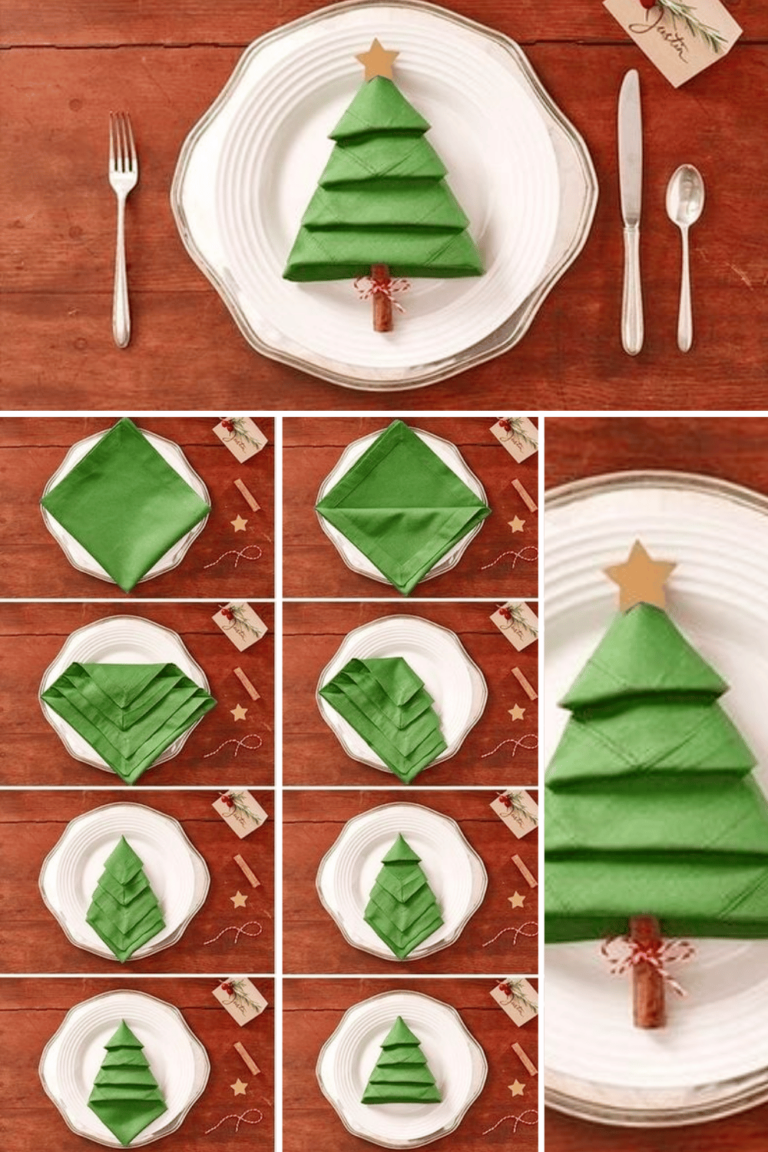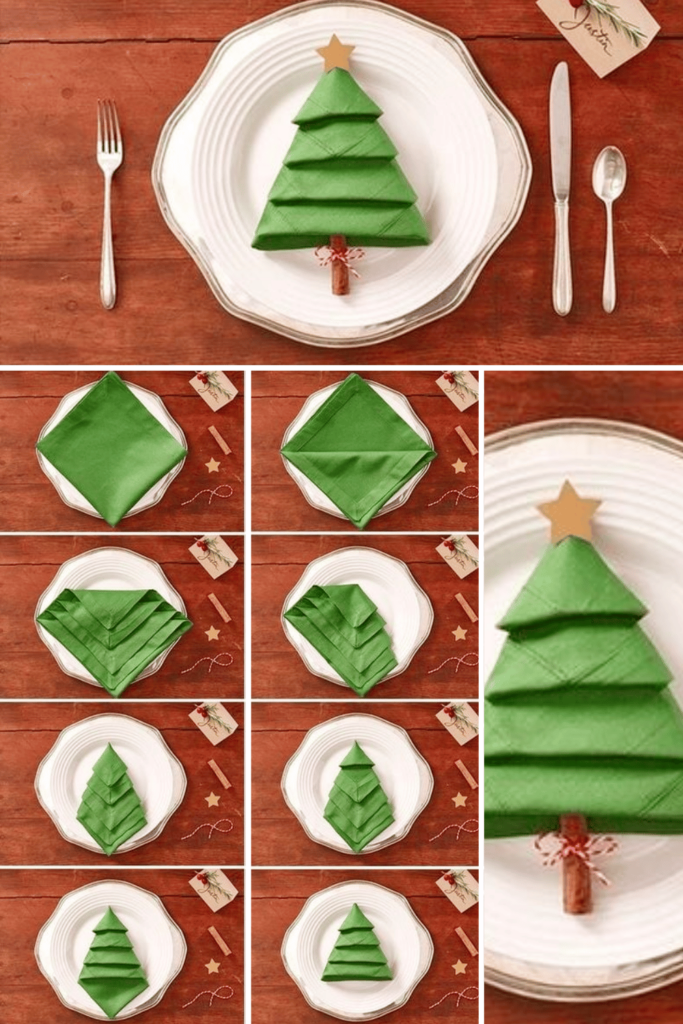 Easy Christmas Crafts for Kids
Calling all little artists and crafters!
There's nothing quite like getting crafty with the kids at Christmas to get you in the holiday spirit and these simple and fun projects are a great place to start!
From cute unicorns to simple salt dough ornaments coated in glitter….
These crafts are sure to spark your little elves creativity and help create lasting memories.
Unicorn Baubles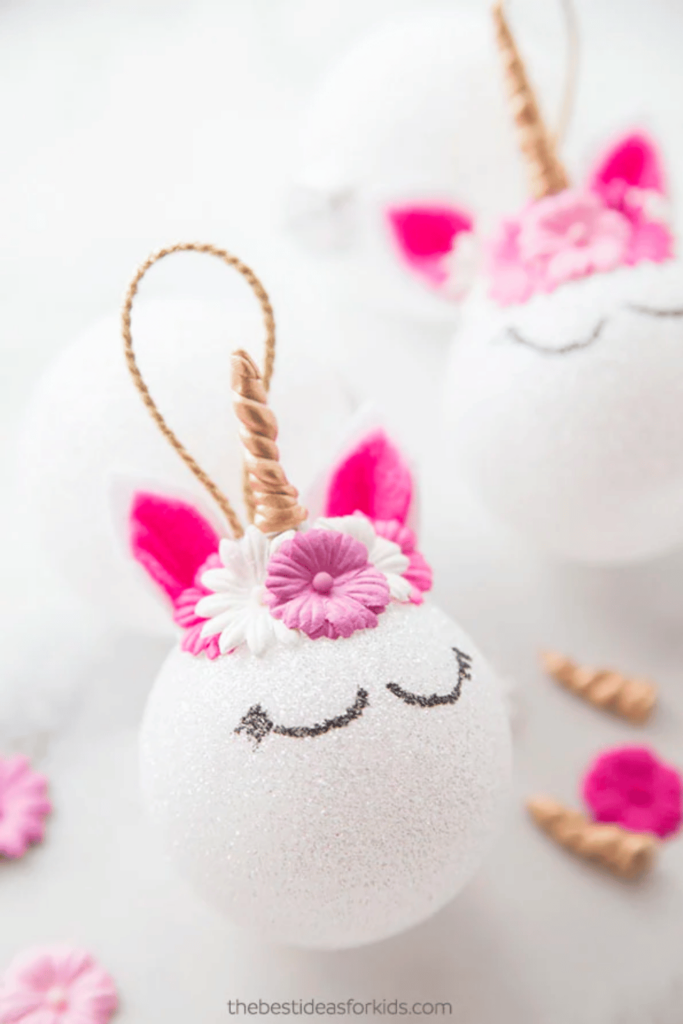 Easy Paper Ice Cream Cone Ornaments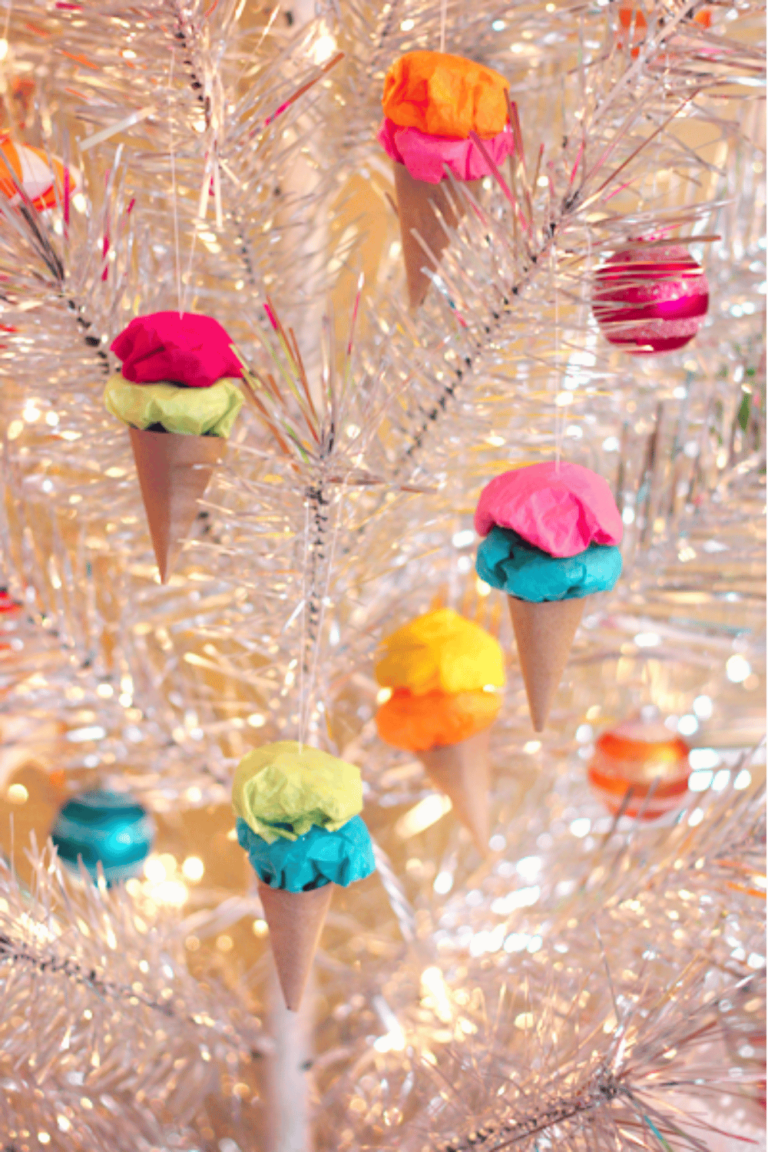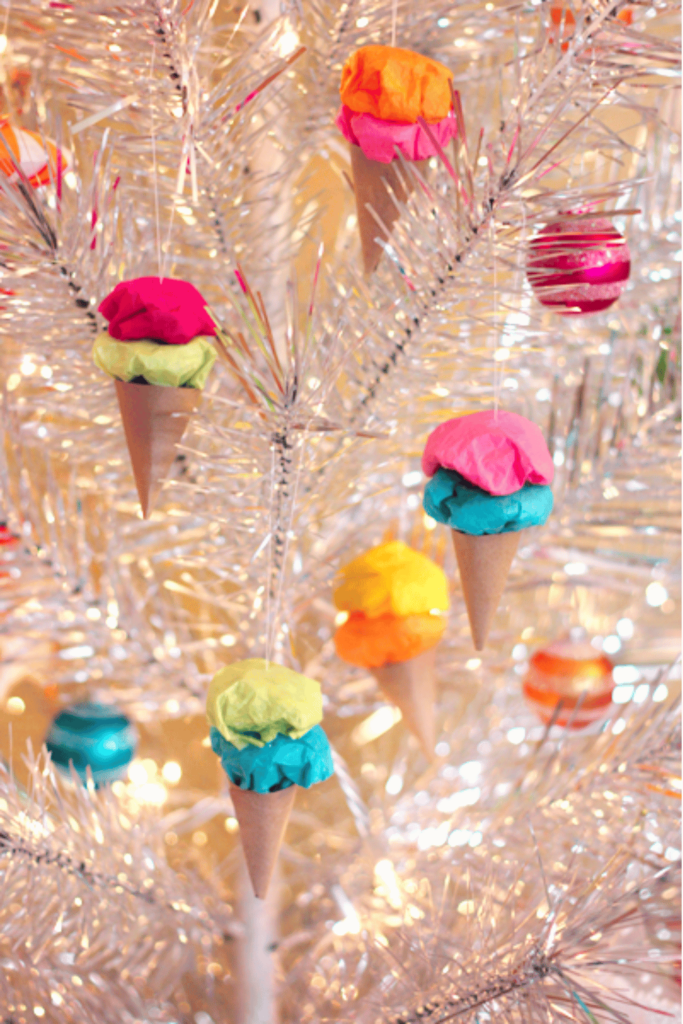 Adorable Penguin Ornaments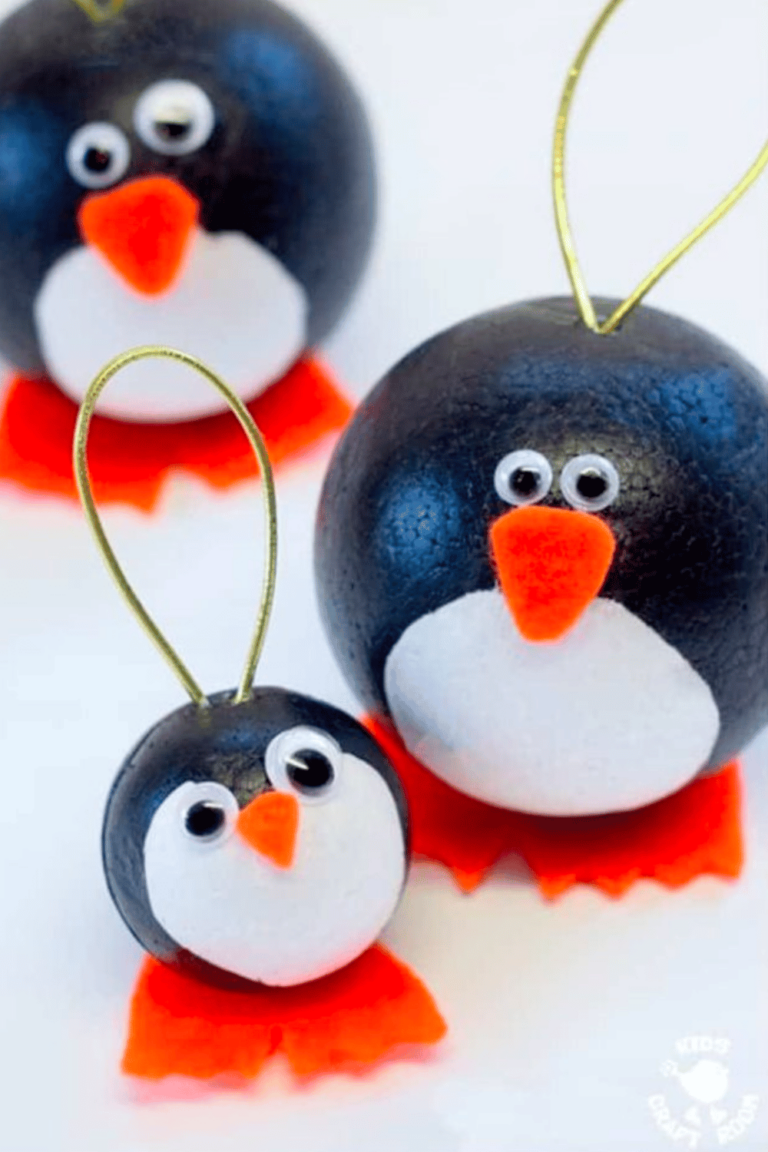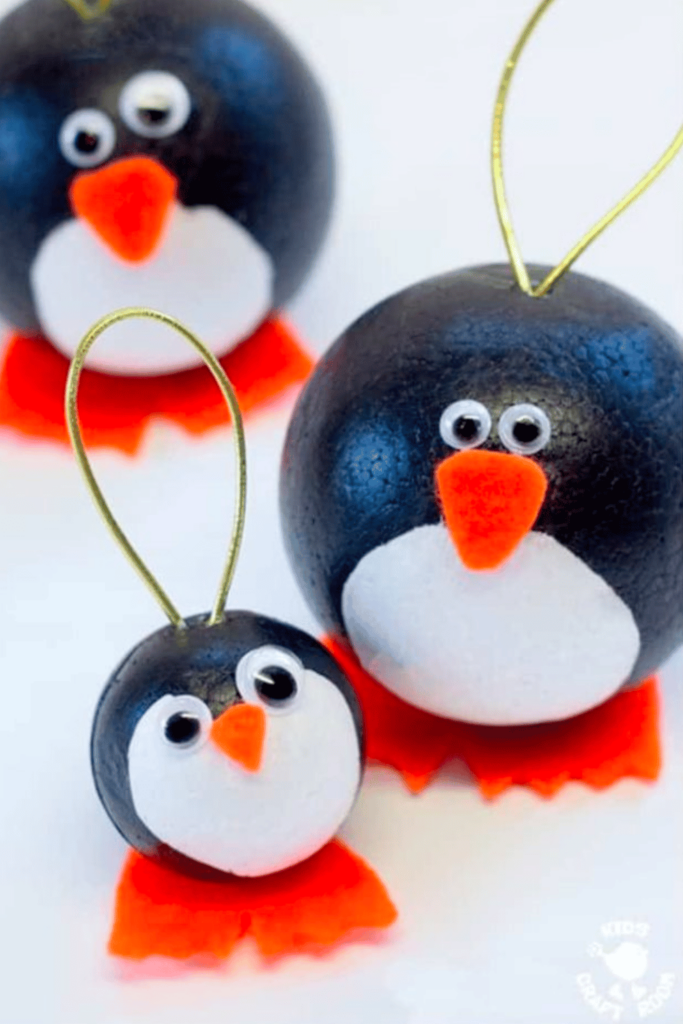 Cinnamon Stick Tree Ornaments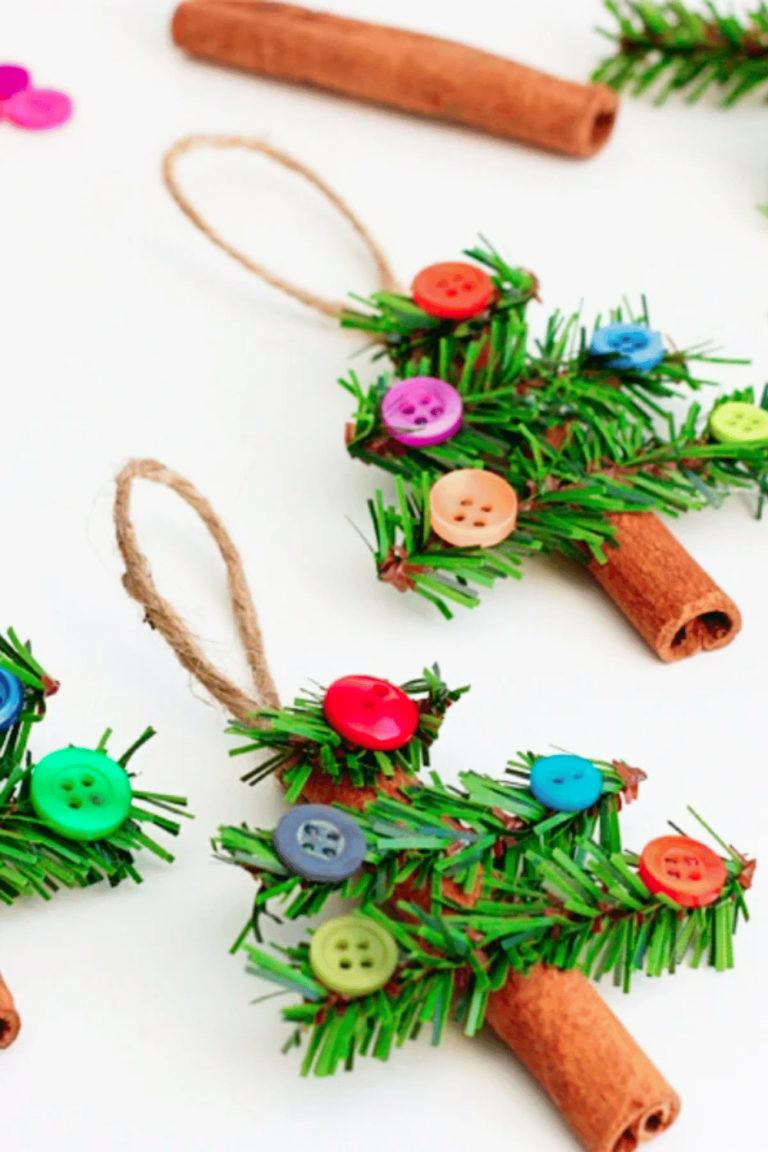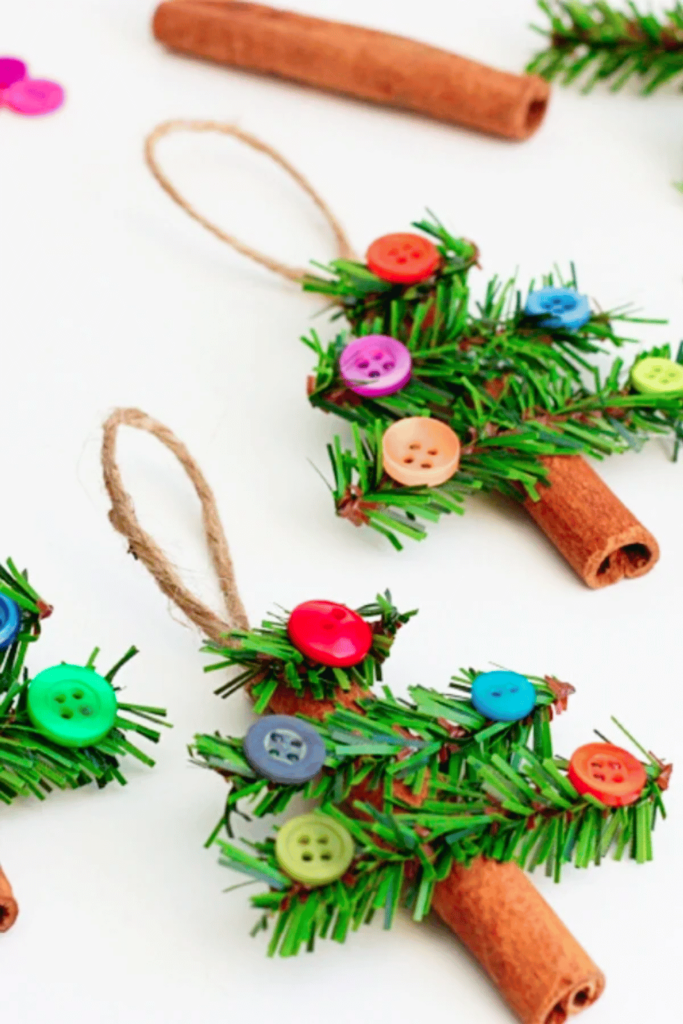 Hand painted Snowman Ornaments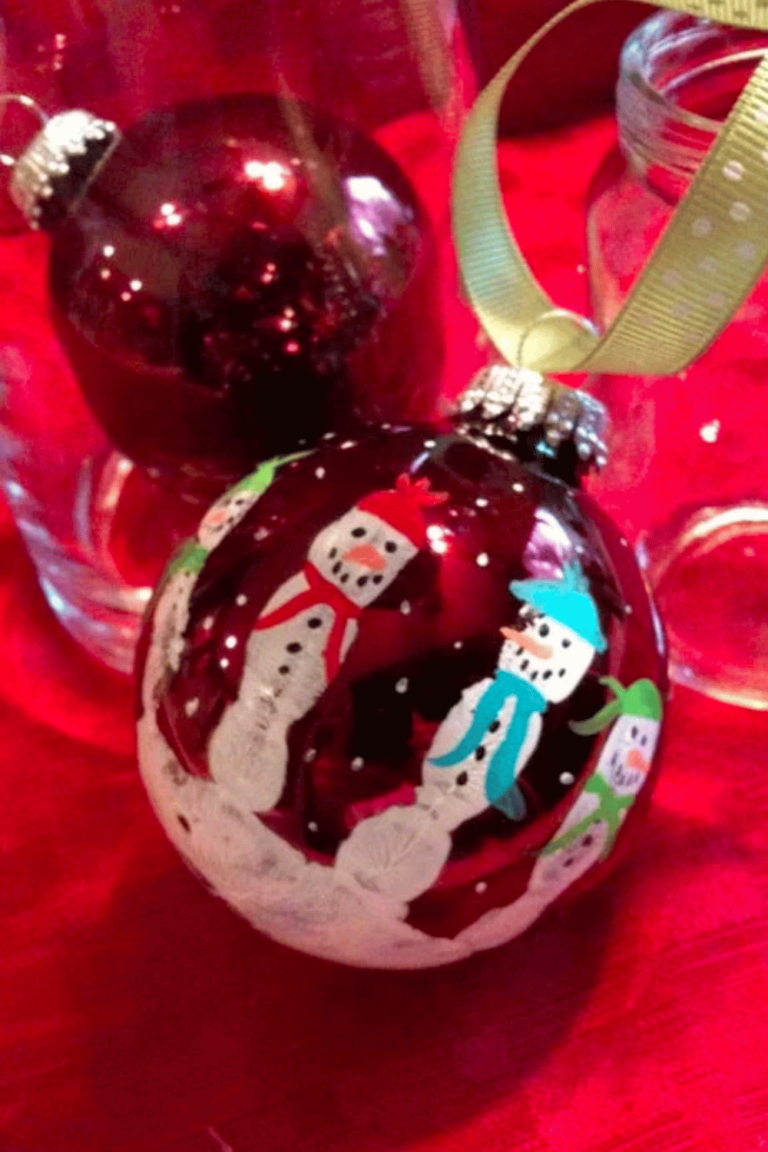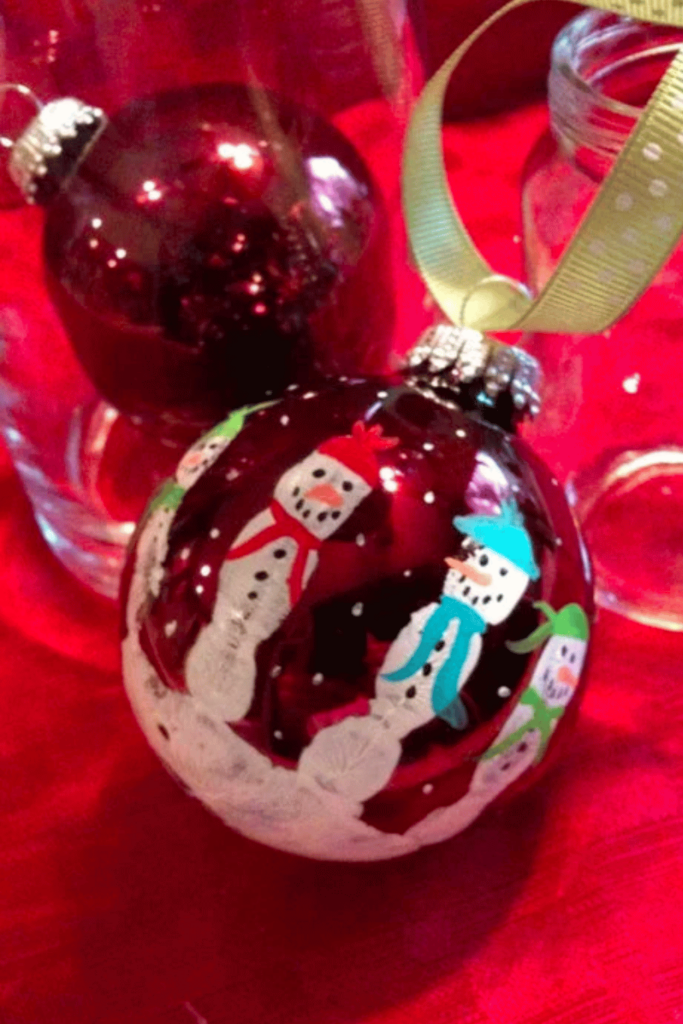 Wooden Rudolph Ornaments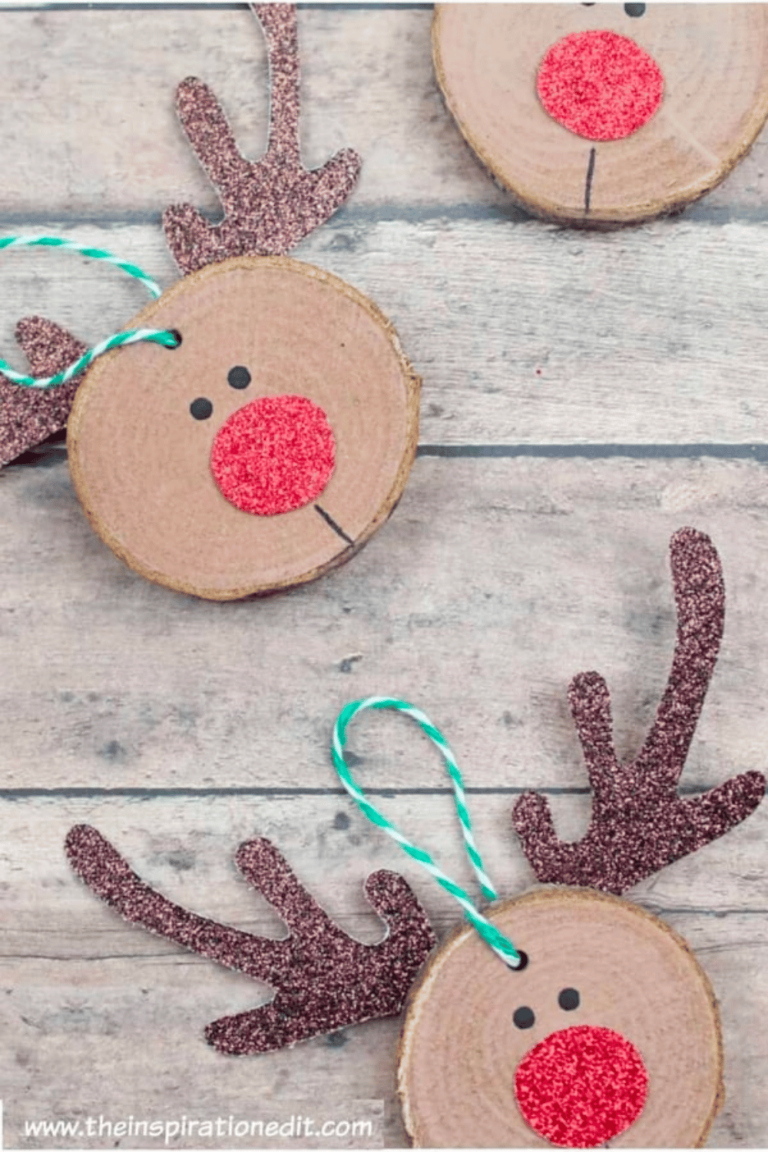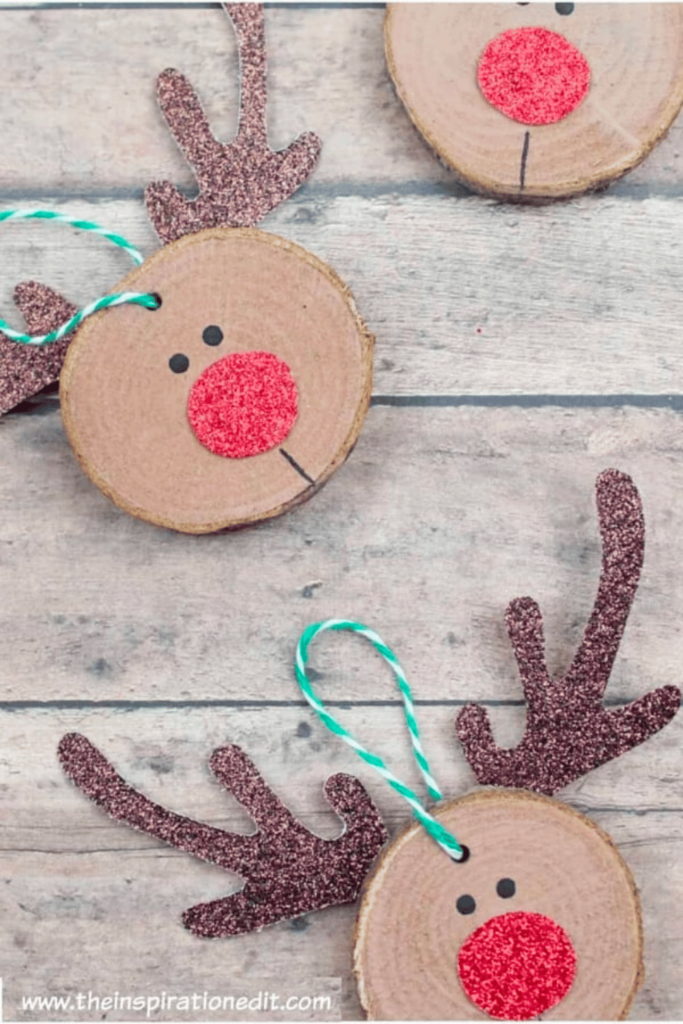 Popsicle Stick Snowman Hats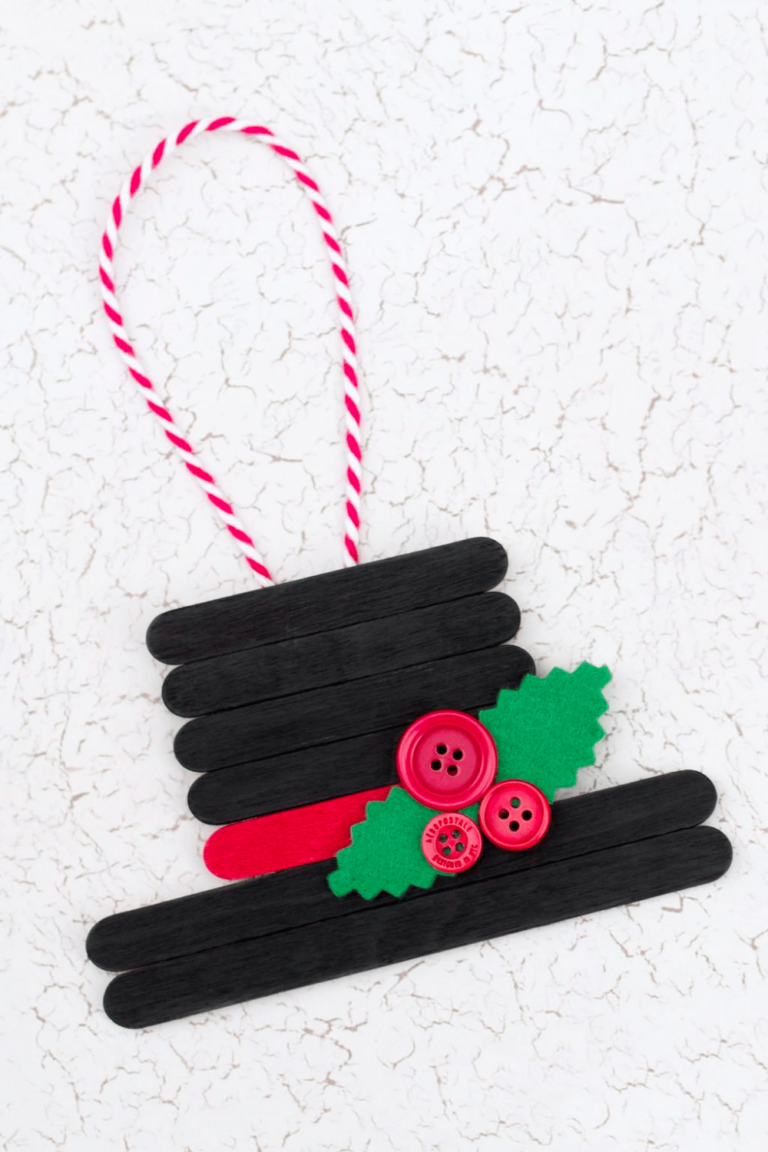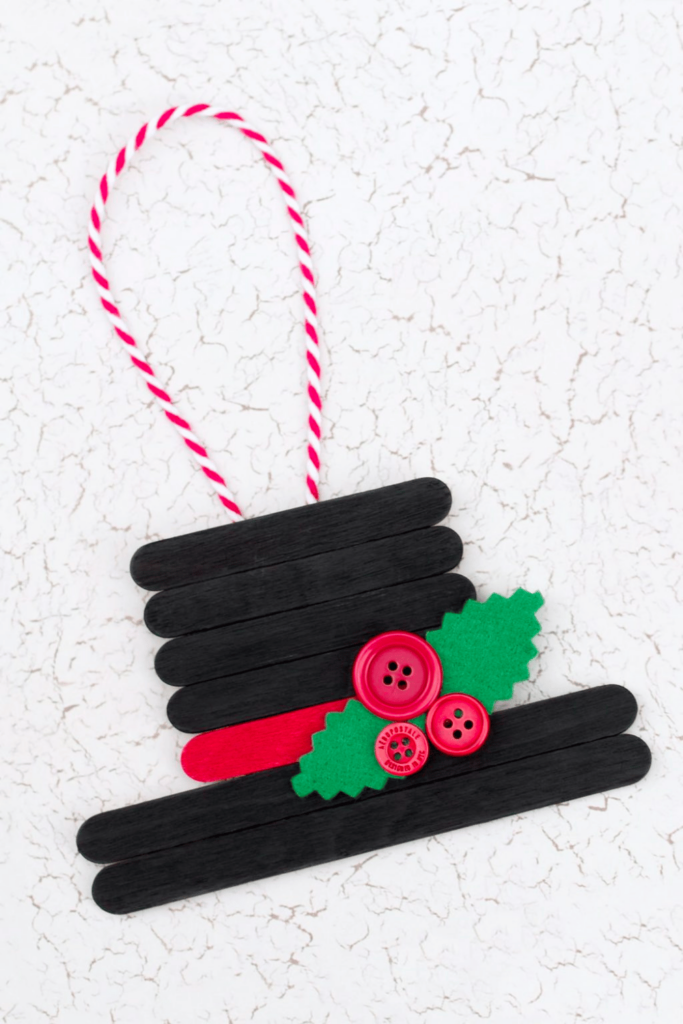 Salt Dough Recipe For Cookie Cutter Ornaments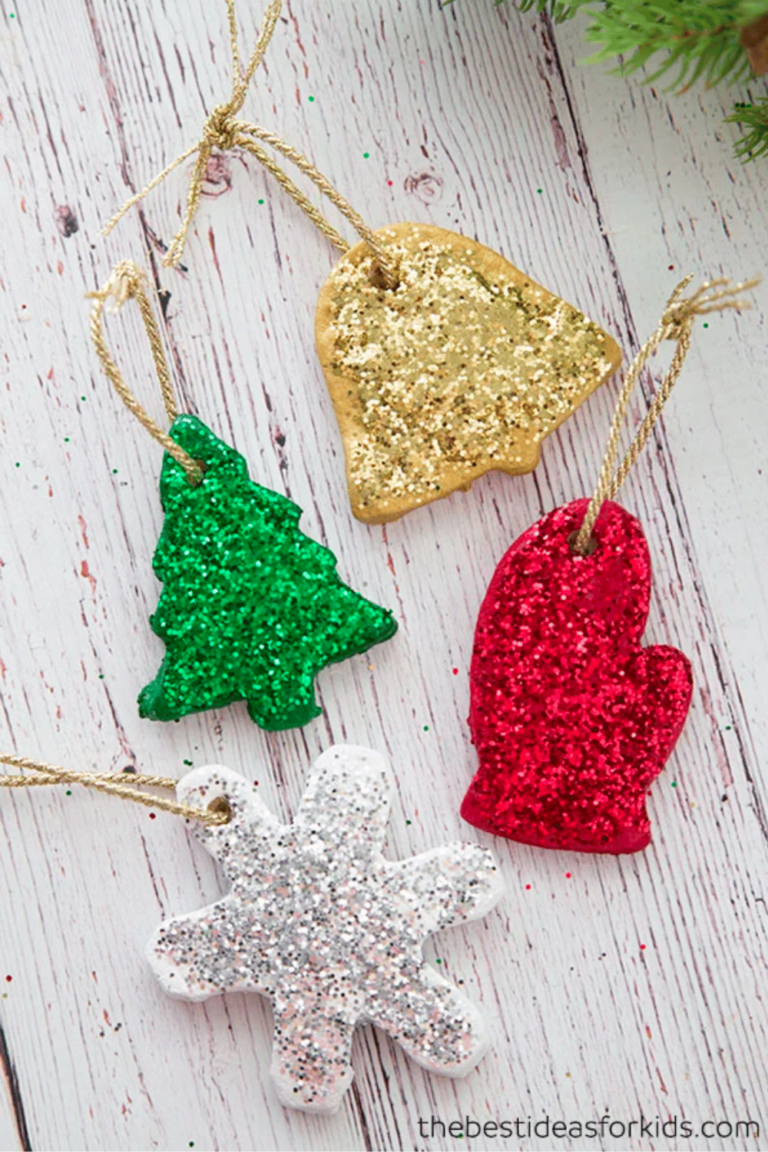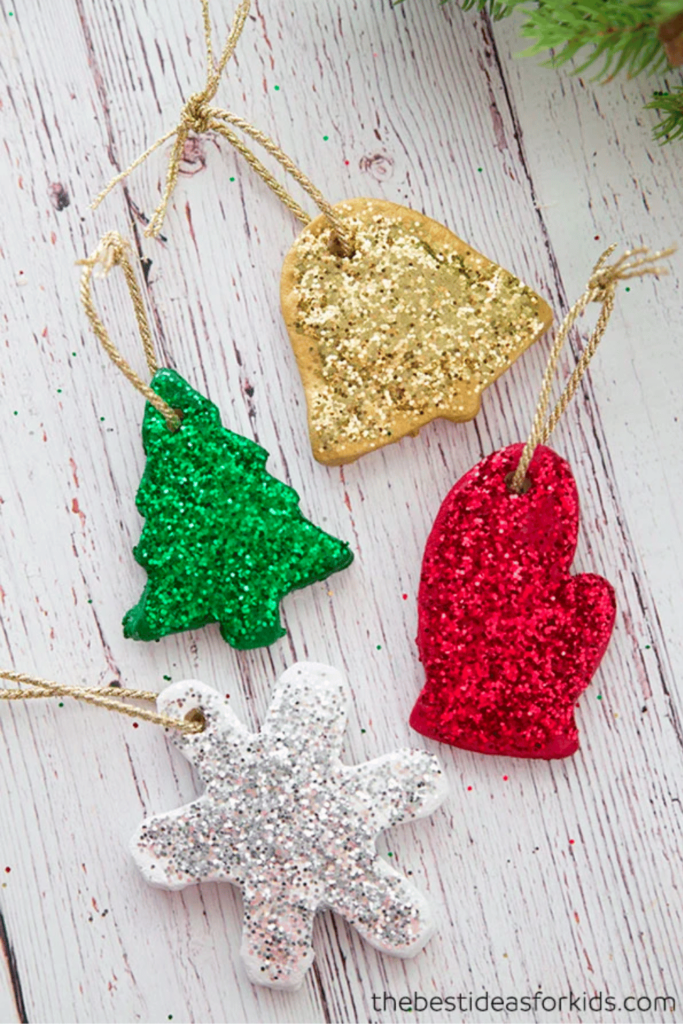 Snowy Scene in a Mason Jar Lid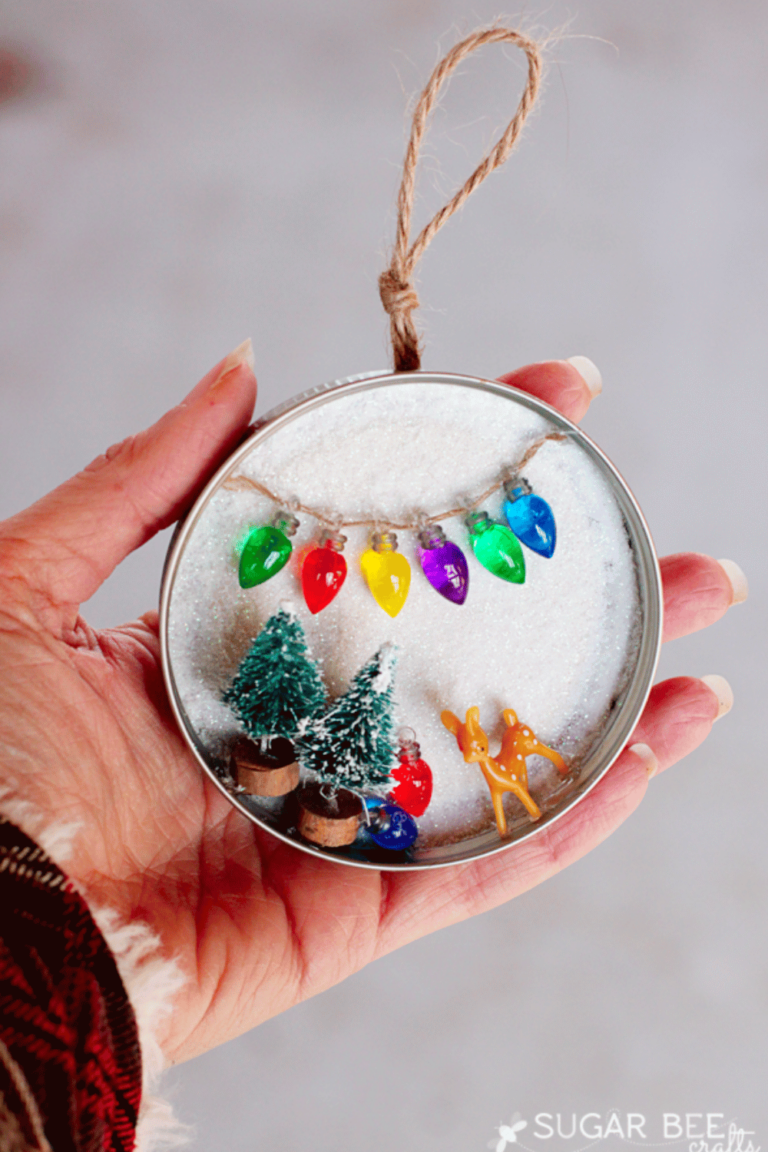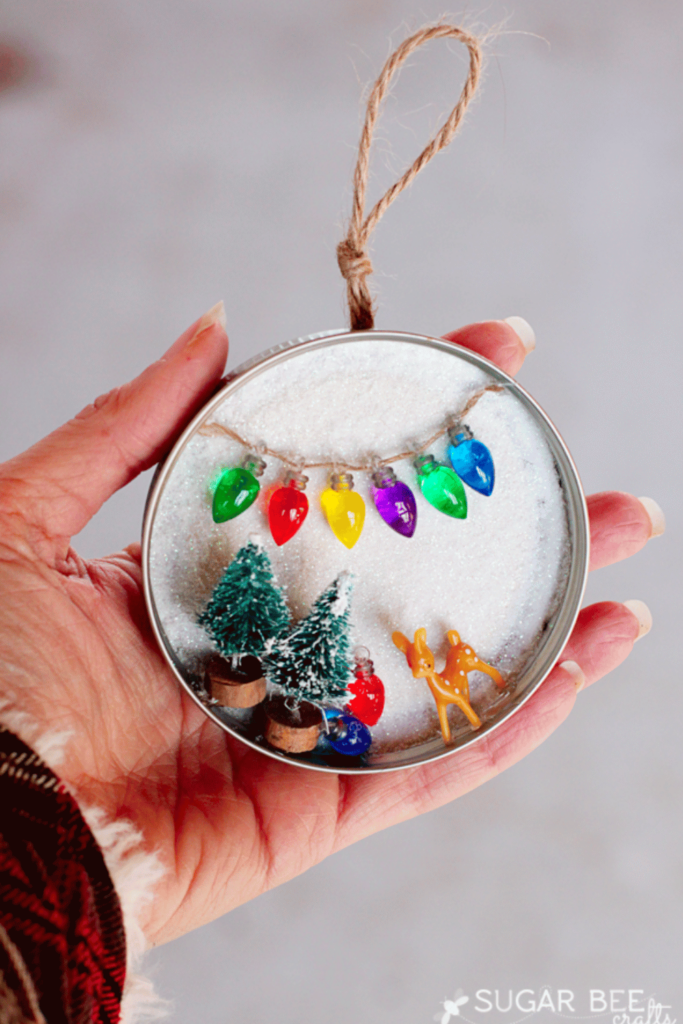 Popsicle Stick Christmas Tree Decorations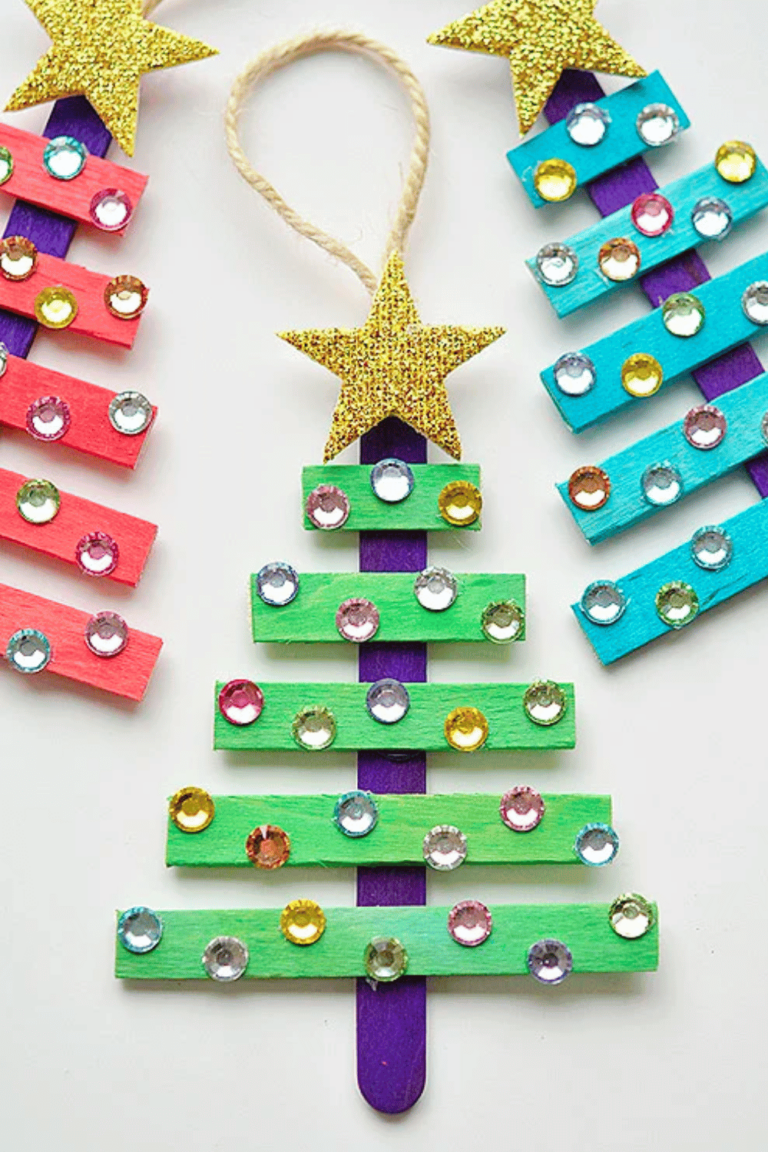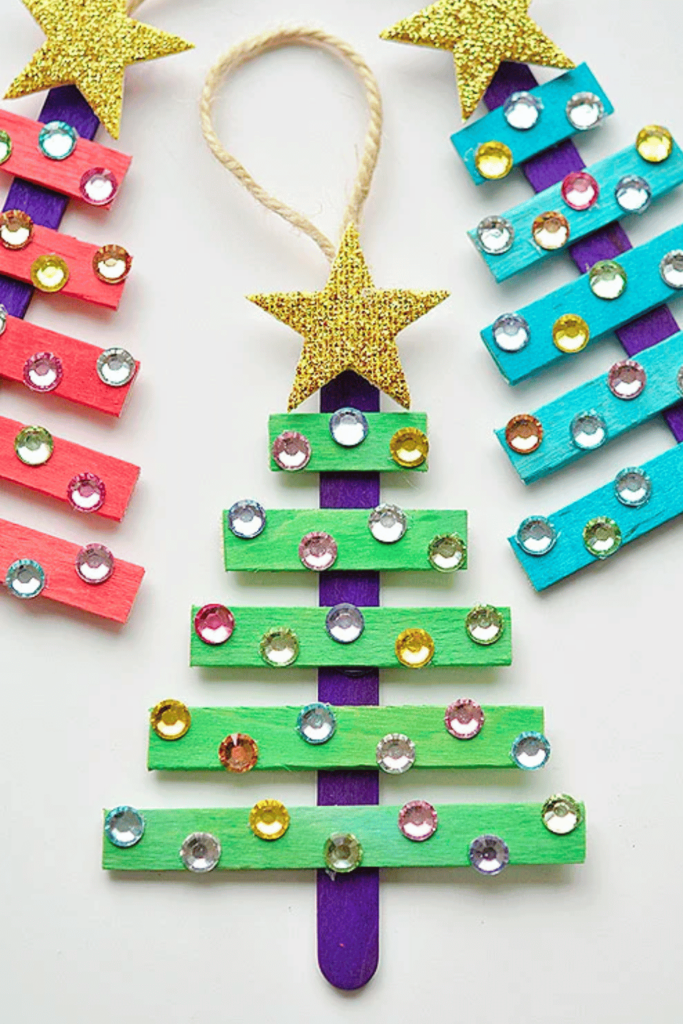 Ombre Felt Tree Garland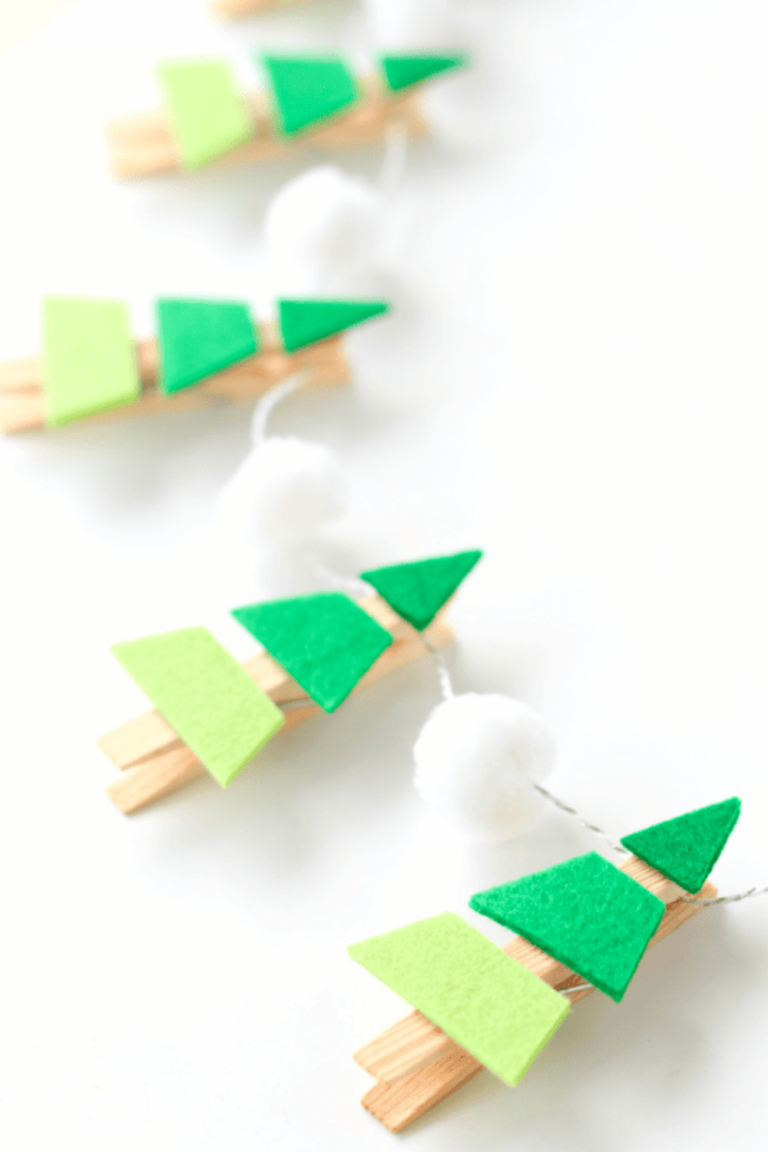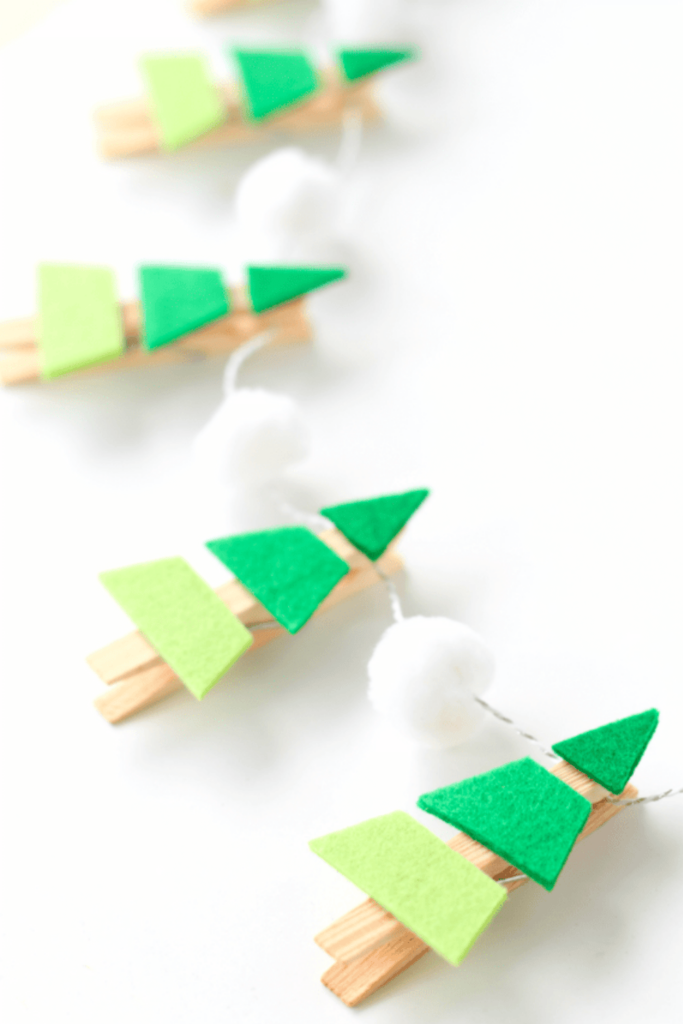 Cupcake Baubles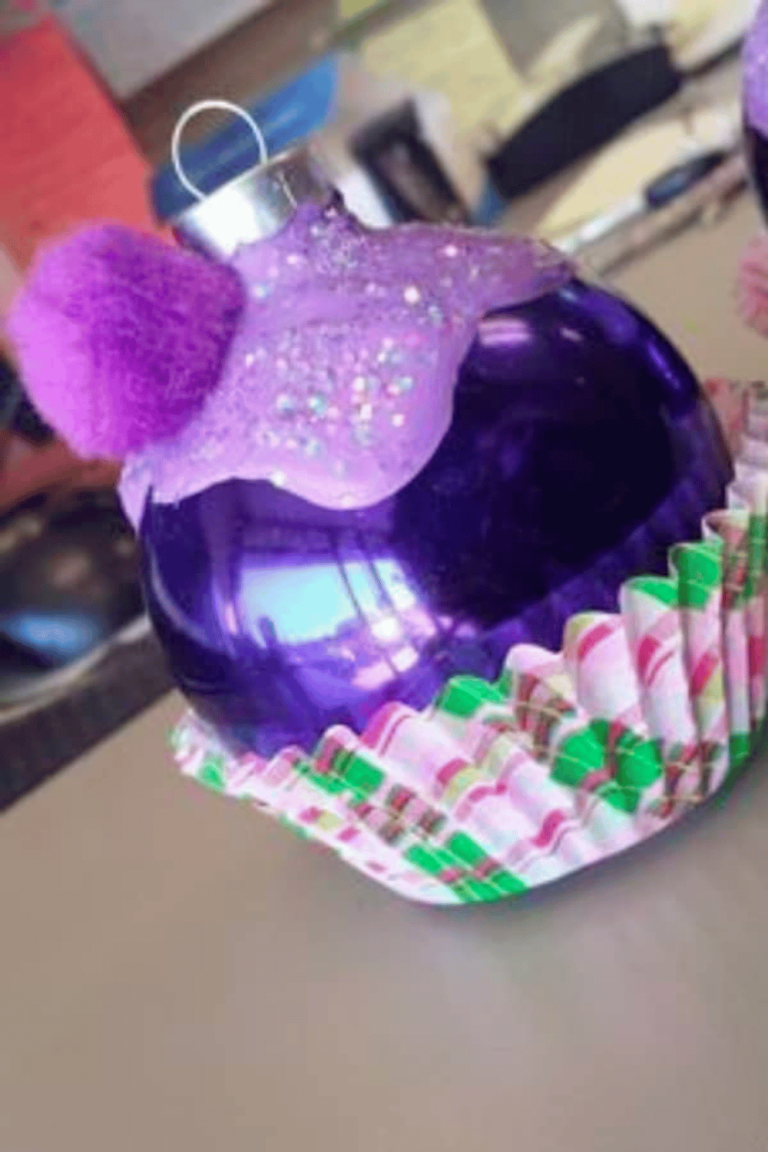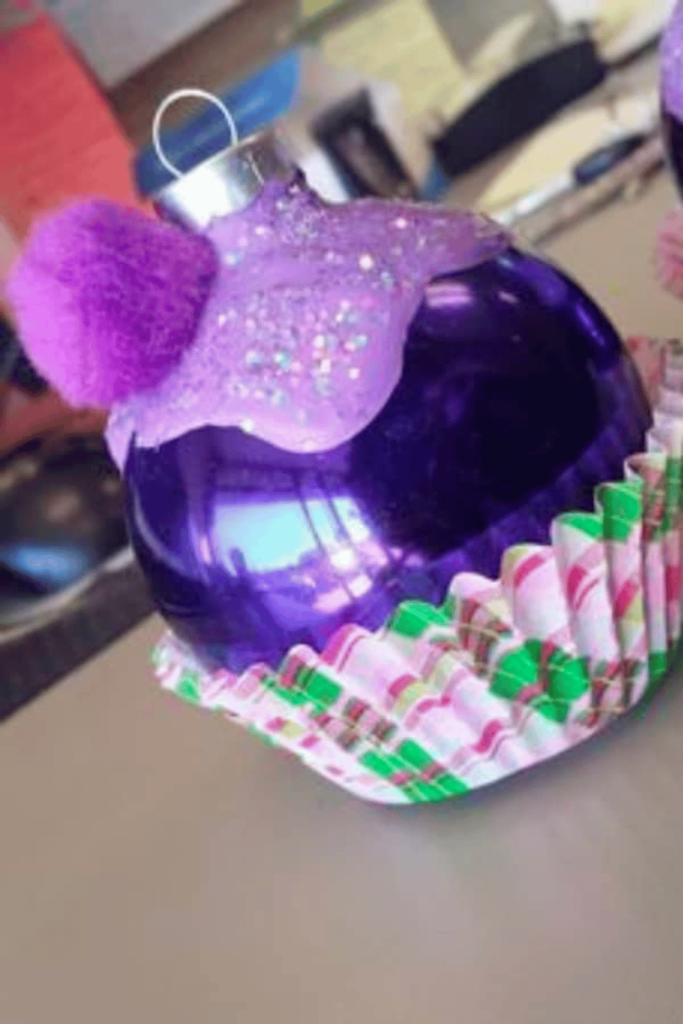 Twiglet Trees With Sequin Embellishments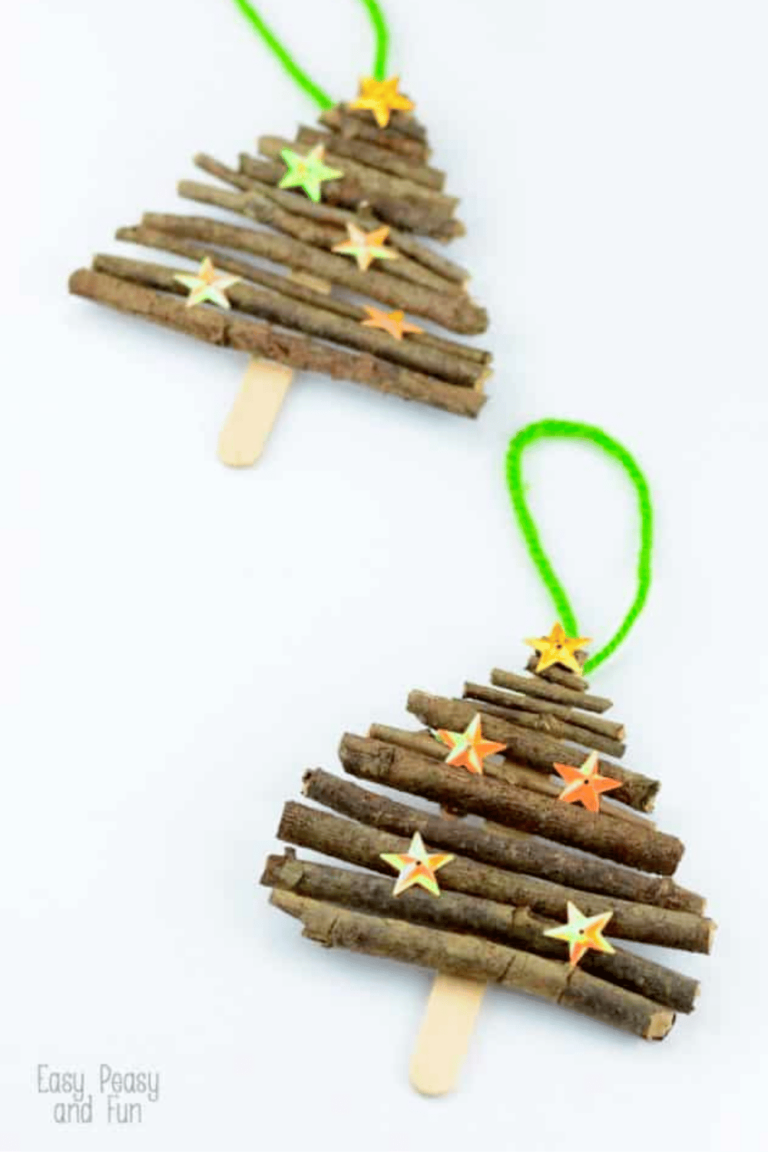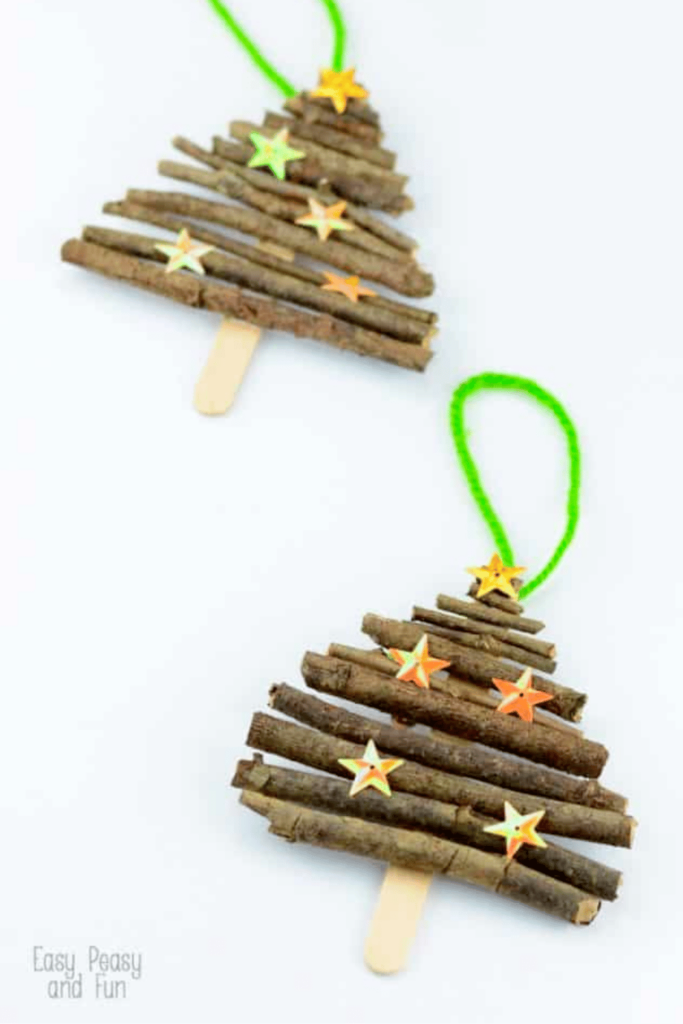 Melted Crayon Baubles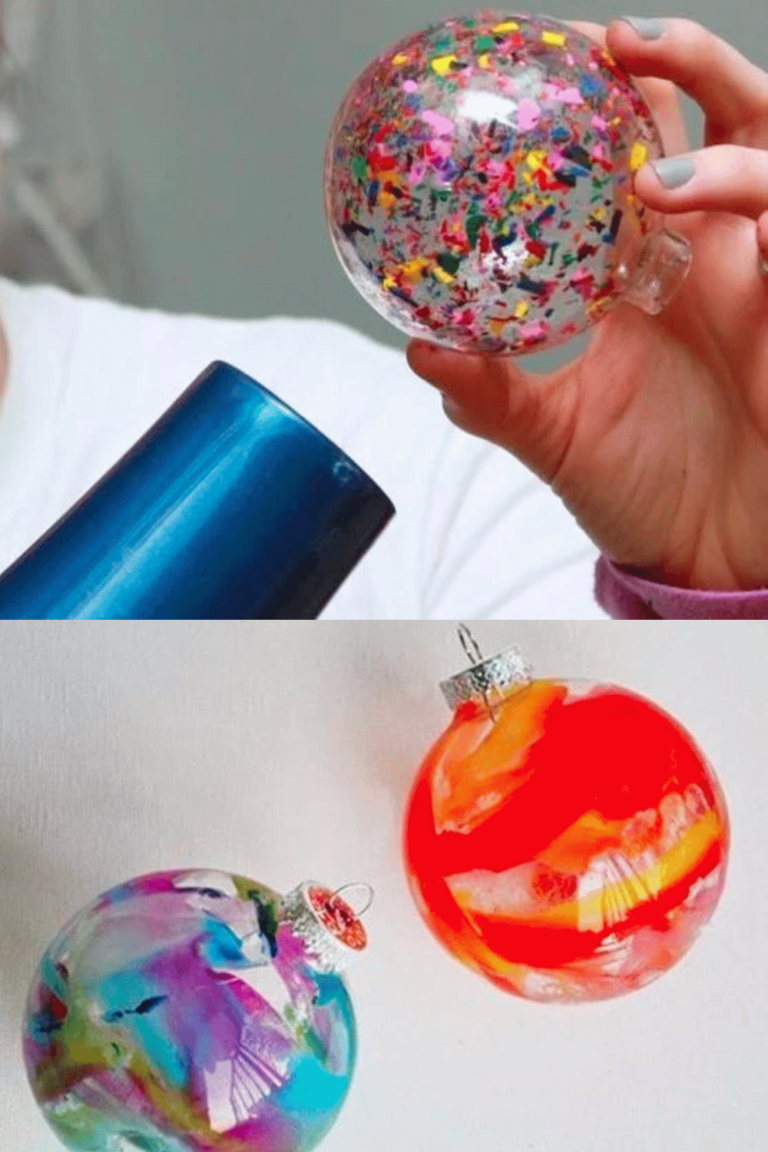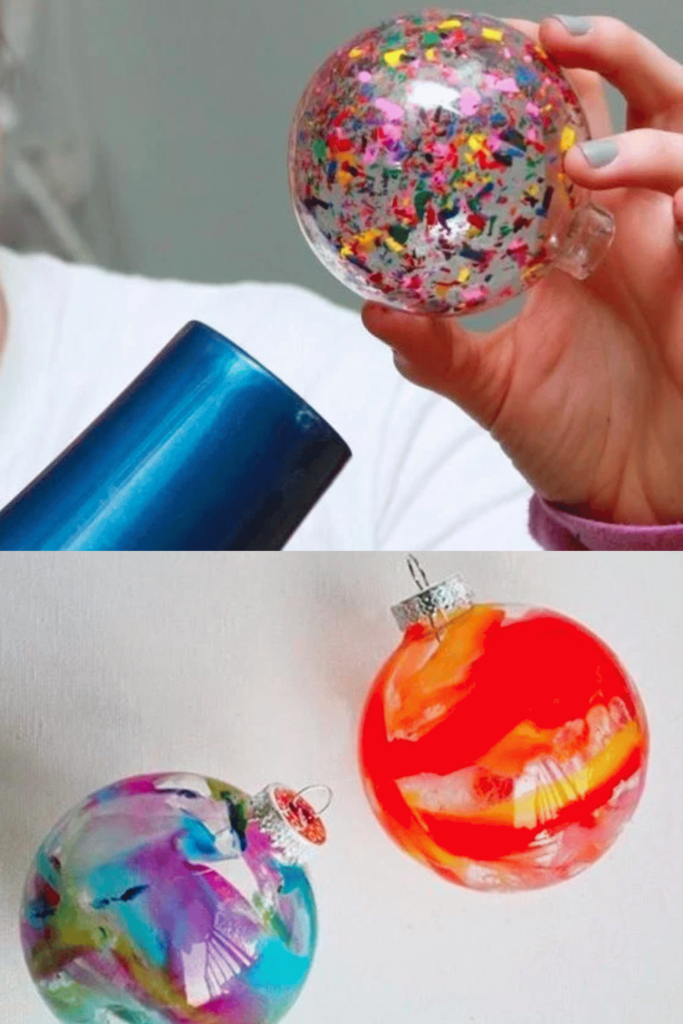 Mini Gumball Ornaments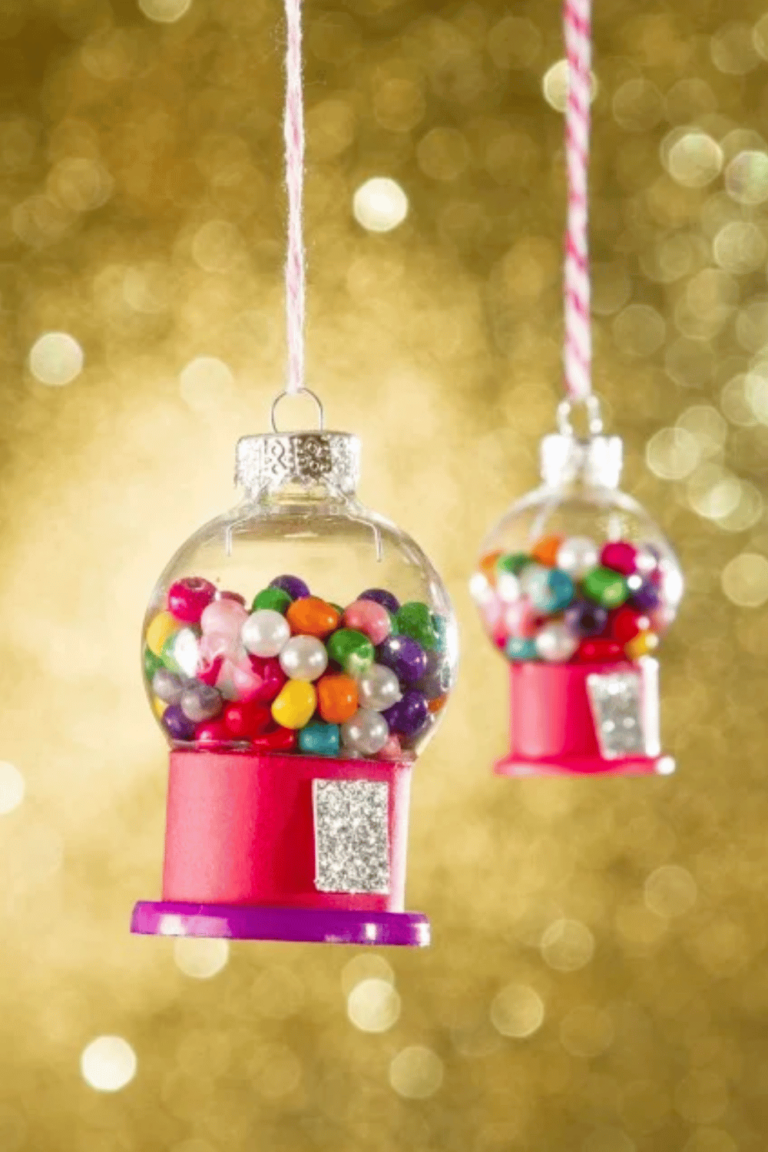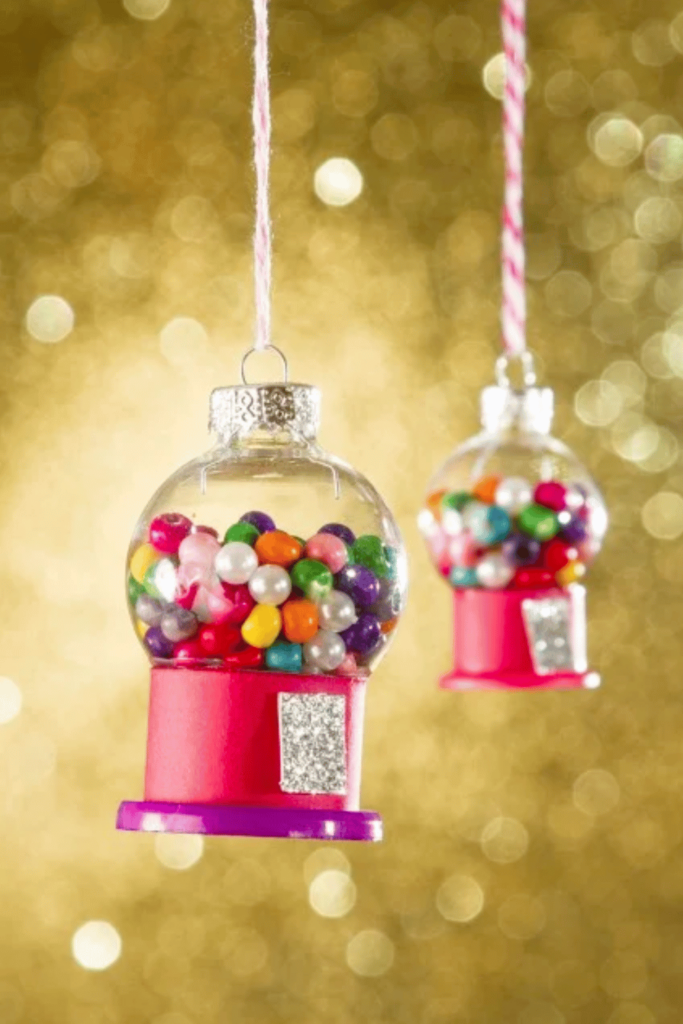 Glitter Salt Dough Photo Ornaments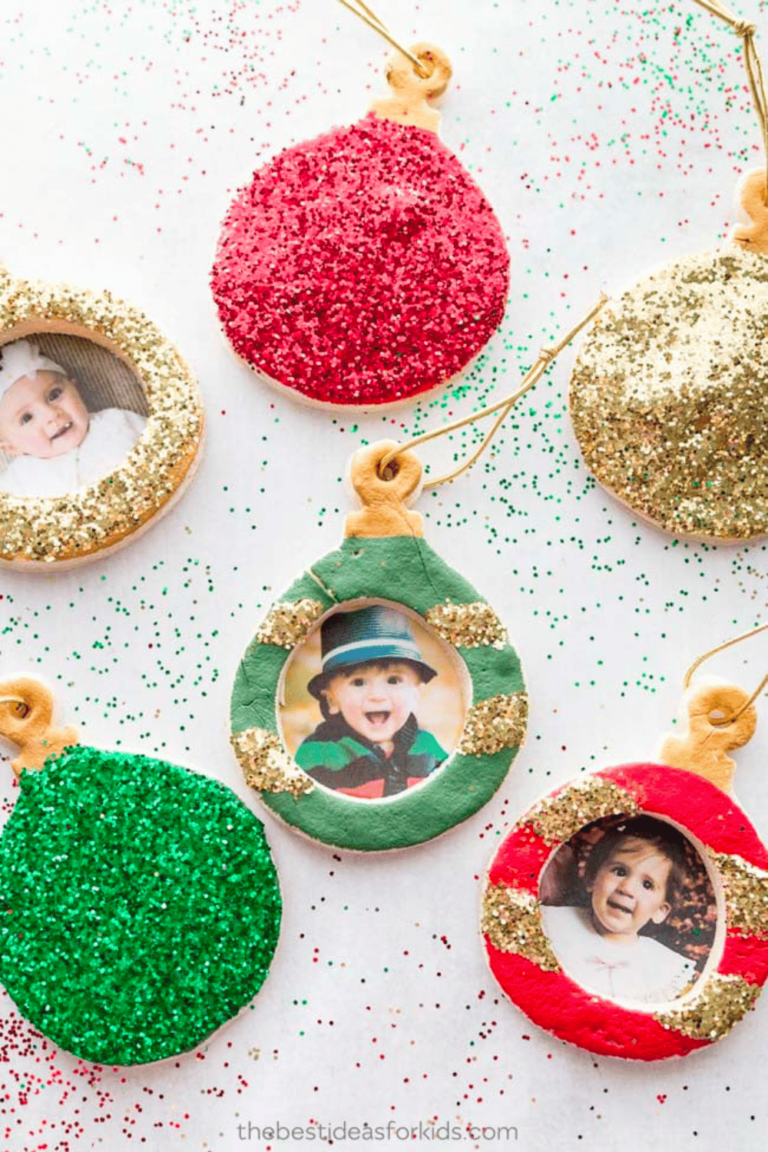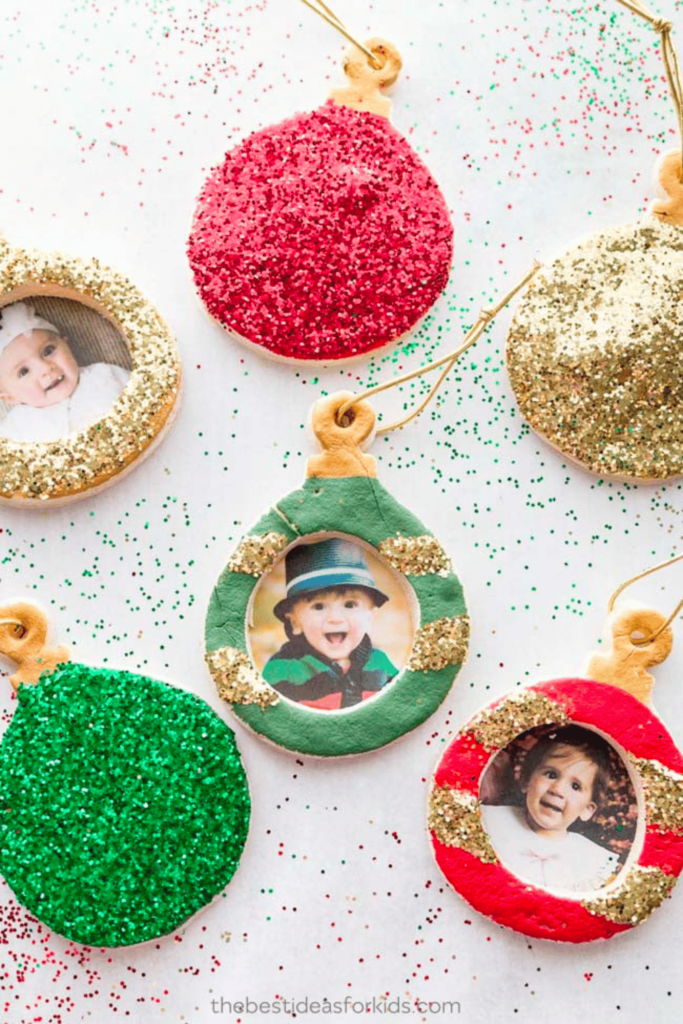 DIY Snow Globe Ornaments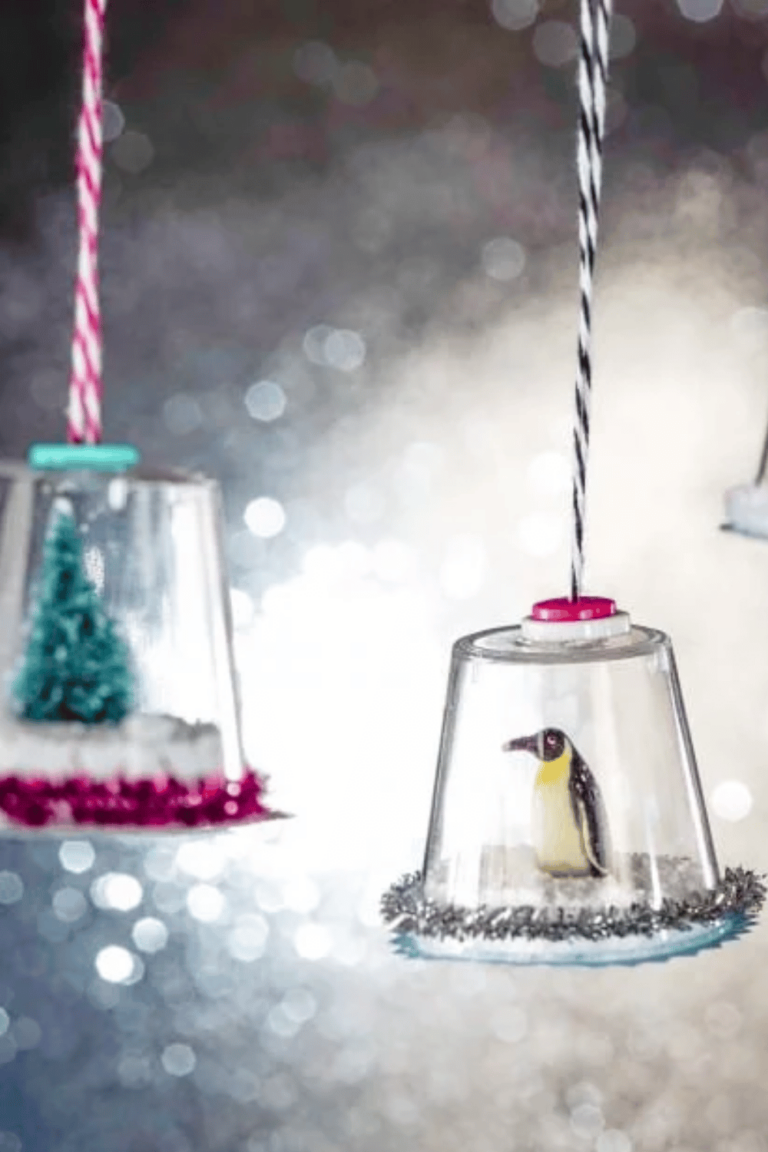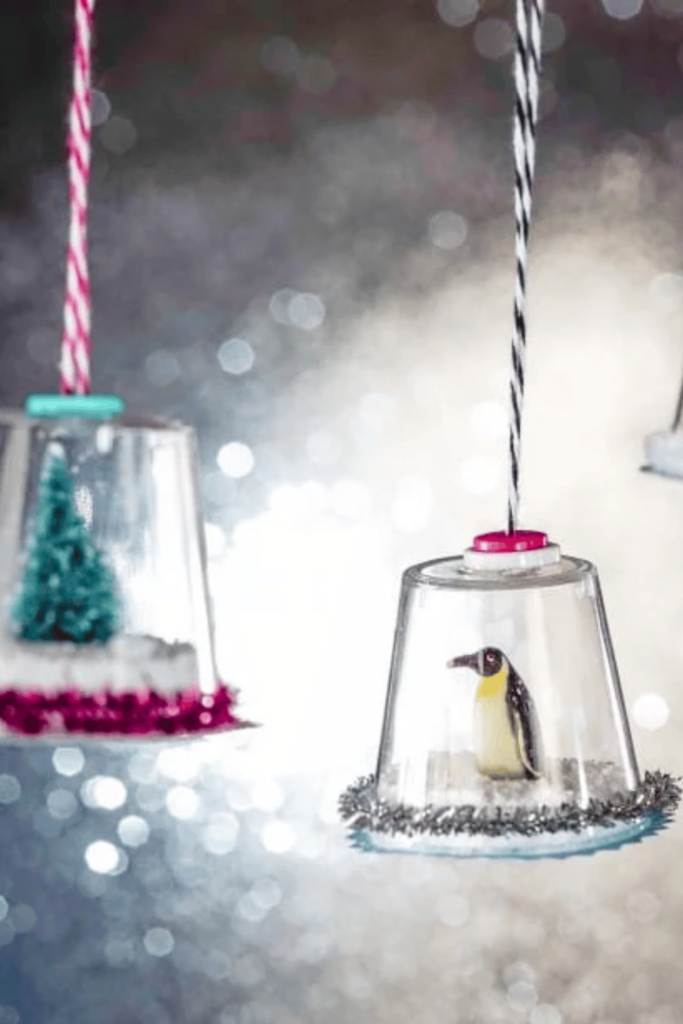 Pom pom Christmas Pudding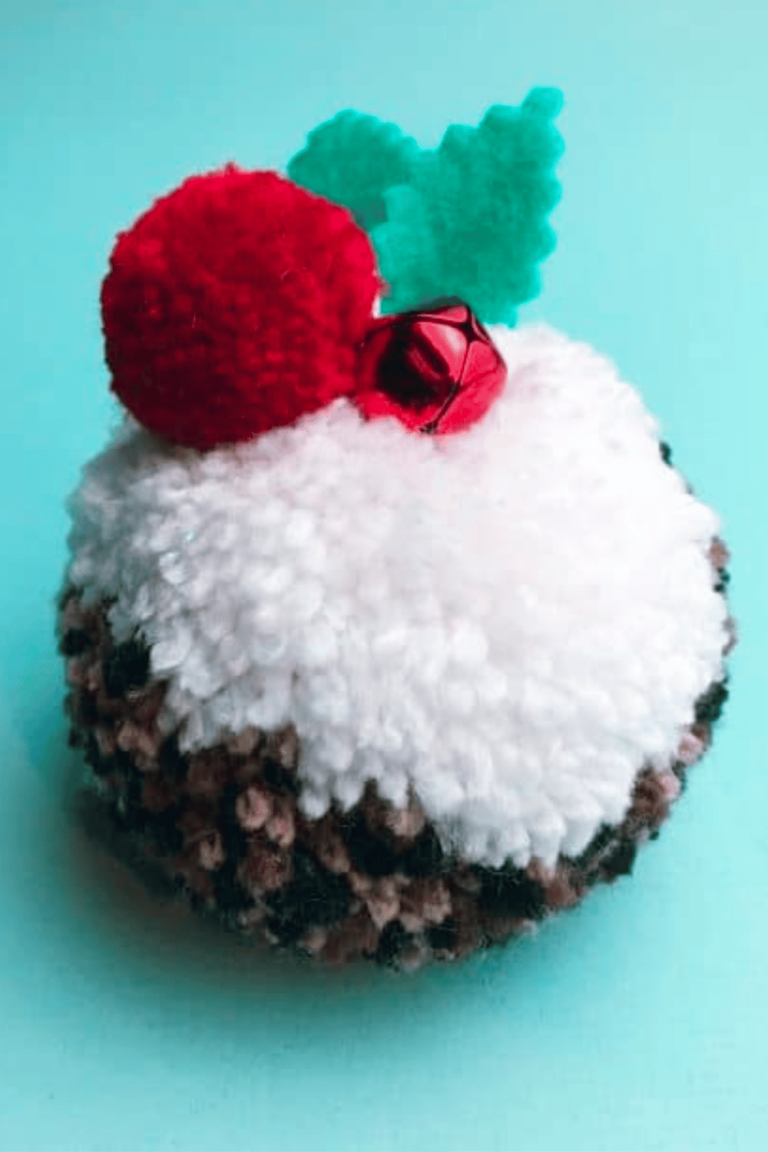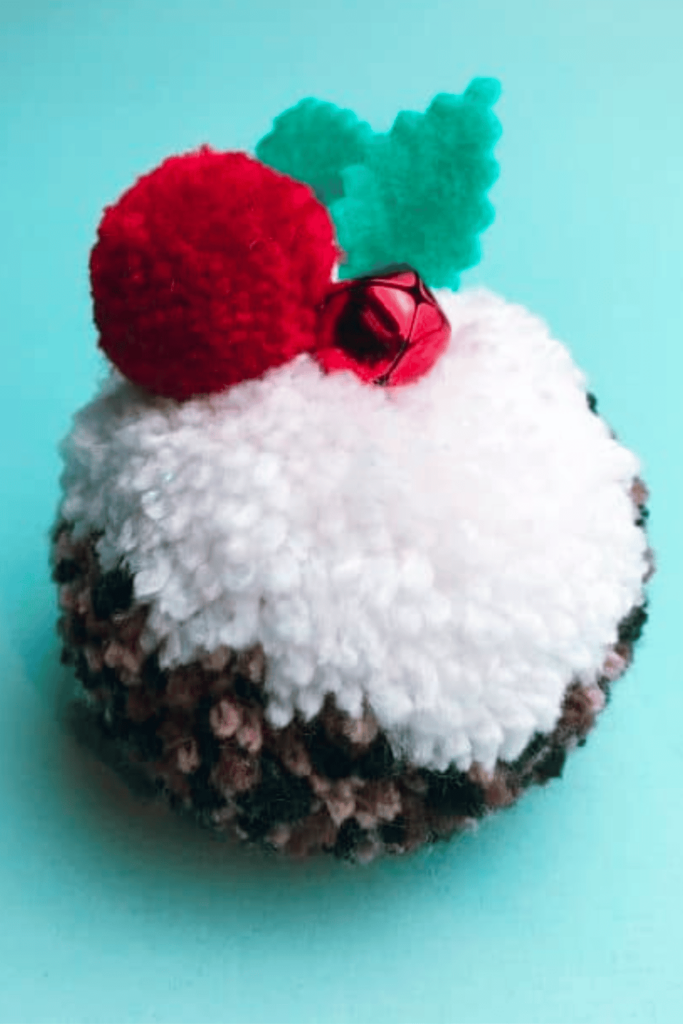 Before You Go...
Christmas is a time of joy, and what better way to express that than by making something beautiful with your own hands?
Whether you are crafting with your kids, giving handmade gifts, or just adding some personal touches to your decorations, these Christmas craft ideas are sure to inspire you.
All you need is some time, patience, and a little creativity to make this holiday season extra special.
Happy Crafting!